Welcome to our Yoonla Review!
Yoonla is promoted as a mostly "done for you" way to make money online, but is it really a way to make money online or is it a scam?  In my Yoonla review, we will delve into this training platform and share all the details we found out.
First off, it's great to see that you're doing your research before buying into any "seemingly good" product.
That is how you avoid scams and find only legitimate ways to make money online!
I must stress at this point, I am not an affiliate of Yoonla, and my review is unbiased. I want to ensure you see both sides of Yoonla, to help you make a decision going forward.
So, Is Yoonla a Scam?
Let's get into the details and find out…
Yoonla Review Summary
Product Name: Yoonla
Founder: Reno Van Boven, in 2016
Product Type: CPA Affiliate Marketing Program
Price: Free Starter Membership (Evolve) + Elite where you are required to buy other tools
Best For: Anyone who want to make money online

Pros
Huge Members Base
No Hype
Step-by-Step Training
Lucrative CPA Program
Cons
Pay to Play
Paid Traffic Routes Only
Too Much is "Done For You"
Only Compatible with GetResponse
Fake Website
Summary: Yoonla is a pretty decent Cost Per Action (CPA) Affiliate Marketing program.  You can make money with Yoonla, but you're restricted to being able to ONLY promote the Yoonla membership.  The more referrals you can recruit, the more money you can make.
You can't build your online business in any niche you want, and promote any products you like though…  There are a few other concerns we have, which we will share with you in our review.  Bottom line, there are more concerns than positives about this program
Rating: 45/100
Recommended? Not Really
Yoonla was founded by a guy from New Zealand, called Reno Van Boven in 2016.  Yoonla is an online marketing program claiming to be a "Digital Lifestyle Platform" to help people become Digital Entrepreneurs, make money online and create the lifestyle they crave.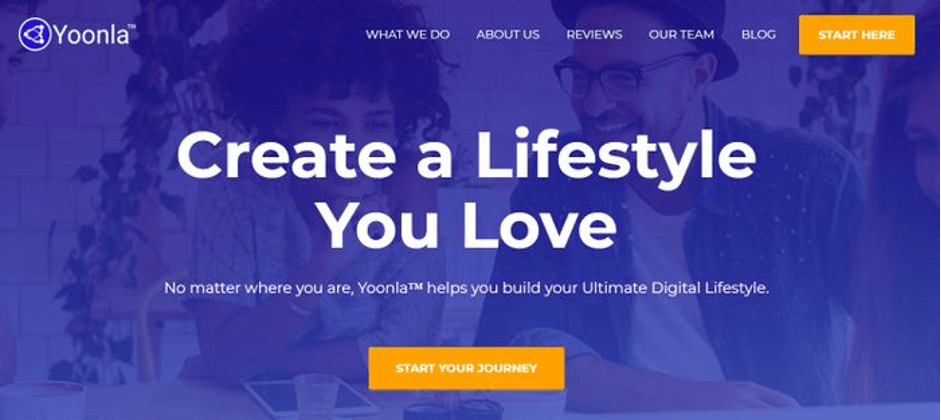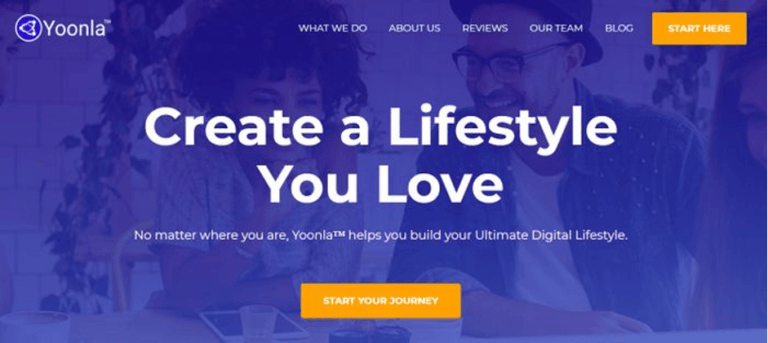 On the surface, Yoonla is much like any other MMO or Make Money Online programs where they are promising people to change their lives.
Don't get me wrong, I'm not judging a book by its cover.  But I will also reveal to you why wouldn't recommend this to you too.
But you cannot deny that telling people that they're a "Digital Lifestyle Platform" doesn't actually tell you anything.  What does a digital lifestyle actually mean? It's quite a generic term, really?
So, let's go through what Yoonla is really all about…
Yoonla is a CPA affiliate marketing program, where people make money by referring new members to Yoonla.
They offer you step-by-step training to show you how to set up your own lead generation system and drive traffic to it, so that more people will join under you.
What's CPA?
CPA stands for Cost Per Action. This means that you get paid when you invite people to complete certain actions.  An example would be; watching a video, completing an online survey, or visiting/joining a specific website.
In regards to Yoonla, you get paid whenever someone joins the platform for FREE.  As long as they sign up as a free member and the system verifies them as a real person, you'll get paid anywhere between $2 to $4.
What's Affiliate Marketing?
Affiliate Marketing is where you can make money by promoting other people's products. When people make a purchase though your affiliate link, you get paid a commission.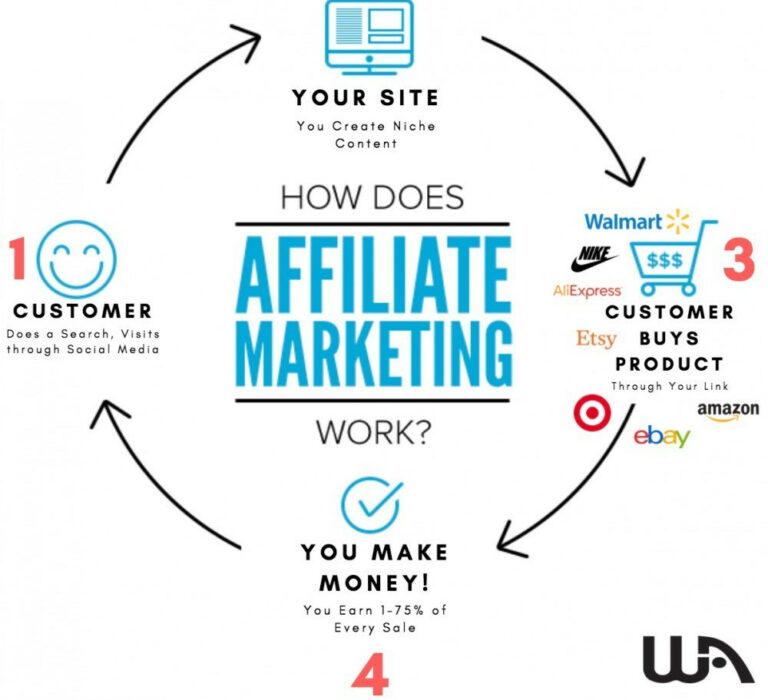 In regards to Yoonla, you'll have your affiliate link to invest people to join the Yoonla platform.  You'll get paid when they pay a free to upgrade them membership.
That's Affiliate Marketing in action.
This video we found on YouTube, shows you how to setup a landing page, get an email autoresponder (collects and sends email for you) and start referring people to Yoonla.
Whilst it all looks great, you should know there are tons of training courses out there all sharing very similar content, examples include…
Knowledge Broker Blueprint
6 Week Super Affiliate System Pro
Secret Society of Millionaires
John Crestani Internet Jetset
Super Affiliate System 3.0
Second Income Centre
So, know you might be wondering…
Is Yoonla a Pyramid Scheme? And Is Yoonla a Scam?
First off, let's define what a pyramid scheme is…
"A Pyramid scheme recruits members via a promise for payment from referring others into the service, instead of providing a product…"
As you'll see as you continue our Yoonla Review, this is the only way you are trained to make money at Yoonla.
Therefore, Yoonla could be considered a Pyramid Scheme…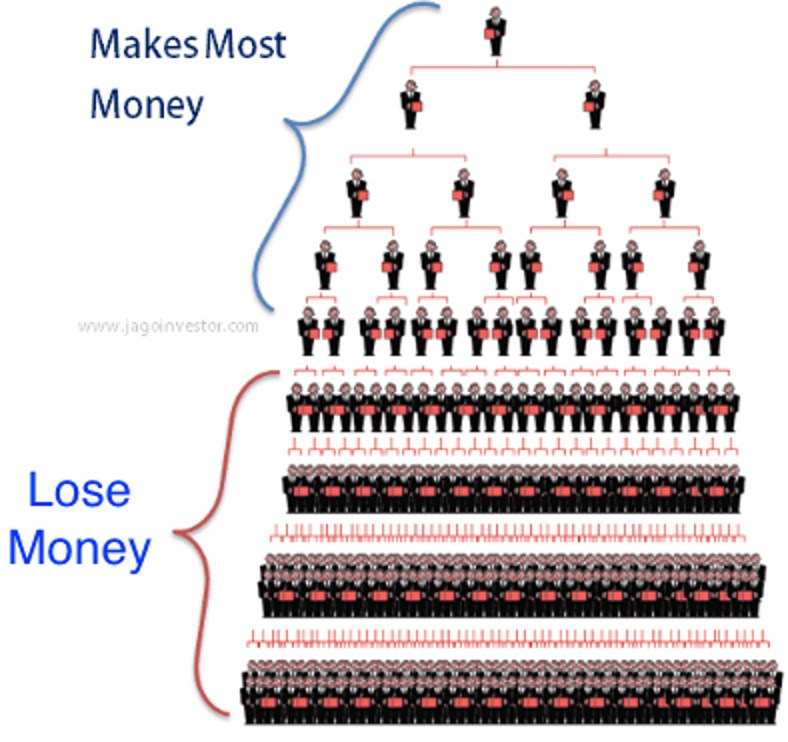 Most countries in the world have made pyramid schemes illegal, as they don't provide any services or products to speak of.
Is Yoonla a Scam?
There are 2 main ways an online course can be a scam:
Take your money and run away with it, never to be heard of again
Provides you with some information, but it doesn't live up to their promises or hype
Technically, Yoonla does provide you with some training, and they also don't over-promise that you'll be earning thousands of dollars a month.
So, Yoonla isn't really a scam as some people are making money here.  But as for whether it will be around that long is another matter, as the FTC could close it down as operating like a pyramid scheme, like they did with MOBE.
Below are the seven steps Yoonla Evolve has in their free starter membership dashboard.  Every step has a short video to show you what you need to do…
Step One: Evolve App & Commission Tracking
The first step is for you to download the Yoonla Evolve App file.  This is a zip file and is needed for you to upload to your 'website' to create your custom landing page.
Step Two: Create Automation Account
This is where you need to make your first purchase, they want you to sign up with GetResponse.   This is an autoresponder which starts at $15/month.
GetResponse is an Email Service Provider (ESP) for you to collect the email address of subscribers and use follow up sequences with them.
In the training video, it states that you must only sign up for GetResponse through his affiliate link.
This is a red flag though.  Regardless of there being tons of autoresponders, GetResponse is the only compatible ESP for Yoonla which isn't much of a problem, unless you are already using another service.  But the fact that he claims that this is so he can track it easier and approve your elite membership is not strictly true.
This is about Reno earning affiliate commissions from your membership.
Step Three: Set up Your Automation Campaign
This is where you set up your email autoresponder.  It teaches you how to do this within GetResponse, so you can send automated emails to your subscribers.
They also provide pre-written email swipe files, so you don't need to worry about writing them.  You just copy and paste them.
Step Four: Create Small Business Account
This step refers you to purchase a domain and website hosting with Yahoo Small Business.  This is so you have your own domain to host your Yoonla Landing Page.  This will typically cost you $70 per year.
But another red flag, you must follow through Reno's affiliate link so he can "track it to confirm your elite membership…"
Step Five: Get Your Evolve App Online
In this step, you will be guide through how to set up your Yahoo hosting account, how to download Filezilla, and use this FTP software to upload your Yoonla Evolve App zip file to your download.
FTP stands for File Transfer Protocol and is a little advanced.  I appreciate Yoonla are showing you how to work with it but getting your head around this step for a new or potential affiliate marketer is a tough one.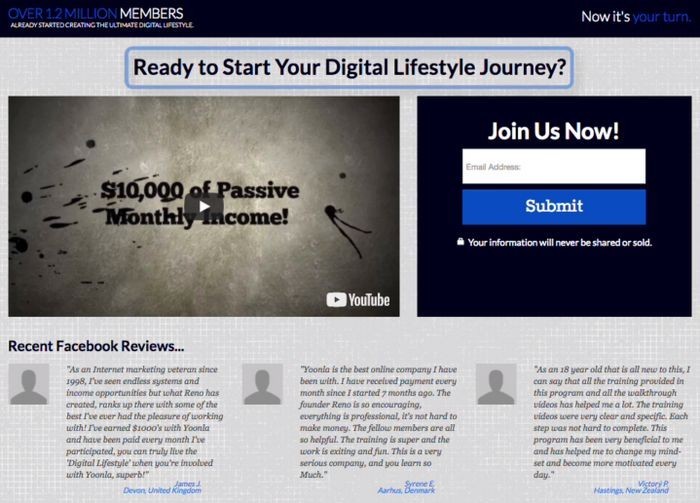 Step Six: Customise Your Evolve Website
After you have uploaded your file, your basic landing page will be available, then you will be guided through "customising" your landing page by changing the text.
But whilst they claim you are customising it, you really only gain access to change the text.  You cannot change the design at all, and that leads them to promote another program that will allow you to create custom landing pages and this program is called LeadPages.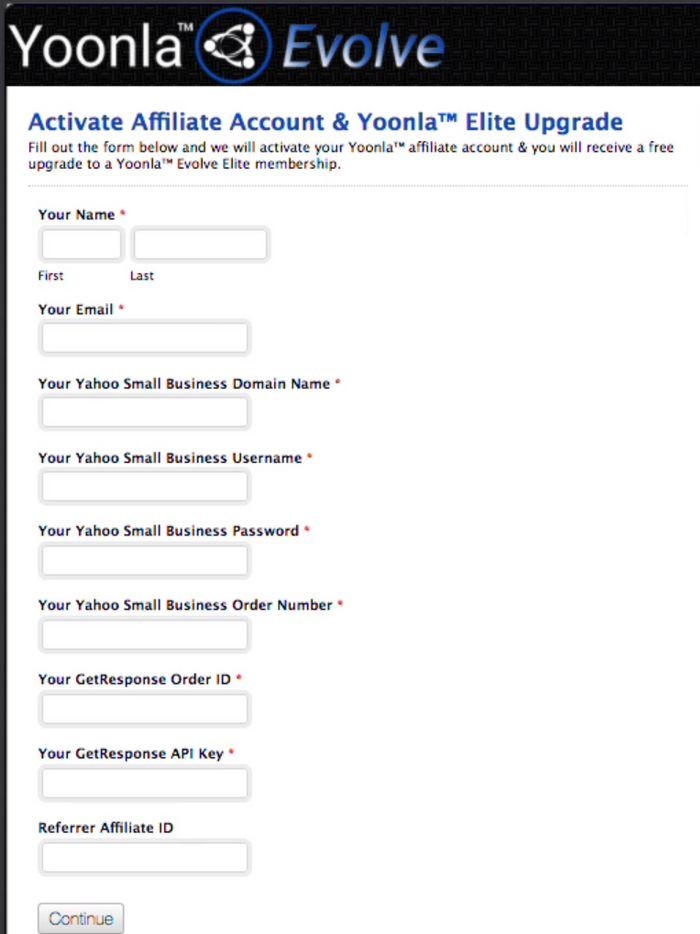 LeadPages is a serve that is recommended to create good-looking landing pages to help capture leads.  But it is an expensive option, the Pro option is recommended and costs $48/month but is paid annually at a cost of $576.  It is optional, but the basic landing page leaves much to be desired.
Step Seven: Activate your Sales Funnel
This is the final step of your Yoonla Free Starter Membership.  This is where you fill in your form to upgrade to their elite membership.  At the time of reading this, there is no charge for this, as long as you have paid for GetResponse and Yahoo Small Business at a cost of $85/month.
They keep stating that this will be an additional $297, but I think that is a front to get you to buy GetResponse and Yahoo hosting in which Reno earns from you anyway.
But, this step also worries me, as you're going to let them know you GetResponse Order ID, API Key and Yahoo Small Business login details…
They claim this is to verify you as a qualified Yoonla affiliate and for them to help you set up your campaigns.
I don't believe that is the case at all.  I think it's more for them to confirm that you've actually purchased GetResponse and Yahoo Small Business using their affiliate link.
But it also means that you have provided them access to "hijack" your links.
Once you are approved as an Elite Member, here's what you'll get:
Advanced training on things like split-testing, conversion optimisation, funnel optimisation, traffic generation
Access to Yoonla Private Facebook Group
Live Q&A session with Reno, and other top digital marketers
Most importantly, the eligibility to earn commission from Yoonla
How Much Does Yoonla Cost?
The Starter Membership is free to join at Yoonla.
But the problem is that the free starter membership has really low value.  The step-by-step training is all about them asking you to purchase their affiliate tools, and upgrade to the elite membership.
Anyway, here's what it'll cost you to be able to start earning commission from Yoonla…
GetResponse – $15/month
Yahoo Small Business – $12/month for hosting and $16 for domain name
Those are the two main costs involved for now.
Haven't Made Your First $1 Yet?
Studies have shown that more than 70% of the people who want to make money online have not made their first dollar yet. So, you're not alone!
How to Make Money with Yoonla?
To make money from Yoonla, you need to heavily promote their own membership following the steps below:
Set up your Yoonla Landing Page
Drive Traffic to your landing page (using mainly paid traffic)
Build your email list
Follow up with your email subscribers
Promote the Yoonla free starter membership
Make $2-$4 for every free sign up (using CPA)
Make around $30 for every lead that upgrades to a Yoonla Elite Membership
These seven steps are different from the 7 steps in the Yoonla Starter Membership I listed above.
How Does Yoonla Make Money?
When you think about the fact that Yoonla pays you for every FREE referral you invite, even if they don't upgrade, how are they are going to sustain in the long run?  So, how are they going to make money?
I think this is one of the most common questions about Yoonla… So, let me explain this to you…
Yoonla is making their money from the following 3 ways…
#1 Affiliate Commission
When you join Yoonla, the free training leads you towards signing up with GetResponse, Yahoo Web Hosting, and LeadPages.  They claim these are the 3 necessary tools for you to build your online business…
But, the fact is that the links that are in the training are Yoonla's own affiliate links. (Or Reno's affiliate link anyway)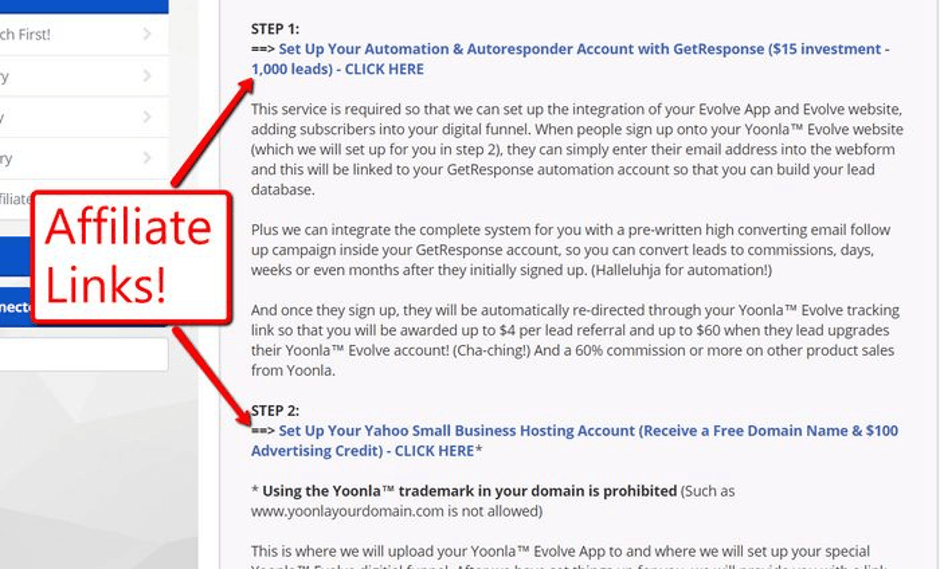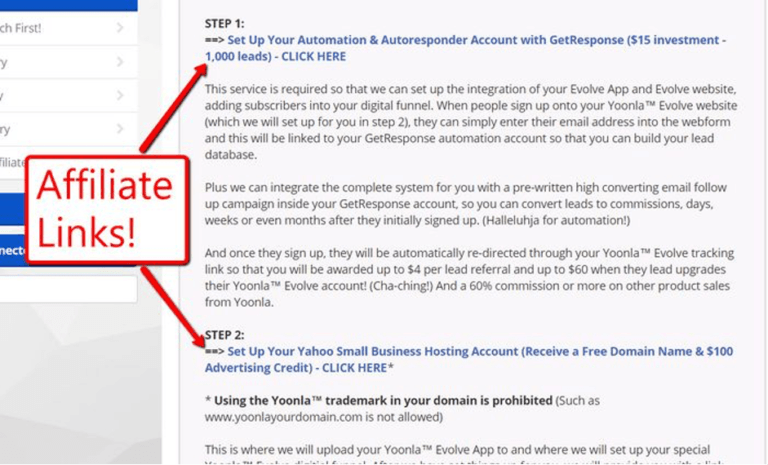 What this means is that when you join any of these products through those affiliate links, and pay for anything,  Yoonla earns an affiliate commission.
As these tools require you to sign up to either monthly or annual memberships, Yoonla will continue to earn money from you as long as you stay signed up.
But as they aren't being open and honest about this, I don't believe this is right for them to be doing.
#2 Membership Upgrades
The main purpose of the free starter membership within Yoonla is to make you upgrade to their Elite Membership.
The Elite Membership costs $297.  Out of this $297, they pay their affiliates 60% commissions, which means they will earn $118.80 per Elite Upgrade.
Whilst it's currently free to upgrade to Elite, and you only need to sign up to GetResponse and the Yahoo Hosting.
But when they start charing for the Elite Membership upgrade, they will start earning commissions from that.
#3 Email Marketing
Since Yoonla is a CPA Affiliate Marketing program, they also have a huge Email List in their system.  Which is a huge coup for them.
As long as you have an active and large email list, you can monetise in many different ways. For example, you can promote your affiliate offers or participate in Solo Ads.
It's hard to figure out how Yoonla are using this list, but the fact they have lots of emails mean they can monetise it in many ways.
What We Liked About Yoonla
Here's what we liked about Yoonla:
#1 Huge Members Base
According to Reno, the owner of Yoonla, they've acquired 1.2 Million members during phase 1.  And, currently have over 1.5 million members worldwide.
To be honest, this is an incredible number and achievement.  If you take our top recommended training platform called Wealthy Affiliate.  They have only 1.3 million members to date.
Although, the statistic that is more important is the amount of active members…
Wealthy Affiliate has over 10,000 active members every month.  I don't know where this compares for Yoonla.
Due to the nature of Yoonla being a CPA program, I highly doubt they have this many active members.  I'm guessing a lot of people join, and then leave as they cannot earn fast money…
If you know the stats, and can correct me, go ahead in the comments area.
#2 No Hype
I like the fact that they aren't relying on a load of hype to promote their platform.  I've seen too many when there is so much hype, you cannot really get any straight answers.
Reno is pretty honest in his welcome video, and he doesn't make any outrageous income claims either.
#3 Step-by-Step Training
Despite their starter membership training offers very little value, I like the way the platform is structured.  It's easy to navigate and the step-by-step training is easy to follow: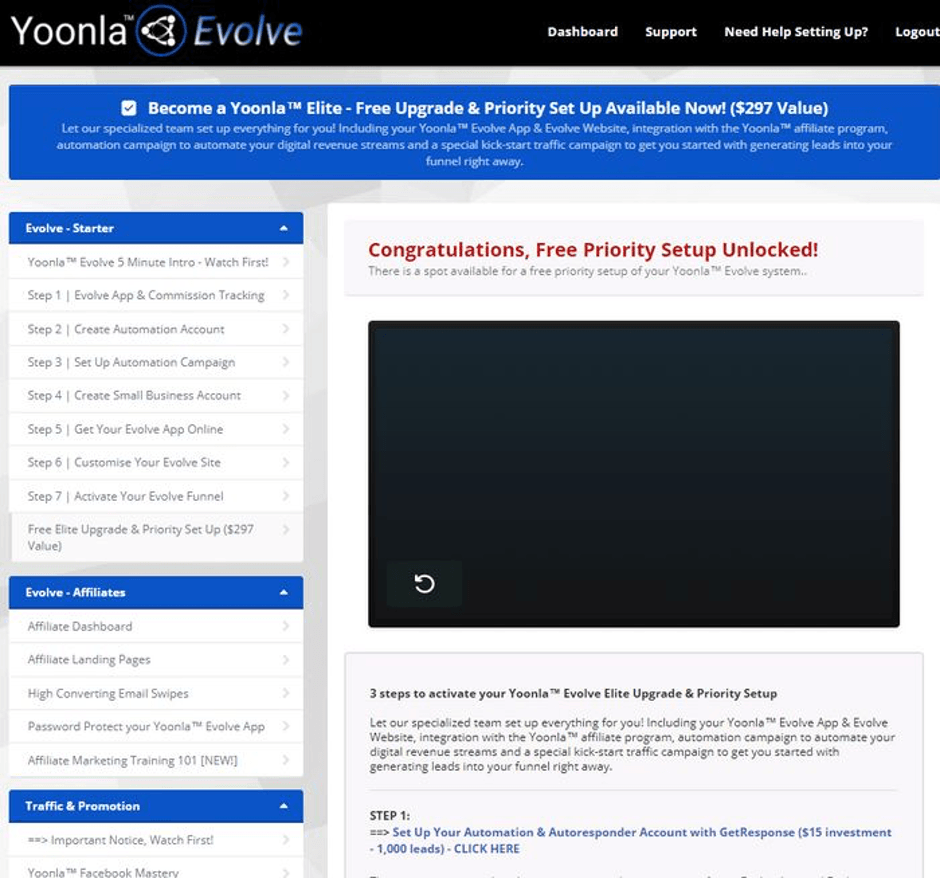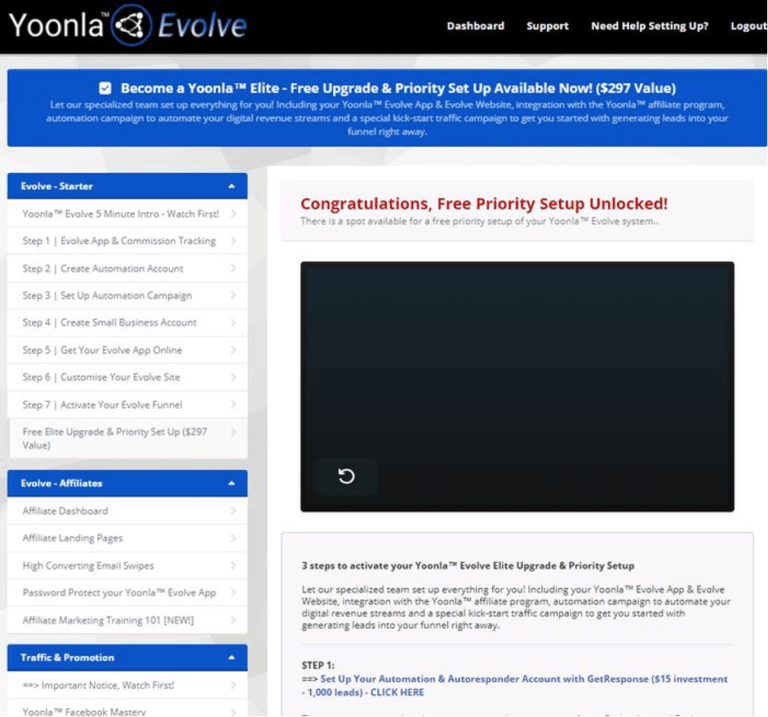 #4 Lucrative CPA Program
The ability to earn between $2 – $4 per lead is quite a lucrative deal as a CPA program.
Although, you do need to know how to drive traffic (the right traffic) to the platform…
What We Didn't Like About Yoonla
Here's what we didn't like about Yoonla:
#1 Pay to Play
Whilst Yoonla, does have a free starter membership, you can't really do a lot with it.  The main purpose of that free membership is to get you to upgrade to the Elite Membership.
You can only earn commissions if you have upgraded to an Elite Membership.  Which we have shown needs you to have paid for 2 external products.  But that isn't really affiliate marketing.  Real affiliate marketing does not require you to pay in order to promote a product or service.
This is something that really puts me off Yoonla!
You shouldn't have to pay for something to promote it, take Wealthy Affiliate.  It is our top recommended platform to learn and earn from affiliate marketing.  They too have a free starter membership and a Premium membership.
But their starter membership provides you with a free website, and you can also earn commission for referrals with no need to upgrade to the premium membership.
The Premium membership does provide you with more training, tools and support and a higher commission rate.  But that doesn't mean you have to be a premium member to make money.
That is the difference between a great and an "ok" training program.
#2 Paid Traffic Routes Only
The training at Yoonla solely focuses on paid methods to drive traffic to your landing page.  They focus on Solo Ads with a platform called Udimi.
Simply put, Solo Ads is where you pay someone with a huge email list to send promotional emails to their subscribers.
It can be an effective method, if you get it right.  But it can be just as ineffective, and costly if you don't know what you're doing.
Just because someone has a large email list, doesn't mean that you are going to be putting the right product in front of the right audience.
This becomes a problem when beginners try to get their heads around the traffic source.  It can cost you hundreds or thousands of dollars. Most beginners don't have the budget to invest into this in the first place.
I personally wouldn't advise a beginner to start with paid traffic routes.  I would rather recommend you learn how to drive free organic traffic from the search engines first.
It might be a slower method, but the traffic is free and targeted.
But nowhere does Yoonla discuss or train you on Search Engine Optimisation (SEO) and content marketing.
They are only focused on driving fast traffic to see results.  They also claim that once you become an Elite member, their team will run your campaigns for you… I highly doubt that will ever be a reality.
#3 Too Much is "Done For You"!
It sounds great that a lot of the hard work is done for you, a landing page, emails to copy and paste, etc.
But what do you really learn from Yoonla that you could take away and use on a different project?  What happens if Yoonla stops operating and therefore you cannot earn commissions?
This type of system makes you 100% reliant on them, you would need to go elsewhere to learn other techniques and strategies to use.
#4 Only Compatible with GetResponse
Yoonla's system is only compatible with GetResponse.  So if you already have an existing Email Service Provider, you cannot use it for Yoonla.
You would still need to get (and pay) for a GetResponse account to benefit from Yoonla.
Personally I prefer and I wouldn't be in the market to change to GetResponse and pay for it.
#5 Fake Website
This is a very common problem with several programs.  They promise you upfront that you'll be building your own website.
But all you are actually doing is building a landing page to collect Emails.  This is no different for Yoonla.
Your Yoonla Evolve App is all about setting up a lead generation page for you to collect Emails and follow-up with them to promote the Yoonla membership.
The one good thing to say about Yoonla here, is that as you pay for the hosting and domain, the landing page does belong to you.  But it only works to promote Yoonla.
Haven't Made Your First $1 Yet?
Studies have shown that more than 70% of the people who want to make money online have not made their first dollar yet. So, you're not alone!
No, I wouldn't class Yoonla as a scam… But I still wouldn't recommend it to anyone, and here's why…
The bottom line is that Yoonla is only focused on recruiting people.  The more referrals you can get under you, the more money you make.
This makes Yoonla a pyramid scheme in disguise…  It is hiding behind its training to justify the recruitment side, but it doesn't hide it well enough really.
Then there is the fact that the entire Yoonla system has been Done-For-You towards promoting the Yoonla membership.
You might think this is good, as it means you don't have to learn a lot to promote it, but this is actually a really restrictive program as you can only use it to promote Yoonla.
You cannot build your own online business in any niche or market you want. Even if you were to try, it would be very hard for you to succeed, simply as Yoonla doesn't prepare you for that.
You won't learn the necessary skills to operate your own website and your own online business to make money.
The final point I want to raise to you is this… if you did join Yoonla and start making money, but then the following day Yoonla closed down.  You would lose everything, and not be in a position to take what you learned to use it elsewhere.  That would be why I wouldn't recommend this to you…
Here's a Better Option...
For me, I would definitely stay away from Yoonla.  It's really restrictive and is limited to only push their membership.  I want to have the freedom to run an online business the way I want…
It might seem a little more challenging, but the benefits and reward will be much higher in the long run.
The good news here is that there is a platform that will teach you how to build your own online business from scratch, with a proven step-by-step training guide.
You can build your own website in any niche you want and promote any products you want and are passionate about.
That's the real way to do affiliate marketing, and not being restricted to only promote one product alone.
Our #1 Recommended Training Program is called Wealthy Affiliate.  It'll allow you to learn and earn from affiliate marketing.
It is also the very same platform that taught me how to build websites, just like the one you're reading from now.
Yoonla doesn't really gear you up for the long term, and all they expect you to do is to pay for people to come to your landing page, which doesn't guarantee a sale, even for a free membership…
So, the choice is yours really.  You can go for Yoonla, if you like.   It has it's advantages, but I don't believe it's the right way for affiliate marketing in the long run.
Thanks for checking out our Yoonla Review!  If you have any questions or comments to add, then please write them in the comments section. 😉