Welcome to our Crowdology Review!
Crowdology is a paid survey website, as far as that is concerned it is a legitimate platform.  But is it really the best option on the net to make money?  Well, not exactly we found a number of red flags that had us worried about this platform, which we will share with you in our Crowdology review…
First off, it's great to see that you're doing your research before buying into any "seemingly good" product.
That is how you avoid scams and find only legitimate ways to make money online!
To be completely transparent with you, we're not associated with Crowdology in any form.  We're not here to pitch or sell you anything.
Instead, we want to reveal why this program is not a great option…
Crowdology Review Summary
Product Name: Crowdology
Founder: Savanta
Product Type: Paid Survey Panel
Price: Free to Join
Best For: No One!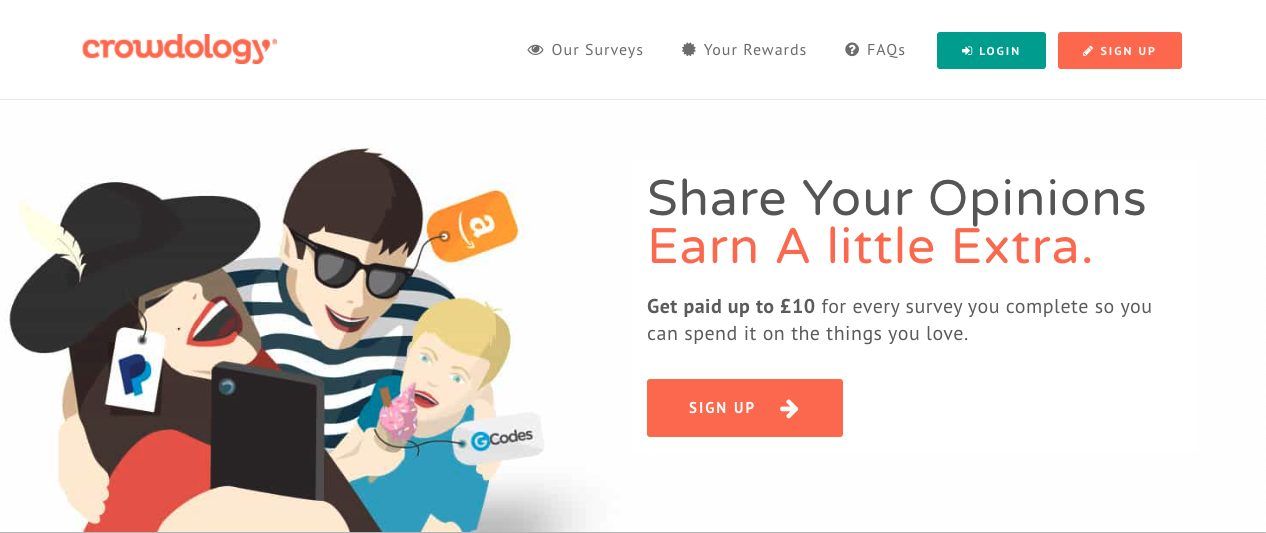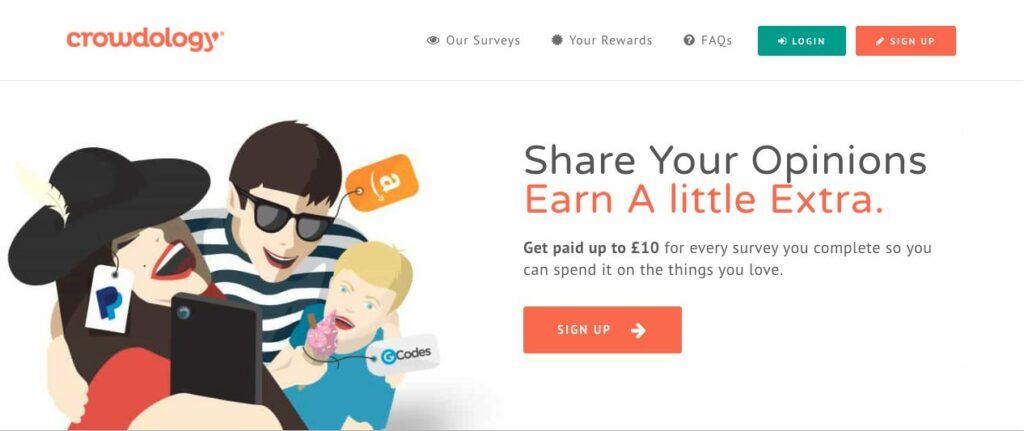 Summary: Crowdology is a paid survey website, where you can supposedly get paid for completing short surveys, with the promise of being paid up to $10 a time.
But that isn't really the case!  They may not be an outright scam, but they're just not a great option when you compare them to others on the market.  Plus, there are several complaints from members, including being disqualified or not being paid.
This isn't a great choice for someone looking to make money online!
Rating: 30/100
Recommended? No!
Crowdology is a paid survey website.  First off, it is a legitimate platform, and it's operated by a market research company called Savanta.
Survey sites are a way of company's getting feedback from consumers on a variety of different topics, members get paid for feedback on several topics.  It's not the best way to make money online, but they can help you earn a few bucks.
You do have to be mindful though, as with anything… But for every legit survey site, there is also a scam hiding as one.  But there are also a high number of low-quality platforms out there that don't particularly pay great, or don't pay you at all…
What I found interesting about Crowdology is that they make a couple of claims… the first is that they claim to pay you for every survey you complete.
That might sound weird, but it's actually quite unique as there are many platforms where you start several surveys only to get kicked out after five minutes, with the statement that you don't qualify for the survey. So, Crowdology claims not to do this, and you can earn from every survey.
The second claim is… that you can earn up to £10 per survey, with minimum earnings per survey starting from 40 pence.
For a survey, that is relatively high…especially when Crowdology also claims their surveys are only between two to 15 minutes, which again is pretty short for a survey, when you can earn £10…
To join Crowdology, you have to be either a resident of the US or UK, and you also need to be at least 18 years of age.
At present,  I don't believe you can join their platform via a VPN, but if you have found you can, let me know in the comments section…
How Does Crowdology Work?
I think the first thing you need to understand with survey sites, and the most common questions around survey site platforms is, where does the money come from?
Well, sites like Crowdology works with various brands and advertisers.  These companies are looking for opinions about their products or services.
They are also willing to pay for those opinions, in the hope it helps them improve their product or service, and get more sales.
These brands and advertisers pay platforms like Crowdology to get those opinions.  Crowdology uses this money to attract consumers like yourself to fill in these surveys.
But the biggest thing you need to know, is that this isn't going to be an opportunity to live off the earnings from these survey sites.
You might be lucky to earn $50 a month, if you're lucky and fit the ideal profile and put in hours a day to get these surveys complete.
When you think about it, if you're spending hours a day, every day to earn $50 a month.  You' d be better sticking with your current job, as the amount you can earn is just so low…
P.S. This program enabled us to Create a 4-Figure Monthly Passive Income. It's Free to get started and costs only $49/month to go full-time!
Once you've signed up with Crowdology, you'll go through the usual demographic survey that most survey sites give you.
This helps them build up your demographic profile, so they can then present you with relevant questionnaires for you to complete.
Although, the majority of survey sites do that, even ones we like, such as Swagbucks, Prolific Surveys, etc.  But I still not sure how they can guarantee you get paid for every survey, as Swagbucks does the same.  And yet, you still get thrown out of some surveys stating that you don't qualify.
Most of the time, these companies are looking for a specific consumer type.  I've found that some specific profiles get loads of opportunities with survey sites, and others don't get any.
For example, I don't smoke and don't have any health conditions, so I don't seem to fit many profiles and get not many surveys to complete.
Anyway, let's go through the how you can earn money with Crowdology…
Paid Surveys
Your only way to earn money with Crowdology is by completing online surveys.
Once you've completed your demographic profile, you'll be able to access the surveys that are available to you.  These are the surveys you qualify for, based on your demographic profile.
The length of the survey will vary, with the length of time being the basis for earning more.
Some of the surveys are as short as two minutes long, whereas there are others that are 15 minutes long.
Long with most survey sites, you may also get disqualified in the middle a survey.  This could be either due to the survey reaching its maximum of submissions, or your demographic didn't entirely fit the survey after all.
This does happen more often that you think, so just because you see surveys on your dashboard, doesn't mean that you'll still be eligible for the surveys too.
Haven't Made Your First $1 Yet?
Studies have shown that more than 70% of the people who want to make money online have not made their first dollar yet. So, you're not alone!
Getting Paid at Crowdology
Survey sites have a minimum threshold for you to achieve before you can cash out.  For the UK, it's £4.  For the US, it's $8.
They payout via PayPal, or you convert your earnings into Amazon gift cards from £10 or $10.
How Much Can You Make at Crowdology?
I think you have to be realistic, and to be fair to Crowdology's FAQ, they do tell you that you're not going to be earning a fortune with this platform.
The longest survey could earn you £10 or $10, but they do state that the majority of their surveys are a coffee break time survey, which will earn you between 24 pence to £2.  The US, is between $0.50 to $2.50.
Earlier in the review, I said they claimed that you would get paid for every survey you do… that is true, but to clarify, it's for every survey you complete in full.
So, that means you could spend five minutes on a survey, then get booted out for not qualifying, you will not get any reward for that…
Like with most survey sites out there, these platforms are really only for those looking to earn some casual income.  It might suit those who want to save a few dollars/pounds a month towards the holidays.
But there isn't anything that really makes this survey platform any different to the others out there.  It's not going to replace your current job, and as long as you're happy with that.  It might be a good choice for you…
But before you make that decision, let's go through the pros and cons of Crowdology.
P.S. This program enabled us to Create a 4-Figure Monthly Passive Income. It's Free to get started and costs only $49/month to go full-time!
What We Liked About Crowdology
Here's what we liked about Crowdology:
#1 It's Legit
The company is legitimate, and they do offer surveys for you to complete.  There are some issues, which we'll go through shortly, but it is at least a legitimate platform…
What We Didn't Like About Crowdology
Here's what we didn't like about Crowdology:
#1 Not Getting Paid or Disqualified!
There are a lot of complaints about this platform on Trustpilot.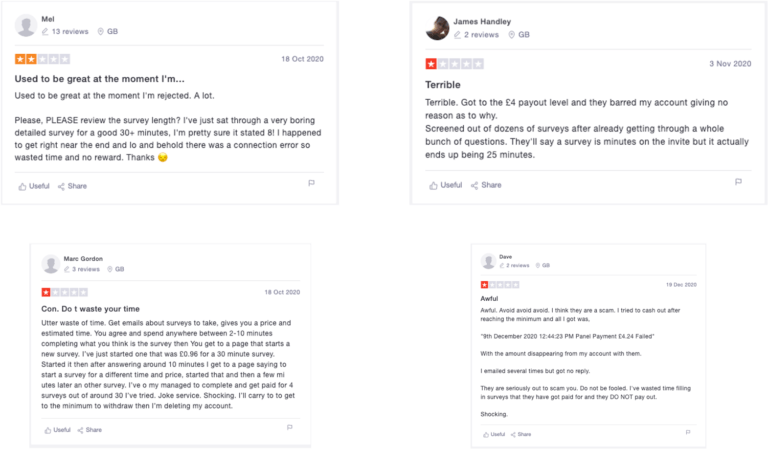 There are plenty of complaints that say that people are completing surveys, and then clicking the submit button, it then tells them they don't qualify.
Complaints about not getting paid when they try to withdraw their earnings.
The problem is, there were complaints about this in 2017, and yet there are still complaints about this from late 2020.
They actually come out with a TrustPilot score of only 1.7 out of 5 and a bad rating:

#2 Poor Customer Support
The main reason behind their poor score on Trustpilot is down to their poor customer support, or the lack of it to be precise.  They aren't exactly very responsive when it comes to addressing certain issues…
Haven't Made Your First $1 Yet?
Studies have shown that more than 70% of the people who want to make money online have not made their first dollar yet. So, you're not alone!
No, I don't think that Crowdology is a scam.  But, there are some really bad issues that make us not want to recommend this to you. 
The fact that people are having issues with actually being able to access the money they have earned, and being constantly disqualified halfway through surveys is really concerning.
If surveys is the direction you want to go, then I would suggest you check out Swagbucks or Prolific Surveys…
Let's face it, online surveys are never really going to earn you a huge income.  You might be happy earning a few bucks from completing surveys.
But it might also be that you've never really found another alternative to completing surveys.
Spending hours a day on online surveys, only to walk away with a few dollars isn't exactly going to lead to earning a passive income.
But if you're after a good alternative, that can lead to a full-time income online!!  Thanks to Affiliate Marketing, some awesome training and a lot of hard work, we've Created a 4-Figure Monthly Passive Income Stream…
If you want to learn how we did it, and how you can get started yourself, click here…
Thanks for checking out our Crowdology Review!  If you have any questions or comments to add, then please write them in the comments section below. 😉