Welcome to our Monster Mode System Review!
Have you been looking for an easy way to make money online and the Monster Mode System looks totally unbelievable, and yet there is a little part of you that is questioning whether Monster Mode System is a scam?
Monster Mode System is the latest product to be released from Bryan Winters.  Their sales page claims it can make you $500+ on autopilot, meaning minimal effort from you.  But making money online is never as easy as these types of program make out.
First off, it's great to see that you're doing your research before buying into any "seemingly good" product.
That's how you avoid scams and find only legitimate ways to make money online!
To be completely transparent with you, we're not associated with Monster Mode System in any form.  We're not here to pitch or sell you anything.
Instead, we want to reveal the truth behind the claims and hype?  We will reveal that information to you in our review.
Let's get into our review with a quick product overview:
Monster Mode System Review Summary
Product Name: Monster Mode System, Monster Mode 700K
Founder: Bryan Winters
Product Type: Internet Marketing Sales Funnel, Affiliate Marketing
Price: $17 + Upsells ($358) + Hidden Costs
Best For: The Owner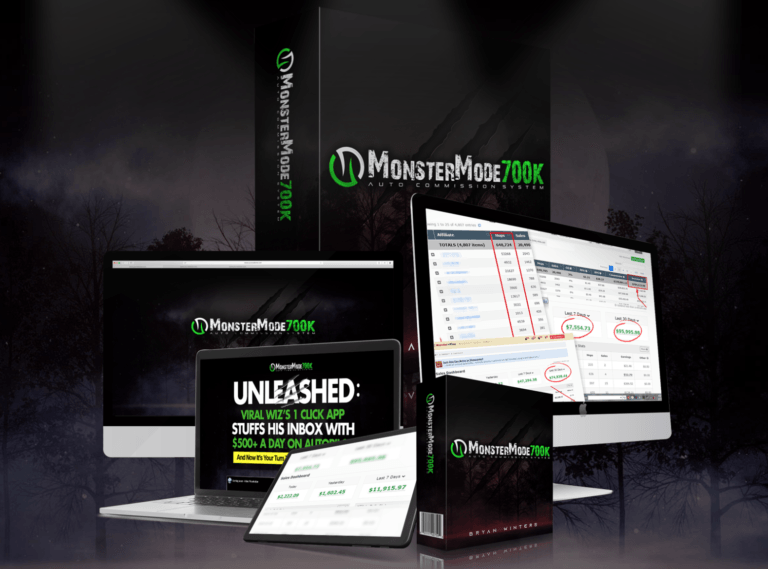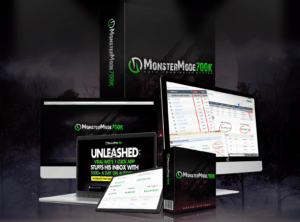 Summary: Monster Mode System is an Internet Marketing sales funnel.  It allows you to promote 5 "top-selling" programs on WarriorPlus+ and earn commissions when any of your prospects buy into them.  However, whilst this program does provide you with a sales funnel, it leaves you the hardest part to achieve and that is attracting traffic.  Without knowing how to generate traffic, this program would be useless anyway.
The small starting fee also only unlocks certain features and you will have to pay a lot more to unlock the actual features that allow you to earn commissions.
This is typical of many programs in the MMO sector, full of hype and false promises with a need for you to spend a lot of money to unlock the bits that might work.  But they all expect you to get the traffic part, which is the hardest part of Internet Marketing.
My advice is that this is only designed to make the owners money and not really help a beginner get started online…
Rating: 25/100
Recommended? No
What is Monster Mode System?
Monster Mode System is an Internet Marketing Sales Funnel brought to you from Bryan Winters.  The Sales Funnel allows you to earn commissions from promoting 5 other products by Winters through this sales funnel.  It makes some bold claims, it also makes it look like you only need to pay a one-time fee: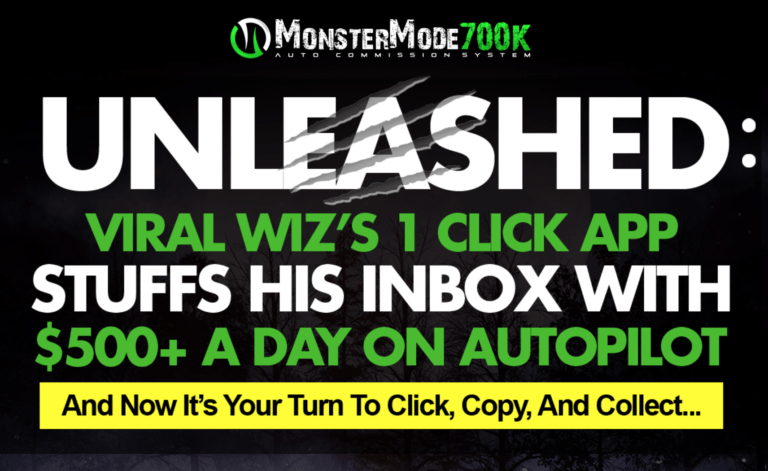 The sales funnel you introduce people to, will funnel them through these 5 products.  If any of them buy any of the products you are told you will earn 100% commissions with a potential return of up to $954 if they buy them all.  But there is a catch, which we will go through later.
Just know that this system follows many other programs by making huge claims that make it sound like it is the easiest and most simple way of making money online, but the truth is far from it.
First off, this sales funnel requires visitors to it.  That means that whilst the Monster Mode System sounds like it does everything for you, it does not.  In fact, the hardest part of Internet Marketing is left up to you to do.  Let me explain as we get into how MMS works.
How Does Monster Mode System Work?
Let me start by telling me there is nothing wrong with having a sales funnel, they are very effective.  But they do need to be done right and offer value to the audience to get the best results.  A sales funnel is designed to take a relevant visitor through a number of steps to introduce them to a relevant product.  
For example, our sales funnel takes someone interested in learning affiliate marketing through to a platform where they can learn affiliate marketing and get started for free.  But the key difference is I am totally honest through my funnel.
The Monster Mode System is a sales funnel that takes any of your prospects through a pre-set funnel system that will promote 5 products to your prospects.  These will be presented in a similar way to how you find Monster Mode System is promoted to you (a low-ticket item that gives way to other hidden high-ticket items) and you will receive commissions if any of them buy the products.  So, basically you need you referrals to spend money on these products to be able to make money yourself.
That follows typical affiliate marketing, which is our §1… However, the sales funnel and who what Monster Mode System offers is only stage two of the process.  You need to get people to your sales funnel first.  How are you going to do that, well you are still left with that to do?  MMS does not do that for you.
There is also the fundamental flaw that is, you will only earn commissions if you yourself buys the products.  Which are presented to you as a series of OTO or one-time-offer upsells.
We will go through those in the next section.
But at this stage I want to point out that you are going to need to buy these to qualify for commissions for any of your referrals buying them and you are still going to need to know and understand how to bring traffic to your sales funnel.
Generating traffic is the hardest part of any online enterprise.  Not hard as in difficult, but it requires hard work and time to do it.  Whether you go down the free routes or paid routes you need the right strategy to do this, and ultimately promoting these types of MMO (Make Money Online) products often exploits beginners who think they will do what they claim it will do and could harshly affect your reputation putting a stop to your income.
Below is a video review I found, whilst they detail how the system works. I would remind you to be wary, as this guy is also trying to promote this product to you to buy:
We can help you learn how to generate traffic, but why pay over $400 to promote MMS when you could choose a hobby you enjoy and earn passive income from promoting stuff you love – You can even get started for FREE, learn more HERE.
Let's get into the costs of Monster Mode System
Haven't Made Your First $1 Yet?
Studies have shown that more than 70% of the people who want to make money online have not made their first dollar yet. So, you're not alone!
How Much Does Monster Mode System Cost?
Nowhere in the sales page does it tell you the base price, other than it should normally be $197.  Our research has shown it is $17 when you first hit the website, but they use a timer to make it look like you better buy it now before the price increases.  
$17 for a program that is going to automatically put money into your account looks like a good deal, so you buy it…  However, like we have already pointed out that:
It will not help you get the traffic you need to do this yourself &
To qualify for commissions, you need to buy the OTO products
Ultimately, this product follows a number of these MMO products that use this tactic of showing you a low-ticket price item to get you in, and then they hit you with the fact the base product will not do everything the sales page said it would.  You are going to have to spend more money if you want to get close to its full potential… You buy them, because their sales tactics are clever, but remember it still requires you to get the traffic.
You could be $400 out of pocket, and still no closer to understanding how to get traffic other than using Solo Ads, which many of these programs tell you to do which are both expensive and not that good at converting sales.
I digress, let's get into the OTO prices:
OTO 1 – MMS's Autopilot Traffic Pool: $97 with $67 Downsell

To get any kind of help to gain traffic, you are going to need to spend $97.  They "guarantee" traffic with this option.  But our experience shows that this does not guarantee conversions.  I am not convinced, I have checked out other products and whilst you get traffic to your funnel, it doesn't always guarantee conversions, but even if it does you are exploiting people to make money, which we do not condone.
OTO 2 – MMS's Push Button Leads: $67 with $37 Downsell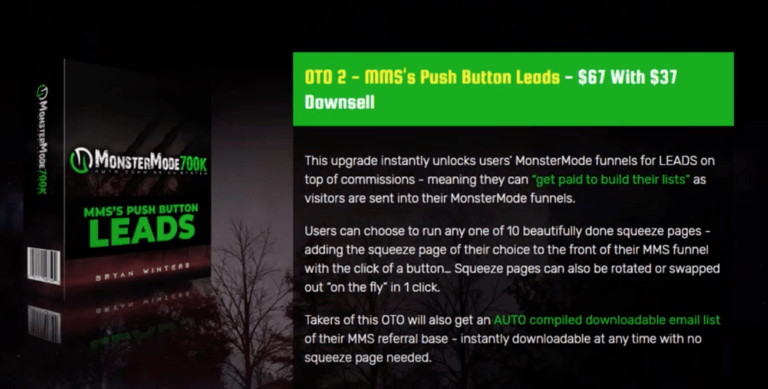 This option is all about helping build up an email list, using squeeze pages.
OTO 3 – MMS's 1 Click Monthly Commissions: $97 with $67 Downsell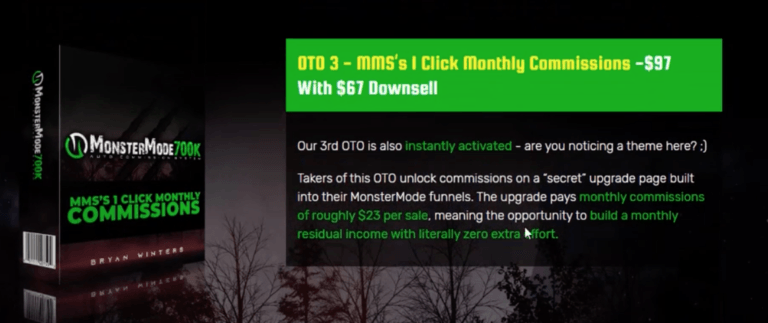 This adds another product to the funnel, which costs referrals a monthly cost of which you receive $23/month from.
OTO 4 – MMS's Backend Commission Stuffer: $97 with $67 Downsell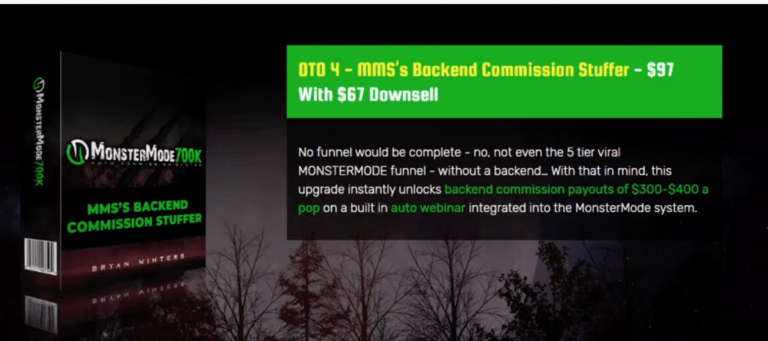 This adds an online webinar designed to get your referral to buy a high-ticket item that will return commissions of $300-$400…
OTO 5 – MMS's 5X Commission Booster: $197 with $97 Downsell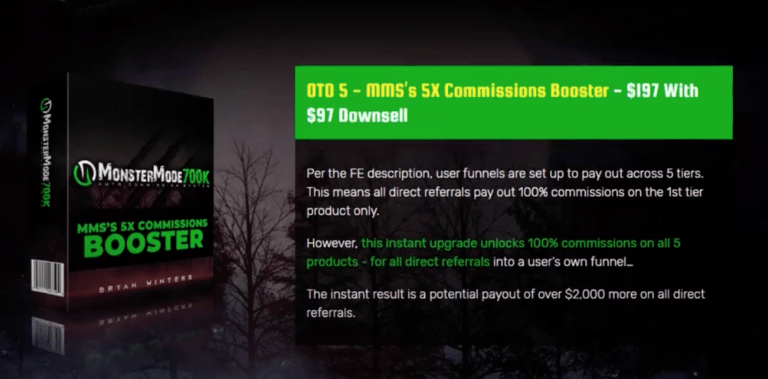 We couldn't figure this one out at first, but then worked it out.  Your referrals will not be going through the Monster Mode sales funnel like you did, they will just be going through your sales funnel, but they can also start referring those products to people.  
But to qualify for commissions, they need to buy the products themselves.  If they do not, but you have paid for this option, then you will receive any commissions they miss out on.
Reading between the lines, if loads of people stick with the base product and start promoting this product and they get a few to buy the more expensive items, the money will flow straight up to the owner – Bryan Winters.
You have to remember that Bryan and his team are experts at Sales Funnels.  He will have made money online with Internet Marketing and has a lot of experience, but he has chosen to focus on the money side and not helping people make a long-term money-making business.  This shows by the fact that all of his products are using the same tactics, show you fantastic results, but offer a base product that doesn't do anywhere near what he says it does.
These sales funnels entice beginners who lack the experience and they hand over their money, only to find that you are no closer to earning money.  In fact, you are more likely to be in debt if you pay out all that money for the products and find that their traffic source is not as reliable as they make out and you end up back at square one.
You have to be very careful when you see a product that claims to do all this, with such a low-price tag.  If it really did everything it says it does and was a more realistic price, I would get it.
I know you are probably looking to make money quickly, but I have yet to find one of these get-rich-quick schemes that actually works like it says it does… Making money online is possible, but it requires learning the correct methods, and putting some time and effort in.
Most people get put off, when we talk about it taking time and requiring effort.  But if any of these get-rich-quick schemes actually worked, everyone would be doing it.  There is a reason why not everyone is doing it, because they do not work… In fact, it can easily lead you into a scam that loses you a lot more money…
P.S. This Program helped us Create a 4-Figure Monthly Passive Income Stream.  It's Free to get started and only costs $49/month to go full-time!  It includes training, tools and support to help you get started…
Here's what we liked about the Monster Mode Systeem:
#1 30-Day Money Back Guarantee
This is the saving grace with Monster Mode System, if you were still interested in buying it then you could.  As MMS is covered by WarriorPlus+ 30-day money back guarantee, then you could get your money back.  But remember, this is only for the base product and not the other OTO products, which will not be covered.

Although, I was concerned that on their sales page they show a 30-day money back guarantee symbol, but then talk about only having 14 full days to request a refund…?
That was the only positive thing, I am afraid.  If they were more transparent and told you exactly how it worked and what you were going to need to do (build up traffic generation, etc.) then you could have a more balanced view.  But they do not.
What We Didn't Like About MMS
Here's what we didn't like about Monster Mode System:
#1 Full of Hype & False Promises
MMS follows a string of other products that all claim to be the magic system you need to make money online, only to pull the rug from underneath you as soon as you hand over your money.  The Sales page is just a load of hype to make it sound mouth-watering.  We have seen many of these programs and they all end up being full of false hope.  Even if you did buy the base product and then decide to proceed no further, it often feels like hard work to request a refund on $17, which benefits the owner anyway.  Imagine if 100 people all did that, he still earned $1700 from that one product.
The base products of these schemes never end up doing what the sales page say they do.  It is just a way of getting you into see the real products they want you to buy.  Which will end up costing you a lot of money.  If you are desperate enough, you may feel you need to buy them.  But trust me, you will end up no closer to making money online…
#2 Hidden Costs
Again, the real price of the product is not displayed to you on the sales page.  We had to dig to get the details and whilst they state that the products you will be promoting are top seller's on WarriorPlus+, that doesn't mean they are products that actually work.  They are all products that follow the same vein as this one.  They offer a low-ticket base product that unfolds to be an expensive one that doesn't fulfil all its promises with just the base product.
There is also the fact that as they are not offering any training into how to get traffic, unless you buy that one upgrade which will not be reliable traffic.  It stands to reason, they will promote Solo Ads to you, which again is not 100% reliable and it is also a paid ad route.  Meaning you need a budget for it…
#3 Have to Buy Upsells to Qualify for Commissions
To earn the money, they are claiming you can, you are going to have to buy the upsells.  There is no other way of you being able to do it otherwise.  Even if you already know how to generate traffic to your sales funnels, you are not going to need to unlock the commissions which sits in the more expensive products.
But as I am guessing you are a beginner online, you will find that you are relying on their traffic source, which I am sorry to say will not yield the type of results they are claiming.
Even if you take the screenshots that he is showing.  Bryan has been around for years, so he could be using any screenshot he likes to make it look good.
You shouldn't have to pay to unlock commissions in affiliate marketing, affiliate programs are free to join typically, so why are they charging you to unlock commissions.  If you don't pay for that 5th upsell, Bryan will be earning money from your sales funnel…
#4 Still Need to Learn How to Get Traffic
They have left the hardest part of online marketing to you.  I have seen too many of these programs where they claim to make you money on autopilot, and yet they leave the traffic generation to you.
Don't get me wrong, if you learn how to get high-quality traffic then there is an element of your affiliate marketing business being on autopilot.  Our website is open 24/7 365 and we do not need to be around to make money from it.
But without knowing how to generate traffic, there is no chance of your business making you money.
This often leads to beginners either walking away and losing their money or relying on expensive solo ads which end up costing you an absolute fortune and are no guarantee of success.
If you want to learn how to make money online with affiliate marketing, we can help you get started and you do not need to pay to get started.  Our top recommended training platform has a free starter membership and teaches people how to get online and make money legitimately with affiliate marketing, based on a hobby you have.  There is no hidden agenda and only one paid membership tier to upgrade to (if you feel it is right for you).  But the key difference is that they are transparent and honest about the effort you are going to need to put in, they teach you how to generate free high-quality traffic through the search engines and is how we got started online…
Don't rely on these so-called gurus who claim you can do it with the program, when they are not giving you all the information in their sales page.  Trust in people who are there to help you, and not exploit you…
Haven't Made Your First $1 Yet?
Studies have shown that more than 70% of the people who want to make money online have not made their first dollar yet. So, you're not alone!
My MMS Review - Final Conclusion
I wouldn't exactly say that Monster Mode System is a scam, but then I wouldn't describe it as a product that will help you make money online either.  There is a theme with these products, and it is the fact that they could work, if you already know how to generate traffic.  
But as they are targeting newbies that are lacking any knowledge when it comes to online marketing, it practically makes it impossible for you to make money with them.  They then tell you that you need to buy these other upgrades that will fill in the gaps, but then again that is no guarantee.  And yet, their sales page is full of guarantees that are far from the truth.
I am sure the sales funnel will work on unsuspecting people, but I cannot condone making money from exploiting people.  That is immoral and can lead to prosecution…
Affiliate Marketing is a legitimate way of making money online, but it needs to be done in the right way.  Promoting questionable MMO products is not a long-term strategy, as when those products are removed because of complaints, etc.  You lose your money income stream.
But promoting products you truly believe in with your own affiliate marketing business, can and will bring long-term success that leads to you earning passive income for years to come.
That is how we got started…
Long story short, we would not recommend this product to beginners looking to make money online… Read how we make money online and see if it is the right option for you below:
Let's get real, affiliate marketing is a legitimate way of making money online and it is how we make money online.  But there are so many programs like this one that make it sound like you only have to throw a switch and you will be making money.  
When it is not as simple as that.  It doesn't mean you will not be able to make money passively, but there are a few stages you need to go through before you get to that point.
All of these programs promise quick ways to make money with affiliate marketing, but the reality is that these programs are here to make the owners rich and not necessarily make you rich.
But I don't say this to put you off Affiliate Marketing, far from it.  But what I want to show you is that any programs that promise you quick earnings and little work are not your friend.
The way we make money online is through helping people find the right way to get started with affiliate marketing with a proven training program that offers a step-by-step training guide that will help you turn a hobby or passion into an affiliate marketing business.  But it will require you to put hard work in and take into account that this will take a little time.
But when you consider the alternative of continuing to search for a get-rich-quick scheme that will never do what it says it will do, then you may as well spend that time on a genuine way of doing it.  You could be earning passive income within a couple of months, or you could carry on looking and wasting your time and money on programs like this Monster Mode System.
It is up to you…
We are offering our help to anyone who wants to take our advice and start affiliate marketing with a legit company that will support you, will be honest with you from the start and offer you a proven step-by-step guide.  Better yet, you can even get started for FREE.  There are only two membership options with this program and no hidden upsells or hype.
If you want to learn more about our top recommended program, you need to click HERE.
Stop scouting around for something that doesn't exist, get-rich-quick schemes prey on your need for quick money because you may be in debt or struggling with money.  
But these programs will only make things worse.  You will find that you start to question anything and everything and never start anything that could make it much better.  
Wealthy Affiliate is the best option we have found online, and it is why we are here helping others get started with affiliate marketing the right way.
But it is up to you to work hard and turn it into a money-making machine…
Thanks for checking out our Monster Mode System review.  If you have any questions or want to share any experiences, then please write them in the comments section below.  We would love to hear from you… 😉