Welcome to our Mommy Jobs Online Review!
With the number of people who are finding themselves in a position where they need to find another job or want to look for a work from home job as a parent, it makes sense to do a look for options.  But for everyone legit platform online, there are probably ten scams.
So, where does Mommy Jobs Online Fit? Is Mommy Jobs Online Scam or Legit?  That's what we're going to help you understand in our review…
First off, it's great to see that you're doing your research before buying into any "seemingly good" product.
That's how you avoid scams and find only legitimate ways to make money online!
To be completely transparent, we're not associated with Mommy Jobs Online, we're not here to pitch or sell you anything.
Instead, we want to reveal to you what this site is all about.  Can it really help you find ways to work from home, and is it worth the price…
Mommy Jobs Online Review Summary
Product Name: Mommy Jobs Online
Founder: Unknown
Product Type: Make Money Online
Price: $85 or $210
Best For: Job Seekers Willing to Pay for Job Opportunities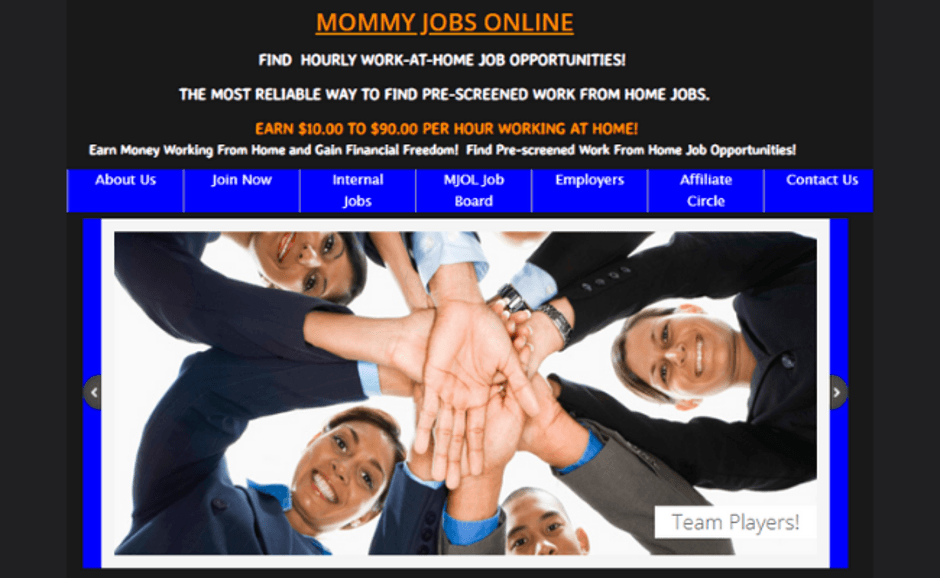 Summary: Mommy Jobs Online is a platform that helps you find remote jobs or work from home jobs to earn an income.  But we've got a few concerns that stop us recommending this to you.  First off, they're charging you to access these jobs that are usually available for free anyway.  Secondly, the jobs they are offering you are underpaid, which means you will need to put a lot more effort in to earn anything like worth it from these scheme.  Then there is just the look and feel of the website, it looks seriously outdated and the user experience isn't great.  This just shows they aren't too interested in making it easy for you to navigate their site.
It's not a scam, but then again you shouldn't have to pay to find opportunities that are freely available with a good Google search…
Rating: 40/100
Recommended? No
What is Mommy Jobs Online?
Mommy Jobs Online is a platform that offers you a selection of work from home jobs, as long as you pay to enter the platform.
One of the first things I noticed, and at first glance I did consider it could be a scam because of it was the state of their website: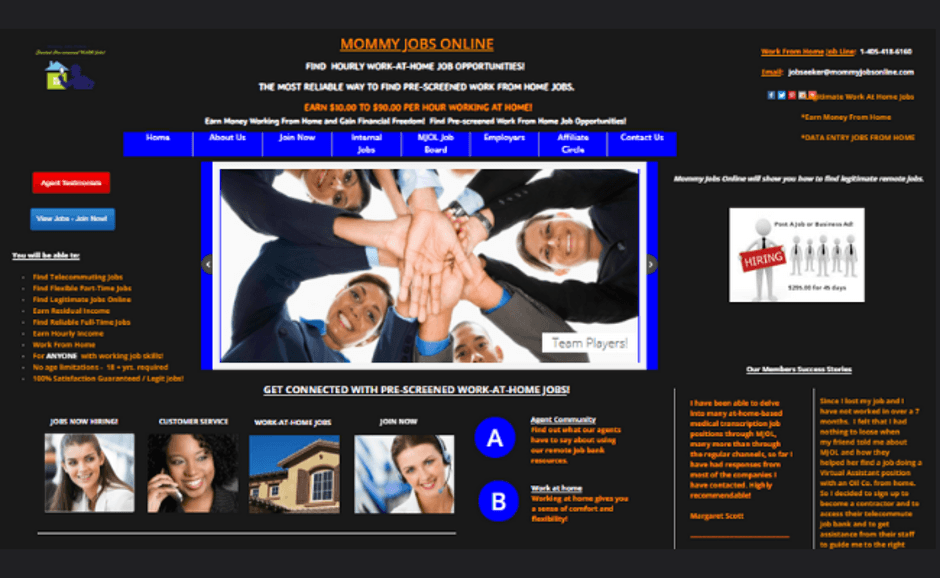 The website isn't of a great design and looks really outdated.  It first gave us the impression of a scam, and that might also be why you started doing some research into it.  
But if you put aside the look and feel of the website, it's an online platform that allows you to find work from home jobs using their platform.
How Does Mommy Jobs Online Work?
These are the steps that you must go through to get started with Mommy Jobs Online:
Join the website
Choose a Remote Job Bank Package
Sign up and fill in all the relevant information
Get your job link
Send your CV
Search for Jobs
Apply for Jobs
Start working if accepted
A lot of steps, but does add to the validity of the platform.
Haven't Made Your First $1 Yet?
Studies have shown that more than 70% of the people who want to make money online have not made their first dollar yet. So, you're not alone!
What Does Mommy Jobs Online Offer?
Once you finally get inside the platform, you can choose from various jobs on offer.  Some of the jobs include:
Proofreading
Writing
Clerical
Customer Service
Virtual Recruiting
Transcription
Medical Coding
Book-keeping
Virtual Assistance
Data Editor
Digital Marketing
Web Designing
Teaching & Tutoring
Who's Mommy Jobs Online For?
The title of the site is a little misleading, whilst they are probably targeting the stay at home mom.  The jobs they are talking about are for anyone who is looking for ways to earn money from home.
How Much Does Mommy Jobs Online Cost?
There are two membership points within Mommy Jobs Online.  The first will give you access to a limited number of jobs from just one category, and that one-time fee is $85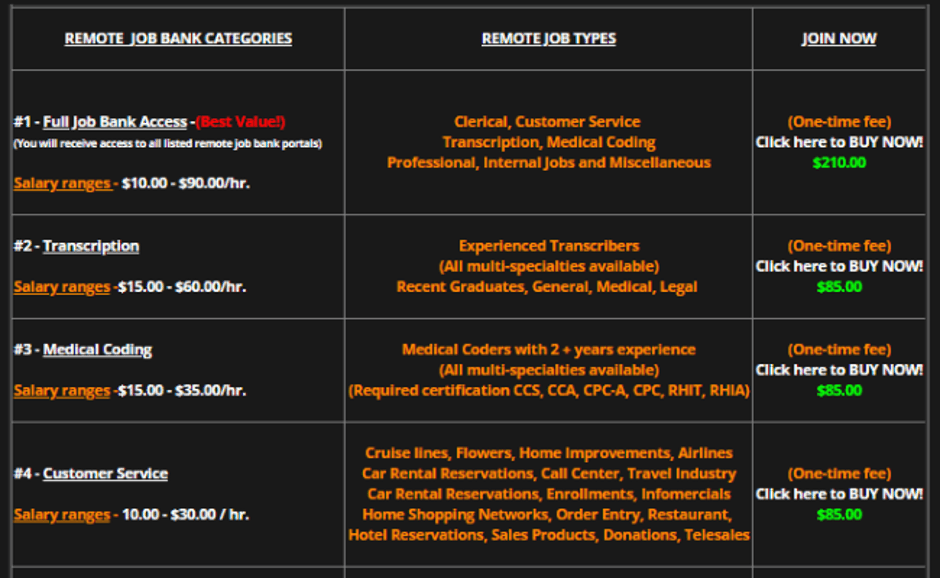 To unlock all the different categories and available jobs within them will cost you a one-time fee of $210.
What We Liked About Mommy Jobs Online
Here is what we liked about Mommy Jobs Online:
One-time Fee (Lifetime Membership)
Lot of Available Jobs
Strict Screening Process
Lots of Real Testimonials
What We Didn't Like About Mommy Jobs Online
Here is what we didn't like about Mommy Jobs Online:
#1 No Free Trial
You have to pay to access the platform, and there is no refund policy or free trial.  So, you need to ensure it is the right decision before handing over your $85 or $210 fee.
#2 Very Bad User Experience
The website is really outdated and it doesn't offer a great user experience, which is why some are considering it a possible scam.  But whilst the website isn't easy to navigate,  we are convinced this is legit.
#3 Work Isn't Guaranteed
You need to get accepted for the job, and that means there is no guarantee just by joining the platform.  They have quite a rigorous process, and like I said you need to get accepted to the jobs within the platform.
#4 You Pay to Get Work That is Available For Free
The worst thing about this platform is the fact they are expecting you to pay for access to what are effectively jobs that could be found for free.
For example, some of the jobs could be done as a freelancer by offering your services on a site like Fiverr, which is free to join.  Get paid to help businesses with certain tasks.
Do a google search for other types of jobs that are on the list above, and you will get plenty of them, without the need to pay $85 or $210 for the privilege.
Haven't Made Your First $1 Yet?
Studies have shown that more than 70% of the people who want to make money online have not made their first dollar yet. So, you're not alone!
Is Mommy Jobs Online a Scam?
Having taken everything into account, we're happy that this platform isn't a scam.  It offers a legitimate place to find legitimate online jobs.
However…
There are a few things that do worry us about recommending this platform to you.
First off, considering the website first came to be in 2004, but they have a very little social media presence.  That does seem odd.  It points towards this platform not being that popular.
Then there is the user experience of their website.  It shows to them not particularly caring about making it easy to navigate or attract people.  People do get put off by an aging website, it makes too many people feel like it's a scam.
The final concern we have is the fact they expect you to pay to access these sites.  This would usually trigger us to label it a scam.
My final point would be, it's up to you where you pay to join.  But you could find many of these opportunities elsewhere without having to pay for it…  Whilst it is a legitimate website, it's not the best resource to find these jobs online.
Mommy Jobs Online Review - Conclusion
The ability to work from home is something that a lot of people are searching for nowadays.  The recent pandemic has put many people into a tough financial situation, which has also led to a huge demand for those looking to work from home.
Having said that, the platform is asking for you to pay to access resources that are available for free elsewhere.
On the back of that, I would also say that the jobs they are recommending to you are seriously underpaid and cost you a lot of time that you can invest into something more meaningful…
If you're looking for an extra income, a side hustle, and the best way to start making money online, then our best recommendation is Affiliate Marketing.  With Affiliate Marketing, the start-up costs are very low, you don't need to have any experience, and you can also earn a long-term passive income too!
The last point is the main reason why we recommend Affiliate Marketing above all other online jobs that you'll find online.
Unlike with Mommy Jobs Online, Affiliate Marketing give you to ability to create a real online business.  This means that you will be in full control over what hours you worked, where you worked, and ultimately the income you can earn.
There are no limits to actually how much money you can earn with Affiliate Marketing.  We've been on our own Affiliate Marketing journey, and thanks to our top recommended training program we've Created a 4-Figure Monthly Passive Income Stream.  If you want to learn more about affiliate marketing and it's potential, click HERE.
Thanks for checking out our Mommy Jobs Online review.  If you have any questions or comments, then please write them in the comments section below. 😉