Welcome to our Coronavirus Cashflow Review!
We've all been affected by the Coronavirus pandemic, and it has affected some more than others meaning that you've probably been looking for ways to make some money online, and have found this program that claims to help you do just that.
But is it as good as it is claimed to be?  Will the results be as much as Jonny claims it will?  All will be revealed in our review…
First off, it's great to see that you are doing your research before buying into any "seemingly good" product.
That's how you avoid scams and find only legitimate ways to make money online!
To be completely transparent with you, we're not associated with Coronavirus Cashflow in any form.  We're not here to pitch or sell you anything.
Instead, we want to reveal what's actually inside this product and why you might be fairly disappointed with it when you do…
Coronavirus Cashflow Review Summary
Product Name: Coronavirus Cashflow
Founder: Jonny Rose
Product Type: Work from Home Training
Price: $7 + Upsells
Best For: People Looking to Make Income Online (But Don't Hold Out Much Hope)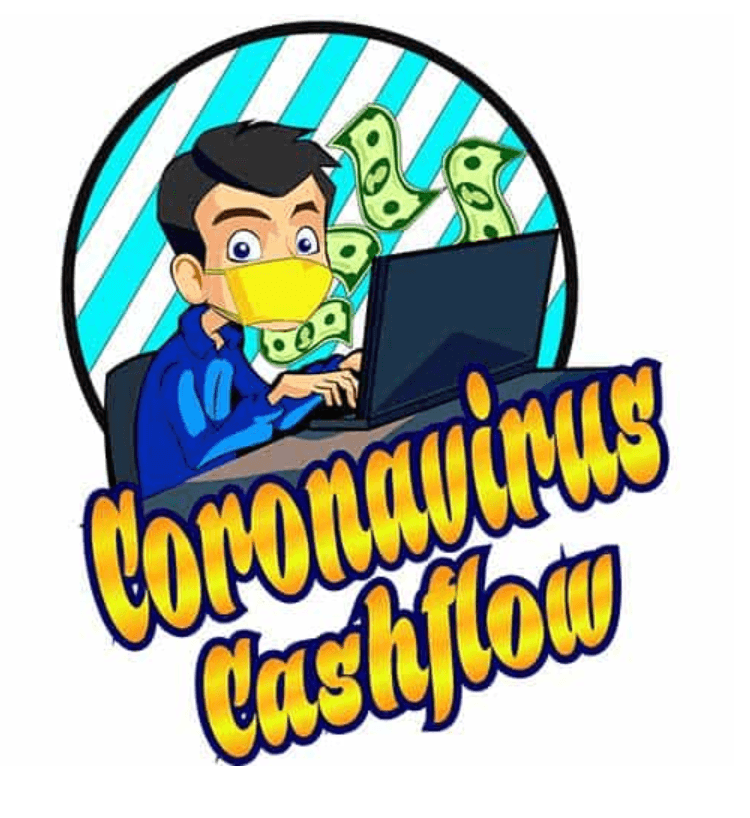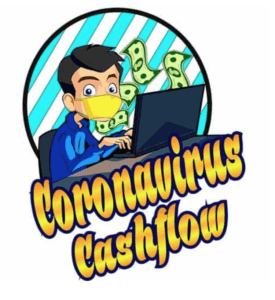 Summary: Jonny Rose is relatively new to the market with this being his first product.  He is being mentored by Jono Armstrong after paying a high-ticket price for one of his courses.  We're not a fan of Armstrong's actions, as his morals are a little in question.  Jonny's product is basically offering you ways to make money online, but when you get inside you find that he is only introducing ten jobs that will pay a really low amount, then goes on to sell high ticket courses teaching you how to become another Jono Armstrong or Brendan Mace type of marketer.
It is common online, but it isn't a very moral way of doing it.  Leading people down the garden path with a low front end product, only to offer an expensive route when you get in.  There is a little value within this program, but be mindful you will be funnelled into some high end product as well…
Rating: 50/100
Recommended? No
What is Coronavirus Cashflow?
Coronavirus Cashflow claims to be a way of earning fast money whilst self-isolating due to the current pandemic.  He also claims that you don't require any experience, and anyone can get started, plus it's only going to cost you $7.95 too.  He promises to give you ten ways to make easy money, where you could even get started earning today.
Now, I will say at this point you will get given ten ways of making money, it's also possible for you to earn money today with this methods.  But don't expect it to be a life-changing amount of money.  The methods are taking surveys, watching videos, etc.  
Stuff that is legit, but not going to earn you a lot of money.  The average survey online only pays pennies and you need to do a lot of them to even make it a worthwhile event.
Jonny also throws in a few bonuses, but these are like three years old and so won't actually be worth it as the content within them is outdated.
But he also offers another way for you to make more money, but you're going to need to buy some upsells through his sales funnel to access them…
Inside Coronavirus Cashflow
Within the members area of Coronavirus Cashflow, you'll find ten modules, some bonuses and a few upgrades.
The training is delivered via videos, and you're offered ten ways you can make money: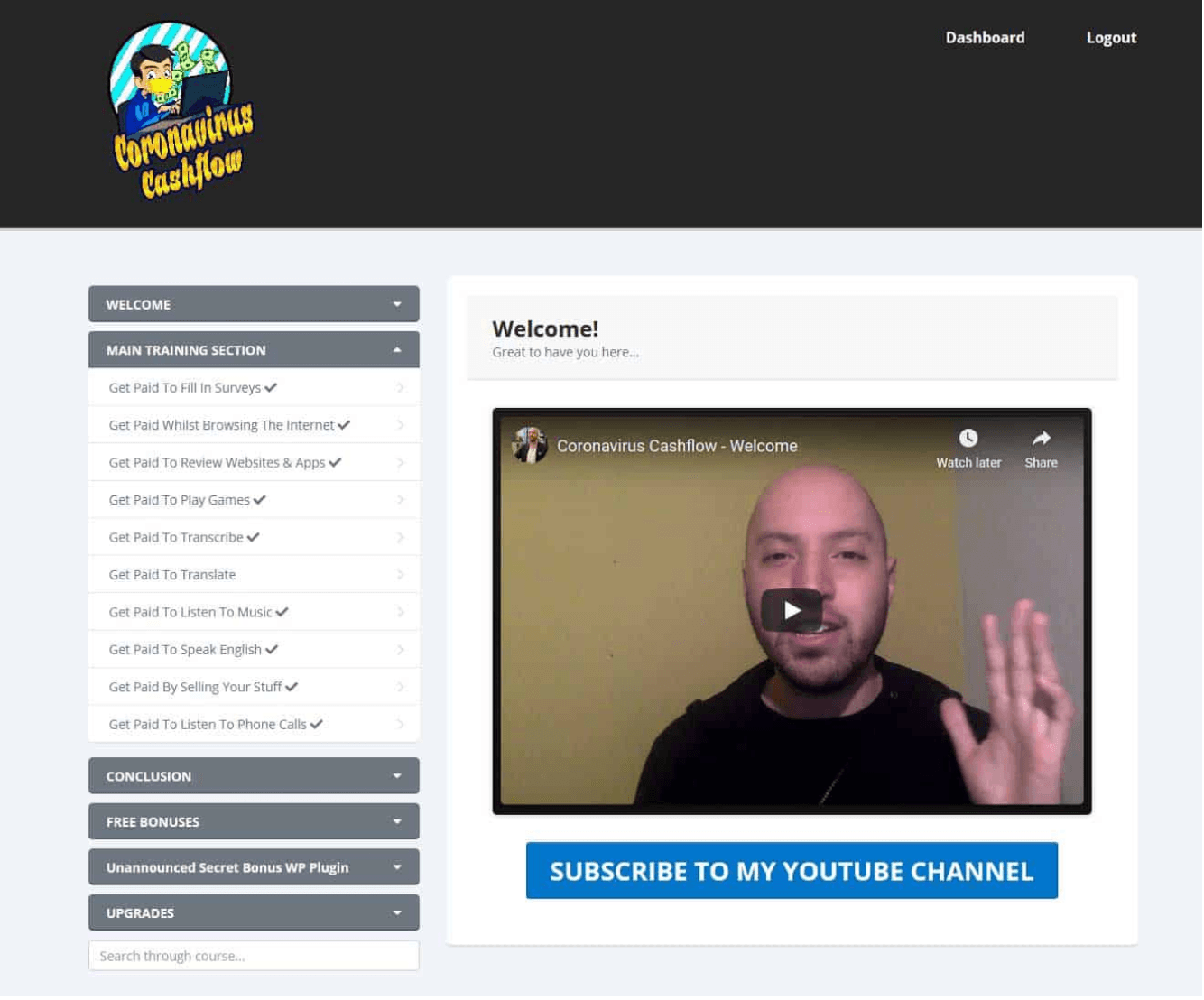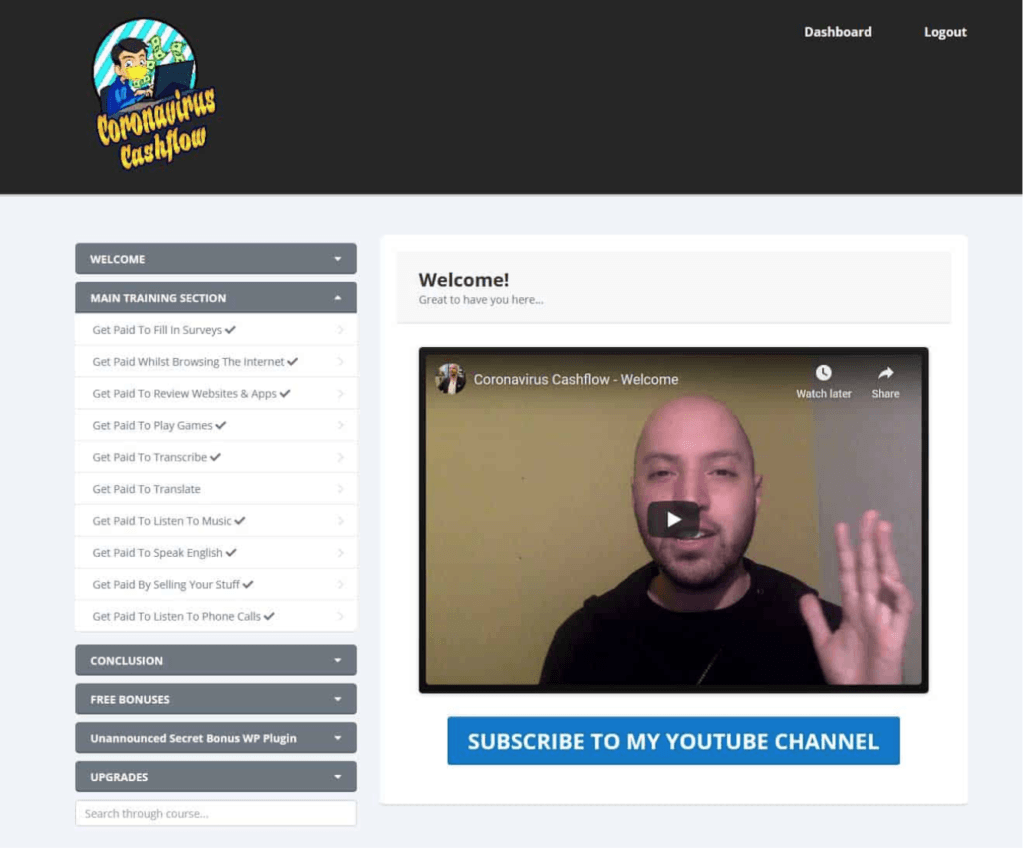 The Ten Modules Within Coronavirus Cashflow:
Here is what you will find within each of the ten modules:
First Module – Online Surveys
Let's just get it out there, they always overhype the earning potential of online surveys.  They don't pay a lot anyway, then there is the point that certain demographics find it really hard to actually qualify for the surveys.  Some of the pre-survey questionnaires actually take you ten minutes, and then they tell you that you don't qualify and won't earn anything from it.
The majority of the time, online surveys are an easy way to make money, but that doesn't mean it's going to be a high amount of income.  The amount of time you spend on them, is totally not worth the reward…
Related Post: 10 Things You MUST Know Before Taking a Paid Survey Online
Second Module: Get Paid to Browse Websites
This will show you how to search and browse websites using downloadable apps.  You'll be paid for tiny amounts for each of these searches.  8 hours a day to walking away with only a few dollars, isn't my idea of earning money online…
Third Module: Review Websites For Money
This sounds like a good idea, although it doesn't pay a lot with the way they are talking about.  You download screen capture software and then test websites and apps.  You could sign up for more of these, and potentially make more money.
However, you will need to be comfortable with talking through your findings vocally, whilst recording your screen.  If you're not very articulate, you could find this isn't the right option for you…
Fourth Module – Play Online Games
This one sounds appealing, but it isn't as good as it's made out.  They are usually games you wouldn't want to spend 8 hours a day going through.  The payout is really low, and you usually earn tokens, rather than real cash that you have to convert.  But this makes it harder to understand the real earnings.
I have known examples where you could spend 8 hours doing this, and still not have earned enough to spend on a coffee (when we are out of lockdown).
Fifth Module – Transcribe
This module shows you how to earn money from transcribing videos.  The payout is again low, and you'll need to be really good at spelling and grammar, as they will usually expect you to pass a test and have your work regularly assessed.
You'll also need to type really quick to make it even close to being worthwhile…
Sixth Module – Translating
You'll need to be literate in two or more languages, both verbally and grammatically.  There is usually a test to get in, and considering it's a skilled job, it doesn't pay an awful lot, unless you are able to do it really quickly and get a ton of work.
Seventh Module – Listen to Music
This is probably the worst idea on the list.  It doesn't work or pay, and I think it's only on there as they didn't want to only have 9 on the list…
Eighth Module – Get Paid to Speak English
This sounds a lot simpler, then it sounds.  You'll need to speak two languages to a degree level.  You'll also need to have evidence of your qualifications or you wont get the gig.
Ninth Module – Selling Your Stuff
Sell your unwanted things from around the house and get a fraction of what it's worth by using seller apps.
Or, you could just do the same and get a better rate using eBay…
Tenth Module – Listen to Phone Calls
This module talks to you about how you can listen in on company phone calls and report your findings.  You could do a simple Google search and find plenty of these opportunities, but then you would also see that the feedback about this type of opportunity reports that there are a lot of people who have tried it.
They report struggling to get paid, and not to mention the boredom that comes from sitting through calls that don't really interest you…
The Bonuses
There are a number of bonuses included within Coronavirus Cashflow, but like I said earlier these are outdated and you could find up-to-date information with another quick Google search or checking out YouTube for information.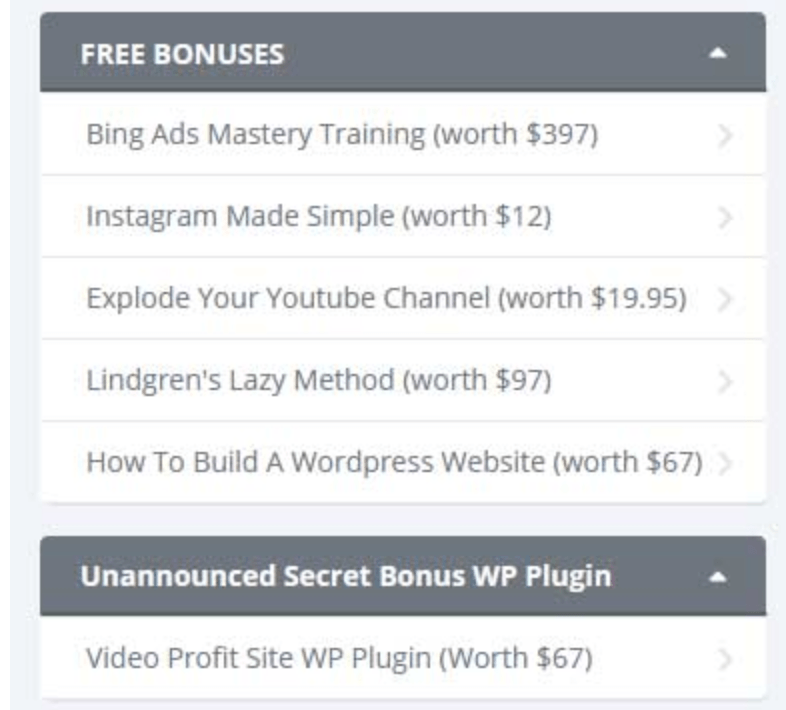 The bonuses aren't that much great hat, and like I said there are better free resources online…  They also lack context, as you need to be on the right strategy for them to point you in the right direction.
How Does Coronavirus Cashflow Work?
When you factor in that he has told you that he will show you ways to make easy money with his course, and he does.  But even if you spend hours everyday on all ten of the ideas, you will not be able to earn the kind of money that you would want to earn.
Jonny is following the techniques he has learned from Jono Armstrong, or Brendan Mace.  That charge people like him $2,000 to learn how to create and promote your own course/product.
But it lacks the quality or detail needed to make money online in great amounts.  But it will show you some basic ways of making money online.
Haven't Made Your First $1 Yet?
Studies have shown that more than 70% of the people who want to make money online have not made their first dollar yet. So, you're not alone!
How Much Does Coronavirus Cashflow Cost?
Look, for $7.95 you are getting ten ways you could make some money online, albeit not in a great quantity.  This is Jonny's first product, so expect to see more from him.
If 100 people bought his product, that equates to $795 income for him.  That is the strategy that Jono Armstrong teaches people, but to learn those methods you'd need to spend $2K to learn from him, and not from this product.
P.S. This program helped us Create a 4-Figure Monthly Passive Income Stream.  It's FREE to get started and only costs $49/month to go full-time!
What We Liked About Coronavirus Cashflow
Here is what we like about Coronavirus Cashflow:
#1 Promoting Legit Methods
Whilst the methods Jonny shows you are not going to set the world on fire, they are all legitimate options for making money online…
#2 Money Back Guarantee
As Coronavirus Cashflow is offered via the WarriorPlus marketplace, you get a 30-day money-back-guarantee
What We Didn't Like About Coronavirus
Here is what we didn't like about Coronavirus Cashflow:
#1 It's a Little Misleading
Look, I know that he is offering legit ways to make money via his list of ten ideas.  But this information is all available elsewhere for free.  Most of the time when you search on Google for ways to work from home, you will find a ton of blog posts that will list the same or a similar list, that you just paid $7.95 for access too.
Then there is the fact that the way it is pitched makes you think that you are going to be earning more than is possible with this program.
He doesn't quote cross that line, and I like that, but it still is a little misleading.
#2 You're Paying for Information That is Freely Available
The fact he is charging you for information that is available online with just a quick Google search.
#3 The Positive Reviews From Others
Just be aware of the marketers who are giving this product a glowing review online.  That is usually that they are promoting the product for commissions, and aren't going to be completely honest with you…
Haven't Made Your First $1 Yet?
Studies have shown that more than 70% of the people who want to make money online have not made their first dollar yet. So, you're not alone!
My Coronavirus Cashflow Review
At the end of the day, the product only costs $7.95 and you will learn ten ways that you could use to make money online, but don't expect this to end all your money worries and you can sit back and relax earning passive income.
These methods that are shown to you within this product are all legit, but require a lot more effort than the return warrants.
My idea of making money online, isn't sitting there for 8 hours to complete surveys and having just a couple of dollars to show for it.
Whether you buy this product, it's up to you.  We don't recommend it, as you could find information about all of these methods for free with a quick Google search.
There are much better ways to make money online, and those who are willing to put the effort in would find better rewards for their time too…
We're not a fan of Online Surveys and the like, not because they aren't legitimate, but because the return on your time is very low.  Earning a few pennies per survey or video, is not our idea of earning money online.
We recommend Affiliate Marketing to anyone wanting to earn an income online.
The reasons are simple…
You can make money from any hobby or passion you have.
There's no need to recruit like with MLM or anything like that
It's FREE to get started…
In fact…
Thanks to Affiliate Marketing, we've now created a 4-Figure Monthly Passive Income Stream.  Check out our  top recommended training program, click here to learn how you can get started for FREE…
Thanks for checking out our Coronavirus Cashflow review.  If you have any questions or comments, then please write them in the comments section below. 😉