Welcome to our Big Profit System Review!
Have you been asking yourself "Is the Big Profit System a Scam?"  We are here to help you get the answers you need.  There are lots of interesting bits about this system that claims you can earn $500-$10,000 a week without even doing any work?
There must a catch, right?
Keep on reading and we will show you everything you need to know.
First off, it's great to see that you're doing your research before buying into any "seemingly good" product.
That is how you avoid scams and find only legitimate ways to make money online!
Instead, we are here to just help you get the facts about the Big Profit System.
Big Profit System Review Summary
Product Name: Big Profit System
Founder: William Foley
Product Type: Cash Gifting Pyramid Scheme
Price: $1,000 to $20,000
Best For: The Owner

Summary: The Big Profit System claims to let you earn money with a system that does all of the hard work for you… But in reality, it is a cash gifting pyramid scheme where you will need to pay to play and promote the same dodgy platform to other people to be able to make money.
There are huge costs associated with this platform and no guarantee of success. We firmly believe this is a scam, avoid at all costs.
Rating: 1/100
Recommended? No!
What is The Big Profit System?
Big Profit System claims to be a system where you can easily earn $1,000 – $10,000 a week without doing any internet marketing… in fact, they state you will not even need to speak to anyone to close a sale:


That's right, you don't need internet access and you don't even need to use a phone.  They also come up with the premise that you don't even need to sell anything… 
All you need to do is pay a one-time fee and you will receive payments straight to your front door?  It is a system that claims to be a completely done-for-you service.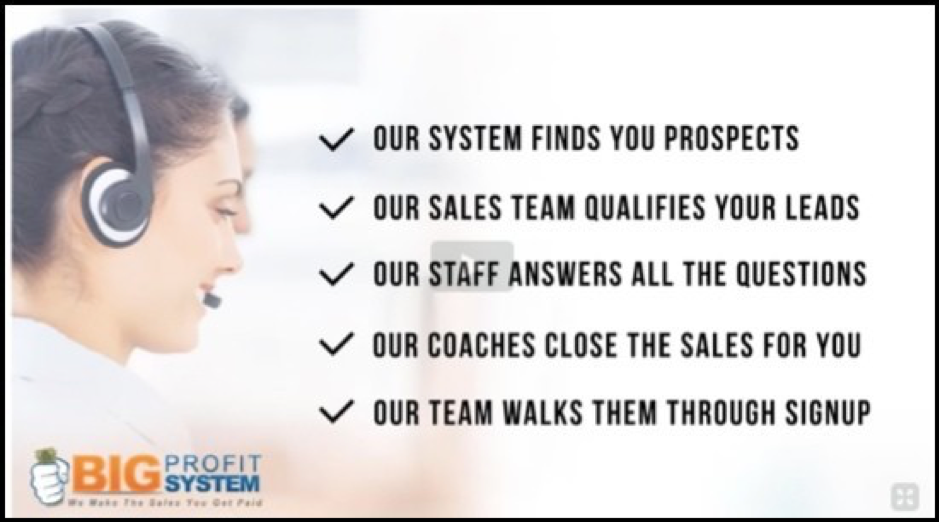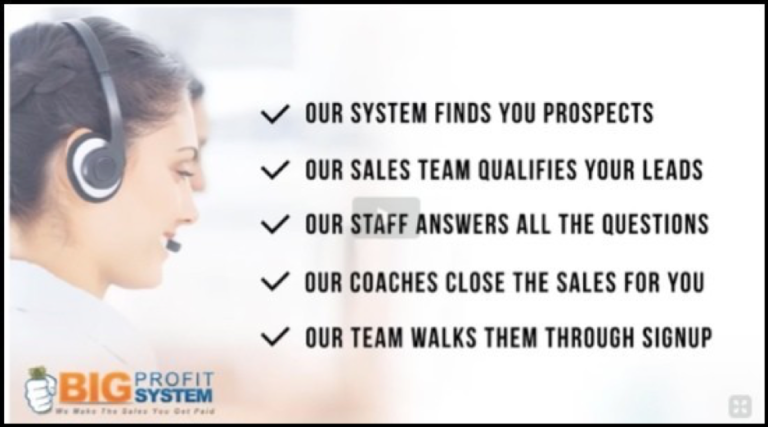 Apparently, every time a prospect says yes, you will earn anywhere from $500 to $10,000.
If you weren't worried before, you should be by just reading those stats based on doing nothing…
Big Profit System has a Simple 3-Step Process:
Lead Generation – they claim to do that for you
Close the Sales – They do that for you too (why do they need you?)
You Get the Sale
Depending on the level you sign up with, you can receive commissions from $500-$10,000.
The problem is people will believe those claims and think it is that easy to earn money.  But let me show you in the rest of this review, why these claims are utter nonsense!
How Does Big Profit System Work?
Just by looking at the sales page and some of the video, it is very clear that Big Profit System is a cash gifting scheme or could actually be described as a cash gifting pyramid scheme.  We have seen others like it, such as:
Too Damn Easy
The Downline Building Network
The Fearless Momma
Let's get into how it actually works and why you should not go anywhere near it.  Whilst it makes it sound like you are guaranteed those sales, it is nowhere near as easy as they make it sound.
We will start with going through how much it will cost to join…
Haven't Made Your First $1 Yet?
Studies have shown that more than 70% of the people who want to make money online have not made their first dollar yet. So, you're not alone!
Getting Started with The Big Profit System...
There are 5 different levels you can choose from to join Big Profit System.  These levels dictate your commission rate, etc.
Level 1 Costs $1,000
Level 2 Costs $3,000
Level 3 Costs $6,000
Level 4 Costs $12,000
Level 5 Costs $20,000
You can choose whichever level you want but know that you will only earn commissions based on your current level, but we will get into that shortly.
But that isn't the only cost you will need to pay.  You will need to hand over a $280 fee on top of the membership fee.  So, it would cost you $1,280 to join at level one.
Then you will also need to pay for leads.  They may do the work, but you need to pay for it.
They start off by recommending you pay for sending out postcards.  Sending 500 postcards will cost you $350.
Now, I don't know about you but how many times have you picked up a postcard of the front mat and thought about investing over $1,000 into a venture like this…?
Just know that this is not going to be an easy sell.  No sales means you will have lost your investment.  People are sceptical about stuff like this, think about why you are researching this business offer before venturing in… 
If you are sceptical, how are those people who get that postcard going to think.  They are probably going to just put it straight into the recycling bin.
P.S. This program enabled us to Create a 4-Figure Monthly Passive Income Stream.  It's Free to get started and costs only $49/month to go full-time!
Who's Behind Big Profit System
William Foley is behind the Big Profit System, he is also behind another program we recently reviewed called Digital Income System.  He is also behind a site called Legacy Marketing System, which goes by another MMO product called Income Shift Pro Training.  My advice is to stay away from anything related to William or Derek Foley.  They are not promoting good business opportunities for you.
It was interesting to learn than Big Profit System started out in the same way, but to promote the Empower Network.  The Empower Network was another high-ticket program. 
The Big Profit System decided to go it alone in 2014.
How To Make Money with Big Profit System
This is where you get to understand what the Big Profit System is really about and why we believe it resembles a Pyramid Scheme, which can also be described as a Pay to Play system where you need to be at the top to hope to make money with it.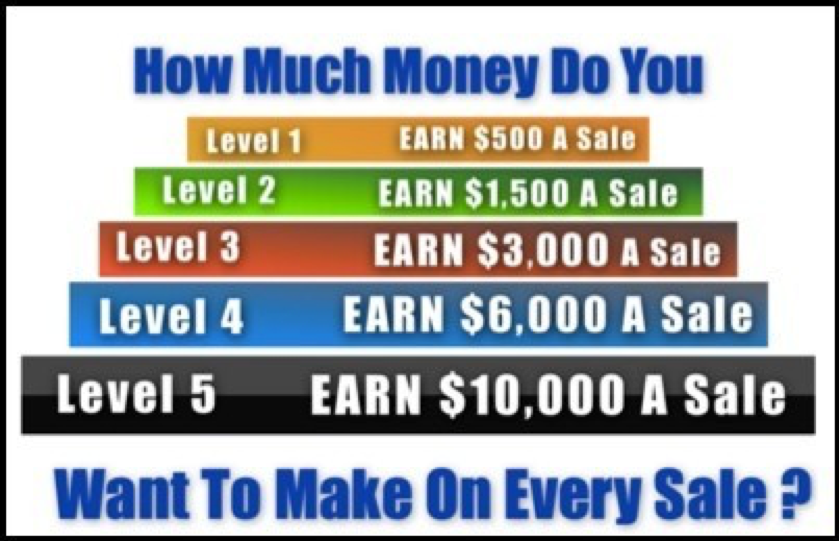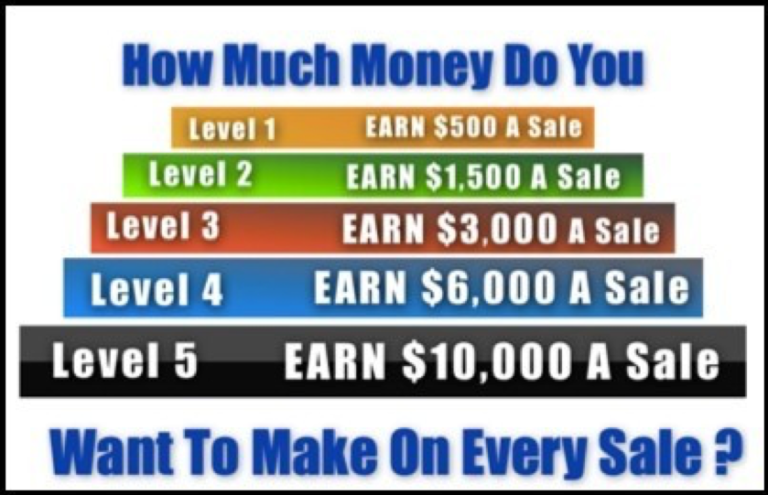 Let us start with the fact that you need to buy into one of the levels.  Once you have chosen a level and paid the fee and the level price, you can earn 50% commission from getting someone else to buy into that level.
So, if you signed up for level 2 you will need to handover $3,280 to Big Profit System.  This entitles you to earn $1,500 if someone else signs up for level 2 through you.  But, let's say you also get someone to sign up for level 4.  
The level 4 commission is $6,000 but don't think you are going to earn that amount.  It will be capped by your level.  So, you will earn $1,500 and the remaining $4,500 will go to the next qualified person above you.
That is why it resembles a Pyramid Scheme – those at the top are making a lot more money than anyone on the lower tiers.
You get this sold to you as well by your "coach/sponsor".  They will apply a lot of pressure to get you to buy into the higher levels.  They will keep on about you missing out on sales.
What Will You Be Selling?
This is the bit that makes it extremely difficult to not call it a scam – You are not promoting a training course or anything that offers any real value.  There isn't a product for you to promote.  You are just promoting the same membership system that you paid all that money for…
If they offer any training, it will only be about how to promote the Big Profit System.
That is why we call it a Cash-Gifting Pyramid Scheme.
You only make money by recruiting new members.  A Pyramid Scheme is illegal and this, in our opinion is a great example of one.
Don't Believe the Online Reviews...
We can spot a fake review a mile off, and all of the positive reviews we found are from those people trying to promote Big Profit System to make money.  They are probably desperately trying to recoup their money…
Even if you did try Big Profit System out, know there is no refund policy.  You will not get your money back!
What We Liked About Big Profit System
Here is what we liked about Big Profit System:
#1 A Great Salesperson Could Make Money
It would be at the detriment of other people, but there will always be those people who can sell ice to eskimos.  But I wouldn't advise doing it.
What We Didn't Like About Big Profit System
Here is what we didn't like about the Big Profit System:
#1 It's a Cash Gifting Pyramid Scheme
If you check out the definition of a Pyramid Scheme on Wikipedia, it will state that it is where the only way to make money is to recruit new members in without offering any substantial value.  The FTC are constantly looking are have even closed down Digital Altitude & MOBE because of this.  The Big Profit System needs to watch out.
#2 You Will Lose Your Money
You coach will state you will only need to make a few sales to recoup your money and it is an easy sell.  That is utter nonsense.  This is an extremely hard sell and you will need to put a lot more effort in than they are claiming.
#3 Done-For-You Systems Hardly Ever Work
If there was a system where you could put it on autopilot and let it make you money, why isn't everyone doing it?  You have to ask yourself, how desperate are you to make money and how much debt will you put yourself into to see if this system can fulfil their promises…
There are legit ways to make money online, this is not one of them.
#4 Are You Willing to Scam Others?
In my opinion, this is a pyramid scheme and a scam.  Are you willing to put that out to your friends and family in the hope of a quick buck?
Haven't Made Your First $1 Yet?
Studies have shown that more than 70% of the people who want to make money online have not made their first dollar yet. So, you're not alone!
Is Big Profit System A Scam?
I firmly believe that the Big Profit System is both a Pyramid Scheme and a Scam!!  The FTC may not have had it come on their radar yet but give them time.  
But comparing this to other programs we have reviewed, it just raises too many red flags for us to recommend this as a sound business model.
You are very likely to lose your money, and we are not just talking a few dollars.  We are talking at least $1,500 to get started.
If you are serious about finding a way to make money online, then let us help you. 
We found a great way of making money through affiliate marketing.  We found an awesome training platform that helped us make money online and that platform is called Wealthy Affiliate.
You get outstanding training, tools and a community to join that help you succeed.  It is by far the best place to be to learn affiliate marketing and build your own online business.
Click Below to learn more:
Thanks for checking out our Big Profit System Review!  If you have any questions or comments to add, then please write them in the comments section below. 😉