Welcome to our Affiliate Millionaire Club Review!
If you wanted to know "is the Affiliate Millionaire Club a Scam?" then you are in the right place.  We will be telling you all the details you need to know and why we think you should stay as far away from it as you can. 
First off, it's great to see that you're doing your research before buying into any "seemingly good" product.
That is how you avoid scams and find only legitimate ways to make money online!
To be completely transparent with you, we're not associated with Affiliate Millionaire Club in any form.  We're not here to pitch or sell you anything.
Affiliate Marketing is a genuine way of making money, but does the Affiliate Millionaire Club actually help you to do this…? We will reveal all!  Let's get into the review:
Affiliate Millionaire Club Review Summary
Product Name: Affiliate Millionaire Club
Founder: Ahmed & Mo, in 2014
Product Type: Affiliate Marketing website builder + training
Price: $47
Best For: The Owners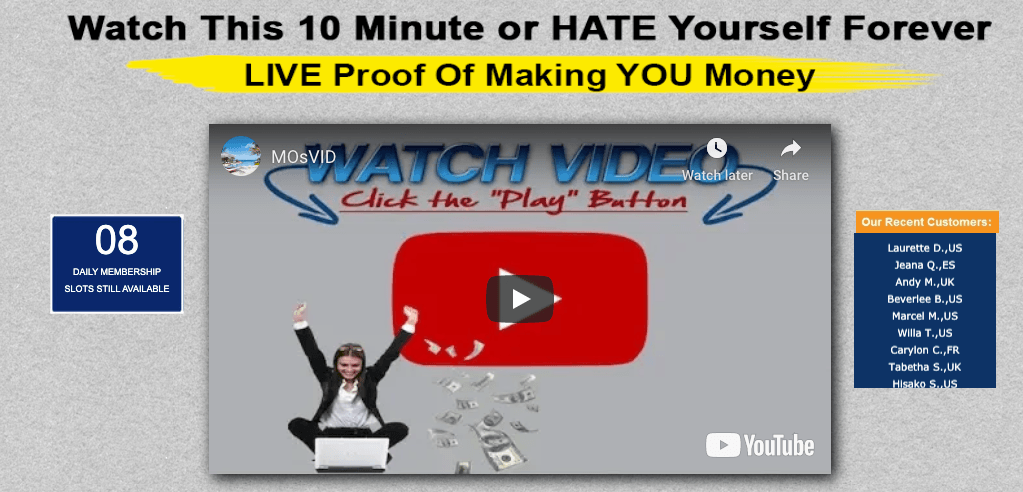 Pros
Real Founders
Promoting a Legitimate Business Model
Cons
Hiding the Brand
Scarcity Game
Who is Mo?
Duplicate Website
Fake Testimonials (with proof)
Fake Success Stories
Summary:  The Affiliate Millionaire Club has some bold claims about being able to earn money with little effort.  But experience tells us this isn't possible.  You will get a duplicated website that will hinder your chances of making money, rather than aiding you.  You will get some basic training, but not enough to make this a worthwhile investment.  I would say borderline scam.  Definitely not recommended.
Rating: 18/100
Recommended? No
What is Affiliate Millionaire Club?
With the Affiliate Millionaire Club program, you are gaining access to a software that will help you build a website to make money from affiliate marketing.  Sounds ok, so far.
But when you start digging and if you watch their sales video on their website you soon start to realise that their claims of making $500 to $1,200 a day with just 5 minutes of work are complete BS.  I am sorry, but I have been involved with affiliate marketing for a few years now and I have yet to find a program that can make you money with little or no work.  It takes hard work, and this is just one of those "shiny objects" that are there to entice people who believe there is a magic one-button system that can make them money with no work involved.  It simply isn't possible.
Their sales video is simply there to create some hype and give you some unrealistic income claims and fake testimonials (I will prove it).  Check out their sales video below if you want:
Mo, the founder of Affiliate Millionaire Club claims to have been making millions of dollars online since 2011 and he probably has.  But the landscape has changed a lot and some of the methods he gives you are clearly outdated and will not work in the current climate.  But it seems like all he cares about is you handing over your money.
From the start of the sales video, he is claiming to have built you an affiliate website and you will making money just by watching his presentation…  Yeah, not very believable.
He then goes onto show you some fake testimonials (we will show you) and then he goes onto claim you have just made $53 with the website he has just built for you: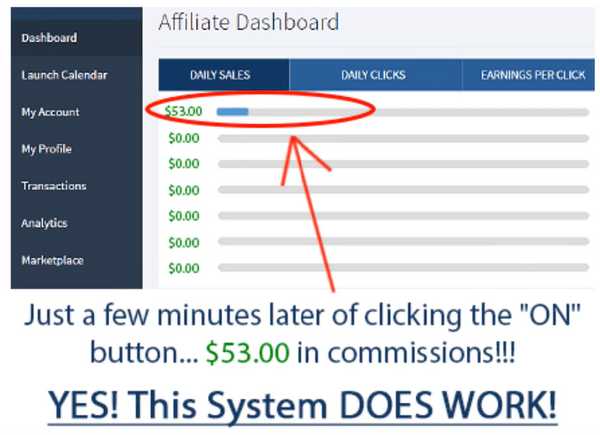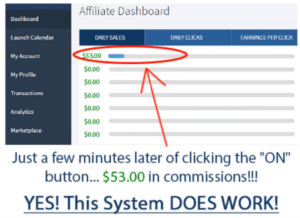 Throughout the sales video, you never actually find out what you will be doing but in short, the software will build you a website to be able to make money with affiliate marketing.  Affiliate Marketing is a legit way of making money online, but not with the way this program is using it.  You will only get basic training on how to achieve it and you will need to invest a heck of a lot more time than just 5 minutes.
The sales video is designed to get you to make an emotional decision and not an informed decision.  Who wouldn't want to make $500 a day or more without any work?  But if you take a step back, you will soon realise that you don't really know a lot about what you are going to do and has this Mo got any thoughts about whether this works for you or not.  My guess is he won't.
If you are serious about making money online, you need to stop chasing "shiny objects" like this one and start putting in some real hard work by following the right training.
There is no system that will magically put money into your account after pushing a button.
Put in the hard work and you can and will find financial freedom with affiliate marketing, but not with Affiliate Millionaire Club.
How Does Affiliate Millionaire Club Work?
In this section, we will cover what you actually gain access to within the Affiliate Millionaire Club:
Duplicate Content Website Builder
I will not beat about the bush; they will provide you with a website, but it is a website that is not going to help you make any money as it is going to have only duplicate content.
There are 3 steps before your website is built:
Choose the products you want to promote
Choose the domain name for your website
Put in your affiliate link
Then the software will build you a website.  But like I said, it will be a duplicated website.  It will not be unique.
You will have a website with your affiliate link, but it is not going to do well with the search engines who are only interested in unique original content.
The Training
By watching the sales video, you are led to believe you only need to build a website to earn money – so, I was surprised that they actually include any training…
Their training is a combination of PDF's and videos, here are the topics they cover:
Affiliate Marketing & Sales Training
Email List Building
Google AdSense Guide
Motivational & Self-Help
Social Media
Traffic & SEO
After seeing their training, you do find that their training totally goes against Mo's initial claims.  It has gone from only needing 5 minutes of work a day to a lot of work.
That is because affiliate marketing, search engine optimisation and list building all require a lot of time and effort to get going and make work.
You will also find that the training is very basic.  It will not help you make money online, as you will need to go and do more research to understand the topics better to employ on your website and your website will hold you back because of the duplicated content.
What Affiliate Products Will I Be Promoting?
The product categories for you to promote are digital products from ClickBank.  ClickBank is a marketplace where people can offer the opportunity for affiliates to promote their products.  But as ClickBank aren't very choosy about who can promote products on there, you will see that there are a mixture of low-quality products and outright scams too.
Haven't Made Your First $1 Yet?
Studies have shown that more than 70% of the people who want to make money online have not made their first dollar yet. So, you're not alone!
What We Liked About Affiliate Millionaire Club
Here is what we liked about it:
#1 Real Founders
It took a lot of digging, and I still think their branding and sales video are misleading and don't give you an idea of who Mo is.  But below you will see an image of Ahmed & Mo.  But without proper research, I don't reckon many would find them.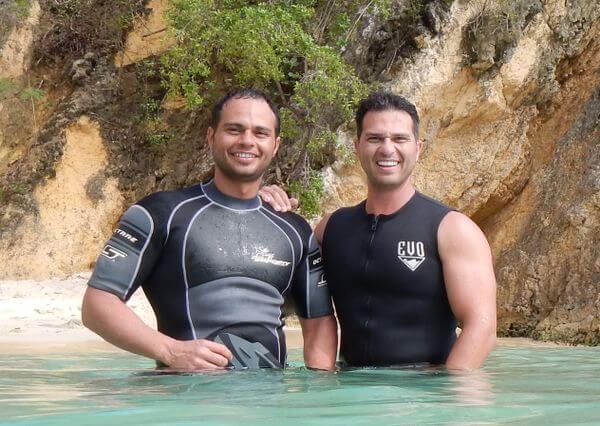 #2 Promoting a Legit Business Model
Whilst I believe this product to be a scam and not worth your time, they are actually promoting a legit business model, which is affiliate marketing.
With the right training and tools, it can make you real money.  But you need to be willing to invest the time and hard work.
If you are interested in learning affiliate marketing properly, with a proven step-by-step guide I highly recommend you read more about Wealthy Affiliate.
What We Didn't Like About Affiliate Millionaire Club
Here is what we didn't like about Affiliate Millionaire Club:
#1 Why are They Hiding Their Brand?
Branding is everything online, but it is very clear from their website, their sales video there is no Affiliate Millionaire Club branding.  In fact, the only reference is to Mo.
It is very unusual for any type of business to clearly hide their brand and just show you a video of what they offer.  You need to gain trust for people to want to part with their money, and branding is part of that.  So, it does beg the question onto why it is so void of branding.
My guess would be is, once people are aware it is clearly a scam and they have to move on from the Affiliate Millionaire Club name, they can just create a new website with a new name and still use the same videos and testimonials to try and dupe a new generation of affiliate marketers into handing over money…Or, that has happened in the past and they have moved on.
#2 The Scarcity Game
It is common with these programs where they try and get you to feel like it is only a limited time offer and you must buy now to avoid disappointment.  They clearly know how to make people feel like they need to act now.  But the counter on their website lets them down as it is not a real live counter.  It will start at 8 places left and as you watch the video, it drops to only 2 places left.  Yet if you refresh your browser, it miraculously goes back to 8.
It is the Scarcity tactic; which marketers have used with these BS products for years.
#3 Who is Mo?
A common theme with legit and proper affiliate marketing training programs is that they tell you who the owner is, and you can find information about them and their successes.  It gives you a great insight and makes you want to invest in their program.  Our top recommended training program for affiliate marketing is Wealthy Affiliate and you can learn loads about how experience Kyle and Carson are, and even talk to them via the forum within Wealthy Affiliate.
But Mo is a different story.  You don't even know if Mo is his real name. You are led to believe he is an experience affiliate marketer who has been making a lot of money since 2011.  But there is no picture of him or even know his full name.
So, how can you have confidence in someone who you will never get to see?
He also claims to be giving you an affiliate website and that you have already earned $53 with it whilst you are watching his video.  But why has he done that?
It just seems like a gimmick to get you thinking that you will have earned the money you have already spent on the program.
#4 The Website You Build Will Not be Unique!
There are a number of factors to consider when it comes to the website, they will be giving you.  The first one is, how can it be making you money when you haven't even chosen what products you want to promote or a website name?
So, he claims it has made you money, but you haven't decided on your:
Domain name
Products you want to promote
Set your affiliate links
But after that, their software will build you a website.  But the real big problem is that the content and quality of the content on that niche website will definitely be duplicated from somewhere else.
The search engines will see this as plagiarism and your content will not get ranked.  If Google penalises your website as duplicate content, how are you supposed to get your website in front of an audience to be able to make any money?
You need high-quality unique content, as in content you have written yourself to be able to benefit from affiliate marketing.
That is why we tell you it does require hard work.  But if you do work on high-quality content and get it ranked within Google.  You will find that you can and will make serious money online through affiliate marketing.  But you need to follow the right training and not the crap this program is giving you.
#5 Fake Testimonials (With Proof!)
There is a common theme with scams – fake testimonials.  You might know that website owners can hire people to do certain tasks through freelance websites, one of those tasks could be record a video.  So, these scams hire freelancers to record fake testimonials telling you how good the product is.  You can usually tell as they sound like they are reading from a script.
This is definitely obvious from the first testimonial, who is a guy called Steve and he claims he is earning $550 a day within only 5 minutes work a day.  Ironically, the figures that Mo claims you can earn.

But, in reality Steve is available to hire on Fiverr and one of his options is "Spokesperson for your Company or Website.  Mo has hired Steve to speak about this product.
If the product is actually going to work, you would have real people who are willing to do testimonials.  But this is not a program that is going to work for you, sadly.
The second testimonial follows a similar theme and is also a freelancer available on Fiverr:

Let's face it, these freelancers are on Fiverr to make money and only say what you tell them to say.  They have never even tried the product.
#6 Fake Success Stories & No Guaranteed Success
Mo tries to fool you again with his success stories, but they are fake.  He is just using stock photos that anyone can use and even in his disclaimer, they do state there is no guaranteed success using this program.  But from the sales video and all his bold claims, you would think that it is a guaranteed success.  This is just a "get-out-of-jail" card with anyone who complains about it.
#7 Ads in Members Area?
Throughout their members area you will be hit with loads of irrelevant advertisements and banners.  You would not find a legit program doing this to you…
Haven't Made Your First $1 Yet?
Studies have shown that more than 70% of the people who want to make money online have not made their first dollar yet. So, you're not alone!
My Affiliate Millionaire Club Review - Final Conclusion
There are two veins of thought, some will say it isn't a scam because they provide some training.  I have also seen others calling it an outright scam because they are misleading people.
I personally would say this is a scam because they are claiming you can earn money on autopilot.  That is clearly not possible, and just because they have a little disclaimer that states they don't guarantee success doesn't do enough to convince me that it is legit.
If a program works, they wouldn't need the fake testimonials or the fake success stories.
You will pay $47 for a website that you cannot use and some training that totally contradicts the sales video.  I cannot work out why anyone would want to pay for this, unless they are being sucked into the training video and are desperate for money.  But you will clearly feel even worse, if you do hand over your money and find it doesn't work!
Ready-made websites are no longer a valid strategy.  Especially when it comes to affiliate marketing.  The quality of your content is the most important factor with regards your website, and this requires time and effort.  Real legitimate programs will not use fake testimonials, because they do not need to.  You will find genuine testimonials all over about legit programs that work.
Affiliate Marketing is a legit business model and it can make you money online.  But you need to know that you are going to have to put in time and effort to see it work.  If you keep chasing for that magic system, you will find yourself no closer to making money online in a year's time.  But what if you spent that year investing in yourself and building yourself an affiliate marketing business trained by experts?
With the right training, support by experts you could have already been earning money by that point and much more than you might think.
You will not get rich overnight, no one can promise you that.  But I can show you a training program that puts the Affiliate Millionaire Club to shame and you can get started for free.  See the differences below:
Our top recommended training is Wealthy Affiliate.  Where you can top support, your own affiliate marketing website and training that will cover every step needed to earn money.
You can promote any product you want and not be restricted by what is available on ClickBank.
If you want to learn more about Wealthy Affiliate, you can read more in our full review.
But if you think you are ready to get started with the right training partner, click the button below:
Thanks for checking out our Affiliate Millionaire Club Review!  If you have any questions or comments to add, then please write them in the comments section. 😉