Welcome to our Team National Review!
I'm guessing someone has approached you with a great way of saving some money and the chance of earning a full-time income, where you work from home thrown into the bargain?  Sounds great, right?  But you may also be wondering if Team National is all a scam, or even wondering is Team National a Pyramid Scheme…
First off, it's great to see that you're doing your research before buying into any "seemingly good" product.
That is how you avoid scams and find only legitimate ways to make money online!
To be completely transparent with you, we're not associated with Team National in any form.  We're not here to pitch or sell you anything.
Instead we want to reveal all the details you need to know about Team National and their business opportunity to help you make an informed decision.
Team National is a legitimate MLM company, but that doesn't necessarily make it the right choice for you.  The main reason why 99% of people who join an MLM lose money, is down to them jumping into them without really understanding how they work, and what is actually involved.
By the end of the this review, you will have all the information you need to make that decision about Team National.
Let's get started with a quick product overview…
Team National Review Summary
Product Name: Team National
Founder: Richard Loehr, in 1997
Product Type: Discount Memberships MLM Company
Price: $55 Starter Pack + Costs of $795 to $2,915 as well as other costs too
Best For:  Those looking to get discounts on products & services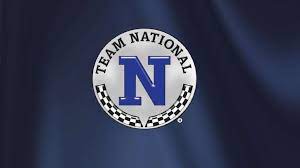 Pros
Long Standing Company
Positive Product Reviews
No Monthly Sales Quota
Cons
The Products Are Expensive
Hidden Monthly Expenses
Pyramid Scheme in Disguise?
Low Success Rate
Summary: Team National is an MLM company that offers consumers discount memberships on numerous services and products.  It is possible for everyday people to save some money on these services and products.  These include life insurance, small business expenses, jewellery and all things shopping.
However, our review is here to explore the MLM opportunity and that is where we found that it is really hard for their members to make decent money.  In fact, we will show you proof that 98.5% of their members are losing money from their business opportunity.
The only real way you'll have of earning a passive income from home is through heavy recruitment, and that makes Team National very similar to a Pyramid Scheme in Disguise!
Rating: 20/100
Recommended? No!
Team National is an MLM or Multi-Level Marketing company that offers a range of discount memberships.  The company was founded in 1997 by Richard Loehr, which he then passed onto his daughter, Angela in 2008.
These memberships are designed to help people get discounts on a wide range of products.  But as well as this product line, they offer people the opportunity to work from home by recruiting more people into the Team National company.
You can learn a little more about this opportunity in the 4-minute video that is below…
The first thing you should know about this video is that whilst it sounds like an amazing opportunity, it is also just a promotional video where they tell you exactly what you want to here…  
So, with that in mind, you're probably still wondering if Team National could be a Pyramid Scheme?
Is Team National A Pyramid Scheme?
Whilst it might sound like one with the need to do a lot of recruiting, Team National is technically not a Pyramid Scheme.
It is entirely possible for their distributors or "International Marketing Directors" (IMD) to earn money just by selling the discount memberships to people. 
The confusion comes from the fact that to make good money (as in enough to live off), you will HAVE to recruit people into the MLM company.
So, a much more accurate question would be… Is Team National a Pyramid Scheme in Disguise?
What is a Pyramid Scheme?
A Pyramid Scheme is a company that promises payment to its members for recruiting people rather than selling any products or services.  Most known pyramid schemes won't even have any products or services to sell. 
Pyramid schemes are illegal in the majority of the world, and the diagram below from Wikipedia describes why it is impossible for everyone to make money within a company like this…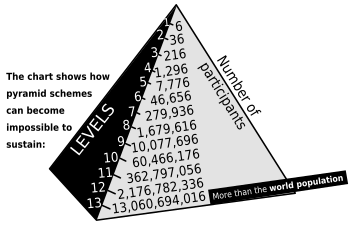 Now, Team National does offer legitimate discount memberships that can save people money on their expenses.  So, it does make them a legitimate MLM company.
However, as with most MLM's the only real way of building a good income stream from them is by recruiting a lot of people.
That makes Team National very like a Pyramid Scheme in Disguise owing to the fact that you'll need to do a lot of recruiting if you want to make this work.
Check out the 5-minute video below that will give you a good explanation of this…
The problem comes when it is really hard to make good money just by selling their discount memberships, and that leads you to recruiting, which isn't for everyone…  So, let's look at the success rate…
Success is Rare at Team National
This isn't unique to Team National, in fact Success is hard within any MLM company.
Did you know that anywhere between 73% and 99% of all MLM representatives lose money?
When you take a look at the Team National Income Disclaimer, it also shows that 98.5% of their IMD's make less than $1,303 in 2019.   When you factor in that they would have had to spend between $1,595.40 & $2,995.40 per year.
It shows that the vast majority of their distributors are actually spending a lot more than they are making.
That shows you that 98.5% of their IMD's are losing money with their MLM business opportunity!
I should point out that they may be able to save money from the actual program themselves, so these figures may be slightly off when you take that into account.
However, as a business opportunity you can see that it will be really hard to earn enough to live off that income alone.
Haven't Made Your First $1 Yet?
Studies have shown that more than 70% of the people who want to make money online have not made their first dollar yet. So, you're not alone!
How Does Team National Work?
Team National provides a range of discount memberships to consumers.  People pay a fee to Team National, and this grants them access to discounts at certain stores, and services.
It looks like Team National buys bulk discounts at wholesale from these companies, and they then pass on a discount to their members.
The difference between these and more well-known brands is that they don't spend a lot of money on advertising, Instead they offer people the chance to promote their brand for them, and in return can earn commissions.
So, as an IMD you get to sell their memberships and recruit more IMD's and save the company money on their advertising and marketing bills.
Team National Product Line
An important step to understanding if an MLM is for you, is to review the product line.  You'll be require to sell these onto consumers, so you need to know if they are the right ones for you.
With Team National, they have a range of discounts for many products and services.  They are grouped into 4 main categories.
These are…
Group Buying Power – These discounts are mainly on items such as home and life insurance, automobiles, jewelry and the like
Factory-Direct Pricing – This category provides savings on flooring, mattresses, grills, etc.
Business Services – Business owners are able to save money on payment processing, legal solutions, and other benefits
Rebate Programs – Cash back from different retailers on household goods, shoes, clothing, electricals, etc.
You can learn a little more about their range of discounts here.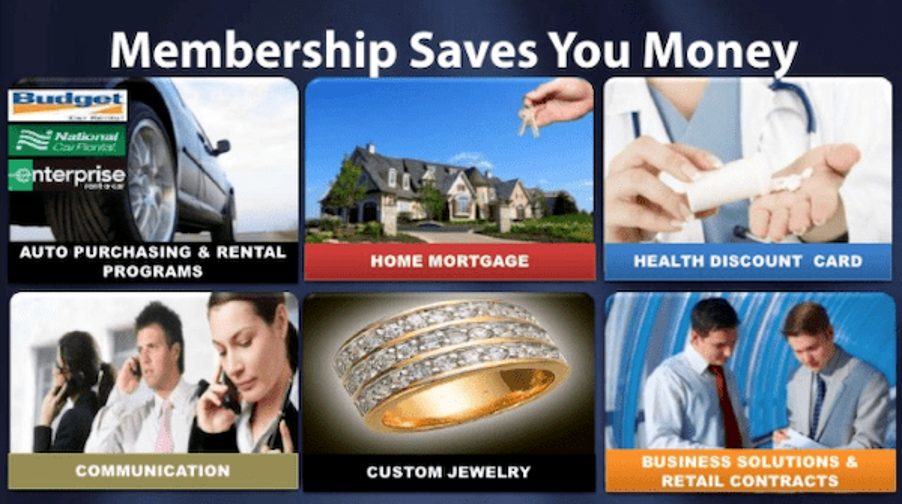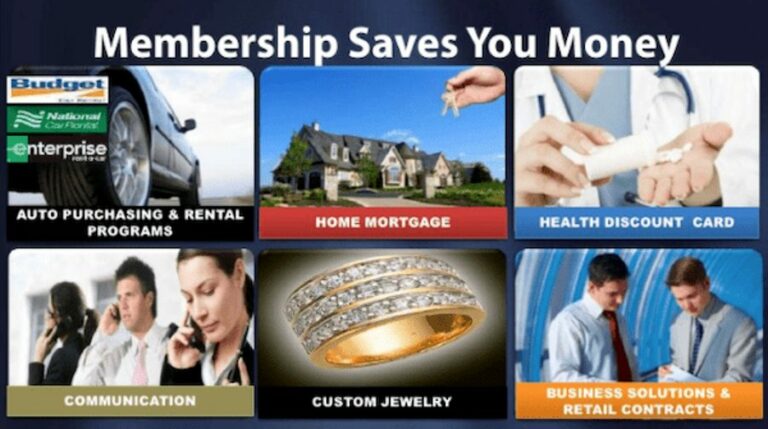 To gain access to these discounts, there are two different membership options.  These are…
Standard Membership – $795 for two years
Premium Membership (Good for Businesses) – $2,915 for two years
You should know that Team National isn't unique, there are many other companies that offer similar services (meaning more competition), examples include:
Asirvia
United Success Network
Let's know example another question you may have, can you make money with Team National?
Can You Make Money with Team National?
Straightaway the income disclosure statement shows how hard it is to make money with Team National.  With 98.5% of them losing money.
The very few people who are doing well from the company make over $14K a year.  But they will typically be operating as a full-time Sales Manager, rather than a part-time income.
When you consider that the people who are successful at MLM tend to be outgoing people who are very active on social media, are very good at selling the dream of being your own boss, and are very good at both sales and recruiting.
Their success will come from their ability to recruit a huge downline of IMD's who are themselves outgoing and able to go and sell plenty of discount memberships and recruit their own teams.
They will be spending most of their time encouraging their downline to sell more and recruit more, as it directly impacts their success rate.  
All for an income that is roughly the minimum wage, or below depending on where you are in the world.
How to Make Money with Team National?
Team National operates as an MLM company, this brings with it the usual two ways of making money.  With Team National it is:
Selling their Discount Memberships to People
Recruiting People into your downline and earn commissions/bonuses from their sales
It's important to know that you will not directly earn money for recruiting people, as that would make them a pyramid scheme.  You will earn commissions based on their sales, etc.
Getting Started with Team National
To get started with Team National's business opportunity, you'll first pay $55 for a starter kit and then pay a $25 annual membership fee.
If you want to sell these memberships to people, you'll be encouraged to try them yourselves, so you understand them better.  This is also so your recruiter earns the commission on the sale.
A two-year membership will cost you either:
Standard Membership – $795 (this covers your immediate family)
Premium Membership – $2,195 (this covers some business expenses and includes your extended family)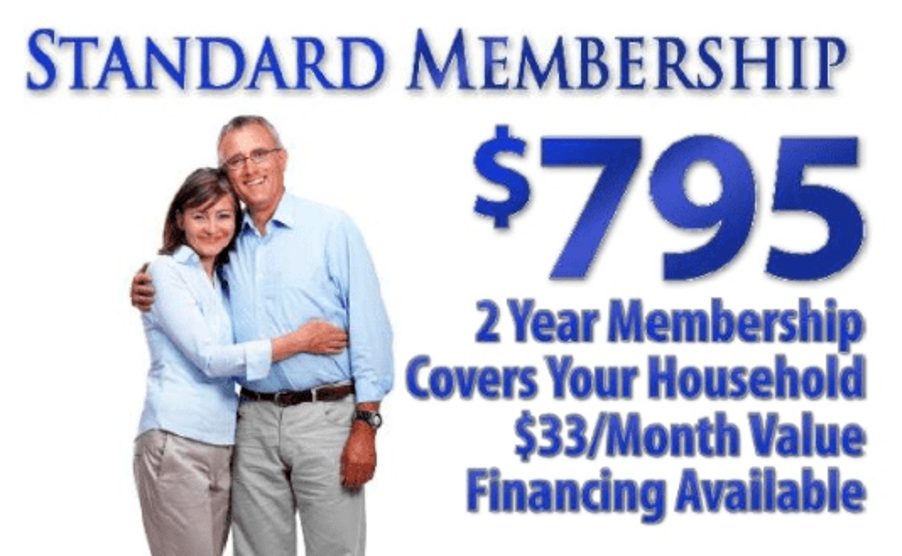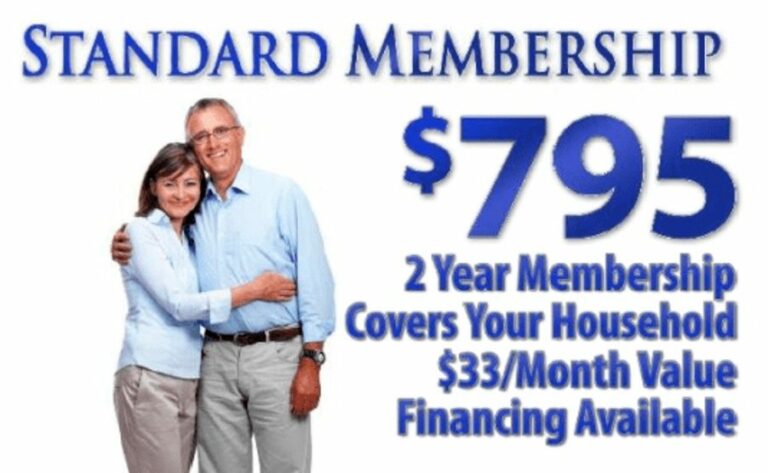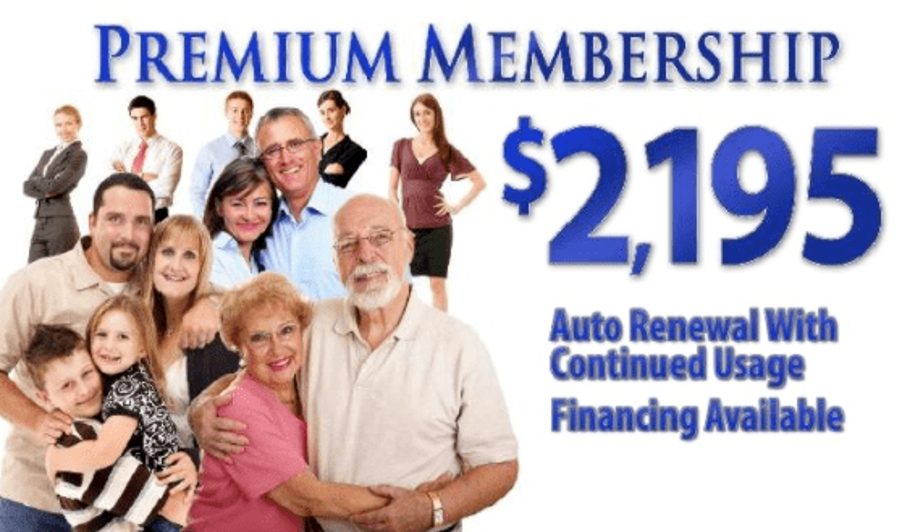 There is also the fact that the costs do not stop there… you'll have to factor in the recurring costs…
Team National Monthly Costs
If you want to become an Independent Marketing Director or IMD, you'll also need to account for some additional monthly expenses to access all of the resources that are available at Team National.  These include…
Success Club – $35.95 per month
TN All Access.com – $10 per month
Information on Demand services for Genealogy or checking your downline – $99 a year or $9 per month
Personal Big N Marketplace website – $75 per year or $7 per month for members; $495 for non-members
These costs are not actually that easy to find, it took some research through a number of YouTube videos and other places, just to find out about these hidden costs.  
Let's share with you what your first years expenditure would be with Team National as an IMD:
$55
$25
$35.95 x 12 ($431.40)
$10 x 12 ($120)
$99
$795 – $2,195
$75
That would be a total cost of between $1,595.40 to $2,995.40!!
It might be cheaper than opening a normal bricks and mortar type business.  But the fact they hide several of these costs from you makes it out that it is really cheap to become an IMD, and that is simply not the case. 
It's definitely not free, or even cheap to get started.  Especially if you were starting this as a part-time gig, thinking it would reap the rewards…
P.S. This program enabled us to Create a 4-Figure Monthly Passive Income Stream.  It's Free to get started and costs only $49/month to go full-time!
Team National Compensation Plan
If you've already taken a look at their compensation plan and thought to yourself, that is really hard to understand.  Don't worry, I think MLM companies go out of their way to make their compensation plans difficult.
I'll do my best to try and keep things simple for you.
Basically, there are 5 ways you can get paid from Team National…
Direct discount membership commissions, ranging from $25 to $100
Residual discount membership commissions, via a binary compensation plan (if you recruit 10 points on both legs = $1,500 see diagram below.  three points = premium member, 1 point = standard member)
Hosting bonus.  If your downline hits their 10 x 10, you'll receive $1,000 bonus
Presidential bonuses.  An extra $10-$100 bonus for sales if you can reach the presidential rank
Promotions, this are trips for recruiting people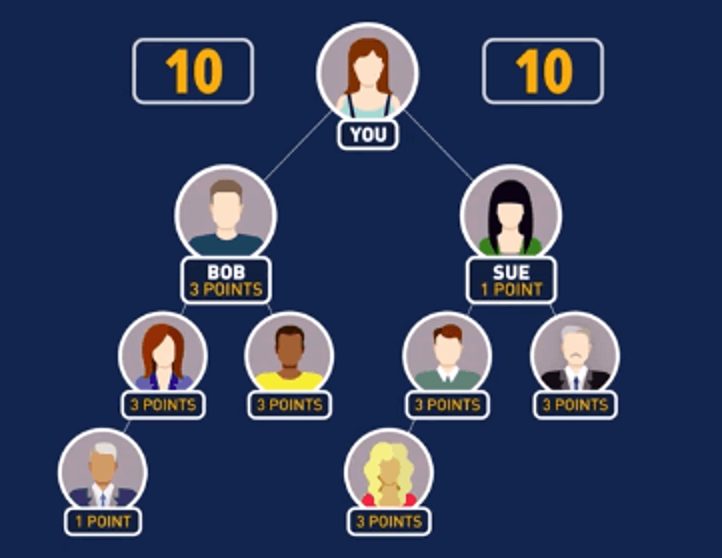 Are you still confused?  Well, I wouldn't worry about it.  There are only really two things you need to know!
Sell Discount Memberships
Recruit People into the MLM!
That is the bottom line of their compensation plan.  Notice how 4 out of the 5 ways to earn money all relate to recruiting people into the MLM?
The 5-minute video below will explain their compensation plan in a little more detail, if you so wish to learn more…
No, I don't believe that Team National is a scam.
They sell a range of legitimate discount memberships that can help save people money if used correctly.  They also pay their IMD's like they say they do, so there are no concerns from that front.
However, if we start talking about whether it's the right business opportunity for you, then the rest of our review is aimed at helping you answer that question, as it is down to you…
Just to be completely transparent with you, I'm not a distributor of Team National, nor do I endorse Team National in any way.  I have researched the website, testimonials, and information available on the internet to get the details about what this program genuinely does.    I do this, as I have been caught out by a scam in the past, and am trying to help others avoid a similar fate…
What We Liked About Team National
Here's what we liked about Team National:
#1 Long Standing Company
The vast majority of MLM companies struggle to get past the 5 year mark, let alone over the 20-year mark like Team National has achieved.
It gives you a reasonable assumption that they are not going anywhere soon.
#2 Positive Product Reviews
There are numerous positive reviews found online, in places like the Better Business Bureau (BBB).  Examples like this one:

Whilst not all of the positive reviews will be genuine, as many MLM's encourage their recruits to leave positive reviews online to help their IMD's sell more.  It is still a good sign to see that they have an average of 4.8/5 on the BBB website.
#3 No Monthly Sales Quota
There is a requirement to sell at least two membership per year to remain active, however there is no unrealistically high target for each month like with most MLM's.
Many MLM's will suspend your account if you don't hit these monthly quotas, which is really harsh for a newbie, especially as you'll lose your invest too.
However, as we discussed earlier there are those hidden monthly costs with Team National.  So, that is just as a bad as having a monthly sales quota to achieve.
What We Didn't Like About Team National
Here's what we didn't like about Team National:
#1 It's Expensive to Join…
Team National isn't the only company that offers you discounts and rewards, or cashback and they are actually free to join.
There are even survey sites that pay you money to join.  They also give you discounts on your online shopping.  Examples like Rakuten, Swagbucks and other such sites.
Now, you might be thinking that the discounts at Team National must be better, right?
Well, that isn't the case.  I did a check for alternative companies and came up with one that offers a similar service.  It turns out that AARP costs about $12 per year and offers very similar services and discounts, as you can see below: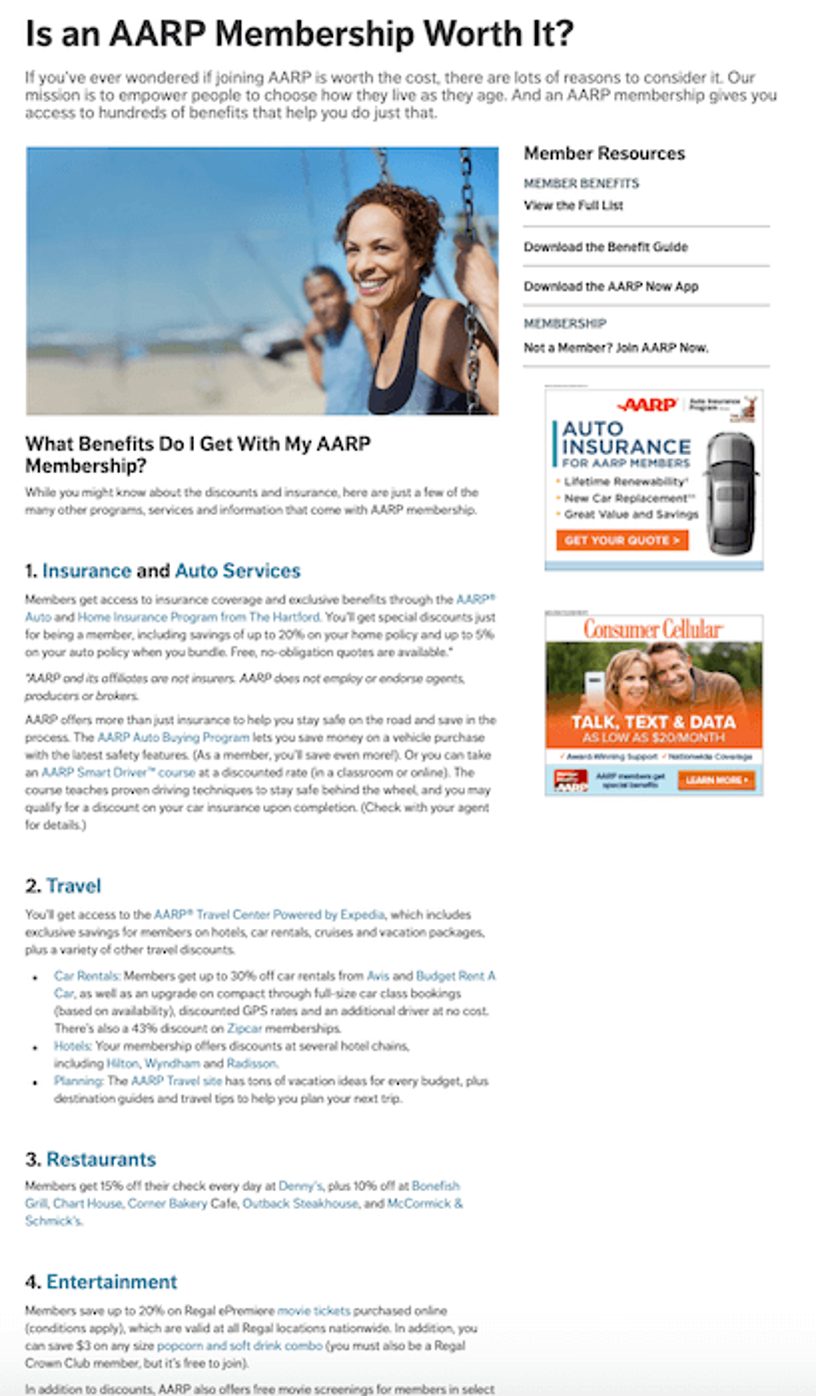 There are definitely better alternatives out there, that are priced much better.
#2 Hidden Monthly Expenses
Like I said earlier, there are no details unless you really, really try to find it.  But there are definitely hidden monthly expenses that you'll need to factor in.
Some of these costs include:
Website – $7 a month
Success Club – $39.95 a month
TN All Access subscription – $10 a month
You can learn more about the Success Club with the video below from their CEO, but there is no information anwhere on their website about the costs associated with their club…
These costs were really hard to find, as you can see from this heartfelt review below…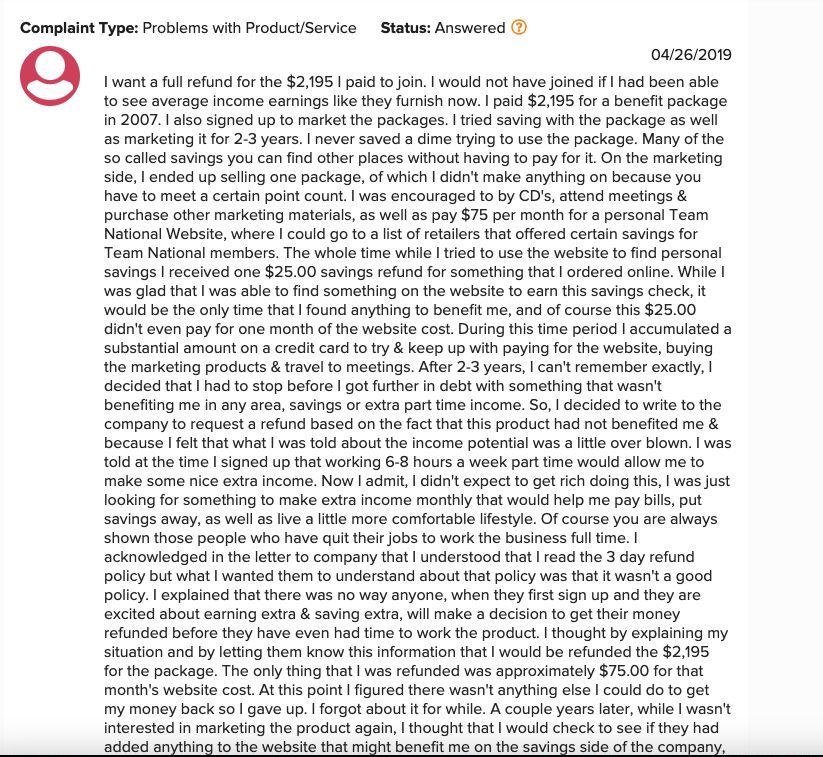 #3 Is Team National A Pyramid Scheme in Disguise?
To help answer that, first take a look at this screenshot from a Team National presentation…


Does the image look familiar?  Well, take a look at the image below…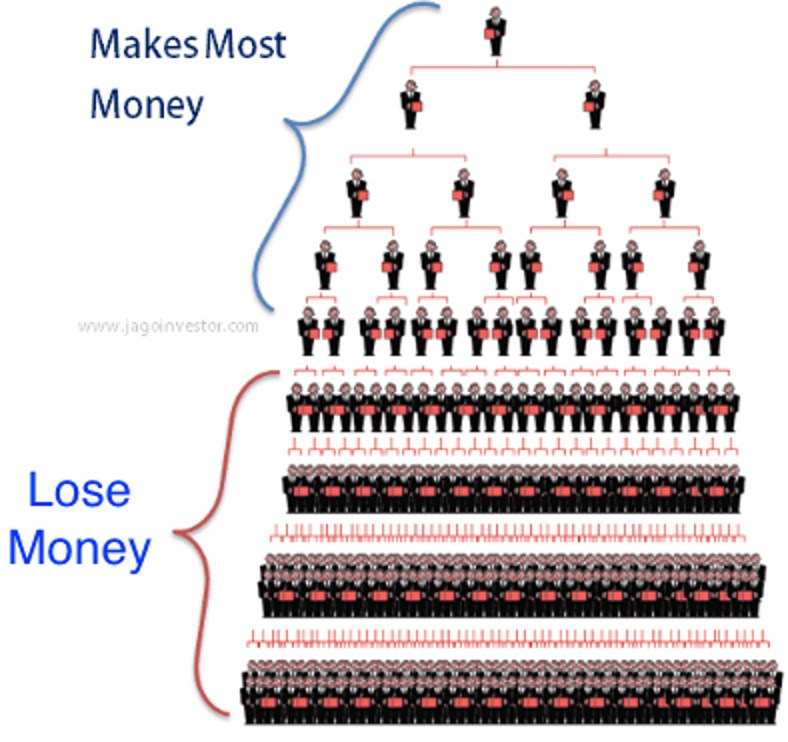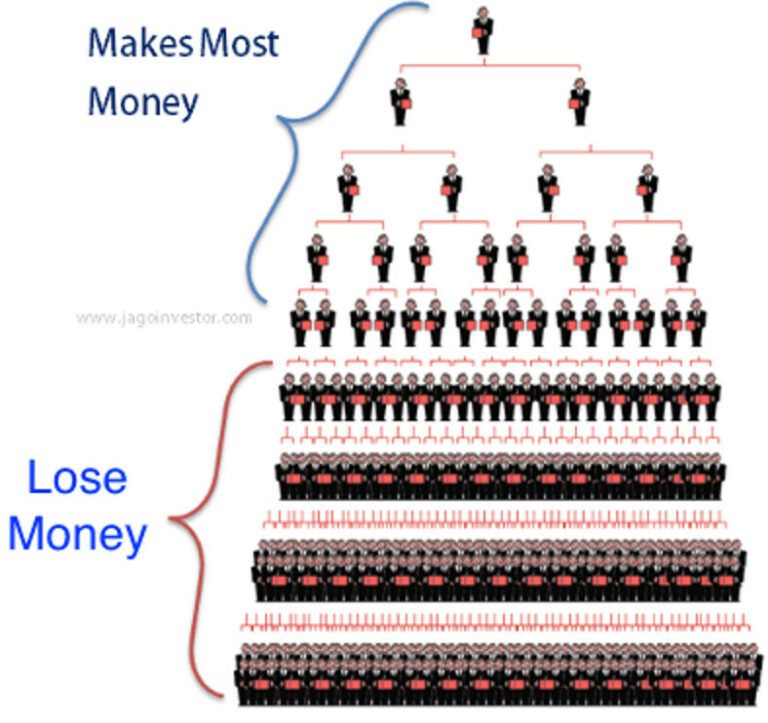 The reality is that you'll be required to recruit a lot of people if you want to earn a decent amount from an MLM business opportunity.
When you have a company that requires you to recruit to make money, means it could be a pyramid scheme in disguise, and that most people will lose money!!
Still not sure if I'm tell you the truth, well check this out…
#4 The Low Success Rate
Only 1 in 167 make over $14K a year!!
Team National's 2019 income disclosure statement proves that only 0.6% of all of their members earned more than $14,000 for the year.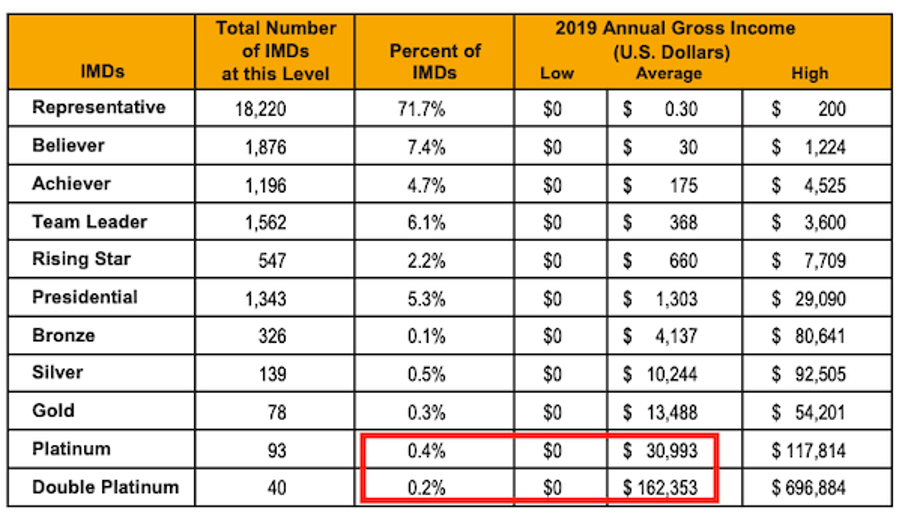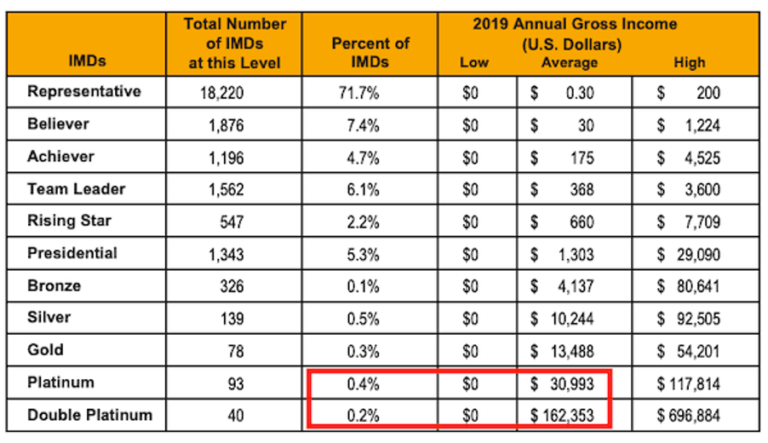 The vast majority of their members are actually losing money!!
Haven't Made Your First $1 Yet?
Studies have shown that more than 70% of the people who want to make money online have not made their first dollar yet. So, you're not alone!
When you factor in the discounts that Team National offers, and the business opportunity they offer compared to what else is available on the market, there is little doubt that this isn't the great business opportunity they claim it is.
It's not a scam… It could be considered a pyramid scheme in disguise… But overall, they are a legit MLM company with a so-so business opportunity where 1 in 167 are making decent money.  The rest are losing money…
98.5% of their IMD's are losing money, and the only way to be part of the 1% that do is to recruit, recruit and then recruit some more.
That isn't my idea of an ethical and worthwhile business opportunity.
We are not a fan of MLM, not because it is illegal or that it isn't profitable, but because it is really restrictive, and the expensive costs involved.
That is why we recommend Affiliate Marketing.  It is our top recommended business model for anyone wanting to make money online.
The reasons are simple…
You don't have to recruit anyone to make money
You have the freedom to promote any products or services you want and not get restricted by only promoting products from one MLM company
NO face-to-face Selling is involved
It is FREE to get started
In fact, with affiliate marketing we are close to earning a 4-figure monthly passive income stream.  With the right help and guidance, you can too.  Click below to find out about our top recommended training platform for learning affiliate marketing:
Thanks for checking out our Team National Review!  If you have any questions or comments to add, then please write them in the comments section below. 😉