Welcome to our Genistar Review!
Has someone approached with an opportunity to work from home, claiming that you can make some good money from it?  Maybe they have just offered some financial products, where they claim it can solve your money problems?
But you're sitting there wondering if Genistar is all legit, or are you thinking Is Genistar a Scam?
First off, it's great to see that you're doing your research before buying into any "seemingly good" product.
That is how you avoid scams and find only legitimate ways to make money online!
To be completely transparent with you, we're not associated with Genistar in any form.  We're not here to pitch or sell you anything.
Instead, we're here to reveal all you need to know about this finance MLM company.  By the end of this review, you will definitely know the answers to all of your questions, and whether or not it is the right decision for you.
Let's get started with a quick product overview… Is Genistar a scam?  Let's find out…
Genistar Review Summary
Product Name: Genistar
Founder: Jeff Lestz
Product Type: Financial Education MLM Company
Price: $140 subscription
Best For: Those looking to improve their financial situation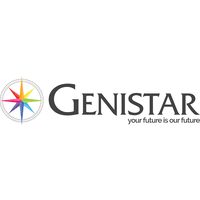 Pros
Established Company
No Monthly Quota
Cons
Expensive Products
No Compensation Plan/Income Disclosure Statement
Pyramid Scheme in Disguise
Low Success Rate
Summary: Genistar is a financial education and planning MLM company, that is located in the UK.  It sells a selection of training courses and plans that help people improve their financial status.
Operating as an MLM company, also means they offer an affiliate program where members can sell those courses, etc. and earn a commission on every sale.
But my concerns sit with the fact there is no compensation plan or income disclosure statement, which is usually visible with an MLM company.  That fact raises several red flags, especially as the vast majority of people lose money from MLM opportunities.
Rating: 45/100
Recommended? No
Genistar is a financial education company that operates using the MLM or Multi-Level Marketing business model.  It was started in 2007 by Jeff Lestz, and is based in the UK.
There isn't much information about Jeff, but all we do know is that he is an Entrepreneur who has a good grasp of business and finance management.
Through his company, Jeff tries to realise his ideals of where proper financial management can improve the standard of living of people all around the world. 
He also believes that it is his duty, along with his company, to help people understand the details of financial management.
You can a little more about the company in this 3-minute video…
However, as Genistar operates as an MLM company, it naturally brings with it another question that tends to go hand-in-hand with an MLM… Is Genistar a Pyramid Scheme?
Is Genistar a Pyramid Scheme?
There is still a lot of confusion regarding MLM's.  Many of them get labelled as a pyramid scheme, as they have such a focus on recruitment.  Whilst most of them are not actually a pyramid scheme, they do have a compensation plan that operates like one.
As far as Genistar is concerned… No, Genistar is not a pyramid scheme.
Whilst recruitment forms part of their income, members can actually earn without the need too. (Although, naturally higher incomes come from recruitment).
But down to this, a more prudent question would be… Is Genistar a pyramid scheme in disguise?
To help answer that, let's first clarify your understanding of what a pyramid scheme is…
What is a Pyramid Scheme?
A pyramid scheme, first and foremost is illegal in the vast majority of the world.  It is a company that pays its members for recruiting people.  Without any products or services being available.  So, recruitment is your only option to make money.
Because of the nature of this type of business, many governments have already banned them, as there is no sustainability with their operation.  Once the recruitment stops, almost everyone loses money.
This diagram from Wikipedia explains how pyramid schemes are unsustainable…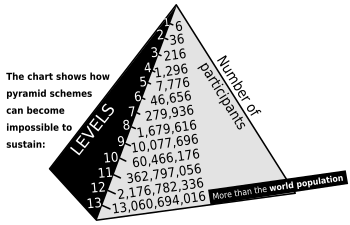 There will be a few members who get in there early that make money, but all they do is recruit as many people as they can, and claim it is a good business opportunity.  But you'll notice, from the diagram, that if a scheme was to be sustainable, you would need more people than are on this planet, to get past the 13th level.
This means that a true pyramid scheme has little chance of making every member a decent income stream, leaving those at the top making good money, and the people at the bottom losing money.
Here's a great 5-minute video that helps you spot these pyramid schemes in disguises…  They claim to be an MLM company, but with such an emphasis on recruitment, they could be considered a Pyramid Scheme in Disguise…
Then there is another question to answer about Genistar… Are people finding success with their business opportunity?  Well…
Success is Rare at Genistar
If you had visions of Genistar becoming a great and stable income source for yourself, then I would ask you to think again, as the stats aren't looking great.
In fact, it's going to be extremely difficult to be successful at Genistar.  Statistics show that between 72% to 99% of MLM members end up losing money.
There are many reasons for the high number of people who lose money with MLM opportunities, including sales quotas to stay active, having to buy products yourself to be able to sell them on, or just the difficulty of recruiting people.
Sales & Recruitment are high intensity things and not everyone is cut out to be a sales person.  Especially when you are forced to sell products that are either not great quality, or really expensive for what they are.
MLM products are usually much higher priced than anything else on the market, and the businesses don't care as they know their members will pay it in the hope of finding success.
Haven't Made Your First $1 Yet?
Studies have shown that more than 70% of the people who want to make money online have not made their first dollar yet. So, you're not alone!
Genistar sells a range of financial education services to consumers.  These come in the form of financial management plans and training courses.
They also offer an MLM business opportunity.  This is where members become affiliates for the company, who then sell these services on to people in return for commissions and bonuses.
From the outside, this might sound appealing.  But what the company is really doing is reducing their spend on advertising and marketing campaigns.  They rely on their members to spread the word about their products.
Now, one of the first things you should look at and take into consideration, when deciding if an MLM business opportunity is right for you is the product line.
To sell these products, they first need to be good and have a competitive price against what else is out there.
Let's take a look at what Genistar has to offer… Genistar divides their financial education between 4 areas…
Personal – Receive online and physical courses on how you can improve your personal finances.  Teaches you how to save for the future, and how to budget your salary and expenses
Finance – This is a more formal financial education course, which focuses on financial management.  It also aims to teach you how to improve your financial literacy.  It also talks about planning for your future goals, so you can become financial independent in later life.
Finance PHD – An advanced financial education course which provides advanced and technical details on accounting and financial management. It provides you with a game plan that includes theoretical terms that you can apply to practical means.
Education – Professional 1-on-1 advice on how you can better improve your financial management skills.
The following 4-minute video talks you through their services in a little more detail…
You should know that there are many other companies that are very similar to Genistar.  They all sell very similar products, these include:
Asirvia
United Success Network
So, with so much competition, next it's important to know…
Can You Make Money with Genistar?
Yes, it is possible to make money with the Genistar business model…  But you should know that it is going to be really difficult.
Some are making money, but the money they are making is comparable to the minimum wage.  With the majority of the time, it being even lower than this.  Despite the number of hours the are putting into it, they are not earning anywhere near what they thought they would be earning.
It is even harder for us to understand what is really going on, as the company doesn't publish an income disclosure statement.  This is a really important document that gives you an idea of what their members are earning, if anything.
But they don't publish one, and that is a huge red flag and points to the usual answer.  they are hiding the fact their members are not earning what they claim they are earning.
Put it this way, I live in the UK and I've only just become aware of their existence.  If they were a fantastic business name, with plenty of members earning money with them.  Surely I would have heard of them?
How to Make Money with Genistar?
As Genistar operates as an MLM company, that brings with it the two usual ways for you to make money.
Sell the financial education services to people
Recruit members into your downline
An important note about the recruitment side, you'll only ever earn bonuses and commissions based on the sales your downline make, rather than earning for the actual recruitment itself.  This is done to ensure they don't get labelled as a pyramid scheme.
Getting Started with Genistar
Their joining process is a little different to other MLM's you may have read about, but they are in the financial sector so it does make sense.
First you must pay a $140 fee to join Genistar.  It is a one-time fee, even though it is labelled as a subscription fee.
Then, there are a few steps to complete to become a member, like…
Undergo their 5-day Affiliate Membership Training
Have 2 Live Client Interviews
Take their Multiple Choice Style Exam
You should also know that the pass rate on that exam is 70%, and it can take up to 5 times to complete.
You'll also be provided with a 50-page guide to study prior to completing the exam.
That's why I say I get the steps, this is you offering financial advice to people via the courses to sell them.
So, the startup costs are surprisingly low for an MLM.  But you should also factor in the other costs that go with running a business. Like additional training, marketing, gas, online marketing, and many other factors.
P.S. This program enabled us to Create a 4-Figure Monthly Passive Income Stream.  It's Free to get started and costs only $49/month to go full-time!
Genistar Compensation Plan
Most MLM companies don't make it difficult to find their compensation plans.  They don't do a lot to make them simple, but at least you can find it pretty easily.
That isn't the case with Genistar, the only way of getting hold of it is by signing up with your email address and phone number, and actually speaking with a representative.
This is another red flag, as it usually shows they are hiding something.
Regardless of this, we were able to find most of the details through a Guardian article on Genistar.
Genistar offers two main ways to make money as a member.
Affiliate Ranks
MLM's tend to have different affiliate ranks for you to aim for, each level you climb rewards you with better commission rates, etc.
With Genistar, there are five different ranks.  These go from representative, and go up to Executive Vice-President.
The vast majority of members will not get past the representative rank, though.
Retail Sales
You earn a commission for each sale you make.  The amount you earn, will be dependent on your affiliate rank.
For example, if you're a level one, you'll get 25% of each sale and the remainder of the commission will get passed up the pyramid.
Naturally, the higher your rank, the higher your commission level.
Residual Commissions
This is the part of their compensation plan relating to recruitment. You don't get rewarded for recruitment itself, but you will earn a commission for every time your downline member makes a sale. 
Again the amount you earn will be dependent on your rank.  
This is what it will generally look like:

It might all sound simple, but it can still be very confusing, especially when you start talking about the different ranks and levels.
Bottom line is that you'll be expected to either:
Sell their financial education course
Recruit people into the company and help them sell their financial education courses
You may also find this video we found useful, which shows you how to make money from this company…
When you consider how difficult it is to get hold of their compensation plan, and the lack of an income disclosure statement is – it isn't a great sign about this being a good business opportunity for someone looking to find financial freedom.  
Even though, that is what they are teaching people.  Ironic, no?
Let's get into the real reason you're here, Is Genistar a Scam or not?
Well, no I don't believe that Genistar is a scam.  They do sell legitimate financial education services and they do pay their members on time, like they say they do.
But that doesn't mean the business opportunity is as good as they claim it is.   What will tend to happen is that their members soon realise they are losing money, rather than making money.
They are not earning enough to cover their own expenditure, and they turn around and claim that the business is a scam.
This doesn't make the company a scam, but it also doesn't make them the ideal business opportunity for everyone too.  Remember, it's a sales and recruitment focused business opportunity and not everyone is that way inclined.
The rest of our review is there to help you decide on whether this business opportunity is for you or not.  We'll go through the pros and cons of Genistar, and then share our final opinion with you too.
Just to be completely transparent with you, I'm not a distributor of Genistar, nor do I endorse Genistar in any way.  I have researched the website, testimonials, and information available on the internet to get the details about what this program genuinely does.    I do this, as I have been caught out by a scam in the past, and am trying to help others avoid a similar fate…
What We Liked About Genistar
Here's what we liked about Genistar:
#1 Established Company
The majority of MLM companies do well to last five years, with most out of business by then due to the way they operate and not support their members.  So, to see that Genistar has been in operation for 13 years is a good sign.
#2 No Monthly Quota
Most MLM's have a monthly sales quota stuck around the neck of their distributors.  I say this as, if you are unable to make any sales, you will end up having to pay for the stock yourself.  This is often the main reason why so many end up in debt.
So, it is a good thing that there is no monthly quota to remain active as a distributor.  This reduces your monthly outgoings dramatically.
What We Didn't Like About Genistar
Here's what we didn't like about Genistar:
#1 Expensive Products
One of the main difficulties that you'll find with Genistar, and any other MLM company is that their products are hugely overpriced.  If you're in financial difficulty, where are you going to find $140 to spend on their products.  Especially when there are alternatives on Amazon for a lot less than this.
Another factor to remember is that they are just reading material, so people could spend some time on YouTube and learn all their need to know for free.
I'm not saying there isn't some good information within their products.  But it will be your ability to convince someone to spend $140, over what's inside them.  As people are always looking for value for money.
#2 No Compensation Plan or Income Disclosure Statement
I consider this a red flag against Genistar, it shows they have something to hide and my guess is that their members are struggling to make money and they don't want new members to question this when signing up.
#3 Is Genistar a Pyramid Scheme in Disguise?
I think we can agree, they are not an outright pyramid scheme.  But there is still a huge focus on recruitment if you want to earn big money.  If you don't sell any products, there is no income as you only earn a commission on a sale.
So, the emphasis will naturally move to you building up an effective team who are able to make the sales for you. 
But this is what the reality will look like…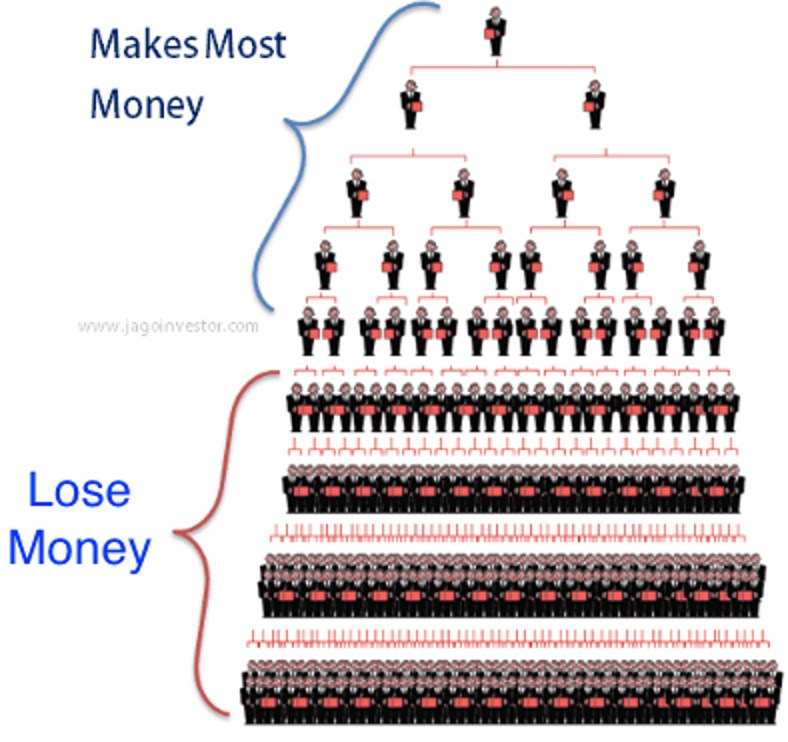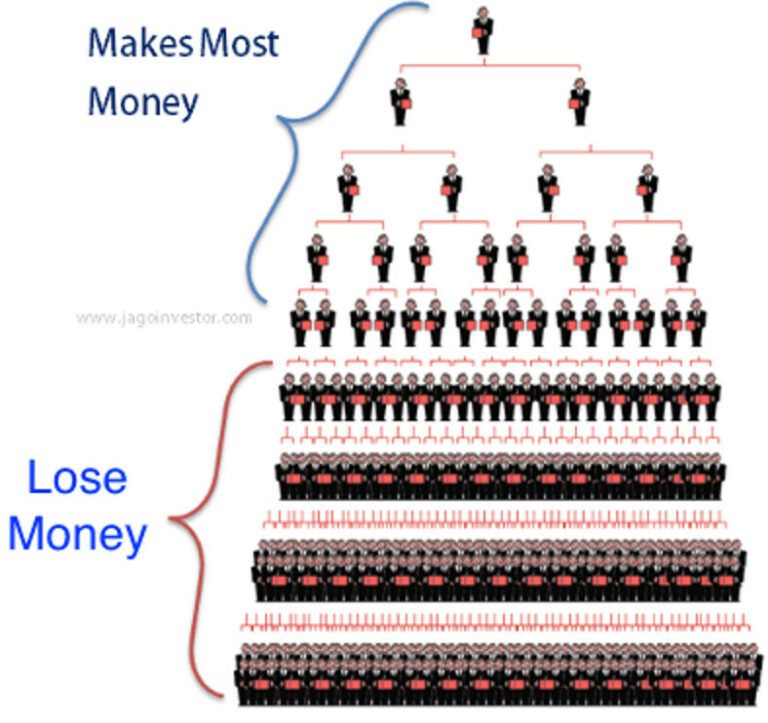 You'll need a huge team of effective sales people if you want to earn what you realistically want to earn from this venture.  But at the expense of the people below you.
Haven't Made Your First $1 Yet?
Studies have shown that more than 70% of the people who want to make money online have not made their first dollar yet. So, you're not alone!
Whilst they might offer some valuable financial education products, I don't believe for a minute people are making a good income from their business opportunity.  A quick look on Google trends shows that hardly anyone is searching for their brand.
So, I cannot honestly recommend this business model to people.  The lack of important information like their compensation plan and income disclosure statement tells me that they are hiding something.
You'll be trying to sell expensive products from an unknown brand, when most of the information will be freely available with a Google search.
The real money comes from recruiting a huge team, and that makes it a pyramid scheme in disguise.
People will also want to know your credentials for selling finance related literature, and that could also be a huge hurdle to overcome.
If you are looking for ways to make money online, keep on reading as we have a much better alternative…
We are not a fan of MLM, not because it is illegal or that it isn't profitable, but because it is really restrictive, and the expensive costs involved.
That is why we recommend Affiliate Marketing.  It is our top recommended business model for anyone wanting to make money online.
The reasons are simple…
You don't have to recruit anyone to make money
You have the freedom to promote any products or services you want and not get restricted by only promoting products from one MLM company
NO face-to-face Selling is involved
It is FREE to get started
In fact, with affiliate marketing we are close to earning a 4-figure monthly passive income stream.  With the right help and guidance, you can too.  Click below to find out about our top recommended training platform for learning affiliate marketing:
Thanks for checking out our Genistar Review.  If you have any questions or comments to add, then please write them in the comments section below. 😉