Welcome to our Solo Build It Review!
If you have been doing some research on this platform, you will see a huge list of people with different opinions on Solo Build It.  Some people love it, some people hate it and then there are those who are just trying to promote it to earn a buck or two.
First off, it's great to see that you're doing your research before buying into any "seemingly good" product.
That's how you avoid scams and find only legitimate ways to make money online!
To be completely transparent with you, we're not associated with Solo Build It in any form.  We're not here to pitch or sell you anything.
Instead, we want to reveal to you what this platform has to offer, the pros and cons, and everything else you need to know to make an informed decision as to whether this is right for you…
Let's get started with a quick product overview…
Solo Build It Review Summary
Product Name: Solo Build It
Founder: Ken Evoy, in 1997
Product Type: All-in-One Business Builder
Price: $29.99/month or $299/year
Best For: Aspiring Business Owners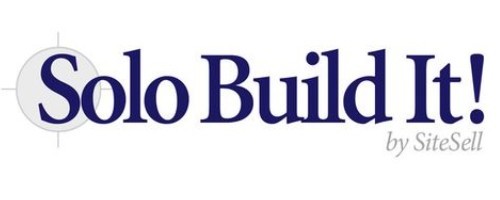 Summary: Solo Build It is a membership program, that provides you with training, tools, and support to build your own online business.
The problem is, there is a very mixed view on this program/  It is quite restrictive and whilst it is a good option, it's not the best option…
Rating: 78/100
Recommended? Yes & No
Solo Build It is a membership program.  It provides you with training, tools and support to build your own online business from nothing.  It is advertised as an All-in-One platform as it includes everything you would need without any third-party tools – website builder, website hosting and a keyword research tool.
As part of any product, we do our research and you might find it interesting to know that Solo Build It used to be called Site Build It.  No why would a company go through the pain of changing its branding…?
This is where you realise, that Site Build It had quite a negative feeling online.  Quite frankly, it wasn't living up to expectations.  The reputation of the company was being affected, and people were being put off the program.
So, it went through a revamp and has come back out as Solo Build It.  Seems like a logical decision.  You want people to trust your business, so if it is the right thing to do, I can understand it.
SBI teaches people a process called C-T-P-M.
Content – Your website, blog, posts, etc.
Traffic – The different methods to getting visitors to your website
Pre–Sell – Developing trust and a relationship between you and your potential customers
Monetise – Converting visitors into buyers
Whilst an experience marketer will understand the importance of these steps, a beginner would probably look at that and think 'what does all that mean?'
If I explain it another way, borrowing some knowledge from Wealthy Affiliate (Our No.1 Recommended Product).  This process is much easier to understand.
Choose an interest of yours that you could target a niche market from
Build a website all about that niche
Create Content, get them ranked on Google and then drive traffic to that website
Recommended relevant affiliate products to your visitors and turn them into buyers
So, both WA & SBI have very similar concepts.  They both teach people how to get started online by building websites, creating content and driving traffic. Which will result in you making money.
That is how SBI works, which will hopefully end up with you earning money.  I personally recommend WA more, and I'll explain that later in the review.
How Does Solo Build It Work?
The main training is called the 'Action Guide'.  This is a 10-day course guiding you through building and monetising your website. 
Whilst it states that, please keep in mind you will learn how to monetise your website.  You will not start earning in 10 days.  We would all love to earn within 10-days, but that is not feasible. 
They will provide you with the information and knowledge to earn money – you need to do all the hard work to go and get it.
Let's have a look at what is covered in the 10-day Action Guide: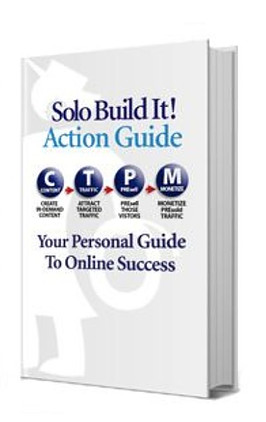 Day 1: Master the All-Important Basics
Day 2: Develop Your Best Site Concept
Day 3: Brainstorm More Profitable Page Topics
Day 4: Investigate & Plan Monetisation Topics
Day 5: Refine Your Site Concept & Register Your Domain Name
Day 6: Build a Website That Gets a Click
Day 7: Build Free Traffic from a Variety of Sources
Day 8: Develop Relationships
Day 9: Know Your Visitors
Day 10: Monetise
The training covers a number of topics you will need to know, especially the bits around using their unique site builder.
The Solo Build It Tools…
SBI does offer a WordPress version, but as their main program is a different platform to WordPress all of their tools are built for that.  WordPress has tons of plugins that you can utilise for your website.  (Plugins give you functionality on your website).  So SBI have built their own:
Brainstorm it – keyword/niche research tool
SiteDesigner – Website Templates
SiteBuilder – Drag and drop page builder
Business Centre
Traffic Centre
PageManager
InfoCentre
DownloadCentre
Within each category, they also include some other tools for specific purposes.  Including social media tools, autoresponders, auto blogging functions, etc.
This makes the tools on offer really good for the price of $29.99 a month.  The only downside is they are quite technical and more geared to a more experience marketer.
Haven't Made Your First $1 Yet?
Studies have shown that more than 70% of the people who want to make money online have not made their first dollar yet. So, you're not alone!
How Much Does Solo Build It Cost?
Having one SBI style domain will set you back $29.99 a month or $299 a year.  With all of the training available to you.  Which is great if you only want one domain.  But Gem and I run 2 websites, that would cost us double.  But we are thinking of opening a couple more, for more opportunities, this wouldn't be worth it for any more than one site.
It does cost you less if you choose the WordPress option, which is $17 a month or $149 a year.  But you need to find your own hosting with this option.
They also used to offer a 30-day free trial, but this has changed and now if you are unhappy you need to provide proof as to why you are not happy to get a refund.
What We Liked About Solo Build It
Here's what we liked about Solo Build It:
#1 90-day Money Back Guarantee
They give you a solid 3 months to test out their platform, and if you are not happy you can get your money back.  Which is a great think.  But you also need to fork out the money upfront.  I would be interested to see whether many do actually get their money back.
Whereas you can try out Wealthy Affiliate for free, no credit card required.
#2 Great Training
SBI's action guide does offer a lot of great and detailed training complete with step-by-step guide.  Offering a selection of videos and written training it can fit in with you.
#3 Established Brand
It actually started out as a series of books, before creating a Site Builder with Site Build It in 2001.  Renaming itself in 2017 to Solo Build It.   But regardless of the change, it shows an established brand with a lot of experience in online business.
#4 Affordable Price



It is a great price considering the training they offer in their program.  You get everything you need to get stated online for $29.99/month or $299/year.  The 90-day money back guarantee is a nice touch too.  There are many products out there that are charging hundreds of dollars for information that is not as good as this.
What We Didn't Like About Solo Build It
Here's what we didn't like about Solo Build It:
#1 Hard to Navigate
SBI does have a poor navigation system for its platform.  For example, it isn't that easy to find where to actually log in.  Finding you need to use the email you receive to log in to the platform.  I would also say that a beginner will find it hard to get their head around the platform.  it can be overwhelming to find what you are looking for
#2 Inactive Community
When you are starting out you want to be able to ask as many questions as you can and get quick responses.  But the SBI private forum is not that active.  Some members have complained about the lack of responses when they do ask a question. You can also find that if it is filled with only newbies, you will not get the answers you need.
Forums are hard to keep active, but Wealthy Affiliate have found great ways of keeping their platform active.  With a Pay-it-Forward mentality, you will always get a response. The forum is always active 24/7 and you will always get a response.  Check it out here.
#3 Old School Websites
One of the things you find when you start researching the sites that are active from SBI, they are quite dated and do not stand up to sites that are utilising WordPress for example.
I found this one site and looking at it would put me off straightaway.  See it for yourself – Kids Partycabin.
My point is that if you cannot grab the attention of the reader within a couple of seconds, you are onto a losing strategy.  You are going to want to build a website that looks the part for your online business – some of the themes and designs will not lead to this.
#4 You are Locked into Their Site Platform
Creating a website using their SiteDesigner and BlockBuilder software gives you a website that is nothing like WordPress, ( you can buy SBI for WP).  But you will find that many web hosting places will not accept them on their hosting.  So, you are stuck on their hosting for your site.  This means you are tied to them for life.
Haven't Made Your First $1 Yet?
Studies have shown that more than 70% of the people who want to make money online have not made their first dollar yet. So, you're not alone!
Solo Build It is not a scam, let's clear that up straightaway.  It is a comprehensive training platform which will help beginners get started online. I do find the fact they are still pushing their own Site Builders a bit of a problem.
WordPress is used by over 50% of websites for a reason.  It is so versatile and gives people freedom to achieve what they are particularly after.  But by focusing on their own platform, they do lock you in.  If you ever decide you want to grow and try something else, you cannot take your site with you easily.
Part of being a business owner is making your own decisions about what you use, and this is taken away from you in certain incidents with this program.
Training is essential if you want to get the best start online, and whilst Solo Build It is a good option, it definitely isn't the best option in our opinion.
Having an active community of people to bounce ideas off, with relevant training, tools, and support are key to success.
We personally prefer Wealthy Affiliate, it is the same training platform that helped us create a 4-Figure Monthly Passive Income Stream.  Here's our full review, if you want to check it out some more…
Thanks for checking out our Solo Build It Review.  If you have any questions, comments or any experience with SBI that you would like to share, then please write them in the comments section below. 😉
Solo Build It
$29.99/month