Welcome to our Legendary Marketer Review!
If you are looking into how to make money online, you may have come across the Legendary Marketer platform from David Sharpe. You might be asking Is Legendary Marketer a Scam or What?
There have been some scathing reviews of how Legendary Marketer chose to promote themselves and the way they encouraged affiliates to promote their platform too.
However, David has listened and learned from this, and Legendary Marketer is a platform that is now compliant with the FTC.
But can you make any money from what they teach, keep reading to find out all you need to know about the Legendary Marketer.
First off, it's great to see that you're doing your research before buying into any "seemingly good" product.
That is how you avoid scams and find only legitimate ways to make money online!
To be completely transparent with you, we're not associated with Legendary Marketer in any form.  We're not here to pitch or sell you anything.
Instead, we want to reveal to you how Legendary Marketer works, and what changes have been made…
Legendary Marketer Review Summary
Product Name: Legendary Marketer
Founder: David Sharpe
Product Type: Online Business Training Platform
Price: $30/month + Upsells
Best For: Prospective Affiliate Marketers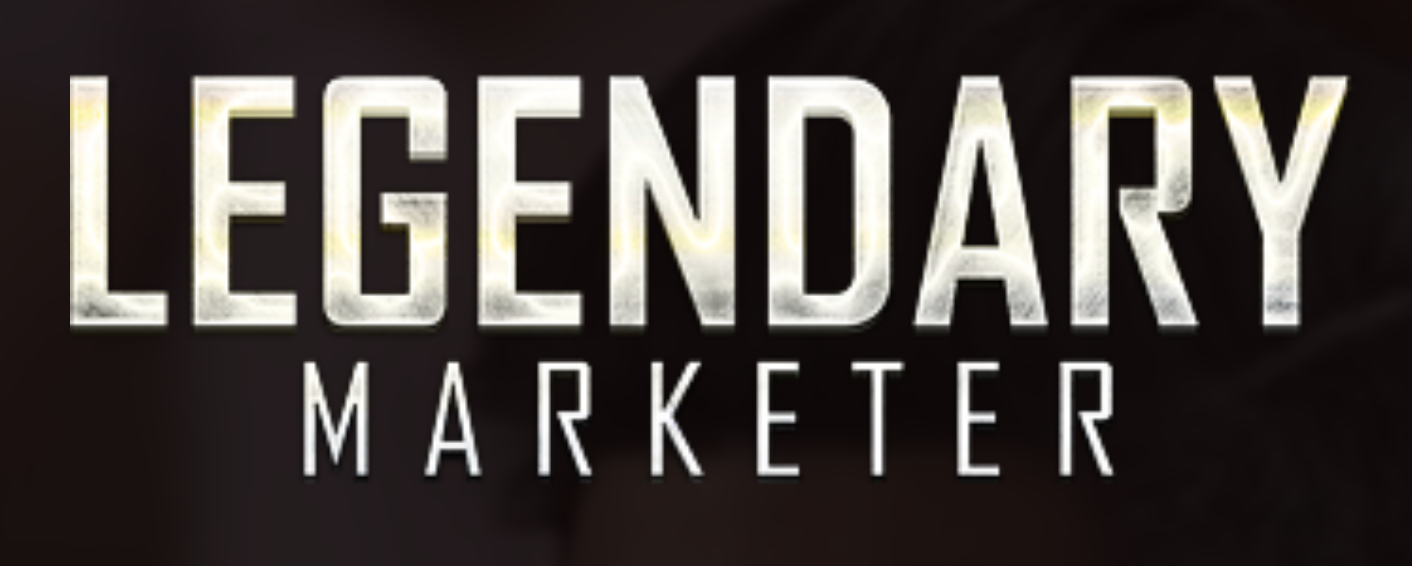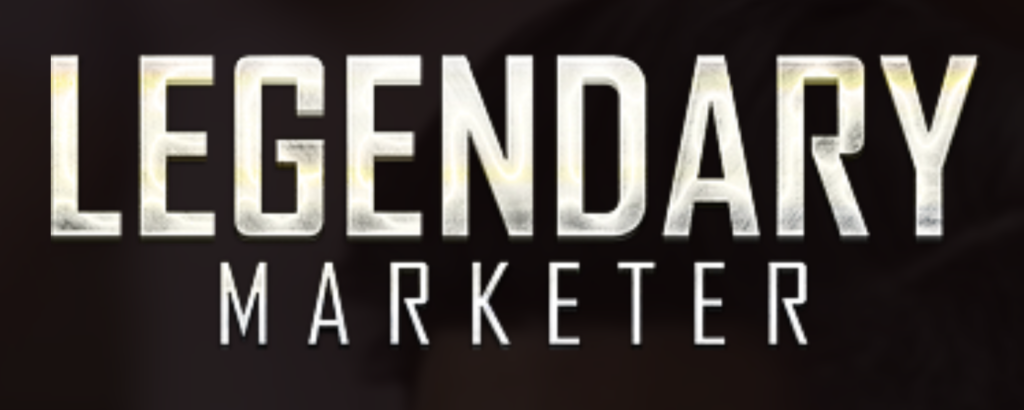 Summary:  Legendary Marketer is an online business training platform for those looking to get started with building an online business.  They offer high quality training for those looking to learn affiliate marketing, how to build their own coaching business, to create their own digital products and building online events, etc.  They did use some questionable strategies in the past, but with big changes made to stay compliant with the FTC and changes to how affiliates can promote has changed many people's view of Legendary Marketer and it is now a great place for people to get started with.
Rating: 68/100
Recommended? Yes
Legendary Marketer's Club - $30/month
What is Legendary Marketer?
Legendary Marketer is an online training platform, it comes from a guy called David Sharpe.  David is well established in the industry and he has generated a multi-million-dollar business, so he definitely knows his stuff and brings to us legendary Marketer.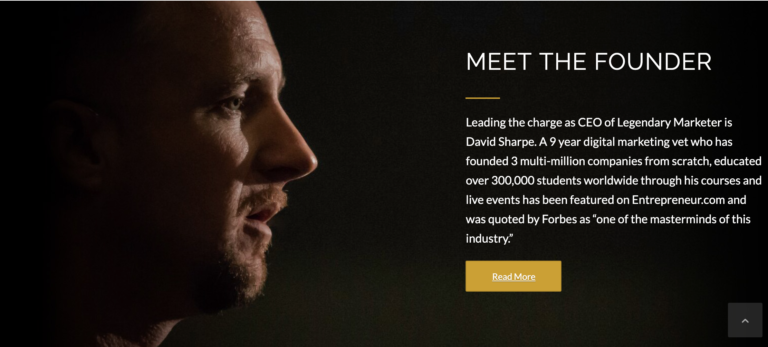 Before the changes we mentioned earlier, I would not have been happy to recommend this product.  But David has definitely learned his lesson and has changed the way they advertise this platform.  Let me explain how they were getting into trouble with the FTC.
They were classed as luring people into Legendary Marketer with High Income Claims.  They were claiming anyone can earn high incomes by following their training.  They were also encouraging their affiliates to do the same.
But this is very similar to another program we reviewed called Digital Altitude.  DA was closed down because no one could earn anything with this program.
You can earn money by following Legendary Marketer, but not everyone will and so they had to change their sales tactics.
So, they have changed their philosophy, and this means more people can benefit from their training.
It is possible to earn money online, but not everyone will be able to achieve it and so platforms like this need to be realistic in explaining their strategies could work for you, rather than overstating the fact and making everyone think they can earn thousands because they were filming their videos in front of expensive cars.  They have totally revamped their marketing.
The other major change they have made is the fact you do not need to pay to become an affiliate either.  You can promote it with a free beginner account, and you can benefit from their basic training too.
How Does Legendary Marketer Work?
This gives you a 15-day Business Builder Course, you will have assignments to complete prior to moving on and the course is designed so you cannot rush the training.  Even if you complete the four assignments on day one, you will not progress to day two until it unlocks.
It also has a vide from David Sharpe for you to watch, which is 23 minutes long.  It describes what you are going to receive over the next 15 days.
You will gain access to a Business Coach.  You will also see a countdown to your call with your business coach.
This is all part of the LM club which is $30/month.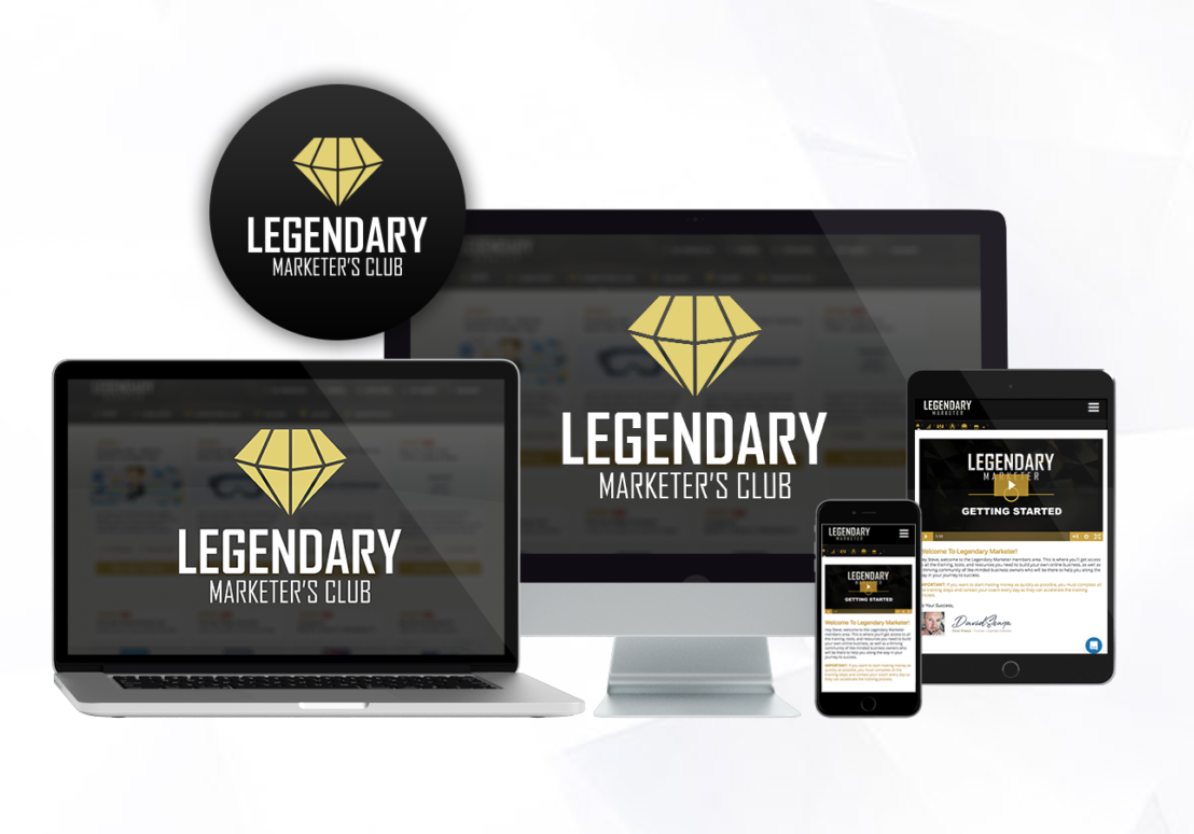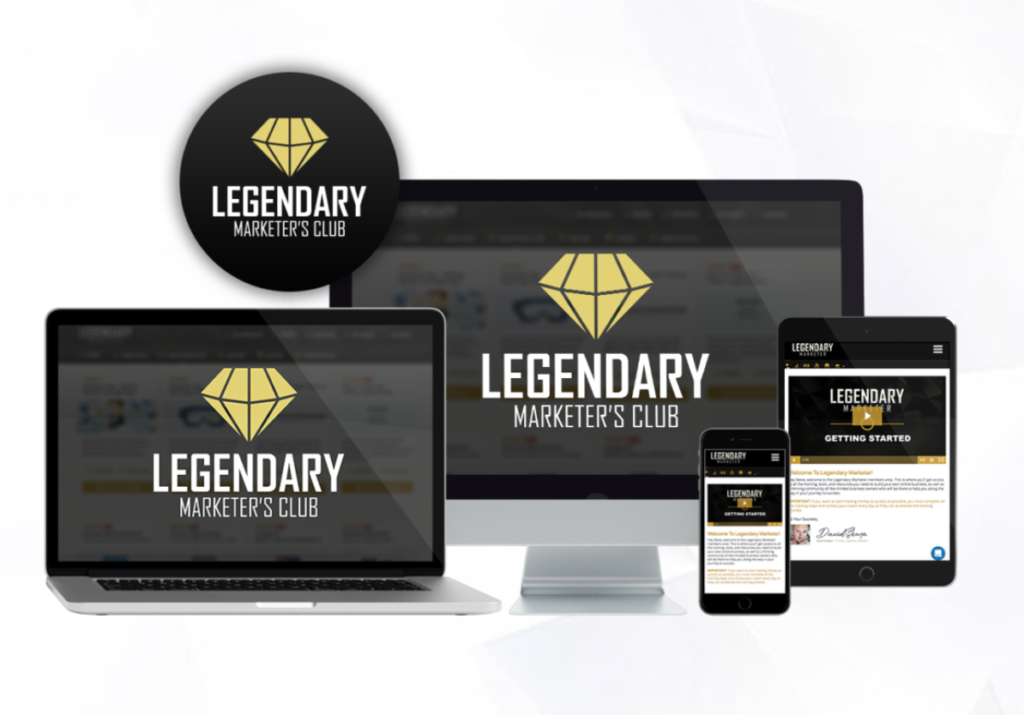 Legendary Marketer Club – $30/month
This claims to be the 'Netflix' of marketing training.  It is a monthly subscription and includes:
Training and Education
Resources to Start, Grow & Scale your Online Business
Live Virtual Training Workshops
Classes on Different Topics – Sales, Marketing, Management or Operations
Traffic Rolodex Bundle – $247 (one-time)
This covers paid traffic on each of the different ad platforms you can advertise online.  It is taught by experts in this field and this will be of great benefit. Paid Ads is sometimes a tough one to crack, but this training looks like a great investment.
There are actually 8 different individual courses included in this bundle.  Their claim is it will become your advertising bible.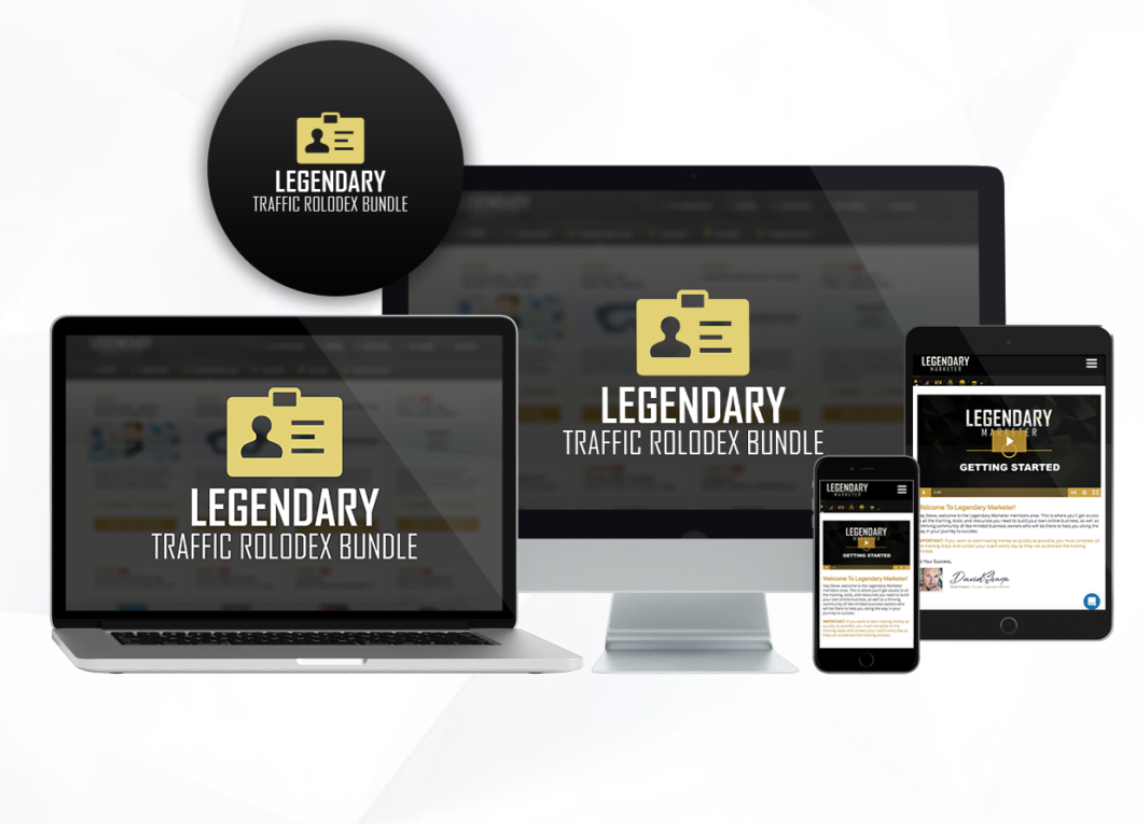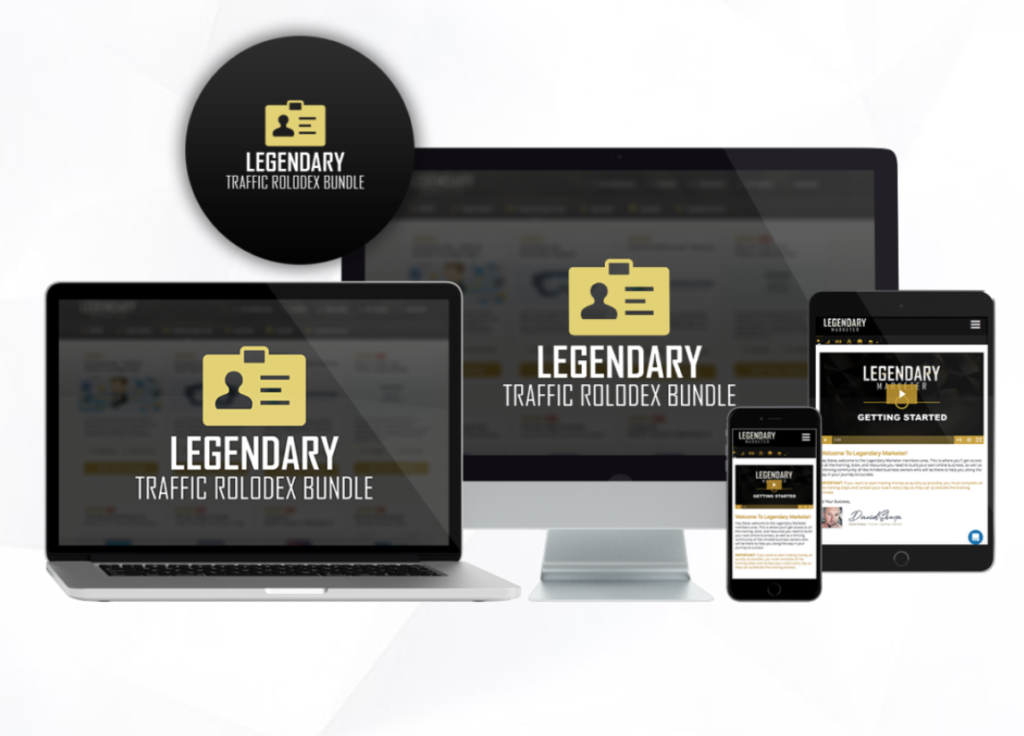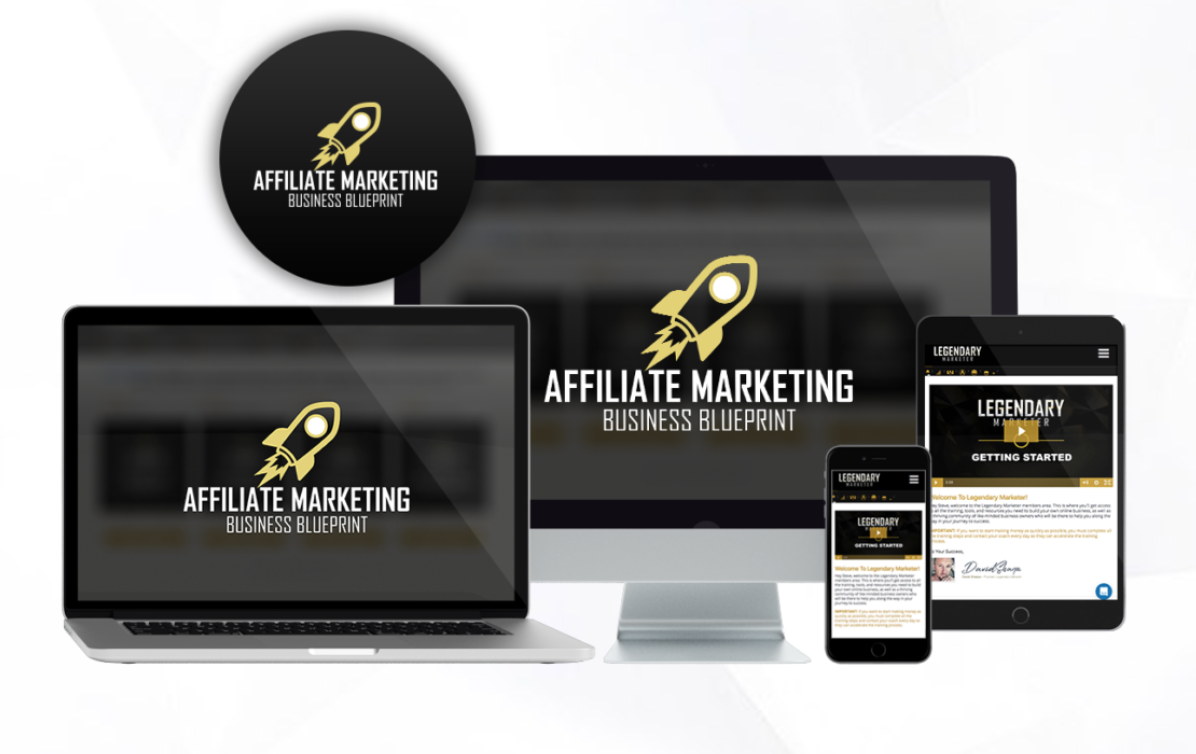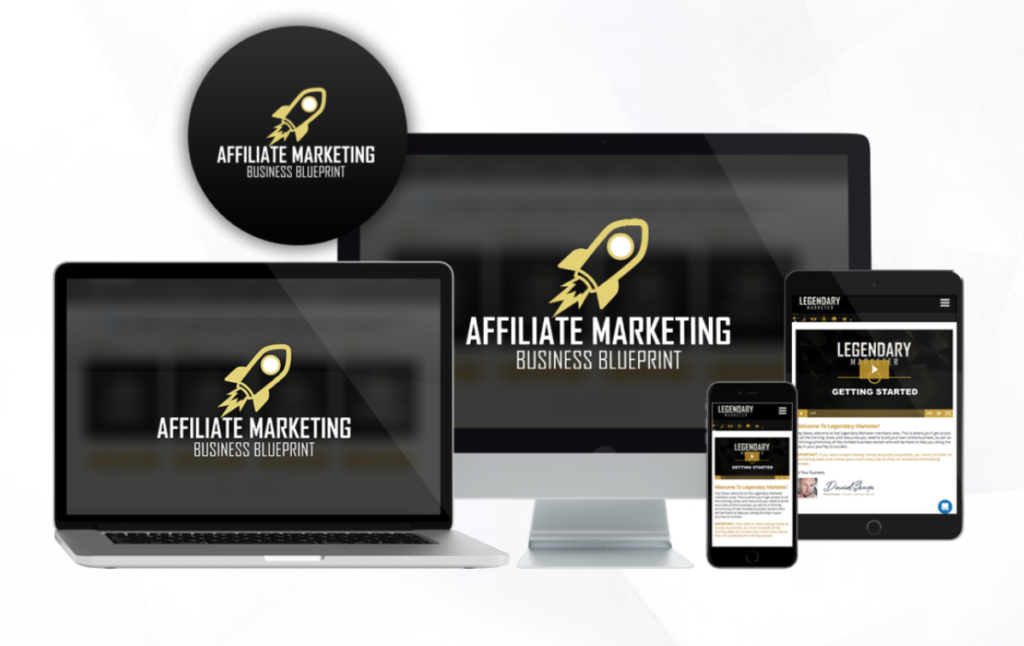 Business Blueprints – $2,500 (one-time)
At a certain point in your online business, you may decide to invest in one of their blueprints.  It will provide you a full step-by-step guide on how to build one of these businesses.  The blueprints are in the subjects below:
Affiliate Marketing
Digital Products
Coaching & Consulting
Events & Masterminds
Know that each of these will cost you $2,500, but they are a complete course about the subject matter.
These blueprints are also included in their tuition reimbursement program.
Live Experiences – from $8,000 (one-time)
These start at $8,000 and are where you can really move your business to another level.  You actually get to attend this event in person and learn from masterminds.
The experiences are:
Legendary Marketer Mastermind – $8,000
Legendary Entrepreneur Mastermind – $12,000
Done for You Brand Builder – $10,000
If we take the Brand Builder one for a minute, you will have experts create your brand for you, set your business up, set up email sequences, etc.  You will have all of the technical stuff done for you.
You get a lot, but then the price is really high too.  But you might get to a point where you can afford to invest in these.
The other live experiences typically take place in an exotic place and you can definitely get recharged and ready to progress with your business.
Haven't Made Your First $1 Yet?
Studies have shown that more than 70% of the people who want to make money online have not made their first dollar yet. So, you're not alone!
Can You Make Money with Legendary Marketer
This is something that is subjective, if you want to know if you can make money from what they teach you then the answer is yes.
They teach you affiliate marketing, and this is definitely a great way for a beginner to get started in the online world.
But if you are wondering if become an affiliate of Legendary Marketer will make you money, then the answer becomes a bit more difficult.
That is because of the details that emerge from the Legendary Marketer Income Disclaimer.
Considering the cost of some of these packages, some are $10,000 or more it seems that most affiliates can expect to earn as little as only $500.
But when you dig into the small print, this only shows projections and not actual figures that show that the average annual income for an affiliate of Legendary Marketer to be between $500 – $2,000 a year.
In my experience, this shows that whilst you can make some money promoting LM, you will find most people do not get to the point where they buy some of the upsells.  But to give you an insight into what potential there is with the affiliate program, here goes…
The Legendary Marketer Affiliate Program
You used to have to be a paying member to be an affiliate, but this is no longer the case.  There is a free basic account you can sign up for to be an affiliate, but there are better commission rates in the pro account which is $29.95 a month.
But, something to be mindful of is there is a review stage before being accepted as an affiliate.  If you are relatively new to the affiliate marketing world or lack an email mailing list, expect to be rejected.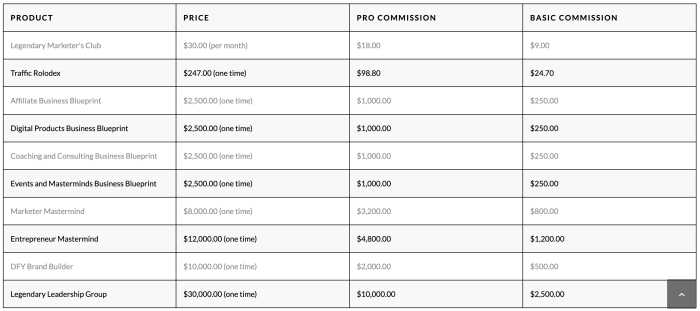 Whilst the figures do look appealing, just remember what we said about their income disclosure.  You need to know what you are doing to make some real money from this platform and be able to create some decent marketing funnels to make it work.
Which is why the traffic rolodex would be a good shout if you are choosing to promote LM.
What We Liked About Legendary Marketer
Here is what we liked about Legendary Marketer:
#1 High Quality Training
From what I have seen from the training within Legendary Marketer it is all high quality and can aid those just starting out but also offers elements for more established marketers like the blueprints, etc.
#2 Reasonable Price for Training
The training you get access to for $30 a month is a great positive side of this platform.  Whilst you can expect to have the upsells sold to you, there is no real need if you do not feel like you need them.
#3 No Longer Charges for Being an Affiliate
If you did want to promote Legendary Marketer, there is now no need to pay a monthly subscription which is a huge benefit to affiliate marketers
#4 30-Day Money Back Guarantee
You are also covered by the fact that if you are not happy, you can get your money back.
What We Didn't Like About Legendary Marketer
Here is what we didn't like about Legendary Marketer:
#1 Income Disclaimer is Worrying
I appreciate there are going to those that choose not to promote Legendary Marketer but learn from their training and earn money elsewhere.  However, the average earnings being quite low shows that people who do choose to promote this do not actually make any money.
Especially as there is an emphasis on promoting LM throughout the training.  This leads to more of an MLM product and not Affiliate Marketing.
#2 Number of Upsells
When a product has too many upsells, it does worry me.  It worries me because it will typically mean they are missing certain elements of success from the training, meaning you need to invest to get the rest of puzzle.
I think their training is good but does lack certain elements like paid ads meaning you need to pay more to get these answers.
#3 Only Training = Hidden Costs
Whilst their training is great, you will find that there are other costs such as web hosting, email autoresponder, etc that you will need to factor into your costs to fully know what your monthly costs will be.
#4 Not a Fan of Business Plan Calls
Everyone is different, but I am not particularly a fan of having someone ring me to discuss my business plan – especially as it will probably end up as a sales call.  I might be proven wrong, but still feel sceptical.
Haven't Made Your First $1 Yet?
Studies have shown that more than 70% of the people who want to make money online have not made their first dollar yet. So, you're not alone!
Is Legendary Marketer A Scam?
After all of the positive changes made to the Legendary Marketer platform, they have definitely moved a long way away from the Scam label it has earned itself.
Whilst it does seem to be an MLM, where it focuses on people promoting itself, it has made changes that means it is promoted ethically.
But this is not their only focus, where they will teach you affiliate marketing really well.
If you are looking at how to get started with affiliate marketing, then this training is definitely something we can choose to recommend.  But know, that you will probably need to invest into some of the higher-level products to actually become successful at earning money online.
But if you are looking for a training platform that will not cost you the earth, then you might want to follow the exact training that we used to earn money online. 
Affiliate Marketing is a fantastic way of earning money online and it doesn't mean you need to spend thousands to do it either.
Legendary Marketer Vs. Wealthy Affiliate
Whilst we feel Legendary Marketer is a good place to start if you want an online business, our personal preference is Wealthy Affiliate.
This is purely down to the fact that we have followed their step-by-step training and are now earning money online from their strategy.
They keep things simple.  2 Membership levels, a free and paid membership.  You will receive all levels of training without the need to pay anything on top of the premium membership.
If you would like to learn more, first check out our comparison chart below:
If you would like to read more on Wealthy Affiliate, then please check out our WA review. 
Thanks for reading our Legendary Marketer Review.  If you have any questions or want to share any experiences, then please write them in the comments below.  We will always respond to you as soon as we can.
Thanks for checking out our Legendary Marketer Review.  If you have any questions or comments to add, then please write them in the comments section below. 😉