Welcome to our A World Ventures Review!
Being able to make money whilst travelling the world sounds like a great result, but in this World Ventures review we will be exploring whether it is actually worth your time and money.
There are a number of frustrations that come with the planning for travelling to anywhere, and World Ventures does aim to remove a lot of these frustrations, but it still leaves a lot of questions around whether the business opportunity they present can actually make signing up worthwhile.  I would also question whether you can save money through travelling through World Ventures.
First off, it's great to see that you're doing your research before buying into any "seemingly good" product.
That is how you avoid scams and find only legitimate ways to make money online!
To be completely transparent with you, we're not associated with World Ventures in any form.  We're not here to pitch or sell you anything.
Instead, we want to ensure you get all of the details you need to know, including company overview, pros and cons, etc.  That way you can make an informed decision about this business opportunity…
World Ventures Review Summary
Product Name: World Ventures
Founder: Wayne Nugent, in 2005
Product Type: MLM company selling Travel & Lifestyle memberships
Price: $200 or $300 one-off fee + $100/month
Best For: Those experienced with MLM, and have the capital to invest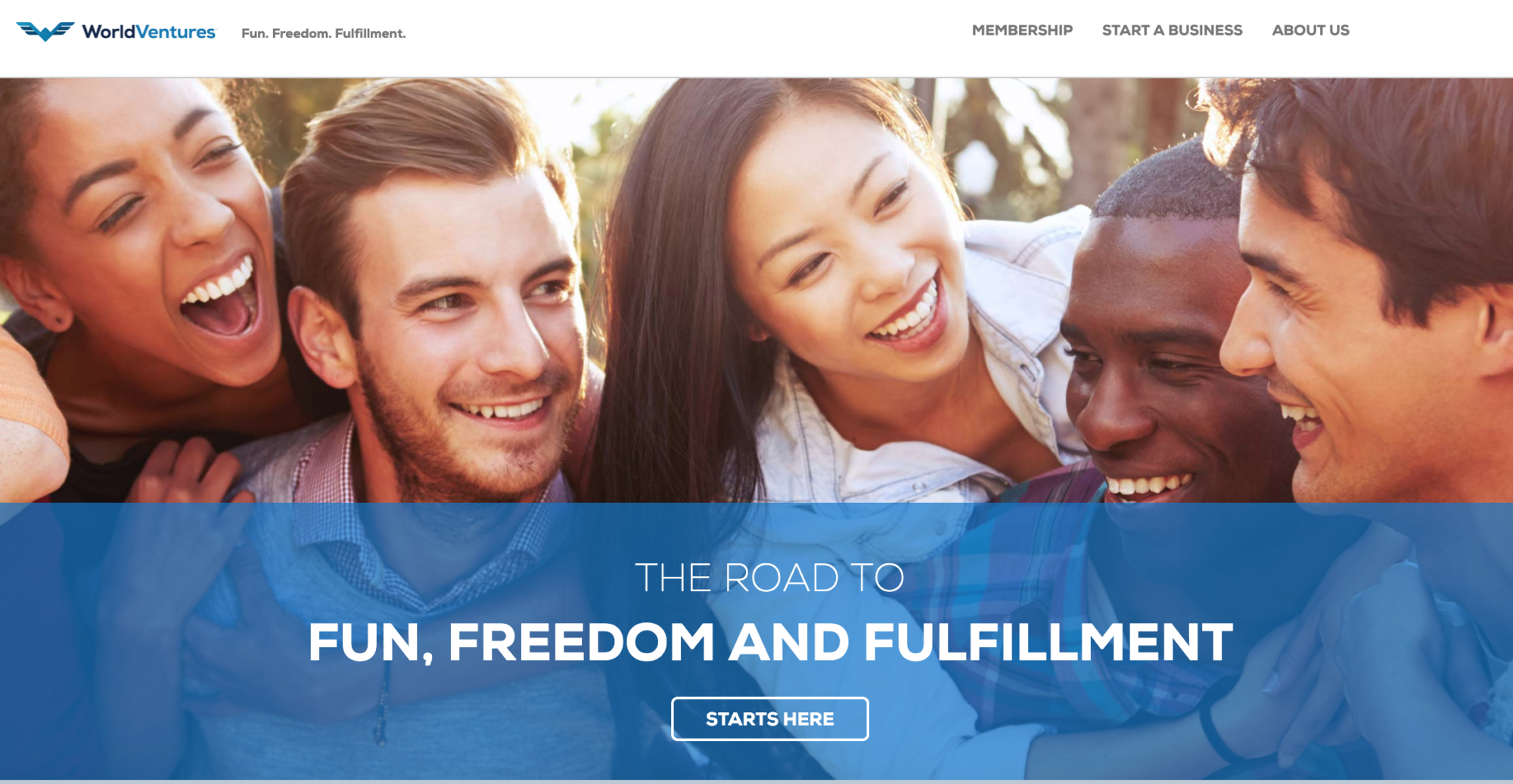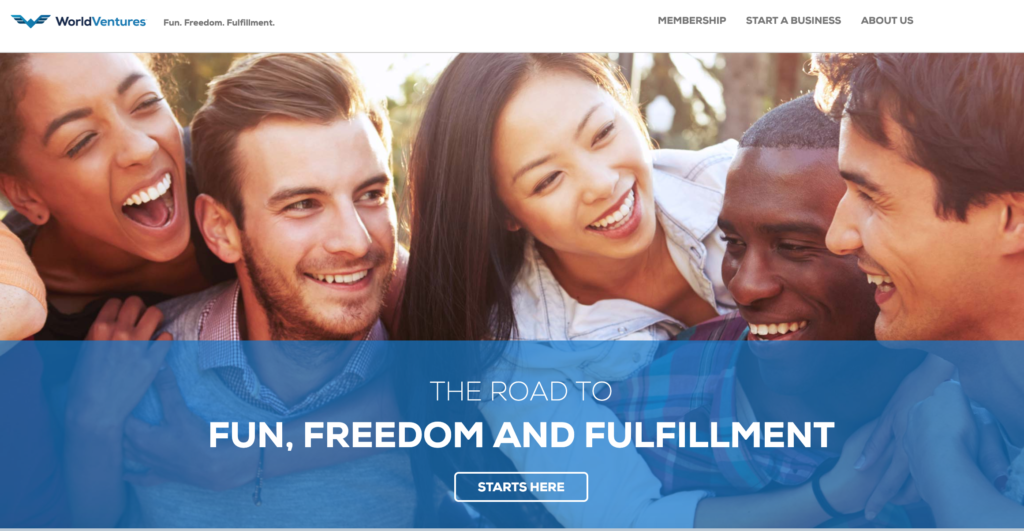 Pros
Reduced Focus on Recruitment
Exclusive Travel Search Engine
Direct Selling News Global 100 List
Cons
Monthly Recurring Fee
Low Income Potential
Mediocre BBB Rating
Trips Might Not Be That Great
Complicated Compensation Plan
Are You Saving Money?
Very Misleading
Banned in Some Countries – Outed as a Pyramid Scheme!
Summary: World Ventures is an MLM company that primarily gives you a platform where you can plan, book, and organise trips away.  It also gives everyday people a chance to earn some money by selling these travel packages to friends and family.
World Ventures is a legit MLM business.  But it has been caught up in some trouble in some countries, who have banned their platform and labelled World Ventures a pyramid scheme.
My research has made me conclude that this opportunity is not as good as you might think, and the income potential is actually really low.  Plus a few other problems have been found, which we will share in our full review!
Rating: 38/100
Recommended? No
World Ventures is a direct selling company found in 2005 by Mike Azcue & Wayne Nugent in Plano, Texas.
It is a travel MLM or Multi-Level Marketing company that encourages their distributors to share photos of themselves holding signs stating, "You Should Be Here".
World Ventures has been in business for more than a decade and has now expanded into 34 markets with more than half million members.
They offer the following two things:
Discount Travel Packages – Cheaper Holidays
A way to make money by sharing this opportunity to others – MLM
World Ventures works by booking their trips and hotel rooms in bulk.  This allows them to offer members discounted travel packages.
World Ventures members pay a monthly fee to be able to enjoy these discounts.
How Does World Ventures Work?
World Ventures have developed a brand to help you plan, book and organise your trips.  This is the main part of the platform that you will get as a membership.
It is similar to another MLM opportunity we recently reviewed, InteleTravel.
Dream Trips Membership – $199.95 + $26.99/month
This is their normal membership level, costing a one-time fee of $199.95 and then you would need to pay $26.99 a month.
You will have the ability to collect DreamTrips points, redeem DreamTrips discounts and also be able to make money by shareing World Ventures as an Independent Representative.
This membership will work out as over $500 for the first year.
DreamsTrips Gold Membership – $199.95 + $49.99/month
The gold membership will cost you a one-time fee of $199.95 and a monthly fee of $49.99.
The additional benefits that you will receive as part of the gold membership are things like:
Airport Transfers
Flight Accident Insurance
Airport Parking Discounts, etc.
This membership works out at around $750 for the first year.
DreamTrips Platinum Membership – $299.95 + $99.99/month
The final membership stage is the Platinum Membership, which costs an initial one-time fee of $299.95 plus a monthly recurring fee of $99.99.
Some additional benefits are:
DreamTrips Platinum experiences (better services)
Upgrade Trips (hotel upgrades, SPA discounts, etc.)
Emergency evacuation service
Advance booking access
This works out at around $1400 for the first year.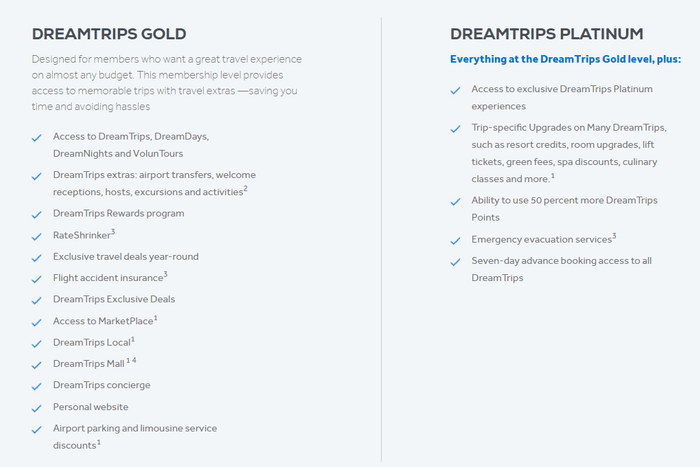 These are the 3 main products that you will be using and selling to make money.  So, if you were to introduce someone to the DreamTrips Platinum Membership you would earn $50.  You will earn $250 for introducing 6 referrals.
If you are not going to be traveling, you can also use your points to dine at your local restaurants, receive entertainment discounts, get road assistance, identity theft protection, etc.
But unless you are travelling often enough, this solution probably isn't worthwhile enough to be cost effective.
Haven't Made Your First $1 Yet?
Studies have shown that more than 70% of the people who want to make money online have not made their first dollar yet. So, you're not alone!
World Ventures Training & Support
WV offers a number of facilities to ensure you are able to pursue your goals, let's start with the training available.
World Venture Training
The training available comes from a number of directions
Your Sponsor – Guidance
Just like most MLM businesses, you can get help from the person who introduced you to the business.  But if they are relatively new, they might not have the relevant experience to help you with your specific questions.
World Ventures Advantage
World Ventures Advantage is an online training platform that helps you hone your skills in areas such as:
Personal Development
Sales Techniques
Handling Objectives
It is a solid base for learning everything you need to know about running a World Ventures business.
QuickCoach
This is a great way of watching bitesize videos on your phone.  It has a number of hints and tips for when you are presenting to introduce people to the platform.
Live Events
World Ventures also presents its own Live Events where you can learn from the top leaders in the company or industry.  This seems to be a common theme in the MLM world.  You will often see conventions are being held annually.
World Venture Tools & Resources
World Ventures also offers you a number of tools and resources too.
DreamTrips App
You gain access to the DreamTrips app, where you can operate your business and access your training from anywhere.
Personal Website
World Ventures are provided with their own website to use for sharing your trips and to promote WC to others.
However, you need to know at this point all of the websites are duplicated (are all the same).  This causes a problem when it comes to you trying to get this website ranked in the search engines with the goal of finding more referrals.
Search engines absolutely hate duplicated content and duplicate websites, and this will hamper your goals of achieving a high ranking.
You will only achieve success with this website if you pay for traffic through places like Facebook Ads
How To Make Money with World Ventures?
Before we can discuss the compensation plan it is important you understand how MLM or Multi-Level-marketing works.
There are two main ways for you to make money:
Sell the company's products and earn retail profit, in the case of World Ventures, you sell the travel packages
Introduce this business opportunity to your friends or others and recruit them into the system
But the main thing to know about MLM is it is more profitable to recruit new members rather than through selling the travel packages.
But when you start looking at the compensation plan from World Ventures, it just seems really complicated.
World Ventures Compensation Plan
MLMs love an over-complicated compensation plan, and World Ventures is no different.
Here's a video where James tries to explain it to you…
The problem is, I still don't fully understand it even though he is explaining.
Here is what we can get out from the information present:
You need to pay an upfront fee to join and continue paying the monthly fee to be able to earn commissions from recruiting people
You need to recruit at least 4 active "downlines" so that you don't have to pay the monthly fee. WV calls this the "Refer 4 Pay No More"
The more people you get into the system, the more money you will make.
They also overcomplicate it again by offering both Lineage organisation – this relates to direct recruits.  But they also offer Binary organisation, this is where 2 people could actually be the referrer…?
They both offer different levels of bonus.  But it does just seem to be overly confusing.
Who Would Benefit from World Ventures? & Wouldn't...
World Ventures would benefit an individual that:
Can afford the monthly fee
has some experience in MLM. If not, you would find it hard to deal with the pressure to make sales
Doesn't mind travelling with other WC members, whom you may not be that familiar with.
But WV might not be for you if:
Are in debt
Don't have the cash-flow to support you
Are shy and do not like approaching people
Don't like recruiting
Don't like to travel or don't like travelling with people you do not know
What We Liked About World Ventures
Here is what we liked about World Ventures:
#1 Less Focus on Recruiting
One thing that sets WV apart, is the fact that you are not pressured into recruiting people straightaway.  You can just it for your travel planning.  Many MLM businesses are all about the recruiting part – But WV does seem different
#2 Exclusive Travel Search Engine
WV does own its own travel search engine called Rovia.  The reviews online do state that Rovia does offer the best deals on travel packages when compare to other companies.
#3 Direct Selling News Global 100 List
World Ventures has managed to achieve the No.25 rank on the Direct Selling News Global 100 list.  That is a fantastic position to be.
What We Didn't Like About World Ventures
Here is what we didn't like about World Ventures:
#1 Monthly Recurring Fee
Just like most MLM businesses, there is a monthly fee that you will need to pay for your WV membership.
This monthly fee can range from $27 to $100 a month depending on your membership level.  The thing to remember about this fee is it only allows you access to the platform and you will not receive anything physical in return.  The way it works is you gain points that you can redeem against trips or meals.
So, if you are not going to be using the platform for your own travel, this is something to consider.
#2 Low Income Potential – Don't Give Up the Day Job
World Venture's Income Disclosure statement makes for some interesting reading.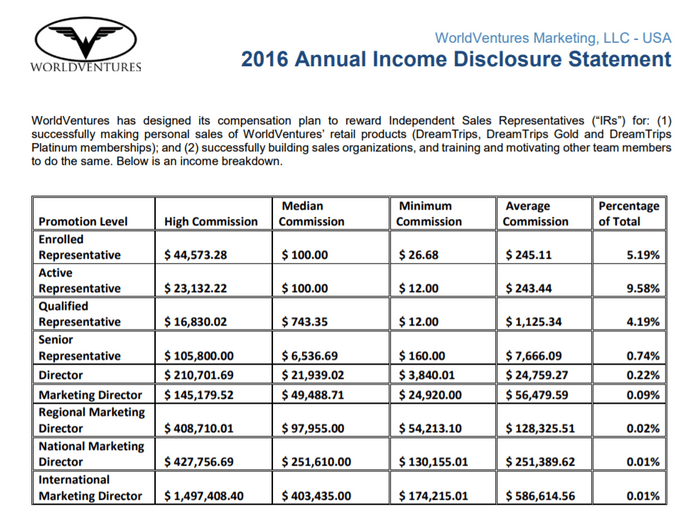 When you factor in that, approximately only 20% of their distributors make a commission.  That leaves the remaining 80% that do not earn a commission.

That is a shocking statistic that out of 225,742 World Ventures Independent Representatives in the US, only 20% earned a commission… That is surprisingly low.
#3 Mediocre BBB Rating
At present, World Ventures holds a rating of C+ with the Better Business Bureau and it doesn't hold an accreditation.  This is mainly down to the high number of complaints that have been made about World Ventures.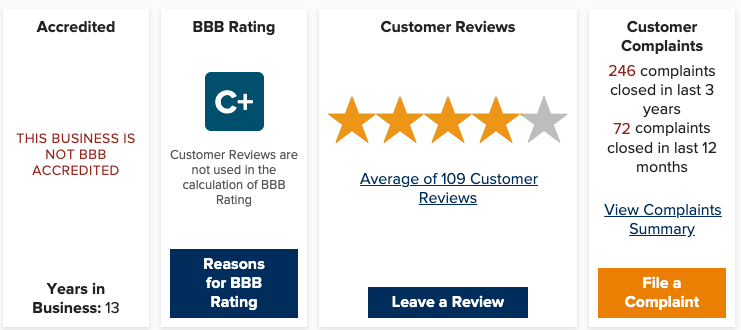 The complaints are mainly around their customer service being difficult to get hold or were completely unhelpful.
There are also complaints about the fact that World Ventures are not upfront about rules and regulations about their travel packages.  Whilst they do display them in the company's terms and conditions, it is not that easy to understand them.
#4 The Trips May Not Be As Good As You Might Expect
It is easy to find trips using the DreamTrips platform, but there are a couple of points we need to raise that put a negative slant on this platform:
Flights are NOT included in their packages
You need to be prepared to travel with other WV members
This brings up the point about you actually lose some freedom in planning your own trips.
#5 Complicated Compensation Plan
Even after watching James's video, I am still really confused over the compensation plan.  It shouldn't be that difficult to understand how to make money.   Especially when they chuck in the Linear & Binary structures…
You are also expected to pay a monthly subscription to remain active to receive commissions.
It is also not always clear what the commission rates are.
#6 Are You Saving Money?
Considering flights are not included and the initial fee you are required to pay, you need to factor in whether you are actually saving money by being a member of World Ventures.
You might find the price is good, but when you factor in the amount you will spend over the year that you might find a better deal elsewhere
#7 Very Misleading
You cannot fault their marketing; it does make it very appealing when you factor in all of the photos of members holding signs stating "You Should Be Here"
But in reality, it is extremely difficult to make any money – just remember the stats from the Income disclosure.
You will also notice some things are not very clear on their website, such as:
They do not even mention what you will actually be selling or doing
You will get no indication of how much the travel packages actually cost. This is because you cannot view them until you sign up
It is a common technique to entice you into believing you can make money with this method.  You sign up and work tirelessly to try and make your money back, only to find it is not as simple as they make out.
This is just about creating some hype about it being easy to travel and make money using their platform.  If that isn't misleading, I don't know what is.
#8 Banned in Some Countries – Pyramid Scheme?
I would also bring to your attention the fact that World Ventures has got itself into a number of lawsuits around the world.  Some are claiming it is a pyramid scheme.
"Pyramid Scheme is a business model that recruits members via a promise of payment for enrolling others into the scheme.  As recruiting multiples, recruiting becomes quickly impossible and most members are unable to profit; pyramid schemes are unsustainable and often illegal".
Like I said World Ventures has had a number of lawsuits put against it:
World Ventures was identified as a pyramid scheme in South Africa by the National Consumer Commissions
World Ventures ceased operation in Norway in 2014. WV was identified as a pyramid scheme there
In 2017, there was a lawsuit filed against WV by Melody Yiru. It was accused of being an endless chain recruitment scheme, which is prohibited under California Law
If you would like to know more, you will find a lot of information available online.
As to whether World Ventures is a pyramid scheme, I suppose you could say that is subjective. 
The reason it steers more towards an MLM rather than a Pyramid is because of the selling of travel packages.  The sole purpose is not to only make money recruiting.  Many MLM programs have gotten away without the speculation due to the fact they offer something else too.  However, it doesn't look great when these countries are choosing to believe it is a pyramid scheme and one to avoid.
Also, from the look of it most members are trying tirelessly to make money recruiting people rather than using it for their own travel plans or selling travel plans.
Final word on this subject is, it gets very muddy when you are trying to pinpoint on whether it is a pyramid scheme or just an MLM.  Personally, I feel it is a cross between the two.
Haven't Made Your First $1 Yet?
Studies have shown that more than 70% of the people who want to make money online have not made their first dollar yet. So, you're not alone!
My World Ventures Review - Final Conclusion
World Ventures is a legitimate company that direct sells discounted travel packages to its members.  Independent Distributors can earn commission by recommending others to join World Ventures.
However, would you really trust someone who is motivated by making money, rather than someone who is a proper travel agent who knows their stuff?
It is so easy nowadays to arrange travel and compare prices with sites like Expedia or Travelocity.  So, I am not sure what benefit you would have by paying what is a high initial fee for membership, where you don't get flights included and may have to share the experience with a complete stranger…?
From the point of someone looking to travel, I wouldn't recommend this platform and as far as the making money side – The Income Disclosure shows that very few are actually making any money with this platform and you would do better looking into a better way to make money online.
MLM opportunities are surprisingly hard to actually make work when you are at the bottom of the ladder and extremely tough to climb the ladder to where it might benefit you.  That is why we highly recommend people look into Affiliate Marketing.
Now that you can still get into the travel market with affiliate marketing, but with affiliate marketing you can:
Build your own business in any Niche or Market you like
Earn as you Learn
Still make money as you travel, because it is actually passive income
You Will not Need to:
Recruit your friends and family to be able to make any money
Keep paying expensive memberships just to get some discounts
Affiliate Marketing is our top recommendation for making money online and is the exact model we use to make money online.  If you are set on making money whilst you travel, then affiliate marketing is a much better option than an MLM opportunity like World Ventures or InteleTravel.
If you would like to read more and see how we got started with affiliate marketing by learning from Affiliate Marketing Experts, Check out our Guide on Affiliate Marketing.
Thanks for checking out our World Ventures review, have you any experiences with World Ventures or MLM, we would love to hear from you.  How did you find the opportunity presented to you?  If you still have any questions, then please write them in the comments below and we will definitely respond to you as soon as we can. 😉
World Ventures
$200 or $300 one-off + $100/month