Welcome to our InteleTravel Review!
At first glance, InteleTravel appears to be a great opportunity for you to travel the world at a cheaper cost, whilst making some money out of it at the same time.  So, why do some think… Is InteleTravel a Scam?
First off, it's great to see that you're doing your research before buying into any "seemingly good" product.
That is how you avoid scams and find only legitimate ways for you to earn money online!
To be completely transparent with you, we're not associated with InteleTravel in any form.  We're not here to pitch or sell you anything.
Instead, we want to show you why InteleTravel is not the best opportunity for you, with some shocking statistics that show how low the actual income potential really is…
InteleTravel might not be a scam, but that doesn't automatically make it a great business opportunity…
InteleTravel Review Summary
Product Name: InteleTravel
Founder: James Ferrara, in 1992
Product Type: Travel Booking MLM company
Price: $179.95 + $59.90/month
Best For: Existing Travel Agents & Tour Guides

Pros
Proven History
Benefits for Frequent Travellers
No Minimum Order
Cons
Not for Everyone
Delayed Commission
Issues with Refunds
Low Income Potential
Summary: InteleTravel is definitely a legitimate travel agency company, and it also has accreditations with various organisations, like the Better Business Bureau (BBB). There are benefits to existing travel agents or tour guides, or those that travel a lot.
But our concerns are with their business opportunity, where the income potential is nowhere near where they claim.  If you were hoping to earn enough from this to travel the world, then you will be disappointed.  The average annual income for their "travel agents" is only $292.19! (Find proof in our review)
Rating: 50/100
Recommended? No
IntelTravel is a network marketing company that specialises in selling discounted travel tickets and packages to people who want to travel, which basically makes this an online travel agent.
Check out this video below to learn more about InteleTravel…
It is very similar to two of its competitors, World Ventures & Evolution Travel.
InteleTravel sets it goals out as:
Making a better and easier platform for travel with more affordable costs to customers.
Able to provide an "easy and profitable" work from home job. Whether that be a full-time, part-time job or just a hobby.
On the one hand, I can see how this platform can truly benefit its customers.  The fact they have removed the need for the customer to pay an agent fee is a huge benefit to the customers.
Instead, a "travel agent" who signs up with IntelTravel are paid commissions based on the amount and type of travel package that you sell.  This makes it like working on a freelance basis, unlike traditional travel agents where you are hired by a particular company.
It does make it a good platform from the point of cost-effective for the customer and travel agents getting paid when they sell a package.
However, on the other hand I have concerns when it comes down to being "an easy and profitable work from home job"
Considering when you do a little digging and find that 98% of these "travel agents" cannot even earn what would equate to the minimum wage – Keep reading and I will show you how we know this…
What Do InteleTravel Offer...
InteleTravel partners with a number of different travel suppliers to offer travel packages and discounts to its customers.
Some of the partners are:
Airlines – British Airways, American Airways, Delta Airlines, etc.
Hotels & Resorts – Club Med, Sandals Resorts, Hilton Hotels & Resorts, etc.
Cruise Lines – Royal Caribbean Cruise Lines, Norwegian Cruise Line, Disney Cruise Line, etc.
Vacation Packages – Travel Impressions, Funjet Vacations, Disney Vacations, etc.
Car Rental – Avis, Hertz, Budget
Travel Insurance – Travel Insured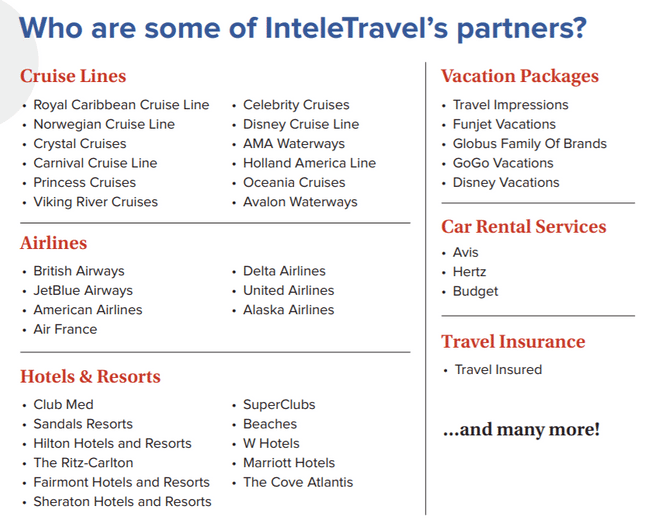 When you become a member of InteleTravel, you will be given access to the following features:
Exclusive Travel Offers
A Personalised Travel Booking Website
Insider Travel Knowledge
Full Customer Support
Competitive Travel Rates
But how do you make any money with InteleTravel…?
How to Make Money with InteleTravel
Whilst InteleTravel is a Multi-Level Marketing or MLM company, it operates in a slightly different ways to most.  This is because they do not actually offer their own business opportunity. 
They have partnered with another company called PlanNet Marketing.  James Ferrara, who is the founder of InteleTravel is also a member of the corporate management team of PlanNet Marketing.
So, to join InteleTravel you actually have to sign up through PlanNet Marketing.
Let us go through the costs involved of becoming a "travel agent" with InteleTravel.
InteleTravel Enrolment fee – One-Off $179.95
Monthly Admin Fee – $39.95/month
PlanNet Marketing Admin Fee – $19.95/month
Total – $179.99 + $59.90/month
Once you have been approved, you get access to all of their training, support and you will also gain access to your own travel agent website to start promoting travel products on.
Let us go through how you will earn money through InteleTravel…
Haven't Made Your First $1 Yet?
Studies have shown that more than 70% of the people who want to make money online have not made their first dollar yet. So, you're not alone!
InteleTravel Compensation Plan
For every travel product that is sold, InteleTravel will earn between 8%-16% depending on the type of product.  The rest of the money will go to the supplier, as InteleTravel is only a travel agent.
From that 8%-16%, 70-80% is paid as a commission to the "travel agent" who sold the product.
Let us get an explanation from the guys at InteleTravel.
So as an example, if someone books a holiday through you and the total price is $1,800.  With this particular package, the commission rate is 10%.
$1,800 x 10% = $180.
So InteleTravel will earn $180 from this transaction.
You can earn 70% of what InteleTravel earns, so:
$180 x 70% = $126
There is also the added benefit of being able to earn 10% of anything sold from your downline.  This means that anyone you recruit as a "travel agent", you can earn 10% of anything they make.
So, if someone you recruited the package above in the example, means you would earn $12.60 from it.
P.S. This program enabled us to Create a 4-Figure Monthly Passive Income Stream.  It's Free to get started and costs only $49/month to go full-time!
InteleTravel MLM - How it Works
Like we just said, you can also earn money from recruiting other people to become a travel agent with InteleTravel.
This is actually offered by PlanNet Marketing.  Check out the video below to see an explanation for how the compensation plan works for recruiting people…
What We Liked About InteleTravel
Here is what we liked about InteleTravel:
#1 Genuine Reliable Company
With over 25 years' experience, InteleTravel is a reliable company.  It was actually one of the pioneers in the travel industry.
It holds some cracking achievements too:
Accredited by Better Business Bureau (BBB) with an A+ Rating
Holds the BBB Online Reliability Seal
Appointed and recognised by the travel industry regulatory authorities, the Airlines Reporting Corporation (ARC), The Cruise Lines International Association (CLIA) and Vacation.com
This all goes to show that it is a genuine and trustworthy business.
#2 Frequent Traveller? Benefit from Great Discounts
If you are a frequent traveller, you could actually benefit from a membership and saves yourself some money because of all the discounts and rewards that you receive.
You can also earn commissions from booking travel for your friends, family and yourself.
This is not often allowed, but it is a huge benefit from InteleTravel.
The only thing you would need to take into account is the costs ($179.99 + $59.90/month)
#3 No Minimum Order Requirements
Most MLM companies will stipulate a minimum order that you need to achieve to stay signed up, but not with InteleTravel.
MLM tends to do this to ensure those people in the higher levels are paid and why some schemes will be considered a pyramid scheme and not MLM.
But it is nice to see InteleTravel are not stipulating anything and will allow you to sell without any worries of not achieving a monthly quota.
What We Didn't Like About InteleTravel
Here is what we didn't like about InteleTravel:
#1 It is Not for Everyone…
The travel market is a highly competitive one and you require a certain level of expertise to ensure you get it right.
It can be extremely stressful to help people plan their travel and there is a high level of responsibility too.
That is why I would only really recommend this to people who are already existing travel agents or tour guides.
If you are only after the money, there are better options out there for you then this type of opportunity.
#2 Delayed Commissions
This is a huge concern for me.  You will be expected to wait for 60 days after the travel has been completed before receiving your commission.  And then you will only receive that commission on the 15th of the month.
You could sell a travel package today, and not receive any money for up to 3 months.
Don't believe me?  Check out their terms and conditions.
3 Don't Expect a Refund…
Whilst we know that InteleTravle has an A+ rating on BBB, they still have a high number of complaints regarding their refund policy.  Whilst they offer a money back guarantee, people are finding they they are unable to cancel their membership and get a refund even though they are within the money-back guarantee period.
There are also a few complaints regarding the customer service team at InteleTravel not responding to their requests…
This is worrying for such a well-established brand…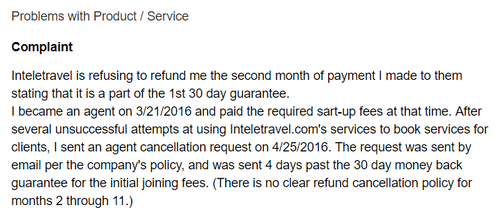 #4 Really Low Income Potential
This becomes a worrying fact about InteleTravel.  This comes back to one of our earliest points about InteleTravel – the average annual income figures for their travel agents comes in at a low $282.19!
For the last figures we can see, their Income Disclosure Statement from 2017 only shows that the average total earning is only $282.19.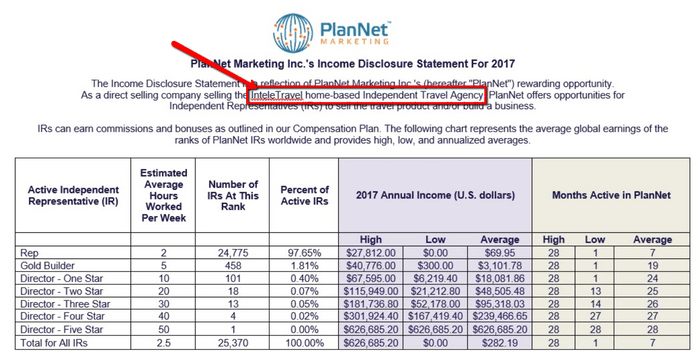 These are the worrying facts for us:
65% of the travel agents only earn an average of $69.95 for the year
81% of the distributors earn an average income of $3,101.78 for the year
The average annual income is only $282.19
This leads us to believe that it might help an already established travel agent to supplement their earnings.  But for someone looking for a way to earn a full-time income from this, you need to look again.
Haven't Made Your First $1 Yet?
Studies have shown that more than 70% of the people who want to make money online have not made their first dollar yet. So, you're not alone!
My InteleTravel Review - Final Conclusion
Whilst we can all agree that InteleTravel is not a scam, there are some worrying signs about this product for someone just looking for a way of making money online.
First off, this is a genuine travel agency business that is operating a direct selling business model.
It also holds some good awards and recognition in the travel industry, and this shows from the customers perspective as they benefit from not having to pay travel agent fees.
If you are already an established travel agent, then this would be a worthwhile direction for you.
But if you are looking for opportunities to make money online, know that this is not the best opportunity out there.  With an average annual income for a travel agent is only $282.19… This is why we would not recommend this to someone looking for a money-making opportunity online.
If I am honest, whilst MLM is a way to earn money online there are some restrictions and limitations to the model.  InteleTravel is a genuine MLM opportunity, but that is not to be said for all MLM schemes.  There is too much of a focus on recruiting people and not so much on building a business on something that we love.
Instead, our top recommended business model for anyone looking to make money online and work from home is Affiliate Marketing!
The main reasons why we prefer this model are:
You don't have to recruit anyone to make money
You have the opportunity and freedom to promote any product or service you like.
You are not limited to only promote those products available within an MLM company
If you would like to learn more about affiliate marketing, we highly recommend you read our guide on "What's Affiliate Marketing & How Does it Work?"
Affiliate Marketing is exactly how we earn money online and it gives us the freedom to help others learn affiliate marketing too.
If you are still interested in selling travel products and holidays, you can still do this but via affiliate marketing and not have to worry about the MLM factors with products like InteleTravel.
Thanks for checking out our InteleTravel Review!  If you have any questions or comments to add, then please write them in the comments section below. 😉
InteleTravel
$179.95 +$59.90/month