Welcome to my Cash Siphon Review!
Ewen Chia has come up with another money-making platform called Cash Siphon System, if you have come across any of his other products you will tend to know where the outcome of this review will end up.
First off, it's great to see that you're doing your research before buying into any "seemingly good" product.
That is how you avoid scams and find only legitimate ways to make money online!
To be completely transparent with you, we're not associated with the Cash Siphon System in any form.  We're not here to pitch or sell you anything.
Instead, I want to reveal to you why I think this is a scam and should be avoided at all costs.
Cash Siphon System Review Summary
Product Name: Cash Siphon System
Founder: Ewen Chia
Product Type: Affiliate Marketing Training Course (SCAM)
Price: $17 + Upsells
Best For: No One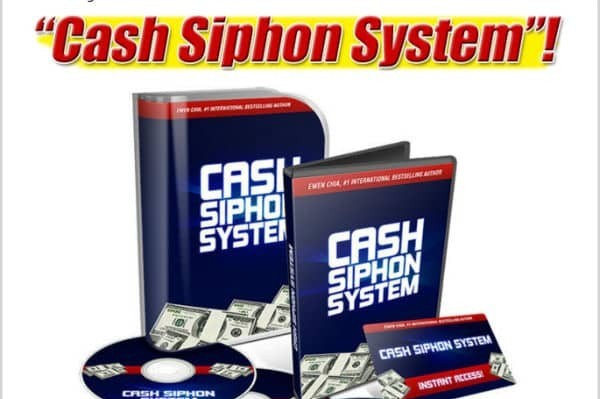 Summary: Ewen Chia's Cash Siphon System is, in our opinion, a scam in the sense that it sells you one product, but what you actually receive is far from the actual product.  It is a classic bait and switch scheme, and I'll explain that to you in this review.  Secondly, affiliate marketing is shown the wrong way with all his claims and sales pitches.  Lastly, the sales funnel inside contains questionable products that prey on those who don't know a lot about affiliate marketing.
For those reasons, I believe it is being completely misleading, and is therefore a scam – definitely don't recommend this to you…
Rating: 1/100
Recommended? No
What is Cash Siphon System?
Ewen Chia has brought out a new "revolutionary" product that is called the Cash Siphon System.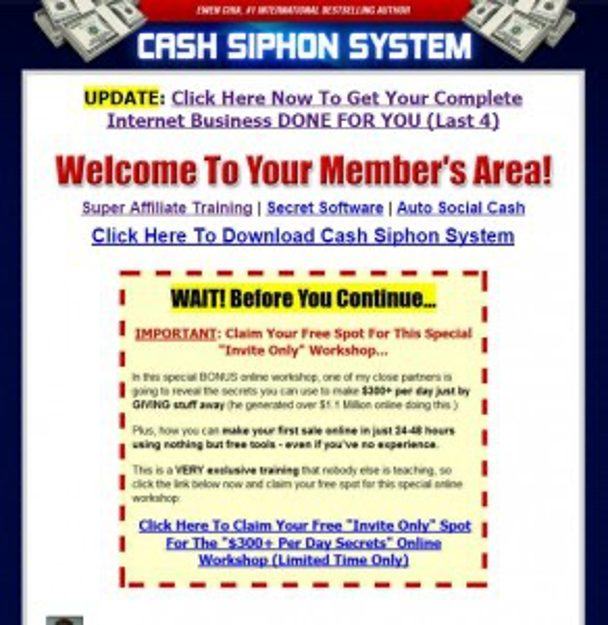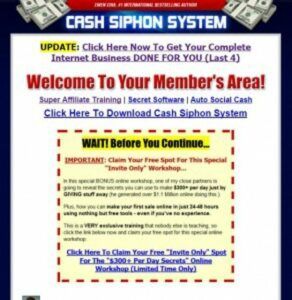 He claims that with his system, you're getting a slice of a billion-dollar loophole that could easily make you thousands of dollars per day, without the need to sell anything!
He even says that on his website:

But, what exactly is this system they talk about?
After reviewing a very busy landing page, it turns out that the Cash Siphon System appears to be a training course for learning affiliate marketing.
This isn't to be confused with another program that has a very similar name, called Daily Cash Siphon.
Daily Cash Siphon, developed by Chris Parker, is an affiliate marketing training course with a focus on building WordPress website.
Ewen Chia's Cash Siphon System is a completely different story.  If you've encountered any of his other products like Autopilot Profits or Copy Paste Income, then you may already know the man has a bit of a reputation within the industry.
Inside Cash Siphon System
According to the sales landing page, the Cash Siphon System is supposed to be a system that is guaranteed to help you make a lot of money…
But instead, you gain access to 14 training videos all about affiliate marketing.  But don't think that these videos are anything new or exciting. 
But before you actually get to the members area and gain access to your videos, you have to first go through Chia's sales funnel.
Plus, anytime you try and leave the sales page, you'll be taken to another page where you are offered the system for just $7!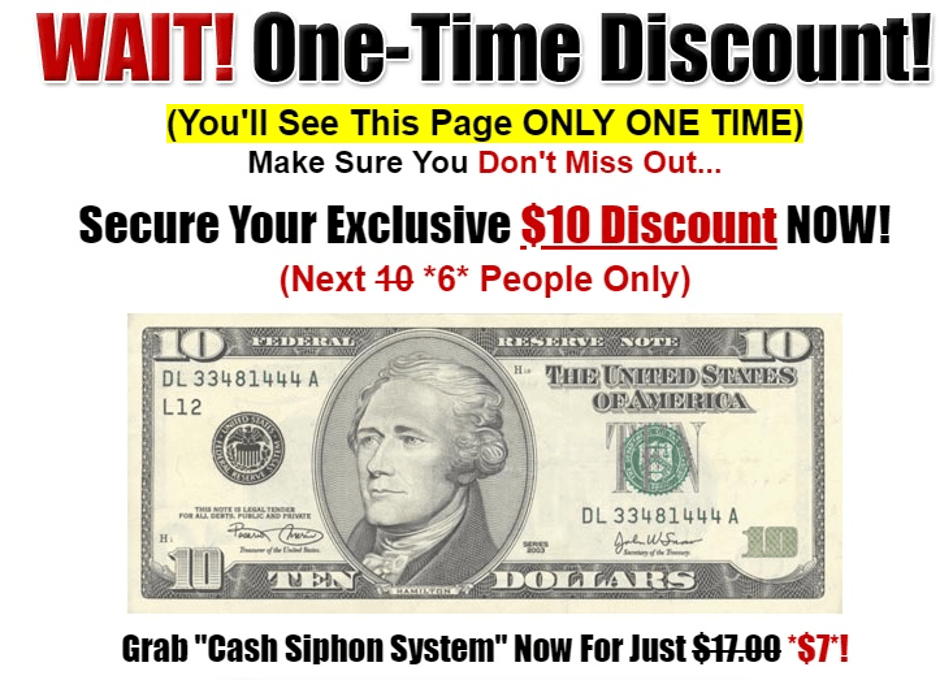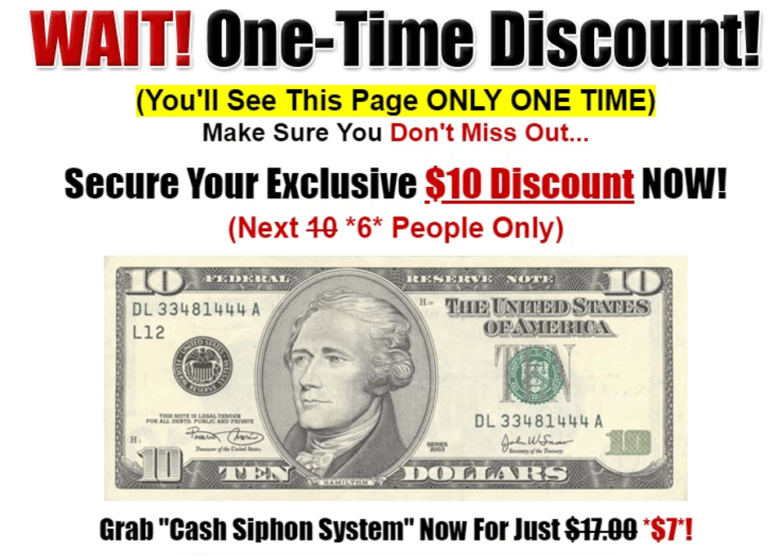 But didn't the member just pay the one-time fee for the same product?
The First Upsell – Cash Sites
The first upsell presented to you is another of Ewen Chia's products, which is called Cash Sites.
This is a "done-for-you" website where they claim you can make money right away from affiliate sales.
Note, this is not included in your one-time fee.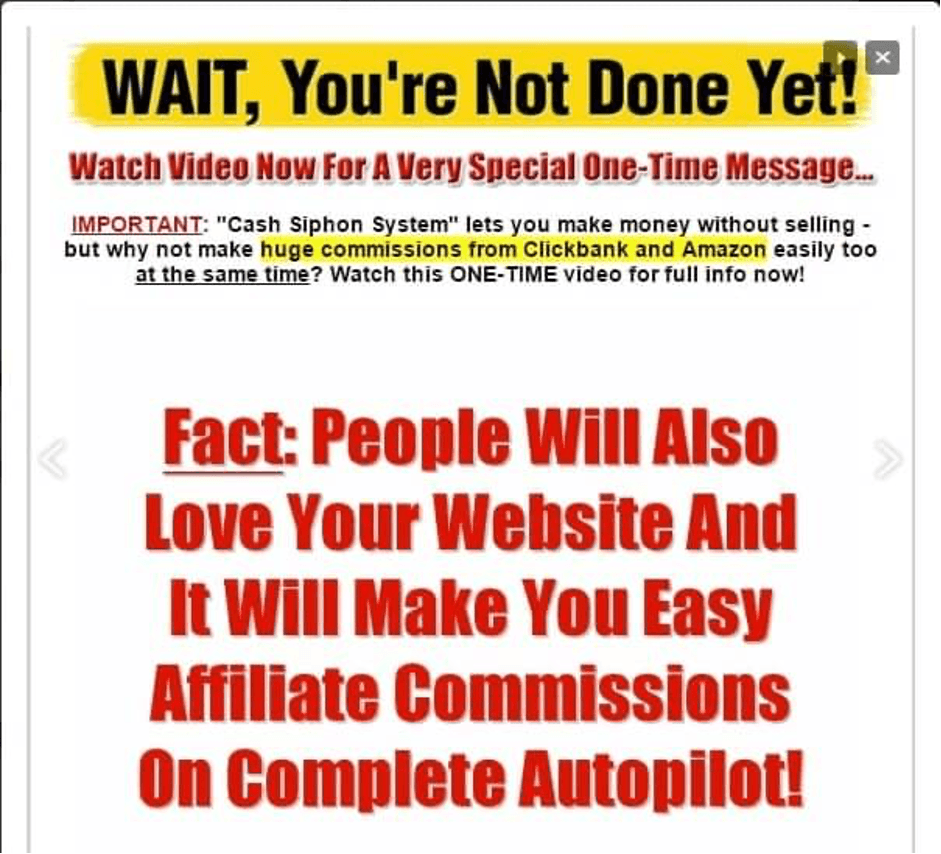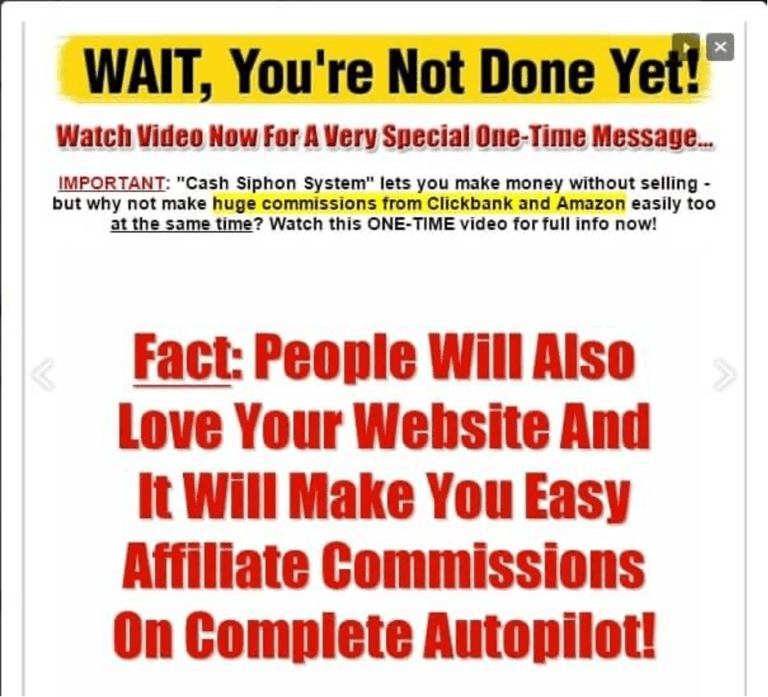 But here is the problem with this so-called "cash site".  The website is already purchases by other people, so how many people do you think have the exact same website?
This is nothing more than a site that will just get penalised for having duplicate content on it.
The Second Upsell – My Top Tier Business (MTTB)
The second product that you'll be presented to as part of the funnel is claimed to help you earn "more commissions".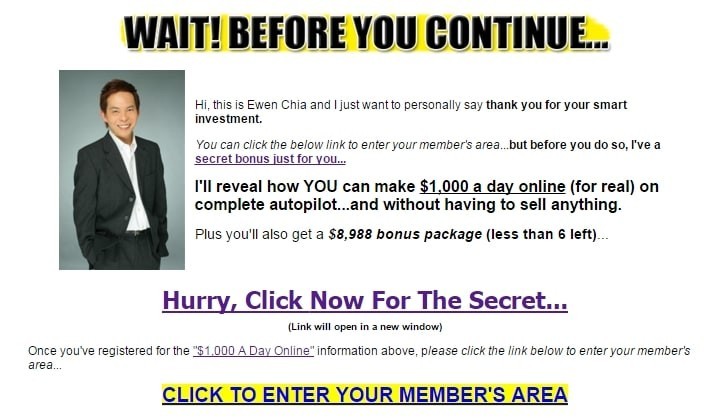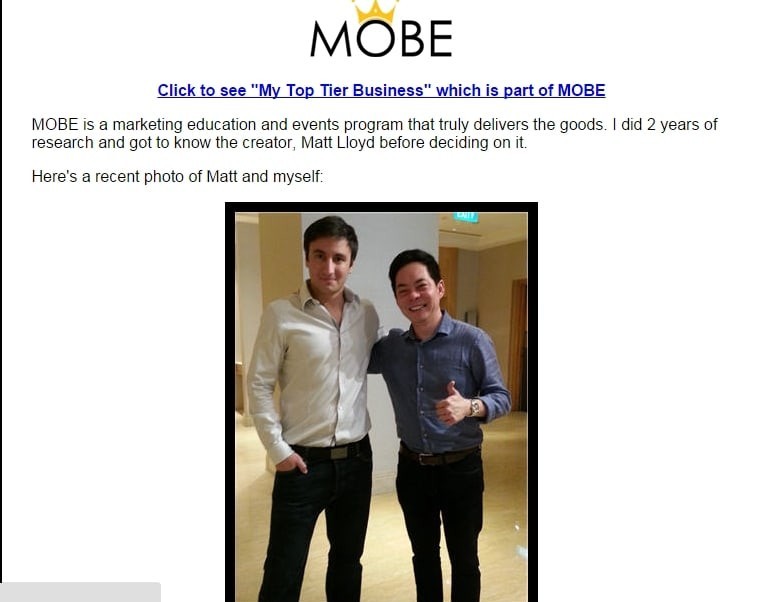 My Top Tier Business is a high-ticket MLM program that costs a nominal fee of $49 to join, but then you'll also find more upsells on the inside…
Who's Cash Siphon System For?
My advice is to stay as far away from this program as you can,  and anything else Ewen might have to offer too.
There are much better (and more legitimate) ways to learn affiliate marketing online.
If you were looking for a platform to setup your affiliate marketing business, I would highly recommend Wealthy Affiliate!
Haven't Made Your First $1 Yet?
Studies have shown that more than 70% of the people who want to make money online have not made their first dollar yet. So, you're not alone!
How Much Does Cash Siphon System Cost?
They are hoping the low $17 price will draw you into buying it.  On the face of it, a system where you don't have to do any work and earn money from it for $17 looks great.  But that is because these guys are good at marketing to make them money, not to help you.
There are also the upsells that we mentioned earlier that could easily rack up the money.
But it would be a waste of money, you are much better off investing your time and effort into a training platform that will help you earn money with affiliate marketing.
What We Liked About Cash Siphon System
It's hard to remain objective and balanced when you have a product that is clearly out to mislead and scam someone out of their money.
There is literally nothing positive to say to you about the Cash Siphon System.  If he was completely honest and told you that you would get 14 training videos on affiliate marketing for $17, then it might be a completely different story.
But this product is just to help him earn more money, and not to help you in the slightest…
What We Didn't Like About Cash Siphon System
Here's what we didn't like about the Cash Siphon System
#1 Classic Bait and Switch Scheme!
The first thing that I dislike about this product is the fact that it is a classic Bait and Switch scheme.  The sales page for Ewen Chia's Cash Siphon System is bragging about a system that will make you money without selling anything. 

 But when people buy the product, they soon realise that this system doesn't exist. 
Instead, all you get is a very typical affiliate marketing training course for beginners.
Someone has paid $17 to be sold to and gets access to some videos that they could find better information on YouTube for.
What Chia brags about on the landing page are what you're supposed to be doing when you're setting up a website intended for affiliate marketing.
#2 It's Affiliate Marketing, But the Wrong Way
Simply put, Ewen Chia's product is an affiliate marketing training course that doesn't teach people the right way to do affiliate marketing.
Here is the reason why…
Ewen talks about not having to sell any products, but still make money…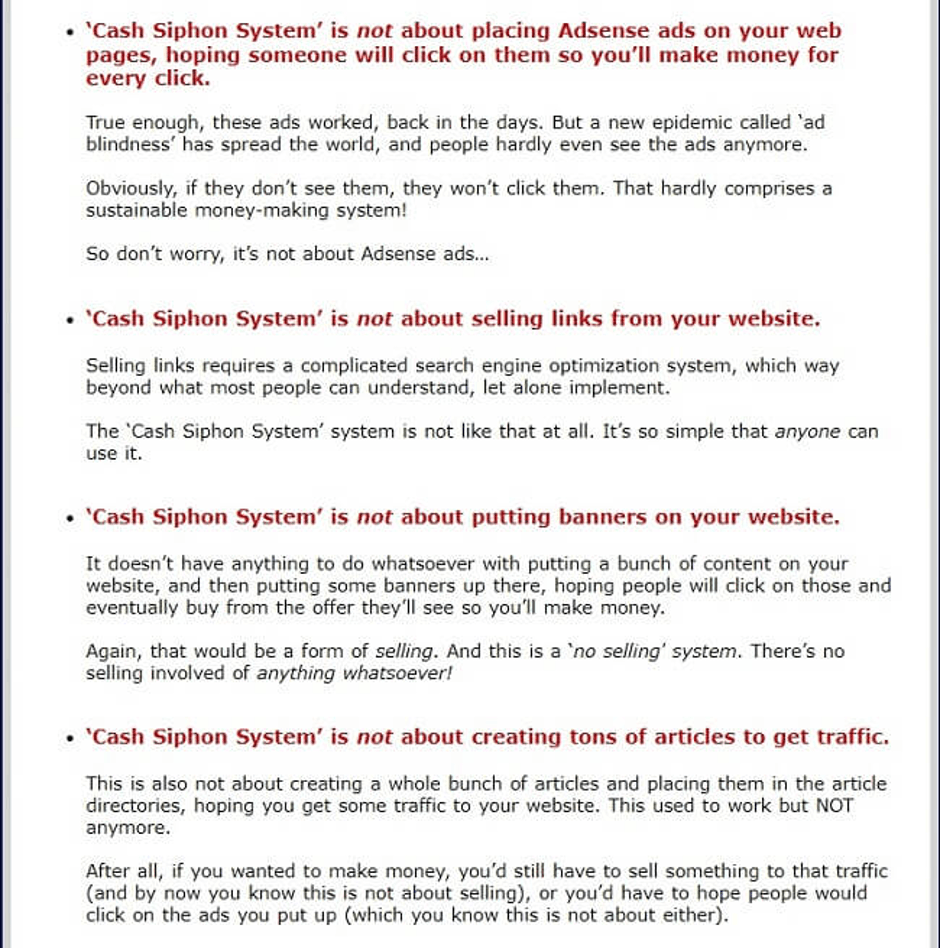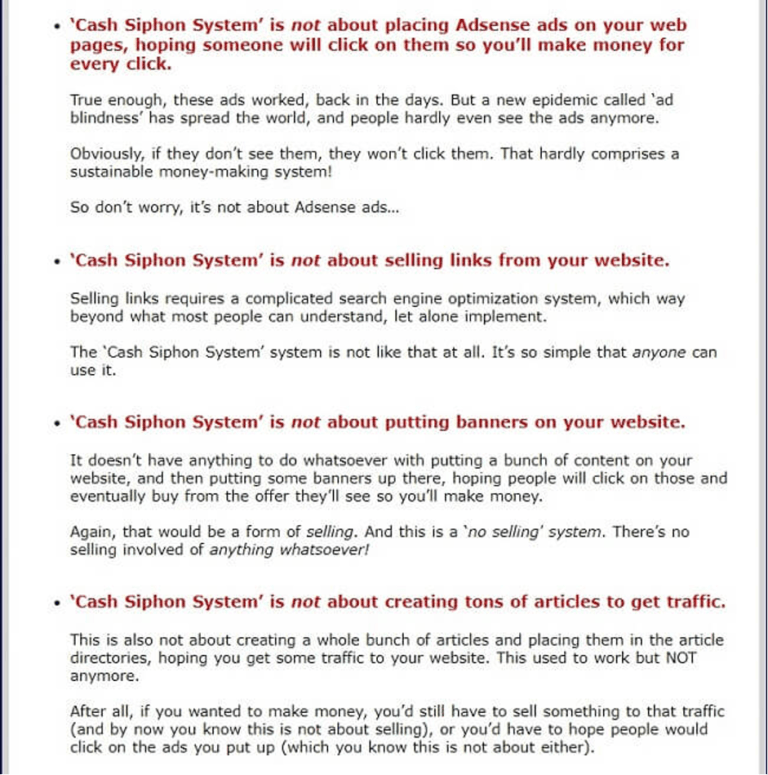 But the point of affiliate marketing is selling other people's products.
The landing page makes a lot of promises about how you can make a lot of money with No effort and in No time.
Chia frequently uses the words like "loopholes", "secret systems", and "magic systems" within his landing page.
But Affiliate Marketing is nothing like those three words at all.
There is no loophole, magic system or even secret system that will help you succeed in affiliate marketing.  The only real secret to success with affiliate marketing is being consistent in these three areas:
Consistency in creating content
Consistency in quality
Consistency in originality
If you're really interested in getting to know the real potential of affiliate marketing, then check out my step-by-step guide here.
#3 A Bunch of Bad Products in the Sales Funnel
When you consider the upsells; one is an upsell with duplicate content, and the other from a company that has been shut down by the FTC, that doesn't paint a great picture!
Upsells are supposed to supplement a program.  They are supposed to be there to aid you in achieving your goals.
But how can you even trust a program that tries to sell the upsells that are within this program?
There is a simple answer, these upsells are designed for people who have no idea about affiliate marketing, and to convince them to buy their upsells as they lack the knowledge to make an informed decision.
Haven't Made Your First $1 Yet?
Studies have shown that more than 70% of the people who want to make money online have not made their first dollar yet. So, you're not alone!
Is Cash Siphon System a Scam?
There's little doubt in my mind that this Cash Siphon System is a scam!  
The reasons are simple, they are completely misleading you as they promise you one thing, and what they give you is nothing like it…
I wouldn't recommend this program, or any other program by Ewen Chia has to offer too.
Firstly, it's a bait and switch scheme.  You're promised a money-making system that could help you earn thousands of dollars per day.  But instead, they give you 14 days about affiliate marketing (but the system is apparently contradicting this process).
Secondly, they will show you the wrong way to do affiliate marketing.  Everything the product claims to be, and what it actually is, makes affiliate marketing look stupid.
As I said earlier, there is no magic system or secret to making real money online.
The last point is that the sales funnel contains some questionable products. A program that promotes duplicate content and a program from a company charged by the FTC for being a pyramid scheme are presented to customers once they sign up for the program.
There is very little to say that is good about this product, or why they would promote such dodgy upsells either.
This program is just designed to prey on the beginner who lacks any real knowledge to stop them falling into the trap…
A word to the wise, I would advise you to avoid any product that has been created, or is even associated with Ewen Chia.  His online reputation is renowned, and not in a good way.
There are much better options online to learn affiliate marketing, and this isn't one of them…
Affiliate Marketing is our top recommended business model but the biggest problem is there are so many scams out there that all claim to be the secret system to success.  When the reality is a little bit of hard work can achieve you success, but not if you follow the advice of these scammers.
If you want to learn how affiliate marketing works and what the real potential is, then I recommend you read our complete guide that will show you how you can get started for free, and get excellent training, support and tools to help you on your way!!
Thanks for checking out our Cash Siphon System Review!  If you have any questions or comments to add, then please write them in the comments section below. 😉