Welcome to our Bizrate Rewards Review!
Bizrate Rewards is a website where you can complete paid surveys and get paid… However, you don't actually get paid with money, instead you can get gift-cards…
But is it worth the time you will spend completing these surveys, are the gift-cards for retailers you would usually shop for, or is Bizrate Rewards a Scam?  Let us tell you in our full review!
First off, it is great to see that you are doing your research before buying into any "seemingly good" product.
It is best the way to avoid scams and find only legitimate ways to make money online!
To be completely transparent with you, we are not associated with Bizrate Rewards in any form.  We are not here to pitch or sell you anything.
Instead, we want to show you why Bizrate Rewards is different  to the usual paid survey intermediary sites online, and why they work the way they do.
Can you make money with Bizrate Rewards or is it all a scam? Let's get into the details…
Bizrate Rewards Review Summary
Product Name: Bizrate Rewards
Founder: Henri Asseily & Farhad Mohit
Product Type: Paid Survey Intermediary Site
Price: Free to Join
Best For: People who appreciate just completing surveys for a gift card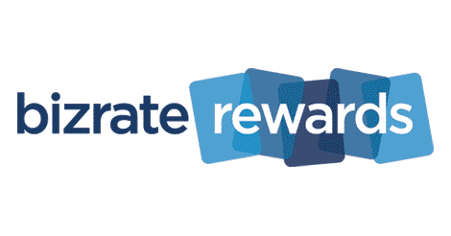 Summary: Bizrate Rewards is a legitimate online paid survey site that compensates their customers with gift cards.  There are a few reasons that make us not recommend this platform to you though.  The first is that there is no cash payout, which means you wouldn't be able to turn this into a side hustle or part-time gig.  Then there is the fact that the payout for each survey is really low (we will go into the details for this one).  The third reason is that there is no dashboard or app to help you keep track of your progress or to see any available surveys.  Lastly, they use deceptive advertising methods to sell magazine subscriptions.  These subscriptions will cost customers time and money, if they don't cancel it on time…
Rating: 25/100
Recommended? No
Bizrate Rewards is a paid survey intermediary site.  Simply put, you can earn money to complete surveys from their company.  Although, using the term "paid" is a stretch of the truth, which we will get into shortly…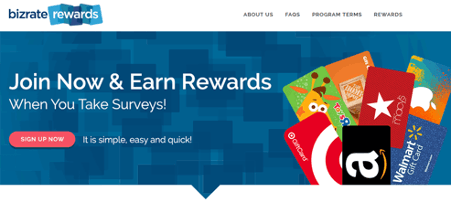 You may have seen the name Bizrate before, and that is because it is a sister company of Bizrate.   Bizrate works as an intermediary between the shopper and numerous online retailers that let you purchase goods and products.
Bizrate Rewards is a market research panel that works in a similar way to other intermediary sites like Survey Club or GrabPoints. 
They work with major brands, and their main objective is to gather information about how you behave as a consumer.  They then pass this information to brands, so they get better at understanding who their target audience is.
So, in reality Bizrate Rewards is better described as a 3rd party market research company, rather than as a paid survey site.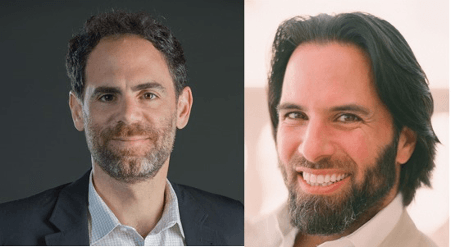 The company was founded by Henri Asseily and Farhad Mohit, and its headquarters are located in Los Angeles, California.
Bizrate Rewards is similar to other Get-Paid-To (GPT) sites and paid survey sites like BigSpot, SurveySay and Click 4 Surveys, which will pay their participant for responding to survey questions.
Earning money is easier said than done though, which we will through the review, you'll find out why this site and like any other GPT rewards and paid survey sites.
Recommended: 10 Things You MUST Know Before Taking a Paid Survey Online…
To sign up for the site, you must first be invited by filling out a survey or making a purchase from one of their retail partners on their shopping site, Bizrate.
Membership for Bizrate Rewards is completely free, although it is only available to those that live in the United States.  It is currently not available in other countries.
Once you've joined and received your Bizrate Rewards Login, you will then be asked to complete your profile.
This involves you completing information relating to yourself like name, email, date of birth, employment details, and other household-related questions.  These questions are designed to establish your demographic group, so you can be matched to surveys that are relevant to you.
How Does Bizrate Rewards Work?
When you have been through this initial profiling stage, you will then be able to access surveys.  These surveys will take him around 20 to 30 minutes to complete, and pays anywhere between 5 to 5000 points.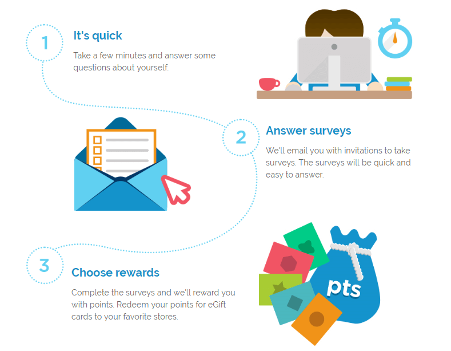 How Does It Work?
With Bizrate Rewards, you will be earning points that you can then convert these points into gift cards.
That means, you will not be earning any cash from this site, only gift cards.
For every 5,000 points, you will earn a $5 gift card, which you can redeem any time.
How Do You Earn These Points?
There is only one way for you to earn these points with Bizrate Rewards, and that is to complete take part in surveys.
Unlike other sites like Swagbucks, there isn't the ability to earn points by watching videos, installing apps, etc.
For each survey you complete, you will earn between 50 to 1,000 points per activity, depending on the length and subject matter.
You will always see the number of points that each survey gives you, so you will be able to see if it is worth spending the time to complete or not.
How Often Are Surveys Sent Out?
You will be sent invitations to complete surveys up to 2 times a week.  But as a member, you will also be able to decide on the preferred frequency for being contacted.
How Much Does Bizrate Rewards Pay?
For each 1,000 points you earn, that equates to $1.  So, if you were being offered a survey that pays 500 points, you would earn $0.50.
Bizrate Rewards claims that their survey payouts are between 5 and 5,000 points, expect to see a lot of the 5-point surveys and not many of the 5,000 point surveys.
What is The Minimum Pay-out?
The biggest problem with survey sites is that the surveys pay really low, and they usually have a really high payout threshold.  The good thing about Bizrate Rewards is that the minimum payout threshold is comparably low at $5.  When you reach 5,000 points you can redeem a gift-card to the value of $5.
The gift-cards are from various retailers, such as Amazon or Starbucks
Haven't Made Your First $1 Yet?
Studies have shown that more than 70% of the people who want to make money online have not made their first dollar yet. So, you're not alone!
How to Get Started with Bizrate Rewards
Like I said earlier, Bizrate Rewards is only available to US residents.  You also need to be invited into program.
So, you can't just sign up on their website, you're best bet is to go to the main bizrate website and hope to be invited.
There is no sign-up fee or any other hidden costs to worry about with Bizrate Rewards.
Who's Bizrate Rewards For?
Bizrate Rewards is a lot like many other GPT reward sites or paid survey sites and that means the payout is really low!
Bizrate Rewards is for you if:
You don't mind being paid in gift cards
You have the time to fill out surveys that take 20 to 30 minutes to complete
Bizrate Rewards is Not for you if:
You are actually expecting to make real money from this site
You are looking for a full-time income online by doing surveys
What We Liked About Bizrate Rewards
Here is what we liked about Bizrate Rewards:
#1 They Are Partnered with Big Brands for Gift Cards
The electronic gift-cards selection from Bizrate Rewards is impressive and is what would make this an appealing proposition to a lot of people.
You can choose the gift cards for a selection of retailers or brands, such as:
Amazon
iTunes
Walmart
Target
Starbucks
Gap
Sephora
If you regularly shop at these retailers, then you might find this a good option.  Complete some surveys and earn a gift card for your chosen retailer.
What We Didn't Like About Bizrate Rewards
Here is what we didn't like Bizrate Rewards:
#1 The Payout is Really Low
This is not unique to Bizrate Rewards, all GPT reward sites and survey sites pay a ridiculously low figure for completing surveys.
It is easy to think that earning the minimum of 5000 points to earn money is achievable with just a few surveys.  But the reality is that the majority of the surveys you will get will only earn you a handful of points.
There are also some that will take you much longer than 30 minutes and still the reward isn't particularly worth it.
There are also complaints about when you actually complete the survey, there is an error that means you don't earn anything: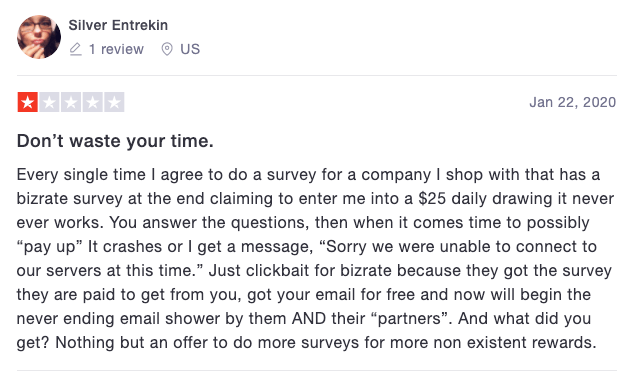 This doesn't bode well for anyone hoping to earn some extra cash ready for the holidays!
#2 There's No Cash Involved!
This is maybe the biggest issue, is the fact that you will not actually be earning any money from completing these surveys.  You can only cash out via gift cards.  It works if you shop regularly at these retailers, but if you were hoping to help your money situation, then GPT sites won't particularly help.
No one really earns a decent amount with GPT reward sites or survey sites.  If you are looking for a full-time income online, then you might want to take a look at Affiliate Marketing!
#3 There's No Dashboard or App
Another issue with this site is that there is no dashboard or app where you can log in to see any available surveys, or previous ones you have completed.
The only way you will be notified of a new survey being available is via email.  You will need to keep an eye on your inbox to see when new surveys drop for you to complete.
They did have an app, but it was removed from the App store in 2016. 
#4 Deceptive Advertising for Magazine Subscriptions
They use deceptive marketing to make you think that you can earn a $100 gift card.  But after you complete the survey, you find it is for a magazine subscription.

There are a few issues with this, you are not earning $100 that you can actually use.  There are others that have reported that the "free" part of the magazine subscription is also a deceptive ad because it lets the members handle the $2 fee per magazine.
They there is the fact that if you don't unsubscribe before the allotted time, your credit card will be charged for the subscription that you didn't even want in the first place.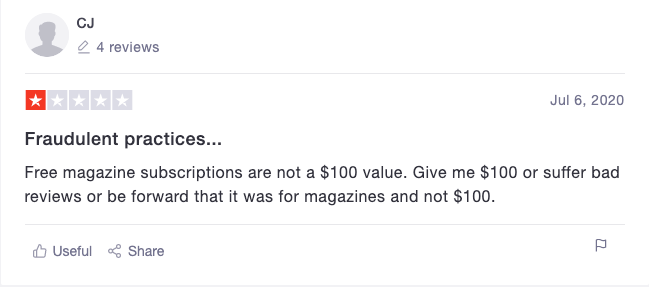 This second complaint is quite recent and shows that not much has changed since the first example.  Be really mindful of anything you sign up for, and don't get fooled by their marketing strategies…
Haven't Made Your First $1 Yet?
Studies have shown that more than 70% of the people who want to make money online have not made their first dollar yet. So, you're not alone!
Is Bizrate Rewards a Scam?
Bizrate Rewards isn't a scam.  It is a legitimate paid survey site, although it pays out only with gift cards and not real money.
Although the site might work for those few people who have managed to reach the almost unreachable 5,000 points for their $5 gift card, most members have had really bad experiences.  There are also a number of issues with their sister site too.
If you are looking into Bizrate Rewards in the hope it will earn you a little extra money, then we can't recommend it to you.  Here's why…
First, there is no real cash to be earned.  There is no option to transfer the funds into PayPal or via bank transfer, this means you have no chance to turn this into a side line or part-time gig for some extra cash.
Second, the payout per survey is really low, even when compared to other survey sites too.  Then you have to sit around and wait for emails to land in your inbox to know that a survey is available, as you cannot log into a dashboard or app like with others too. 
This will make it harder for you to keep track of the number of points you have accumulated and how close you are to achieving that cash-out figure.
But the deceptive marketing around the magazine subscriptions is also a huge turn off from this program.
Put all this together and we find that this is not a great option, even for those that are looking to earn a bit of casual income ready for the holidays.  If you aren't looking to earn a full-time income and are quite happy earning a few dollars that you have the option of taking as cash or a giftcard, I would recommend you look into Swagbucks.  But Bizrate Rewards is a no from us!
Paid Surveys are never going to solve your money problems, they are at best a way of earning a few dollars towards the holidays.  We wanted more than that, and I am guessing you may be also looking for legitimate ways to make money online and possibly think that paid surveys are your only option… 
We make money online through Affiliate Marketing.  Thanks to that and the correct training program, we are now earning a 4-Figure Monthly Passive Income stream.
If you want to find a way of earning money without completing crappy surveys, then I suggest you read our complete guide on Affiliate Marketing where you will learn how you can get started…
Thanks for checking out our Bizrate Rewards review.  If you have any questions or comments to add, then please write them in the comments section below.  We will respond to you as soon as we can. 😉