One of the most obvious ways of making money online is by completing online surveys, but with so many websites out there offering you that opportunity, we wonder if BigSpot is actually any good or is Big Spot a Scam?
It is so great to see that you are doing your homework and doing some research, that is the best way to avoid online scams and ensure you only find legit ways of making money online.
Online Surveys do not bring you a huge return for your time,  and you need to careful with who you share your personal details with. If you are determined to do online surveys, then we would recommend Swagbucks to you as a better option…
BigSpot Review Summary
Product Name: BigSpot
Owner: Unknown
Product Type: Online Survey Intermediary "Middle-man"
Price: Free
Best For: The Owner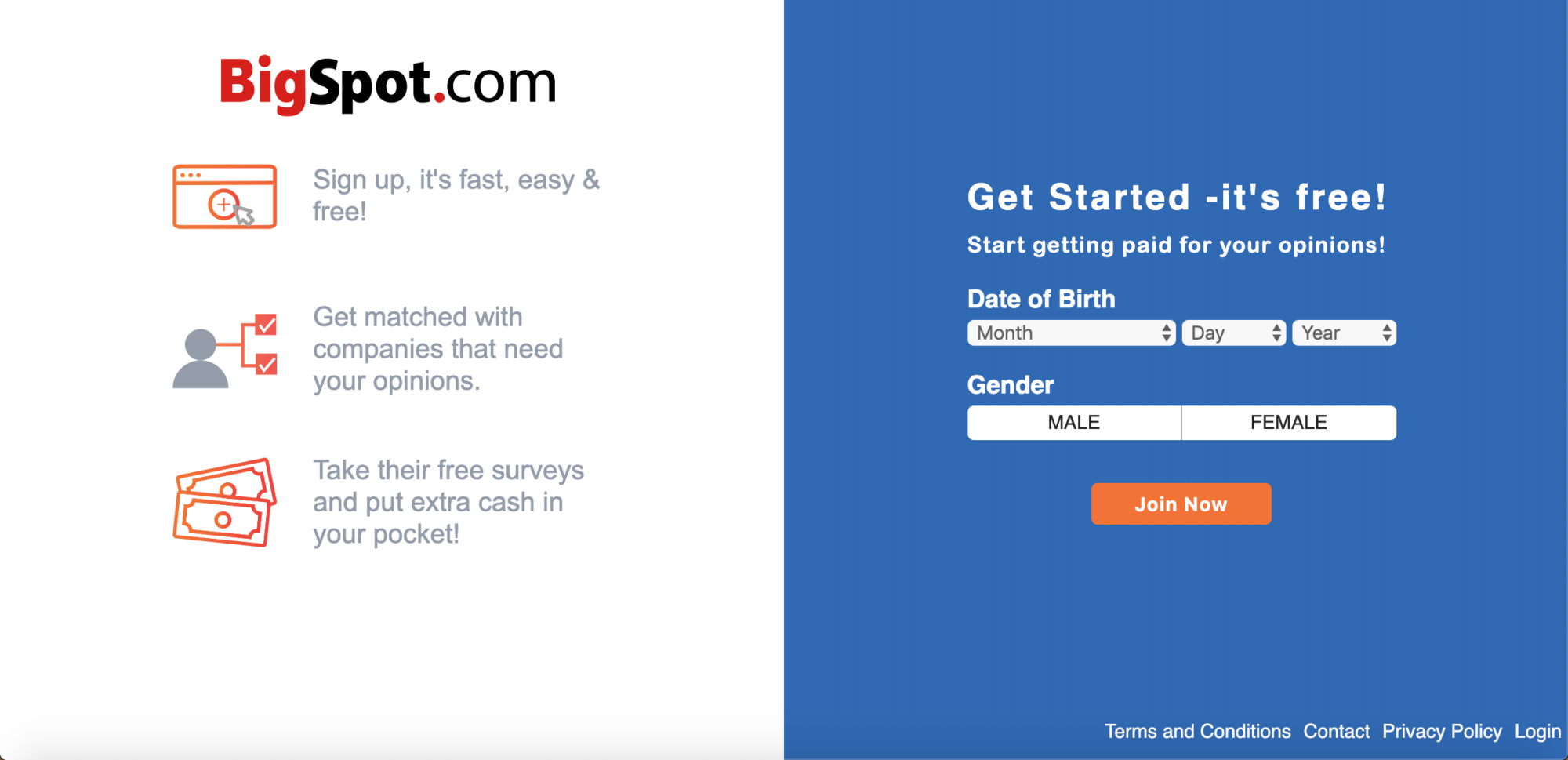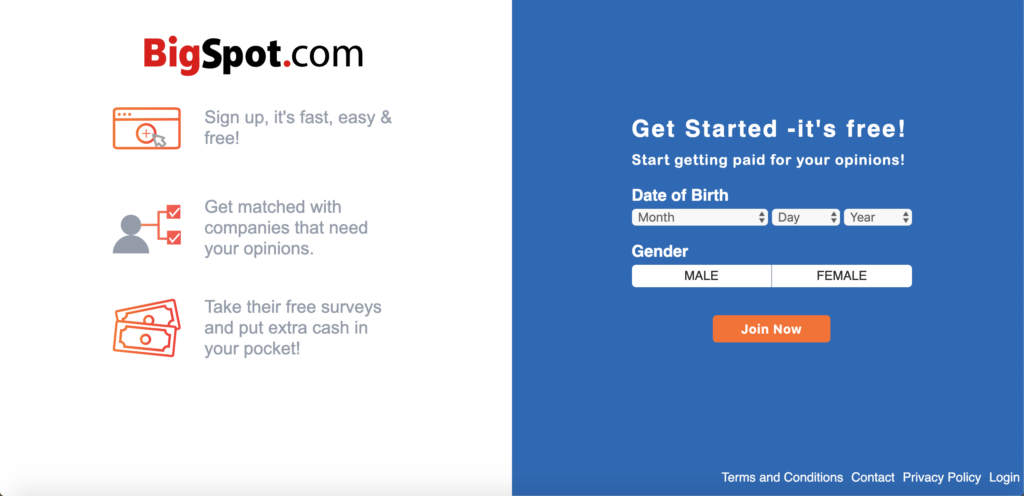 Summary: BigSpot is an online survey middle-man, plain and simple.  They are just benefitting from getting money from you signing up with the survey sites they promote to you, some of which are possible scams and not good to sign up with.  There is no difference between this BigSpot and SurveySay and look like they are from the same company. 
There are much better survey sites to sign up with and I would avoid going through an intermediary like these 2.  Survey sites are not difficult to find or sign up with, like Swagbucks.
Rating: 10/100
Recommended? No
At first glance, you would be forgiven for thinking that BigSpot is actually a website where you can complete online surveys for money.  But that is clearly not the case.
BigSpot is actually an intermediary site or "middleman" that links you to other survey websites.
This means that you will not be taking surveys directly on the BigSpot website and it will not be BigSpot that actually pays you.
This is only the first "Red Flag" about this product, we will go through the other worries as we go through the review. 
It isn't what you would call a scam, but they are not being totally upfront with you either.
BigSpot advertises itself as a survey site, but this is not strictly true as they are actually just a website that introduces you to survey sites.  Why, would they need to do this?  It is because they will make money every time someone signs up with BigSpot and joins any of the survey sites they show you.  They are using affiliate marketing as a way of introducing new members to these survey sites to make money.
My issues is with their marketing misleading people into believing they are the ones that provide the surveys.  But that is not the case.
After signing up on the BigSpot website, you are led to a page where there are 5 survey sites for you to sign up.
If you sign up with any or all of the survey sites that are displayed to you, the unknown owners of BigSpot will make money and they will probably benefit as you complete surveys too.
But, whilst they may show you five survey sites to sign up with, this doesn't increase your chances of having more surveys to fill in, necessarily.  It might also mean you are bombarded with more suggestions for other survey sites for you to sign up with.
With no guarantee that any of them are actually legit.  It also means you are sharing your personal information with more sites, and that will increase the amount of spam you will get into your inbox.
If completing surveys is something that you are interested in doing, there are much better options such as Swagbucks or Prolific Surveys.  But I wouldn't recommend BigSpot to anyone and I am not convinced all of the options they show you are legit.
There is something else that worries me about BigSpot too:
BigSpot is Exactly the Same as SurveySay...
Recently I wrote a review about SurveySay.  When you start looking into SurveySay & BigSpot, they are exactly the same platform.  The only difference I could make out was the colour they use on their website:


The sign-up page is the same, and the survey sites they show you are exactly the same too:


I haven't got a clue as to why they would need two separate websites doing exactly the same thing.  But my assumption is that if they find one is classed as a scam or not, they have the other one to fall back on…
What is Good About BigSpot (PROS)
Here is what we liked about it:
Free to Use
This is the only advantage of this platform or that of SurveySay.  But other than that, it is a pretty useless platform.
What Could BigSpot Improve on? (CONS)
Here is what we didn't like:
Totally Misleading
This platform is totally misleading, you will not get to know who the owner is.  They claim to be a survey site, but they are actually just a middleman to other websites.
But as you could go direct to many of the survey sites, this platform doesn't really offer any value
Expect Spam Emails
If you do decide to sign up, expect your inbox to be inundated with spammy messages and other money-making opportunities.  You will need to decide whether these are worth the option to earn a few pennies with surveys.
Surveys Don't Offer a Good Return for Your Time
Most survey sites do not offer a great return for your time, but there is a high-disqualification rate associated with the survey sites that BigSpot will recommend to you.
If you keep getting invited to fill in a survey, but don't qualify you cannot make any money.
BigSpot Complaints on SiteJabber
There are a lot of bad reviews, as we expected on SiteJabber.  This is not a great platform for anyone.
My Honest Opinion of BigSpot
I would avoid this website at all costs.  It offers no value to you.  You can find genuine survey sites like Swagbucks and Prolific Surveys without them selling your personal details to other sites that you don't know anything about.
The survey sites they recommend are not all reputable.  This means BigSpot and SurveySay are making your personal date more accessible to scammers.
I can't get my head around why they would need two identical websites either.
Survey Site Intermediaries are quite redundant anyway, as normal survey sites do not make themselves difficult to find or sign up with, so I am not sure why anyone would need a survey site intermediary, but either way I would suggest you stay as far away from BigSpot as you can.
If you are still after a good opportunity to make money from surveys, our top suggestion would be Swagbucks. 
But if you were maybe thinking there are better options out there to make money online, then our top recommendation is affiliate marketing.
Want to Make Some Real Money Online, Without Wasting Time on Surveys...?
I know you probably came here to see if BigSpot was a good shout for finding surveys online.  But in our opinion, surveys do not give you a great return for your money.  
But they do suit some people, but it might be that no one has shown you a much better way of making money online that has led to giving people financial freedom to do whatever they want; give up their day job or travel the world. 
Either way, affiliate marketing is a fantastic way of making money online and it can be about anything you want it to be.
If you want to learn how to do affiliate marketing from industry leaders and get started with a route that has led us to making money online, then come and check out our top recommended training platform here:
Thanks for checking out our BigSpot review.  What did you think?  Have you any experience with them or surveys in general.  We would love to hear your thoughts and or questions, please write them in the comments below and we will get back to you as soon as we can 😉