Welcome to our Multimine Review!
Cryptocurrency schemes are still relatively new, and this leads many to being scammed into thinking every scheme out there is going to bring you instant profits or huge payouts.  Unfortunately, that is simply not the case.
High-Yield-Investment-Programs with Cryptocurrency promise quick revenues and high payouts, but these are just marketing ploys to get people who lack any knowledge of the industry to hand over their hard-earned money in the hope of earning profits.
Schemes like Multimine just take advantage of innocent newbie investors.  That is because you don't know how to spot the red flags.  In this review, we will show you the red flags, and explain why you should avoid Multimine at all costs…
First off, it is great to see that you are doing your research before buying into any "seemingly good" product.
That is how you avoid scams and only find legitimate ways to make money online.
To be completely transparent with you, we are not associated with Multimine in any form. We are not here to pitch or sell you anything to you.
Instead, we want to reveal all you need to know about this scheme and why you should avoid it…
Multimine Review Summary
Product Name: Multimine
Founder: William Simms
Product Type: Cryptocurrency MLM
Price: Various Cryptocurrency Investments
Best For: No One!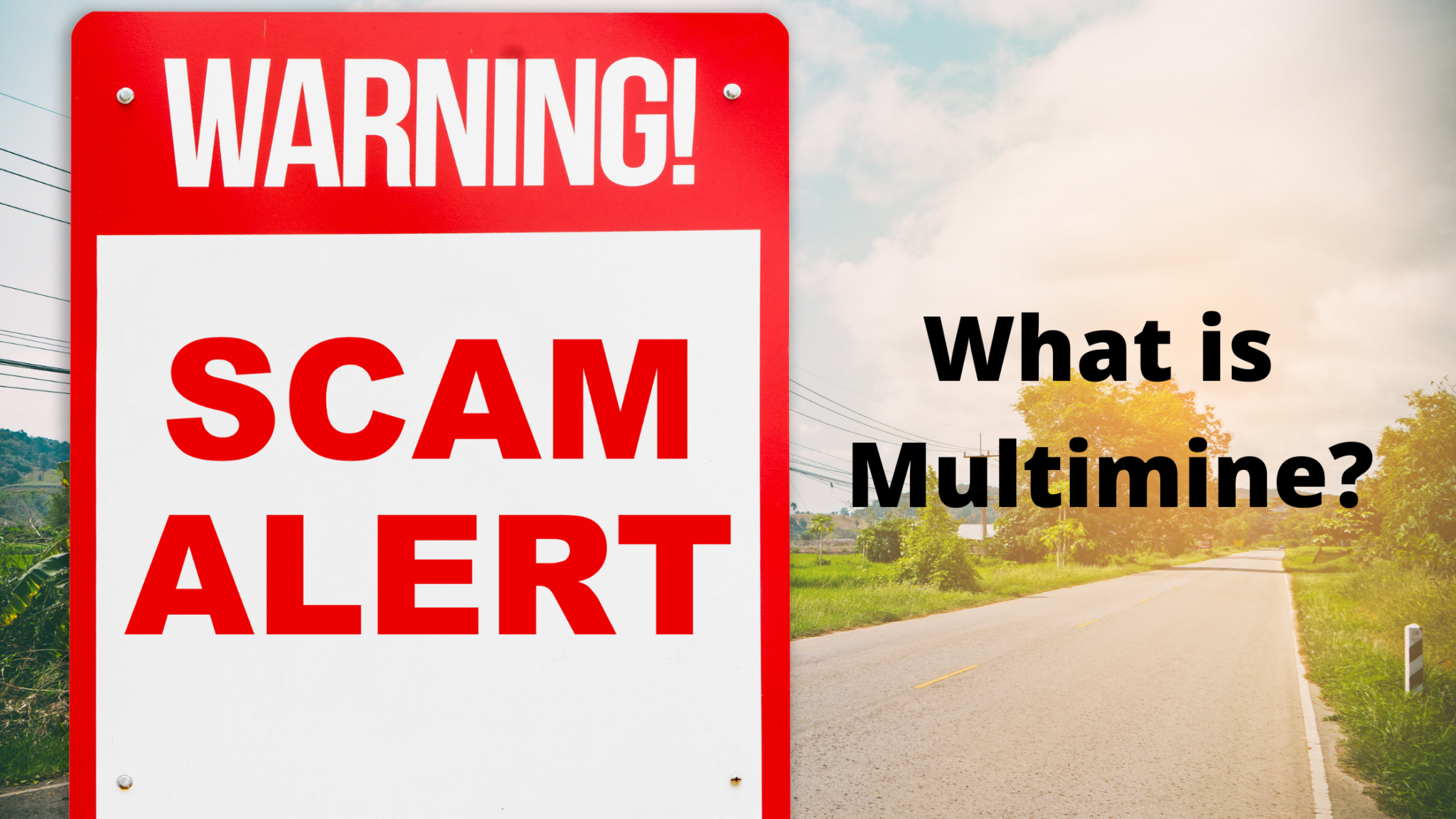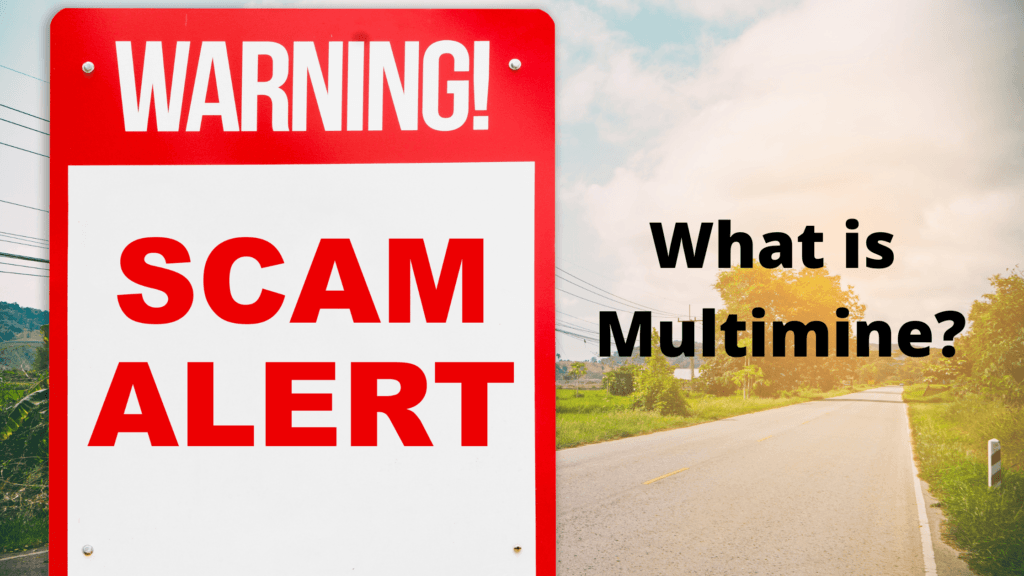 Summary: Multimine claims to be a HYIP Cryptocurrency scheme, but is really a Ponzi scheme!  That's right it is a complete scam.  There is no proof that any investments or trades happen here, with many complaints about not being able to access their funds.  That is only the tip of the iceberg, as there is many things wrong with this program…
Rating: 1/100
Recommended? Definitely Not!
Multimine claims to be a High-Yield Investment Program or HYIP running behind an MLM or Multi-Level Marketing compensation structure based on Cryptocurrency.
The company is supposedly run by a guy called "William Simms". although there is a lack of evidence to prove he actually exists.  There is also no verifiable information to be found on their website about who is actually behind the company.
Their domain name "Multimine.io" was registered on 26th June 2020 under a private registration.  They also claim that they have incorporation details to make themselves look legitimate, but that doesn't stack up.
If you're in the UK and you're an MLM, incorporation is meaningless.
For a company to be a legitimate MLM, they would require a product line.  That is where the story begins to unravel with Multimine.  That is because they have no retail products or services available with Multimine.
The only thing you will be selling with Multimine is membership into their income opportunity.  That is a huge red flag because MLM companies are required by law to offer retail products or services.
The Multimine platform claims that they generate their external revenue with cryptocurrency mining.  As an investor, you're getting access to their high hashpower mining on the cloud.
Their investment plans are all based on this cryptocurrency mining.  As in, the more you invest, the more you can mine.
But there is no evidence to show that any actual mining takes place or that it generates any income with this platform.
Minebest, Multimine's incorporation, doesn't have anything to prove itself as a legal company.
Now, if you assume that Minebest offers mining as a source of earning passive income.  It constitutes a securities offering.  That means that they have to be registered to do that in any jurisdiction in any country.
But the only source of income that it seems to be relying on is through new investments.  This means new investors coming into the program by investing.
These new investments will be used to pay out to members via the daily returns they promise.  
That makes Multimine a Ponzi scheme!!
Like with all Ponzi Schemes, when the recruitment stops, the company will run out of money to share and therefore collapse.
The usual story with Ponzi schemes is that it is the members that lose out the most when it comes to the point where it collapses.
The only people that will end up making any money with this scheme is the people behind the program, and we still am not sure that Simms is a real person.
Haven't Made Your First $1 Yet?
Studies have shown that more than 70% of the people who want to make money online have not made their first dollar yet. So, you're not alone!
How to Make Money with MultiMine?
There is really only one way for you to make money with Multimine and that is through recruiting new investors.  There is no retail products or services here, so there is no way of making money by selling something.  I also highly doubt that you would be earning money through "mining" the cryptocurrency.
How to Get Started with Multimine
The membership to Multimine is free, but if you want to participate into their income opportunity will require you to invest with cryptocurrency.
Here, is what you would be required to invest: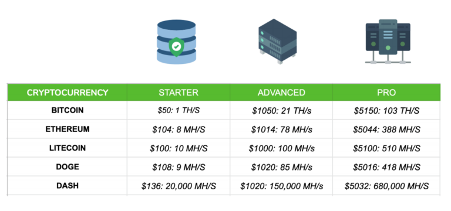 Multimine Compensation Plan
Multimine members invest cryptocurrency on the promise of a 48-month Return on Investment, paid daily.
Bitcoin
Bitcoin Silver – $150
Bitcoin Gold – $1050
Bitcoin Platinum – $5150
Dash
Dash Silver – $136
Dash Gold – $1020
Dash Platinum – $5032
Ethereum
Ethereum Silver – $104
Ethereum Gold – $1014
Ethereum Platinum – $5044
Litecoin
Litecoin Silver – $100
Litecoin Gold – $1000
Litecoin Platinum – $5100
Doge
Doge Silver – $108
Doge Gold – $1020
Doge Platinum – $5016
Referral Commissions
You will earn 5% of any investments made by people you personally invite into the scheme.
Members also have the option of expanding their referral commission through three levels of recruitment, which follows a unilevel structure:
10% on Level 1 (Personally recruited affiliates)
4% on level 2
2% on level 3
What We Liked About Multimine
Unfortunately, there is nothing positive to tell you about this scheme.  It is a Ponzi scheme which in itself is a problem as it is illegal.  Anyone who does get involved with it will have a bad impression of cryptocurrency too.
What We Didn't Like About Multimine
Here is what we didn't like about Multimine:
#1 It's Nothing But a Ponzi Scheme!
As we said before, Multimine is nothing more than a Ponzi scheme and their compensation plan shows that the only way you can make money is by bringing new members into the scheme.  Once this stops, there will be no more income.
Their compensation plan just focuses on rewarding recruitment, and that is the red flag that shows it isn't an MLM.
What we can't really work out is whether any mining takes place or not.  If it was, then there wouldn't be a focus or need to recruit others…
#2 They Are Not Registered to Carry Out Financial Activities
Multimine are not registered to carry out the financial activities they are claiming happens on their platform.  This means that if Multimine get caught carrying out this fraud, but anyone who is promoting the program could also end up in jail…
#3 Complaints About the Scheme
The complaints of SiteJabber were interesting to read too.  There are a number of positive ones, but they stink of people who are profiting from people signing up.  But the comments about it being a scam and that there is a "maintenance fee", had us questioning the legitimacy of this program.
There have also been complaints about them not receiving the funds they were supposed to either.
#4 Your Funds Might Not Be Safe…
As they are not regulated and we firmly believe they are a scam, if they were to be closed.  You would potentially lose any and all money that you have chosen to invest in this program.
Haven't Made Your First $1 Yet?
Studies have shown that more than 70% of the people who want to make money online have not made their first dollar yet. So, you're not alone!
Simply put, Multimine is just a Ponzi scheme.  It might sound fancy as it is cryptocurrency and you might not know a lot about it.  But this is definitely a scheme you need to stay away from.
There is a lack of information to prove they are legitimate or regulated as they should be, plus the following points are enough for us to out them as a scam:
Their recruitment incentives are what make this company stand out as a Ponzi scheme.  If they have people investing into the program, it doesn't make sense for it to rely on membership to generate profits.  This means that there is no trading, mining or investing being done to increase your Return on Investment
They are committing securities fraud.  They are not authorised to carry out these financial transactions that require trading or investments to be done.  (You could got to jail or get fined for promoting Multimine!).
Our advice would be to stay as far away from this scheme as you can…
We're not fans of MLM, not because they are illegal or not profitable, it is more because of all the restrictions and the expensive costs that go with it.
Instead, Affiliate Marketing is our top recommended business model for anyone looking to make money online.
The reasons are simple…
You don't have to recruit anyone to make money
You have the freedom to promote any products you want without being restricted to only promoting products from one MLM company
It's Free to get started
In fact, with Affiliate Marketing we are earning a 4-Figure Monthly Passive Income stream.  If you want to learn more about Affiliate Marketing, click Here to See our Complete guide…
Thanks for checking out my Multimine review.  If you have any questions or comments to add, then please write them in the comments section below.  We would love to hear from you, and will get back to you as soon as we can. 😉