Welcome to our 4Life Review!
I am guessing someone has introduced you to an opportunity to become your own boss and work from home called 4Life?  But you are questioning whether it is a legit opportunity or is 4Life a Scam? Or even a Pyramid Scheme?
First off, it is great to see that you are doing your research before buying into any "seemingly good" product or opportunity.
It is the best way to avoid scams and find the legitimate way to make money online!
A huge 73% to 99% of people investing into MLM's end up losing money, and it is often because they are jumped straight into it without knowing what is really involved or what they will be doing.
In our 4Life review, we will reveal all the information that you need to know including some background information about the company, how it all works, the pros and cons of joining this company.  That way you will know everything you need to be able to make an informed decision.
To be completely transparent with you, we are not associated with 4Life in any way, so relax.  We are not here to pitch or sell you anything.  We just want to make sure you have the information you need.
Let's get started with a quick product overview…
4Life Review Summary
Product Name: 4Life
Founder: Bianca & David Lisonbee
Product Type: Health & Wellness MLM Company
Price: $25 enrolment kit + $146-$525 Initial pack + $120/month LP to remain active
Best For: People confident in marketing health and wellness products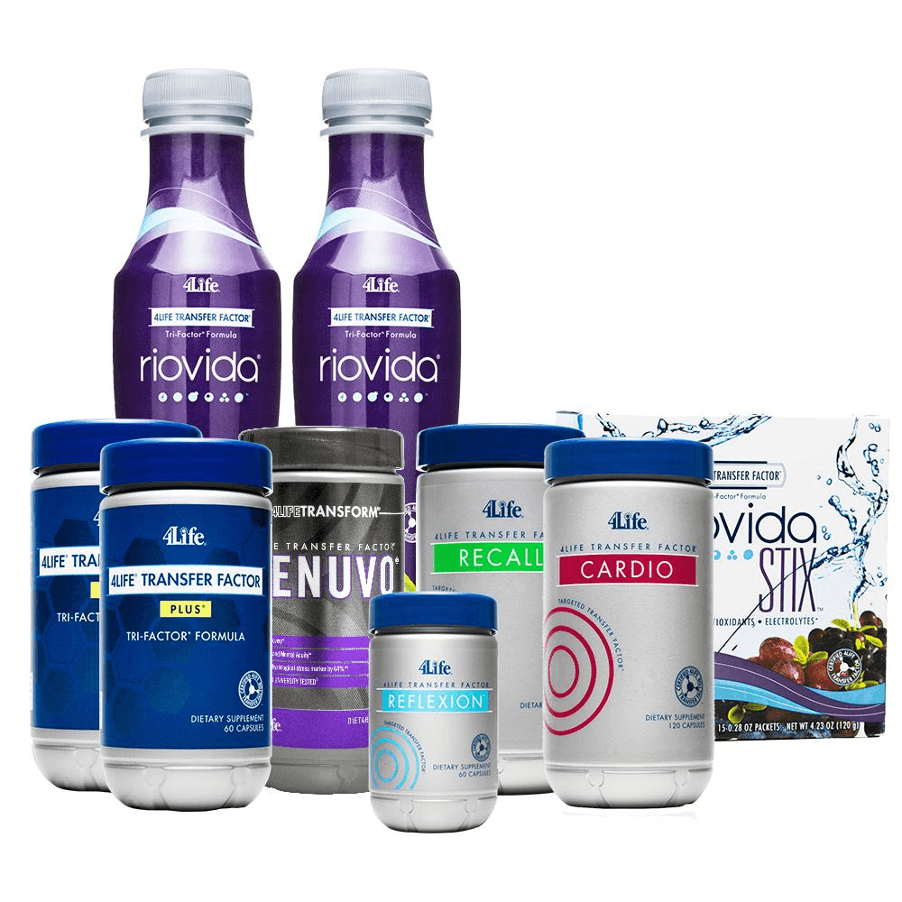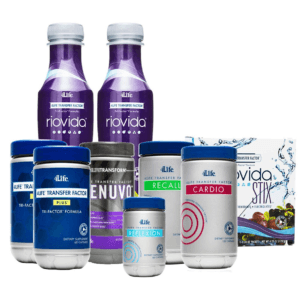 Summary: 4Life is a health and wellness MLM company.  It was started in 1998, so has been around a long time.  This proves they are a legit MLM.  However, it is going to be really difficult to earn a full-time income with this opportunity and that is evident with their income disclosure showing a high number of their distributors at the lowest tier are not making money and with their monthly sale quota making distributors to buy products every month to stay "active", it shows they are actually losing money and not earning any.
There is also the usual focus on recruitment with MLM, making it appear to be more like a "pyramid scheme in disguise".  We would not recommend this to you!
Rating: 30/100
Recommended? No
4Life is an MLM or Multi-Level Marketing company.  It was founded in 1998 by Bianca and David Lisonbee.  Apparently, David discovered these amazing pills called "Transfer Factors".  It was believed they would strengthen and support the immune system.  They then went and launched the company where they provide advanced nutritional supplements to help boost the immune system and fight the aging process.
Alongside the company's distributers, they employ doctors, scientists and researchers to help create their supplements.  If you believe their claims, there is no other MLM that can match them in terms of their immune system supplements.
4Life is a global brand, operating in more than 50 different countries and lists 100,000 distributors worldwide.  Despite their claims they are unique, they are very similar to other MLMs that have established themselves as authority figures in the health and wellness niche.  These include Usana, Isagenix and Herbalife, to name a few.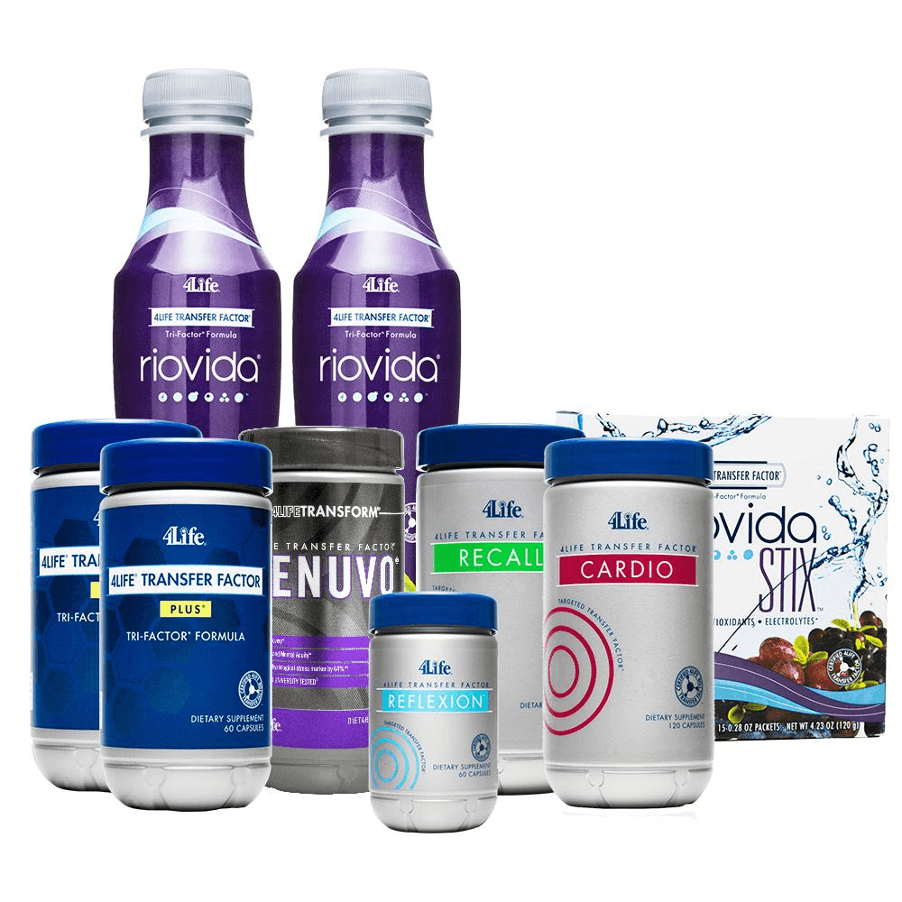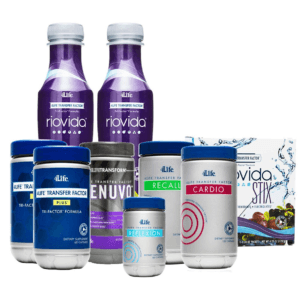 Their product range has the following categories:
Transfer Factor (immune support and targeted)
Skincare (moisturiser, eye cream, etc.)
Transform (protein, healthy aging formula, etc.)
Essential Oils
Digest4Life (detox pills, aloe vera, etc.)
Energy Drinks
Shaperite (meal replacement weight loss drinks)
Personal Care (shampoo, toothpaste, conditioner, etc.)
Basic wellness (vitamin supplements)
You will find a complete list of their products on their website by clicking this link.
Like I said earlier, there are thousands of companies that offer a similar range of products.  There are even hundreds of MLM's that offer a similar product range such as Arbonne, Anovite, Isagenix and Ariix. 
Although their flagship product does make 4Life stand out.
4Life Flagship Product
The flagship product at 4Life is their Transfer Factor Plus.  This is said to operate on a biological process called transfer factor.
Transfer factors in biology, refer to a small messenger molecule that helps regulate the immune system's ability to fight off infections and stress factors.
According to the research team at 4Life, they were able to isolate the transfer factor with a chicken yolk and cow colostrum and have made it a viable ingredient in their products.
They have gone and included this ingredient in their entire product range.
But the Transfer Factor Plus product, is a product of cow colostrum transfer factor mixed with some other natural sources.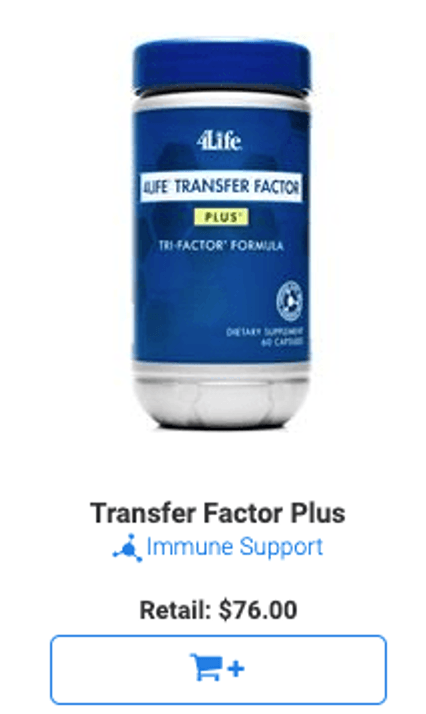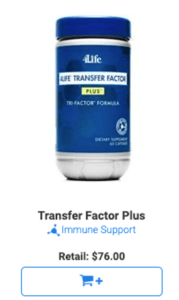 Some of the key benefits are listed as:
Educates, enhances and balances the immune system
Boosts natural killer cell activity (up to 437%)
They extract the colostrum from cows that are feeding their calves.  However, Healthline suggests there are both benefits and potential downsides to this supposed super ingredient.  They also suggest that more studies are needed on the benefits for us to be taking this.
It is also important that you now that the research also suggests the 437% increase in "natural killer cell" activity needs to be taken with extreme caution.
You have to take any results that MLM companies show you with a pinch of salt.  This is because they typically conduct their own research and any results that they show you may not be totally transparent.  This is based on numerous studies into this.
There is also the element that everyone typically has a different reaction to health supplements.  Some rave about the results and others do not feel a difference at all. The worry is if people are having adverse reactions to these supplements. 
The best way to know what people are thinking about these supplements is to check out some reviews.
According to Amazon reviews, out of 203 reviews there is a swing of 76% that are giving it as 5 out of 5.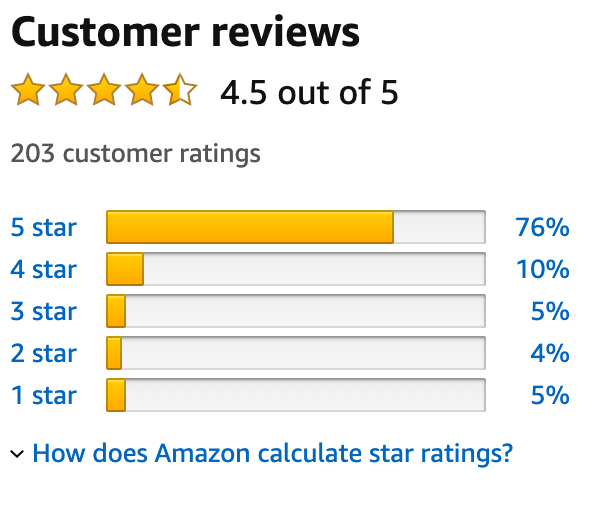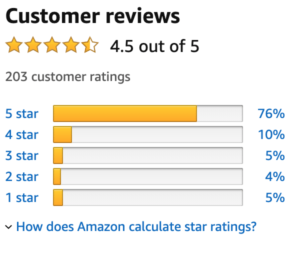 Here are a couple of the more recent positive reviews.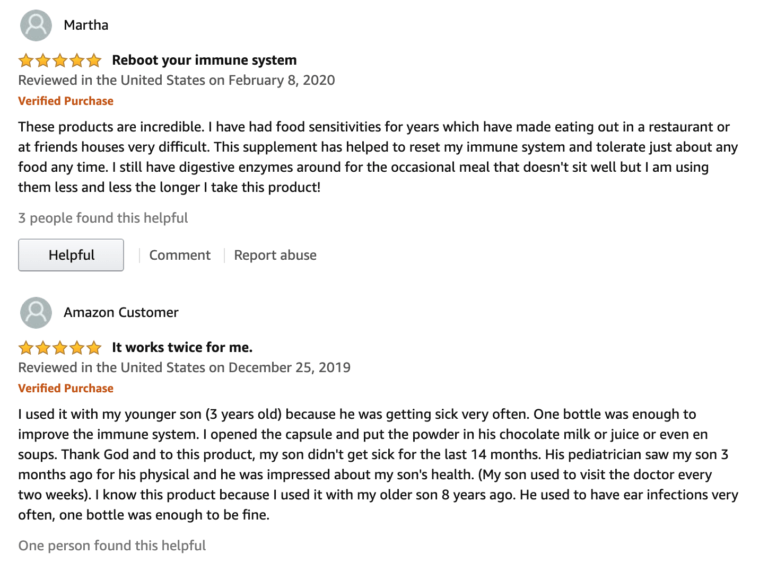 The most recent negative reviews weren't very helpful with why they felt this way.  But price is definitely a factor in the first one.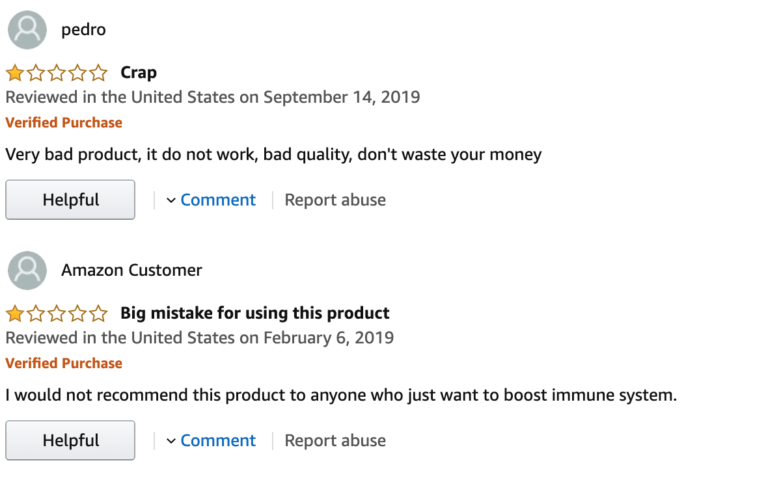 But it shows that there is a number of positive reviews about this product, but price seems to be the sticky bit.
But then we have the issue where 4Life has had problems with the FDA in the past.  Here is a snippet from the FDA's statement dated 2010: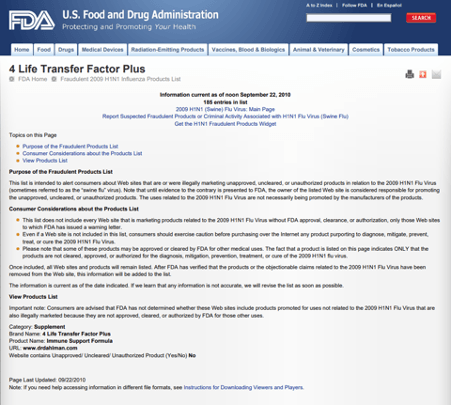 The problem with supplements is that it is hard to figure out the efficiency of any product in the health and wellness sector as they are totally reliant on who is taking the supplement.
All in all, I would take both the positive and negative reviews about the products with a grain of salt.
Their products do average a 4-star rating on Amazon with an average of at least 20+ reviews on them.
How to Make Money with 4Life
As 4Life is an MLM, they have the usual two ways of making money.  However, there is a twist with the second.  Let's first list the two ways.
Sell products and earn a commission
Recruit people and earn bonuses from anything they buy or sell
A typical MLM, will usually reward you for the act of recruiting others into your downline.  This is normally why so many people focus on recruiting people rather than focusing on selling the products.
But you will only earn commissions from products that your downline buys or sells.  There is no actual reward for recruiting people.
Haven't Made Your First $1 Yet?
Studies have shown that more than 70% of the people who want to make money online have not made their first dollar yet. So, you're not alone!
Is 4Life a Pyramid Scheme
This is a much easier question to answer with regards to 4Life.  The easiest way to differentiate an MLM, (which is legit) and a Pyramid Scheme (Illegal) is whether they only have recruitment as an option.
A Pyramid scheme is a company that promises payment for recruiting other people and have no product or service to offer.  You are simply selling the opportunity you just bought.
Pyramid Schemes are illegal in most countries as they are totally unsustainable, and it is impossible for everyone to earn money within the structure.  Which looks like this: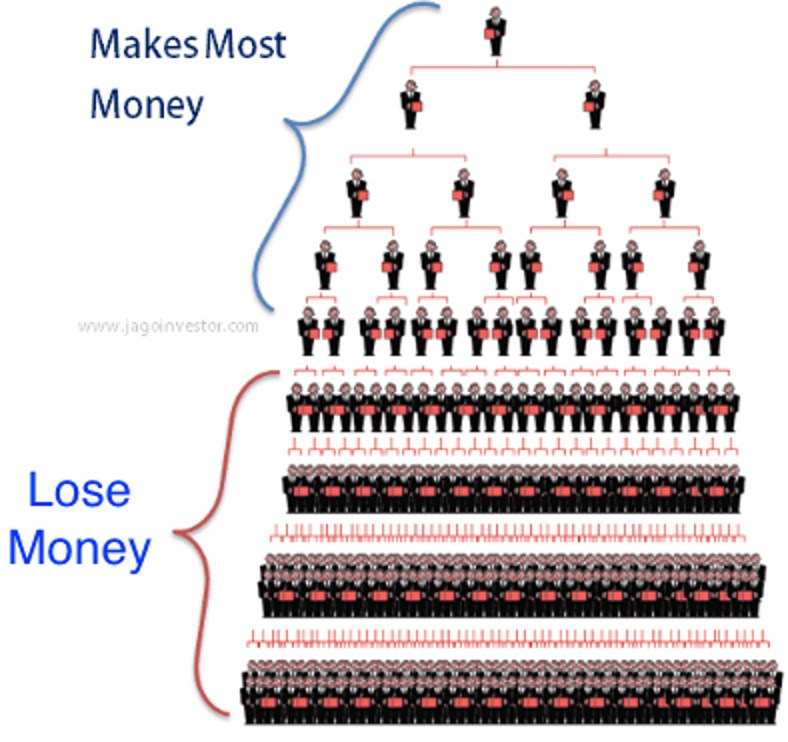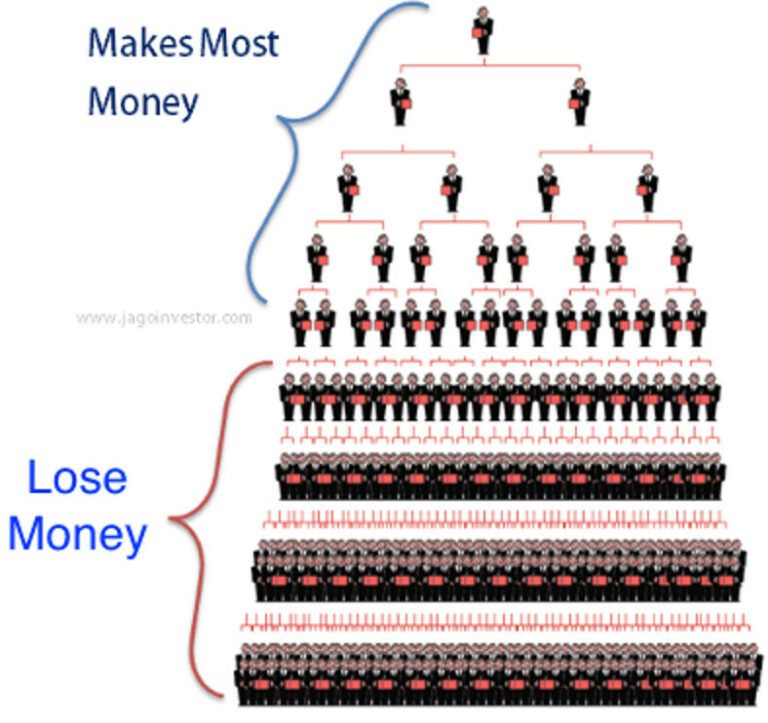 4Life does have products and there is less of a focus on recruitment as there is no bonus for recruiting others, only bonuses on helping your recruits to sell more.
However, 4Life has a monthly "sales quota" that you will need to achieve each month to remain active.  This means that they often end up having to buy products themselves just to achieve that quota each month to stay as a distributor.
This leads many to finding that the only way to cover your costs and make any real money is by actually recruiting other people into your team to sell more products in the hope that it leads to your costs being covered.
So, this actually makes 4Life very similar to a pyramid scheme in disguise.
Watch this video to see why we think this way:
Success is Rare at 4Life...


We will get into more detail with that later…
Getting Started with 4Life
It will cost you $25 to get started with 4Life, this is the cost of your enrolment kit.  This cost does not include shipping and tax either:

After you have paid this, you will be encouraged to purchase one of their "enrolment packs".  These come with a range of discounted products:
Immune IQ Starter Pack – $146
Preferred Customer Basic Enrolment Pack – $250
Preferred Customer Premium Enrolment Pack – $525
But the costs do not stop at just the starter packs…
4Life Monthly Costs
This is a little confusing, technically there are no monthly costs to remain active. However, they do have a "monthly sales quota" to achieve to remain active and eligible for commissions.

You will need to achieve a PV (personal volume) of 100 each month.  That is equal to around $120 worth of products.  If you are unable to sell that amount each month, you will need to purchase the products yourself!!
This is the part that really catches people out when joining an MLM.  You will be advised to set up a monthly standing order or get into the habit of buying the products each month, so your account doesn't get suspended.
Let's show you in a different way.  Here are the costs you could expect to pay if you were to not sell any products for a year. (looking at their income disclosure, this is a reality for some of their distributors).
You would have the following expenses for that first year:
The total cost for the year would be $1,611 to $1,990.
This would not even factor in any money to be spent on marketing, packaging, or additional training costs… Then there is the fact that their income disclosure shows 88% of people are losing money…
4Life Compensation Plan Explained...
MLM's are notorious for having complicated compensation plans.  They make it appear as if there are plenty of ways to make money, so it sounds really exciting.  But the reality is that they make it confusing so that you struggle to work out how hard they are to make money with.
We have tried to simplify it to make it a little more understandable.  Here are the 7 ways you can get paid from 4Life as a distributor.
Retail Profits – around 33.3% commission
Rapid Rewards – 5%-25% commission on the first order from your "preferred customers" up to 3 levels deep
My4Life Profit – 25% commissions of orders on your "replica website"
Builder Bonus – $50-$800 monthly bonus for having multiple "teams of 3"
Team Commission – 2%-25% commission on your downline sales
Infinity Pay-out – pay-out past your "3rd generation" when you reach Diamond+ rank
Incentive Trips – for certain members with a lot of team sales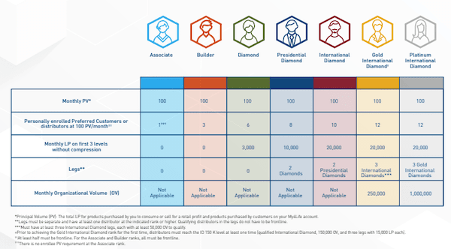 It looks and sounds complicated, but the reality is the most important thing you need to know is that you can make money by selling their products and recruiting a team that sells their products.
If you want to learn more about their compensation plan, you can read their compensation plan pdf or you can check out this 30-minute video:
What We Liked About 4Life
Here is what we liked about 4Life:
#1 Established & Proven Business
4Life has the 43rd top revenue for direct sales companies in 2019, according to Direct Selling News.
The company got started in 1998, for the company to still be around when 1 in 3 MLM's do not get past the ten-year mark, it is a good sign.  It shows they are clearly not a scam and are not going to disappear overnight.
#2 Positive Product Reviews
There are plenty of positive reviews about their products online…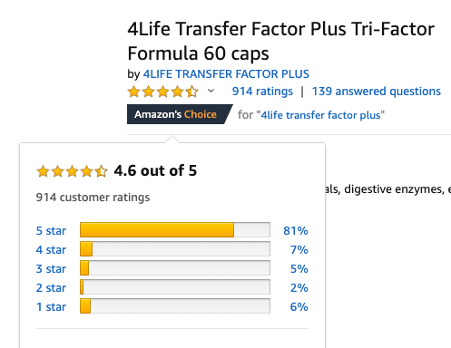 The products are clearly getting good comments from people buying their supplements.
What We Didn't Like About 4Life
Here is what we didn't like about 4Life:
#1 No One Is Making Any Money!
4Life's business opportunity leaves a lot to be desired.  According to their 2019 Income Disclosure, at least 88% of members lost money due to the monthly sales quota to stay active…


But the picture gets worse when you read the small print and actually find that 16% of distributors earnt nothing in 2019.  Then 99.2% of distributors who did earn something earnt less than $33k on average.
When you add it all together, on 0.67% of their distributors are earning over $33k yet they are trying to make out everyone is…
#2 Flagship Product is Not Well Received…
Transfer Factor, the company's flagship product, is not entirely well-received when it comes to the medical community.  Even though it is a product of proper medical research and development.
Whilst some customers state that the product works for them, there are a still a handful of sites that are sceptical about them.
The main reason why they are not being received by the medical community is that there has not been enough research into the effects of Transfer Factor on pregnant woman and breastfeeding.  There is also a lack of research into the long-term effects of using the product.
#3 Expensive Products
This is not unique to 4Life, But MLM's seem to think they can charge a ridiculously high amount for their products and this really hampers their distributors.  When all is said and done, it is clear when an MLM is more interested in recruiting distributors instead of being sales focused and that is when their products are much higher than anything else on the market.  Especially when we explore the next point that shows that their distributors end up being their biggest customers.  This makes 4Life seems more like a Pyramid Scheme in disguise rather than an MLM…
But for now, you have to consider that you need to sell these products to others to make money, why are they going to pay your prices which are sometimes 16x the price of similar supplements, when they could go on Amazon and save themselves a fortune…?
#4 Hidden Monthly Expenses
There is a requirement that you need to sell 100 PV each month to remain an active distributor and therefor eligible for commissions on any sales you make.  That 100 PV equates to around $120 worth of products.
They make this really clear.  However, what they don't tell you is that you will be expected to make up for any shortfalls each month.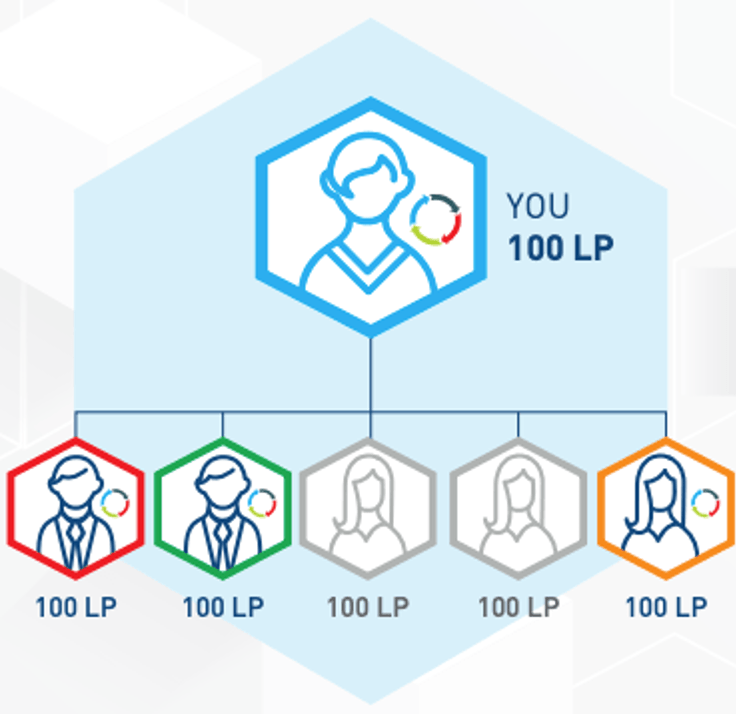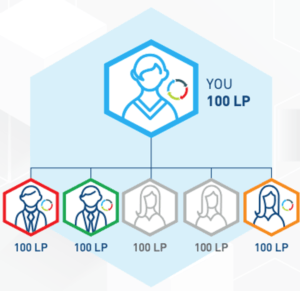 If you do not meet either the sales target or buy enough products to cover that amount, you "lose your rights to sell the products".
This means that in reality, 4Life Distributors become the company's biggest customers!!
This also explains why they can charge such a high price for products, because they know their distributors have to buy them if them can't sell them.
It is a win-win for the company as they sell products either way.  If you are selling them to customers, great.  If you aren't, you will have to buy them anyway.
This is what leads us to the following revelation…
#5 4Life is a Pyramid Scheme in Disguise
Take a look at the picture below and think about what you see?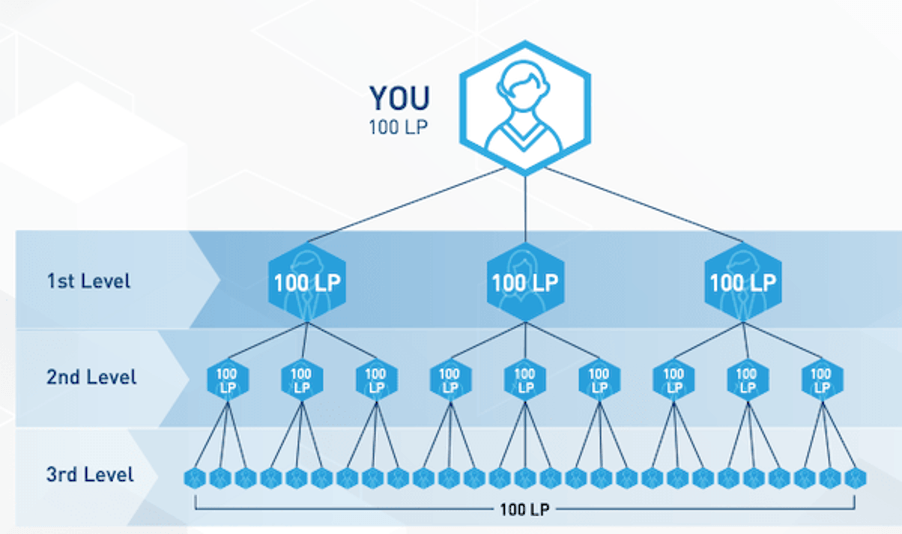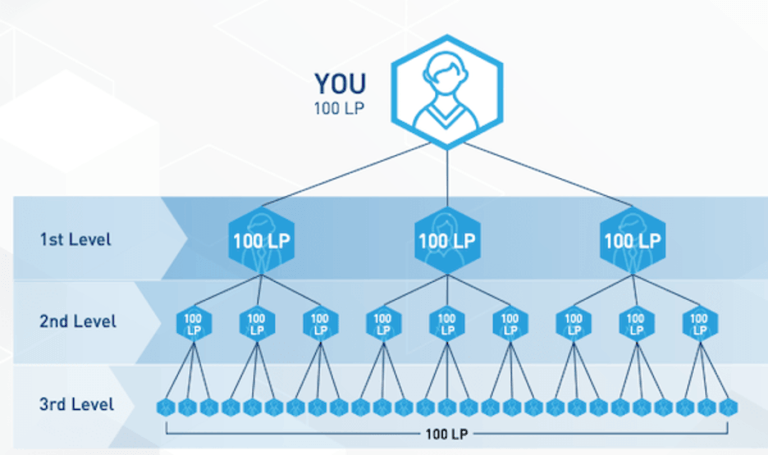 Does it look in any way like this?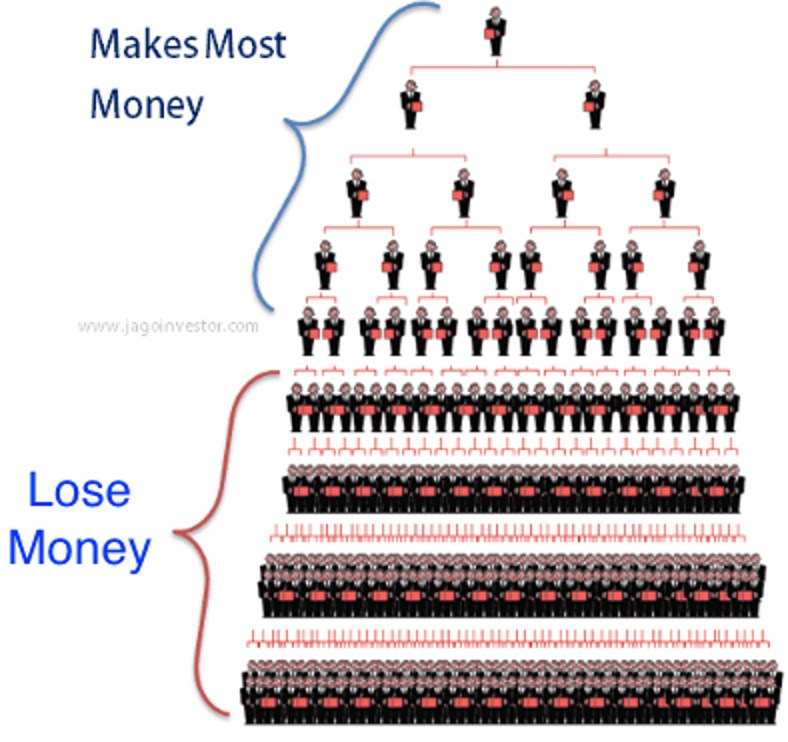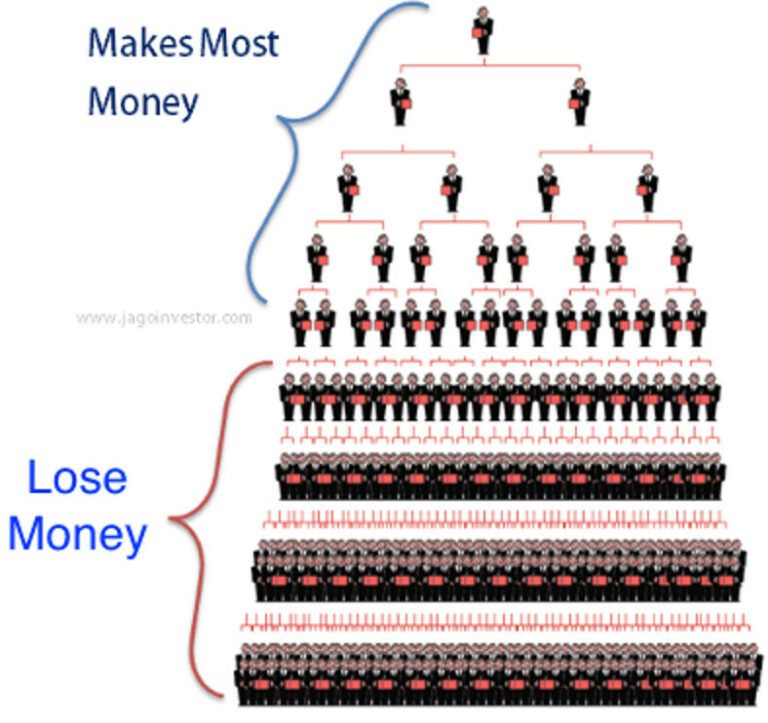 It comes to a point that you only way you are going to have a chance of avoiding losing money every month is to recruit people.  Selling the products alone is not really an option.  You need to recruit others, who in turn will be tied into buying the products and that is the only way those select few who are earning the big money with 4Life are achieving it.
Any company structure that requires you to recruit people to avoid losing money is a pyramid scheme in disguise.
That is what makes it so hard, as any structure like that makes it impossible for everyone to be able to earn money inside the system.
That is proven by our top concern for this company.  88% of members are losing money!  16% did not earn anything in 2019.  Only 0.67% have achieved the top earnings of $33k a year and I bet they would have done it by recruiting others into their team.  Yet, all of them will have had to keep buying the products each month so they can earn that money.
The structure is unfair and shows how brutal a business model this can be.
Haven't Made Your First $1 Yet?
Studies have shown that more than 70% of the people who want to make money online have not made their first dollar yet. So, you're not alone!
My 4Life Review - Final Conclusion
Their products, particularly their Transfer Factor supplements seem to get good reviews online as a way of boosting your immune system, although there is a lack of research into the long-term effects.  There is also research that suggest a normal multivitamin can be just as good as any fancy MLM supplement.
But when it comes to their business opportunity, the news isn't very good.
Their income disclosure says it all, the fact that 88% of their distributors are losing money and are tied into an expensive monthly sales quota where they have to pay $120 each monthly if they don't make any sales just to remain eligible to keep selling their products is hard to swallow.
With such expensive products making it harder to achieve sales, the only real way to make money with 4Life is with heavy recruitment.  This is what makes 4Life a "pyramid scheme in disguise".
It is not an outright pyramid scheme in the conventional sense, but that doesn't matter.  The income disclosure proves it, with 88% losing money and 16% not making any money at all.  Plus, there is an extremely low number of distributors who are making it, but they are at the top of the pyramid – it shows exactly what we have been saying and I believe it to be a pyramid scheme in disguise.
If you did decide to give 4Life a go, you should seriously take this into consideration as you will be expected to either sell expensive products or recruit your friends and family into a business opportunity that is going to have them lose money… 
When you consider that, you are better off keeping your relationships as they are, as they will not thank you for this.
We are not a fan of MLM, not because it is illegal or that it isn't profitable, but because it is really restrictive, and the expensive costs involved.
That is why we recommend Affiliate Marketing.  It is our top recommended business model for anyone wanting to make money online.
The reasons are simple…
You don't have to recruit anyone to make money
You have the freedom to promote any products or services you want and not get restricted by only promoting products from one MLM company
NO face-to-face Selling is involved
It is FREE to get started
In fact, with affiliate marketing we are close to earning a 4-figure monthly passive income stream.  With the right help and guidance, you can too.  Click HERE to find out about our top recommended training platform for learning affiliate marketing:
Thanks for checking out our 4Life Review!  If you have any questions or comments to add, then please write them in the comments section below. 😉