Welcome to our Invincible Marketer Review!
Invincible Marketing is an affiliate marketing and mindset training course by Aaron Chen… But you're probably here to see whether Invincible Marketer is legit or not.
First off, it's great to see that you're doing your research before buying into any "seemingly good" product.
That is how you avoid scams and find only legitimate ways to make money online!
To be completely transparent with you, we're not associated with Invincible Marketer in any form.  We're not here to pitch or sell you anything.
Instead, we want to reveal to you what Aaron Chen's training platform has to offer, whether its worth it, and does it actually deliver on his claims of earning you money in just 30 days…
Invincible Marketer Review Summary
Product Name: Invincible Marketer
Founder: Aaron Chen
Product Type: Affiliate Marketing Training
Price: $97 per month (recurring subscription)
Best For: Aspiring Affiliate Marketers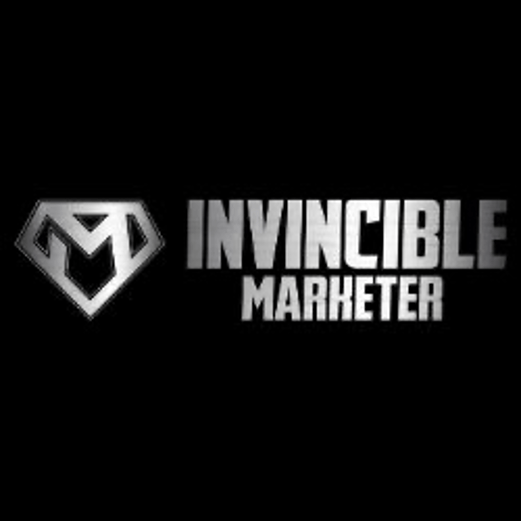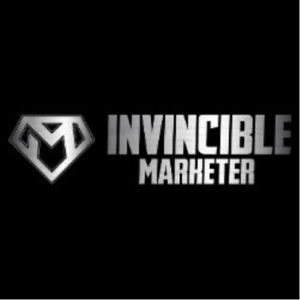 Summary: Invincible Marketer is an affiliate marketing training course with a heavy emphasis on developing your mindset.  The training looks pretty good, but doesn't really warrant the recurring subscription charge only to access the community.
You would find it useful, but considering it takes about a year for you to get established, that monthly subscription will soon mount up…
Rating: 70/100
Recommended? Not Really
What is Invincible Marketer?
Invincible Marketer is an affiliate marketing training course hosted on the Kartra platform.  The course was created by Aaron Chen, who we will talk about in a moment.
The course offers 17 different lessons, which are based on teaching you how to get started with affiliate marketing and developing the right mindset for being successful online.
Aaron Chen is a Malaysian online entrepreneur, and is the creator of Invincible Marketer.  He started his online adventure back in 2009, and didn't have a lot of success for many years. 
According to him, he started affiliate marketing in 2009 and didn't have much success for many years.
Having literally no experience in marketing, Chen ended up spending over $90,000 in course and events just to make a few sales.
In 2016, he started turning things around after finding the right mentor.  Now he makes a full-time income online.   Aaron is probably most well known from his YouTube channel, which shows he has over 20K subscribers: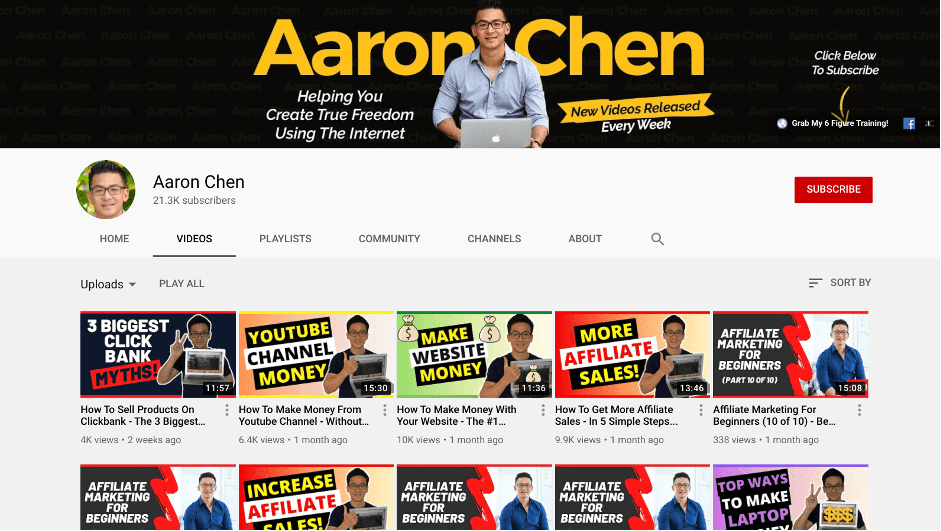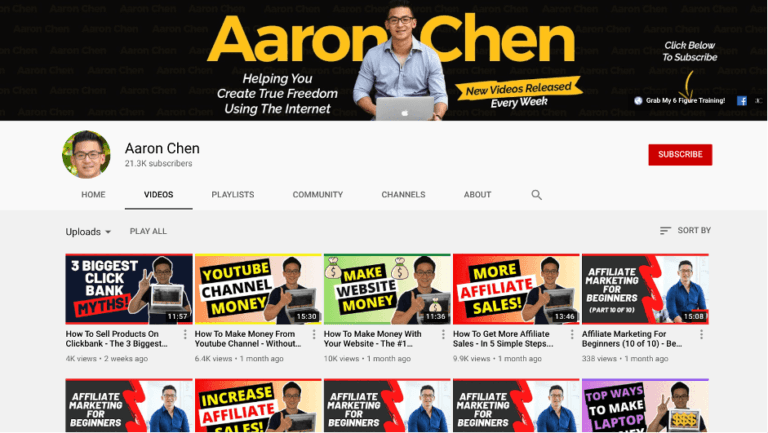 From looking at his channel, it shows that Aaron shares a lot of good information from his channel. 
He shares information based on online business, affiliate marketing, making money online, and other topics.  Most of his videos are based on mindset and strategies on how to become successful with an online business.
According to Chen, he decided that he wanted to create his own course after spending thousands of dollars of his own money.  His course mostly focus on legit ways to make money. 
How Does Invincible Marketer Work?
Basically, Invincible Marketer is a training platform teaching you how to get started with affiliate marketing and developing the right mindset.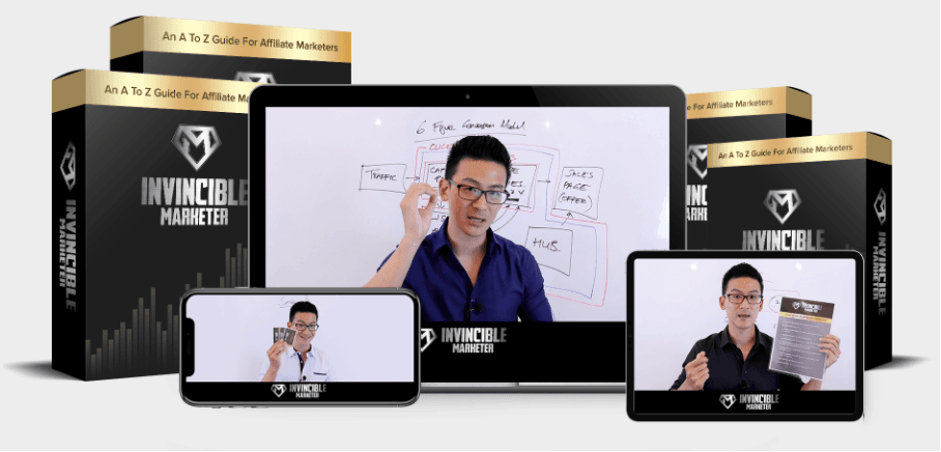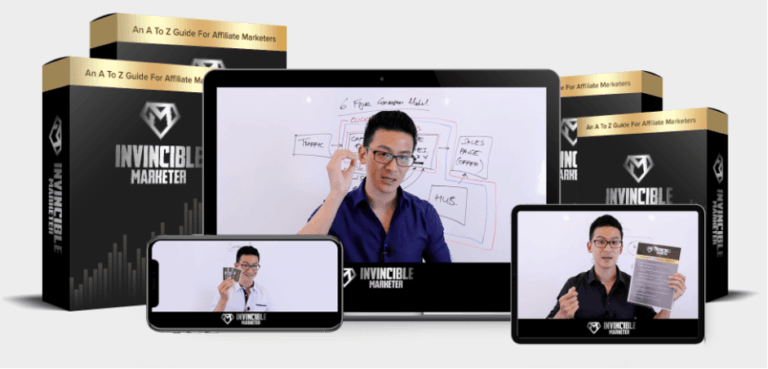 The course has 17 different sessions and also comes with a few bonuses.
Here's whats inside the course:
Core Training
The core training is where you will get the majority of the training within this course.  Here is where you'll learn the fundamentals of affiliate marketing.
This includes:
Aaron's thoughts on the current landscape surrounding affiliate marketing, and why so many people are failing.  He blames the guru style marketing as being the main reason as to who so many people aren't finding success
How to make six figures with affiliate marketing.  This includes profitable business with having an email list, or having your own product
How to build out your affiliate marketing assets without needing any technical experience
How to find the right affiliate programs for bigger commissions
How to market in a way that people will find trustworthy
Different ways to drive traffic
How to properly market without coming off as a scammer
To be fair, the training is ideal for a beginner as these are all important concepts that you will require to know to be successful with affiliate marketing.
However, if you've already got some experience with Affiliate Marketing, then this stuff will be topics you're already familiar with.
Essential Mindset Training
A large part of the training is actually more focused on developing your mindset.  I understand the need to talk about it, but not sure why so much detail has been included, other than the make the course more bulky or to justify the cost.
This training will talk to you about understanding failure, how to become accountable, remain dedicated, and how to stop quitting.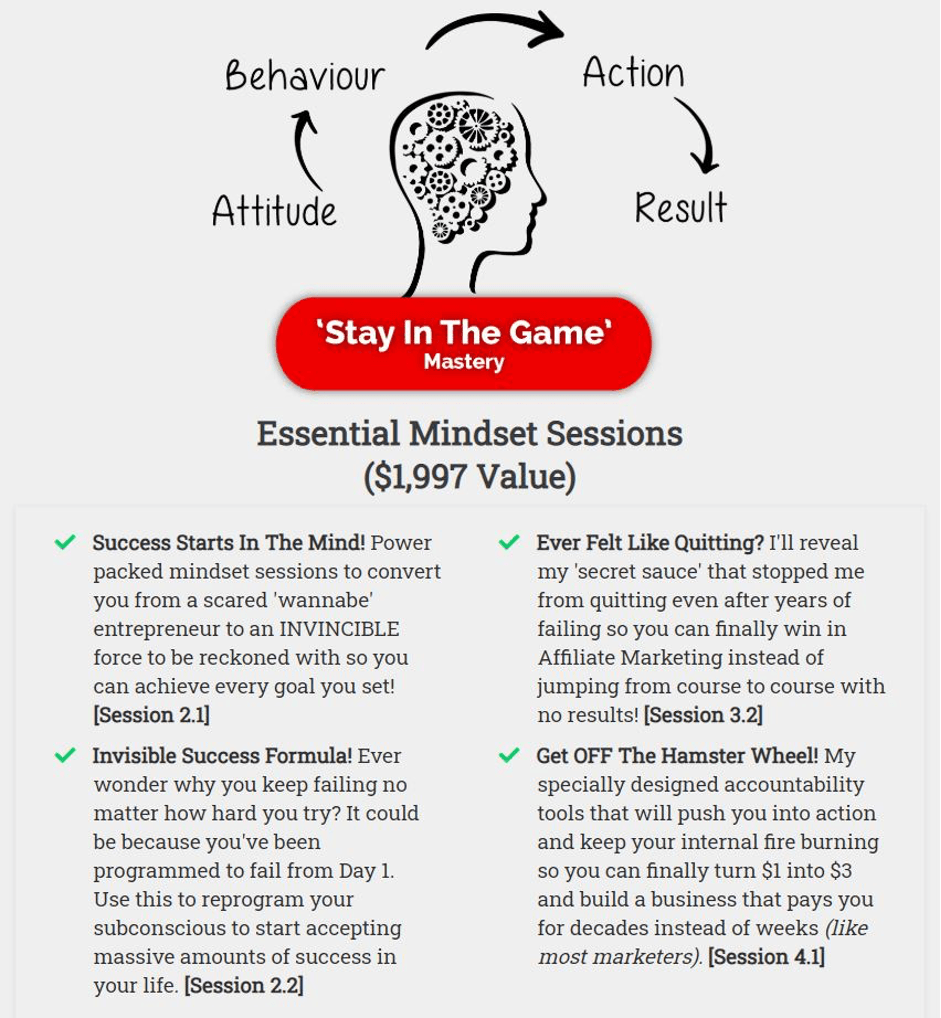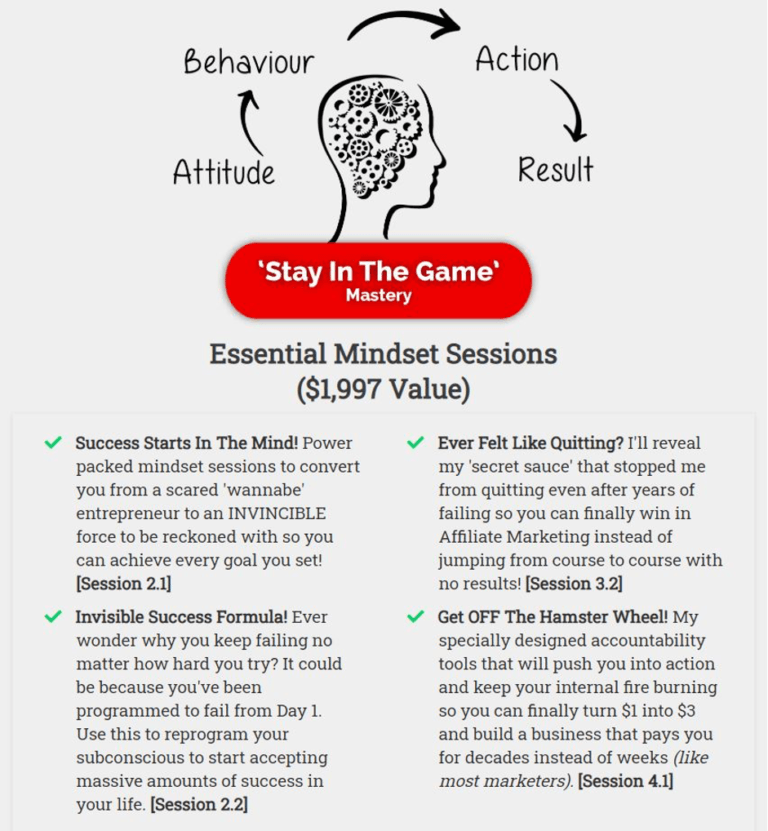 I see value in this training, although I'm still not sure it justifies the monthly subscription.  A one-off fee, maybe.
Bonuses
There are a few bonuses you get with this course as well.
Here's a look at them:
Unlimited Traffic Masterclass – this first bonus is a mini-course on traffic.  Traffic is an important part of your business, and it's good to see this topic get more attention
Product Profit Secrets – this bonus goes over picking the right products to promote.  This includes choosing products that have many upsells down the funnel… this way you can make money from the lifetime of your leads
Tribe Building Secrets – this is based on branding.  You create a brand that people are addicted to and you'll be able to get sales down the road
You also get two "fast action bonuses". This first one is a template that you can use, and the second is training on winning affiliate contests.
Support & Community
As part of your membership, you get access to a private Facebook group and support…this is basically what you are paying your monthly fee for…
In the Facebook Group, you can ask questions and interact with other members.
Haven't Made Your First $1 Yet?
Studies have shown that more than 70% of the people who want to make money online have not made their first dollar yet. So, you're not alone!
Invincible Marketer FAQ's
Here's some answers to some common questions about Invincible Marketer:
#1 Is this course worth $97 per month?
I personally don't think this course is worth $97 per month.  First off, you have to ask yourself what you're really paying monthly for.   Aside from the training, you are not getting any tools or anything else, other than access to the private Facebook Group.  You'll get through the training pretty quickly, so you won't need access for more than a year.  I just don't think the Facebook Group alone is worth the cost of $97 per month.  There are plenty of courses that have a one-time fee and allow you to join a private Facebook Group.
#2 Is Aaron Chen Legit?
I think it's safe to say that Aaron Chen is legit.  He isn't using any hype to sell his course, and he seems to know his stuff, his YouTube channel offers valuable content too.  He wouldn't be able to build a course like this, unless he actually understand what he was doing…
#3 How long is this course?
The course is divided up into 17 different sessions or modules.  If you're new to affiliate marketing, then it would probably take you a few weeks to get through it all.  You'll probably benefit from going through the training a couple of times as well.  Although, you won't need to go through the mindset training multiple times, thought.  Just the once should do.
#4 What does the Invincible Marketer course teach?
Basically, the course teaches you affiliate marketing… which is an online business model where you promote other people's products in return for a commission.  This is an excellent business model and our personal favourite business model for making money online.  This course is designed for beginners to affiliate marketing, though.  So, if you have experience already, then you'll probably want to look elsewhere.
#5 Are there any testimonials?
There are many testimonials on the sales page and the checkout page.  The majority of the testimonials talk about how great the course is, and not really talking about the results.  But there are also some testimonials that do talk about results.
#6 How do you pay for the course?
You can either pay for the course with a credit card, you could also pay with PayPal.  reminder – it's a recurring monthly charge.
#7 Is there a refund policy?
They do offer a refund policy, although it's an action-based refund policy.  This means that you have to complete the training, interact with the Invincible Marketer community, and try what's in the training.  If, you can show that you have taken action, and you're still not happy, you can ask for your money back as long as it's within 30 days from purchasing the course.  I'm personally not a fan of action-based refund policies, especially as you cannot expect to see results in the first 30 days.
#8 Does the course get updated?
As part of my research, I did notice that the course has already gone through one update, but that did also include a price change, going from $49 to $97/month.  But it does show that Chen wants to keep it updated.
#9 How much money can I make?
Affiliate Marketing is a business model where you can make a lot of money, and there are those that are making millions by doing it.  However, the success rate for affiliate marketing is pretty low.  Not because it's hard or anything like that, but people tend to give up too soon, or before they figure it out.  It apparently took Aaron over 7 years to make good money, it took us around 3.  But there are also those that do it within a couple of months.
#10 Are there any alternatives?
There are many alternatives to learn affiliate marketing from.  Some are good, and some are outright scams.
Here's some of the ones that we've reviewed so you can check them out…
But our top recommended training platform offers help, support, training, and tools and you can learn more about it here.
What We Liked About Invincible Marketer
Here's what we liked about Invincible Marketer:
#1 Good Training for Beginners
The training is really good for beginners, and having the right mindset is a key attribute.  So I believe there is value in Aaron Chen's course.
#2 Aaron Chen is Legit
Everything I have seen gives me no reason to suspect that Chen is one of the many scammers that are online.  His YouTube channel offers a lot of value, so is definitely worth a look even if you decided not to buy into the Invincible Marketer course.
What We Didn't Like About Invincible Marketer
Here's what we didn't like about Invincible Marketer:
#1 Monthly Payments Will Add Up
The fact is, there is nothing really warranting there to be a monthly recurring fee.  if it was a one-time fee for the course, then it might be worthwhile.  But charging $97 a month just to access the Facebook group and re-go through the same training isn't something we agree with.
You'll not gain any tools or anything else to get started with this training, if you did then the price might be justified.
#2 Course Lacks Some Punch
The Invincible Marketer course is a good course for those getting started.  However, it's lacking a lot of content that beginners would actually need to make money with affiliate marketing.
#3 Too Much Emphasis on Mindset
There is too much emphasis on Mindset training within the course, which could also be a waste of time for some.  For me, learning and mastering affiliate marketing as well as how to be successful with it, you need skills and strategy.  That is why you are considering the course.  You can find tons of helpful videos on YouTube about mindset, there is really no need to buy IM to get it.
#4 Hidden Costs
Training is only part of the process, so naturally you are going to require external tools to be able to follow the strategies set out by Invincible Marketer.  Whilst they are legit programs, they are also going to be costs that you will need to factor into your strategy, and budget.
These programs include:
Website Hosting – $10+ a month
ClickFunnels – $97/month
An Autoresponder – $20+ a month
Paid Traffic (Facebook Ads) – $200+ a month
Tracking Tools (ClickMagick) – $27 a month
These can easily end up being a few hundred dollars a month.
Haven't Made Your First $1 Yet?
Studies have shown that more than 70% of the people who want to make money online have not made their first dollar yet. So, you're not alone!
My Invincible Marketer Review
No, I don't think that Invincible Marketer is a scam.  I think there is value within the training inside too.  But my biggest issue comes to why it's a recurring monthly fee.  That will quickly add up to over $1,000 in a year and I don't think Invincible Marketer is actually worth that.
For a course that claims to offer so much, it isn't really any different to many of the others out there.  I mean, mindset training is good and all, and the introduction to affiliate marketing is good.  But the fact that you are being directed to external programs, on top of an expensive monthly subscription already means that any money you have will be swallowed up quickly.
Here's a Better Alternative...
Invincible Marketer is legit, but it doesn't offer a lot for your $97 a month.  When I factor in what you get at our top recommended training program for $97 a month, there is no comparison.
But for a beginner, there is no actual need to start off with spending $97 a month.  Wealthy Affiliate offers training, tools, a community and support, and you can even get started for free.
Good training is essential, but support is also really good too.  But to actually take action with affiliate marketing, you will require certain tools, that with Invincible Marketer you are going to have to spend additional money to access.
But at Wealthy Affiliate, regardless of which membership level you join at, you get them included within the platform.  If you want to check WA out, then here's our full review!
Thanks for checking out our Invincible Marketer Review!  If you have any questions or comments to add, then please write them in the comments section below. 😉