Welcome to our Global Affiliate Zone Review!
Has someone just tried to get you to sign up for Global Affiliate Zone?  Are they trying to convince you it is the best way to make money online? Or is it an online scam?
You are definitely in the best place, we have done all the hard work for you and completed a review for you to learn everything you need to know about Global Affiliate Zone.
First off, it's great to see that you're doing your research before buying into any "seemingly good" product.
That's how you avoid scams and find only legitimate ways to make money online!
To be completely transparent with you, we're not associated with Global Affiliate Zone in any form.  We're not here to pitch or sell you anything…
If you are just learning about Affiliate Marketing and are wondering if this is the right decision, we will cover off what you gain access to within GAZ and also letting you know whether it is the right decision for a beginner too.
Global Affiliate Zone Review Summary
Product Name: Global Affiliate Zone
Founder: Julian Sherman & Mathieu Jang, in 2005
Product Type: Affiliate Marketing Training
Price: $99/month + Upsells
Best For: Those Interested in Reselling Global Affiliate Zone

Summary: On first glance, Global Affiliate Zone looks like an ideal training platform and community for someone wanting to get started with affiliate marketing.  However, when you start getting into the details you soon realise that the main emphasis with the training is solely to resell Global Affiliate Zone to others, rather than helping someone choose a niche they really love and want to get into.
This isn't exactly a big problem, however the Make Money Online industry is really overcrowded and it is something that should be explored once you have a good working knowledge of affiliate marketing and I am not sure you will get this from Global Affiliate Zone.
The other problems come from the fact they state they will be doing 90% of the work, which will lead people to thinking this is going to be easy.  But it is simply not the case, because you will get the hardest part to achieve, which is bringing people to the sales funnel of their platform.
You will not effectively learn how to create your own affiliate marketing business with this training, in the sense that you are putting all your eggs in one basket of reselling Global Affiliate Zone.
Rating: 30/100
Recommended? No
What is Global Affiliate Zone?
Global Affiliate Zone keeps a lot of information really sketchy until you hand over your money to learn what it is.
GAZ was founded in 2015, by Julian Sherman & Mathieu Jang. Both of which were also coaches in AWOL Academy.

Global Affiliate Zone claims to offer comprehensive training and coaching for Internet Marketing strategies.
This can be confusing for a beginner straightaway as the name might suggest it is to do with Affiliate Marketing, Internet Marketing covers a number of other ways too.
There are four elements to Global Affiliate Zone, including:
Business Coaching – their team of professionals is said to help you design a business plan for you.
Courses & Tutorials – Step-by-step video tutorials and webinars around what is working at the moment.
Online Marketing Training – (supposedly)helps you with traffic, generating leads and sales.
Exclusive Community – They state that other members will be on hand to help you.
At this point, I can see why people might think this is a great course to sign up for to learn how to make money online, but these elements still do not let you know what you are really going to be doing to make money using what Global Affiliate Zone trains you in.
There is simply no information for you to learn more about what you are going to do with Global Affiliate Zone
But one of the key concerns for me is – What business model are they promoting.  I know they have Affiliate in their title, but with the number of programs out there claiming to be affiliate marketing but are not.  It would be a good idea to be up front about their business model, but you have to pay to find out.
Now, let's get into how their business works
How Does Global Affiliate Zone Work?
The name of Global Affiliate Zone suggest that it is about affiliate marketing, and the good thing is that Affiliate Marketing is our top recommended business model to make money online…
But!!!
There is something you need to know about their affiliate program.
The main product available within GAZ is their PRO membership, this will cost you $99 a month. (which we believe to be overpriced!)
This PRO membership is supposed to include all of the necessary training, coaching and tools you need to start making money online.
They are also stating that they do 90% of the hard work for you.
The problem is, this is a technique that scams use to lure people into believing their system will make you money.  Now, we are not saying that GAZ is a scam, but why would they resort to not telling you what you are signing up for?
So, What is GAZ Teaching?
The training and coaching they offer, has a simple premise.  They tell you what niche to go for, they provide online website templates that you can use.  But the biggest problem is that you will never actually learn the actual skills to take this and actually make it a viable business.
The website design will look every other GAZ members, they will not really help you stand out from the crowd to be able to make this work and then there is the real big problem:
You Are Taught to Resell GAZ!
That is it, they tell you it is a "earn while you learn" opportunity, but you are not going to be able to choose any niche you want, it is going to have to be the Make Money Online sector so you can encourage others to join Global Affiliate Zone too.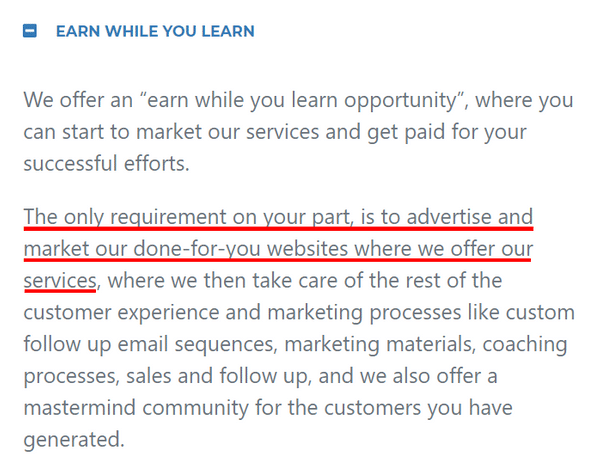 It is an over-elaborate sales funnel to get you to believe you will make money online whilst learning.
But they are not offering enough training to be able for you to go and do it in something you actually enjoy.
Affiliate Marketing is great, but you need to pick something you can stay motivated in.  It can take time for you to make money, but if you are writing about something you enjoy, it goes a long way.
But if you are writing about the MMO sector, but don't have the knowledge you have two problems:
You don't know enough and cannot help people, so you can't make money

Your content ideas dry up, you can't help people and do not make any money
The other issue is you will be promoting a product that is not upfront and honest until you pay up, they do not offer enough information for you to go ahead and actually achieve something and you will be promoting a questionable training platform…
The image above states that the only requirement is that you advertise our done-for-you websites.  Done-for-you websites do not work and yet the whole training plan is aimed at helping you get other people to sign up for them.
They offer 30% commission rates, but would you sign up after reading what we just put?  Yet, you have to go and convince other people to sign up?
There is More… Heard of MLM?
It goes further down the rabbit hole here, Global Affiliate Zone is more that just a straight affiliate program that you can offer out.  They are actually also hiding from you the fact that they are promoting Multi-Level Marketing (MLM) programs as up-sells once you are inside…
It looks to me that this is the real sales funnel, they want to recruit you into the MLM company called Enagic, which produce water filters.
Please note! In order to become a member and therefore qualify for commissions, you are going to have to purchase their $5k water filters first!
That then means you can earn $340 commissions if you can sell $5k Kangen Water to others.
SO, in summary you first believe this is about learning affiliate marketing… Then you find it is just a front to sell you an MLM opportunity where you need to spend $5k!!
You really need to be careful, as they are experts at selling and will convince you that you need this business opportunity in your life
Haven't Made Your First $1 Yet?
Studies have shown that more than 70% of the people who want to make money online have not made their first dollar yet. So, you're not alone!
What's Inside Global Affiliate Zone?
Global Affiliate Zone has all the tools and training you will need to be able resell their training platform.  You just need to follow their step-by-step training and get traffic to their funnel.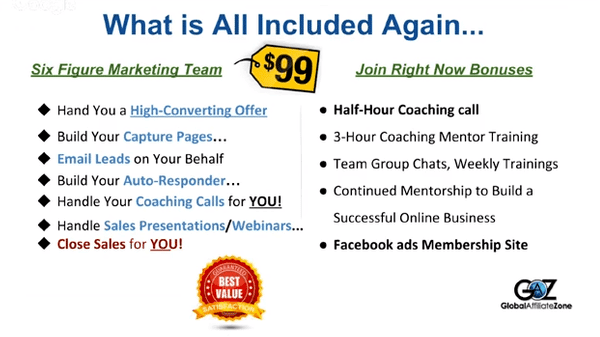 But know this, getting traffic is the hardest part and they have left that for you to do.
They offer:
1-on-1 Coaching Call – Be mindful of their MLM upsell, as they will use this call to sell it to you (as they will make money from the sale)

Step-by-Step Training – some basic training on driving traffic and generating leads using Facebook Ads (Paid Traffic)

Weekly Webinars

Custom Landing Page Builder

Email Swipes & Ready-Made Ads

An exclusive Facebook Group
What We Liked About Global Affiliate Zone
Here's what we liked about Global Affiliate Zone:
#1 Personal Development Training
Mindset is such an important part of anything being successful and it is nice to see that they have dedicated a section of the training to discuss Personal Development.
They promote some fantastic books about it and your mindset.
You can learn skills that you do not have, but it all starts with having the right mindset in the first place!!
#2 14-Day Money Back Guarantee
They do offer a 14-day money back guarantee on the Pro membership, which is $99/month.
But other than this, I wouldn't recommend this as a training program for you to sign up with.
What We Didn't Like About Global Affiliate Zone:
Here's what we didn't like about Global Affiliate Zone:
#1 Could it Be Considered a Pyramid Scheme…?
Hear me out on this one… I know that GAZ offers products and services, but then so did Digital Altitude and that was outed as a Pyramid Scheme by the FTC.
It offered people training and services, but they only had one target – getting people to resell the same product.
A pyramid scheme is described as a program with no real product or services and the only way for members to make money is by recruiting others into the system.
OK, whilst GAZ does offer products or services, so you might say it isn't a Pyramid scheme.
But the emphasis is on the fact that the only way to make money is by recruiting others.
Doesn't that describe Global Affiliate Zone?
Digital Altitude and MOBE are both very similar to what GAZ is, and yet the FTC have closed them both down because they were misleading people and were classed as Scams!!
It might be too early to consider the question, but it is definitely something to consider if you were to sign up.  A lot of people lost a lot of money through DA & MOBE, I wouldn't want you to be someone who gets caught out by GAZ.
#2 No Info Upfront
I worry when any product keeps information from you unless you hand over money.
The hide the fact that you are going to be reselling this platform to make money and do not even mention the MLM part.
This leads to only 2 ways of you finding out exactly how GAZ works:
Spend $99/month and sign up

Read honest reviews like this one
There is no free trial and they are hoping you are not exploring the second option.
#3 "Pay-to-Play" System
That leads us nicely into believing they are a "pay-to-play" system, as you have to be a member to get any commission.  You have to pay to be able to receive commission.
You have to be extremely careful when it comes affiliate marketing, many scam products will adopt the same strategy, and most affiliate programs are free to sign up for.
Even our top recommended training platform doesn't require you to pay up.  You can refer people on the free starter membership, with no such stipulations.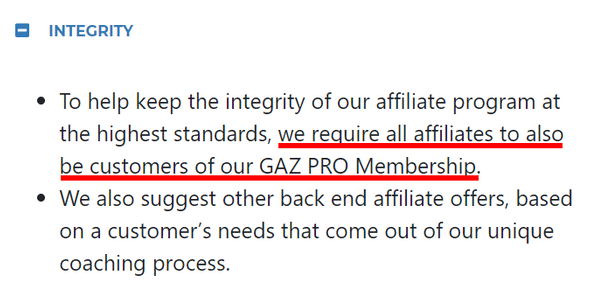 You can see above they even admit they are "pay-to-play".
Definitely a red flag here.
#4 Limited Payout Options
They only allow ACH transfer within the US, Other countries you can receive check.
But it worries me that you cannot even get paid via PayPal.
I found this with another product, and it turned out that it was because PayPal were wary of it…  Definitely something to consider…
#5 Is it Affiliate Marketing or MLM?
Considering both are very different business models, it is a surprise they are trying to combine both into this product.
It just shows how eager they are to make themselves money, I am not even sure how much you factor into it.
#6 Expensive Product!
Remember, there is not only the GAZ membership to consider.  Let's recap the costs:
$99/month for the GAZ Pro Membership
$5,000 for Kangen Water Filters – Enagic
Paid Traffic
Don't forget that throughout the training they will be teaching you how to get traffic but only teaching you the paid route, as they will consider it quicker.  But paid ads require a budget, and if you get it wrong it can be an expensive mistake.
Most people looking to make money do not have those kind of spare funds to invest, but as the sales funnel is convincing people sign up anyway putting themselves into debt.
We personally do not like products that try to squeeze every penny out of people and GAZ will fall into that category.
#7 Your Personal Coach = Upsells
A personal coach is there to help you, guide you and provide support. We offer this to people looking to get started with the help of Wealthy Affiliate.
But what you will get with the Global Affiliate Zone coach is someone trying to sell to you the Enagic Water Filter business opportunity.
They will be especially good at selling you this upsell at the cost of $5k
#8 If GAZ Goes, So Does Your Business…
This is also something that you will really need to take into account.
Anything and everything you put into the GAZ business opportunity relies on their platform.  It is the problem with all done-for-you systems.  Your website is on their server, the sales funnel relies on their platform.
But, if the FTC were to close GAZ down, you will lose everything.
This happened to every MOBE member and Digital Altitude member.  They lost everything.
This program does not have a long shelf-life, in my opinion.
Haven't Made Your First $1 Yet?
Studies have shown that more than 70% of the people who want to make money online have not made their first dollar yet. So, you're not alone!
My Global Affiliate Zone Review - Final Conclusion
Let's first cover off whether we think this is a scam, it does depend on your definition of a scam..
I don't like the fact they hide the MLM offer and then all of a sudden throw it at you, trying to mix Affiliate Marketing and MLM is never going to work and their business is too similar to Digital Altitude & MOBES that makes me really worried about how long this is going to be around for to name a few worries.
There are a few people making money with Global Affiliate Zone, but when you crunch the numbers of their income disclosure and see that the average earnings are between $500 & $2k, that leads me to believe that most are not even covering their annual membership fee.
With all that in mind, this would not be something we recommend to someone just starting out and wanting to explore affiliate marketing as a way of making money online.
This will not truly help a beginner get started with a business that makes them money
Wealthy Affiliate is our top recommend platform for you to learn real affiliate marketing.
The reason are simple:
It is FREE to get started

Their Premium Membership is only $49/month

Strictly No Upsells anywhere on the platform

They provide you all of the skills you need to be able to build your own website, sales funnels, etc.
Because of Wealthy Affiliate, we are exploring our own journey towards financial freedom.  Combine your hard work and the training at Wealthy Affiliate and you have a recipe for SUCCESS!
Thanks for checking out our Global Affiliate Zone review.  If you have any questions or comments to add, then please write them in the comments section below. 😉