Welcome to our CloudFunnels Review!
Have you seen an advert for a wonder product called CloudFunnels that is going to provide everything you need to create awesome sales funnels and wanted to see if it was just a ClickFunnels rip-off, or whether it was the real deal?
Well, we are so glad you are doing your research as it is the best way to avoid online scams and only find legitimate ways to make money online.
To be completely transparent with you, we're not associated with Cloudfunnels in any form.  We're not here to pitch or sell you anything.
When you have a product like this one that is offering a lot of features for a really low price, especially when you compare it to ClickFunnels, you have to ask the question what they are not telling you… We wanted to see it for ourselves and see if it was really going to help a beginner make money online.
Sales Funnels are really effective, once you have the relevant knowledge to put them into action, but there is also a reason why ClickFunnels receives high ratings, even if it is an expensive option.
CloudFunnels claims to offer everything you need to start an online business, which means they are targeting newbies, so is CloudFunnels right for a beginner looking to get started online, is it a scam or a real deal… let's find out as we go through our review. 
Let's start with a quick product overview…
Cloudfunnels Review Summary
Product Name: CloudFunnels
Founder: Cyril "Jeet" Gupta
Product Type: Sales Funnel, Membership & Email Marketing Platform
Price: $37/month or $67 one-time fee + Upsells
Best For: More Experienced Marketers (maybe)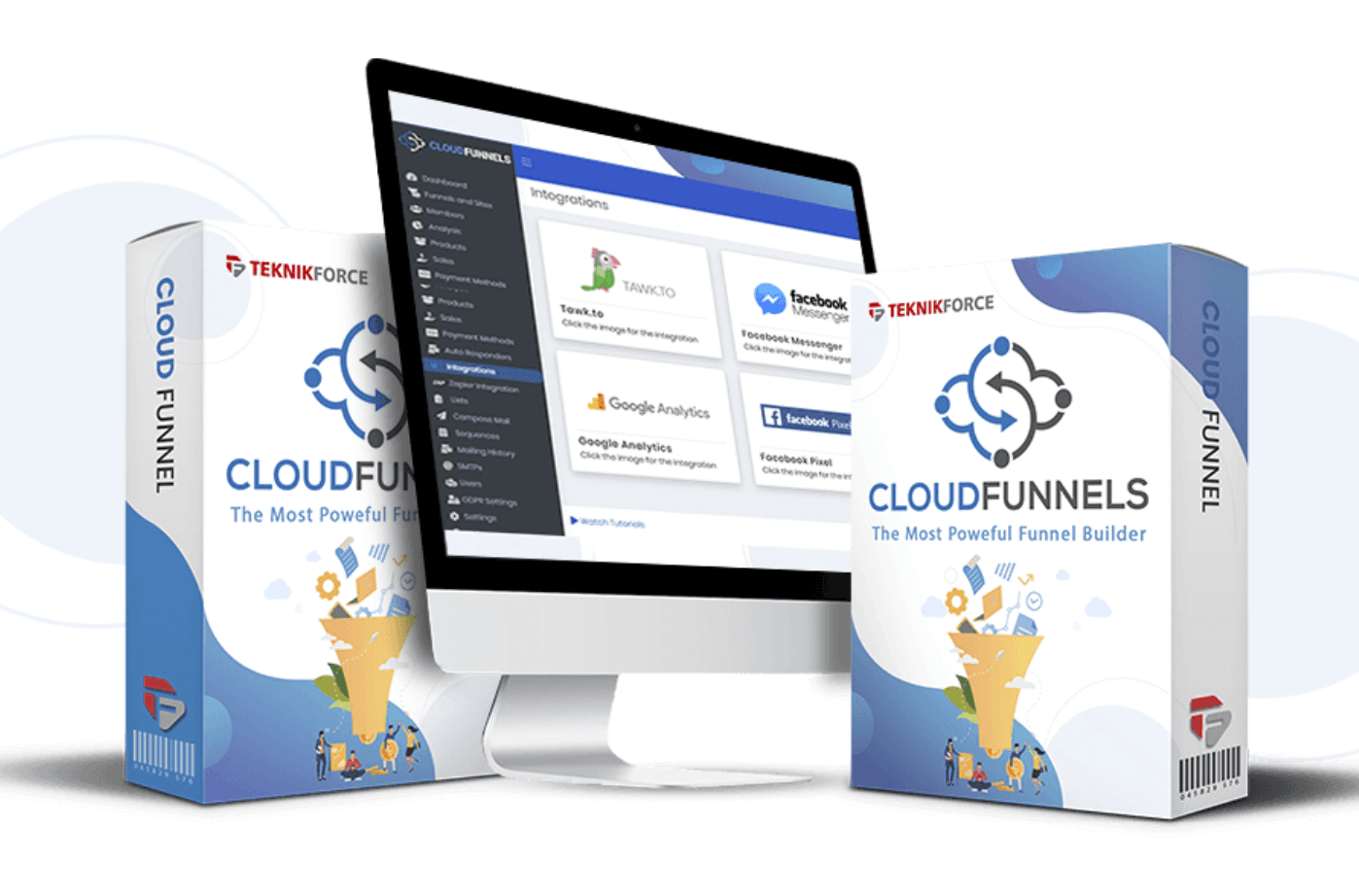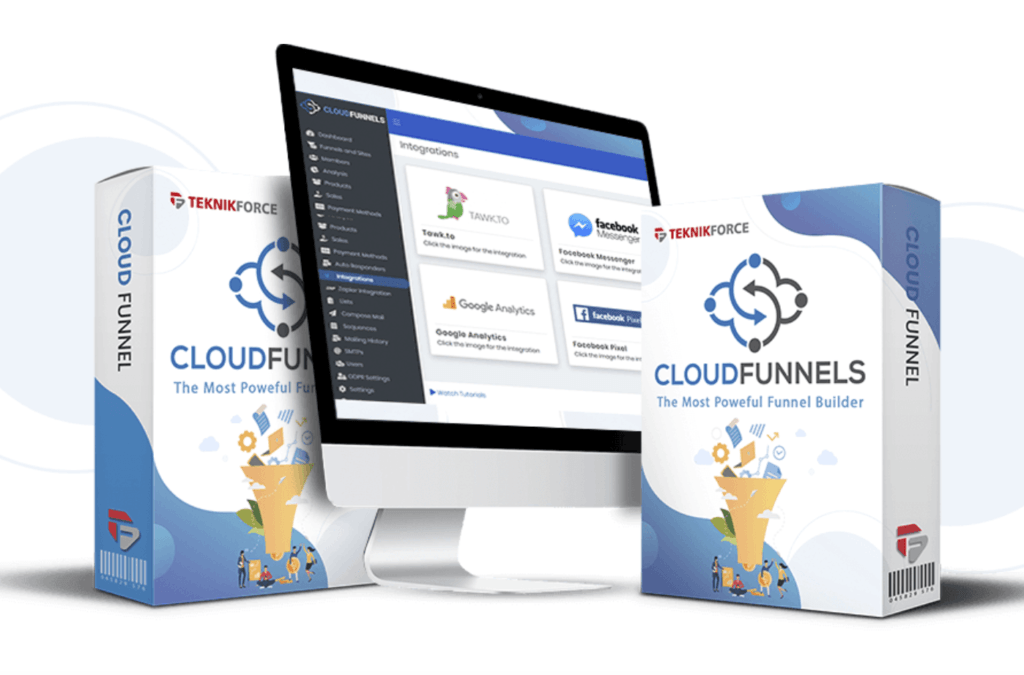 Summary:  CloudFunnels offers a platform to create sales funnels, membership, landing pages and email marketing campaigns all from one place.  But their marketing is all over the place.  Part of it is targeting someone looking to start an online business (but they will not have a product or traffic), targeting someone looking to start an agency and targeting an existing marketer.  They are trying to make out they are different and better to ClickFunnels by keep referencing them, which makes them sound like a copycat and there are issues with the user reviews on their sales page.
Overall, I wouldn't recommend this to someone looking to make money online.  It is too similar to other IM programs where they promise you the world but lack the really important stuff that you will need.
Rating: 35/100
Recommended? No
CloudFunnels offers you a program that allows you to create sales funnels, memberships, landing pages and email marketing campaigns in just a few clicks…

But there does seem to be a mixed message on their sales page.  The top states that "Building Your Business Online Just Become Affordable".  However, there are ways of building an online business that have been free for ages, we do just that with affiliate marketing.  
But the mixed message seems to be that they are definitely targeting the complete newbie, as a more advanced marketer would probably see through their sales page.
Don't get me wrong, anyone online will get to a point where they need to take advantage of a good sales funnel and email marketing is still a very effective marketing technique.  
But, that is why a more advance marketer might benefit from this program, whereas there are some clear gaps that you will need to still go away and get elsewhere to be able to make use of this software.
The first is a website, as they are not offering a website as part of this… The second is the actual traffic that will see your sales funnel.
There is no point having a sales funnel or an email capture page, if no one is coming to see them.
So, they are promising you everything you need to build an online business…but a decent sales funnel provider will actually provide you with stuff that will help you improve your sales.
There is also the point of what are you going to be promoting with these sales funnel templates they are providing.  That is why we feel this product may benefit someone who already has a product to offer and is looking to take the next step with their business and not a complete beginner who is going to need to learn how to walk before they start running.
But I do not get that vibe from their sales page.
Further down their sales page, they again mention it being the right time for you to "Create a Successful Online Business"

They also mention the 3 requirements for online marketing success:
Creating Sales Funnels & Maximising Customer Value
Create a Membership & Build Profits Further
Cement a Relationship Using Email & Profit Forever
Well, I am going to completely disagree to a point.  Those 3 points are very important, except there is a fundamental problem and that is there is no mention of having a product or service to create a sales funnel on.  See how in one breath they are targeting a newbie to get started with an online business, but they are letting them fail at the first hurdle.
We have seen too many of these programs that promise you everything you need to start an online business, and yet they do not provide you with all the information.
I do believe that you will get a platform that will allow you to create a sales funnel, etc like they say but there is little point doing that until you have something to promote or sell.
If you are a newbie and are looking for a way to make money online, but have not even stepped into anything yet, then you are best off staying away from this program at the moment and checking out a legitimate training program that will help you get started with a way of making money online from a hobby you have.  
We recommend Affiliate Marketing.  
It is newbie friendly and doesn't require taking risks with a product like this one.  With our recommended training platform, Wealthy Affiliate you can get started for Free and build up a portfolio of products to promote where you may benefit from a sales funnel platform further down the line.  Click HERE to learn more about Affiliate Marketing.
If you do have a product or service, or maybe even a website and want to see how CloudFunnels work, keep reading on.
How Does Cloudfunnels Work?
CloudFunnels offers a platform that can either be hosted in the cloud, or they even let you download it and upload it to a website you already own.  They compare themselves to ClickFunnels a lot, but there is a reason why ClickFunnels is a market leader and choose to operate as they do.  
They are definitely a more advanced program and I would not advise this for newbies or even intermediate marketers, you need to be earning good money before you invest in ClickFunnels, in my opinion.  But chief amongst why they keep their funnels cloud-based is that they can actively keep everything up to date without any issues arising, plus they include updates without a limit.
Checking out the demo video, they have an easy to use way of creating a sales funnel and have a selection of templates you can use.  Editing the sales page is simple with their WYSIWYG in-built editor, meaning it is drag and drop and you can see a live preview as you edit the page.
Once your funnel is live, you are good to share it and they have a number of different integrations you can use to share them or receive payment.
Integrations for Payment are:
PayPal
Stripe
Net
JVZOO
Warrior Plus
Paydotcom
Paykickstart
ThriveCart
ClickBank
As they also offer an Email Marketing campaign templates, etc.  They also allow you to integrate with the following autoresponder companies:
Mail Engine
Active Campaign
Constant Contact
GetResponse
HubSpot
Mail Chimp
Ontraport
If you want to see how CloudFunnels actually works, see the demo video below brought to you from the owner:
My biggest issue isn't with whether the product will do what it claims to do, but it is the fact they are targeting complete newbies stating that this will provide everything you need to start an online business when it completely misses out the part about having a product and how to attract visitors to your sales funnel.
No Product + No Traffic = No Sales.
Then, we get into the costs which as usual with a program full of hype on their sales page, the base product is limited with what it offers.  Meaning you have to pay more to get more features.
Haven't Made Your First $1 Yet?
Studies have shown that more than 70% of the people who want to make money online have not made their first dollar yet. So, you're not alone!
How Much Does Cloudfunnels Cost?
There is a trend in the MMO sector where you see a sales page where it offers a product that offers you a way of making money online, just by buying their product and setting it up correctly.  But it is usually a low-price item like this one.  They also add a limited time before the price increases, yet when you buy the product (because it seems like a great deal), you then start seeing more promotions for additional features.  
Naturally, as you gain experience with sales funnels you start to realise that this is always the way.  The front-end product will do so much of what they tell you, but if you watched the video above, some of the features require you to upgrade your membership by paying more.
Here are the prices, and what we know about the features:
CloudFunnels Front-End – $37/month or $67 One-Time Fee
Includes:
Over a dozen Sales Funnel Templates
Ability to create a membership area
In-built Email Autoresponder
WYSIWYG Page Builder
Support for Popular Payment Gateways
A/B Testing & Split Testing
Integrates with Popular Autoresponders
Full GDPR Support
Multi-User Support
Updates for a year
CloudFunnels Pro Upgrade – $97
Includes:
Support for up to 10 sites
In-built Support for Payment Networks
Zapier integration
5 new Templates
2 years free upgrade
Multi-Page Funnels
CloudFunnels Agency – $127
This gives you the ability to sell CloudFunnels accounts and keep 100% of the profits
(this worries me, if the owner fully believed this product was going to be the new thing that all marketers are going to buy for their business, why would he give away 100% of the commissions?)
CloudFunnels Template Club – $20/month
This provides you with 4 new templates every month for multiple niches
Stockbin – $37
A huge collection of media assets.  Full featured access to over 100K+ images, videos, icons, vectors and audio assets.
P.S. This program has helped us Create a 4-Figure Monthly Passive Income Stream.  It's Free to get started and costs only $49/month to go full-time!  It offers training, tools and support to help you get started…
What We Liked About Cloudfunnels
Here is what we liked about Cloudfunnels:
#1 Could Benefit an Established Marketer
Whilst I think the sales page is targeting the wrong person, this product could benefit a marketer already established and has a product or service to offer and wants a sales funnel builder to help increase sales.
There is also a mention of a number of people looking for people to build them sales funnels for them, which again could be an option.
#2 Money-Back Guarantee
The advantage with the product being sold via JVZOO is that you will be able to get your money back if you are not entirely happy.
What We Didn't Like About Cloudfunnels
Here is what we didn't like about Cloudfunnels:
#1 It is Targeting the Wrong Audience
I am not going to say this product will not work, it will for the right person.  Someone who has a handle of online marketing and has a product/service that they are already promoting but could do with improving their sales funnel to get people to actually buy it.
But by promoting CloudFunnels as a way of starting an online business is very misleading.
You will end up with a sales funnel builder and email marketing tool, but nothing to sell or no one to sell to.
That is my biggest issue with CloudFunnels.  They are targeting the wrong people by claiming it is the best way to start an online business.
#2 Hidden Costs
I still can't quite get my head around how they feel that charging quite a small initial fee is going to help them maintain long-term.  The reason, I don't expect this product to be around for long.  Add to that the fact, they are not giving you all the information before you hand over your money is a problem for me.
#3 Questionable User Reviews
I know not everyone is a spelling champion, but if you check out their beta user reviews on their website, the spelling is awful and if I were to market my own product I would ensure the sales page is as clean and cut as it can be, as anything like this might damage my brand.  But the pictures look like stock images to me (I could be wrong), and the reviews seem like they could be talking about any product, apart from the first one.
Also, if you check out the video reviews from the beta users.  They just don't appear natural, and I am convinced they are reading from a script.  Looks to me like they may have hired freelancers to promote their product.  If it was a great product, they wouldn't need to do that.
Still Require Training
If you are a newbie, then you are still going to require training on many different aspects of online marketing if you were to make this purchase worthwhile.  Besides learning how to promote products and services, you're going to need to learn how to market that product and service whether you have a sales funnel or not.  Plus, they are talking about this being a way of you building funnels for others, well you are going to need to learn a lot more before you are in a position where clients are reliant on you.
They are Trying too Hard Against ClickFunnels
Even the name is basically a rip-off of ClickFunnels.  They are trying to get people believing they are a better option than ClickFunnels.  But either way, ClickFunnels is for more advanced marketers who have established businesses and have the budget to benefit from their membership.
This CloudFunnels is trying to be something it is not.  If it was targeting the right people about showing them how to build sales funnels and membership sites, etc.  They they might be worthwhile, but they are just trying to play off the name of a much better competitor.
But if you are relatively new to online marketing, I would not suggest either.  I personally feel Online Sales Pro would be a better option for a beginner.  But until you have an online business where you could benefit from a sales funnel, etc.  Then you need to concentrate on those bits first. 
We can help you there, and our top recommendation is Affiliate Marketing.  It is Free to get started, you can learn how to promote other people's products and services and receive commissions for any sales you can raise.  With training, this can lead to a very profitable online business without any false promises or hype.  But with the right training and support, it can be the best move you will ever make.  Click HERE to learn more about Affiliate Marketing.
Haven't Made Your First $1 Yet?
Studies have shown that more than 70% of the people who want to make money online have not made their first dollar yet. So, you're not alone!
My Cloudfunnels Review - Final Conclusion
Whilst I do not think CloudFunnels is a scam, I firmly believe they are targeting the wrong person with their sales page.  They have a very mixed message on their sales page.  Part of me things this might benefit an established business owner looking to build a sales funnel for their business.  
But I am not sure why you would need it for your email autoresponder as you probably already have one.  You can use plugins to create sales funnels and lead pages, etc on your website without this software.  As for memberships, you can use plugins again to do this on your site as well.
But they are targeting newbies and stating this is the best way to start an online business, and as it doesn't provide you with the important aspects that come before a sales funnel, this just shows this product and the owner behind it are just after your money and are not really interested if you actually succeed.  
A newbie is not ready for a sales funnel software or email marketing tool as you need a product and traffic before you even get to a point of needing to see how you can improve your conversions.
You are much better off looking at a much safer way of making money online.  Read on to see our top recommendation.
There are many ways of making money online, but there are always programs that claim they can speed up the process or can provide you with the tools you need to make money online.  But many of them turn out to either not work or are missing certain elements that are the fundamental difference between success and failure.  
Traffic is one of the most important aspects if you want to make money online, and yet many of these programs do not really show you how to do that or give you a realistic timescale for how long it takes to generate traffic.
That is why, for a number of reasons our top recommended way to make money online for a newbie is affiliate marketing.
Affiliate Marketing has many benefits, but chief among them is the fact that you can create an online business based on a hobby or subject that you love.  You can learn how to promote products that are owned by someone else and earn a commission from it. 
Imagine, having a website dedicated to your hobby and then promoting products that are sale on Amazon and earning commission every time one of your visitors goes and buys that product on Amazon….
If you learn the right way (and we will show you how) you can create a website that will make you money anytime, even if you are not there and will not need to resort to crappy IM programs like this one.
The most important aspect is learning how to get started the right way, and our top recommendation is Wealthy Affiliate.  Learn is a safe and friendly environment, where you will get access to training, tools and support whenever you need it.  If you join Wealthy Affiliate via our link, you will get my personal help.  You only need to ask me a question and I will help you get the answer.
But the key difference between WA and these other programs is that they are completely transparent with you.  They only have 2 membership options – a free one and paid one.  They are truly open with what you get with each, with no pressure to upgrade if you are not ready.  But they provide everything you need to get started on a way to make money online, including step-by-step training that works…
It is up to you to decide on whether you are going to keep looking at crappy IM products like this one or take the first step on your journey towards making money online by signing up for a free starter membership with Wealthy Affiliate.
Click HERE to learn more about Wealthy Affiliate.  Click HERE if you are ready to take that first step!!
Thanks for checking out our Cloudfunnels Review.  If you have any questions or comments to add, then please write them in the comments section below. 😉