Welcome to our AcademyPro Review!
I am guessing you have just seen a sales pitch for this all-in-one pro academy builder that claims to be the World's Number One and are wondering if their platform lives up to all the hype, right?
It is great to see that you are doing your research, it is the best way to avoid online scams and to find legit ways to make money online!
AcademyPro does have some bold claims about being able to profit from a huge growth in the e-learning market lately, even mentioning the current COVID-19 situation. 
But we wanted to see if it was actually any good for someone looking to make money online or could help with someone who was looking for a platform to launch their own online course.
First off, let me be transparent with you and tell you that we are not affiliated with AcademyPro in any way, so relax we are not here to pitch or sell you anything.  But like with everything there is always two sides to every story, and we want to ensure you have the facts before deciding on whether this program is right for you.
Let's get into our review with a quick product overview…
AcademyPro Review Summary
Product Name: AcademyPro
Founder: Dr. Amit Pareek & Dr Ashu Kumar
Product Type: All-in-One Academy Course Builder
Price: $37.95 or $47.95 + Upsells
Best For: More Experienced Marketers who don't require training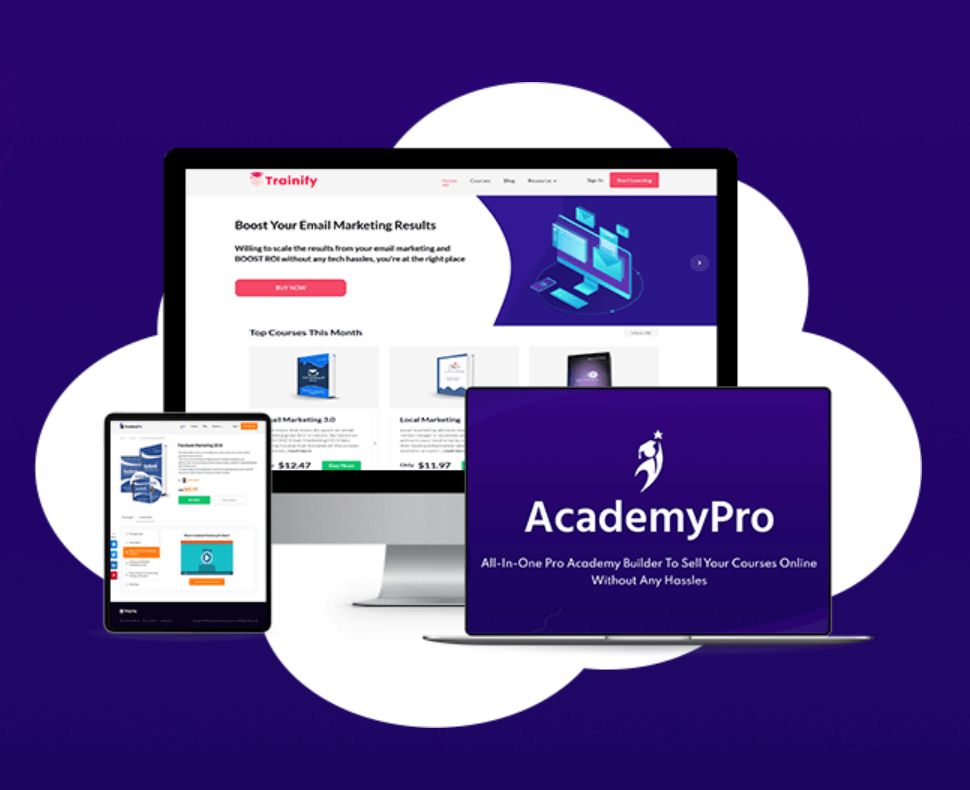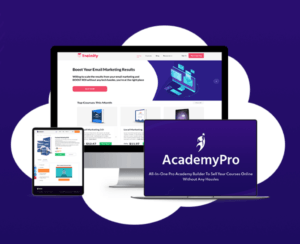 Pros
The e-learning Market is Growing
Platform is Easy to Use
Money Back Guarantee
Cons
Full of Hype & False Promises
Will Not Teach You How to Create an Online Course
Not Training Offered with Base Product, Have to Pay Extra
Low Quality, Duplicate DFY Courses
Competitive Market
Summary:   AcademyPro claims to help you make money online with their all-in-one academy builder.  Their claims include being able to build online courses and sell them from their platform.  However, there are problems we have found, especially for beginners.  Chief among them is the fact that there is no training included, you have to pay extra for that.  There are also a number of limitations with the front-end product that will require you to upgrade again.  But without effective training, this marketplace they offer you is practically useless. A more experiences marketer may find uses for this program, but it is definitely not for a beginner looking to make money online.
Rating: 40/100
Recommended? No
AcademyPro is an all-in-one platform where you can create online courses and then sell them via a number of different platforms, or even from the free subdomain website that they provide you.  They claim that you will not require any technical skills and there is nothing for you to worry about…


But with our experience, we wanted to really dig in and see how this would be achieved for a complete beginner to the online world.  A more experience marketer would already know how to sell these courses to make money from them, but how would AcademyPro help a beginner get that all-important traffic through to their marketplace to get started… Put it this way, there are some gaps that will need to be filled by their list of upsells that they will bombard you with as soon as you are into the program, but more about that later. 
Know that for now, the base platform will allow you to create an online course or even see their done-for-you courses that are going to be available on your own marketplace.
Let's dig into who is behind AcademyPro?
Who are the Owners?
The owners are Dr. Amit Pareek & Er. Ashu Kumar: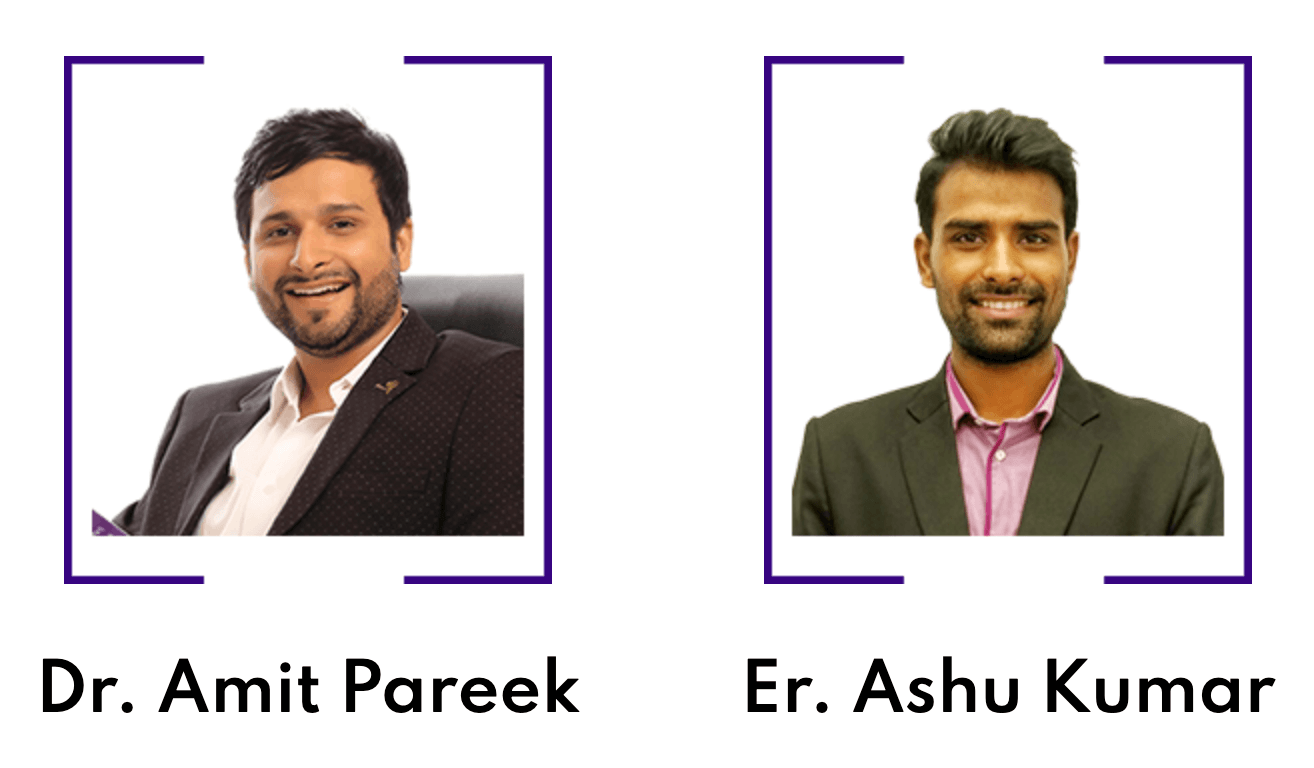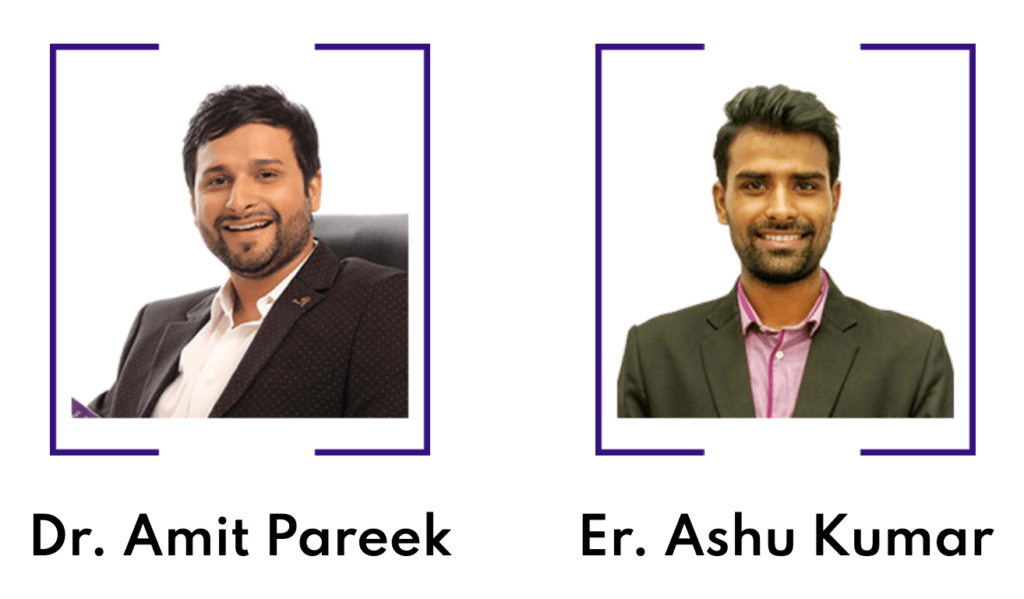 They both claim to have extensive experience in online marketing and have launched a number of different MMO programs online.  The biggest problem I have is that whilst they have a lot of experience and I do reckon they have the knowledge, they keep creating these types of programs where you have a low-ticket product at the front end to entice you in, before bombarding you with tons of upsells that you need to buy to make the front end program do exactly what they say it will…
If you are interested in creating and marketing your own online course, you are probably better off at Udemy or Teachly.  There are no hidden costs and they provide a lot more support (in our opinion).
Let's get into how AcademyPro works.
How Does AcademyPro Work?
To start with, I have seen a demonstration of the AcademyPro system to see how it works and from what I say (you can see the video below).  It does do what they say it will, as in you can log in and create your own online course and then post it onto a variety of marketplaces.  This I do not deny.  But the bigger issue I have, is actually much more of a fundamental problem for you, especially if you are a beginner to online marketing.
Check out the video, and then I will go into that problem a little more.
Whilst that video went through how it works, you can tell that the guy doing the video is only really interested in getting you sign up to get his bonuses and tells you that this program is awesome.
Basically, you can use their platform to create an online course by adding Videos & PDF's on any subject you want.  Once you have completed the course, you can choose on which marketplace you want to promote the course on, these include:
JVZOO
PayDotcom
WarriorPlus+
If you choose the PayPal option, this just means you can keep promoting it on your website.
To market on these other sites, you are going to need to set up merchant accounts with them.  Some will handle the transactions (and fees), others will require you to do that.  But for most, a PayPal account will typically be enough.
Straightaway, it doesn't seem as hassle free as they claimed, and there is a need for some technical knowledge around how to do all this.
They provide DFY sales pages that you can use to promote your course.  They claim these are proven designs, but these proven designs to a couple of things.
They build up the hype, so you believe anything they right (sound familiar?)
Require careful thought into editing it completely so it looks right
The sales pages do look great, but you are going to have to spend a few hours making it fit your product.  Again, doesn't seem that hassle free.
But again, with the right person I reckon this program will create a high-quality course for you and then you can utilise their pre-made sales funnel type pages to get people interested in buying your course.
But the issue I spoke about earlier that you are going to have to consider comes into play when you only factor in the base product… 
The base product gives you a subdomain website, that will act as your marketplace or you can even put your course onto marketplaces such as JV Zoo, etc.
But the issue is, the front-end version does not provide any traffic for you.  That isn't the end of the world, if you already know how to attract visitors to your website to see your course.  That is the bigger issue, I am guessing that if you are here you are looking to see if you could use this platform to make money, well the answer will be dependent on whether you know anything about online marketing.
These programs all do the same, they tell you that this is a magical product that will help you create an online course and then sell it for profit.
But I have yet to see any evidence that this program teaches you how to create a course, or whether they teach you anything about marketing your course to get people to buy it.
If you have experience online with internet marketing, and you know how to structure your online course, then it might work for you…  But my advice would be to still explore Udemy as an alternative.
AcademyPro is claiming to be the World's No 1. All-in-One Academy Builder.  How have they attained that rank?  It isn't by user reviews.
If you are a complete beginner online, this platform will not do everything the sales page claims it will, not with the front-end product alone anyway.
It is a typical sales-funnel.  They entice you in with a low-price product.  They have been offering all kinds of discounts this week, If you log into (May 26th) You can get an 8% discount if you buy it now.


Then they will restrict certain parts of the program and lead you through a list of add-ons that they promise you are integral to your business. 
I have seen too many people fall into debt because of programs like this, and none of them have actually found success with these programs…
If you want to learn how to make money online, there are better ways and for beginners, we recommend Affiliate Marketing.  It allows you to learn online marketing at a great pace for beginners and if you find the right training program (like we did), you can get started for FREE and find no hidden costs as everything is transparent at Wealthy Affiliate.  Click HERE to learn more.
They also offer a few done-for-you courses that they claim that you could use straight away and link to your preferred marketplace.  Know that these done-for-you courses will not work, and for a number of reasons.
The first is that everyone who buys into AcademyPro will get the same courses.  This means that you could be competing with everyone with the same course and the only factor you have to make it different is the price.  Meaning you are going to have to go really low for yours to stand out.
Secondly, these DFY courses will be really low quality and lack any real depth.  We saw one recently and it was teaching people strategies that would no longer work!
Don't think that you could just sell these courses and make money, as I suspect it will lead to many people choosing to get a refund and you will end up with no earnings, anyway.
Haven't Made Your First $1 Yet?
Studies have shown that more than 70% of the people who want to make money online have not made their first dollar yet. So, you're not alone!
How Much Does AcademyPro Cost?
Let's go through the prices and features, so you know exactly what you get with AcademyPro:
Front End – AcademyPro Start/Commercial ($37.95/$47.95)
Features:
Create Free Courses with DFY Reports to build a huge list [LIMITED]
Create beautiful Academy Sites with Marketplace, Blog & Members Area [LIMITED]
Build Course Quick & Easy – Add Lessons, i.e. Videos, eBook & Reports
List & Sell Your Courses on your own Academy Marketplace
Manage Leads with Inbuilt Lead Management System
Accept Payments with PayPal, JVZOO, ClickBank, WarriorPlus+, etc.
DFY Courses, DFY Pages, Swipes & Animated Banners
Academy Website with Multiple Colour Themes (subdomain, not your own)
OTO 1 – AcademyPro Elite ($37/month or one-time $197)
Features:
Create unlimited courses for each Academy (So, the base product has limits which they do not mention)
Capture Unlimited Leads (Again, shows that the base product brings limits with it)
Get Unlimited bandwidth to improve user experience
Get unlimited website visitors on your website, marketplace or blog views
Unlock your own domains
Additional 30 Lead Generation Popup Templates
Host & Deliver Unlimited Video Training & Files to Your Pro Academy
Done-For-You Follow-up Emails
Media Library to Manage your images
Increase the number of colours for your website
10K+ Free Stock Images to use with your courses
Just know that there are limitations with the front-end product that become clear when you start to check out the first unlock.  For starters, there seems to be a limit to how many courses you can actually create, and if it has too many videos, you may not be able to use it.  Plus, as your website will be hosted by them if AcademyPro goes bust, you will lose your website.  But the bigger issue is that your website will be expecting you to build a blog to attract users to it, and they are not providing you any training on how to generate traffic, etc.  Fine for an experience marketer, not so much for a beginner looking ot make money online.
Let's carry on with the other upsells.  If you do not decide to buy the AcademyPro Elite, then there is the next option
Downsell – AcademyPro Lite ($67)
Features:
Get 3x more website visitors to your website, marketplace or blog (but no mention of what limit is)
Unlock 20 colour themes
6 Colour Templates of all Sales Pages, affiliate pages and thank you pages
Complete set of Professional Graphics for your DFY courses
Access to 10K+ Free stock images
OTO 3 – AcademyPro Training Bootcamp ($37)
So, you have to pay extra to get any kind of training on actually how to promote your courses.  Like I said, it is great having a course or product, but if no one can find it, you can't make money…
Pay for the bootcamp and you get the following:
Video 1: Identifying the right audience to sell your courses – which niche, customers' needs and where the money is
Video 2: Converting your skills into a video course or you can simply choose DFY course for "quick start"
Video 3: Setting up your first course with AcademyPro to build list and sell online on your own branded marketplace without sharing any profit
Video 4: Customising your blog for maximum exposure. Putting routine content on low competition keywords for authority and search traffic
Video 5: Getting Social/Viral traffic by setting up internal social media campaigns on automation.
Video 6: Optimising your academy website for more search engine traffic
Video 7: Additional high-quality traffic strategies to consider (paid)
Video 8: Analysing and improving your results
Video 9: Setting up an internal popup campaign to skyrocket your conversions and profits
Video 10: Setting up your 2nd course and rinse and repeat to scale it BIG
If the front-end product came with these videos and some honest information about time scales, this would probably be a product I would be recommending.  But by keeping it as an upgrade, meaning that a beginner would be forced to have to buy it to get the most out of the chance of making money, this makes it a completely different story.
OTO 4 – AcademyPro Premium Membership ($27/month or $197 for one-year or $297 one-time fee)
Features:
Create & Make Unlimited Everything (???)
Make Unlimited Profits & Add Unlimited Businesses (???)
Add Unlimited Team Members
Licence to serve unlimited clients
Get 1 ready-to-use course with a proven funnel on one new topic every month and add an extra revenue stream
Upload unlimited images to a library hosted on our fast servers and get 200GB Bandwidth/month
Business Management System to Manage your clients
All Future Upgrades
What We Liked About AcademyPro
Here is what we liked about AcademyPro:
#1 The E-Learning Market is Growing Rapidly
There is little doubt that more and more people are becoming used to finding information online, and many are choosing to take online courses.  So, there is a market for a professional online course that can help people learn a subject, etc.
If you are looking into how to create an online course, then I would recommend you check out the guides and training on platforms like Udemy first.  As, we have already showed you that you are going to have to pay an additional fee to get training with AcademyPro.
#2 Platform is Easy to Use
If you checked out the video earlier, where Dan went through how to create a course it does seem like a very easy platform to create an online course.  As for the other factors, they are going to require a little more knowledge, but adding videos and PDF's you have already created are quite easy on the platform.
#3 Money Back Guarantee
This will normally only factor in the cost of the front-end product, but you should be able to get your money back within 30-days if you feel you are not happy with AcademyPro.
What We Didn't Like About AcademyPro
Here is what we didn't like about AcademyPro:
#1 Full of Hype & False Promises
I really don't like the fact they are pulling on the current COVID-19 situation to try and make it seem like it is the ideal time to start on a route to make money online.  It could be, but I think it is a little insensitive.  
It is typical of many of these MMO programs where they are claiming that you can make money online just by buying this product at a one-time low fee.  Only to find that the promises they have put on their sales page are reliant on you buying all of the upsells and then having to learn everything else you need, elsewhere.
It is a typical sales funnel, which if you saw the video earlier in the post is the same tactic, they offer you to sell your courses.  Offer loads of hype and hope someone buys into it…
#2 Will Not Teach You How to Create an Online Course
If you were hoping that this platform might teach you how to create an online course, then you will be sorely disappointed.  As with any content, you need to have a great structure to your course for it to be worthwhile for the user and worth the price you want to charge.
So, if you paid for AcademyPro you would still need to go elsewhere to learn how to put a course together that will be worthwhile on all counts.
It is easy to say that E-Learning is all the rage, and that you need to get on this, but real thought and planning needs to go into structuring your course and they do not offer much to help you with this.
This is one of the reasons why we would not suggest this to a beginner but say a more experienced marketer or someone with experience with online courses may find this a better fit.
Recommended Post: Learn Affiliate Marketing and Start Earning Online
#3 No Training Offered with Base Product, You Have to Pay Extra
I really don't like programs that are not honest with you from the start.  They offer an all-singing, all-dancing program but then tell you that you have to pay more to get the real features and this is a perfect example.
Having your own marketplace is great, if you know how to manage your blog on this website they are offering.  Or, teaching you how to market your courses online so it comes up at the top of the search engines.  But none of this is offered with the front-end product.
If you do not buy that upgrade, then you will be walking blindly in the dark hoping to find people to buy you course.
Think about it, if you are looking for a course and are not sure what you want to learn, you will type it into Google and places like Udemy or Teachly will appear.  Both established platforms offering courses on anything you could think of.
How is AcademyPro going to help you get your course as high in the rankings as these others do?  The thing is, this is a sign that they are not really out there to help you, they are after your money.  Otherwise, they would have thrown in the training for you with the base product.
Marketing this to established course builders would have been a better option for them, but they are targeting those looking to find a way to make money online and this leads them to programs like this that are not going to make it easy for them…
#4 Low-Quality, Duplicate Done-For-You Courses
Look, I know they offer a few DFY courses for you to hopefully sell on.  But this are typically low-quality or out-of-date content that is not worth anything.  Hence, do not expect great returns from these DFY courses.
#5 Competitive Market
I touched on the point a little earlier, E-learning is a growing market, but it is also a very competitive market.  When you factor in Udemy or Teachly, who both have a positive reputation online and are well-known, how are AcademyPro going to help you tackle this competition and how do they back up their claims that they are the number 1?
If you already know what course you want to create, then you could log into Udemy and post it on there for a reasonable price and people will buy it.
It is a great platform, I recently used it to do a photography course.  It was a great platform to use and watch the videos and keep track of my progress.
I am not sure how AcademyPro is going to help new people make money online…
Haven't Made Your First $1 Yet?
Studies have shown that more than 70% of the people who want to make money online have not made their first dollar yet. So, you're not alone!
My AcademyPro Review - Final Conclusion
AcademyPro is not a scam, but I would still say there are reasons why I would not recommend this program, especially to someone just starting out online and looking to find a way of making money.
There are many reasons, from the fact that if you want training you have to buy an upsell and there isn't any training about how to create and construct an actual training course.  There are limitations with the front-end product that require you to upgrade again.
If you are a more experience marketer who is ready to create an online course, then you might find this program useful.  If you are a beginner looking for a way to make money online, then we would not recommend this program to you.  There are too many factors that will not lead you to turning this into a success and I reckon you would end up more in debt with this program than any closer to making any money.
If you are serious about wanting to make money online, then you might find the below very useful.
There is money in creating online courses, but first things first you need to understand how to basics work and how to use online marketing to your advantage.  AcademyPro would have given you a fancy marketplace but wouldn't teach you how to create your blog and market your blog effective to attract an audience.  Once you have visitors coming to your blog, you can then start creating and introducing courses to offer to your readers.
But the thing is, if you learn online marketing effective you do not need to buy into these crappy IM programs like AcademyPro.
Their platform is basically a WordPress website with a merchant page offering their courses.  With a few tweaks, we could even turn this website into one very easily.  Without all the snazzy hype they are talking about.
But without learning how to generate traffic or keyword research, etc.  Any website is practically useless.
I digress, anyway the way we make money is through affiliate marketing.  But the platform we learned everything we needed to know is called Wealthy Affiliate.  They offer a fantastic training platform, that offers tools and support to help anyone start an online business.  Affiliate Marketing or Online Marketing, whichever you need to learn they all follow a very similar pattern and it starts with creating high-quality and relevant blog posts to attract an audience.  Once you have the audience, you can start to offer relevant products or even courses to them.
But the key difference between Wealthy Affiliate and these other platforms is transparency.  They are totally upfront about what you get and how much it is.  They offer two memberships – one is free, one is paid and that is it.  They keep it simple, but they are out there to help newbies get online.  They offer training and tools, not tools without the training.
Whether you are looking to get into creating online courses or just want a way to make money online, then they can definitely help you.  It is not a get-rich-quick scheme, but then again, I have not found a get-rich-quick scheme that actually works, so if you want to make money online, then you definitely need to check them out.
Click HERE to learn more about Wealthy Affiliate.  Click HERE if you are ready to take that first step to making money online…
Thanks for checking out our AcademyPro Review!  If you have any questions or comments to add, then please write them in the comments section below. 😉
AcademyPro
$37.95/$47.95 + Upsells ($628 + monthly fees)