Welcome to our ClickBetter Review!
Affiliate Networks & Digital Product Networks are ideal for affiliate marketers looking for easy access to tons of products that they can promote and help their readers.  But is ClickBetter a good option for you, or is there anything that you need to be concerned about?
First off, it's great to see that you're doing your research before buying into any "seemingly good" product.
That is how you avoid scams and find only legitimate ways to make money online!
To be completely transparent with you, we're not associated with ClickBetter in any form.
We're not here to pitch or sell you anything.  Instead we're here to ensure you get the full lowdown on this digital marketplace.
The short story here is that ClickBetter is not a great option for you and our review will show you why we feel this marketplace is full of scams and low-quality products that are likely to hinder your progress, instead of speeding it up…
ClickBetter Review Summary
Product Name: ClickBetter
Founder: Sean A Clark (CEO)
Product Type: Digital Marketplace, Affiliate Network
Price: Free to Join (But expect expensive upsells
Best For: No One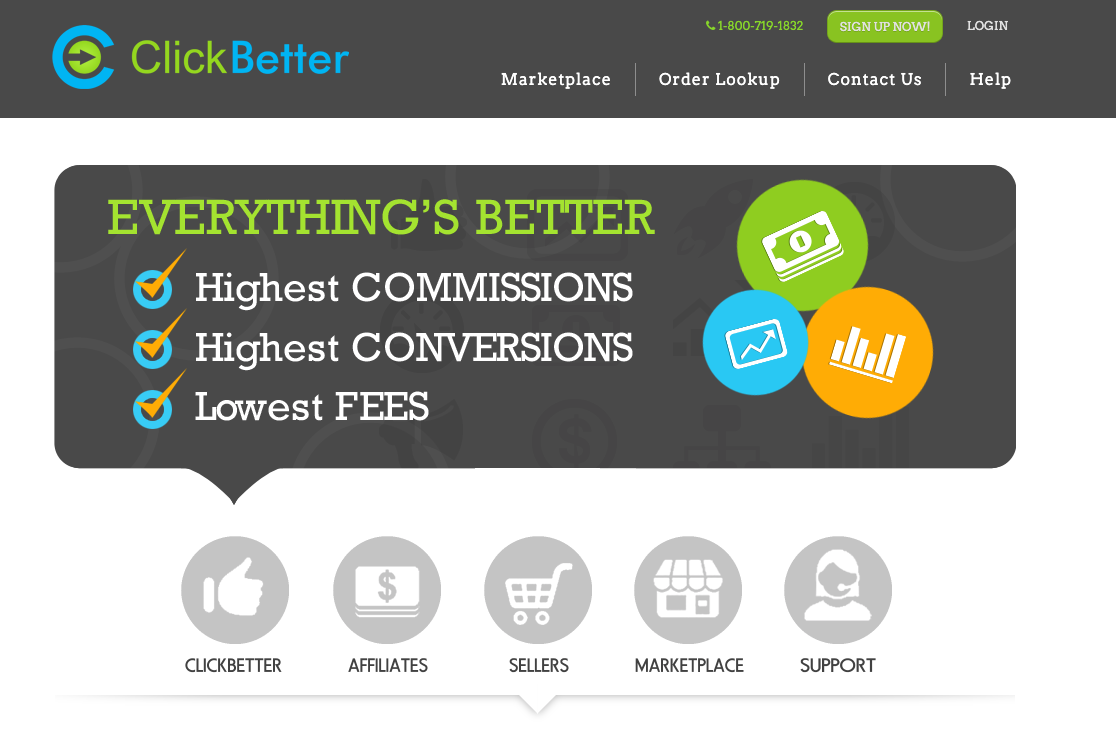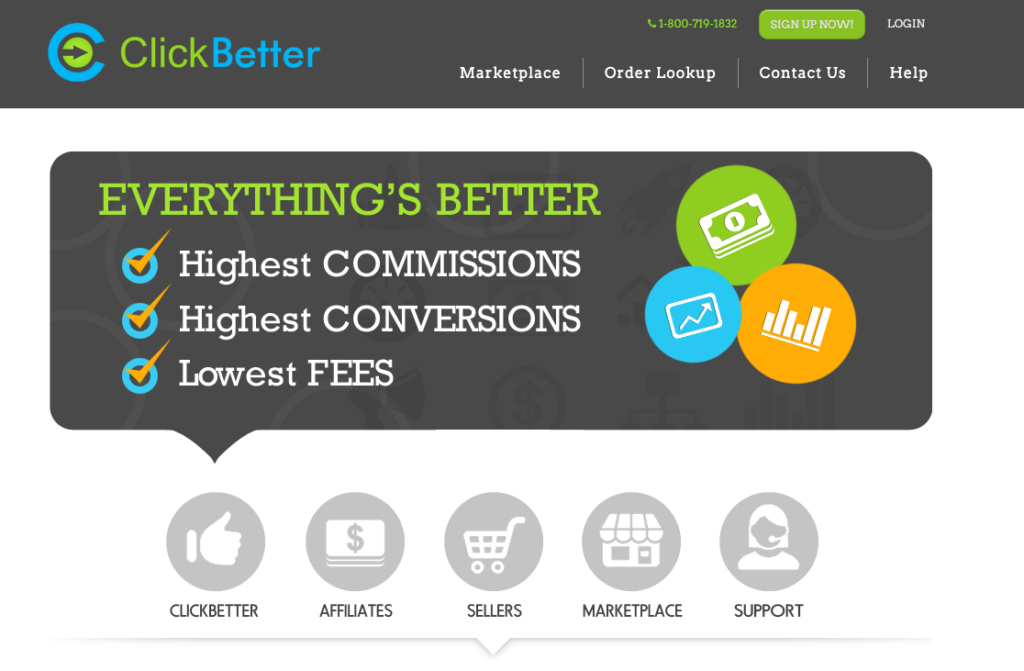 Cons
Upsells
No PayPal
Low Quality Products & Scams
Not Accredited with BBB
Too Many Complaints
Summary: ClickBetter is a digital product marketplace.  But the number of complaints keeps growing, to the point we feel this isn't the right platform for anyone.
There are so many complaints on BBB about this platform, and the lack of an accreditation is a sign to stay away.  You're much better sticking with trusted sites like ClickBank or Awin.
If you're still determined to join them, then you should expect expensive upsells, low-quality products or scam products, and no money.
Rating: 15/100
Recommended? No
ClickBetter is a digital product marketplace, very similar to ClickBank.  It provides a platform for product creators to sell their products and for affiliate marketers to find products to promote on their own website and earn commission from any sales.
So far, so good but ClickBetter throws up some massive red flags as we will show you as we go through the review and it doesn't actually end up being a great read…
The site was created in 2013 and it claims that "everything is better" with them but I cannot see how after checking them out.
They claim that they can accept all payments, anywhere.  But a major red flag came out as they do not offer PayPal…?  Even though they show an image of PayPal, they cannot accept it.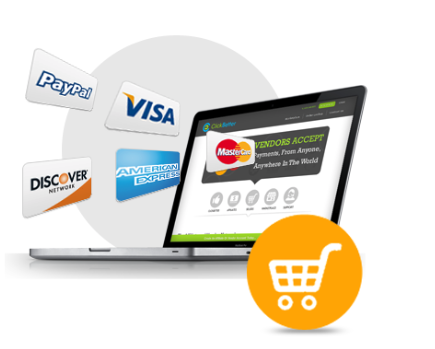 As many of you will probably know, PayPal is the largest internet payment processor online and for a company that sells digital products, it seems really odd that they cannot accept PayPal?
But when you check out their BBB report, the number of complaints about payments and refunds.  It kind of makes sense.  They are not allowed to use PayPal because they have prompted too many disputes.  It might not be the case but does seem to fit with the trend.
Many vendors on the platform, still state PayPal is accepted, but how do you actually check out with them?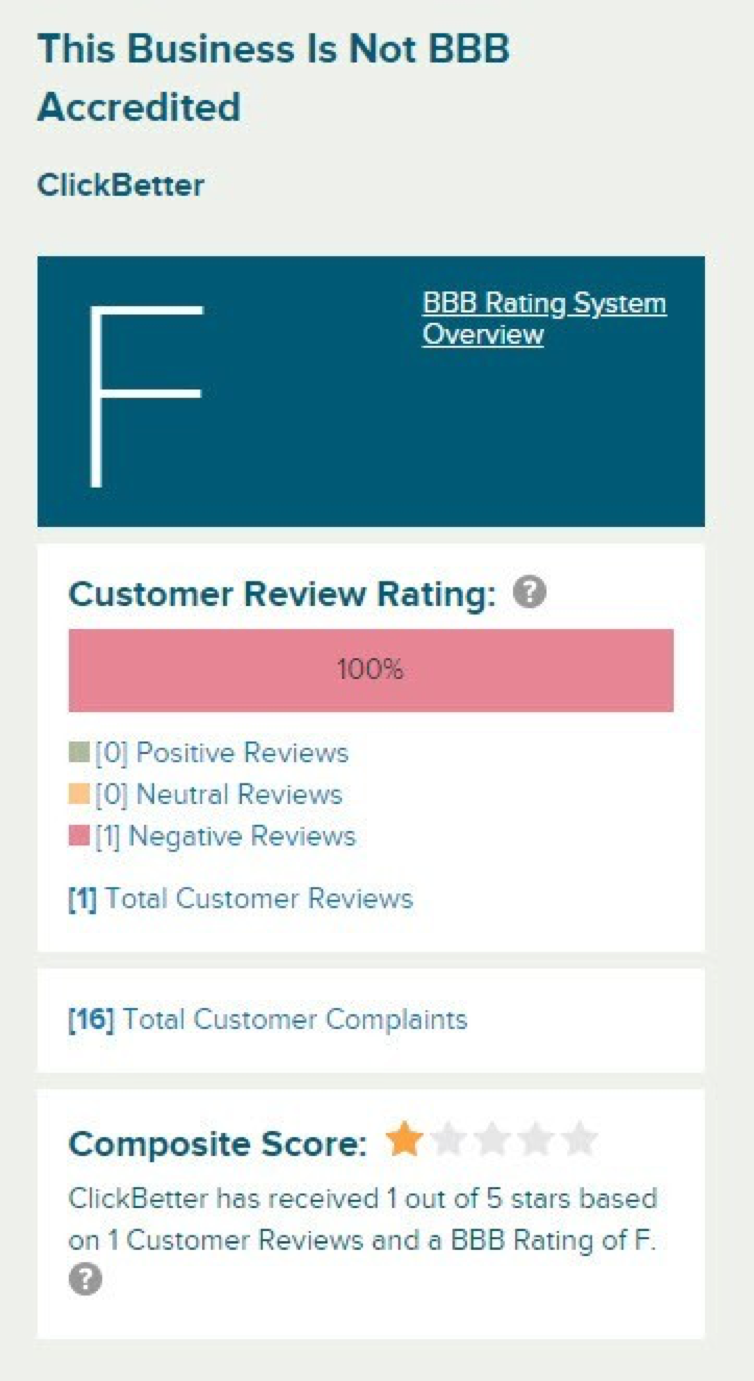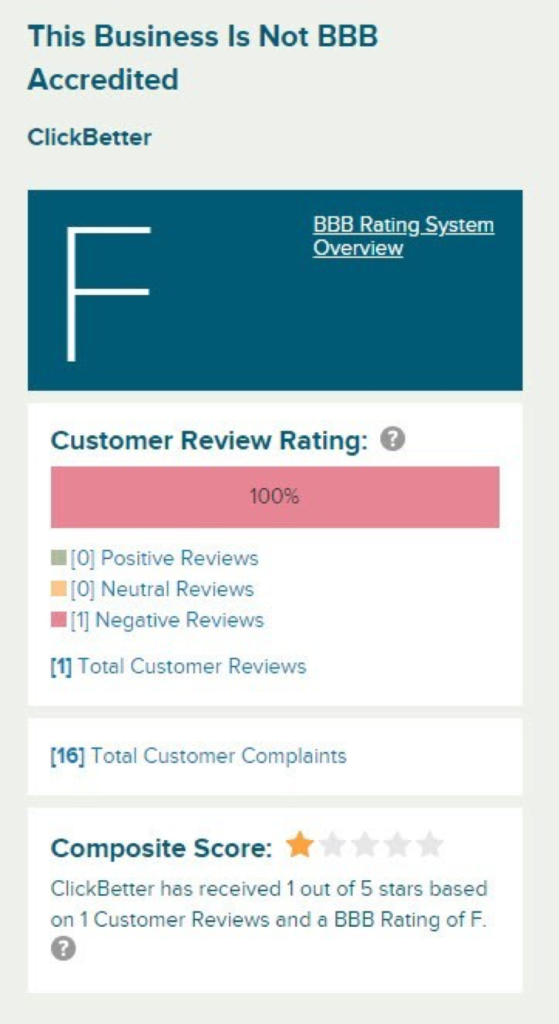 The story doesn't get any better on their profile on the BBB website, either.
ClickBetter Signup Process
The sign-up process is easy and straightforward, but what really surprised me was it shoving 3 upsells straight into your face straightaway and not just any upsell.  3 quite expensive upsells…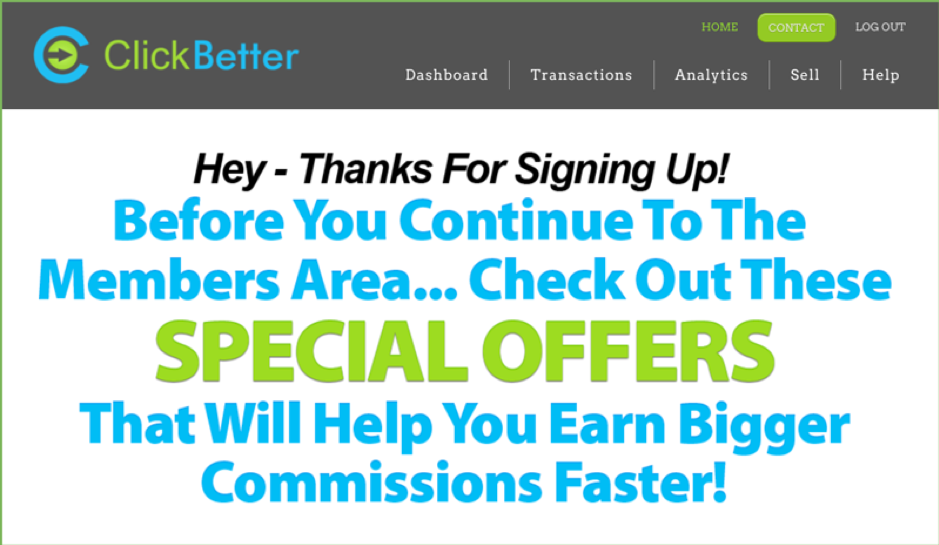 The 3 partner affiliate offers were as below:
Click.org – this is a unique tracking link creator and shortener
AffiloBluePrint – an affiliate training membership website
ClickDrop – an email traffic exchange network
Like I said, these are not cheap.  If we take the Click.org one for example you could be paying up to $950 a year!

None of these upsells are going to guarantee any success…
ClickBank has its faults, but at least it offers a wide selection of products in a huge number of niches.  So, if you were to sign up with ClickBetter, you would think you would find the same.  But the fact is it isn't.
There are not actually that many products available and the majority of them are from the Making Money Online world and then most of them are either scams or low-quality crap that will not lead you to be able to make any money.
If they had a few items in each category, but each was a quality product then this would be a gold mine.  But the exact opposite is happening here.
No vendors are choosing to join up with ClickBetter because they are not allowed to use PayPal and the only vendors that are on here are there because it is free, and someone might buy their scammy product.
There doesn't seem to be a great way of navigating the platform, and that is probably because there are so few products.  But this leads to plenty of products being dropped into the wrong category.  The health and fitness niche for example, all 22 are not worth your time and some of the products are not even live anymore.
Haven't Made Your First $1 Yet?
Studies have shown that more than 70% of the people who want to make money online have not made their first dollar yet. So, you're not alone!
How to Make Money with ClickBetter
If you do find a product you want to promote, and it is still in fact live then you can earn a commission from every sale you make (Good Luck).
The commission rate goes anywhere from 20% to 80%, but you must keep in mind that ClickBetter will take 10% off of the total sale plus + $1 of each transaction.
There is also a payment threshold you must make to be able to cash-out your earnings.  This payment threshold stands at $250.  But don't think it is as simple as that.
This is because you have to get 5 unique buyers first.  If you only have 4, you will need to wait until you have got that 5th sale.
Another thing you will need to bear in mind is the fact they have a $20 payment processing charges plus a 20% reserve in case of Refunds.  But when you check out the complaints about ClickBetter, you will see most of them are about refunds not being paid…
What We Liked About ClickBetter
Normally we would find something that we liked, but there are too many red flags with this program, and it will only lead those looking to make money online down the wrong path.  That is why we couldn't find anything positive to write about this program.
What We Didn't Like About ClickBetter
Here is what we didn't like:
#1 Hit with Upsells on Entry
I would expect upsells from a low-quality product or scam that I was reviewing but was highly surprised to see it from an affiliate marketplace and I feel it is a desperate attempt for the owners to make money on anyone who is joining the platform as I am guessing they have an affiliate deal going on and will get a cut of the money.
But these upsells are not the best products on the marketplace and are extremely expensive.
#2 Unable to Accept PayPal at this Time…
And from the looks of their BBB complaints history, I would be surprised if they ever will be allowed.  PayPal is accepted and trusted across the globe, and if ClickBetter cannot use them and have to resort to some of the names on their list.  It doesn't instil confidence!
#3 Low-Quality & Scammy Products
How can you make any money if the only products you could promote are products you would not even use yourself?  This shows they do not check up on any products that are put onto the marketplace and that vendors can post whatever they like.
The number, or lack of products tells me everything I need to know about this marketplace.  It is not worth any of your time.
#4 Not Accredited with BBB and The Complaints
Their BBB rating is an F and they are not accredited with BBB, which leads me to believe this is not a marketplace you could trust with either your business or your money.
Haven't Made Your First $1 Yet?
Studies have shown that more than 70% of the people who want to make money online have not made their first dollar yet. So, you're not alone!
My ClickBetter Review - Final Conclusion
If you wanted me to describe ClickBetter in one word, then a polite word would be "Poor".  Whilst ClickBetter is not a scam, it serves up a number of scams and low-quality products from within its marketplace.  This is because vendors who have any integrity have not trusted ClickBetter with their products.
Your reputation is the most important thing about a successful online business, are you willing to sacrifice that by recommending these crap products available on ClickBetter.  Start doing that, and your customers will start associating you with that label.
If you are interested in promoting digital products, there are much better places online such as Awin, or even ClickBank as long as you do your research first.
You would have thought that after being around since 2013, they would have got their act together and put in some changes to encourage a better calibre of vendor could join but they haven't and the news feed on there has not been updated.  This makes it seem like it is a bit forgotten by the owners and is only there to capture those select few who are still willing to sign up…
If you were looking into ClickBetter thinking it might be a good way for you to get started with affiliate marketing, you are probably feeling rather sore after reading our review.
But we have to honest, this is not a great marketplace for affiliate marketers new or old.
Promoting the right digital products can and will make you money, but low-quality products or scams are only going to hurt your customers and is a label you cannot afford to have if you want to make a legitimate business take off.
If you are just starting out and want to learn how to get the most out of affiliate marketing, then you would do really well by checking out our top recommended training platform for affiliate marketing.
If you are a little more experienced but are struggling to get your affiliate marketing business to the point where it is making money, Wealthy Affiliate can still offer you a fantastic way of rescuing your business by making sure you have all the basics down. 
If you have been following the wrong advice, you might be doing things that are really harming your chances and by clarifying the correct way you can rescue your business before it is too late.   Here is our WA review, see how you can benefit from Wealthy Affiliate.
But as far as ClickBetter is concerned, other marketplaces are available and are much better…
Thanks for checking out our ClickBetter review!  If you have any questions or comments to add, then please write them in the comments below. 😉