Welcome to our Click Clone Cash Review!
I bet you've been looking for ways to make money online and have come across a program that claims to help you earn easy money with just a few clicks called Click Clone Cash.   But part of you isn't convinced that this is actually a legitimate option that will actually work, right?
First off, it's great to see that you're doing your research before buying into any "seemingly" good product.
That is how you avoid scams and only find legitimate ways to make money online!
To be completely transparent with you, we're not associated with Click Clone Cash in any form.  We're not here to pitch or sell you anything.
Instead, we want to show you what Click Clone Cash is really all about.  How they claim it works, and how it actually works and ultimately answer the question of whether Click Clone Cash is a scam or not…
Click Clone Cash Review Summary
Product Name: Click Clone Cash
Founder: Josh Owners (AKA Tim Atkinson)
Product Type: Business Cloner
Price: $39.99 + $100s in fees!
Best For: The Owner

Cons
False Claims & Hype (Lavish Lifestyle)
Fake Owner
Fake Testimonials
Expensive Hosting
Summary: Click Clone Cash claims to give you a piece of software that will find and clone successful businesses and then let you sit there whilst all the money rolls in.  If only that were possible or even true!  
As far as we're concerned, Click Clone Cash is just deploying "get rich quick" marketing tactics to get you to buy into a program that will have you spending huge amounts on website hosting, with very little chance of making any money as they don't teach you how to generate traffic.
With all the lavish lifestyle backgrounds and claims, it makes it look like this is your dream ticket to huge incomes.  But the truth is that these claims are not true.  They are also using an actor to pretend to be the owner, and fake testimonials.  This is a scam, plain and simple!
Rating: 1/100
Recommended? No!
What is Click Clone Cash?
Click Clone Cash claims to help you make money.  The idea is relatively simple.  They claim that you pay a one-time fee, which will give you a piece of software that searches out for successful online businesses.
Once it has located a business, the software will then clone that business and set up a very similar business that is yours.
Then, you sit back and watch the money roll in…
If you're not too familiar with how this all works, you might think there is nothing wrong with that and it's a good deal.
And it is built on an idea that is actually used in creating successful companies, where a successful business is copied or cloned which in turn pulls some traffic away from the original and into an almost identical company.
I'm sure you've seen products from highly popular brands, and then you'll see other products that have very similar names.  (In the UK, we sometimes call them knock-offs).  In fact, you may have actually purchased from these "cloned" companies.
So, the idea isn't exactly new, but that also doesn't mean that Click Clone Cash isn't a scam, which we will go into later.
But when you dig through all the details surrounding Click Clone Cash, what you actually find is that this is nothing but a web-hosting (scam) created by a guy called Josh Owens.  Well, that's what he calls himself in the sales video.
But this is actually an actor hired to be the owner.  The real owner is call Tim Atkinson.
Atkinson is known for committing a number of fraudulent acts on the net through a variety of other programs, such as:
Make Money with Meghan
Cash Machines 2
Automated Income App
I'm sure there are plenty more…
Then there are other signs that we're not too happy with, including the fact that they are claiming this is a quick and easy "free wealth system".
They even claim that you'll be making $100,000 every 30 days… A mouth-watering proposition for anyone!!!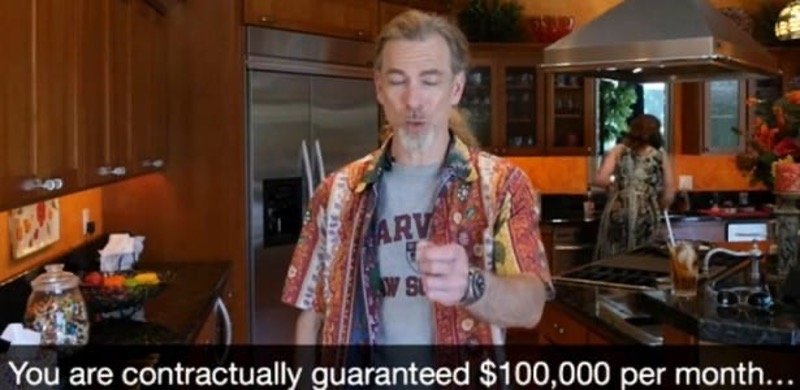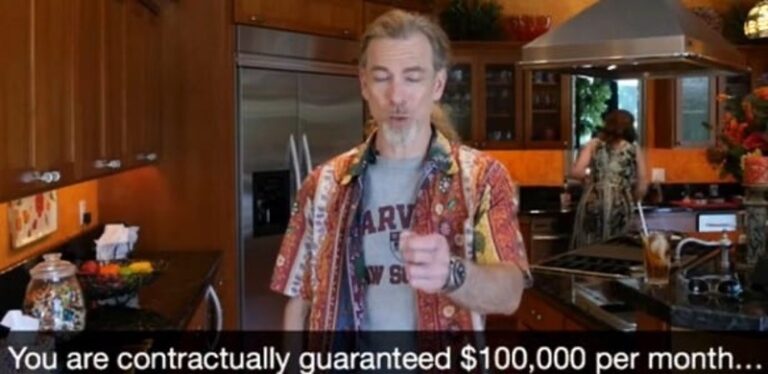 Do you really believe this system will do that?  I don't think so, and it's worrying that they are even trying to claim that.
If it were that easy to make money online with a method like this, everyone would be doing it.  But in my experience, I don't know any program that will be able to do that straightaway for someone.
It can be a goal people work towards, but not straight out of the box.
People often keep looking for methods that make them quick and easy money, but all they end up doing is finding scams like this one over and over again.
If you want to create a passive income that earns you good money over and over again, you need the right legitimate program like the one we used. 
It will save you money over the long run, and not put more money into the pockets of scammers like Atkinson.
How Does Click Clone Cash Work?
Let's go through how Click Clone Cash is claimed to work, so you understand what they are claiming (and why it's totally unrealistic).
The three steps they describe are:
Install the software onto your computer (a scammer gets to put software on your device…)
It locates a successful online business to clone
You then sit back and watch the money roll in… (Yeah, Right)
Trust me in this, there is no way of being able to earn money with no time or effort put in.  Unless you have tons of money to pay people to do all the hard work.
Either way, hard work will need to happen for you to earn what your goals are.
As an affiliate marketer myself, I can tell you the amount of time, effort, sweat and tears has gone into starting an online business from the very start.
Earning a decent income takes a lot of time.  Having the right training and support is a massive boost, but programs like this don't help with people's expectations.
People look at programs like this one, and think that it might be possible to earn income quickly, they just need to keep looking for the right one.
But the truth is, these scammers are getting rich from all of the people handing over money to these "get rich quick" schemes.
Instead of handing over money to something you're not sure of, you can learn from the same team that taught me and not pay anything.  Get 7 days free training and even a free site, and then decide if this is the right move for you.
Rather than buying something that might not work, or will definitely not work.  Try it first.
The other thing you should know about Click Clone Cash is that to use their "magic" system you will end up having to pay ridiculously high prices for their hosting fees.  "Josh" might claim you get a free website in the sales video, but to actually access the members area you will need to pay for their hosting.
This system is just there to rip you off, and make Atkinson more money.
Haven't Made Your First $1 Yet?
Studies have shown that more than 70% of the people who want to make money online have not made their first dollar yet. So, you're not alone!
How Much Does Click Clone Cash Cost?
The initial price for this software is $39.99.  But the costs do not end there.
They actually expect you to pay up for a years hosting for your new website (the free one they claim you get) and that is either $90 for 6 months or $152.49 for twelve months.
At least, these are the prices we saw, but others have quoted other costs, like they keep changing it.
This basically takes away the option for you to try it out, and I bet you will really struggle to get a refund.
P.S. This program enabled us to Create a 4-Figure Monthly Passive Income Stream.  It's Free to get started and costs only $49/month to go full-time!
What We Liked About Click Clone Cash
Unfortunately, there was nothing we found positive to tell you about Click Clone Cash.  In my opinion, this program is misleading you at every turn and that makes it a scam in my book.
What We Didn't Like About Click Clone Cash
Here's what we didn't like about Click Clone Cash:
#1 False Claims & Hype
The first problem we had was the sales page, and the way they make it out that this system is going to help you own supercars and have endless riches from it.
There's also the fact that the guy in the video constantly talks about the income you are going to get in a really short amount of time.
The problem, and why these schemes work is the fact they know you are having money troubles.  They are claiming to help you out with it, if you handover a "small amount" of money.
But they never work like they do.  If they get 100 people to pay the $39.99 alone that is $3,999 they earn.
If that's all they get, then they still earn $4K and then they will move onto the next scheme.
This is how these things work.  You end up more in debt, and they get away with it.
If you want to learn about other ways you can avoid these types of scams, read this.
#2 Fake Owner
Josh Owens, the guy in the video makes it sound like such an awesome gig.  But he is in fact not the real owner…
He's just an actor they have hired to read through a script.  This is very common with these schemes.
The real owner never reveals himself, so when he gets found out and moves onto the next scheme.  Nobody knows, and he just hires a new actor or actress…
Tim Atkinson is the real brains behind this, and will try to avoid any exposure, otherwise his reign of scams will have to follow a different path.
#3 Fake Testimonials
When you review the number of programs we do, you start to spot a fake testimonial from a mile off.  The testimonials here are really extravagant.  One even claims to have earned almost $20,000 in just one day!
But there is no proof of what they are claiming, and you can also not find these people anywhere.
If they had a site that was earning that kind of money, you would be able to find them.
But you can't…  So, they are fake testimonials.
#4 Expensive Hosting
I'm not going to go into any great detail about what hosting is, but you do need it for your website.  But not at the prices they are quoting you.
The prices seem to fluctuate, but it seems they try to hook you in nice and early to buy either 6 months or 12 months worth.
But when you can find hosting for as cheap as $4 a month, why would you pay their prices.
The secondary concern with also placing your trust in their hosting is that if this scheme disappears ( it will), then you will also lose your website.  A website is hosted on a web host.  We use SiteRubix, if they were to close down tomorrow, I would lose my site.
But a trustworthy brand like SiteRubix isn't going anywhere.  The same cannot be said for Click Clone Cash.
Haven't Made Your First $1 Yet?
Studies have shown that more than 70% of the people who want to make money online have not made their first dollar yet. So, you're not alone!
Is Click Clone Cash a Scam?
I firmely believe that Click Clone Cash is a scam.
It tries to mislead you at every turn and doesn't provide you with anything that could actually put you on the right path towards having a profitable website.
They always try to only take a small amount of money, so you don't think you are risking much.  But inside they then try and take more.
You get no training, no support and don't expect to get a refund if you do decide you are going to risk it either.
Most people get ripped off by these things, but as it is a small amount, they don't always necessarily link it to a scam.  
For my part, I hope you don't follow this path f trying to find a quick and easy way to make money, as there is no legit program out there that does that.
But if you want to follow the right path, that has helped us earn money from the net, then keep on reading…
I know that you might be sitting there a little disappointed that this amazing income machine is actually a scam.  We got caught out very early on by a scam, where it was exactly the same.
We got caught up in the hype of earning thousands, only to find it really didn't work.
I don't fully regret it, as it led us to the path we landed on.  But I'm also glad I didn't lose a huge amount of money too.
If you want to carve out a living from the internet, it is totally possible.  But you need to put some misconceptions behind you.
For starters, if you want to earn money, then you need to earn it.  Nothing will be just given to you on a plate.  It has taken us a few years to get where we are.  If you want help and support, with some excellent training, we can point you in the right direction.
But you need to be the one that takes action from that training.  If you are able to spend some time every day taking action, then you will be in a position where you are earning money from the net and even travelling the world (when we get past the COVID restrictions). 
But it all starts with taking the first step.  If you're ready to do this, then click here to try out our top recommended training program.  It has awesome training, support, and you'll also get help from me.
Thanks for checking out our Click Clone Cash Review.  If you have any questions or comments to add, then please write them in the comments section. 😉