Welcome to our ShareASale Review!
If you have been looking into some affiliate networks to use within your affiliate marketing business, then you might ask yourself what is ShareASale about? 
Being an affiliate marketing network for quite a while, it has plenty to offer but is it worth your precious time? 
In this review I have gone through everything that a potential affiliate partner would be asking themselves before joining.
ShareASale Review Summary
Product Name: ShareASale
Founder: Brian Littleton
Product Type: Affiliate Network
Price: Free to Join
Best For: Affiliate Marketers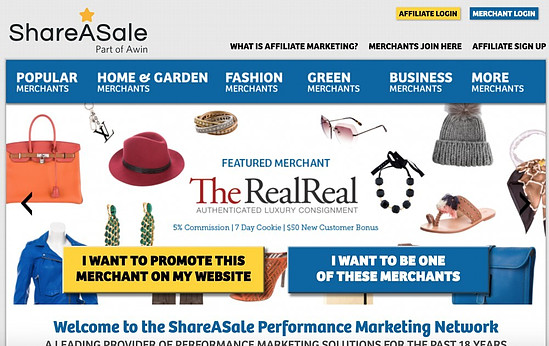 Summary: ShareASale is an affiliate network, and is part of the Awin network.  It connects merchants selling products with affiliates to promote them.  There is a minimum requirement of you needing a website.
But is a solid option for an Affiliate Marketer.
Rating: 85/100
Recommended? Yes
If you're still brand new to affiliate marketing, or haven't got a website yet.  Then I would recommend you check out our #1 Recommended Training program to get an excellent start with Affiliate Marketing. 🙂
ShareASale is an affiliate marketing network connecting merchants with affiliates who want to promote their brands for a percentage commission.  It is based out of the US, in Chicago and is actually part of the Awin Affiliate Network.  Brian Littleton founded ShareASale in 2000, so has been around for 18 years and to date it has around 4,5000 merchants and over 700,000 affiliates registered with them.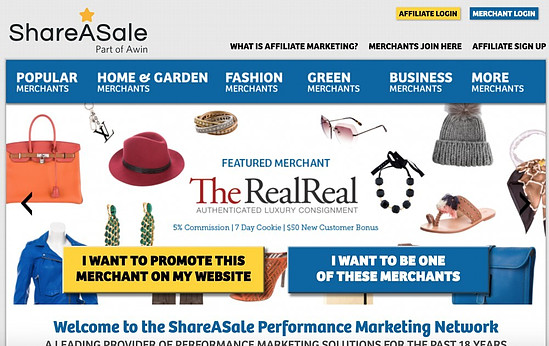 Whilst most of the merchants are looking for marketers (affiliates) to provide buyers for products, there are a couple of other ways you can earn commission by introducing leads.
This review will be focusing on the affiliate side, as this will tend to be the side my readers will be interested in more.
Related Post: How Does Affiliate Marketing Really Work?
Joining ShareASale Requirements
There is a minimum requirement to be able to sign up and start promoting the merchants on ShareASale.  This is a website or blog.  Even if you want to focus on promoting products via paid promotions, you will still need a website.
If you haven't got a website yet check out this guide to creating a free WordPress website for affiliate marketing.
Once you have a website, there are a number of questions you need to complete to go through the application.  Also note, that you will not gain immediate access.  A member of the ShareASale team will review your application – which is similar to the way Awin works. 
This makes sense as ShareASale is a part of the Awin network.
How Do You Make Money at ShareASale?
Whilst most of the merchants are looking for you to introduce buyers to their products and services, it isn't the only way to earn commissions within ShareASale.
Pay Per Sale
Every time you make a sale, you will earn a commission. The majority of the merchants work under this way.
Pay Per Lead
This is where you get paid if you introduce a lead, not necessarily a sale.  If you get someone to fill in a form, this can sometimes be enough.  The commission rate is typically lower than the pay per sale line, but still one to look for.
The best example I can use is insurance quotes.  If you get someone to use a comparison site comparing car insurance rates, this can be a typical pay per lead model.  If they don't end up buying the lead, it will not affect your payout.
Pay Per Click
This is where you can earn commissions if they click on the link you provide.  Whilst it looks like an easy way to earn money, you will not find many merchants operating this model and you need to have at least one qualifying pay-out before you can even use it.
Pay Per Call
This is one that I am not sure how many people will actually use, the eligibility of actually being able to advertise it does make it something for people who are already earning plenty of earnings through the other 3 methods.
Haven't Made Your First $1 Yet?
Studies have shown that more than 70% of the people who want to make money online have not made their first dollar yet. So, you're not alone!
Getting Paid At ShareASale
Let's start off by covering how much you need to have earned to be able to withdraw your earnings.  You need to have earned at least USD $50.00 to be able to get your earnings and they offer 3 different ways of payment.
Via Check (different fees apply for checks being mailed via FedEx to either Canada, US or the rest of the world)
Wire Deposit (into your bank)
Payoneer
They do not currently use PayPal, and not sure if they ever plan on using this method as they have decided to go with Payoneer.  You would need to create a Payoneer account to be able to use it, but not many retailers actually accept Payoneer payments.  But choose whichever method works for you.
What We Liked About ShareASale
Here's what we liked about ShareASale:
#1 Huge Catalogue of Merchants and Products to Choose from
The first benefit is the ability to look through a catalogue of merchants and products to be able to write content about and promote.  Having to search via the internet for products takes time and you would also need to sign up with each affiliate program you found.  Time better spent writing content
#2 Back-Office Dashboard
The back-office dashboard they provide is a great feature to keep an eye on how your promotions are working.  See sales, merchants and commissions in easy to read reports.  You can also dig a little deeper into each to understand how you are getting on.
#3 Marketing Tools
They also offer numerous marketing tools to help you promote.  Promo banners and widgets, access to data feeds and more.
What We Didn't Like About ShareASale
Here's what we didn't like about ShareASale:
#1 Mixed Reviews on TrustPilot
There are some interesting reviews on TrustPilot about ShareASale.  Some querying getting paid, or even being approved and then rejected in the same week.
This might be unique cases, but there are definitely a few reviews – both good and bad to read on there…
Haven't Made Your First $1 Yet?
Studies have shown that more than 70% of the people who want to make money online have not made their first dollar yet. So, you're not alone!
My ShareASale Review - Final Conclusion
ShareASale offers a high number of merchants and is definitely worth a look if you are an affiliate marketer looking for new products or services to add to your blog to promote.  With little fuss over being able to apply, other than having a website there are no hoops to jump through unlike other networks.
I would always suggest you review the list and ensure it is relevant to your audience, as looking through it I would find that being from the UK, I do not know many of the brands in certain niches and this would be a factor depending on where you are targeting with your website.
Being part of the Awin umbrella, does mean that ShareASale does get a positive score from me, as Awin is a very good affiliate network and is the largest in the world boasting a lot of merchants to advertise.  So is definitely worth a look at as well as looking at ShareASale.
If you're still relatively new to affiliate marketing, don't have a blog yet or are feeling lost with it all – we're here to help!
Affiliate Marketing is a fantastic way of making money online, but without the right training, tools, and support it can become a really hard slog to get anywhere… If you want to see where we learned everything we know, then I would recommend you read our Wealthy Affiliate review…
Thanks for checking out our ShareASale Review.  If you have any questions or comments to add, then please write them in the comments section below. 😉