Welcome to our The Lost Code Review!
If you're new to the online world, then you probably don't realise how many products Brendan Mace and Jono Armstrong launch.  The Lost Code is another one of them, and today we're going to be talking you through how this program works.
Brendan claims that The Lost Code will help you turn $13 into a weekly income of $4K… But is that the truth, or is The Lost Code a Scam?
First off, it's great to see that you're doing your research before buying into any "seemingly good" product.
That is how you avoid scams and find only legitimate ways to make money online!
To be completely transparent with you, we're not associated with The Lost Code (or Brendan Mace) in any form.  We're not here to pitch or sell you anything.
Instead, we want to reveal to you why this program is just typical of the numerous MMO programs that Mace/Armstrong launch and they never really live up to the hype and claims that are in the sales page.
To understand what we mean, keep reading our review…
The Lost Code Review Summary
Product Name: The Lost Code
Founder: Brendan Mace & Jono Armstrong
Product Type: Affiliate Marketing/Sales Funnel
Price: $13 + SIX UPSELLS
Best For: The Owners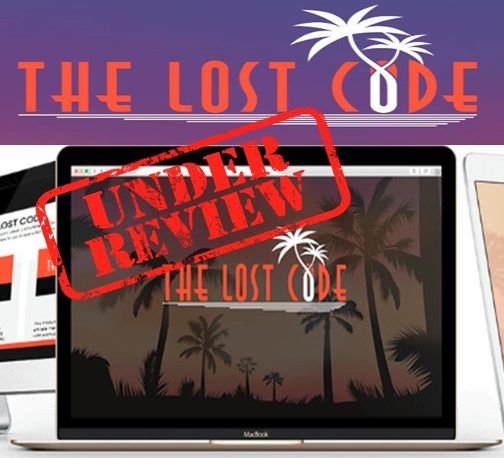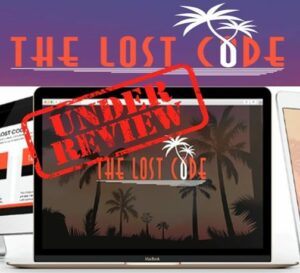 Summary: The Lost Code is another program from Brendan Mace & Jono Armstrong that claims to make you lots of money simply and quickly.  But it would be better to describe it as an online program about promoting high-ticket items.  But the problem is this program is really overhyped, misleading, and won't do what it claims to do, unless you spend the additional money on their upsells.
This is a typical sales funnel.  They bring you in with a low-priced front-end program then throw loads of expensive upsells at you, to unlock the "potential".  
Bottom line, I would not recommend this program to you, and their claims aren't realistic…
Rating: 30/100
Recommended? No!
The one thing that is really noticeable on their sales page is the fact that they offer literally no information about what you are going to be doing.  This is a common theme with these types of program, especially from Brendan Mace and Jono Armstrong.
All you find is some hype and claims about this "brand new method of taking tiny amounts of time and money, and turning it into big profits".
They also claim it has never been seen before, and is a technique that the top marketers use to multiply their profits.  But the biggest issue we have with their hype is the claims that you could even be making money from today!!
Unfortunately they have put in to their sales pitch is just sales hype designed to get you into their sales funnel for their expensive upsells…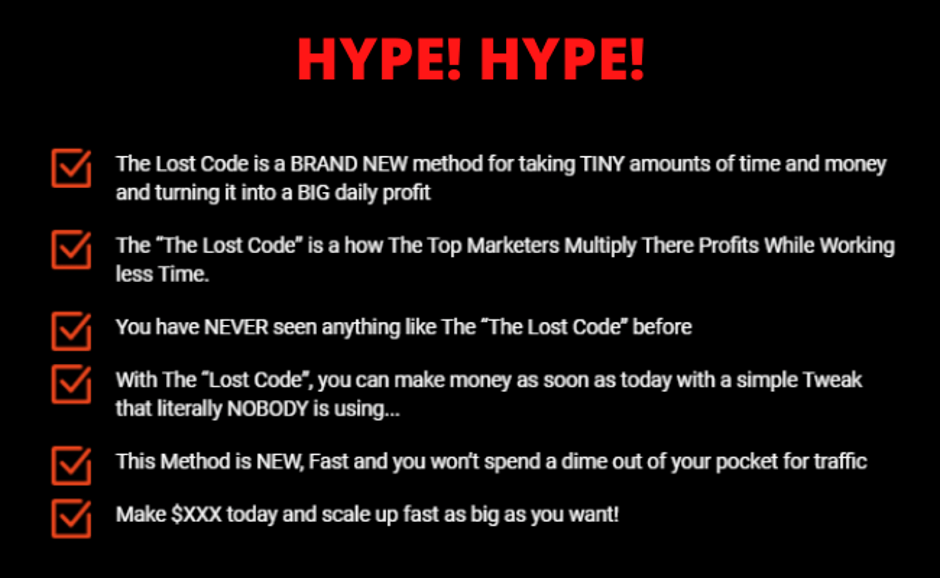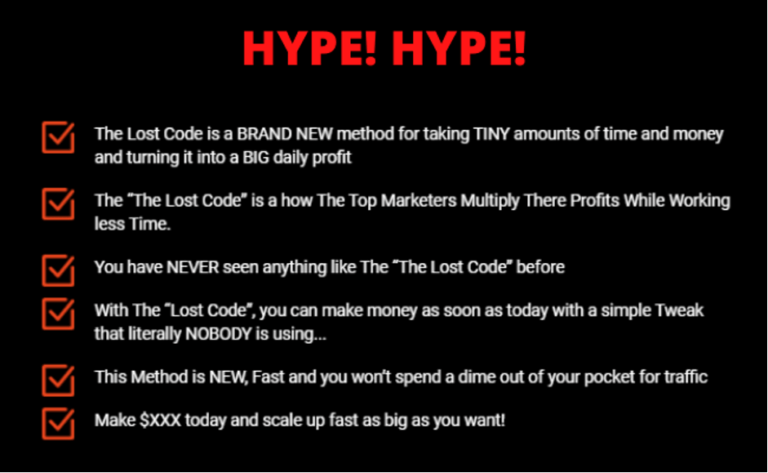 The business model, that the Lost Code is based on is legit.  It's all the hype and unrealistic claims that become the problem…
That business model is affiliate marketing, and the Lost Code uses that to sell high ticket items.
Just to add some context, Brendan and Jono are what we would call "serial product creators".  They have created hundreds of these so-called "get-rich-quick" schemes.  All with fancy sales hype and false promises, but then introduce you to a sales funnel full of upsells, oh and doesn't really work as well as they claim.
We have reviewed a number of them, including Beast Funnels, Super Funnels, but there are plenty more too.
Within the members area, Brendan Mace shows you how to make money with affiliate marketing selling high-ticket items.  He does this through four different methods:
Lost Code Money Pages
Auditon Money Method
Product Reviews
Your Very Own Webinar
In addition, he also shows you how to leverage these four methods, and teaches you how to get traffic as well.
This is done via three methods:
Free Traffic from YouTube
Cheap Traffic from Bing
3 Underground Traffic Sources
It all sounds fine so far, but's take a deeper look into how The Lost Code works before we jump to any conclusions…
How Does The Lost Code Work?
So, the basic idea behind The Lost Code is to show you how to promote high-ticket items to make money using Affiliate Marketing.  The training shows you how to find these items, how to promote them, and how to get traffic.
But to do all this, it also involves you buying their upsells…
The first method within the program is where you are offered to buy an upsell.  It's about getting access to Done-For-You pages and using them to make money.  They claim that this way, there is no need to create any promotional material of your own.
But you are basically receiving material to promote the same sales funnel you've just bought.
FYI – this first upsell is going to cost you $37
The second method within The Lost Code is about learning the various marketing tricks used to "manipulate" your visitors to make sales. 
After that, they move onto showing you how to create product reviews.  An example, you find a high-ticket item and create a thorough product review of it.  Aiming to rank it on YouTube and Google to get free traffic.  
The final method is about leveraging webinars to attracting people to your products.
Technically speaking, all of this methods are effective in their own way.  The biggest problem is the training that accompanies the methods.  It's not exactly structured well, and is not detailed enough to help a newbie get a good start.
As for Traffic Generation…
The Lost Code focuses on free traffic from YouTube.  This will require you to create videos.  Not everyone is that confident in front of a camera, so the back-up option is to pay for it using Bing Ads.  Be mindful as this is a paid traffic method, and it doesn't guarantee success like some claim.
After those two steps are discussed, Brendan and Jono reveal three "underground" sources to you.  These are not the best ways to get traffic, but they could work (in theory).
That is about it for what's within The Lost Code.  Know that you do get some basic training for your $13, but not nearly enough for you to make money as quickly or as easily as they claim.  And to even get close, you're going to need to buy the upsells.
Haven't Made Your First $1 Yet?
Studies have shown that more than 70% of the people who want to make money online have not made their first dollar yet. So, you're not alone!
I personally wouldn't recommend this course to anyone.  Let's face it, you're not going to get a lot for your $13, but still they are deliberately misleading newbies.  
It is sold as an introduction to high-ticket affiliate marketing sales, but like so many of these MMO programs, it leaves a lot to be desired…
How Much Does The Lost Code Cost?
On the face of it, it looks like a great deal, $13 to learn how to make money today!  But that is just the hype talking.  They claim it's a secret method, but it's a method that needs a lot more training than is on offer for $13.
It's like a dangling carrot.  You pay $13 and think you are getting a great deal, but that is just the tip of the iceberg, as you are only getting caught in their sales funnel.
Once inside, they throw six upsells at you, that are marketed as things you definitely need to speed the process up… Here's the list of upsells:
OTO #1 Done-For-You Campaigns – $37
OTO #2 Limitless Traffic For a Year – $197
OTO #3 52 Weeks Group Coaching – $397
OTO #4 Lifetime Campaigns – $197
OTO #5 Licence Rights – $97
OTO #6 Personal Coaching $2,000
This brings the total cost of The Lost Code to a staggering $2,398!!
There is no doubt in my mind that the front-end product will not work alone to help you to make money online.  I would also like to add, that there is no guarantee in anything.
You could spend the $3K, and still be nowhere near earning anything like they claimed.
P.S. This program enabled us to Create a 4-Figure Monthly Passive Income Stream.  It's Free to get started and costs only $49/month to go full-time!
What We Liked About The Lost Code
Here's what we liked about The Lost Code:
#1 Low Front End Price
You do get some basic training within the front-end product and it only costs £13.  But the training is only enough to warrant it not being claimed a scam…
#2 30-Day Money Back Guarantee
You can request your money back within 30-days.
What We Didn't Like About The Lost Code
Here's what we didn't like about The Lost Code:
#1 Overhyped & Misleading Income Claims
The sales page us just full of hype, and the income claims are totally misleading.  They are taking a legitimate business model and profiteering by misleading people with the timescales.  I know successful marketers who are earning 4-figure incomes a month from affiliate marketing.  But they are nowhere near earning $4k a week like this one is claiming.
Then there is the fact that you are being led to believe you are earning money by the end of the day…  totally misleading.
#2 Expensive Upsells
The fact that a $13 product turns into a $3K investment without any guarantees shows that these guys are more interested in earning more money, than helping people find a legitimate way to make money online.
Haven't Made Your First $1 Yet?
Studies have shown that more than 70% of the people who want to make money online have not made their first dollar yet. So, you're not alone!
To be honest, I'm torn on my decision.  On the one hand, you are getting some basic training that introduces you to a legit business model.  But on the other, you are totally being mislead with them even claiming you can start making money online today!
I personally would say it runs close to being considered a scam, but avoids the outright scam tag due to it offering training.
I wouldn't be convinced by the refund policy either, as Brendan could just ignore your request.
Brendan and Jono are both experienced and skilled marketers, but they prefer to create these sales funnels rather than actually helping people.  Their affiliates seem to make money as they promote these programs to unsuspecting newbies, which I don't think is very ethical.
I mean the income results he shows you have taken him years to achieve, but he claims you can do that in just a few hours… In what world is that right, or ethical?
Let's face it, the front end program will not work and the upsells needed to give you a chance are not a guarantee.  Avoid this program at all costs…
Affiliate Marketing, or high-ticket affiliate marketing are both legitimate business models.  But it's going to take a lot more than a hyped up sales page to actually help you achieve success with it.
You require correct methods and training to help you achieve it.  But the biggest problem with programs like The Lost Code is that they give you unrealistic timescales.  You could be an expert and still not be making money by the end of the day.
But if you put the required time and effort in, following a proven step-by-step training, then you could earn money within a realistic timescale.  If you want to learn more about affiliate marketing, then here's our complete guide.
My top recommended training program is the best option for a number of reasons…
Firstly, you get everything you need to start making money online for a fixed monthly fee ($49/month), with no upsells or hidden costs anywhere.
Secondly, the course has been proven to work for thousands of regular people, from all over the world.
Thirdly, thanks to their training it's enabled us to Create a 4-Figure Monthly Passive Income Stream…
The last, and best part is that it's totally free to try… Learn more about our top recommended training program here
Thanks for checking out our The Lost Code review!  If you have any questions or comments to add, then please write them in the comments section below. 😉