Welcome to our Healy World Review!
The Health and Wellness niche is probably one of the most crowded niches in the MLM world.  It brings with it plenty of different kinds of product, from supplements to diet plans, but today we're going to put the microscope on a company that provides fitness and medical watches.
Yes, we're going to take a closer look at Healy World by Marcus Schmieke.
First off, it's great to see that you're doing your research before buying into any "seemingly good" product.
That is how you avoid scams and find only legitimate ways to make money online!
To be completely transparent with you, we're not associated with Healy World in any form.  We're not here to pitch or sell you anything.
Instead, we're just here to reveal to you what this MLM has to offer, and whether we feel it's the right option or not…
Healy World Review Summary
Product Name: Healy World
Founder: Marcus Schmieke
Product Type: Health & Wellness Device MLM company
Price: $497 to $2,497 Business Packages
Best For: No One!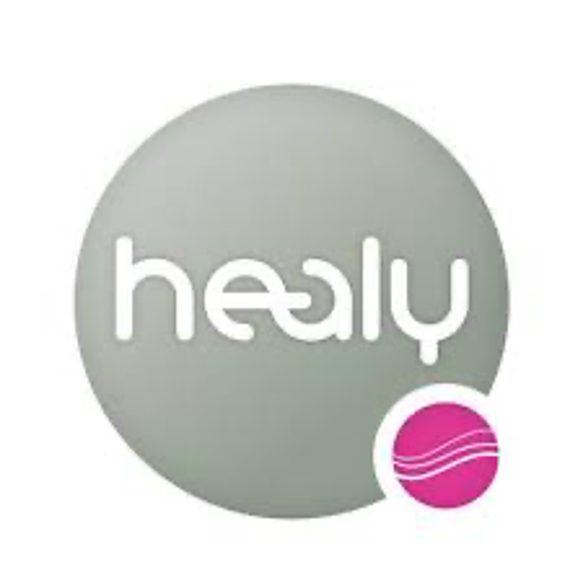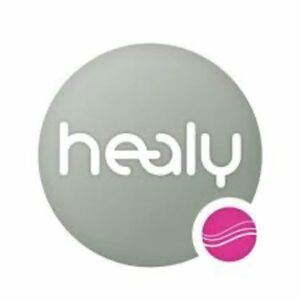 Summary: Healy World is an MLM or Multi-Level Marketing company that markets and sells wearable health devices.  Their main offer is a wearable device that comes with a wristband and other devices, partnered with a mobile app.
The problem is that their devices have no scientific proof that their medical claims are real, and their devices are just so expensive.  They're as expensive as devices offered by Apple or Samsung.
The income potential is not as appealing as it is made out before you sign up either, check out our review to learn more…
Rating: 45/100
Recommended? No
Healy World is an MLM or Multi-Level Marketing company that operates in the medical device niche within the health and wellness sector.  This is probably one of the rarest niches that we've seen within the MLM industry, with Healy World being one of the few companies that operate within it.
The company operates out of Berlin, Germany, along with the device's inventor called Marcus Schmieke.  The CEO of the company is called Dirc Zahlman.
Healy World, apparently, works hand-in-hand as TimeWaver, who offers the full-size devices that you cannot simply wear.  Whereas Healy World offers a mobile version of the unit, with the claim that despite it's smaller size, they offer the same type of healing benefits.
However, there is no MLM opportunity at TimeWaver, outside of Healy.
Healy World is operated out of 42 countries, with plans to launch in North America.
Healy World comes with a line of wearable health devices.  Although, I'm not sure how user friendly they are.  Their main product is the Healy World device, which they state is portable but seems to be more cumbersome, if you check out the image below you'll see what we mean: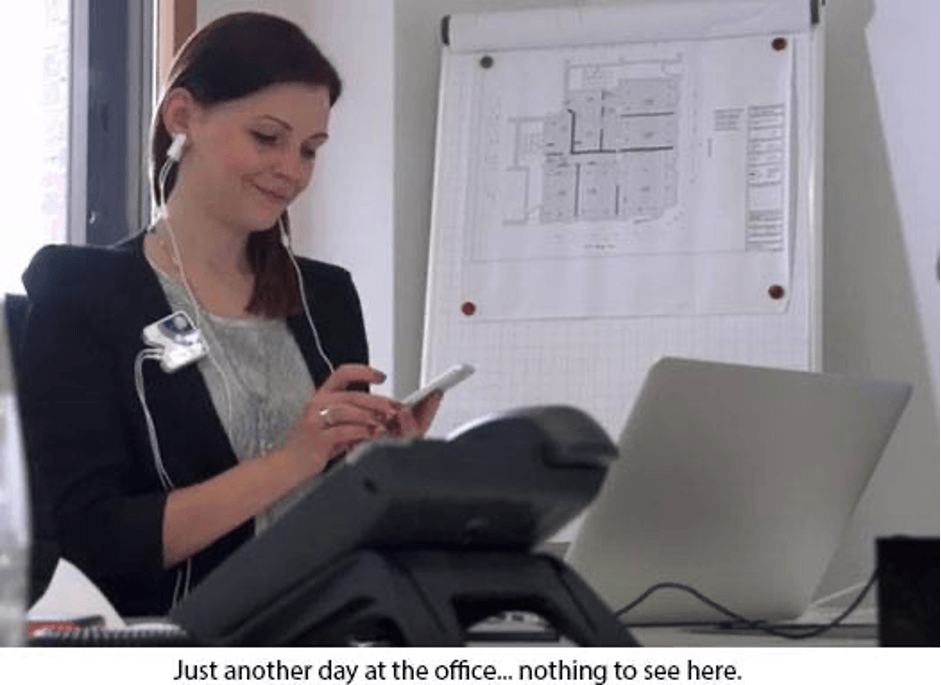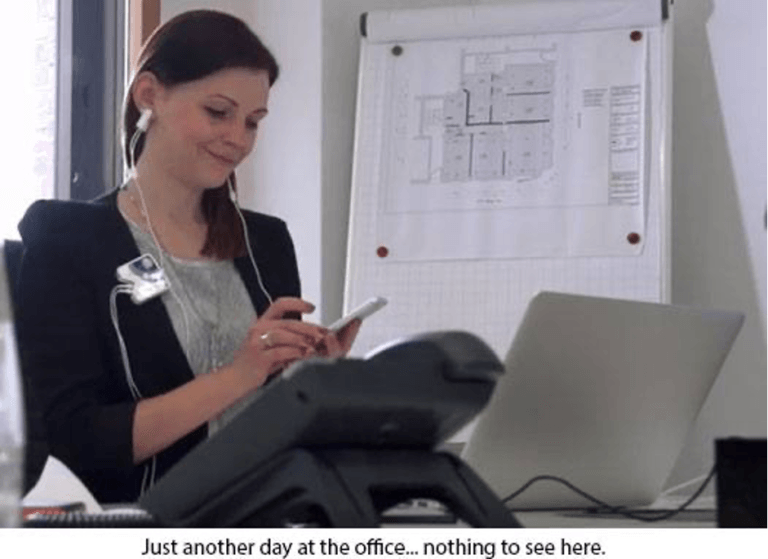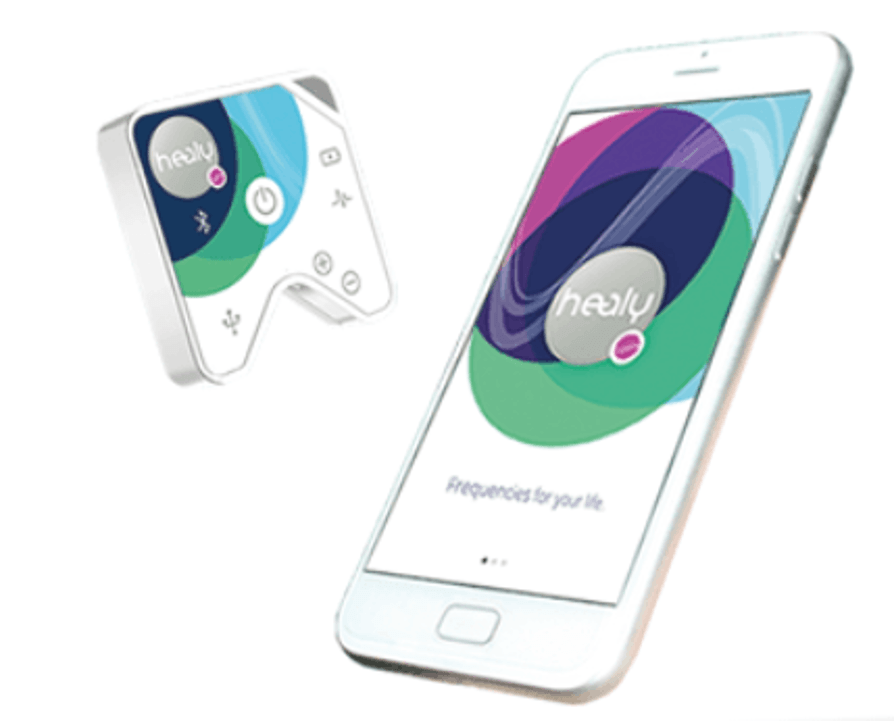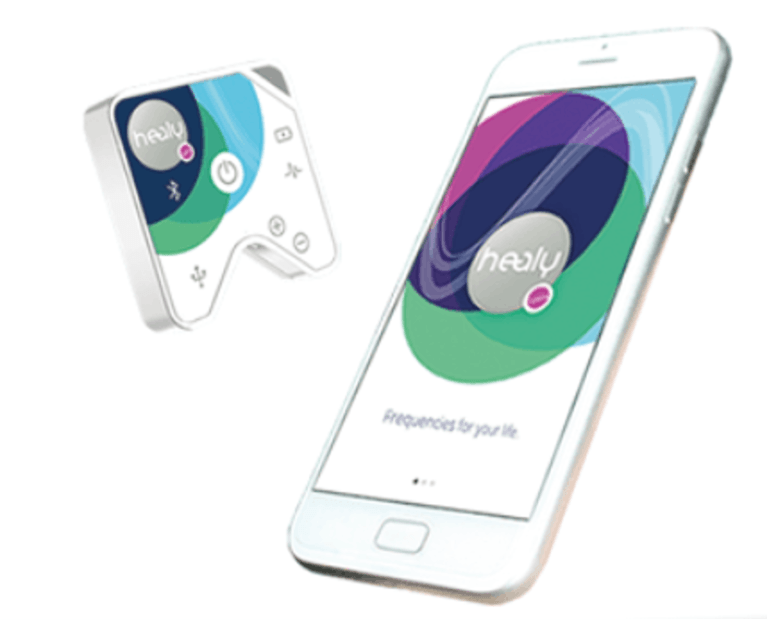 Simply put, the Healy World device is bulky and worn on the body.  You have clamps attached to your ears, wrist bands, or electrodes placed elsewhere on the body and connected to a mobile app.
Healy World claims the device can be used as a medical device, and can be use to treat chronic pain, fibromyalgia, skeletal pain and migraines.  They also it can be used in the therapy of mental illness, such as depression, anxiety, and associated sleep disorders.
However…
The company itself states that these applications that Healy has stated, are not recognised by conventional medicine, due to a lack of evidence.
This device costs $497, but the independent apps that you need, are required to be purchased separately.  This could bring the total cost up to $2,497 for the entire program.
You can also buy specific apps meant to help you with sleeping, fitness, skin issues, and more.
They have also launched a fitness watch that looks like this: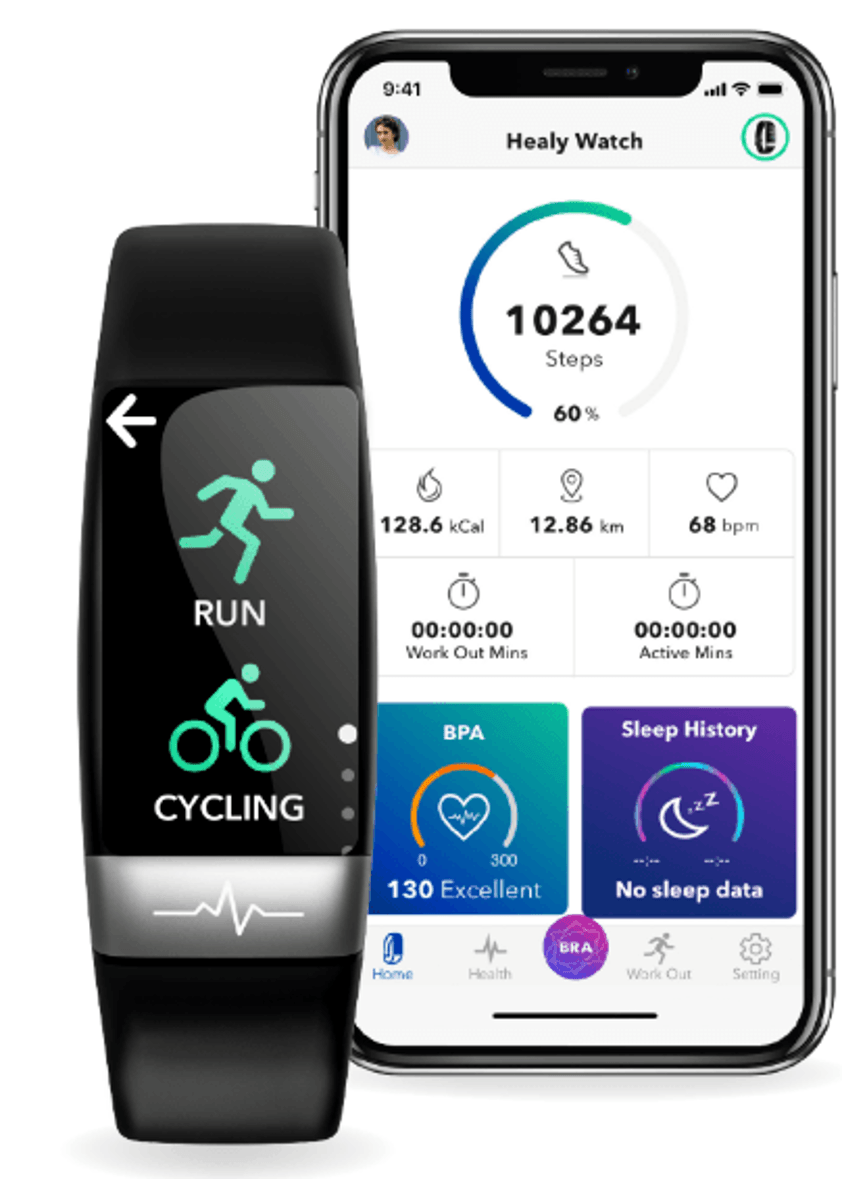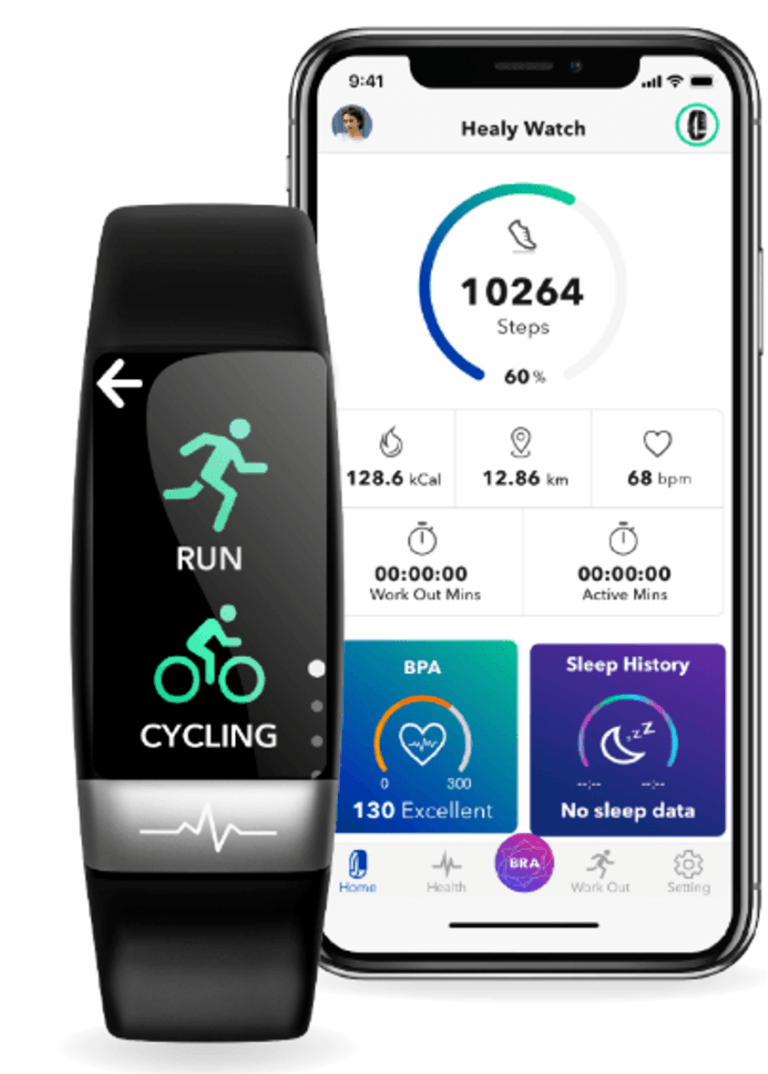 This isn't that different to the usual suspects when it comes to smart watches, for example, Apple, Fitbit, Samsung, etc.
It isn't use for medical issues, purely fitness.
Does the Product Work?
Where do we get started…
Like I said earlier, their medical and fitness claims have no scientific testing or back to speak of.  Their website actually tells you that science and orthodox medicine don't accept the existence of information fields or their medical relevance.
Their systems are not accepted due to a lack of scientific proof, based on orthodox medicinal standards.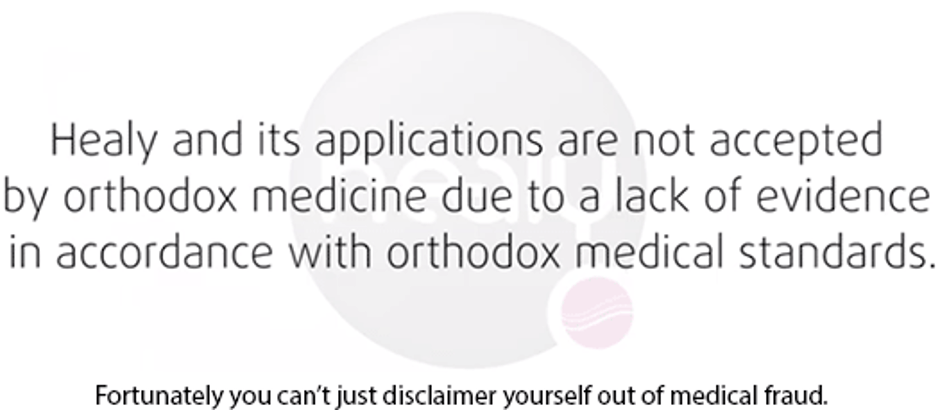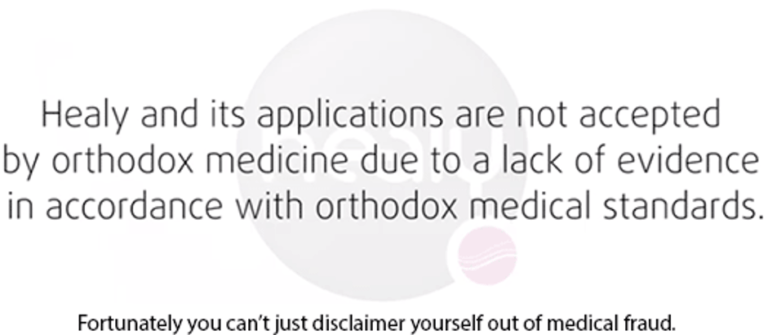 That is a major concern with this company or business opportunity.  There are more than 500,000 customers and some doctors, and therapists are using frequency therapy.
When you think about it, the company has been around for 12 years and have supposedly sold hundreds of thousands of these devices, but they haven't gone out of their way to do any actual scientific studies to prove their claims.
So, how do they get away with those claims?  Well, up to now is because they are operating in countries that aren't really strict with these claims.  For example, they're really popular in Romania.
I just don't believe these devices have been brought to the attention of the relevant authorities.  That is why they've never been caught by these agencies, and that's quite a surprise.
I mean they're making claims that they can treat mental illnesses, such as depression.  That is not only dangerous, but it's totally irresponsible too!
Bottom line is the products are questionable at best, for if they do actually work.  You also risk  being called out for promoting products that don't have scientific evidence behind them… 
How to Make Money with Healy World?
As Healy World is an MLM company, it brings with it your typical means to make money from their program:
Earn a commission from products you sell
Earn commissions from building a team (downline) and from their sales
Haven't Made Your First $1 Yet?
Studies have shown that more than 70% of the people who want to make money online have not made their first dollar yet. So, you're not alone!
Getting Started with Healy World...
The company doesn't actually explain how much it costs to join Healy World, and we're inclined to think it might be free to join, but you don't get any commissions when you sell a product.
There are several packages, ranging from $497 to $2,497.  Each of these packages will earn you a different percentage for your commissions.
Healy World Compensation Plan
The first thing you should know about their compensation plan is really long.  It's roughly 50 pages, so if you want to research it in detail, I would suggest you have a look at it in detail.
But as far as this review goes, we're just going to give you an overview of the important factors.
Healy World's compensation plan is measured in points.  You earn commissions based on how many points you sell.  The number of points vary depending on the package you are able to sell:
Healy Gold Package ($497) – 250 points
Healy Holistic Health ($997 – 600 points
Healy Holistic Health Plus ($1,497) – 900 points
Healy Resonance ($2,497) – 1400 points
As Healy World is an MLM, it also comes with Affiliate Ranks.
Affiliate Ranks
There are twelve ranks that you can work towards within Healy World.  This is determined by the number of points you can earn per week, or how many points your downline can earn.
Here are the twelve affiliate ranks:
Member
Builder
Team Leader
Senior Team Leader
Manager
Director
Senior Director
Senior Manager
Vice President
Senior Vice President
President
Senior President
To receive downline commissions, you'll need to be at least on the second rank (Builder).  To get to the second rank, you're required to recruit at least two people, who'll buy a package from you.
Retail Commissions
These commissions are dependant on how much you spend when you sign up.  The higher the package you buy, the more commission you earn.  Commissions range from 5% to 26%.
Residual Commissions
This is the commissions earned from recruiting people into your downline.  It follows a binary commission structure, where you earn 15% commissions on your weaker binary team side.
Matching Bonus
Matching bonuses are earned from residual commissions your downlines make.  This follows a unilevel structure that is dependent on your affiliate rank.
If you're on the second rank, you earn 10% on all residuals earned.  12th rank gets you 10% on all personal recruits and 5% on levels two to eight.
Leadership Bonus Pool Commissions
This is a commission pool that you can earn from, along with every other member that is able to qualify for this bonuse.  Healy World sets aside 1% of the company-wide sales volume earned.  It is shared within the "Top Leaders" of the company on  quarterly basis.
Here's My Top Recommendation to Start a Highly Profitable Online Business from The Comfort Of Your Home
What We Liked About Healy World
Here's what we liked about Healy World:
#1 The Company is Growing
Despite our reservations about this company, there is no denying that they are a company in growth.  Their 2018 sales had doubled in 2019, and apparently it's continually growing.  If you are able to utilise network marketing skills to good use, then you may have a good opportunity here.
What We Didn't Like About Healy World
Here's what we didn't like about Healy World:
#1 Pay to Play
I think it's bad that the amount of money you can earn is based on how much you initially spend to get into the business opportunity.  This makes it a Pay to Play model.  If you want to earn more money, then you're going to need to spend more in the first place.
It's one of the reasons why I don't personally like MLM, you end up spending loads in the hope of making money…
Despite this being a legitimate network marketing company, this can be a problem as not only is it expensive, but also because the FTC states that it's a red flag if the brand's incentive program forces members to purchase more products that they can sell.
#2 It's Too Expensive!
Their products are just too darn expensive.  When you consider how many people are struggling for money, especially in this pandemic, who has $2,497 to get this product, that has no scientific proof. 
You'd definitely get a high spec Apple or Samsung product for much less than that, and get a good deal in the bargain.
But the other side to that is that if you are going to try to see this expensive product, you are going to be up against this competitors.  There is a lot of trust in those brands, where is the trust in this Healy World products?
#3 No Evidence Their Products Work!
When you factor in the price of their products, you are going to have a hard time trying to sell these products.  But when you consider that there is no scientific proof that their devices have any medical benefits.  That makes it pretty much impossible to sell them.
If people want to spend over $1,000 on this watch, they're going to want to see some scientific or medical proof that it works.  It's the only way to justify such a stupidly high price tag.
Recommended: This program enables us to Create a 4-Figure Monthly Passive Income Stream… Learn more here…
Haven't Made Your First $1 Yet?
Studies have shown that more than 70% of the people who want to make money online have not made their first dollar yet. So, you're not alone!
Healy World is a legitimate MLM company, that has been around for a number of years.  Their products are real, although there is no proof they have the medical benefits they claim they do.
So, based on that we're not fans of their products or their compensation plan at all.
The products are just too expensive, with nothing to justify their price tags.  They are basically the same as the smartwatches you would buy from Apple, Samsung or Fitbit.  As they are much more expensive than those others, how are you going to convince others to buy them, over the latter.
As for their business model, it is running on a Pay to Play model, so basically you have to buy more to be able to make more.  That is just an awful way to do business, even for an MLM company.
I don't see anything positive from this business opportunity.
We're not fans of MLM, not because it's illegal or not profitable, but because of all the restrictions and the expensive costs associated with it.
Instead, Affiliate Marketing is our top recommended business model for anyone looking to make money online!
The reasons are simple…
There is no need to recruit anyone to make money online…
You have the freedom to promote any products you want and not being restricted to promoting the products from one MLM company
It's Free to get started
In fact, thanks to affiliate marketing we've created a 4-Figure Monthly Passive Income Stream.  If you want to learn more about this awesome business model, click here.
Thanks for checking out our Healy World Review!  If you have any questions or comments to add, then please write them below in the comments section below. 😉