Welcome to our Commission Code Review!
Have you seen an ad for a program that claims to solve all of your money problems with a "Secret Method" not many people know?  Or maybe, someone has sent you a link telling you to buy this program that will help you earn thousands of dollars with very little effort… Are you wondering if that is legit? or Is Commission Code a Scam?
First off, it is great to see that to you are doing some research before buying into any "seemingly good" product.
That is how you avoid scams and find only legitimate ways to make money online!
The Commission Code makes some bold promises with some hype thrown in.  They also talk about a secret way of making money and if you buy their product, they promise to share that secret with you.  But is it really secret?  No, is the short answer.  I agree, not many people may know the method they are talking about but it isn't a huge secret.
It is just the fact that you may not know of it yet…  We weren't aware of the method before we found it, but once you do know the method (and we will share it with you in the this review), you will soon realise that you have been involved in it, maybe as a buyer, but hadn't known it was called that.
In this review, we will share with you what we found out about the Commission Code, including that "so-called Secret Method", show you how the system works and ultimately, whether it is worthwhile you handing over your money for.
Is Commission Code a Scam?  Let's find out, shall we?
Commission Code Review Summary
Product Name: Commission Code
Owner: William & Simon
Product Type: Done-For- You (DFY) Affiliate Marketing
Price: $9 (first month), then $47/month + Upsells & Hidden Costs
Best For: Affiliates Wanting to Promote Commission Code & The Owners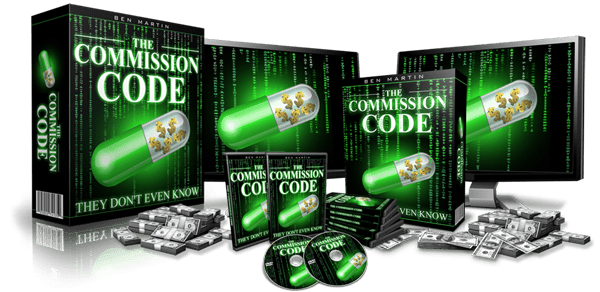 Summary: Commission Code is a Done-For-You (DFY) Affiliate Marketing program to basically promote Commission Code and other ClickBank products to people.  It provides you with a DFY website and some DFY content and DFY Email Swipe files, which will present their own problems (which we will go through). But it also presents the same problem all of these DFY programs have, Traffic.  If you have no traffic you cannot hope to make money, they say they provide you a proven method – but you will have to pay to use it and it is nowhere near as reliable as they claim (again, we will go through this too).
There are a number of red flags with this program, including all the usual hype and bold promises that will not come to pass, fake testmonials (we will prove it) and then there are the endless upsells that you will be presented to before you even get into the member's area.
I would be hesitant in labelling this a true scam, but it is just another low quality program that plays on the heartstrings to get beginners hooked into their sales funnel and leave them empty handed, whilst the owners walk away with your money.
My recommendation would be to avoid this program.  Affiliate Marketing is Legit, but these people are not out to help you.  If you want proper help to get started with a fantastic business model that has a proven track record, then click the button below and see how our #1 Recommended Training program can help you, and it is FREE to get started…
Rating: 20/100
Recommended? No
If you watched the sales video (it goes on for a bit, doesn't it?), then you will walk away with a couple of conclusions:
They are making promises about endless earnings with a "Secret Method" and it will solve all of your money problems…
You see testimonials from people saying they have benefited from this system (although they say exactly the same thing as the owner)
But the biggest conclusion we walked away from the sales video with was, YOU DON'T LEARN WHAT YOU WILL BE DOING?
We have reviewed many DFY programs and these sales videos are all designed to pull you in and promise to solve all of your money problems with one simple system that doesn't require a lot of time and effort, just follow their simple steps…  We have been online for a few years and now and none of these programs work exactly as they state and they all tell you these amazing things, but fail to tell you what you will be doing.
The reason is, if they told you the premise of the method in the sales video, you will see the huge holes in their method.
So, What is The Commission Code?
The Commission Code is a Done-For-You (DFY) Affiliate Marketing Sales Funnel. You will be provided with some DFY Email Swipes to use with Email Marketing and DFY Landing Pages to use with a website and together they help you promote Commission Code and other ClickBank products using Affiliate Marketing.
In a sense there is nothing wrong with that, except for the fact that they will not help you earn money as quickly or as easily as they claim.
But before we go any further into Commission Code, let's talk about Affiliate Marketing.  We may think Commission Code is not worth your time, but Affiliate Marketing itself is our top recommended business model for beginners getting started online and wanting to make money and it is definitely legit!
What is Affiliate Marketing?
Affiliate Marketing is the "Secret" they are basing their platform on, and is our top recommended business of choice, but what is it?
You may not have heard of the term, but you may have been involved in it, without ever realising.
Affiliate Marketing is where you earn a commission for introducing a buyer to a product that a seller is selling.  Or it could be a "Refer a Friend" scheme.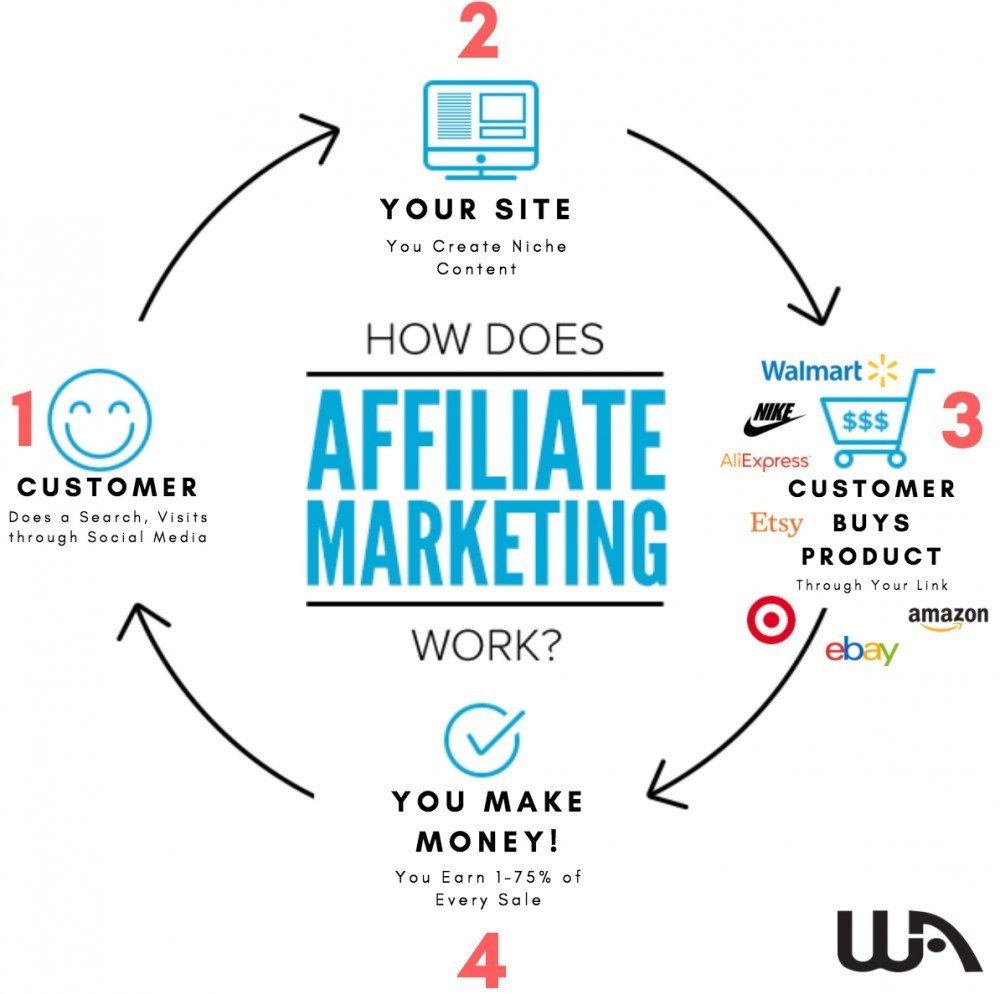 If you took Amazon as an example, you could sign up with their Affiliate account (called Amazon Associates) and then you can promote any of the products that Amazon sells.  If you were to build a website all about a hobby or passion you have, and include reviews about products related to that niche, you could then include affiliate links in those reviews.  If someone lands on your website and clicks on an affiliate link and then goes and buys that product (or anything else, whilst they are there) you will earn a commission.  This will be a percentage of the product price.
There is a real opportunity to make money with Affiliate Marketing, and there are real Affiliate Marketers out there earning thousands of dollars a month. 
But the ones that are earning good money and want to help people (not all of them are) will tell that you need to work hard if you want to see results.  There are those that are more interested in earning more money for themselves and they do this by building scams or low quality programs and sell them, knowing they will not help you achieve your goals, but they don't care about that.  As long as they earn more money, they are happy.  If that leaves you in debt, they aren't really bothered.
Commission Code uses the same method, but they are using Digital Products that are sold on the marketplace called ClickBank.  Digital Products do tend to have a high commission rate, which is typically 50% and above and they are also trying to get you to target recurring commission type products as that means you will earn money every month someone stays a member.
There is nothing wrong in that, however it is the fact that they don't show you the full story and how to achieve this effectively.  They know that you will have to rely on everything they say in their platform and it misses out on some key methods of attracting traffic and they know this.  But they also know, you don't know this.
ClickBank is one of the largest marketplaces online for selling Digital Products.  But it is also well-known for the lack of checks it does on products that are sold on the marketplace.  We have reviewed a number of scams from the ClickBank marketplace and some are still available (Here are some examples – ).
But the point is, Commission Code could work or not work and it will still be available.
DFY systems are not necessarily the problem, but the biggest issue is that they make you believe that they are doing everything for you.  Commission Code even gives you a traffic method, which is the essential ingredient to making money online, but that method is not as effective as they make out and you will have to pay for that traffic too.  There are also a few other hidden costs with Commission Code too.  
Let's get into the details in our next section…
If you did decide to purchase Commission Code, you will be taken through a sales funnel that will present you with a number of upsells along the way.  Each of these One-Time-Offer products aim at giving you quicker and better routes of achieving your financial goals… (we advise you to not buy them).
But once you are through these, you will eventually get to the members area.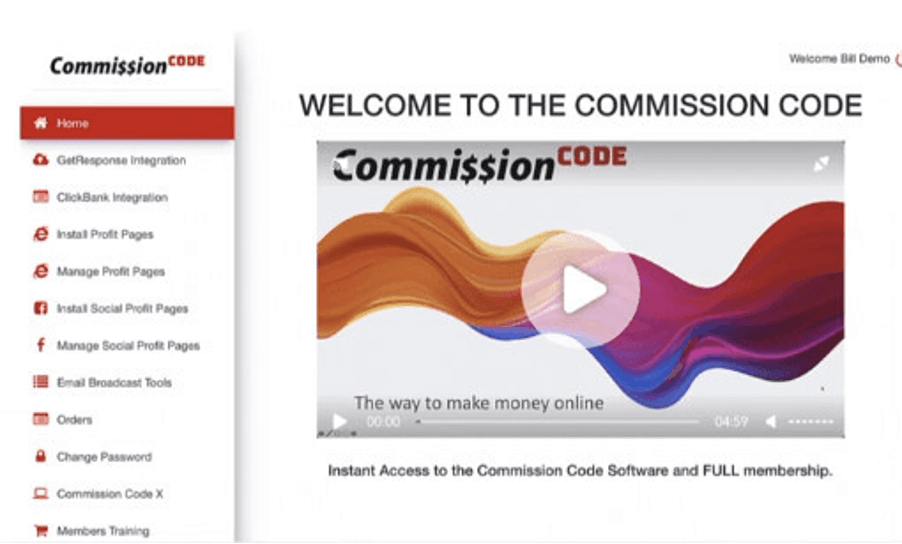 When you are in the members area, you will find a number of tabs along the left hand side and training videos to help you achieve the steps you need to take.  These include signing up with ClickBank and getting your affiliate link for Commission Code (yep, your initial training is about reselling Commission Code onto others).
They also tell you that you need to integrate it with an Autoresponder to be able to push your affiliate offers through Email Marketing.  To do this, they recommend GetResponse.  GetResponse is legit and does offer a free trial, but then does cost you $15/month and that cost will increase as you increase the number of subscribers.
If you believe the sales hype, you will think that you will start earning prior to needing to pay for GetResponse, but I woudn't get your hopes up…
You will also need to get yourself a free WordPress website to be able to install your landing pages onto.  There are many providers for a free WordPress website, our recommendation is SiteRubix (and you get some excellent training thrown in too).
Then we get into how you will be getting traffic to your offers, which is all focused around Facebook.
You will only be shown how you can attract traffic to your landing pages and email capture pages through Facebook.  There isn't anything really wrong with that.  But initially, that means if you want to not pay for traffic, you will be promoting your offers to friends and family.  You will be sharing your promotions to your friends and family and possibly promoting low-quality or scam products to them.
If you want to expand your reach, you will need to rely on Facebook Ads.  Again, nothing wrong with that, but you need to know exactly who to target and you need to be earning more than you are spending to be profitable.
The more you explore this program, you start to realise that you will not be earning the money William (not his real name) has promised you, in fact you could end up in quite a bit of debt chasing your dream.
If you want to be successful with affiliate marketing, you need to learn all effective methods of online marketing, not just the methods that these guys want you to learn.
They focus on Facebook marketing, because they know that their DFY landing pages will be classed as duplicate content and not rank in the search engines at all, cutting off any chance of getting free traffic to your pages.  That is why they use Email Marketing, because they is no real issue with using duplicate emails (there are few other issues).
They also know that Facebook Ads are less restrictive than other platforms like Google Ads.
They also aim this product at beginners, because they lack the knowledge to understand the restrictions of a DFY program.  They also hope you don't do your research and just believe the BS they use in their Sales Hyped Video.
Haven't Made Your First $1 Yet?
Studies have shown that more than 70% of the people who want to make money online have not made their first dollar yet. So, you're not alone!
How Much Does Commission Code Cost?
The cost of Commission Code follows a similar vein to other similar products, that they charge you a low initial fee before you throwing a ton of upsells at you.
They start off with a low $9 at the beginning, but because of the tax, this actually becomes $9.59.  They are also honest about it costing $47/month going forward.
But before you even get to the members area, you are shown 3 OTO or One-Time-Offer products that they claim are essential to making you money faster and easier.
These OTO's cost $197, $147 & $247 respectively.  Even though they are supposed to be One-Time-Offers, they will offer you a $50 discount on the first two if you try to skip them.
Overall, if you were to buy all of the OTO upsells and stay a member for a year, which is the kind of timeframe you need to give yourself with Affiliate Marketing, you are looking at a grand total of $1,204!!
Then there are the hidden costs that they didn't talk to you about in the sales video.  The first is to do with your Email Marketing campaigns.  They provide you with Email swipe files to use (which look really scammy and are likely to be filtered out by your spam filter), but to manage your email subscribers you will need an Email Autoresponder like Aweber (the one we use).  Their recommendation is to get a GetResponse trial account.  GetResponse is legit and a good choice, but you should know that it will start to cost you $15/month just for the lowest number of subscribers, if you start to get more people joining your list, this cost will increase incrementally.
Then their "free traffic" option is actually to do with Facebook and they will start to talk to you about using Paid Ads via Facebook for better results.  Facebook Ads can be expensive and cost you a lot of money, if you are not using them in the best way.  Either way, you will need a budget for this.
All of which was not discussed during the initial sales video.  You go from being told they provide you with everything you need, to find out that you need to actually spend more to make money with their way of doing things.
They talk about a free website, which they don't provide, they just recommend you go and get one.
Once inside, you start to realise the truth.  They have deliberately misled you from the start and there is no way you are going to be able to make money with this program in just "5 minutes and 14 clicks".
Far from it…
P.S. This program helped us to a 4-Figure Monthly Passive Income Stream and was FREE to get started with and only $49/month to go Full Time!
What We Liked About Commission Code
Here is what we liked about Commission Code:
#1 Introduction to Affiliate Marketing
Despite our reservations about the Commission Code, the positive side is that it has introduced you to Affiliate Marketing.  Affiliate Marketing is a legitimate business model that does help thousands of people earn a living from a hobby or passion online.
It will not work if you do not actually put some time and effort into it, as it is not a get-rich-quick scheme.  But for those that are willing to learn it correctly and then work hard to achieve your goals, it is the best way for you to make money online!!
Here is our complete guide on Affiliate Marketing, you will see what it takes and the possibilities it provides you…
# 60-Day Money-Back Guarantee
Commission Code is offered on the ClickBank marketplace, so it comes with a 60-Day Money-Back Guarantee.
If you are not satisfied, you can request your initial money back.  If you do find problems with this, go direct to ClickBank…
What We Didn't Like About Commission Code
Here is what we didn't like about Commission Code:
#1 Hyped-Up Results & Exaggerated Income Claims
They come straight out to bat with claims that you can earn over $1,000 with ClickBank and this program.  They also tell you that you will only need "5 Minutes & 14 Clicks…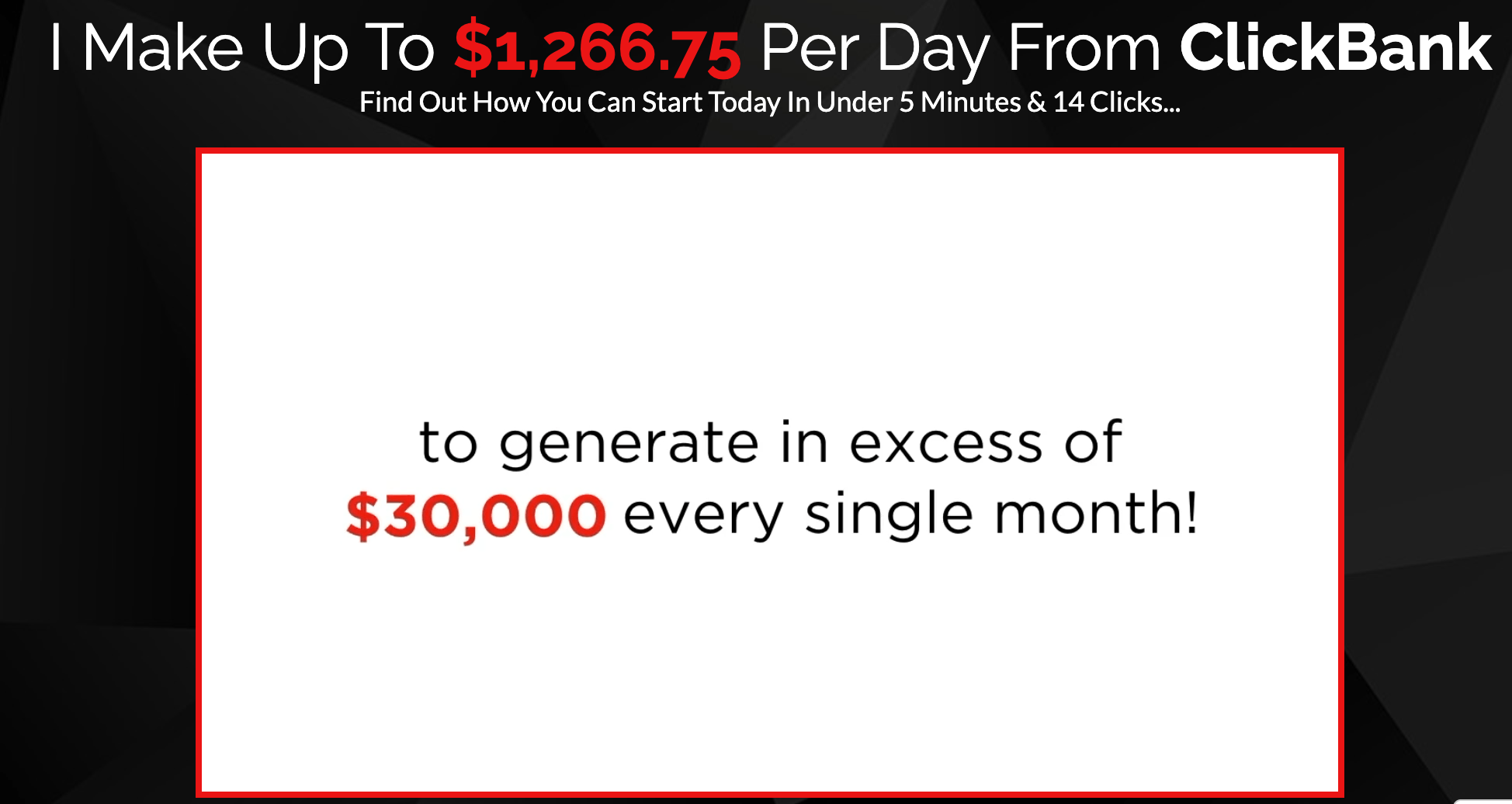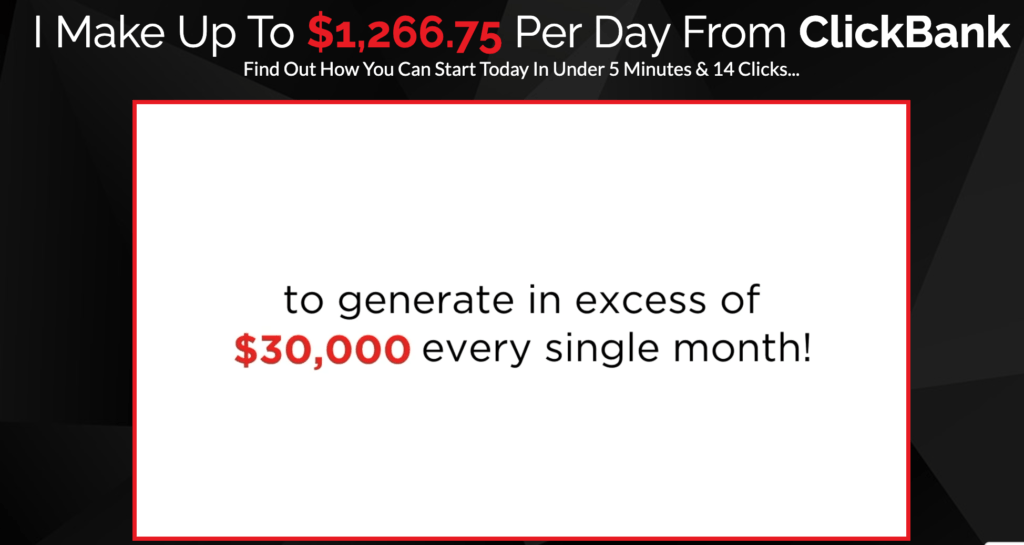 They make these claims to make you think these things are possible.  They also keep talking about a "secret method", which isn't really a secret, you just probably have not heard of affiliate marketing before.  But it has been around for years and there are genuine people earning money every month with it. 
But the difference is that they have all worked hard to achieve their success, they didn't find it with a "secret method" or shortcut.  They worked hard and are enjoying what they are doing.  They will also have typically chosen a niche they have some interest in and love to help people with it.
These DFY programs all restrict what you can actually promote (in this example, they want you to sell Commission Code to others) and use all this hype to convince you that it is the right decision, yet they fail to deliver on their promises.
During our research, the best answer for all is making money with Commission Code would be experienced marketers who have lists and traffic already and are selling Commission Code to others via overly positive reviews.  These reviews are not there to help you and are more about making the website owner more money.
You have to be really careful out there about who you trust.  Unfortunately, there are marketers out there that promote every MMO product online and give it a 10/10 with no negatives.  People trust their reviews and fall into the traps, that is what we don't like about the online MMO world.
All we can do is provide you with honest reviews and it is up to you to do your research and don't trust hype and promises alone.  You want to see some substance to what they are providing you.  Especially when you consider the rest of our list of dislikes.
#2 William is Not the Real Owner
A common trait of scams or low-quality schemes is that they will not provide you with their real name.  The reason is that they know at some point people will find out that they are not delivering on their promises.  At that point, they will close the program (if they do that, you lose all of your money making ability) and then they will lay low for a bit.  Then, they will typically relaunch the program again with a different name and start all over again.  Trying to convince innocent people that they program works again.  I bet they will probably still use the name William.  But I would put money on him not being the real owner.  You can hire people to talk through a video, so it might not even be his own voice.
During our research, we found reviews about this program from 2017… yet, this is supposed to have only just launched.  The reviews show screenshots with William quoted, but they talk about an owner called "Ben".
Either way, we do not believe that William or Simon, or anything about the story is actually true.
He learned it all from Simon in one evening and was making money straightaway…  Just more Hype and False Hope to get you to buy into his recurring membership making them richer…
We cannot confirm that the owner is fake or not, but we can prove the testimonials are fake.
#3 The Testimonials Are Fake!!!
During the sales video, you will see 3 people all raving about the success they found with Commission Code.  Although, not a single one of them actually mention Commission Code itself.  They just use the same words and terms that "William" uses in his sales video.
But with a little more research, you will actually find that the 3 people used in the testimonials are actually actors paid to give a testimonial.  Don't believe us, check out the images below.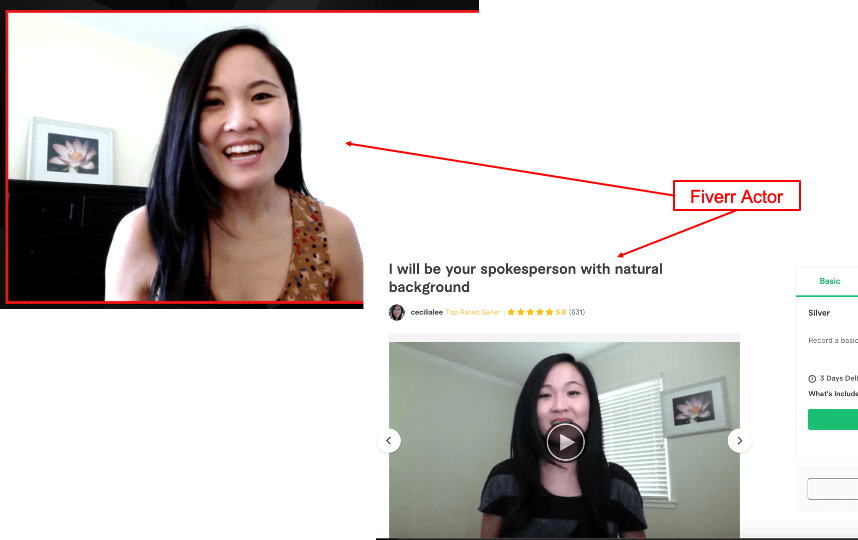 This is another technique by scammers where they hire actors from a freelancing platform called Fiverr.  It is a platform where they hire themselves out for money.  They will say whatever you want them to say.
Depending on how much you spend, the more convincing it will sound.  But either way they are reading from a script.  Please be really careful of testimonials, especially when they do not specifically name the product they are supposedly "raving about".
If you want more tips about how to spot a scam, here is our guide on how to avoid scams.
But this shows that this system does not work like the actors are saying, and if the product really did work they wouldn't have to hire freelancers to give you a testimonial.  A product that works will gain its own support without that need…
#4 DFY Systems Are Restrictive
It sounds great when these people promise you a DFY system that does all the work for you… but that is not really the case.
They do work, but for the owners as it is their sales funnel.  But trying to replicated it brings up a number of challenges and makes DFY systems very restrictive.
An example is that all of the content you will be provided will be duplicate content.  Using Email Marketing, that isn't such a big issue but does require you to rely on paid traffic, typically Solo Ads.
But with regards the website you put the content on, you will never get it ranking in the search engines in any form due to it being the same content as everyone else has.  This means that you will be completely reliant on paid forms of traffic or social media.
It is also restrictive in the sense that you do not get to choose what you want to promote.  You will be stuck with whatever fits with their funnel pages they give you.
If you wanted to build your own affiliate marketing business promoting weight loss or fishing, or photography or even crafting or baking, don't think you can tailor these pages to fit your needs.
Then there is the fact that you are completely reliant on their platform.  So, if the owners decided to close it down (maybe as a scam or to lay low), you will lose any income potential with this sales funnel.  You will also have not learned anything needed to go and replicate it yourself somewhere else.
P.S. This Training Helped Us to a 4-Figure Monthly Passive Income Stream, it's FREE to get started and only $49/month to go full-time!
#5 Traffic Source is Limited
Whenever you are dealing with duplicate content with DFY systems, it really limits the traffic streams you can use.
You cannot use many of the free sources of traffic, which comes from the search engines and this is a huge audience.  Think about how many people use Google or Bing to search for help with stuff, and you wouldn't be able to utilise that.
Email Marketing is effective, but you need traffic to your list capture pages to build up a list.
The traffic source they are getting you to rely on is Facebook.  Social Media has it's uses, but there are also many rules that you have to consider and you may get flagged as a scammer and a spammer and end up with your personal account being closed down.
Social media used as a part of your campaigns, promoting legitimate programs can be effective.  But that is not what you will be doing with Commission Code…
#6 Really Expensive With Hidden Costs
When I compare what you get with Commission Code and what I get with Wealthy Affiliate, our top recommended training program and the one we used to learn Affiliate Marketing.  There is no comparison.
They will both cost you $49/month.
But Wealthy Affiliate provides you with everything you need to learn and put into action what you learn to build a profitable online business.  It has proven methods that shows you step-by-step how to get started.  It provides you with websites, research tools, training and mentoring.  It even has a free starter membership to give you a good idea of what it is all about.
It also has no upsells.
But the Commission Code offers you the bare minimum and is expecting you to stick with it at $49/month and then throws a number of upsells at you, it also then has you having to pay more for additional bits that are required to promote Commission Code to others.
The owners are more interested in making money, rather than helping you make money.  Getting recurring commissions is a good thing, but not when you are offering nothing in return.
Haven't Made Your First $1 Yet?
Studies have shown that more than 70% of the people who want to make money online have not made their first dollar yet. So, you're not alone!
My Commission Code Review - Final Conclusion
Is The Commission Code a Scam? In our opinion, we do feel it has traits of a scam.  It is using fake testimonials and using a lot of hype to mislead people.  It is making promises that are clearly there to again mislead people into believing in get-rich-quick schemes.
So, overall we do think this is a scam or at least a low-quality program that you should avoid at all costs.  You will not learn how to build a sustainable business and will be stuck with a monthly cost that will start putting you into debt and no closer to earning the money that William(?) is claiming.
Commission Code is restrictive, hyped and the traffic source is limited.  There are some expensive upsells in the sales funnel and then there are hidden costs that a beginner would not consider and these again require a budget.
The only saving grace is that if you have already paid for the Commission Code is that you can request a refund through ClickBank…
If there is one thing I would like you to take away from this review is that Affiliate Marketing itself is Legit!
Unfortunately, there are too many people willing to mislead and take advantage of people who lack a little knowledge around how it works.  They talk about secrets or proven methods, but the honest reality is that the secret, if there were to be a secret is that "hard work" is the key.
If you find the right training program that offers support and the right step-by-step guide, then it still doesn't guarantee success as you need to put in the hard work that is required to put it all into action.
I am sorry to say, but there is no magic button system that will make you money on auto-pilot.  There is a point where you do get to that point with affiliate marketing, but it requires a lot of hard work to get to that point and when you do reach that point, you need to carry on working if you want to keep earning money regularly.  But the difference is that you choose when and where you work.
These people behind these programs are expert marketers, they could sell ice to the eskimos as it were.
They know you are probably looking for a quick way to make money and they claim to provide it to you.  Don't fall for it.
We can help you get started with Affiliate Marketing, you can choose a hobby or passion, something that you love to build a business on.  But you need to be willing to invest time and effort into it.
You can get started for free, and see if it is the right way for you.  But if you do not put any effort in, the only reason you will have failed is because you didn't work hard enough.
It took us 6 months to make our first dollar online, if we had given up in month 5, we could have said it didn't work.  But the reality is, we needed better expectations.
You can and you will earn money online, if you go into it with the right mindset!!
If you would like to learn more about affiliate marketing, check out our guide here.
If you would like to check out the same training program that taught us how to make money with affiliate marketing for FREE, then click here for a WA Starter Membership.
Thanks for checking out our Commission Code review.  If you have any questions or comments to add, then please write them in the comments section below.  We will respond to you as soon as we can. 😉