Welcome to Our Up2Give Review!
Seen an advert or has someone recommended Up2Give as the perfect way for you to earn thousands of dollars with Bitcoin???  Then you definitely need to read this review.
First off, it's great to see that you're doing your research before buying into any "seemingly good" product.
That is how you avoid scams and find only legitimate ways to make money online!
To be completely transparent with you, we're not associated with Up2Give in any form. We're not here to pitch or sell you anything.
Instead, we are going to take you through what we found out about Up2Give including how the program works, how you are going to make money with Up2Give and the more important questions – Is Up2Give a Scam or not…?
Let's get into the review…
Up2Give Review Summary
Product Name: Up2Give
Founder: Jerry Lopez and Andreas Kartrud
Product Type: Cash Gifting MLM (Pyramid Scheme) company
Price: 0.005 BTC or $48/month
Best For: No One! (SCAM)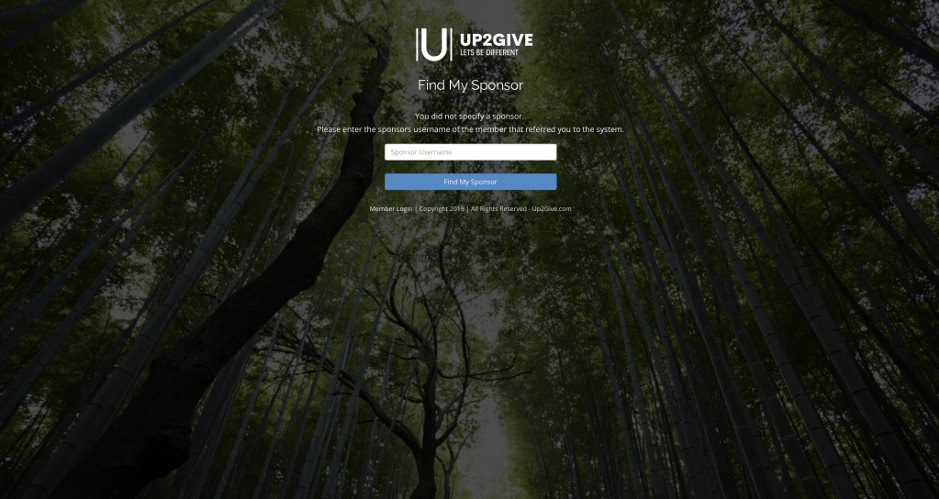 Summary:  Up2Give promotes themselves as the answer to your money-making dreams, but the reality is a much darker picture.  It is a cash-gifting pyramid scheme where the only way to make money is to recruit new people into the same scheme.  This is illegal in many countries. 
The owners are known to have shady pasts and have both been involved in illegal pyramid schemes and businesses that have been closed down for the same.  You will not earn the money of your dreams with this scheme, far from it. 
Avoid it at all costs!!
Rating: 1/100
Recommended? No
At first glance, you might be forgiven for thinking this a legit company with a humanitarian background that is helping people. 
But that is just a front.  Up2Give is a MLM or Multi-Level marketing company that is operating a cash-gifting scam that is disguised as a crowdfunding platform for philanthropic donations.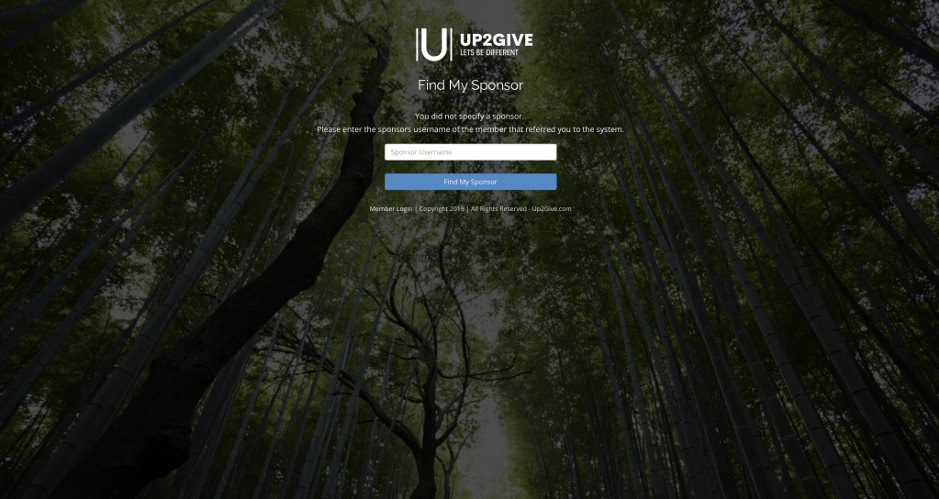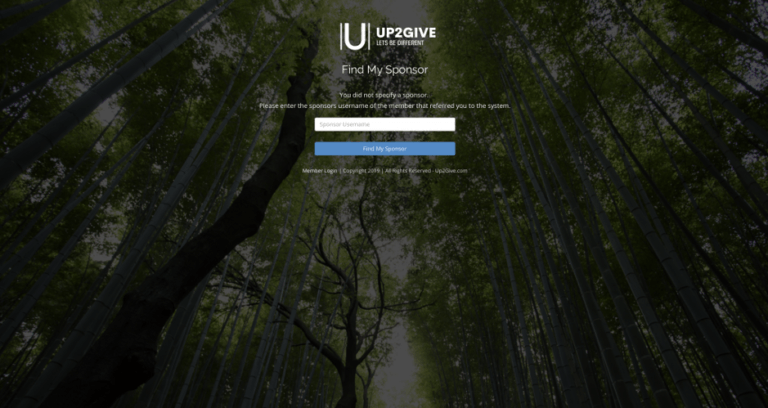 Their marketing is very misleading, but the only people they are going to be helping is themselves.  The platform relies on recruitment, a cash-gifting system disguised as an MLM.
The founders are Jerry Lopez and Andreas Kartrud.  Both are well-known in the industry, but that isn't a good thing when it comes to these two…
Jerry Lopez
Jerry Lopez introduces himself as a public speaker, a personal development coach as well as an international team builder.  He has history with an MLM company called LyfeStart International.  It was only in operation for six months before it was shut down, that was in 2014.
After this, he moved to another MLM called Sayi Health and then he moved onto Dunamis Global Tech.  This was a crypto currency MLM company that went under, before Oynx Lifestyle bought it out.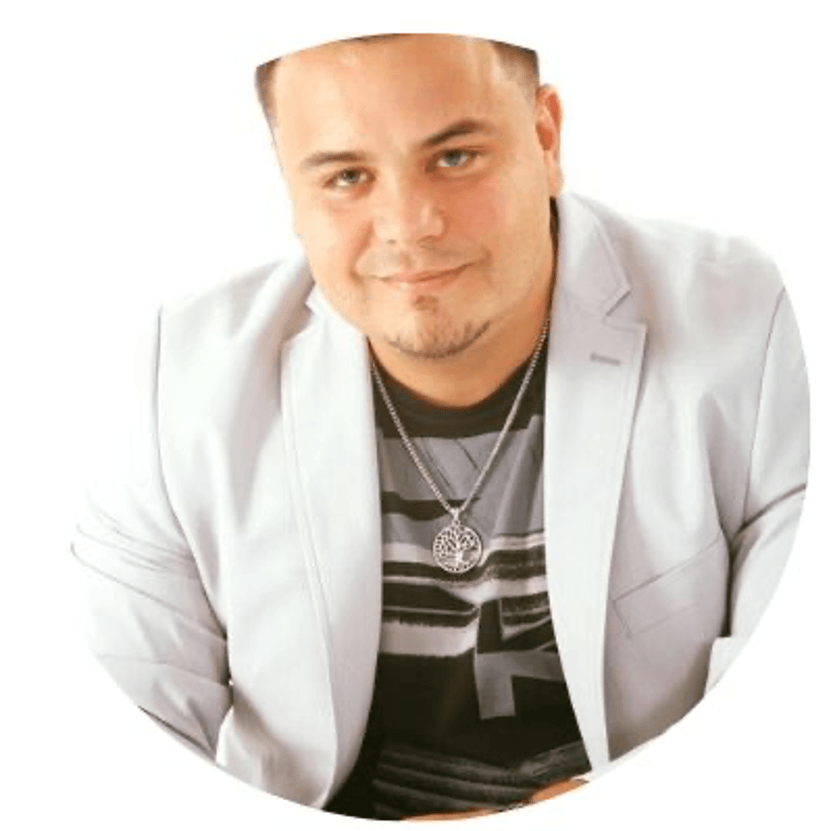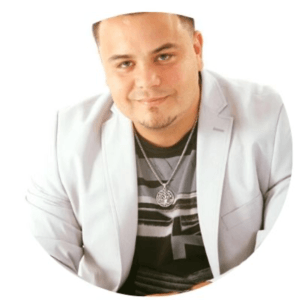 It is safe to say, he hasn't seen much success with any company he has been associated with…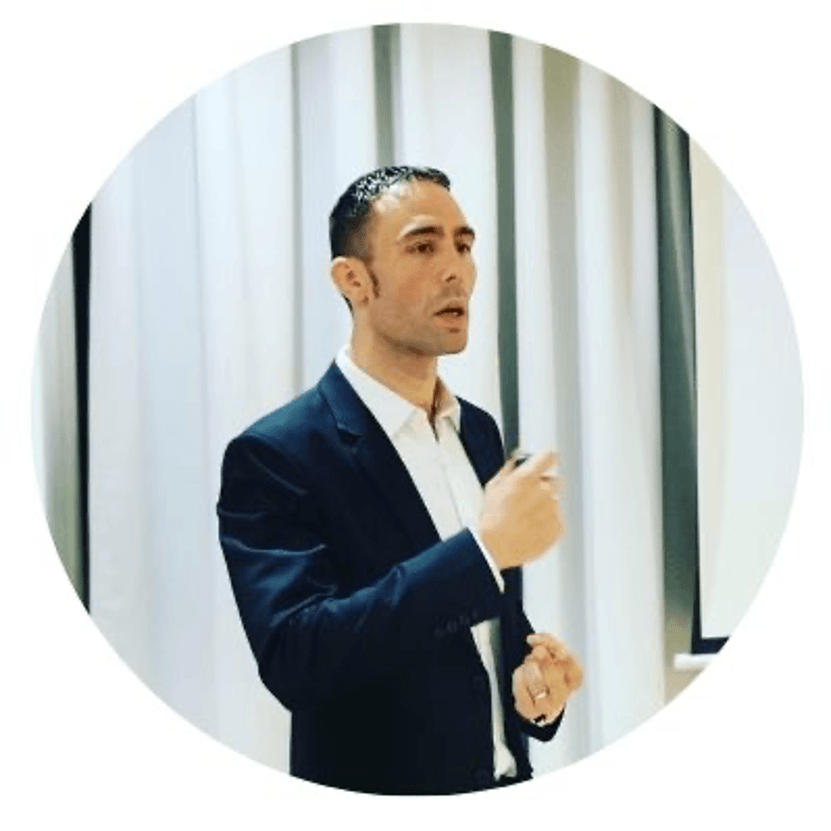 Andreas Kartrud
Kartrud doesn't have a better back story either.  He introduces himself as a professional network marketer, success coach and mentor.
He has worked with a company called Wo Token Wallet, which was a crypto scam program
Well, the short answer is that there is none.  A legit MLM company would have products or services for you to promote and earn money from.  But Up2Give is not a legit MLM company.
The only thing you have to promote is the membership into the cash-gifting system.
Even their landing page says they have nothing to sell.  But this makes Up2Give a Pyramid Scheme and not an MLM.
Pyramid Schemes are illegal, and I would bet money it wouldn't be long before the FTC are investigating this company.
I have to say no, Up2Give is similar to other crypto MLM's and other cash-gifting scams such as:
Uncrowdme
Club Cash Fund
IX Wallet
GoMiner
If you look into the details of each of these companies, you will find that they have the same method of scamming people as Up2Give.
Companies like this do not affiliate themselves with the Better Business Bureau (BBB).  It isn't always a red flag if they are not affiliated with them, but it makes it easier for them to do illegal things like cash gifting, etc.
That is why we do the research on these schemes so you can get the right information about them – and more importantly, tell you if they are a scam or not.
Haven't Made Your First $1 Yet?
Studies have shown that more than 70% of the people who want to make money online have not made their first dollar yet. So, you're not alone!
How to Make Money with Up2Give
Their compensation plan shows that the only way you will be making money is by recruiting more people into the scheme.  There are no products or services for you to promote and earn commissions off.
That is what cash gifting is all about.  Any new recruits you can bring in will be paying the commission directly to you.  The more people you can recruit, the more money you can earn.
Compare that to legitimate MLM companies that offer you several different options to make money.  Up2Give does not give you any other option but to recruit.  (A Clear sign it is a cash-gifting scam).
Getting Started with Up2Give
To join Up2Give as a member, you are going to need to pay with bitcoin.  You will need to pay at least 0.005 Bitcoin per month.  This works out to about $48.79 using the conversion rate at the time of writing this (Feb 2020).
But in order to get to the 2×6 Matrix, you would need to pay 1.345 Bitcoin each month.  This works out to about $13,043 per month.
That is how expensive this program really is, and that is why they can get you to think that you can earn big money by promoting this.  (it is the hope that someone is going to pay that, and you will receive that each month!!)
Up2Give Compensation Plan
These schemes try to keep their compensation plans as confusing as they can, so you don't really figure out how they work, and you just accept anything that they have written in their sales videos.  That way, they can take your money without you asking too many questions.
Their sales pitch is filled with facts and figures that may or may not be relevant to how it works at all.
But here is what we could find out about their compensation plan…
Initial Recruitment
Like we said earlier, you would need to pay 0.005 BTC to get into the program.  This amount is gifted to the person who recruited you.  As this system works on an invitation only basis, if you haven't been referred, they will help you find someone to pass that money onto.
To move to the next stage of the compensation plan, you will need to recruit two new people who would both have to pay the 0.005 BTC.  This is passed to you.  This then gives you 0.01 BTC, which then gets you into the 2×6 matrix.
Residual Commissions
This is all about building your downline or your team to make you passive income.  This is the part that resembles a Pyramid Scheme: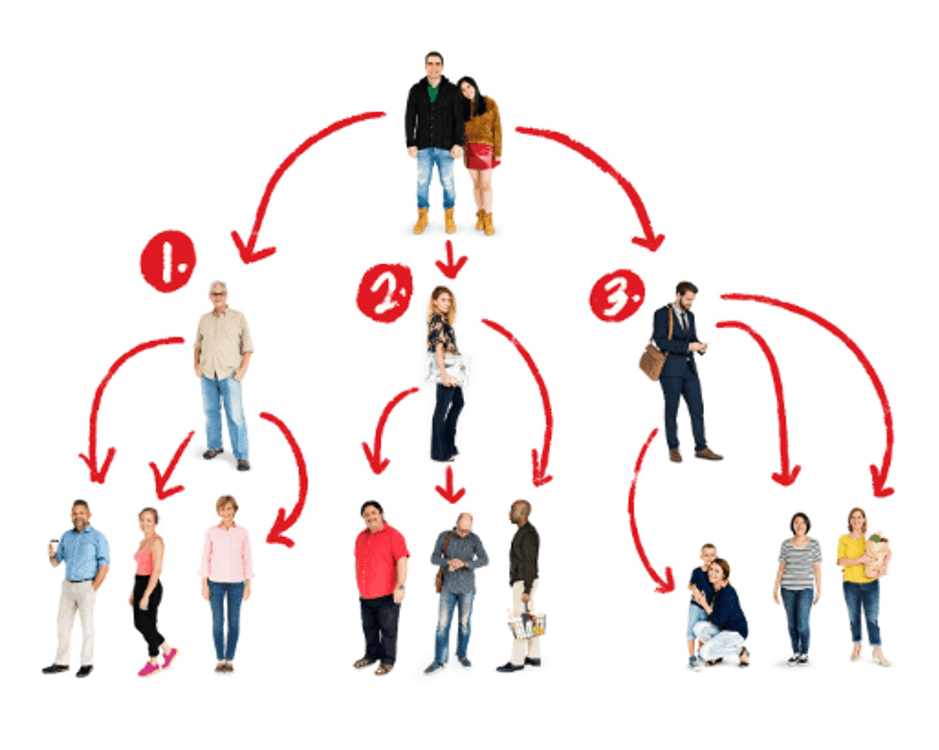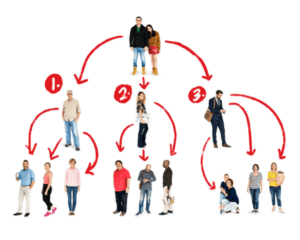 Once you have recruited those two people and have the 0.01 BTC, you will get into the 2×6 matrix, which looks like the image above.
As it is a cash gifting scheme, the money is passed up to the sponsor, who also has to pass up to their sponsor and likewise.
The sales video will tell you that you could be the one at the top of the pyramid where you could earn 64 BTC (a fantastic amount of money, if this was legit). But the reality is, you will not!!
What We Liked About Up2Give
I would to tell you that you could earn easy money through recruiting people via this site, but I cannot with good conscious do that. 
This a scam and you are likely to lose any money that you invest into this scheme. 
It is a Cash-Gifting Pyramid Scheme!!
What We Didn't Like About Up2Give
Here is what we didn't like about Up2Give:
#1 Only Source of Income is Through Recruitment
AS soon as we found out that the only source of earning any money with UP2Give was recruiting, we knew this was a Pyramid Scheme.  It has a 100% focus on recruiting new people.  This makes it illegal in many countries around the world, and I wouldn't be surprised if the FTC or other regulatory agencies find it before too long.
The below image is a great guideline on how to spot a Pyramid Scheme.  It is from the FTC and it basically describes UP2Give really well with the points they make: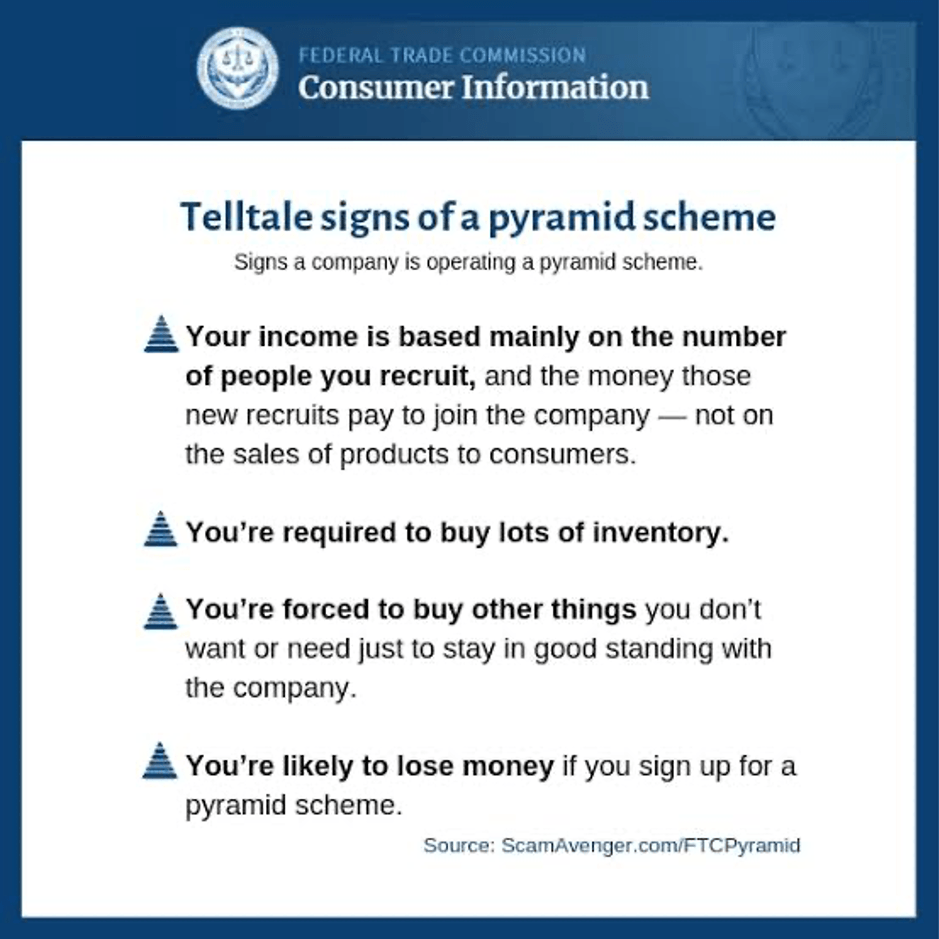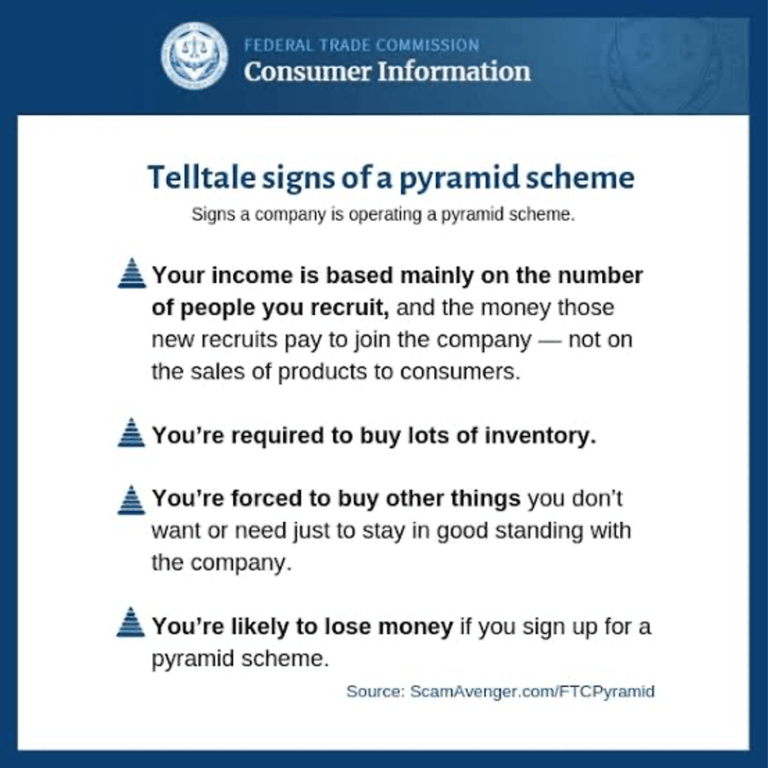 Whilst we only looked at the recruitment aspect of Up2Give today, you are very likely to lose money by signing up with this scheme.
#2 The Owners Reputation is Questionable
The owners behind UP2Give have a shady past and have been known to have been involved in cryptocurrency scams before.  It has been known for these scammers to close down one business and then open a new one (which is basically the same) to try and keep the FTC off their radar.
Whilst there is no guarantee that this is the case with UP2Give, it just seems too likely a fact to be ignored.
#3 This Will Collapse, What Happens to Your Money?
Pyramid Schemes collapse as soon as the source of capital is gone, i.e. Everyone stops joining it.  Once the recruitment aspect stops, there will be no more income for you to benefit from.  There is no profit being generated through this system and, you could be the last person who signs up.  You pass your money onto the person above you.  But there is no income to pass to you…
That is the biggest fundamental problem with Pyramid Schemes.  The person at the top is sitting pretty, the people at the bottom are losing their money and not earning anything.
Once the scheme has closed down and moved on, you are no better off because you have lost your money and nothing to show for it.  Best off, keeping well away.
Haven't Made Your First $1 Yet?
Studies have shown that more than 70% of the people who want to make money online have not made their first dollar yet. So, you're not alone!
My Up2Give Review - Final Conclusion
The short answer is… Yes, it is a scam.
Based on our research, it is an illegal recruitment only scheme or Pyramid Scheme. 
There is so much focus on recruitment without any products or services being sold on the platform. It is a pay to play platform, with no guarantee of earning anything.
The owners have been known to have been involved in Pyramid Schemes before, and they have both had businesses closed down prior to launching UP2Give.  It is highly likely that this could happen with Up2Give or they close it down prior to it being found out.
The income generated from the platform is non-existent.  The money only really servers to make the owners more money.  They have little regard for if it makes you any money.
Remember to start off with, your payment will probably be going to the owners as your sponsor…
In my opinion, you need to stay away from this platform.  Invest your time and money into a much better (and safer) option:
We are not a fan of MLM, not because it is illegal or that it isn't profitable, but because it is really restrictive, and the expensive costs involved.
That is why we recommend Affiliate Marketing.  It is our top recommended business model for anyone wanting to make money online.
The reasons are simple…
You don't have to recruit anyone to make money
You have the freedom to promote any products or services you want and not get restricted by only promoting products from one MLM company
NO face-to-face Selling is involved
It is FREE to get started
In fact, with affiliate marketing we are close to earning a 4-figure monthly passive income stream.  With the right help and guidance, you can too.  Click below to find out about our top recommended training platform for learning affiliate marketing:
Thanks for checking our out Up2Give Review.  If you have any questions or any experience with this program or any similar program we would love to hear from you.  Write them in the comments below and we will get back to you as soon as we can.