Welcome to my Cointiply Review!
Are you looking for a way to earn bitcoin and you have seen that Cointiply might be a good option, but you want to know a little more about it before you take the plunge?
I applaud that, doing your research is the best option to avoid online scams.  We have done a thorough research on Cointiply and want to share with you what we found…
There are a high proportion of scams within the cryptocurrency world, so it is really important you do your research before investing your time and money into anything.  You can always trust reviews either, we found a high number of overly positive reviews for Cointiply, which doesn't paint the real picture and as we know what we are doing, you see that it is because they can earn money through you joining via their review. 
We stay objective, if we recommend something it is because we would use it ourselves and not just because the commission rate is good.  This is our unbiased review of Cointiply, let's get started…
If you are looking for a way to earn money online, here is our complete guide on affiliate marketing – it is our top recommended method to making money online and it is also FREE to get started… Click HERE to learn more.
Cointiply Review Summary
Product Name: Cointiply
Founder: Unknown
Product Type: Bitcoin Faucet with PTC Business model
Price: Free Sign Up + Premium Membership
Best For: Those looking to earn (minimal) Bitcoin in their free time (low-income opportunity)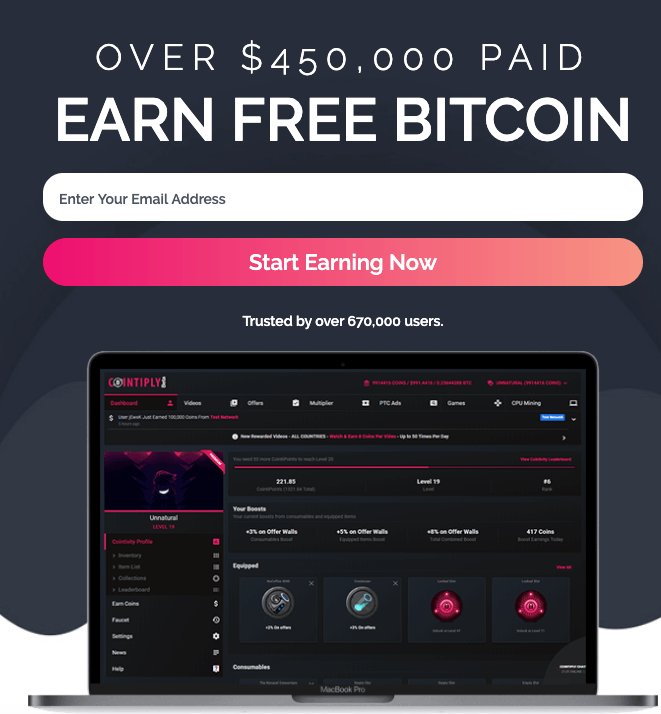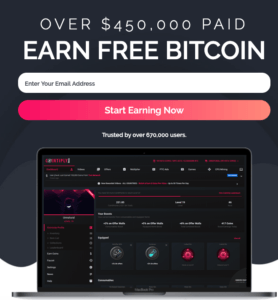 Pros
Free to Join
Multiple Ways to Earn Money
No Withdrawal Fees
Cons
Low Income Potential
Faucet Claim Limited to 2 Claims a Day
Loyalty Bonus is Reset If You Miss a Day
Summary:   Cointiply is a bitcoin faucet that allows you to earn bitcoin for completing tasks such as completing surveys, watching videos or playing games.  It is a typical PTC or Paid to Click website.  It is well established and can allow you to get into earning Bitcoin.  Our main concern is around the low-income opportunity it presents.  If you happy earning a really low income, it could be for you…
Rating: 43/100
Recommended? Yes & No (We'll Explain)
Cointiply describes itself as a Bitcoin Faucet.  Basically, you earn free Bitcoin by completing certain tasks, which we will get into shortly.  You will need to have a Bitcoin wallet to be able to accept the rewards.
You can earn a "Satoshi", which is a hundredth of a millionth BTC, by completing tasks such as taking surveys, watching videos, referring friends and playing games.
So, in essence it is similar to a normal PTC or Paid to Click website, but it pays out in Bitcoin
What is a Bitcoin Faucet?
Here is the details from Wikipedia…
A bitcoin faucet is a reward system, in the form of a website or app, that dispenses rewards in the form of a satoshi, which is a hundredth of a millionth BTC, for visitors to claim in exchange for completing a captcha or task as described by the website.
Let's be honest, PTC websites will not earn you a decent wage.  You will be lucky if you earn a few dollars through PTC.
Cointiply is no different.  Cointiply is for those who want to earn a fraction of Bitcoin by doing small tasks in your free time.  If you are ok with a low earning potential, then you might want to consider signing up with Cointiply.
If you are wanting a better way to make some serious money online, then I would suggest you check out our top recommended business model Affiliate Marketing.
Affiliate Marketing can even be used with Cryptocurrency's to make money online!! With the right training, you can make a full-time income with Affiliate Marketing.  But that kind of money will not happen from PTC websites.  If you want to learn more about Affiliate Marketing, click HERE.
How Do You Make Money with Cointiply?
Let's run through the ways to make money with Cointiply:
Paid Surveys
Completing surveys will earn you coins.  You will need to weigh up the time needed against the coins you earn. Online surveys are never really a great return for the time needed to complete them.

There are also some other offers such as downloading apps, signing up for free trials, contests, etc.
Bitcoin Faucet
Every time you roll the faucet, you will earn a reward.  How much depends on where it lands.  You used to be able to roll it every hour, but they have reduced this to a roll every 12 hours.
Here is how much you can earn:
Roll 1 to 69,999 – 9 Coins
Roll 70,000 to 89,999 – 13 Coins
Roll 90,000 to 96,999 – 21 Coins
Roll 97,000 to 98,999 – 42 Coins
Roll 99,000 to 99,998 – 102 Coins
If you can roll 99,999, then you will hit the jackpot of 100,000 coins.
There is also an opportunity to improve the pay-out, the more active you are on the platform the higher your multiplier is.  The screenshot above shows it at 1.5, but you can increase this to 2x the payout.
Watch Videos
The rewards are really low for watching videos, but the advantage is you can press them to play and go and make a cup of tea.  They have a wide range of videos for you to watch, with a payout each time.
Cointiplay
This is pitched as a way of increasing your coins, but it is also a way of you losing your earned coins too.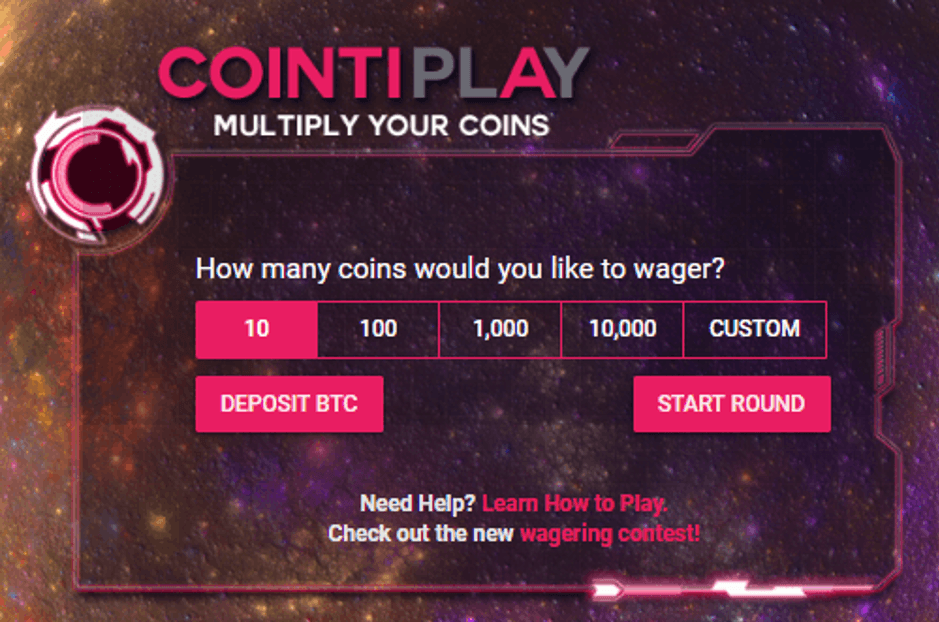 In short, you have a chance of multiplying your coins, but you have to wager some in the first place.  Apparently, you can multiply your coins by up to 63x, but there is also the chance you will lose the coins.
During my research, I found a number of people saying they have stopped using this option as they kept losing their coins.  It is gambling, there will be winners and losers.
View PTC Ads
Get a reward for watching ads, these ads vary in time length and you can earn between 6 to 34 coins per ad.
Bitcoin Miner
There is also a CPU Miner, this just needs to open, and it will use your computer to mine coins automatically.  It will not earn you a lot, but at least you do not need to actually do anything.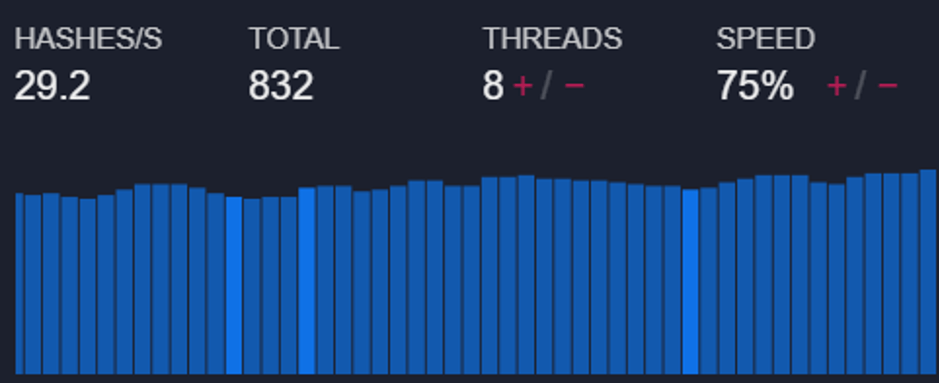 But you need to factor in that it will slow your computer down, and it also draws a lot of power (and electricity).
Referral Commissions
You can also earn coins by referring new users to signing up with Cointiply.
You will earn 25% of every referral faucet claims.  You will also earn 10% of any of your referrals offer wall earnings.
There is also no limit on how many referrals you can sign up too.  Referral commission is paid daily.
Earn 5% Interest
If you either deposit or save up to 35,000 coins, the you will start to earn 5% annual interest.  Keep a balance of 35,000 or more and you will earn that interest, which is calculated daily and paid weekly.
Haven't Made Your First $1 Yet?
Studies have shown that more than 70% of the people who want to make money online have not made their first dollar yet. So, you're not alone!
Getting Started with Cointiply
It is free to sign up with Cointiply, there is the option to join a premium membership.  But it is not compulsory.  Sign up involves the usual details – creating a username, email address and password.
The premium membership has the following advantages:
Removes popup advertisements
Removal of hover/slide in advertisements
The ability to boost your maximum Cointiplay wager to 200,000 coins
The ability to skip up to 2 days without having your loyalty bonus reset
Early access to new features
Premium support available
Premium badge and access to premium chat room
There are two options to upgrade to the premium membership:
Upgrade 1 Month – 17,000s
Upgrade 1 Year – 170,000
There is also a chance to win a premium account.  You have to pay up 340 coins.  When the pool is full and covers the cost of premium, a random member will receive one month's free premium access.  Of course, everyone else will have lost those coins.  But there is a chance you could win.
How much are the coins worth?  We will answer that in the next section
How Do You Get Paid at Cointiply?
Being active on Cointiply will earn you coins, which you can trade in to earn you money.
But to put it into context, 100 coins is worth $0.01.  So, 10,000 coins is worth $1.
It is hard to actually know exactly how much you have at any given time, as it is referring to the number of coins you have in your account, rather than what that is worth.
The point at which you can withdrawal, will also depend on who you are using to make a withdrawal.
FaucetHub – Withdraw when you have at least 35,000 coins ($3.50)
DOGE Wallet – Withdraw when you have at least 50,000 ($5)
Bitcoin Wallet – Withdraw when you have at least 100,000 ($10)
Bitcoin wallet payments are processed on a weekly basis.  FaucetHub & DOGE are normally 24-72 hours processing time.
At the time of writing this, these are the only options available.
One thing we did notice and like was that there was no processing fees.
How Much Can You Earn at Cointiply?
It depends on how much time you are willing to spend on these actions for such a small pay-out.  Online surveys are not that great a pay-out, even with a normal cash out option, let alone a bitcoin option.
Many of the earning methods will not earn you a huge reward.
I suppose it depends on what your monetary goals are.  If you want to earn a little extra towards Christmas, then it might be an option.  If you are looking to earn a full-time income, then this is not the option for you.
We prefer Affiliate Marketing, as it has almost endless possibilities and with the right training it can easily replace your current job and turn a hobby or passion into a full-time income.
What We Liked About Cointiply
Here is what we liked about Cointiply:
#1 Free to Join
There are a few benefits to the premium membership, but there is no need to upgrade and it is a free way to earn bitcoin.
#2 Multiple Ways to Earn Money
There are a number of ways to earn bitcoin, some are passive, and some require action. The problem is the amount they will earn and not the number of ways.  The options are not particularly that difficult either.
#3 No Withdrawal Fees
It is a nice touch that there is no processing fees for withdrawing your money
What We Didn't Like About Cointiply
Here is what we didn't like about Cointiply:
#1 Won't Be Able to Quit Your Day Job
Let's be honest, this will not be able to replace your day job.  To earn 35,000 coins to cash out is going to take a lot of surveys, videos and other ways to be able to cash out and that is all for $3.50!!
If you are looking for a genuine way of being able to give up your day job, then this is not going to be it I am afraid.  But that doesn't mean it isn't possible.  Instead of completing surveys, you could be learning how to build a profitable online business using affiliate marketing.  Want to learn more?  Check out our step-by-step guide HERE.
#2 Faucet Claim Limited to 2 Claims a Day
They have clearly realised that having this option every hour, was a costly mistake.  Now it is only available every 12 hours, which reduces the earning potential.
#3 Loyalty Bonus is Reset if You Miss a Day
You need to remain active if you want to keep your loyalty bonus from being reset.
Haven't Made Your First $1 Yet?
Studies have shown that more than 70% of the people who want to make money online have not made their first dollar yet. So, you're not alone!
My Cointiply Review - Final Conclusion
If you are ok with the low earning potential but want to get into Bitcoin it could be the right option for you.
You have to be realistic about how long it will take to earn that 35,000 coins to be able to withdraw your money.  I have seen reviews where people have not even earned that amount in 4 months… So, my question is not around the legitimacy of the company.  But whether it is a worthwhile opportunity to make money and I have to say the answer is no.
WE have a much better way of earning (serious) money online
Online Surveys or PTC websites are never going to earn you a decent amount of money.  That is why we recommend Affiliate Marketing.  Through Affiliate Marketing, you can turn a hobby or passion into a full-time income from the comfort of your home.
But it all starts with the right training, having the right support and a mentor to help you out.  With our step-by-step guide and our help and guidance, you can start your own journey to finding financial freedom which will earn you a lot more than anything you could earn on a survey site!!
Thanks for checking out our Cointiply Review!  If you have any questions or comments to add, then please write them in the comments section below. 😉