Welcome to our Speed Wealth Review!
Speed Wealth claims to be another done-for-you system where it automatically closes the sale for you, and then just sends you the commissions… or so, the sales pitch claims… but Is Speed Wealth a Scam?
As you're here, it's probably a good bet that you're just as sceptical as me, so what's the truth about this program?
First off, it's great to see that you're doing your research before buying into any "seemingly good" product.
That is how you avoid scams and find only legitimate ways to make money online!
To be completely transparent with you, we're not associated with Speed Wealth in any form.  We're not here to pitch or sell you anything.
Instead, we want to reveal to you what this Speed Wealth is all about… Is it really just a system that you plug in, and sit back and watch the money roll in?
Let's help you find out, let's start with a quick product overview…
Speed Wealth Review Summary
Product Name: Speed Wealth
Founder: Matthew Neer
Product Type: DFY Affiliate Marketing Program
Price: $27 one-time fee, then $19.95 per month + Upsells
Best For: Someone who knows already how to generate traffic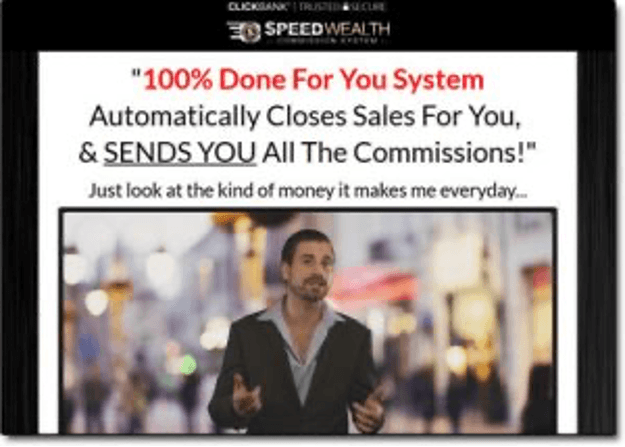 Summary: Speed Wealth claims to be a 100% Done-for-you (DFY) system to help you make money online.  It used the affiliate marketing business model.  Basically, he gives you access to DFY landing pages, email swipes, and traffic sources.  You have to put this all together using the instructions he gives you, to make it work.
So, the Speed Wealth system is legit, but it only comes with basic instructions and some DFY campaigns, oh and some expense upsells to get the most out of this system.  Despite their claims this is 100% done for you, that is simply not the case…
Rating: 50/100
Recommended? No…
Basically, the Speed Wealth system is claiming to be a 100% done-for-you system to help you build an online business, using affiliate marketing.  It was created by Matthew Neer, and he claims to have taken away any need for you to build a website, a sales funnel, and everything else needed for you to make money.
Instead, Neer tells you that the only thing that you will need to focus on to be able to make money with the Speed Wealthy system, is traffic… Which is covered by several training videos within the system that show you how to get said traffic.
Now traffic is probably the hardest part of the process, but apparently that isn't a problem with this system, as he teaches you methods to get traffic that doesn't involve any SEO, social media marketing or anything else like that.
Neer claims the Speed Wealth system has been designed around the exact same automated sales funnel, that he has used to generate 7-figures online, which he names the "ascending sales funnel".
There have been many programs that make the same claims, which usually raises a number of red flags… But there is a difference, as Matthew Neer is an experience marketer and knows his stuff.
He's launched several products before this one, with one of his most popular being Operation 10K, and it's very clear that he has had genuine success online and earned a substantial amount of money over the years.
Having said that, let's talk about how the Speed Wealth system works and whether it's worth your time, or money…
How Does Speed Wealth Work?
To get into the Speed Wealth system, you'll first have to pay the initial fee.  It has been priced at $47, but if you try and leave they will usually end up showing you it for a one-time fee of $27.
But this fee only gets you inside, you'll need to pay an additional fee of $19.95 per month to maintain the system after the first month.

Once you're inside the members area, you'll be presented with a 5-step fast start guide.  This guide explains to you how to make money online, and shows you how the system is supposed to work.
These 5-steps are:
Log-in to your account to get access to DFY funnels
Connect your Commission link
Select your Traffic source
Point Traffic to your Commission link
Sit Back, Relax, and make Commissions
You'll also gain access to the "ascending sales funnel" that Matthew has created, and you'll be able to earn money from referring people to it as an affiliate.
There are a series of video tutorials, in which Matthew explains his traffic-attraction strategies, which you can use to send people to the sales funnel.
The problem is…
The initial product itself is pretty lacking in actual content, and that means the "good content" is hidden away within the upsells, which could cost you a total around $500, on top of your initial fee and monthly expenditure.
What's Inside Speed Wealth?
Inside Speed Wealth, you'll find the following material:
Automated sales funnel system complete with marketing
landing page templates
video training
traffic sources
There are also these bonus materials:
Advanced List Building Secrets Video
5 Powerful Traffic Strategies
10K/ Month Webinar
Haven't Made Your First $1 Yet?
Studies have shown that more than 70% of the people who want to make money online have not made their first dollar yet. So, you're not alone!
How Much Does Speed Wealth Cost?
The initial fee of Speed Wealth can be discounted down to $27, if you try and leave the page.
Then there is the $19.95 monthly fee to maintain the system.
But then there is the upsells that you will need to factor in.  The basic program is pretty limited, and that is just a tactic to get you into the door, and then they present you with the stuff that might actually work…
The Speed Wealth Upsells…
The simple way to describe it is, that the Speed Wealth system comes in pieces, that you need to buy to unlock the full program.  This is achieved by you buying these upsells.
Here are the upsells and their prices:
Landing Pages – $97
Campaigns (email swipes, PPC Ads, Classified Ads, Banner Ads) – $199
Digital Millionaire University (Advanced Training) – $197
P.S. This program helped us Create a 4-Figure Monthly Passive Income Stream.  It's Free to get started, and only costs $49/month to go full-time.  It includes training, tools, and support to help you build a profitable online business.
The Speed Wealth Affiliate Program
So, on top of gaining access to the "Ascending Sales Funnel" as part of the Speed Wealth program, you can also promote the Speed Wealth system itself as an affiliate through ClickBank.
Matthew is paying 50% commissions on sales of the Speed Wealth system, that even includes the upsells inside the program, and the recurring monthly payments.
What We Liked About Speed Wealth
Here's what we liked about Speed Wealth:
#1 Matthew Neer is Legit, & Successful
Matthew Neer has seen success online, and his YouTube channel boasts 3.5K subscribers.
#2 60-Day Money Back Guarantee
As the Speed Wealth system is available from the ClickBank affiliate network, it does come with a 60-day money back guarantee, although this does only cover your initial fee, and not the remainder of the costs associated with this program.
What We Didn't Like About Speed Wealth
Here's what we didn't like about Speed Wealth:
#1 Over Hyped
The fact that he is claiming everything is done-for-you and is going to help you make money quickly and easy, is just a load of hype.  If you were experienced with online marketing and knew how to market the funnel he gives you effectively, then yes you probably could make money.
But as this is targeting beginners, who as the name suggests don't know how to promote programs yet, will really struggle to get the most out of this program.
DFY systems leave the traffic up to you, and even though he helps you with that in this program, that just means you have to pay for traffic, making it a "pay to play" system and I don't like that at all.
Paid traffic requires a lot of trial and error to get right, and that means you spend a lot to learn what works and what doesn't… can you afford to find out?
#2 Limited, Unless you Buy The Upsells
I do get the need to invest in to your business, but be upfront about it and offer more value upfront for a slightly higher fee, rather than drawing people in only to find that you have to spend nearly $500 to get what you initially thought you were getting.
Haven't Made Your First $1 Yet?
Studies have shown that more than 70% of the people who want to make money online have not made their first dollar yet. So, you're not alone!
I don't think that Speed Wealth is a scam, but that doesn't mean that there aren't a few things I don't like.  The first one would be around the way it's marketed as being "quick and easy" earnings.
I mean we would all love to find a way that helps us make money quickly and easily, but the truth is that unless you're already an expert, the chances of you actually pulling off sales and making money like Matthew claims, is pretty unlikely to happen, if at all.
I understand that Neer has done this to increase the conversions on his program, but I think that it will leave many people disappointed, when they find out they can't really make the money he claims, quickly or easily.
The second problem I have, that a lot of the content has been reserved for upsells.  I get it, upsells are common in the MMO world.  But, it would be much better if there were fewer upsells, and more value put into the initial program with a price that justified the content.
But that is not the case with Speed Wealth, the front end program is clearly lacking in value, and you're not left feeling you got enough for what you spent.
So, whilst this is a legit product, and has been put together by Neer, who knows his stuff, it isn't something that we would recommend to you.  Purely for the reasons we've just gone over.
In my opinion, a better option would be a product for you to get started with, where you don't actually need to pay anything to get started would be Wealthy Affiliate.
Can You Make Money with Speed Wealth?
Matthew claims that you can $1,000 in commissions daily with his Speed Wealth system.  But that is only really going to happen if you are already an expert at marketing, and promoting the program you just bought.
If you're a complete beginner, I highly doubt there is enough in the front end program to help you get started correctly with affiliate marketing.
You'll also have to factor in the amount you would need to spend on paid traffic, as that is the route Matthew leads you down.  PPC marketing is not cheap, and is not always reliable.
Plus, to make this program work, you will need to spend the money to unlock the full program, which would set you back about $500.
The Speed Wealth system is a DFY program, and that's the problem.  It's doesn't really teach you how to do affiliate marketing properly for yourself.  You cannot choose a hobby or something you love to get started, you are stuck promoting whatever Matthew offers in his ascending sales funnel.
DFY programs are not focused on teaching you the fundamentals of Affiliate Marketing.  They often leave the hardest part of the process, generating traffic to you to either learn how to achieve it, or pay for it using Paid Ads.
My experience of DFY systems is that they never work the way the owner does, as they are targeting beginners who lack the experience to get the necessary traffic.
I would advise you to really think twice about whether this system is ideal for you, spending that kind of money that only might work is a huge gamble to me…  I personally would go with something that I could try for free, and then decide if it was ideal for me… Read on to learn about our top recommended program…
Affiliate Marketing is legitimate, and effective when done correctly.  It's our top recommended business model but you need to start with a topic you really are passionate about, otherwise having it picked for you can often leave you not finding any success with it, as you don't have an interest in it, especially when you find it doesn't make you money.
But I always suggest you dip your toe in before handing over money to see if this business model is for you.  It's not a get-rich-quick scheme.  There isn't one.
It will require time, effort and a lot of patience…  that is why I would always suggest you check it out properly, and our top recommended training program helps there as they offer a free starter membership that gives you a full look into what is possible with affiliate marketing, and what it will take to find success with it.
It's the same training program that helped us Create a 4-Figure Monthly Passive Income – But that didn't happen overnight, but with the support you have inside, the journey is totally worth it.
Learn more about Wealthy Affiliate here, trust me, this is the best solution and is free to check it out…
Thanks for checking out our Speed Wealth Review!  If you have any questions, or comments to add then please write them in the comments section below. 😉