Welcome to our Infinity Profit System Review!
Has someone shared a link to a training program called "Infinity Profit System", and they claim that you could make tons of money with it… but, you're a little worried it might be a scam?
First off, it's great to see that you're doing your research before buying into any "seemingly good" product.
That is how you avoid scams and find only legitimate ways to make money online!
To be completely transparent with you, we're not associated with Infinity Profit System in any form.  We're not here to pitch or sell you anything.
Instead, we want to ensure you get all the information you need to know about this program, and why it might actually be a Pyramid Scheme in Disguise…
Infinity Profit System Review Summary
Product Name: Infinity Profit System
Founder: Dale Payner-Sizer (CEO)
Product Type: MLM or Multi-Level Marketing company
Price: $25/month to $100/month
Best For: No One! (We'll explain)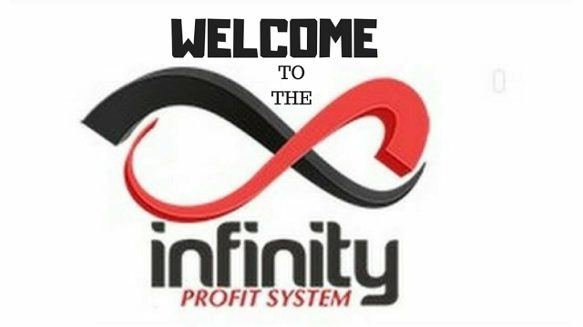 Summary: Infinity Profit System claims to be a platform that teaches you affiliate marketing, but the reality is much closer to being a scam.  Infinity Profit System is actually an MLM or Multi-Level Marketing company that shows you how to promote the program to others.  
This makes it more like a recruitment scheme, or a pyramid scheme in disguise.  You don't learn anything that will help you promote anything other than the Infinity Profit System.
I wouldn't recommend you get involved in this, which we will explain why in our review…
Rating: 1/100
Recommended? No
What is Infinity Profit System?
Infinity Profit System claims to be an affiliate marketing training program, created by Dale Payner-Sizer.  But it would be better to describe it as an MLM or Multi-Level Marketing company, or even a Pyramid Scheme in disguise…
It was launched in 2015, and is headquartered in Pottstown PA, USA.  It's website claims that it is backed by DPS Marketing Group LLC.
This DPS Marketing Group claims to change the way you do business forever, with its software creation programs being the company's core services.
As for Dale, he has been known to be part of some shady MLM's in the past, which also includes the Ponzi scheme called 1K All Day.
Infinity Profit System describes itself as a franchise business model.  But it would be better to describe it as a cash gifting scheme (Ponzi Scheme), where you pay direct payments to the person you have recruited, with the idea being that you then receive money from any downlines you then recruit into the system.
However, you don't receive payment for the packages you have NOT bought into, even though you may make the sale.
It sounds like a lucrative deal, especially when they are promising 100% commissions, but the fact is that all cash gifting schemes are ILLEGAL!
On top of that, as the main premise is solely based on recruitment, it could also be described as Pyramid Scheme… Which again, isn't Legal!
This is proven by the fact, that whilst there are still people promoting this system, it's actually no longer available!  
The website domain states that it is no longer available, and if you did try to find them with a quick Google search, you will only find that it redirects you to a Facebook page called Reverse Commissions.
Inside Infinity Profit System
Infinity Profit System claimed to offer everything you needed to get started online, which included the "tools, training, resources needed to fast track to success!"
Here's what's included:
Marketing Tools/Software

Autoresponder
Capture Pages
Blogging System
URL Shortener
Team Link Rotators
Training Video library
They offered two membership levels:
Starter $25/month
Personal Branding Course & Blogging Platform
Be Who You Are
Create A Stronger You
Create Your Own Future
Sell Yourself High
Define Your Audience
SEO Blogging Platform
And Much More 
Basic $100/month
A Business Automation Course & Email Marketing Platform
Making Your First Steps Toward Systemizing Your Business
Management Can Learn from Top Programmers
The Importance of Business Systemization
Powerful Flow Charts
Automation % Force
Marketing Platform via Email
And Much More 
There is also a Corporate Partnership level, which costs $997 (for 100 employees).
Packages Include:
100 Reseller Licenses
Reseller Training Program
Custom Built Software
Corporate Admin Panel
Company Business Manager Software
Data Importers 
Is Infinity Profit System A Scam?
Due to the fact, it's no longer available, it would seem that they have either got found out by the authorities, or have moved on with everyone's money before they could be found out.
So, in short I would say that the Infinity Profit System is definitely a scam.
Whilst they offered training, it only helped you promote what is clearly a cash gifting scheme/pyramid scheme.
These things tend to collapse, once people stop joining, and as that is the only source of money coming in, people end up losing a lot of money.
If you want to learn more about the Infinity Profit System, or what it was supposed to be, check out this video:
Haven't Made Your First $1 Yet?
Studies have shown that more than 70% of the people who want to make money online have not made their first dollar yet. So, you're not alone!
Is Infinity Profit System a Ponzi/Pyramid Scheme?
The Infinity Profit System only taught members how to promote the same membership you just bought to others, that means that you are recruiting people.
These recruits would then have to pay the membership fee which is passed up to you, as their referrer.  They then go and start recruiting people, and in turn this goes on and on, until either the scheme closes down due to no new members come in, or the authorities step in.
That is basically how a pyramid scheme works, and describes exactly how Infinity Profit System works, and why it is a pyramid scheme and Ponzi scheme.
The only people who really benefit from this are those that get involved straightaway, recruit it to people (by not telling people what it really is) and then when it closes, move onto the next scheme.
The poor people who bought into the hype and false promises, end up losing everything…
Infinity Profit System Compensation Plan
They claim to offer three ways for you to earn money with their system.
Direct Sales
2nd and 4th Sales from your downline
Roll Up Sales
Any sales you make, will earn you 100% commission, expect for your second and fourth sale, which will be passed up to your sponsor, or the person who recruited you.
The Roll Up sales kick in depending on what membership level you are.  For example, if you were only a starter member and recruited someone who bought the basic package, you would only see $25.  The rest of the commission will be "rolled up" or passed up to your sponsor, as long as they are also a basic member.
They use this as a way of telling you that you need to be on the top tier, otherwise you will be losing commissions…
The bottom line though is that you are recruiting people to then in turn recruit, which as we have covered is a Pyramid Scheme setup!
What We Liked About Infinity Profit Scheme
As this program is clearly a Pyramid Scheme or Ponzi Scheme, which are both illegal business models, there is nothing that we could find to write that was positive about this program.
What We Didn't Like About Infinity Profit System
Here's what we didn't like about Infinity Profit System:
#1 It's A Pyramid Scheme
Whilst the program offers training, it's really just a front to have you recruit others into a very clear Pyramid Scheme.  Once the new recruits stop coming onboard, any current members will lose their money.  As the scheme is no longer available, there will be those that lost out when it closed down.
Lacking any real knowledge of how to make money online with what they learned within…
#2 Already Shutdown
By the time we had actually finished writing our review, it appears that the scheme has already closed down…
Haven't Made Your First $1 Yet?
Studies have shown that more than 70% of the people who want to make money online have not made their first dollar yet. So, you're not alone!
My Infinity Profit System Review
Infinity Profit System is a program that claims to help you make money, but that is really just a disguise to hide the fact that it's really a Pyramid Scheme, or even Ponzi Scheme.
Pyramid Schemes have a very limited lifecycle, and it looks like this one has already hit the bucket, as it is no longer available and is forwarding you to another scheme called Reverse Commissions.
So, I would also be really mindful if you decide to check that out too…
Bottom line, this program is very clearly a scam, and we would recommend you stay away from this at all costs… If you want a better alternative, keep on reading…
Here's A Better Alternative...
There are plenty of programs online, all claiming to offer you ways to make money online… but the unfortunate truth is that the majority of them are actually scams, or really low quality programs just to make the owners richer, rather than offering you help.
That is why we created this site, to review the good from the bad, and offer you an insight into which of these programs really work.
Our Top Recommended training program for helping people make money online is Wealthy Affiliate.  It offers training, tools, help and support to help you get started online. 
Thanks to their training, we have created a 4-Figure Passive Income Stream… If you want to learn more about WA, here's our review…
Thanks for checking out our Infinity Profit System Review!  If you have any questions or comments to add, then please write them in the comments section below. 😉