Welcome to our MyPoints Review!
Survey Sites are not going to help you make a lot of money.  Let's get that out there… They're not meant to give you a full-time income and if a survey site tells you otherwise, then that means they're up to no good.
Survey Sites are run by market research companies, and there are also those that own their own company.  MyPoints is one of the latter, and that's what we're reviewing today…
MyPoints is a popular rewards site that was established in 1996.  It's one of the original cashback websites and still going strong today!  So, it's definitely a decent survey site. But we wanted to understand why they also have such a number of complaints that could make you consider an alternative…
First off, it's great to see that you are doing your research before buying into any "seemingly good" product.
That is how you avoid scams and find only legitimate ways to make money online!
To be completely transparent with you, we're not associated with MyPoints in any form.  We're not here to pitch or sell you anything.  
Instead, let's reveal to you why MyPoints is a decent survey site, but with some complaints that would have us a little concerned…
MyPoints Review Summary
Product Name: MyPoints
Founder: Prodege LLC
Product Type: Survey/Rewards Website
Price: Free to Join
Best For: Casual Income Seeker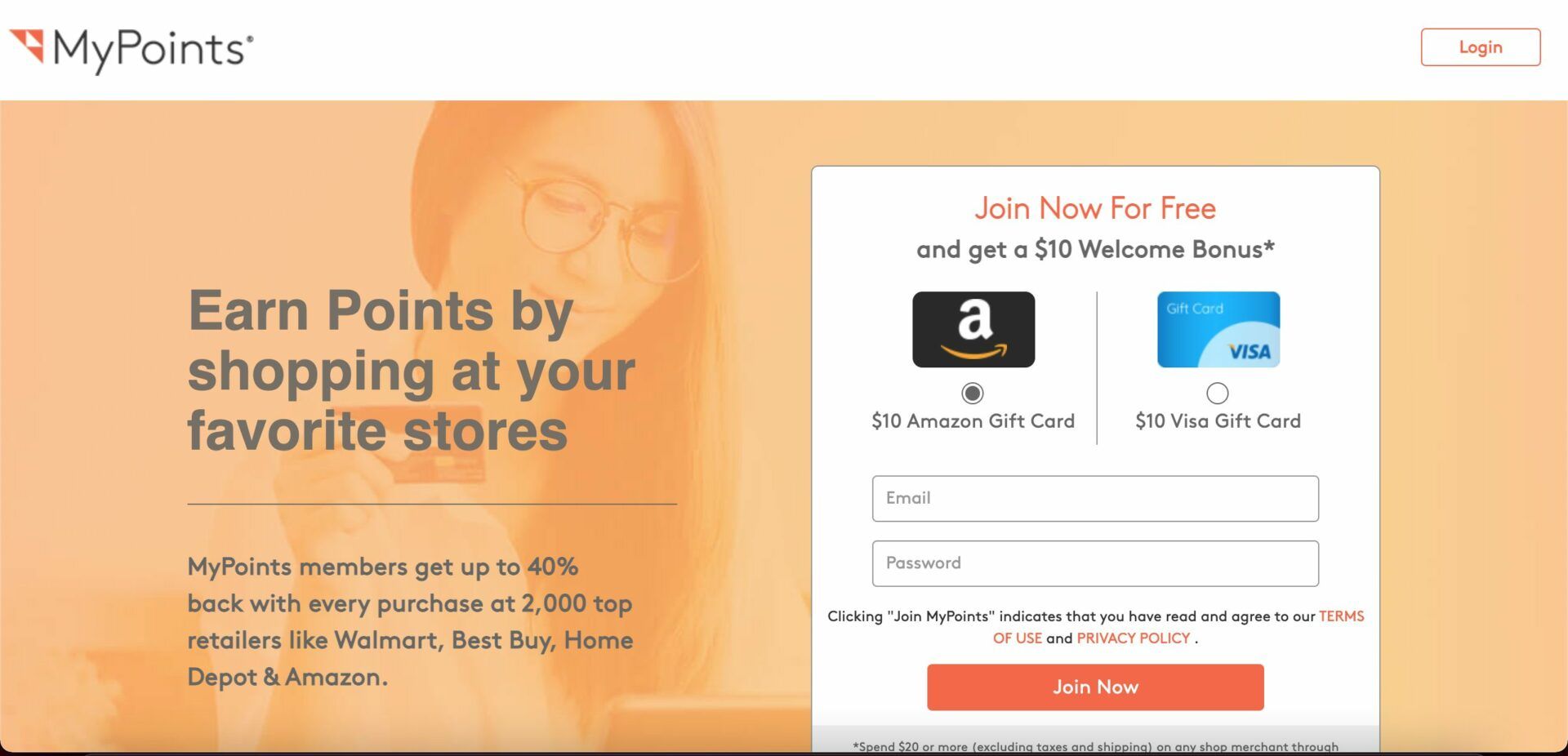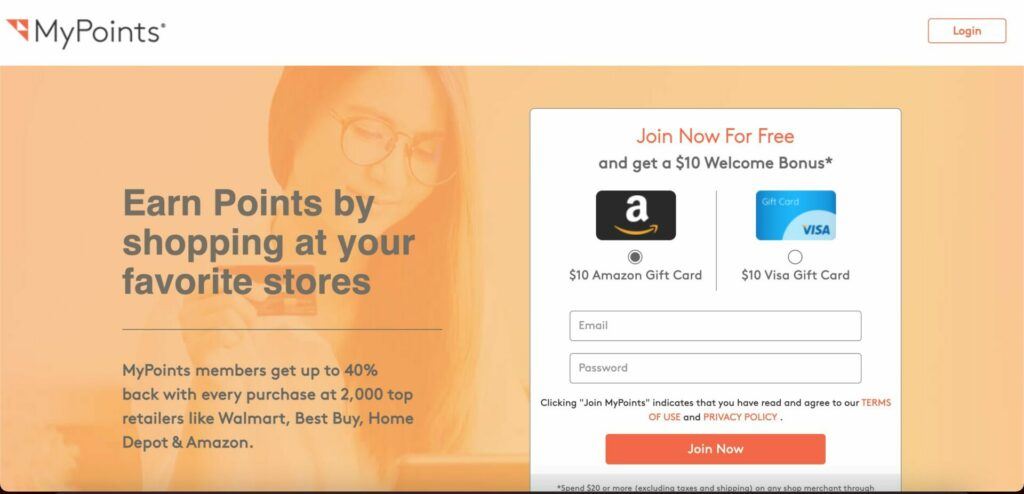 Summary: MyPoints is a survey or rewards site that is from the same team behind Swagbucks. MyPoints is a solid option, but there are a few complaints that have us worried, including deactivated accounts with no reason given.  It's also only eligible to those living in the US and Canada.  I would recommend Swagbucks over MyPoints personally…
Rating: 50/100
Recommended? No
MyPoints is a popular rewards site, which was established in 1996.   It's one of the original cashback websites and shows its worth by still being in operation.
MyPoints is a rewards program website, where members can collect reward Points through a number of ways.  These include, making online purchases with partnered retailers, taking surveys, watching videos, and a few other ways.
MyPoints is also a website that offers many other ways of collecting incentives for great gifts.  These points can be exchanged for rewards worth up to 40% of your purchase.
MyPoints is owned by Prodege LLC, who happens to own Swagbucks.  If you haven't heard that name before, know that it's one of the bigger survey sites online and offers pretty much the same offer as MyPoints, but with a lot less complaints about them…
MyPoints looks to be only eligible to those in the US and Canada, which is a little disappointing, but Prodege LLC does cater for international customers through their Swagbucks platform…
MyPoints got started back in 1996 and has over 10 million members currently on its platform (according to them). These members have redeemed over 235 million dollars in cash or gift-cards.
Having being in operation for over 20 years, with proven payouts from their members, plus the number of members they have online – I think it's safe to say that MyPoints is a legitimate rewards website and is not a scam.
However… with every program, success may vary from person to person.  Just because it works for one, doesn't guarantee it will work for another.  Survey sites are not exactly a great way of earning money, when you consider the amount you earn, against the time it takes to earn that.
That doesn't make a survey site a scam, but it could make it a less worthy way of making money…
P.S. This program helped us Create a 4-Figure Monthly Passive Income Stream.  It's Free to get Started and offers training, tools, and support…
Signing up with MyPoints is free, and really easy to do.  It just takes an email address and creating a password. (My advice with survey sites, is always create a new email account just for survey sites to avoid junk mail ending up in your primary email account, ;))
Once you've created your account and updated your profile, you're free to explore the platform and to start earning rewards.
There are a variety of activities you can complete to earn points, all you need to do is earn enough points to reach the cash out point…
Here are the tasks that you can take part in, at MyPoints:
Paid Surveys
Take online surveys and earn points.  They claim you earn up to 400 points.  These surveys will often require certain demographics, so you may not always qualify for all of the surveys you see to be available.
Online Shopping – Cashback
MyPoints is partnered with over 2,000 retailers where you can take advantage of cashback deals whilst you carry out your online shopping.
Reading Emails
There is two sides to consider with this one… You'll earn money for reading emails that are sent to your email address every day.  But that means you will be receiving a ton of spam to your email accounts. (Hence, why I suggest you don't use your primary email account.  for other hints about survey sites, click here).
Local Deals
Earn points per dollar for your Groupon and LivingSocial goods for voucher purchases.
Watch Videos
This is a common feature on most GPT or reward site.  You can choose a playlist made available via your dashboard and earn points as you watch them. These videos are usually 30-second commercial/ad videos.
Search The Web
Use Their in-built search engine to earn points as you search the internet.
Print Coupons
You can get points by printing and availing coupons from MyPoints.  These coupons will be dependent on your location, so like the surveys these might not always be available.
Playing Games
You can also earn yourself some points by playing games within MyPoints.  These games will have you playing until you reach a specified level or get a minimum score.
Referring Friends
As with all of the survey sites, there is also the opportunity to earn money from referring your friends.
You will earn points when a new recruit signs up through your referral link. You earn 10% of any qualifying points.
Haven't Made Your First $1 Yet?
Studies have shown that more than 70% of the people who want to make money online have not made their first dollar yet. So, you're not alone!
Does MyPoints Have a Mobile App?
MyPoints does have a mobile app, that will allow you to complete task on the go. The app is available on both the Google Play & Apple Store.
But the app is not, as you would expect, called MyPoints.  It is actually called Daily Scoop, and may not give you the same set of tasks as the MyPoints website.  
I cannot really explain the discrepancy here, not sure why they are not aligned?
How Much Does MyPoints Pay?
Surveys taken on the MyPoints platform pays out anywhere between 50 to 100 points, which works out to about 35 to 75 cents.
Referrals will earn you 25 points, and you'll also get 750 points when they purchase a qualifying product from their store, that costs more than $20.
What's The Minimum Payment?
The minimum payout threshold is 480 points.  This totals to a $3 Amazon gift card.
If you were looking at trading your points for cash, you'll need to earn enough points to get $25, which is 4200.  You'll also need a PayPal account if you want to cash out.
$25 might seem high, but it does seem to be the industry average.  This makes us as frustrated as I expect you are…
This is part of the problem with survey sites, as it's pretty impossible to actually get to that level in a reasonable amount of time.  There are a few survey sites or GPT sites that have it as low as $5, but still you need survey availability.
What We Liked About MyPoints
Here's what we liked about MyPoints:
#1 Multiple Ways of Earning
They do offer a wide selection of ways of earning money, albeit not a great amount of money.
But I would advise you to be mindful of making online purchases just to earn some cash back.  It might seem lucrative, but what you end up doing is spending a lot more money than you planned to, and end up out of pocket…
What We Didn't Like About MyPoints
Here's what we didn't like about MyPoints:
#1 Pre-Qualifying Surveys
One of the biggest complaints we found from members of MyPoints is that the pre-qualifying surveys you need to complete take a a long time to complete.  You don't even get paid for completing these surveys, and you have to do this for every ten surveys you complete.
#2 Spam Emails
Aside from the paid emails that you know you are getting, you're going to be receiving a ton of spam emails coming from a lot of MyPoints' clients.
But these emails are way beyond just from MyPoints' clients.  They actually state in their privacy policy, that they have no control over the information being handed over to their client once it's submitted.
(Again, I would always advise you have a different email address, you only use for online surveys – I learned the hard way…)
#3 Really Low Income Potential…
With a really low payout for each survey, video, etc. and a really high cash-out level of $25. I have to call out the fact that survey sites have a really low income potential.  I do get everyone isn't looking for a way of earning a full-time income online, but the fact is that with surveys you are looking at earning a couple of dollars if you're lucky.
Most people walk away from them never actually withdrawing their money as it ends up being too much effort to actually keep completing crappy surveys for a few dollars.
If you shop online a lot, then the cash back deals might be worth it.  But if you are looking to earn money to help you financial situation, here is a much better option…
#4 Deactivated Accounts
There is a big issue with a lot of members having their accounts disabled without being informed of a reason.  Their customer service doesn't do a great job of explaining why it is either.
Here's an example from 2017: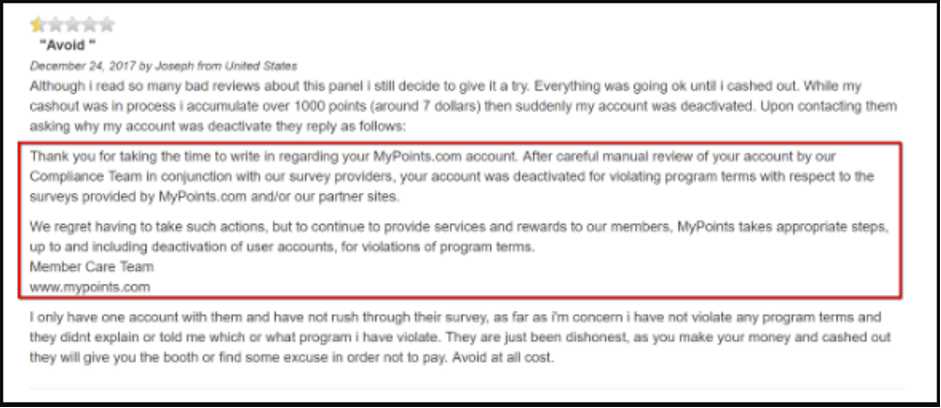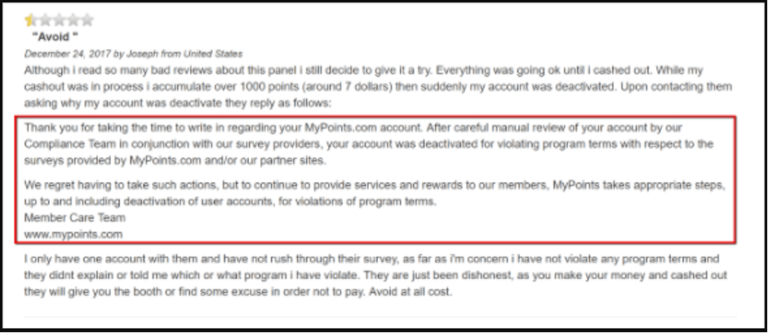 Now, I know this was from a while ago.  So, you would think they may have improved the situation since then… yet, they still have the same problem cropping up.  Here's a review I found from this year…
"Deactivated my account and ignored my tickets
November 28, 2020 by Iyanna from United States
I had an account for a week and did high payout offers so I had a tleast $70 worth of points already, then they deactivated without any word. When I put in a ticket, they responded saying its standard procedure and need an ID for verification. I replied immediately with my ID. A week went by with no response. They usually reply within 2 days. I put in a ticket again, another week went by, no response. Third week, I messaged on Facebook. None have been responded to. So I not only lost like $15 I put into the offers but everything I earned and had pending. Pretty sure they took it then purposely ignored me."
They just seem to deactivate accounts for no reason, then they don't do a great job of helping them understand why…
Bottom line, is that there are a lot of issues here, and is the main reason why I wouldn't recommend MyPoints to you…
Recommended: This is how I created a 4-Figure Monthly Passive Income Online…
Haven't Made Your First $1 Yet?
Studies have shown that more than 70% of the people who want to make money online have not made their first dollar yet. So, you're not alone!
My MyPoints Review - Final Conclusion
MyPoints is a legitimate GPT or Reward site that could help you earn some casual income, or save money with their cash back deals.  It's also run by the same team behind Swagbucks.  However, it doesn't seem to perform as expected, or even close to  its sister site.
There are several issues with the site, with their members seemingly having their accounts deactivated for no reason.  It doesn't help that their customer service doesn't do a great job of explaining or alleviating these issues as well.  Considering it was a complaint back in 2017, and yet people are still complaining about it in November 2020, something doesn't add up…
Then there is the income potential, which is really low. You'll be earning a few dollars for a month of hard work, and that's if you put in the time and effort consistently.
Online surveys are ok, if you're happy wasting hours a dollar for just a few dollars, if you're really lucky. I personally wanted a better way.
That's why I kept on looking for ways to make money online, and found Affiliate Marketing.
Thanks to that, and the excellent training from Wealthy Affiliate – We've Created a 4-Figure Monthly Passive Income Stream…  If you want to see how we got started, and see the potential, then click here…
Thanks for checking out our MyPoints Review!  If you have any questions or comments to add, then please write them in the comments section below. 😉