Welcome to our Mobile Site Sniper Review!
With a website that is claiming it is the easiest way for you to earn $537 per day, I can totally understand why you might be interested in what they have to say.  But a huge part of you is asking whether this Mobile Site Sniper is really a scam…
Can you really copy and paste the owners success or is Mobile Site Sniper a Scam?  All will be revealed in our full review…
First off, it's great to see that you're doing your research before buying into any "seemingly good" product.
That is how you avoid scams and find only legitimate ways to make money online!
To be completely transparent, we're not associated with Mobile Site Sniper in any form.  We're not here to pitch or sell you anything.
Instead, we want to reveal to all the red flags we found when researching this site, and ultimately why we think this is nothing but a scam…
Mobile Site Sniper Review Summary
Product Name: Mobile Site Sniper
Founder: Joel (?)
Product Type: Affiliate Marketing
Price: $47 + Upsells
Best For: No One (This is a Scam)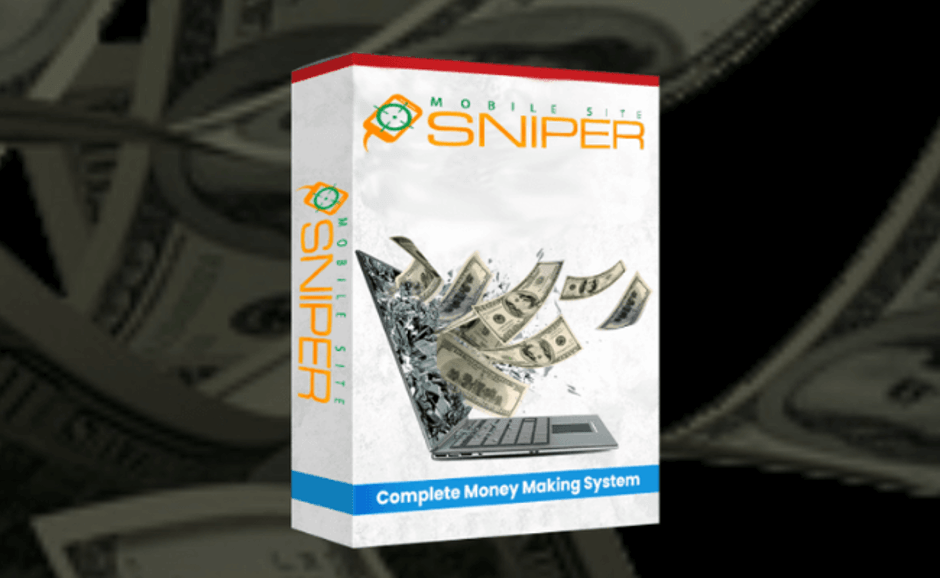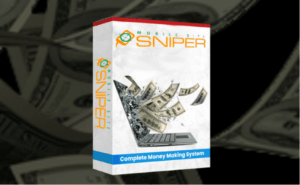 Summary: Mobile Site Sniper is a scam that is found on the ClickBetter platform. It claims to be a plug and play software that will help you make $100's per day.  But there are too many red flags about this product, that show this is not going to have the outcome you desire. With a fake owner, fake testimonials, and overhyped promises that don't live up to them, this clearly shows you should keep well clear of this program.
Rating: 1/100
Recommended? No
What is Mobile Site Sniper?
Mobile Site Sniper claims to be a site that is going to reveal to you how you can earn $537 per day, using Joel's secret method to making money that he will reveal to you (when you buy his program).
He claims it's the best way to make money online, but is it?  And who is this Joel?
If you've seen the sales pitch, you'll know it starts with someone called Laura.  She's alleged a student and friend of Joel.  Thanks to Joel's system, she's now making $1,000's per day from the comfort of her home…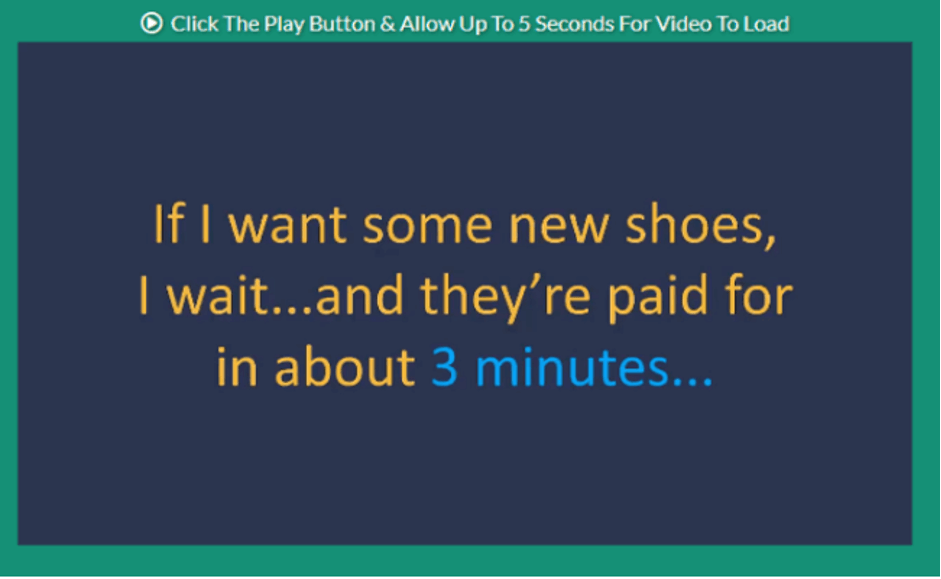 Oh, how I'd love all those claims to be true.  Personally, we found Laura's speech a little entertaining, and completely fake!
We say that because Laura has just been hired to read a script.  She makes money by offering her services as a freelancer, and not thanks to this secret system.  And whilst we at it, this Joel is not a real person either.
We've seen so many programs that make outrageous claims just like Mobile Site Sniper, and they've either been a scam or at least not worth your money.
But in regards to Mobile Site Sniper, this isn't the first time this sales pitch has been used.  We found it very familiar to Explode My Payday.  You see, these scammers come up with these elaborate sales funnels to get you to spend your money.  They market them aiming at newbies who aren't experienced with knowing the signs to spot a scam.
So, when they are outed as a scam, all they tend to do is change a couple of things, like the name of the program.  That's why when you went through Laura's speech in the sales pitch, you might have noticed that she doesn't mention the program by name.
That means, they can use it again when they stop getting sales for this one, and just move onto the next one.
But the bottom line is that Mobile Site Sniper is a sales funnel.  You're led to believe that you can use this magic DFY program for building an online business which will make you money in just a few clicks.
We'd all love to find a magic system that made us money that quickly and easily, but the reality is far from that, I'm afraid.
The reality is, that there is no secret system here.  Let's show you how it all works so you can understand how this scam works…
How Does Mobile Site Sniper Work?
The first thing they work really hard on is making you believe that this system is going to make you $100's every day, without doing anything.  They claim that this is the easiest way to earn $537/day.
They start simple by just asking you to register with your name and email address.  Not a lot for this amazing system that will earn you money, right?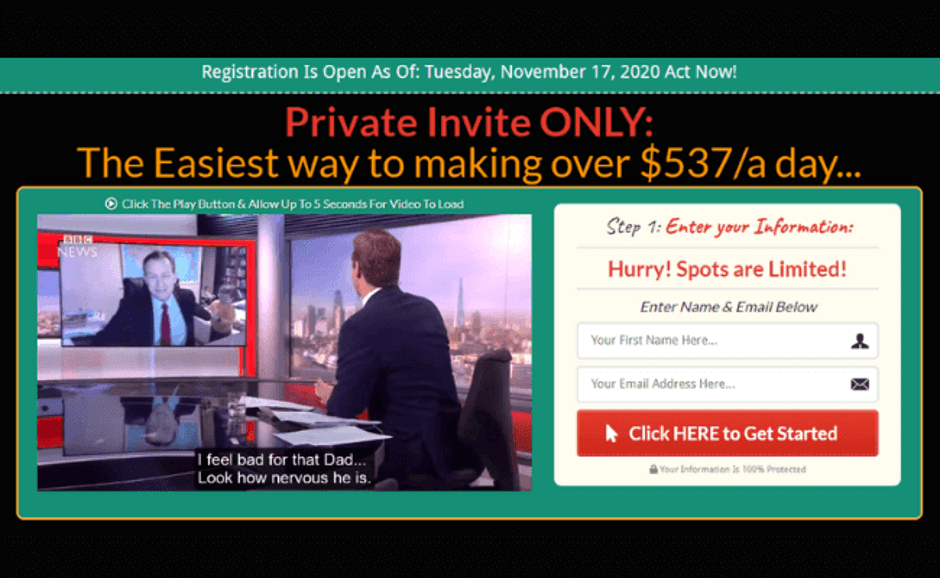 They even use a screenshot from the BBC, to make it look legit…
If you fall for this step, you'll be taken to a second page where Joel takes over the action.  But you also need to be mindful, that you've just handed your email address to a scammer too.
If you do go through to the second page, you will be presented with a video presentation where he again claims that you don't need any skills, and that you can become an overnight millionaire…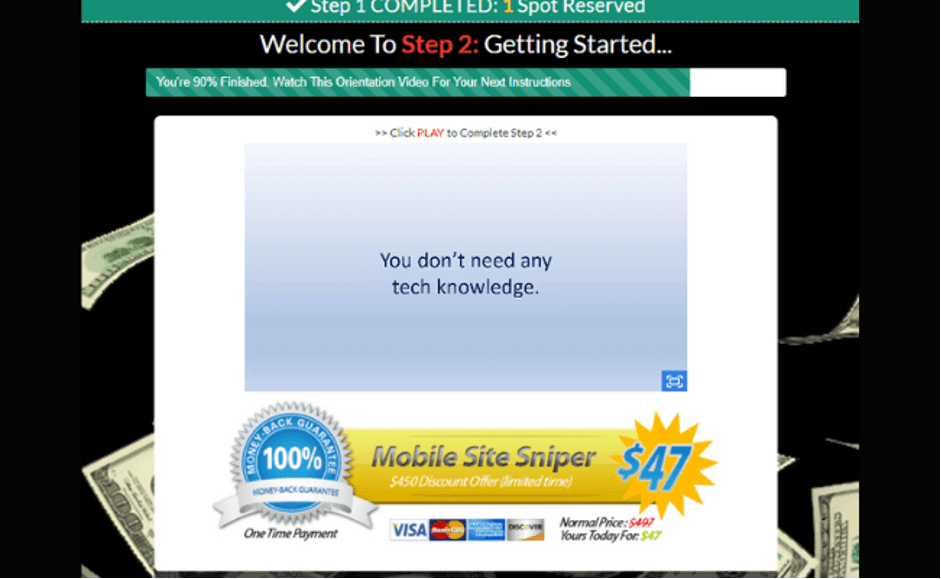 This video presentation is designed to make you feel like you specifically need this system, and that you don't need to know anything or do anything to benefit from this system… other than hand over $47.
Which, you'll notice is apparently a saving of over $400…
But even if you did go through and pay the $47 (why not, it has a money back guarantee…), you'll then go through an elaborate sales funnel that will then throw a number of upsells at you.
Basically, you're told the $47 gets you everything, and that is clearly not true.
But once you are finally within the members area, it is nowhere near what they promised you…
Inside, you just find some training videos that talk about starting an affiliate marketing business.
Now, you need to know that Affiliate Marketing itself, is totally legit.  We do it ourselves.  But that doesn't mean that the training they provide will genuinely help you get started, and the fact they claim you can earn today with this system is enough for us to call it our a scam anyway.
But the quality and length of training is also not in-depth enough to even warrant the $47 and most of the content, you could find for free with a quick Google search.
Basically, the videos should be enough to warrant that $47 and they are not.  Following their training will not be enough to make money, and definitely not in the timescales they're talking about anyway.
Haven't Made Your First $1 Yet?
Studies have shown that more than 70% of the people who want to make money online have not made their first dollar yet. So, you're not alone!
How Much Does Product Cost?
Mobile Site Sniper is available via the ClickBetter marketplace for a one-time fee of $47.  It also comes with two upsells.
The problem is that ClickBetter is quickly getting itself a name for being the home of SCAMS!  This Mobile Site Sniper is practically a carbon copy of dozens of similar scams.
They all come with the same claims of mega income, with practically no effort, and are aimed at newbies who lack any knowledge to prevent them falling into the traps.  On initial inspection, all it looks like it costs is your name and email address.
But as soon as they have your email address, your inbox will become full of these offers, all promising the world and all failing miserably.
Let's go into these two upsells we found within their sales funnel.
Upsell One – Done-For-You System $497 ($297 with discount)
This upsell claims to allow you to make more money using a 100% DFY or Done-For-You system.  Even though their initial claims said the basic product did this anyway?
Upsell Two – Platinum Upgrade $197 ($97 with discount)
This upgrade claims to help you earn even more! You get secret courses, social media courses, customer support, etc.
The initial sales video is really just to whet your appetite, and then hit you with these upsells and this is where the real owner makes their money.
Think about it, the guys behind this program are good at one thing and that is marketing.  They know how to make something sound unbelievable, even though it doesn't work as they claim it does.
But they don't care about that, so long as you get your credit card out and spend your money.
What We Liked About Mobile Site Sniper
We couldn't find anything to say that would put Mobile Site Sniper in a positive light.  They are clearly misleading you at every step of the way, and have no intention of offering you anything of value that would help you earn money.
Affiliate Marketing is legit, but it requires time and effort and is definitely not a get-rich-quick scheme.  Having said that, anything that claims to help you get rich rich quick, is not legitimate anyway.
P.S. This program helped us Create a 4-Figure Monthly Passive Income Stream.  It's FREE to get started and cost only $49/month to go full-time!
What We Didn't Like About Mobile Site Sniper
Here's what we didn't like about Mobile Site Sniper:
#1 OverHyped & Unrealistic Claims
This is not always a clear sign that a program is a scam, but there are clear signs within this program that it is.  The fact they are claiming that you can earn money by doing nothing is just the tip of the iceberg.
But the fact that they are also using images of expensive cars, exotic locations, etc. is another way that they convince you that this is what you need.
They play on your emotions, you're looking for a way of earning money and they are telling you that it's possible with no effort.  
But all the claims, the marketing, the sales pitch are just too hyped and are all jus there to get you to get your credit card out and buy this product… and make the owner more money, not yourself…
#2 The Owner, Joel is Fake!
A very popular trick of these scammers is to not reveal their real name… They tend to use stock images to make you believe there is a real person for you to relate to.  A real person with a story, helps you relate to them.  But with a quick google search, you can find that the image they are using is just a stock image: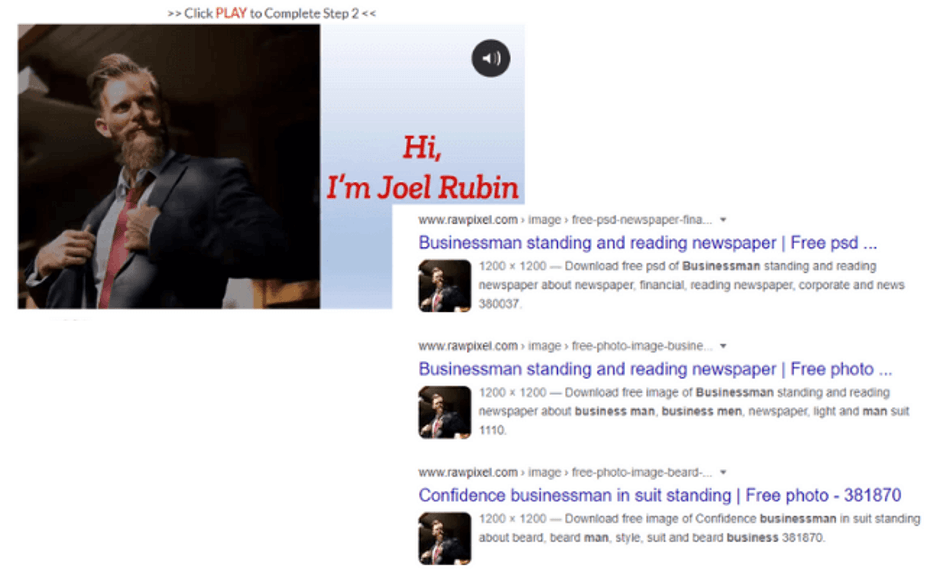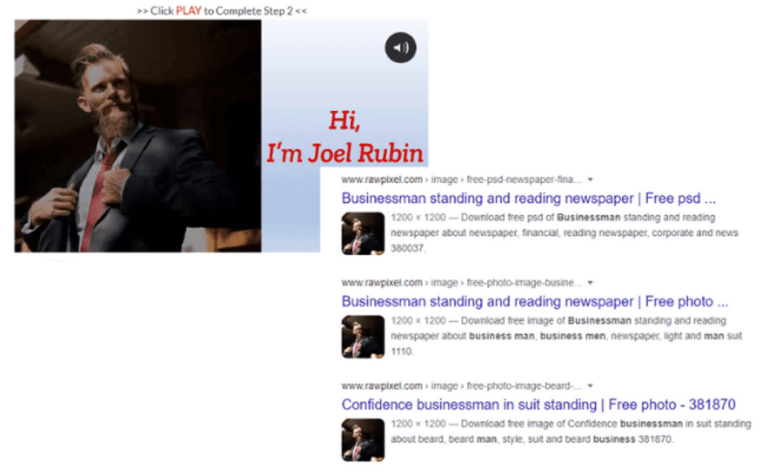 This just proves that whoever is behind this program is not really Joel.  They're just using a stock image from RawPixel.  Meaning that when this program goes away, they can just use a different image with a different name, and start again…
#3 Fake Testimonials
Another reason we say this is a scam is because they are using fake testimonials.  They try to make you feel like you don't just take their name for it, you can take the word of real users of the program.
But the people they are using to do these testimonials, are just paid actors.  Have a look: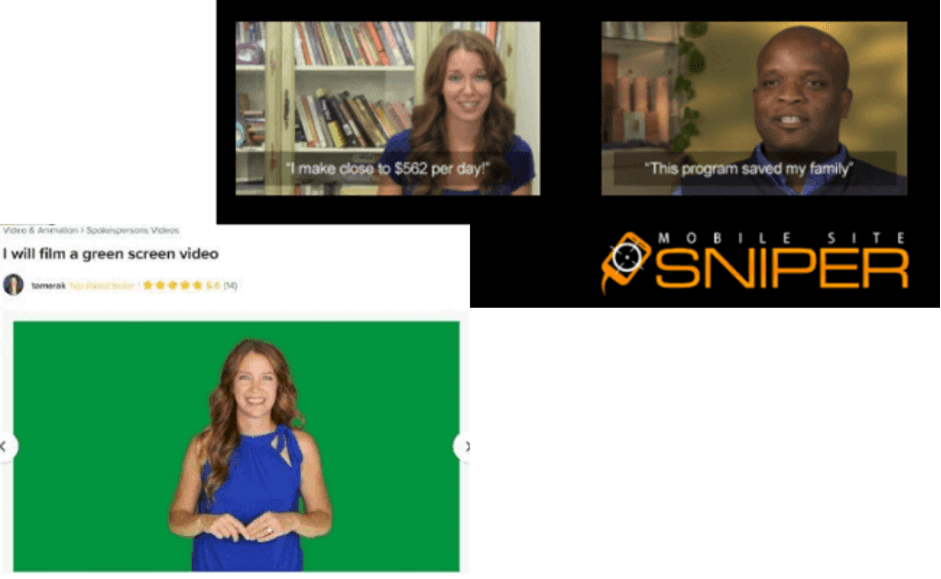 The lady is an actor from the freelancer platform called Fiverr. They've hired her to say whatever they wanted her to say.
This not only reveals this program to be a scam, but it also shows that no real user has actually made any money from this scheme, otherwise they wouldn't need to hire anyone to give you a testimonial
#4 It's an Old Scam With a New Name…
During my research, I found  a review about a program called Explode My Payday.
Fundamentally, the program is pretty much the same, just with a new name.  It's simply a rehashed scam, and all they will do when this one is revealed is just relaunch it with a new name.
#5 The Quality of Training is Very Basic
This is another fact that shows them to be a scam.  They claim this is a secret system that will make you money on auto-pilot.  But the training that is within the members area will do nothing of the sort.
It just offers some basic and outdated training videos around Affiliate Marketing.
Not enough to actually get started properly.
You could find better and up-to-date information about Affiliate Marketing for free, in many places with a quick Google search.
Haven't Made Your First $1 Yet?
Studies have shown that more than 70% of the people who want to make money online have not made their first dollar yet. So, you're not alone!
Is Mobile Site Sniper a Scam
Is it misleading and not going to do anything they promise?  YES!
As far as we're concerned this is a low-quality scam product that is only designed to make the owners money, and not going to offer you anything of substance that will lead to you earning money.
The timescales they talk about, along with the fake owner and fake testimonials are just all signs that this program should be avoided at all costs.
I know you might be looking for ways to make money online, and there are legit ones.  But they all require time and effort, so anything that looks and feels like a get-rich-quick scheme is not going to actually help you achieve anything.
If it looks too good to be true, without any real information about how it works, then it is usually a scam…
How We Make Money Online For Real
I'll say it again, we're glad you did your research and hopefully we've helped you avoid a scam product that would do nothing to help you.
But if you wanted our help again, let us point you in the right direction to learn about affiliate marketing.
Affiliate Marketing is legitimate, and with the right time and effort there is no reason why you cannot eventually own a business that is making you $100's a day.  But it will not happen with a DFY system.
If you are willing to put in the time and effort, and learn the correct methods like we did.  It's a totally realistic goal.  My first piece of advice, is to read about what affiliate marketing really is with our complete guide.
Then you can decide if it's really the best course for you…
Thanks for reading our Mobile Site Sniper review.  If you have any questions or comments to add, then please write them in the comments section below. 😉