Welcome to our Golden Ticket Review!
A new day and a new product in the Internet Marketing field but Is Golden Ticket a scam or is it the answer to those looking for ways to make money online.  Well, we will try and answer as many of your questions in this unbiased review.
I will point out that at this point many reviews out there are offering bonuses and are fully recommended this program and that is because they are going to benefit from any purchases you make.  But I wanted to get to know the product, rather than blindly offering it out, especially as a number of these reviews actually came out before the Golden Ticket was launched, which is a bit suspicious and shows they are profiting from doing reviews on it (in my opinion).
But one thing I will say at this point, that many of these reviews do not actually tell you how you are going to earn money from this "golden ticket" program… So, I will make sure you know exactly how you will be earning money from this system, as well as telling you whether I think it is all as it seems…
To be completely transparent with you, we're not associated with Golden Ticket in any form.  We're not here to pitch or sell you anything.
Instead, we'll give you the full lowdown on how Golden Ticket really works…
Golden Ticket Review Summary
Product Name: Golden Ticket
Founder: Anthony Mancuso, Paul Nicholls, Shaun Baird
Product Type: Internet Marketing Training Course
Price: $8.97 (at time of writing) + Upsells
Best For: Those Looking to Get Started with Internet Marketing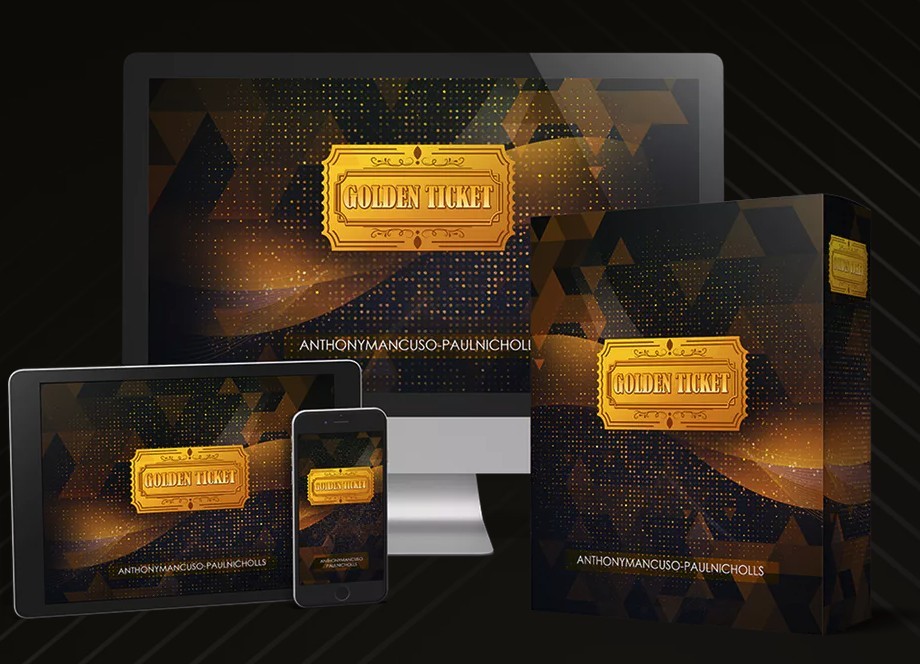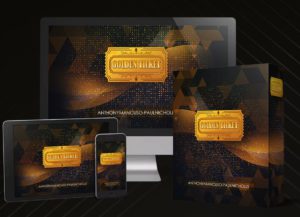 Summary: Golden Ticket is a training platform that claims to help you get started with Internet Marketing.  But you only learn that once you have gone through the endless upsells.  On the surface, its an "ok" product, but it will lead beginners into thinking that it's possible to start earning money quickly and easily, and that is just not the truth.
Bottom line, is that this product won't help you really make the most of internet marketing, unless you spend a fortune on the upsells, and even then it won't work…
Rating: 40/100
Recommended? No
That is one of my biggest problems with this program, from the sales page you have no clue what you are signing up for… Just a system that means you only need to put in 30 minutes work, and you can start to see results within 72 hours… That sounds awesome – But how?
Well, after a lot of research and checking out the system, in essence it is a training course in how to create a niche website using the Affiliate Marketing model.  With training videos and tools there to help you create a small niche website that you can use to promote products and utilising ads to earn revenue.
On the face of that, it seems quite legit and is a model many people use – But it is not a "get-rich-quick" type of revenue, so how can they promise results within 72 hours?
I can't get my head around how it can be a 'set & forget' system, as regular fresh and unique content is needed to master it to be able to earn money.
I get their point about some training courses focusing on the Making Money Online niche, this is highly competitive, so picking a small niche that you are actually interested in can be a good move, but they state you do not need to "create boatloads of content" so how are you going to get ranked well, especially as they are only using free methods of traffic.
They are targeting people who are new to the MMO world or those already struggling with Internet Marketing.  But I think it is misleading, that you have to pay anything to find out actually how the system works, and then find that the upsells are pushed at you because that is where the owners will really make their money.  
You will also find that these products they push at you, are really where the automation they are discussing comes into play to allow you to earn money passively.
Whereas a training program like Wealthy Affiliate offers a free starter membership where you can experience their platform and training and make your own decision.
I am not feeling 100% confident the Golden Ticket program is a great move for those just starting out.
How Does Golden Ticket Work?
Basically, it is a training program with videos showing you how to set up your own niche website in any interest you have, and supposedly once you have set it up you just need to go on and create content every now and then to keep it going. In the sales pitch, they state 30 minutes a day.  Now, I want to put that into context.  My website is a niche website and I work really hard to make this work, and it is still nowhere near the earning potential I want and the website is 6 months old.  I have to create content to tackle the free traffic method called SEO and the time it takes to write an article is much longer than 30 minutes.
Writing an article or recording a video takes – keyword research, actual research into the product or subject I am writing about.  Building a flow for that article and actually writing that article could take a couple of hours.  Because the search engines are looking for thorough and useful articles, not quick and pointless information.
Whilst the training could benefit people, I think the expectations of someone signing up for Golden Ticket is going to lead to them giving up way before they make any money.
Affiliate Marketing is a proven method for earning money online, but there are no shortcuts and I feel all the sales pitches on the Golden Ticket website is just to get you in, and hope you fall for the fact that it is going to earn you the money they talk about on their sales pages
I am in no way saying that those sales are unachievable, but you need to understand you will not earn money straight away from it.  Once it starts earning you money, it can become a great way of earning money.  But I feel Wealthy Affiliate is a better training program, which you can try for free and have realistic expectations and awesome support too.
The key bit they go on about, is the 3 steps below: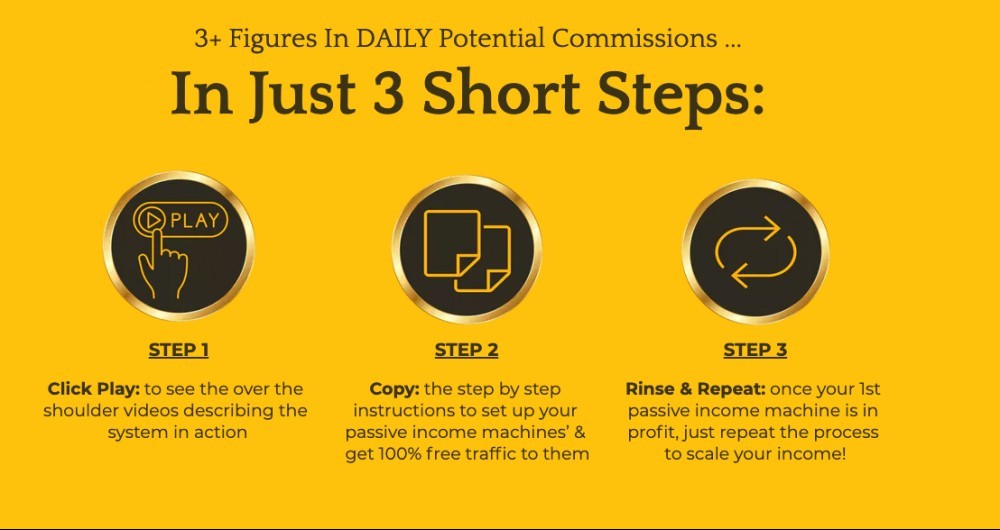 this is the only place where it mentions potential, it is potential commissions because no one can guarantee sales from internet marketing.
Haven't Made Your First $1 Yet?
Studies have shown that more than 70% of the people who want to make money online have not made their first dollar yet. So, you're not alone!
How Much Does Golden Ticket Cost?
Look, people are going to be interested as it is only going to cost $8.97. But I have already mentioned expect the upsells to kick straight in, and there is no mention of them in the sales pitch at all, and looking at them, you are probably going to need them to actually get to the point of earning money with this program.
Upsell One – Done-For-You Golden Ticket Pack ($37)
This is a DFY pack, which includes a list of (top-secret) and high-converting niches with keyword research/templates and quick start videos.
So, you don't get this support as part of the main product?
Upsell Two – Advanced Golden Ticket Tactics ($37)
This is where you learn how to up your profits by 5x, with insider secrets from Shaun.
Upsell Three – Golden Ticket Licence Rights ($47)
This gives you full rights to resell Golden Ticket.  You have to pay $47 to be able to promote Golden ticket to earn 100% of the commissions.  They include step-by-step training on this
Upsell Four – Golden Ticket Outsourcer Rolodex ($27)
Access to the best and affordable contractors for any project.
Whilst all of these features look great, why do you need to pay over $100 to get this type of support, I normally advise people to stay away from products where you need to pay to be able to recommend it for affiliate commissions.
I think this product will offer some value, but the main reason why people fail at Affiliate Marketing or Internet Marketing is having unrealistic timescales.  I did not earn anything for 6 months, most give up after 3 months because they still have an employee mentality.  I do an hour's work, I should earn an hour pay.  It doesn't work like that.  
But when you have an article that does finally start making money, that same article (with regular updates) can earn you money for years to come.  I just think this product is overhyped and will lead people to believe they can only spend 30 minutes a day on their business, when I have to spend hours on it every week, and I am only just starting to scratch the surface.
What We Liked About Golden Ticket
Here is what we liked about Golden Ticket:
#1 Training on Internet Marketing
Whilst the training videos could be better, they still do teach you the basics of setting up a niche website and how to earn money through advertising and affiliate marketing.
#2 30-Day Money Back Guarantee
AS this is covered by the WarriorPlus money back guarantee, it might be worth trying it.  But I would recommend you go in with caution.  The timelines for earning will be longer than 30-days, so not sure how likely you are going to get your money back.
What We Didn't Like About Golden Ticket
Here is what we didn't like about Golden Ticket:
#1 Hitting you with Upsells the Moment you are in
This is a typically method, they bring you in with a low-price ticket item and then they start pitching to you the need to buy these products to amplify your sales.  But this is where it gets interesting, if you have a training program that you are raving about and it works for you and can really benefit people, you are going to want to promote it.  I recommend WA, because it has worked really well for Gem and I and we did not have a clue about starting an online business before we joined.  We can also promote WA for free, and benefit from anyone who joins.  But you have to pay to be able to promote Golden Ticket.  These upsells are also not visible until you join, which I feel is quite naughty as you are expecting to get the product for $9
#2 Done for You Packs
The first upsell is a done for you pack, which means what it sounds like.  But these are typically the same for everyone that buys them and means that it is going to be duplicate content.  Google hates duplicate content, and if you cannot get ranked in the search engines, how do you think you are going to get any traffic?
#3 Only Positive Reviews
This isn't necessary a bad thing, especially if a product is good like Wealthy Affiliate.  But these positive reviews all came out prior to the product launching, meaning they are insiders and aren't necessarily coming from a place of being neutral.  Especially as they are all offering the same bonuses that are on offer when you supposedly buy it.  But when you look at the bonuses on offer, it is just the main product reworded to sound like bonuses.
#4 Vague Information Upfront
Until I did some thorough research, I did not have a clue how this system would work.  The sales pages looked like so many scams I have seen, with the clock ticking down until the price went up (which didn't), all of the money earned with "less than 20 minutes work a day".  It was only by watching another video review, that I actually saw it was just an Internet Marketing training program, which if I am honest is no patch on Wealthy Affiliate.
Haven't Made Your First $1 Yet?
Studies have shown that more than 70% of the people who want to make money online have not made their first dollar yet. So, you're not alone!
My Golden Ticket Review - Final Conclusion
No, I would not say it is a scam.  But I would say it is a typically MMO program that is making a lot of promises that are unrealistic to achieve in the timescales they are talking about.  Most people starting out have a limited amount of time to learn and put these methods into practise.  
If I could get away with just 30 minutes a day, that would be awesome, but I am realistic that I am building this for the long run, and that it could take a year or more to earn enough to give up my day job.  But it really needs to be something that you are spending hours on to achieve the earnings the guys mention in their sales pitch.  
He talks about 2 years working the making, I can totally understand those earnings from someone who knows what they are doing earning that after that amount of time.  A newbie will not unless that are lucky or have the right training and support.
I cannot say this system will not work, but what I will say is hopefully you are better informed now and will have a better grasp of the expectations needed to be successful in Internet Marketing.
Affiliate Marketing is a great way of getting started with your own online business online to achieve your financial and non-financial goals.  But without the right training, expert support and the right work ethic and expectations you could fall into the high number of affiliate marketers who fail. 
If you truly want to be one of the successful ones, I would advise you check out my Wealthy Affiliate review and learn how Industry Experts help you get started on the right path.
See the difference below:
Thanks for checking out our Golden Ticket Review!  If you have any questions or comments to add, then please write them in the comments section below. 😉