Welcome to our FluidStack Review!
Can you really get paid just for sharing your computer and internet connection, or is there more to this platform than meets the eye?
There are a few reasons why you may be concerned about this software, particularly the part about giving them access to your personal computer, but we are here to reveal all you need to know.  Is FluidStack a scam, is FluidStack legit and ultimately is it worth your time, and your electric bill…
First off, it is great to see that you are doing your research before buying into a "seemingly good" product.
It is the best way to avoid scams and find only legitimate ways to make money online.
To be completely transparent, we are not associated with FluidStack in any way. So, rest assured we are not here to pitch or sell you anything.
We just want to ensure you know all the details you need to know before deciding on whether you are going to sign up to this program or not.
We will reveal to you how it works, what the benefits and concerns are, and ultimately what our honest opinion is.
Let's get started with a quick product overview…
FluidStack Review Summary
Product Name: FluidStack
Founder: Gary Wu, James Cox, Reaal Khalil
Product Type: Get-Paid-To share your computer and internet connection
Price: Free to Join
Best For: Those not worried about privacy issues and have a fast internet connection

Pros
 Passive Income
Get Paid to Paypal
Good Referral program
Cons
Data Privacy Concerns
Need a Fast Internet Connection
Cannot Use Your Computer
Huge Waiting List & Rejections
Can Lose Referral Earnings
Summary: FluidStack offers you a way of earning money from sharing your computer and internet connection.  They connect your computer to a network so that they can host websites data.
Whilst they are legit, there are concerns about their privacy policy, it'll depend on the speed of your internet connection and if you want to use your computer at all.  But there are other concerns that make us not to recommend this program to you, like the income potential is really low.
Rating: 30/100
Recommended? No
FluidStack is advertised as a Distributed Cloud Platform.  They claim it helps significantly speed up website content delivery at a fraction of the cost.
Their aim is to rely on a network of consumer computers around the world to create an ultra-low content delivery network (CDN).  So, instead of using huge expensive data centres, they offer an opportunity for you to contribute by renting out your computer processor (CPU) and internet bandwidth.
So, if you join FluidStack, your computer will become part of this network and be used as a cloud server, storing and providing content data.
They say you can earn between $5 – $50 per month, which will depend on your computer and your internet connection and how much time your computer is idle.
It is the brainchild of 3 Oxford University graduates.  They are Gary Wu, James Cox and Reaal Khalil.  They founded the start-up business in 2013.
The founders claim to have raised $1.1million form Europe's most renowned seed investors like Seedcamp, Episode1, and Founders Factory.
The main concerns that you may have are either privacy related or whether your PC will be used to mine Cryptocurrency.  But I think the concerns related to cryptocurrency are unfounded.  But I cannot say the same for the privacy from giving people access to your PC or Internet connection.
How Does FluidStack Work?
FluidStack works in a similar way to other platforms like HoneyGain, and PacketStack.  There are a few requirements to discuss before you consider applying.
Requirements
Before we get into how FluidStack works, there are a few hoops you need to go through.  The first one is making sure your computer meets the minimum requirements and then the second is about your internet connection.
PC Minimum Requirements – You will need to have a Windows desktop computer with at least a 2.5 GHz Dual-Core Processor, with 2GB RAM.  You will also need at least 10GB of space available on your hard drive for the software to use.
Internet Connection – You will also require an internet connection that is more than 10MBps.
Then there is the fact that your PC needs to available for at least 50% of the time during the whole month.  This is down to the fact that the software only works when your computer is idle, as in you are not using it. 
If you usually leave your PC on all the time and don't use it that often, then you might not really notice it.
But if you don't normally leave your PC on all times, you will need to consider the additional cost of leaving your PC running all the time.  As this software will stop it going into power saver mode.
Please note that VPN servers are not accepted, and you will only get paid once per IP address.
So, don't think you can have two PC's running on the same network and get paid twice.
How It Works?
Once you have installed the software onto your computer, you just leave it running in the background and leave your PC on at all times.  The software will detect when you are not using your computer and then it will start using a small part of your internet bandwidth and the CPU to serve web content on the network.
How Much Can You Earn at FluidStack?
They amount you can earn is claimed to be between $5 – $50 per month.  The main thing that will determine the pay rate is mainly based on your internet speed and the amount of time your computer is connected to the internet.
They say that to reach the maximum $50 per month, you should have a 500 Mbps fibre broadband and your computer needs to be available all the time (24/7).
But when you consider that means you cannot use your own computer and that $50 will typically not cover your electric and broadband costs, I am not sure how that becomes realistic.
You should expect to earn around $10 per month if your internet speed is around 100 Mbps.
But the application form even states that they prefer devices that they have sole use of, if you cannot commit to that they tell you to apply later on.
Haven't Made Your First $1 Yet?
Studies have shown that more than 70% of the people who want to make money online have not made their first dollar yet. So, you're not alone!
What Info Do They Have Access To?
FluidStack's Privacy Policy is very simplistic, it misses out critical aspects that are required by privacy regulations in Europe, more commonly referred to as GDPR.
For example, they primes they won't collect any personally identifiable information from you but fails to inform you which data.
With a little bit of research, we found a Reddit thread that displays the list of all the personal data they are collecting.  These are your IP address, Internet Service Provider, Internet Speed and hardware information (Operating System, RAM, CPU and GPU).
They also gather your name and email address and your location via the application form.
There is the issues with the fact that they do not give their users the option of opting out and the right to delete all their data from the system, which is what GDPR is all about.
Getting Paid with FluidStack
The minimum threshold to be able to receive your money is $5 and you will get paid via PayPal at the end of each month (as long as you have earned the required amount).
The FluidStack Referral Program
FluidStack will pay $5 per referral that signs up and installs working nodes.  You are given a referral code to share with your friends and family.  But they have to type this code into the application form when they join, so if they do not add this or forget, you will not receive this figure.
There is also a long waiting list of people waiting to join at the moment, so it might not be the opportunity you think it is, either.
If we check out the reviews on the Trustpilot website, FluidStack scores a decent 3.9 out of 5.
There are more positive reviews than negative.  But you have to take these types of reviews very carefully.  They may just want to get you to sign up using their referral code. 
But if you check out these positive reviews, they seem to report good results: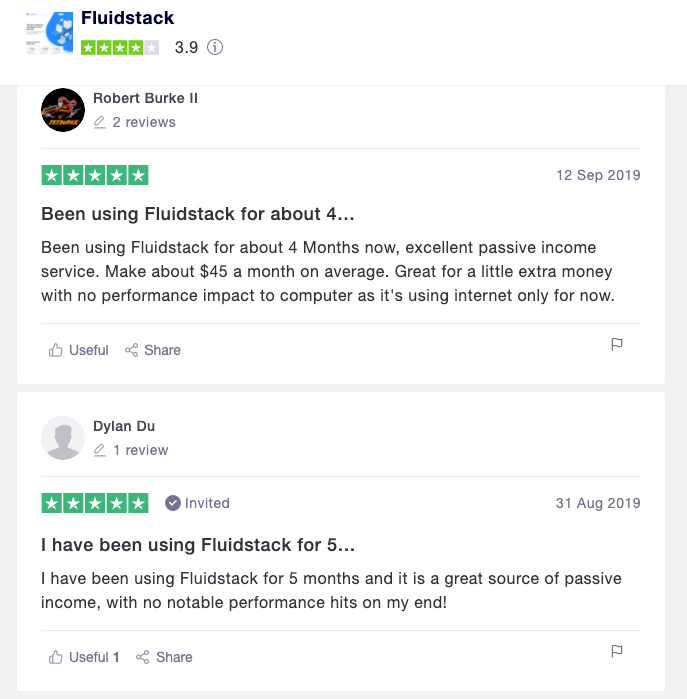 On the other end of the scale there are also people who are reporting negative experiences with FluidStack: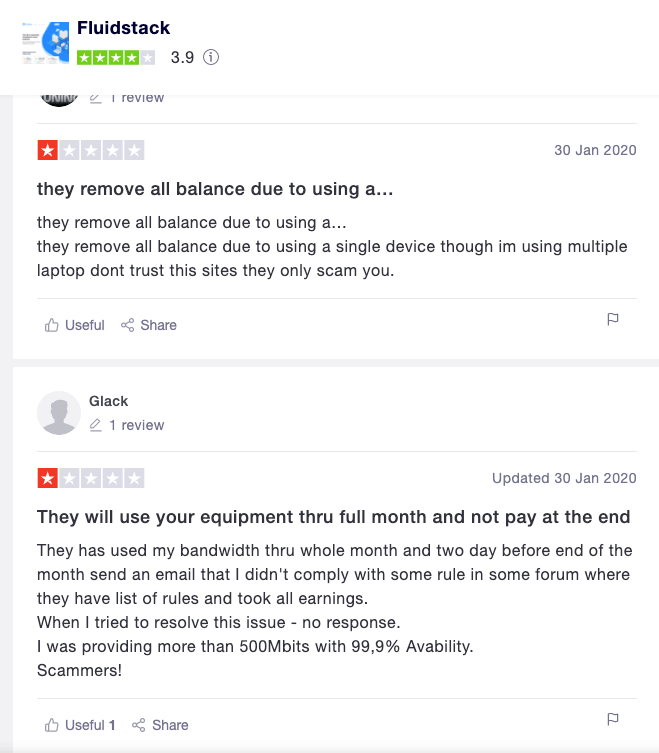 They are reporting that they had their devices fully available offering the maximum bandwidth and have not been paid.  These comments are pretty recent too.
I have my concerns, which we will cover off in the next section, but it definitely shows that people are seeing different results with this platform.
What We Liked About FluidStack
Here is what we liked about FluidStack:
#1 It Is Passive Income
Not really much else to say, it is technically passive income.  All you need to do is install it and leave your computer on and connected to the internet. 
You do need to weigh up whether the money you will earn does at least cover the costs of your internet use, and the electricity costs.  You also need to consider whether there is a limit with your internet provider. (Some do).
#2 Get Paid Via PayPal
PayPal is legit, so this is a good sign and it means you have access to your money as soon as they have paid you.
#3 Good Referral Program
I mean good as it is decent that you can earn $5 for inviting someone to sign up.  My only reservation at this point is that they are telling you there is a huge waiting list, so your referrals may not get the chance to sign up (hence, you earn no money) and they have to enter your referral code into the application form.  If they don't bother doing it, you will not earn the money.
But still $5 is still a good amount for introducing a member.
What We Didn't Like About FluidStack
Here is what we didn't like about FluidStack:
#1 Data Privacy Concerns
I have already spoken about the fact their privacy policy is very vague.  In fact, when I went to double check something earlier it wasn't even available on the site.  But you are pretty much giving these guys access to your computer and your internet connection.  I do worry about how much access they do get, as no one can really know.  There are concerns about if someone manages to access their system, then they will get access to your IP address.
We reviewed a platform very similar called Honeygain, and we had similar concerns as there just cannot be any guarantee about data safety.
I wouldn't particular use a platform like this, but if I were to.  I would ensure it was a computer that had been wiped and restarted and then just left to work.  That way, they cannot access anything of any interest on it.
#2 Need a Fast Internet Connection to Earn $50
You can only earn the maximum of $50 if you have a really fast internet connection.  Otherwise, you may find you are earning nothing like that amount.
#3 You Can't Use Your Computer If You Want to Earn $50
Then there is the fact that they are only really interested in computers that you can sign over to them.  If you are using your computer every day, then you will find that they may reject you or your earnings are hugely impacted.
You basically need a decent computer with a high-speed internet connection that you leave on at all times and never use to have a chance of earning $50 a month.  But I bet you are paying more than that for your internet alone, plus there is the electric bill.  As the computer will not be in power saver mode, it will be active at all times.
#4 Huge Waiting List & Can Be Rejected
If you visit their website at the moment, you are told there is a huge waiting list.  So, applying does not guarantee you anything.  If they are seeing the demand, they say they are getting, then they can be very strict on who they allow into the platform.  They will be picking devices that are top end and with a high-speed internet connection.  I found it very odd that they want your GPU details, when it is not supposed to impact your device too much.  I would say that it is going to impact your device more than they say if they are going to utilise your graphics card too.
Then there is the fact that if they can be this picky, you may get rejected anyway.
A low-end computer available part of the time with a slow internet speed will not interest them at all.
#5 Can Lose Referral Earnings
Because they expect your referrals to type in the code, this leaves it up to chance.  If they type it in wrong, you will not get the $5.  If they forget, you don't get the $5.
If they don't accept your referral, you will lose the $5.
It doesn't fill me with confidence, if you ask me.
Haven't Made Your First $1 Yet?
Studies have shown that more than 70% of the people who want to make money online have not made their first dollar yet. So, you're not alone!
Whilst I do not believe this to be a worthwhile venture, I wouldn't particularly call it a scam.  I think there are many variables that can impact whether you actually earn any money from it, but there is still evidence to say that people are earning money from their platform.  Albeit a small amount.
I think you really need to think about whether the costs and impacts to you are worthwhile.  If you are going to give up a computer you use every day in the hope it earns you a higher amount, that can impact you and your family.
I think about it from my point of view, my son uses my laptop all the time for schoolwork and stuff.  Why am I going to buy a brand-new computer just so he can still use it, for a chance of earning $50 a month.  The new computer would cost me a lot more than what I Could potentially earn with this program.
Everyone is different, if you have an old computer that is still good enough to do the job then you just need to consider whether you can earn more than you spend on other things
My FluidStack Review - Final Conclusion
In my opinion, there are much better ways to earn passive income.  When you read comments about people leaving their computer on all day and yet not earning anything, shows that it totally depends on whether they need your device too.
I am not even sure they are accepting new people at the moment, if you check out their website.  But it sounds like they only want to accept who they want, and I get it.  A slow device will affect the integrity of their network.
So, all in all, I can't say it is a scam.  I cannot really tell you not to sign up with them.  But what I can say, is that there are a few too many concerns that make me wary of anyone signing up with it.  The fact they are very vague about your personal data, is enough for me to say I wouldn't recommend this to you.
Especially when there are much better opportunities to make passive income out there.  Read on the see how we earn passive income.
We make money through something called Affiliate Marketing.  We write helpful content for our website, which attracts visitors and generates income through affiliate marketing.
We earn commissions through promoting other people's products.
There are so many advantages to affiliate marketing, and to that end we feel it is the best way to make money online.
The reasons are simple:
You can turn any hobby or passion into an affiliate marketing income
You can work wherever and whenever you like
You are your own boss, and there is no customers to deal with, unlike other opportunities such as MLM or Drop shipping
There is no selling or recruiting needed
It is FREE to get started
Anyone can get started, before we got started, we didn't know how to build a website or anything to do with online marketing.
But with the right training, a complete newbie can earn a full-time income online.  That income is passive, as in you do not need to handle the transaction.  Just put in the groundwork and the income will come.
You will have to put some time and effort in to make it work though.  To get started, to learn the skills you need and to build a website that earns you money, you will need to work hard and put real time into making it work.
But it is so worth it, and with a proven step-by-step training guide from our #1 Recommended Program, you cannot go wrong.
If you want to learn more about affiliate marketing, then click HERE.  If you want to learn more about the training program that helped us get started, then click HERE.
Thanks for checking out our FluidStack Review!  If you have any questions or comments to add, then please write them in the comments section below. 😉