Welcome to our Easy Pro Funnels V2 Review!
Have you seen an ad for this "amazing program" that will easily let you build affiliate sales funnels and generate high-quality leads, and ultimately make money and you were wondering whether it was the real deal or not?
First off, it is great to see that you are doing your research as it is the best way to avoid online scams and find legit ways to make money online!
Easy Pro Funnels V2 by Matt Garrett, makes it sound like this software will change the world for budding affiliate marketers, but whilst the sales page might have a lot of hype we wanted to dig into the details and see actually how it works and whether it would actually help a beginner get started with affiliate marketing to make money online?
There are tons of 100% positive reviews online which can be very misleading but know that we are not affiliated with Easy Pro Funnels V2 in any way.  So, relax we are not here to pitch or sell you anything.  We want to give you an objective review and covers off all angles of any MMO product.
They all claim to make you easy money, but we do the leg work to see if that is actually the case.  Here you will find our opinions on this program and we will let you know all the details you need to know (and not just a one-sided version to make money off of you).
Let 's get started with a quick product overview…
Easy Pro Funnels V2 Review Summary
Product Name: Easy Pro Funnels V2
Founder: Matt Garrett & Tony Marriett
Product Type: Affiliate Marketing & Funnel Builder Software
Price: $67 (currently $17) + Upsells ($27/month + $167), and additional costs too
Best For: More Experienced Marketers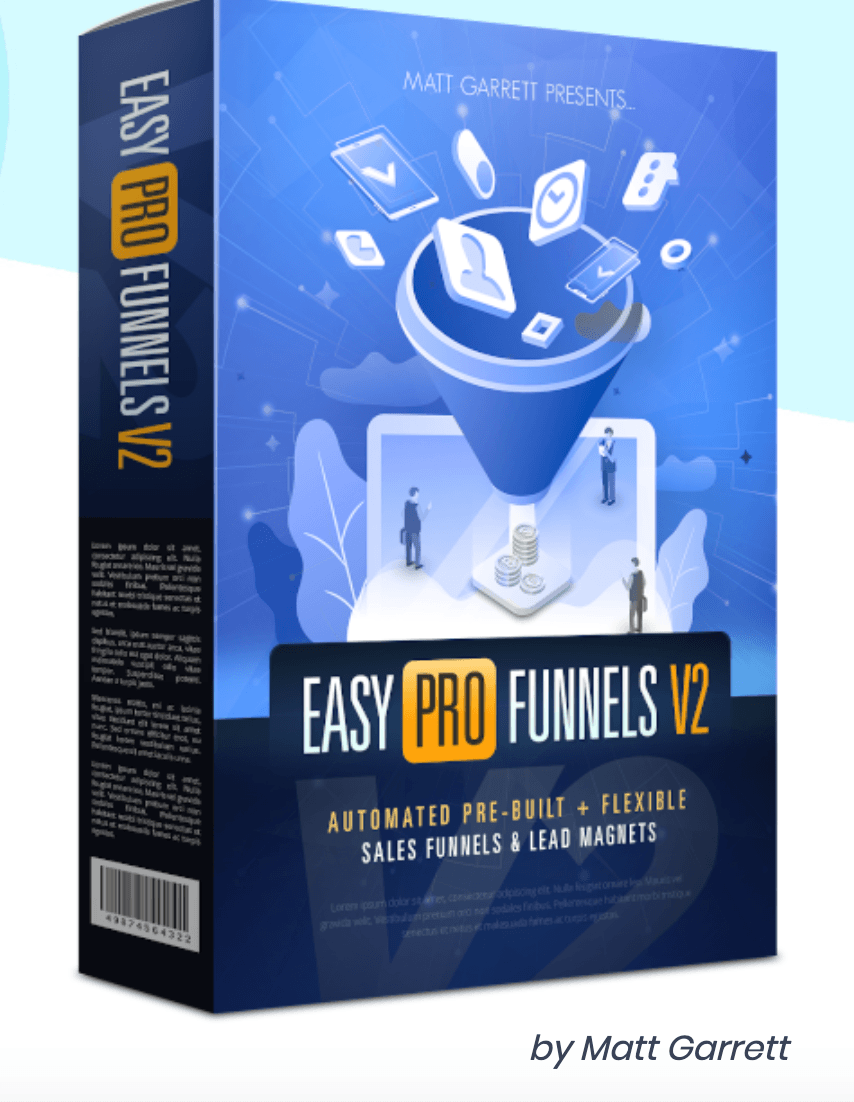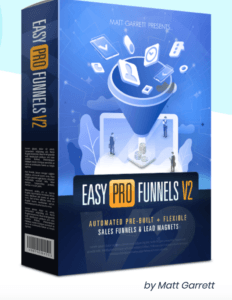 Pros
Creates Funnels for MMO Programs
Money Back Guarantee
Cons
Full of Hype & False Promises
Still Missing Traffic Source
100% Positive "Fake" Reviews
Summary:  Easy Pro Funnels V2 claims to be a platform to help you create done-for-you sales funnels for affiliate products and grow your email list.  Whilst this program does do that, the problem is the way it is marketed as a way to help struggling affiliate marketers or people aspiring to get started with affiliate marketers.  This will not help improve any sales as you still require traffic.  They do not provide in-depth information about acquiring traffic, which practically makes this software useless.
Experienced Marketers will already know how to attract traffic, and this program will not help new affiliate marketers get any sales, as you still require traffic.  Making this a pointless investment!!
Rating: 10/100
Recommended? No!
What is Easy Pro Funnels V2?
Easy Pro Funnels V2 is an online platform that allows you to create custom Sales Pages or Email Capture pages based around products available on ClickBank, JVZOO and Warrior Plus.
For beginners, you will also require an account with these 3 to access your affiliate link.
Using their platform, you choose from a number of products in your chosen niche, choose the appropriate sales page, add your email capture bit, etc.
It also requires you to add your affiliate disclosure, etc.  Which are legal requirements.
But there is a problem straightaway.  The program tells you that you do not need a website, well how can you add an affiliate disclosure, etc. without a website?
Once you have your sales funnel looking the best you can get it with their templates, you are ready to share it with whomever you want.
Here is their demo video to see how it works:
From reading the sales page, they are clearly targeting either the struggling affiliate marketer or the complete newbie with this program Easy Pro Funnels V2 is the latest program from Matt Garrett and he has partnered with Tony Marriett.
Easy Pro Funnels V2 is a program that gives you the ability to use their Done-For-You template affiliate marketing funnels for affiliate programs on marketplaces like JVZOO, Warrior Plus, ClickBank, etc. You can also use it to capture leads for your email marketing campaigns.
So far, so good.  Whilst I do not feel these DFY templates look particularly great, (the MMO sectors always seem to use unattractive templates with fancy quotes to get people to buy stuff), they program does work like it says.  But that doesn't mean it will help you get more sales… we will cover that off later in the review.
If you have any experience in affiliate marketing, especially in the MMO sector you will appreciate that it is very hard to get approved for products, especially on JVZOO as you haven't had any sales yet.  So, this software seems to bypass the approval bit to allow you to get access to promote the products.
But there will be a reason why you haven't had any sales yet, and that is probably to do with getting enough traffic.  Well, let's see how this platform works and whether it is going to fix that traffic problem for you…
How Does Easy Pro Funnels V2 Work?
Right, so you have a sales funnel ready to go and then what… They aren't going to provide the traffic for you, they have left that for you to worry about.
If you are a beginner looking to get started with affiliate marketing, you need to know that traffic is one of the most important aspects to your business being successful.  Without traffic, you have a product that no one can see.  If you think about a bricks and mortar business, it is like having a lovely range of products available in the window, but always having the shutters down so no one can see the products and you never opening the shop.
There are tons of these MMO programs that all claim to help you increase your sales or help build up your email leads, but if you are struggling to get traffic at the moment or haven't even started, that is what you will have.
You will have this program that has a number of different sales funnels for you, but no one to share them with. 
If you want to be successful at affiliate marketing, you need to learn how to get high-quality traffic.  If you know how to generate free traffic using the search engines, you will never need to rely on crappy programs like this to make money.
If you are struggling or want to get started with affiliate marketing, then learning how to get traffic is the most important advice I can give you.  Our top recommended training program will show you how to generate free high-quality traffic in a niche that is something you actually want to start an affiliate marketing business in, and they will support you through until it does start getting traffic and ultimately sales.
Will Easy Pro Funnels V2 work?  It will for someone who is already promoting these crappy IM programs online, but the difference is these people are already well versed in how to get traffic.  An established business that has been generating traffic for a while and knows all the different routes could use these programs.  But as you can see from the 100% positive reviews you will see about these products; they are making money by lulling innocent people into their sales funnels knowing they will fail without learning how to generate traffic.
Regardless of what it says on their sales page, without traffic any online business you have is useless.
Without a website, you will only have options like:
Social Media – sharing with your friends and family
Social Media – Paid Ads (Facebook Ads, Instagram Ads). Expensive and not guaranteed
Solo Ads – Not reliable and expensive
Let's get into the costs associated with Easy Pro Funnels V2.
Haven't Made Your First $1 Yet?
Studies have shown that more than 70% of the people who want to make money online have not made their first dollar yet. So, you're not alone!
How Much Does Easy Pro Funnels V2 Cost?
We have reviewed a lot of these "magical" programs that claim to help you make money quickly and easily, programs such as Monster Mode, Set & Forget, SnatchIt and Cloud Funnels and they all promise you the world on their sales page.  But the reality is that traffic is normally the thing they leave up to you, which is the hardest part of any sales funnel.
They also tell you that you are getting a fantastic deal if you buy it now, only for you to find the base product has limitations and that you need to upgrade to unlock the features that they neglected to tell you about.
Easy Pro Funnels V2 is no different, let's go through the funnel:
Easy Pro Funnels V2 $67 (currently at $17, with price increases regularly)
A Cloud Based Funnel System includes pre-built affiliate funnels, link cloaking and tracking. Automatic List Building and autoresponder integration.
OTO 1: Easy Pro Funnels V2 Membership $27/month
This will add a new auto approved JVZOO product funnel each month.
OTO 2: WP Toolkit Developers Edition $147
This gives you 600+ Premium Themes & Plugins with Developer Rights for WordPress
These might sound really appealing to you and as you are struggling to make affiliate sales you might think they sound great, but I stress that none of these programs will help you attract traffic to your affiliate offers unless you are willing to pay for traffic.  This can be expensive and ill-advised if you are not sure how it works properly.
Just because someone sees a sales page, does not mean they will buy it.  You need a relevant product put in front of the relevant target audience to make money with anything you promote, regardless of whether it is affiliate marketing or not.
And as for the second upsell, you can get memberships that are lot cheaper than that, and they regularly keep you updated, etc.  But it also requires you to have a website.
What We Liked About Easy Pro Funnels V2
Here is what we liked about Easy Pro Funnels V2:
#1 Creates Funnels for MMO

Programs
This program will not help newbies or struggling affiliate marketers as it doesn't help them generate the traffic needed to make sales, but for experienced marketers, it can create sales funnels for them.  Having said that, they will already know how to generate products without the need of buying this program…
#2 Money Back Guarantee
Like many of these programs, they do offer a money back guarantee.  But the owners do tend to benefit from the fact that not many people bother trying to get a refund for the $17 bonus price…
What We Didn't Like About Easy Pro Funnels V2
Here is what we didn't like about Easy Pro Funnels V2:
#1 Full of Hype & False Promises
The sales page is just the usual hype and false promises that many of these MMO programs have.  The program will let you build a sales funnel for products available on ClickBank, etc.  But it still will not be able to help you make sales as you need traffic.  Whether you have a website or use their cloud hosting and grab the link.  You need someone to see that link to actual click on it…
This program cannot do that for you, but their sales page makes it sound like you need this.
They are talking about making affiliate sales and building up an email list.  There is little point having an autoresponder until you have a ton of traffic hitting your website.  Why pay a monthly subscription for an autoresponder when you haven't got anyone on your site to sign up to it.  These sales pages make it sound so easy to newbies, when the reality is you need to put some time and effort into your business to get sales, not a snazzy program that will only end up putting you further into debt.
#2 Still Missing Traffic – So Important!
I stress, the most important aspect to your online affiliate marketing aspirations is knowing how to generate traffic.  This program will not help you there.  I know, you might be struggling to get traffic to your affiliate offers, but this is not going to help you there.  You need to understand why your traffic is not going up.  Is it because you are on a brand-new website, well it takes time to build up your authority?  Are you in the right niche?  Are you in a competitive niche like MMO?  It will take you longer to build up that traffic as it is a competitive niche.  It took us a year to start seeing consistent traffic on this site.
Or, the biggest reason why people struggle with traffic is that they are not consistently creating content.  Either way, you need to follow the right strategy and not keep looking for shortcuts like this one.  They only improve sales for the owners of these programs and not move you closer to your goal of making money.
Our top recommended training program has a fantastic step-by-step program that will take you through everything you need to generate high-quality traffic that is ideal for your niche.  If you follow the right training and have some patience, you will soon see that you will never need to buy crappy IM programs like this one.
#3 100% Positive "Fake" Reviews
This is also a sign that is normally associated with a product that is not all it seems and that is you will find tons of positive 5/5 reviews for these programs.  Now, if the program was truly a 5/5 everyone would have that opinion.  But these reviews are misleading, as they are more interested in getting you buy it rather than give you the full details.  This program lacks any training on building up effective traffic streams.  So, how is it going to support a new or struggling affiliate marketer with their sales without those elements??
You will also notice that these reviews are pretty much only describing what is on the sales page.  They are not giving you any real opinion other than "Buy it… Oh and have some bonuses".
It is enough to lull some people in, unfortunately.  If all these magical programs worked like they said they did, then every internet marketer would have been using them already.  If you think about it, if the first one did exactly what it said it would, then it would be a top seller and there would be no need for any others…  There are thousands of these programs, because people start to suss out, they are crappy, so the owners need to revamp it or start another program to make money from them in a different way.
I would love to tell you that every Internet Marketer out there is here to help you, but many of them are only interested in making money from you.   If they truly wanted to help you, they would share with you the methods they learned when they first started and that is by generating free traffic via the search engines with high-quality content.
The thing is, the correct way does take a little bit of time and effort.  So, naturally people struggling with money tend to look for a shortcut.  These shortcuts never work, but the marketers don't care as they make money when you buy it through their link.
You will see a genuine marketer out there as they are honest about both sides of a program and not just sell you a product to make a bit of money.
Haven't Made Your First $1 Yet?
Studies have shown that more than 70% of the people who want to make money online have not made their first dollar yet. So, you're not alone!
My Easy Pro Funnels V2 Review - Final Conclusion
Is Easy Pro Funnels V2 a scam? No, it will provide an affiliate marketer with funnels for programs in their chosen niche.  Is it the right product for a beginner or struggling Affiliate Marketer?  Definitely not, and that is because it will not help you get traffic.
You will be out of pocket and no closer to making an affiliate sale, as you still need to put this funnel in front of an audience to get them to click on your link.
But the ironic thing is that an experience marketer won't need a program like this because they already understand how to get traffic and there are much better ways of funnelling your products then using a program like this.
This program only has one goal and that is making money from you, regardless of whether it works for you or not.
If you are struggling to make sales with your affiliate marketing business, or are brand new looking for a way to get started with affiliate marketing, we can help you get the help you need to understand the process properly (as there are many training platforms out there teaching you outdated stuff) and they can also teach you how to generate high-quality relevant traffic to your affiliate marketing business.
Let us show you how, in our next section.
If you are serious about making money online, Affiliate Marketing is definitely a great choice.  You can choose a hobby or passion to get started with and there are plenty of affiliate programs that you can utilise in your business.  But you also need to understand that there are no real shortcuts to making it a success.
For those who are willing to put the time and effort into building a business that will generate you passive income, then we can help you. 
If you are still convinced there is a get-rich-quick scheme out there, then you can still keep looking… but you will waste the next year looking for one, only to come back and say "John, you were right!  They are all crappy IM programs".
Affiliate Marketing will help you earn money online from your passion, but it all starts with knowing the basics. 
Many struggling Affiliate Marketers think they know the basics, but when they try out our top recommended training platform and go through their step-by-step guide.  They realise there are huge gaps in what they have been told, or they are even using techniques that will get them blacklisted from the search engines without ever realising. 
The reason is that they were following training that might have been valid in the early years, but the search engines have really stepped up a gear and only want unique high-quality relevant content to show they users.  If you can provide that, you will have the basis of a profitable online business. 
That is what our top recommended training platform offers.  A step-by-step guide that will take any newbie or struggling affiliate marketer through every step needed to turn their niche into a passive income stream.
But you also need to understand that this will not become an overnight success, it will take time for your website to grow in authority.  Some niches, it is easier than others.
But if you know the truth from the start, you can start having realistic timescales and goals in place and the rest is all about helping the people coming to your site.
Once you know how to generate the right kind of traffic to your site, you will have no need for programs that claim they can do all what Easy Pro Funnels V2 says it does, because you have the important stuff already – TRAFFIC.  Once you have traffic you can work out the best sales funnels to improve what you know already works, and you can start working on an email list.
Don't try and do it backwards, as it will never work out.  Focus on helping people in your niche, leads to traffic, once you have traffic you will get sales, then you can start to work on improving them sales.
That is how we got started with our top recommended training platform called Wealthy Affiliate.  You will find no other provider that offers the help, support, training and tools you need to get started with affiliate marketing.
What is even better is that you can get started for FREE with their free starter membership.  IF you do decide to take the first step with them via our link, you will also get our full support at any time.  You need to ask…
For more details on Wealthy Affiliate, here is our full Review.  If you feel like you are ready to take the first step with a free starter membership, then click HERE.
Thanks for checking out our Easy Pro Funnels V2 Review!  If you have any questions or comments to add, then please write them in the comments section below. 😉