Welcome to our Affiliate Magician Review!
Affiliate Magician has recently launched and claims to give you the secrets to success with affiliate marketing… that got us intrigued, so we wanted to see what all the fuss was about.
We are glad to see that you are doing your research, as that is the best way to avoid scams and find legit ways to make money online.
Affiliate Magician claims to give you "A Proven Step-by-Step Guide to Generate Income at Will"? But does it live up to all it's hype.  We will share with you our research today.  Please note that we are not affiliated with Affiliate Magician in any way.  We are here to give you a balanced review of the product.
You will find plenty of other reviewers who are only telling you the positive side and offering loads of bonuses, but not one of them actually tells you the stuff that is hiding between the lines.
This isn't to say that the product won't work, but we would rather focus on the facts and not trying and sell you stuff just because it looks good.  It needs to work first.  
I have seen a couple of videos and reviews as part of my research into this product and some of these were posted before the product actually came out and clearly you can see that they haven't been through all of the program itself to be able to give that kind of opinion.  
It is common with low-quality products and is called Launch Jacking.  But where does Affiliate Magician sit, is it worthwhile, is it a scam, we will share with you what we know here.
Affiliate Magician Review Summary
Product Name: Affiliate Magician
Founder: Dan Khan
Product Type: Affiliate Marketing, List Building & Funnel Training Program
Price: $12.95 + 3 Upsells ($67 – $147) + Hidden Costs ($118/month)
Best For: More Advanced Marketers already with established businesses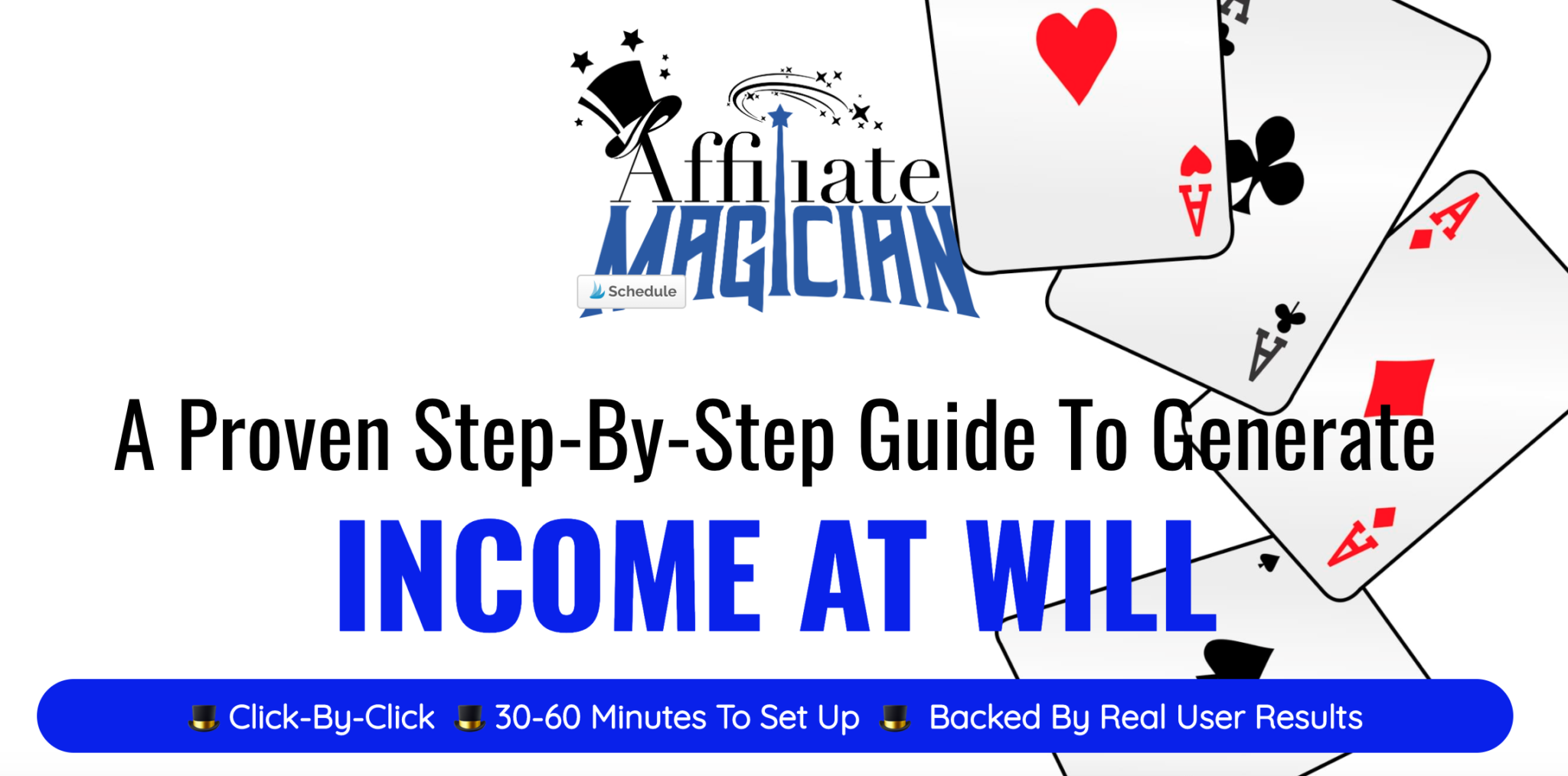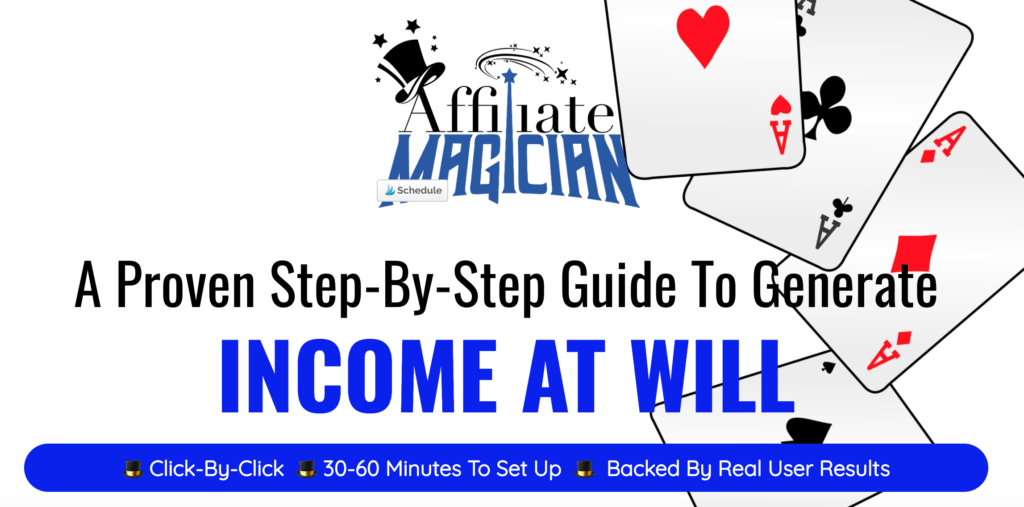 Pros
Offers Training
Money-Back Guarantee
Cons
Full of Hype & False Promises
Hidden Costs
Reliance on Paid Ads
Only Positive Reviews with Bonuses
Not Full Training in Affiliate Marketing
Summary:  Affiliate Magician claims to have a magical formula for you to be making money from day one, but when you start to dig into the details it comes to light that it focuses on building a sales funnel and email marketing that will require you to buy additional software, so the price goes very quickly from only $12.95, all the way up to over $118 per month.  The software he recommends are both legit, they are ClickFunnels & Aweber.  But as ClickFunnels is quite advanced, it is not ideal for beginners like the software claims these software covers.  As for traffic, there is going to be a reliance on Solo Ads which again is going to require you to have a budget to be able to achieve.  
Whilst the software is only $12.95 in the first place, with a 30-day money back guarantee, you will find that once you have handed over your money, it is going to end up being full of false hope and hype as you will need to spend much more to unlock the true capability of the training.  For that reason, I would not recommend this program, especially for beginners.
Rating: 45/100
Recommended? No
What is Affiliate Magician?
Affiliate Magician is a training course based on creating a Sales Funnel & List Building to enhance your affiliate marketing sales.  It is brought to you by a guy called Dan Khan, who is from Singapore.
He claims to be able to "Make Sales Magicly Appear" with "Zero Tech Skills" so that you can "Create a Sales Machine".
Dan has also targeted a broad range of users.  From the sales page, I would surmise he was targeting beginners but his training covers beginners, intermediate users and advanced users.
But from what he is teaching (sales funnels and list building) many advanced users would not benefit from this platform.
To understand what the training is covering, you first need to understand what affiliate marketing is, what sales funnels are and all about list building.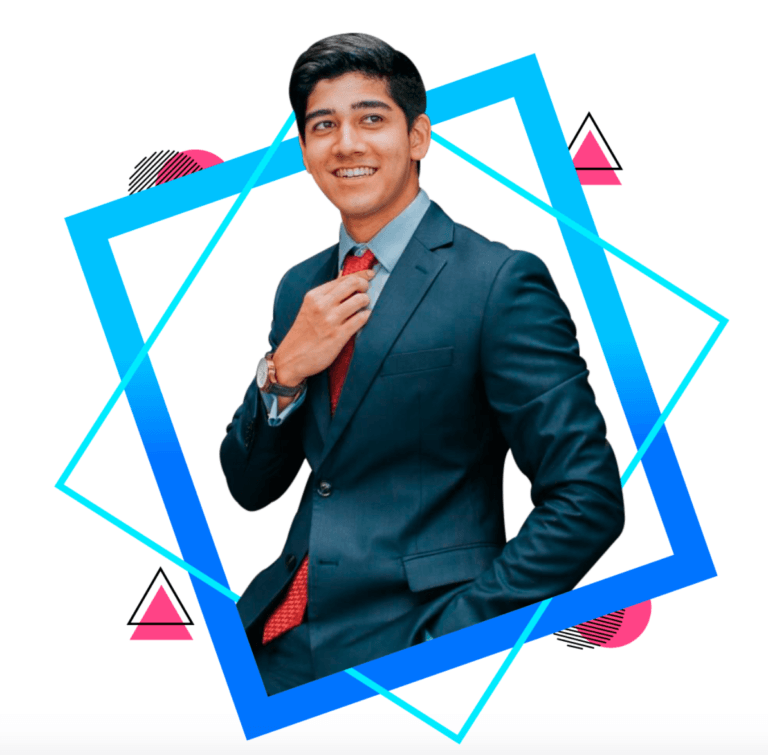 Like I say, I think this is more targeted at beginners who are going to lack the knowledge around these subjects, so it makes sense you understand these points first before deciding on whether Affiliate Magician is right for you.
What Is Affiliate Marketing?
If you don't Know what affiliate marketing is, note that it is the way we used to make money online and is something we would recommend to beginners getting started. However, it is important to make sure you have the right training before getting started.
Affiliate Marketing is where you are promoting products owned by others and receive a commission for any sales you make.
For example, if you are in the Amazon affiliate program and have a blog promoting products that are sold on Amazon.  Any time someone comes to your blog and clicks on your affiliate link and that person buys the item on Amazon; you get a percentage of the sale price.
It is our preferred method for beginners, because the learning curve is not as steep as other methods and the start-up costs are minimal.  Affiliate Programs are free, and you can even get training for FREE too).
What is a Sales Funnel?
It is just like it sounds; it is about funnelling traffic to your affiliate offer.  Sales Funnel is a term used to describe a process where we try to convert visitors into customers.
There are normally four steps:
Having a Lead Magnet – offering something of value to gain an email address, for example our lead magnet is our Free Affiliate Marketing Blueprint Guide
A Tripwire – this can be a cheap offer to get them enticed into the product to create a bond between the buyer and your business
The Real Deal – this is the normal product you offer
A VIP Product – offering something extra or bonuses, or a VIP version of your product.
As you can kind of see, many of these sales pages for these products follow these steps.  In the case of Affiliate Magician, he is offering it cheap but then there are upsells to the real products he wants you to buy and then there are the hidden costs that you will need to pay to benefit from the methods he is selling.  More on that later.
Sales Funnels go hand in hand with List Building, which is all to do with Email Marketing.
What is List Building?
List Building is literally building up a list of people's email addresses, so that you can introduce them to a series of emails that is your sales funnel.  So, if you have a website, you would have an email capture page and entice people into adding their email address.
Email Marketing is still a very effective way of building up trust between yourself and your readers.  Trust is an important element in whether they decide to follow your suggestions (the item you are selling).
From this point of view, Dan seems to be offering some good training for beginners getting started with funnelling potential customers through a sales funnel to your affiliate offers.
How Does Affiliate Magician Work?
There are 3 simple steps to the Affiliate Magician Strategy, but nothing is detailed.  As in you have to buy the product to really understand what you are getting.
The 3 steps are:
Step One
The Secret Ingredient
Choosing the Correct Product
Step Two
Set the Stage
Follow My Click-By-Click Video Tutorial
To Setup Your Campaigns
Step Three
Cast the Spell Over and Over Again
As Profits Roll-in, Just Keep Sending Buyers
Using My Hidden Traffic Source
Again, reading between the lines there are positive and negative things to take from these subjects.
For example, picking the right product is important for your affiliate offers, but so is understanding your target audience, which may or may not be covered.
There is also an element of if you find a strategy that is working, understanding how to replicate that will help improve sales, etc.
However, my concerns are whether this is really for someone just getting started as I feel the training will lack important steps at the expense of flashy strategies that will cost you money and they are not exactly upfront about those costs either.
Let's go through the costs now:
Haven't Made Your First $1 Yet?
Studies have shown that more than 70% of the people who want to make money online have not made their first dollar yet. So, you're not alone!
How Much Does Affiliate Magician Cost?
There is the base product, plus 3 upsells.  There are also a couple of hidden costs which I will reveal to you too.
Here are the prices:
Affiliate Magician FE – $12.95: Learn the "proper" way of how to do affiliate marketing. How to "quickly" make money online, using his simple over-the-shoulder training on how to set up funnels and email marketing campaigns.  Use his one traffic strategy which is his solo ad vendor (paid ads).
That's right, there is the first hidden cost.  There is a reason why he is claiming it is a quick way to make money, and that is because you will be using paid ads.  It is a risky strategy for a newbie and one that could put you into debt…  Our advice is always to master free traffic routes like SEO, before venturing into paid ads.
There are also the costs associated with the funnel building and email marketing.  In the FAQ at the bottom of the sales page, he mentions that there will be additional costs due to the sales funnels and email marketing, but he doesn't tell you what they are.  Well, we can tell you that he is promoting 2 programs.  Both are legit, but are costs that you will need to consider:
ClickFunnels – $99/month – Is a sales funnel software. It does get great reviews, so is definitely legit.  But it is an advanced piece of software.  I wouldn't say it is quite for newbies, but the more advanced marketer who is looking to build on strategies they already have working.
Aweber – starts from $19/month – is an Email Autoresponder. Again, it is legit, it is the autoresponder that we use ourselves.  The more email addresses you gain on the list, the more the price increases which could be up to $149/month
But straightaway, the costs have increased much more than just the $12.95 he claims.  You can buy the software and read his training but know that you will need to commit to $118/month before you factor in the costs for the Solo Ads and then as you increase email addresses, the prices will increase again.
It is also important to point out that both ClickFunnels and Aweber offer an affiliate program, so he will want you to join them via his affiliate link, meaning he will earn money from you joining them and then staying with them.  He will earn commission from both.
Then we get into the upsells he offers:
Upsell 1 – My DFY Magic Campaigns – $67: Buy his ready made Done-For-You campaigns.   You will get ready-made funnels and email swipes to help you generate sales.  These funnels have been optimised to generate a greater return on Income, based on his secret traffic source.
Upsell 2 – "Licence Rights" – $47:  This will allow you to sell Affiliate Magician as your own product for you to keep 100% of the commission across the entire funnel.
Upsell 3 – 1-on-1 Coaching – $147: This will include having your sales page set up for you, and receive 2-3 skype coaching sessions with Dan, to make sure that you are able to promote your offers correctly and make money from day one.
In my experience, there are worries across the whole spectrum at the way this is pitched to a complete beginner.  If you are to believe their sales page, you will be making money from day one.  But I just see you being in debt from day one.
Typically, these products that you will be promoting will be in the Make Money Online sector where you will be taught how to use clickbait to get people clicking on them with the belief they will be the end of all your money troubles, but they are normally only the start of your money troubles…
Look at the prices, that they show you and you might think you are getting a great deal, but it is always important to understand the hidden costs.  These sales pages are full of hype and false hope and the fact he keeps talking about his hidden traffic source, is interesting as it probably means buying traffic, which in my experience is the worst thing you can do as it is not relevant.
To sell anything online you need to put a relevant product in front of the audience that the product will be for.  Buying traffic tends to be a lot of bots hitting your website (in this case, sales funnel) and make it look like there is lots of traffic.  But none of them buy anything or click on anything, because they are not real people.
I have to say, at this point the Affiliate Magician is following the trend of many MMO products of offering loads of hype but will not help a beginner get up and running in the correct way, without having them spend a huge amount of money…
What We Liked About Affiliate Magician
Here is what we liked about Affiliate Magician:
#1 Offers Training
Whilst I still think this is a front to get you to his affiliate offers, he does offer 3 levels of training aimed at the beginner, intermediate user and more advanced user.  Sales Funnels can be effective, so a more advanced user who is already using ClickFunnels and an Autoresponder might find this training beneficial.  Especially, as they will already know how to spot what works and what doesn't from the training.
#2 Money-Back

Guarantee
All WarriorPlus products offer a money-back guarantee.  So, if you do find that you are not happy with the product, you can get your money back.
What We Didn't Like About Affiliate Magician
Here is what we didn't like about Affiliate Magician:
#1 Full of Hype & False Promises
If you read his sales page, it makes it look like this is a fantastic deal.  Only $12.95 and you are going to get training that will teach you how to make money with only an hour of work needed.  Why wouldn't you buy it…  But we have already proved, that the costs are much higher, and we are also going to tell you that I do not believe this will work out the way he is stating in his sales page.  It is all hype and false promises, without any real proof.  I know there are snapshots of results in his sales page, but you can screen grab them from anywhere and claim they were made using his strategy.  It is so easy nowadays to manipulate the reader, and make it look like you could be earning that kind of money too.
I am sure others will disagree with me, but I had to really dig to get an idea of what methods he was using in the training and using Solo Ads is not exactly beginner friendly… This is going to lead to many people buying this product based on what they are told in the sales page, end up paying through the nose to follow his strategy to the letter and I am not convinced you will get the same results. 
#2 Hidden Costs
We detailed this earlier, but it is important to go through them again so you understand what you will need to spend to follow Dan's strategy:
ClickFunnels $99/month
Aweber $19/month to $149/month based on number of subscribers
Solo Ads – paid traffic prices vary and is not always reliable especially if you consider social media
Hidden Traffic Source – not entirely sure what this entails, but using our experience it is not a good way to get traffic
P.S. This program has enabled us to generate a 4-Figure Monthly Passive Income, it is FREE to get started and only costs $49/month fee to go full-time! (No Upsells!)
#3 Reliance on Paid Ads
This training will not provide with how to get your own website, and how to utilise free sources of traffic to your offers, meaning you will be totally reliant on paying for solo ads.  There isn't anything necessarily wrong with that, but you will only be able to use that source of traffic. 
We have found that you need to ensure you have the exact right strategy to make paid traffic work out.  As you need to pay out less than you are making to make it profitable.  But as soon as you stop paying for the ads, you will find that you traffic will stop immediately.
That is why we learned how to generate free traffic to our website, where we can find out exactly what works and that is valuable experience to use when you start to use paid traffic sources.
With this program, you are totally reliant on Dan giving you the right strategies and paying for traffic.  But things can change very quickly online, will Dan's training keep up?
#4 Only Positive Reviews Online Enticing You with Bonuses
There is a technique called "Launch jacking".  The reason I know about Affiliate Magician is because I received an email based on a mailing list, I signed up on to keep an eye on new products.  But Launch jacking is where people are using this list to put up a product review before the product has even launched.  They don't really know what the product is offering or whether it works (because they don't particularly care).  
They just want you to buy the product so they can make money from the sale.  But these reviews are very easy to spot!! They are overly positive, will detail the launch date of the program and will offer you tons of bonuses.  
If you searched for Affiliate Magician in Google, you will also see just from the titles of their post that they are offering you tons of bonuses, yet their reviews do not tell you anything different to what the sales page does.  They do not offer an opinion other than a positive one.  We can see both sides of this product and are showing you both sides, these reviews do not.
Be mindful of these reviews in the future.  They will do it regardless of the quality of the product.  We have seen these reviews do the same for products that are clearly scams, but they are only there to exploit you and get your money.
You will notice we have no such bonuses to offer with this product, and that is because we are staying objective.  If we thought it was a product that we would recommend to you, we would do it on the merit of the product and not because we could make money from you.  But overly positive reviews only tell you what you already know if you had read the sales page.  
Even our  , which is ideal for beginners getting started with affiliate marketing, still doesn't get full marks and they themselves tell you that you will never have perfection as the online world keeps changing.  But as long as you keep striving to improve, that is the ideal and that is why we recommend it to you.
#5 Not Full Training in Affiliate Marketing
Last, but not least, this is not full training in affiliate marketing.  His sales funnel may work, it might bring in sales if you are willing to spend money on the ads and the additional software.  But it does not give you a full training into affiliate marketing, how to build your own website where you can include sales funnels and start to use free methods of traffic generation such as Search Engine Optimisation (SEO).  Which is the ideal base for an affiliate marketing business, getting your website to the top of the Google and get interested people into your website and into your sales funnels is the ideal route (the one we took), but this is not what you are being taught.
By Dan showing you over-the-shoulder training, it means you have to follow exactly what he does including buying expensive software and paying for solo ads.
For a beginner, this might sound great.  But you do not learn anything other than what he says.  That is a concern for us, especially if you find the products, he talks to you about doesn't interest you.  You end up back to square one.
That is why our top recommended training program allows you to learn at your own pace, a step-by-step guide that will teach you how to take your passion or hobby and turn it into a profitable affiliate marketing business.  You can get started for free and see if it is the right training for you (no need to action a refund, if you are not happy).  You just sign up for free, and sign out if you are not happy.  But even if you do decide to upgrade, it is $49/month compared to over $118 + your paid ads with Affiliate Magician.
Wealthy Affiliate is our top recommended training program for people wanting to get started with affiliate marketing and the biggest benefit of their program is the support.  If you decided to sign up with any of our links in this review, you will get our personal help and support included with your membership.  Dan is offering that service for $149.  We include it in the membership.  Just drop us a message within the platform and we will respond to you and help you. 
That is why we don't consider Affiliate Magician a full training program, and would say it is not ideal for beginners…
Haven't Made Your First $1 Yet?
Studies have shown that more than 70% of the people who want to make money online have not made their first dollar yet. So, you're not alone!
My Affiliate Magician Review - Final Conclusion
First off, I don't believe this to be a scam.  Affiliate Magician does offer some training around building sales funnels and email marketing.  Both of which are legit ways of making money online.
But I still believe there are issues with this product that lead to my final opinion being not to recommend this to beginners. 
First off, there is the fact that there are huge costs associated with following Dan's training.  ClickFunnels is legit and a good product, but it is aimed at a more advanced marketer and is priced as such for someone who has an established business looking to increase revenue.
There is also the fact that Dan's methods are focused on only one source of traffic and that is solo ads, again this is an expensive route and as the training does not teach you anything else other than this method you will be totally reliant on paying for these solo ads going forward.
The sales page is full of the usual hype and promises of a "magical way" of making money, but there is nothing magical.  It is using methods that many other marketers are using.  The main difference is that they already have an established business where they use these methods to grow sales and not start a new business on.
I would just urge you to really consider whether this is the right option for you, as this produce could end up costing you a lot of money, without any guarantee.  Those success stories he has shown you on the sales page, don't actually specifically mention they were because of the training at Affiliate Magician.  In fact, they could just be screenshots from anywhere.  We can all use our own screenshots and tell you that this will happen overnight.  But the reality is that Affiliate Marketing is not a get-rich-quick scheme and I feel like Dan is using hype and some choice words to make this product sound like it will be the answer to your dreams, when in reality, I question whether this is the truth.
Affiliate Marketing is legit, and sales funnels and email marketing are effective routes, but I doubt whether the training will really help a beginner achieve long term success which is the real power of affiliate marketing.
But going by what we have found in our research, I would not recommend this to someone looking to make money online with affiliate marketing. It will end up costing you a lot more than $13 without any real guarantees, as no one can give you guarantees as there are so many variables, yet Dan is apparently guaranteeing you that with this product.  I would question this entirely…
If you want to learn affiliate marketing, then you need to do it in a safe environment, with help and support available that is not going to cost you the earth and more….
Affiliate Marketing is a legitimate and great way of making money online… However, many of these programs make it sound like it as simple as the click of a button.  There is a simple method of making money with affiliate marketing and turning a passion or a hobby you have into a way of making money.  It is in fact the way we make money online.  But there is a difference between training that offers you a way of making money with total support, compared to a program that claims to you help you make money, but you need to pay through the nose to be able to follow their strategy.
The way we recommend includes access to a step-by-step guide that is proven to have worked.  It also comes with complete support from ourselves, and a community of other affiliate marketers all willing to help you along the way… at no additional cost.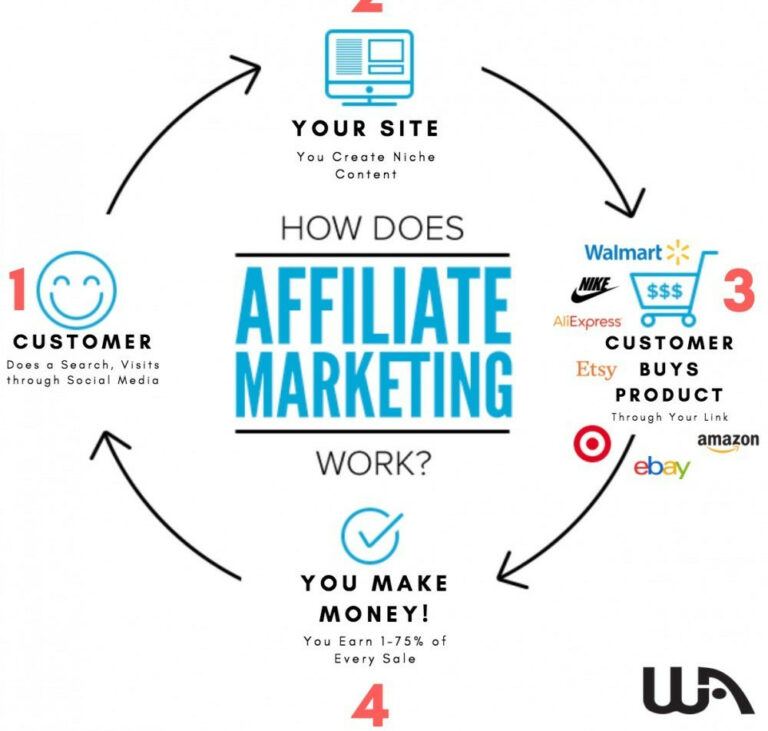 If you are looking into ways to make money online, you are probably very wary of investing a large amount of money into it until you know it works and that is totally understandable.  We were the same at the start.  But these programs play on that, by offering such a low starting price.  $12.95 for a way to make money online, sounds like a fantastic deal.  But as we have detailed in our review, the costs soon rise considerably by the time you have gone.  But our top recommended training program only has 2 memberships and nothing to hide.
A free starter membership that gives you a clear starting point and the information needed to see whether affiliate marketing is right for you (it isn't for everyone).  A premium membership, priced at $49/month that gives you access to training, tools and all the support you could ever need to make a real go at building a profitable online business.
But by providing a free starter membership, which you can try HERE gives you a full insight into what it takes to build an affiliate marketing business with no hype, no false promises but ample support, all you need to do is start a free starter membership.  If you decide it isn't for you, there is no worries as you do not need to worry about trying to get a refund as it was a free membership.  All you need to do is sign out and we wish you well on looking for an alternative route.  If you decide to stay, you will get our full support in making this work.
That is how we got started a few years ago, and we haven't look back since.  We have seen plenty of these programs crop up all over the net, claiming to have secrets no one else has, or a magical formula.   But the honest truth is, that hard work and perseverance will outdo anything these self-claimed gurus out into their over-hyped sales pages.
If you are willing to work hard and follow a proven step-by-step guide that will help you make money online, then you need to consider a free starter membership with Wealthy Affiliate (you will not regret it!!).  If you want to learn more about Wealthy Affiliate, then here is a link to our full review.
If you are still considering buying the Affiliate Magician, please come back and tell us what you found on the inside.  But be wary of how convincing they will sound on getting you to buy into all the upsells and additional software… (hope you have deep pockets).
Thanks for checking out our Affiliate Magician Review!  If you have any questions or comments to add, then please write them in the comments section below. 😉