Welcome to our Affiliate Bots 2.0 Review!
Affiliate Marketing is a fantastic way for anyone looking to earn a passive income online, but you're probably here to see if Affiliate Bots 2.0 makes that road easier or whether it's all a scam.
First off, it's great to see that you're doing your research before buying into any "seemingly good" product.
That is how you avoid scams and find only legitimate ways to make money online!
To be completely transparent with you, we're not associated with Affiliate Bots in any form.  We're not here to pitch or sell you anything.
Instead, we're here to reveal to you what this program is all about, what it's going to provide you with, and why it's both a YES & No for us…
Affiliate Bots 2.0 Review Summary
Product Name: Affiliate Bots 2.0
Founder: Chris X
Product Type: Affiliate Marketing Product Package
Price: $17 one-time fee
Best For: Experienced Affiliate Marketers looking to take their business to a new level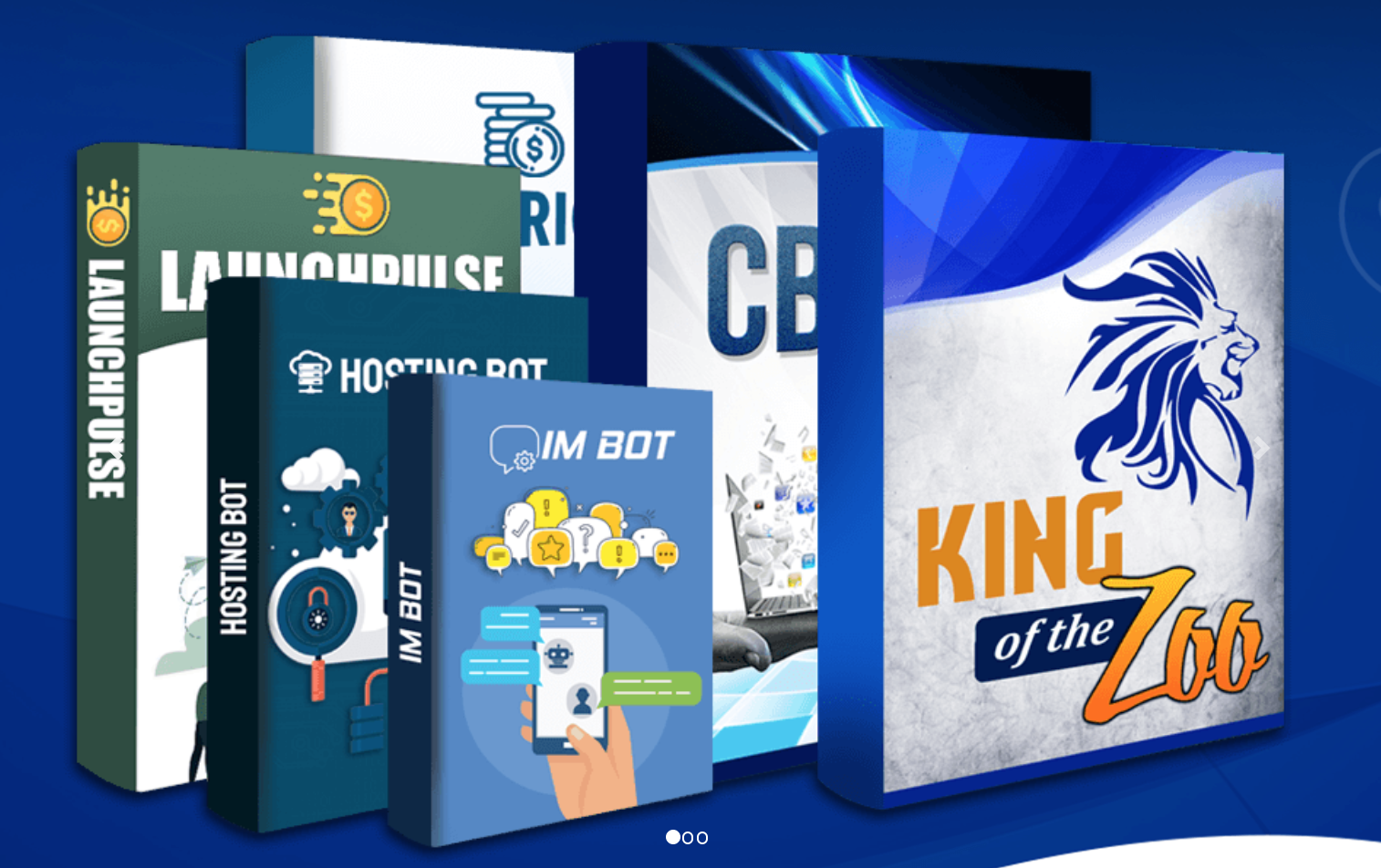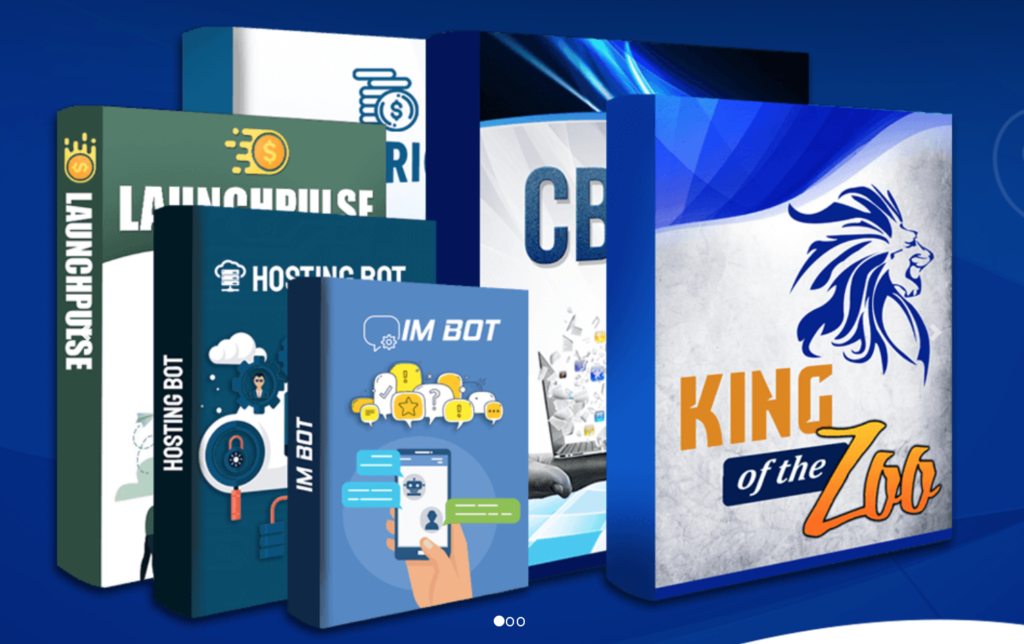 Pros
Great Price, Offers Value
Chris X Knows His Stuff
Cons
This Isn't Beginner-Friendly
Too Much Automation
Summary: Affiliate Bots 2.0 is a complete package of several different affiliate marketing programs, all designed to help you with your business.  It's a program that we would recommend to experienced marketers, as it's both affordable and offers great value for what you're getting.
But I wouldn't say it is ideal for a beginner, purely because of the amount of automation going on.  You have to know what you're doing to effectively benefit from this level of automation.
Rating: 75/100
Recommended? YES & NO
What is Affiliate Bots 2.0?
The first version of Affiliate Bots launched in November 2018 by someone called Chris X.  Chris is an experience and successful affiliate marketer who's been making a full-time income for over 13 years.
Affiliate Bots 2.0 is a more advanced version, which was released in February 2019, which included a number of add-ons and upgrades.  Simply put, Affiliate Bots 2.0 is a collection of automated software programs that revolve around the business model – Affiliate Marketing.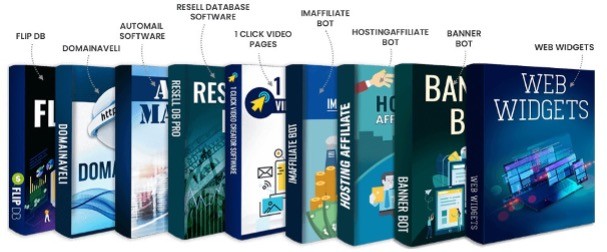 Chris describes his program as…
"A swarm of artificial intelligence and automated bots to change the way you look at money-making forever".
He created the 37 programs to remove of the common roadblocks that beginners face, and help more advanced marketers leverage the power of artificial intelligence to automate their online businesses.
If you want to see a full live walkthrough of the program, you can check out the video below:
Now, let's take a look inside Affiliate Bots 2.0…as I'm guessing you still may be wondering, what all this actually does…
Inside Affiliate Bots 2.0
As I've said, Affiliate Bots is a collection of software bots, or automated software programs to help you with your affiliate marketing business.  It aims to automate the way of choosing affiliate programs, attracting visitors (traffic) and then increasing your income by maximising your conversions.
Here's a quick overview of what's included…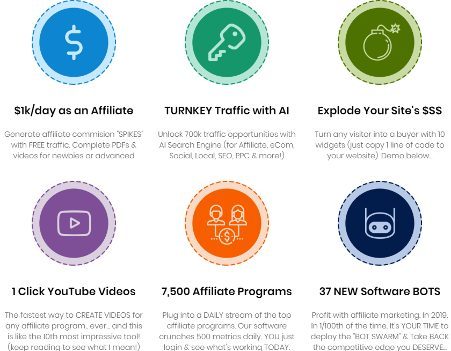 Each of these can be used for different purposes, but here's a list of the 17 programs with a description of what they can do for you:
ChristmasAffiliate Bot– Predicts popular items for the holiday seasons and selects the best products to market as an affiliate.
HostingAffiliate Bot– Shows the top affiliate programs that provide website hosting.
IMAffiliate Bot– Shows you the highest converting affiliate product promotions in the last 6 months.
Auto Affiliate Ads– This bot helps you locate and create banner ads for thousands of ClickBank affiliate programs.
Warrior250– This bot pulls the top 250+ affiliate programs from WarriorPlus, another digital product market place similar to ClickBank.
King Of The Zon – The bot updates daily with the top 200 Amazon affiliate products.
Launch Pulse– This bot gets you inside knowledge about product launches, its ratings and its popularity, and its payout.
CB 250– CB 250 shows you the top ClickBank affiliate programs that makes 7 figures a month in sales.
King of the Zoo – This product presents the top grossing products on JVZoo, another digital marketplace.
These 9 programs are the core of the entire package that will allow you to pick out products from different marketplaces.
Then there are other programs that supplement these 9 programs:
1 Click Affiliate –This is a bot that allows you to generate sales letters, but the quality is a bit iffy for the letters, so you'll have to do some manual editing.
1 Click Video Pages– A bot that helps you create video/sales landing pages for your products.
Rapid Video Ranker-An effective tool that helps you create high conversion sales videos with text slides.
Resell Database software– A database that compiles a list of top sites that offer affiliate marketers digital products for resell.
AutoMail software – This is a broadcasting software to help you build an email list on your site and send out unlimited emails.
Domainaveli – Helps you find good alternative keywords for website URLs.
Flip DB – This database fetches 360 websites that makes up to $26,000 per month from Flippa, an auction site for buying/selling websites.
Other Bonuses
When you sign up, you'll also receive the following bonuses:
a 37-page guide to getting you started
Chris's own secrets on how to get traffic via a video series
Three Bonus Systems
100 pages of PDF training on making profits
Training videos on how to use the software
Future Upgrades
How Much Does Affiliate Bots 2.0 Costs?
Affiliate Bots 2.0 is a one-time fee of $17. 
As of writing this review, there are no upsells to speak of, or any other hidden costs.
Haven't Made Your First $1 Yet?
Studies have shown that more than 70% of the people who want to make money online have not made their first dollar yet. So, you're not alone!
Who's Affiliate Bots 2.0 For?
Affiliate Bots 2.0 is a pretty decent program for those who are looking to step up their affiliate marketing business.
Having said that, I would not recommend this to complete beginners, purely due to the amount of automation going on.  This isn't exactly going to help you get a jumpstart to your blog, as you need to know what is working first.
If you want to get started with affiliate marketing, I would suggest you read our step-by-step guide to help you out.  It's completely free to get started, without commitment or purchase required.
What We Liked About Affiliate Bots 2.0
Here's what we liked about Affiliate Bots 2.0:
#1 It's Cheap, Yet Offers Tons of Value
There are loads of training programs out there with a really cheap price, and it's usually because they don't offer any value.  Some even include out of date information.  So, this program is an affordable price, and offers a ton of value!
#2 Chris X Knows His Stuff
The tutorials and guides that are included within the program are of a really high quality.  He's gone to some effort to ensure they are useful and help anyone who buys his product.
What We Didn't Like About Affiliate Bots 2.0
Here's what we didn't like about Affiliate Bots 2.0:
#1 This is Not Beginner-Friendly!
The biggest issue we have with this program is the label that it could help beginners get started.  It doesn't really accomodate those who don't have any idea of how any of these things work.
Chris provides you with a ton of programs, but he also safely assumes that you already know what you're doing and what affiliate marketing is all about.
It does provide you with guides and tutorials, but these are not going to help you develop a solid foundation for affiliate marketing.
#2 Too Much Automation!
Don't get me wrong, there is a point where some elements can be automated, and there is nothing wrong some a level of automation.
This is also another reason why it's not intended for beginners, because for the automation to work, the user has to know how to set it up correctly in the first place.
I feel there is just too much of it going on, and you have to run all of these programs at the same time, which is probably going to put a huge strain on your computer…
Haven't Made Your First $1 Yet?
Studies have shown that more than 70% of the people who want to make money online have not made their first dollar yet. So, you're not alone!
Is Affiliate Bots 2.0 A Scam?
Affiliate Bots 2.0 is a legitimate program, designed by someone who really knows their stuff, that allows you to improve your current affiliate marketing business.
The price is great, making it affordable, and I think you get a lot of value for your money.
However, I would only recommend this program to someone who already has the knowledge around affiliate marketing, how it works.  This is the only way you are going to make the most of the software to automate the right things.
This program is not ideal for complete beginners, do to so many processes being automated.  You need to know how to do these things manually, before introducing any automation…
Affiliate Marketing is an awesome business model, of which we are making money through it.  But, if you're a complete beginner, you would do better to learn how to get started the correct way, before trying to use shortcuts.
Thanks to our #1 Recommended Training program, we've been able to Create a 4-Figure Monthly Passive Income Stream.  If you'd like to see how we did it, click here…
Thanks for checking out our Affiliate Bots 2.0 Review!  If you have any questions or comments to add, then please write them in the comments section below. 😉