Welcome to our Affiliate Beast Review!
If you've been looking into ways of making money online, then you may have seen a training program called Affiliate Beast?
Affiliate Beast is a training course that has been created by Deshayla Flowers, and you may be wondering if this program is legit, or whether Affiliate Beast is a scam.  Or, you may just be wondering if it's worth it's huge price tag…
Well, this Affiliate Beast review will provide you with all the information you need to know to make an informed decision about whether or not, it's the right choice for you…
First off, it's great to see that you're doing your research before buying into any "seemingly good" product.
That is how you avoid scams and find only legitimate ways to make money online!
To be completely transparent with you, we're not associated with Affiliate Beast in any form.  We're not here to pitch or sell you anything.
Instead, we're here to reveal what this training program offers to help you make an informed decision.
Affiliate Beast Overview
Product Name:
Affiliate Beast
Founder: Deshayla Flowers
Product Type: Affiliate Marketing training program
Price: $497 for training course, $1,297 with coaching
Best For: Those wanting to start with affiliate marketing using YouTube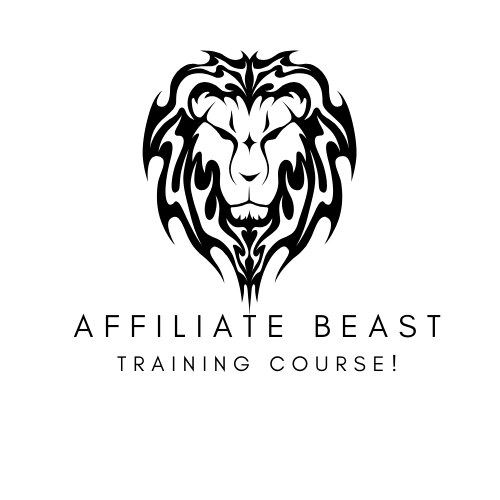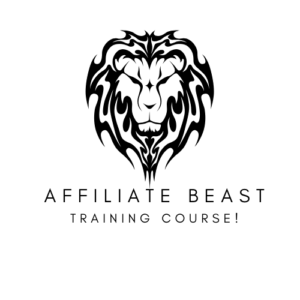 Cons
Too Short
Too Expensive
Misleading Income Proofs
Nothing New
Summary: Affiliate Beast is a training program that shows you how to make money using affiliate marketing.  Affiliate Marketing is a legitimate business model, and the training provided is ok.  It's mainly for those who want to do affiliate marketing through YouTube.
My main concerns with the training is that it is really short, and not that comprehensive.  The price is really high for what you get, especially if you want coaching.  But with some misleading income claims, it falls short of being proof her methods actually work…
Rating: 55/100
Recommended? Not Really
Affiliate Beast is an affiliate marketing training program, focusing particularly on using YouTube.  It was created by Deshayla Flowers, and the aim of the course is to help you earn passive income online through affiliate marketing.  
The training course, Affiliate Beast,  is hosted on the Teachable platform.
Before we explore the training program in a little more detail, let's take a look at the person behind it, Deshayla Flowers…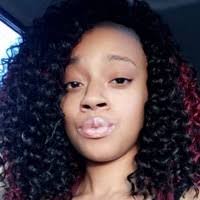 Deshayla Flowers is the CEO of Golden Child Marketing, which offers services concerning product marketing, digital marketing, and social media.  She has more than 5 years of expertise with marketing, focusing mainly on platforms like YouTube and Facebook.
As of 2020, she has more than 60,000 followers between YouTube, Instagram, and TikTok.
She runs a YouTube channel called CEO Deshayla, at present it has over 46K subscribers, and she is posting content quite regularly on her channel.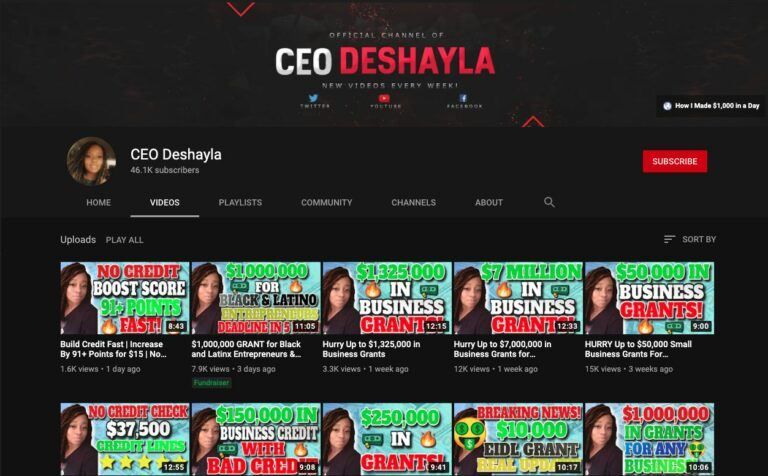 A lot of her most recent videos seem to be based on getting business grants from the government.  There is also some affiliate marketing videos in there too.
As Affiliate Beast is focused on using YouTube as the source for traffic, it at least shows she knows what shes on about.  She's posting regularly, and getting thousands of views for each video.
Affiliate Beast Course Overview...
The Affiliate Beast is a relatively short course.  The training course is split between four core modules, with some additional resources and templates included too.
Here's a breakdown of what you get in these modules…
Module #1: Getting Started
The first module covers the introduction to affiliate marketing off.  It covers the basics of affiliate marketing, like where to find products to promote, what an email responder is, and what a landing page is.
If you already know the basics of affiliate marketing, then you won't find anything groundbreaking here.
Module #2: Getting Setup with ClickFunnels & GetResponse
The second module talks you through two important tools that you'll be using if you follow Deshayla's methods.  These are ClickFunnels and GetResponse.
If you're not too familiar with these, ClickFunnels is a program that builds landing pages, where you can promote your sales funnel.  You can also capture emails with it.
GetResponse is the email autoresponder that you'll be using.  Once you capture emails, you can use GetResponse to send out emails to your list automatically.
This module will both introduce you to them, and then show you how to set up and use them.
Please Note – These are external programs and will require you to buy for a subscription with them.  ClickFunnels starts from $99/month and GetResponse is $15/month.
Module #3: Setting Up Your YouTube Channel
YouTube is becoming ever more popular with affiliate marketers, and it's now the second largest search engine behind Google (who owns YouTube anyway).
This module will show you how to create your YouTube channel, and how to optimise it for your viewers.  She also offers training on how to get your channel verified.
Module #4: Make Affiliate Sales with YouTube Traffic
The fourth module is where you learn how to make money with YouTube traffic.  You'll learn stuff like:
How to make videos without showing your face
How to find video ideas
How to use reviews and launch jacking to get views
Creating bonus packages, so people will buy through your links
etc.
Then there are the bonuses…
Bonus: Paid Traffic Sources
This bonus provides training on paid traffic sources.  These sources include solo ads, and Facebook.  But the majority of the training is focused on Facebook.
You'll learn how to set up a Facebook page, install a Facebook Pixel, how to target audiences and more…
Bonus: Pinterest Traffic Training
Here, you'll learn how to use Pinterest.  Pinterest is an interesting platform for getting traffic, and a lot of people make some serious money through using it…  There are also a lot of people who overlook it's potential, to be honest.
Extra Bonuses
The last bonus includes some training that covers off some loose ends, that wasn't covered in the remainder of the course.
You'll also receive some done-for-you (DFY) landing pages that you can upload to your ClickBank account.  You'll also receive a YouTube Authority eBook.
One-on-One Coaching (Optional)
There is also an option to get one-on-one coaching from Deshayla herself.  Although it will set you back $800 on top of the price of the course alone.  Paying $1,297 will provide you with the training listed above, and then you'll also receive 30 days 1-on-1 coaching.
Haven't Made Your First $1 Yet?
Studies have shown that more than 70% of the people who want to make money online have not made their first dollar yet. So, you're not alone!
How Much Does Affiliate Beast Cost?
If you want to just access the training, then it will cost you $497.  But if you wanted to get one-on-one coaching for 30-days, then you'll need to hand over $1,297 to gain access to that.
As for whether the course is worth that price, I'll go through that shortly…
Here are some frequently asked questions for Affiliate Beasts…
#1 Is The Affiliate Beast Training Course Worth $497 ($1297 with coaching)?
I personally don't feel this course offers enough value to warrant such a high price tag.  The training is ok, but it's really short and you'd go through it in just a few hours. 
There are many other courses that cost less and have 5 times the training.
If it was being offered for $99, the I would be more willing to recommend it…
#2 Is Deshayla Flowers Legit?
Deshayla has a solid following on YouTube, and must be doing something right to have over 46K subscribers…
I don't think there is anything untoward from Deshayla Flowers…
#3 How Long Is The Training Course?
The short answer is that the course is, well…really short!  The four core modules and additional training don't really go into any great detail and it won't take you long to cover off the course.
When you consider the price, there are some gaps in the training.  There is nothing about SEO or anything like that.
Bottom line, it's a really short course.
#4 What Does the Affiliate Beast Course Teach?
The Affiliate Beast training course teaches you affiliate marketing and focuses mainly on YouTube.  It also provides some additional training on Facebook, Solo Ads and Pinterest.
#5 Are There Any Testimonials?
There's only her own testimonials… We couldn't find any from any of her students.
#6 Is There a Refund Policy in Place?
There is… but it's not very simple…
Basically, you have to email her if you want a refund.  But you have to have applied what is taught in the course, not have gotten any results and it must be done within 30 days of your purchase.
This is a little confusing, and means it's up to the owner whether you get your money back or not.  Refund policies should be based on whether a person wants their money back, and not whether the course creator thinks you've done enough.
No one is going to find success in 30 days anyway, so that is a little misleading…
#7 Are There Any Additional Costs To Consider?
Well, yes there is.  To follow Deshayla's methods, you're going to have to buy ClickFunnels and GetResponse. 
Both are legit, but they are also paid services.  ClickFunnels is $99/month and GetResponse starts at $15/month.
As part of the training involves paid traffic methods, then you'll also need to consider having a budget set aside for these methods.
And, you'll also need to invest into a decent webcam for your YouTube channel.
#8 Are There Any Alternatives?
There are many affiliate marketing training courses out there, and there are definitely better alternatives out there that offer much more value.
To see the very best, then check out our #1 Recommendation here…
What We Liked About Affiliate Beast
Here's what we liked about Affiliate Beast:
#1 The Training is OK
The training isn't the best we've seen, but it is still pretty decent.  It would benefit someone who wants to get started with YouTube marketing.  Having said that, a lot of the information will be available for free elsewhere anyway.
What We Didn't Like About Affiliate Beast
Here's what we didn't like about Affiliate Beast:
#1 The Course Is Too Short
There is not a lot of training within this course.  It includes nothing on SEO, which is a free method of attracting visitors, so that only leaves paid traffic routes.  
Considering the price, I would have expected a lot more value for that…
#2 The Course Is Too Expensive
Something should offer enough value to warrant it's price, and I don't believe Affiliate Beast offers enough value to justify $497…
There are just much better alternatives out there, that are a much lower starting price tag.
#3 Misleading Income Proofs
When a course claims that you can potentially make thousands per day with it, and the proof provided by the owner doesn't actually show that they are earning that, would you be happy?
Well, the sales video on the sale page is title "More Proof That I'm Earning Commissions with ClickBank".  
About 60 seconds into the video you can clearly see that she's made about $739 in four months… so, that isn't anywhere near the thousands a day she claims.
Then, further along the sales page, she shows that her lifetime earnings from ClickFunnels is $5,020.  I have to question whether these earnings are from getting her students to sign up to ClickFunnels through her affiliate link?
#4 Nothing New
There isn't anything that is particularly new or different from what you would find for free online, or within another affiliate marketing course.
Haven't Made Your First $1 Yet?
Studies have shown that more than 70% of the people who want to make money online have not made their first dollar yet. So, you're not alone!
Is Affiliate Beast a Scam?
No, I don't think that Affiliate Beast, or Deshayla Flowers is a scam.
Although, I still wouldn't say that this courses anywhere near enough value to warrant such a high price tag.  When you compare it to Savage Affiliates for $197, or Wealthy Affiliate where you can get started for free, Affiliate Beast is not even in the same league…
Affiliate Beast is $497 for just the training, and then $1,297 if you want coaching for 30 days.
Although the coaching is a good selling point, I have to question how she can dedicate so much time to that, especially if she were making so much money from affiliate marketing.  Her time would be much more valuable than what works out to $43 a day.
Either way, I don't think there is enough value within this course to warrant either price point.
Personally I would pass on Affiliate Beast.  There are many different affiliate marketing courses out there, with some being top-quality and offering a lot of value for a reasonable price.
Our top recommendation is Wealthy Affiliate.  Thanks to their training, we've been enabled to Create a 4-Figure Monthly Passive Income Stream, and it's Free to get started and costs only $49/month to go full-time!
Thanks for checking out our Affiliate Beast review!  If you have any questions or comments to add, then please write them in the comments section below. 😉