Welcome to our Super Affiliate Network Review!
There has been quite a bit of hype around the Super Affiliate Network by Misha Wilson.  I wanted to understand if the hype was worthwhile and is this training platform any good.
First off, it's great to see that you're doing your own research before buying into any "seemingly good" product.
That's how you avoid scams and find only legitimate ways of making money online!
To be completely transparent with you, we're not associated with the Super Affiliate Network in any form.  We're not here to pitch or sell you anything.
Instead, I'll be sharing with you what I've learned from researching this platform, are they completely honest with you upfront?  Is Super Affiliate Network worth your money to get this training?
Let's get started with a quick product overview…
Super Affiliate Network Review Summary
Product Name: Super Affiliate Network
Founder: Misha Wilson
Product Type: Affiliate Marketing Training Course
Price: $1 Trial, then $37 per month + Upsells up to $12,497!
Best For: Those Looking to Get Started with Affiliate Marketing (That have a budget)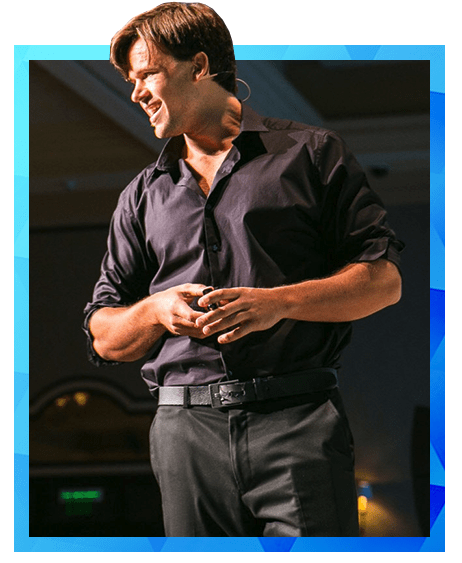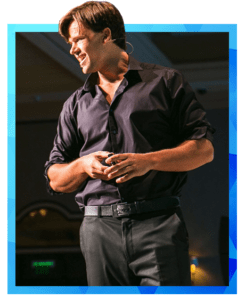 Summary: The Super Affiliate Network platform does offer a really detailed training course for Affiliate Marketing, which will ensure anyone who joins has a extensive knowledge of how it all works.  But there is a huge emphasis on Solo Ads, which are basically paying to access people's email lists.  That leads to them focusing heavily on Email Marketing too.  But the main goal it seems it to get you to promote the membership itself.  This over-shadows anyones attempt to start a legit affiliate marketing business.  
There are also MLM (or even Pyramid scheme) features that you should not get involved in.
Rating: 50/100
Recommended? No
What is the Super Affiliate Network?
The Super Affiliate Network is a video training course showing people how to set up their own profitable affiliate marketing business.  It also has a community you join and access to a Personal Success Advisor to help you on your way.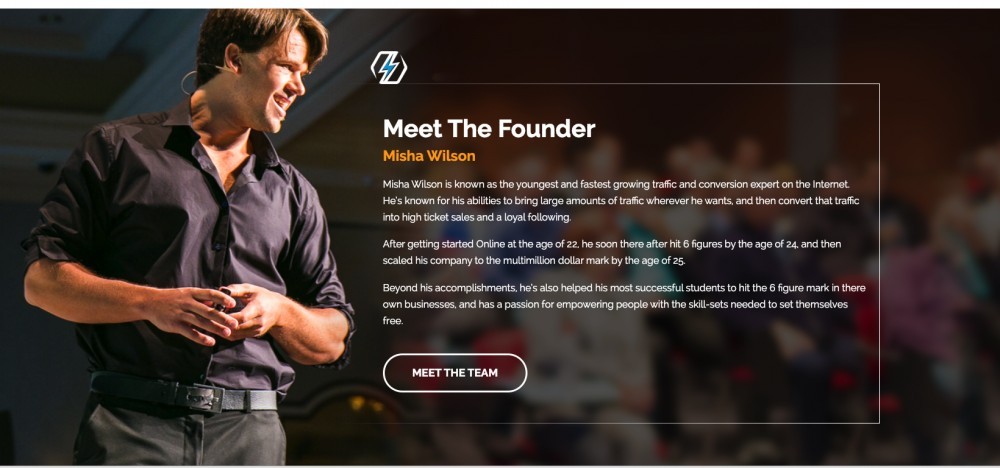 It is fronted by its founder and CEO, Misha Wilson who is known as the youngest and fastest growing traffic and conversions expert on the Internet.
If you are still unsure who he is, you can read more about him on his own website.  But he is a young successful entrepreneur and he did achieve his success through Affiliate Marketing.
As he has launched this company, the Super Affiliate Network, you would think with his background, this product would be a great investment to learn affiliate marketing.
But that leads us to a point where there are a few things that the program is not upfront about straight away and I will share them with you throughout this review.  I also think that is has similar traits to a pyramid scheme.  Let's carry on with the review.
Who Does Super Affiliate Network Benefit?
That is a tough question to call, from the hype and having a personal advisor on hand, you would expect any member joining this program to benefit.  But their income reports show on average, members only earned an average of $2,501.
I also have found mixed reviews out there on the success of the training, due to it being more of a pay to play system they teach.  It has a heavy focus on paid ads and email marketing to succeed.
So, at this moment I believe the only people to benefit from this are Misha and the guys at the top. (hence why it seems more like a pyramid scheme).
Before I describe how the Super Affiliate Network works, I want to share something that I experienced when signing up to get more information.  I watched a video from Misha, telling me about this program I would be joining.  All I needed to do to join this totally free platform was to enter my name and email address.
Notice, that Misha talks about a free platform.  Not true in the slightest.
As soon as I had entered my details, I was shown a video where I was told I would get a 93% discount on his Profit Boosting Bootcamp course, their flagship course.  It would break down everything needed to be successful with access to a Personal Success Advisor to help.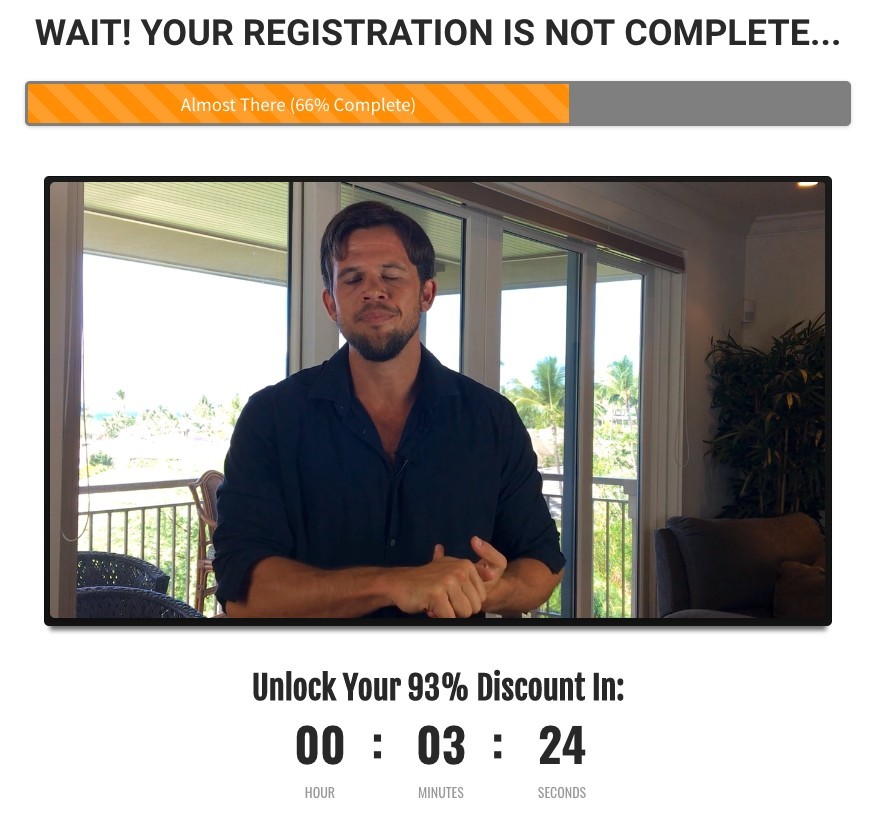 So, we went from a free product to them selling this bootcamp for a $1.
Sounds great, except that $1 is only for the first month.  Nowhere does this state that it will become a $37/month subscription.
I didn't take the opportunity and went to my Super Affiliate Network dashboard, all you get access to, is the dashboard.  They also said that the $1 price, was a one-time thing.  But I could still get it for a dollar from my dashboard.  But I checked, it still did not state it would become a recurring bill every month.
So, I am still not sure why he is banging on in the video that it is a free product, when it clearly is not.
You can also only promote products you own, so whilst I have access to the dashboard, I am unable to promote it (not that I would) so I am still a little confused over the marketing.
To understand how the Super Affiliate Network works, you need to understand the different membership levels and the upsells that come thick and fast as you progress.
SAN Basic Membership ($37/month)
The basic membership and is also the Profit Boosting Bootcamp, Misha talks about in his video is a 3-week boot-camp course that focuses on the basics of affiliate marketing.  They cover topics such as:
Mindset
Psychology
Email Marketing
List Building
Selling
Automation
With 21 modules, it means that you get a module to complete each day.  Once you join the program, you are also assigned a Personal Success Advisor to guide you along, which is a nice touch for a newbie.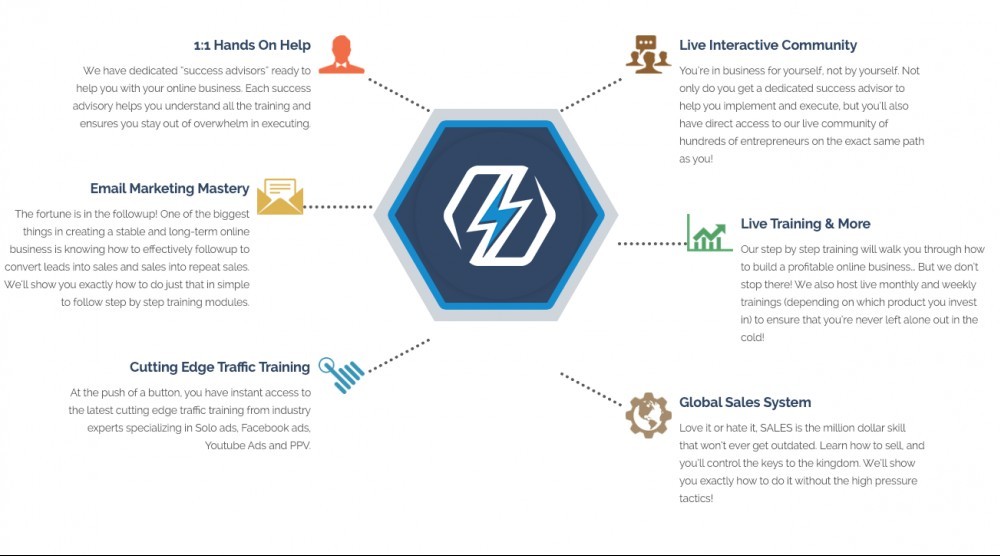 You also need to complete a quiz after each module to ensure you have understood the module and your coach will discuss it with you to unlock the next module.
Now, once you have also signed up to this membership you are pushed towards 2 upsells – "Solo Ad Success Formula" and "Super Affiliate Monthly Newsletter".
The Solo Ad Success formula is an in-depth email marketing course and costs a one-time $97 for new members.  But the bit that stings about this is, I thought they covered email marketing in the membership – so what difference is there?
The Super Affiliate Monthly Newsletter is a monthly video update from Misha Wilson showing things that are working for him and how to apply it – this is a one-time $47 fee.
SAN Pro Membership ($2,497 One-Time Fee)
This offers a more advanced training and support level.  This is for people looking to scale their business with better marketing funnels, strategies, etc.
You will also gain access to monthly and weekly coaching as well as access to a private Facebook group.
Maui Intensive Mentoring ($12,497 One-Time Fee)
This is a 4-day exclusive Mastermind Event at Maui, where you can work directly with Misha's team to help build your personal marketing funnels.
This actually does look really good, but the price is a bit excessive.  There are also aspects of the program that show this is not the best way to achieve success.
Haven't Made Your First $1 Yet?
Studies have shown that more than 70% of the people who want to make money online have not made their first dollar yet. So, you're not alone!
The costs we've just discussed above are just for the different membership levels, as a reminder they are:
Basic Membership – $37/month
Pro Membership – $2,497 one-time fee
Intensive Mentoring – $12,497 one-time fee
But then you have to factor in the costs associated with autoresponder to carry out your Email Marketing campaigns and then there is the costs associated with paying for Solo Ads.
These prices can stack up pretty quickly…
What We Liked About Super Affiliate Network
Here's what we liked about the Super Affiliate Network:
#1 $1 30-Day Trial
Whilst it is a little misleading when you are told it's free, but it is only a dollar to take the system for a test drive for 30 days.
#2 30-Day "Better Than Money Back" Guarantee
If you are not entirely satisfied with the program within those 30 days, they will not only refund you but give you $100 for "wasting your time" This is the amount you would receive for the basic membership.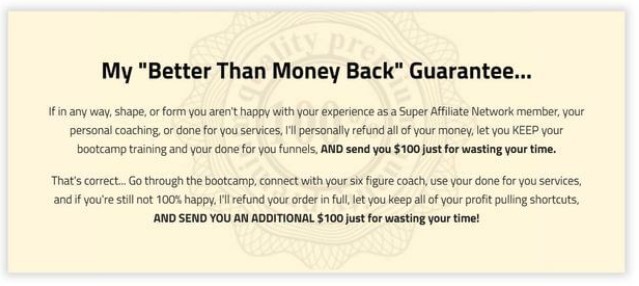 Whilst with the Pro Membership, they will give you $1,000.
This may sound very appealing and convincing, but there are a few hoops to jump through to actually get the cash. For example, you need to have completed all courses and have at least 3 calls with your Personal Success Advisor.
Whilst needing to go through these hoops, having a refund policy like this is a good feature.
#3 In-Depth Step-by-Step Course
The Super Affiliate Networks video courses are professionally recorded, and their courses are very clear and concise.  They have also catered for beginners, with homework to be completed and it being very easy to follow.
#4 Misha Wilson is Real
I know this might sound like an odd one, but when you start reviewing these types of programs you will be surprised by what you find.
Misha is very successful and is well respected in the affiliate marketing world.
What We Didn't Like About Super Affiliate Network
Here's what we didn't like about Super Affiliate Network:
#1 MLM Scheme type features
Whilst SAN having quite a lot of in-depth training, one of the main focuses is to help it members promote others to join the system.
Which isn't a problem, plenty of programs have a referral program.  But one feature of SAN, means you need to upgrade to benefit fully.
If you are a basic SAN member, and someone takes you up on an invitation but joins the PRO membership through your affiliate link.  You will not receive the commission.  You will only benefit from people joining the PRO membership if you yourself are a PRO member.
That is not strictly affiliate marketing, that is pushing people to upgrade, just in case someone goes for the higher membership level.
That is an MLM scheme type feature, which we are not a fan of and leads this program to be considered along programs such as Six Figure Mentors, Digital Altitude, and MOBE (which has been closed down by the FTC,as a pyramid scheme).
They all have very similar systems:
High-ticket membership products
Focus mainly on promoting themselves
Requires members to pay expensive costs in order to qualify for commissions.
In no way am I saying these are scams, but it is definitely something you should consider before joining any such product including the Super Affiliate Network.
If you take a platform, we love called Wealthy Affiliate, people can get started for free and choose a product or service to promote in any niche you want.  You are not restricted in anyway on what you can promote.
#2 It Only Focuses on Email Marketing (No Website?)
Another concern I have is the fact that the SAN focuses mainly on generating traffic via solo ads and making sales via email marketing.
Both are genuine strategies and can be very effective, but these are paid routes.  As in you will need to invest more money into them, and it can sometimes take months of trial and error to get it right.  All the time losing you money.
You also lose out on any way of getting free traffic, because you do not have a website to promote your funnels.
#3 Courses are Locked Down
I said it earlier, you can only progress to the next module once you have completed a quiz and spoken to your advisor.  This is fine for a beginner and ensures they embed the knowledge they have learned.  But anyone with experience looking to explore email marketing, could find this quite frustrating.
#4 Can Be Expensive
I know the basic membership isn't that expensive in the grand scale of things, but Solo Ads can get very expensive and the need to upgrade to benefit from conversions plus it being very limited on what it can offer does make it very expensive overall.
Haven't Made Your First $1 Yet?
Studies have shown that more than 70% of the people who want to make money online have not made their first dollar yet. So, you're not alone!
My SAN Review - Final Conclusion
The Super Affiliate Network by Misha Wilson is not a scam, they offer a lot of legitimate training resources, help and support that can help people get a start online.
But I find certain aspects not to my liking – promising a free platform in one video, then telling you in the next video you can get a discount on the same product you thought you had just signed up for.
An emphasis solely on promoting the Super Affiliate Network to others and only having paid ads as an option.  The disregard for building a website and building an authority website.
It seems like an expensive way to learn how to promote one product, in my opinion.
If Email Marketing and Solo Ads are your thing, it might be worth checking out the £1 trial, but if you are new to affiliate marketing, you can find a much better and cheaper way with great support with Wealthy Affiliate.
Affiliate Marketing is totally legit, it is one of the best ways to make money online.  But for a complete beginner, it can be very daunting and the methods that are shown with the Super Affiliate Network are not ideal for a beginner.
That's why we recommend Wealthy Affiliate.  With a completely free starter membership and training that is designed for a complete beginner.  It's an ideal place to test the water and ensure that you are making the right decision for you.  
That's where we got started and thanks to their training are now earning consistent income from Affiliate Marketing.  If you want to learn more about Wealthy Affiliate, here's a link to our review!
Thanks for checking out our Super Affiliate Network review!  If you have any questions or comments to add, then please write them in the comments section below. 😉
Super Affiliate Network
$1 Trial, then $37/month + Upsells