Welcome to our Linxium Review!
Linxium is a Get-Paid-To site that pays you for completing certain tasks, but they claim to pay much more than the rest of the usual Survey Sites on the net, and that got us intrigued…
We wanted to dive in and see if Linxium is legit, or is it actually a complete scam?
First off, it is great to see that you are doing your research before buying into any "seemingly good" product.
That is how you avoid scams and find only legitimate ways to make money online.
To be completely transparent with you, we are not associated with Linxium, we are not here to pitch or sell you anything.
Instead, we want to reveal to you how this GPT site works and whether they live up to their promises…
(Please note, as we are ready to publish this post, their website has been removed.  But that doesn't mean that it will soon reappear… but in short, we wouldn't recommend you join this scam anyway!)
Linxium Review Summary
Product Name: Linxium
Founder: Unknown
Product Type: Get-Paid-To (GPT) Site
Price: Free to Join
Best For: No One!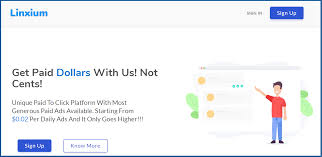 Summary: Linxium is another GPT or PTC website that is making absurd earning potential claims that are simply too good to be true.  They claim to be offering you dollars for completing tasks, when every other legit survey site offers cents for the same task.
Plus, their website is conveniently no longer accessible.  Their website has been taken down for unknown reasons.  One reason is that they haven't paid their hosting fees, and if that is the case they could reactivate this at any point and relaunch the platform.  But it is a clear red flag, and tells me that this is not a legit platform.
If it did come back on the market, you could join and then the same happens, and you lose any money you earn from the platform anyway.
This is not a platform we would particularly recommend to you…
Rating: 1/100
Recommended? Definitely Not
Linxium is an PTC or Paid to Click website.  It can also be referred to as a Get-Paid-To (GPT) site.  It claims to offer you a selection of ways of earning money.
They also make the bold claim that they will pay you in dollars for your time, instead of cents?
This was the first thing that got me thinking, yeah that isn't legit…
No PTC site can pay you in dollars, as there just isn't the money in these tasks.  Most legit survey sites like Swagbucks, or Prolific surveys pay you a decent amount, but it is still in just a few cents.  Maybe a dollar or two, if the survey is long enough.
To earn the money, you need to complete certain tasks within their platform.  These include:
Paid Offers
Within Linxium, there various paid offers.  These include:
Signing up to a Website
Playing Games
Answering Quizzes
Downloading Apps
etc.
When completing these paid offers, you need to follow the instructions carefully if you want to earn your reward.  Sometimes, you will be asked to subscribe and enter your bank details, for example a magazine subscription. So, it is important that you cancel your subscription before the offer ends, to avoid being charged.
Some people get caught out with this, and they end up spending much more than they ever make from a PTC site.
View Ads
You can watch ads within Linxium to earn money.  It is a simple thing to do, and is quite common on these PTC sites.
Just note that usually you have to watch hundreds or thousands of ads before you actually earn anything decent.
Linxium offers three kinds of ads, this include fixed, Flash, and Daily Ads.
Fixed & Flash ads will pay you $0.01 per advert.  Daily ads will pay you 0.02 cents!
Paid Surveys
Surveys are a staple of most PTC sites, and the thing to know first is that whilst you may see a number of available surveys to complete, you may not actually qualify for the surveys.
Surveys are based on demographics, then there are others that are aimed at certain genders, age ranges, interests, health conditions, etc.
It can be frustrating to have to complete a pre-survey questionnaire, only to find that you don't qualify.
The other thing to know is that the surveys you will find at Linxium are provided from 3rd party websites.  This means that you will be redirected to complete the surveys.
Also, if you're not comfortable with sharing your personal information, then we suggest you don't try signing up for the surveys.
If you are considering complete paid surveys to make money, then here is our top tips that you need to know before completing a survey.
Referral Program
Linxium's referral program is structured a little differently to other PTC sites.  But the key thing you need to know is that you will only receive a commission from referring someone if they make a deposit to the site.
There are two ways for how you can make a deposit.  This includes transferring your account balance to your purchase balance, and depositing an actual amount to your purchase balance using a payment method.
They also offer a three-level referral program.
This means that you will earn 10% from any income one of your direct referrals earns from the platform.
Then, if they are able to introduce someone to the platform, you will also get a percentage of their income too.
If your level 2 referral has successfully invited someone, then you'll get 1% of their earnings.
Recommended: This program helped us create a 4-Figure Monthly Passive Income Stream.  It is free to get started and includes all the training, tools and support needed to get started…
How Much Money Can You Make?
Whilst Linxium claims to pay better than other PTC, the earning potential is really low.  This isn't anything new, as the majority of PTC sites pay a really low amount.
If you want to earn more, you can upgrade your membership to earn several perks.  You can do this by using the rewards that you've earned or any of the payment options that they offer.
The membership plan that the website offers is really expensive.  It can be as high as $1,280 for 30 days.  With no guarantee of that helping you earn more money.
In fact, you could end up losing a lot more that you could imagine with this website.
Haven't Made Your First $1 Yet?
Studies have shown that more than 70% of the people who want to make money online have not made their first dollar yet. So, you're not alone!
How Do You Get Paid from Linxium?
Linxium makes it really difficult to actually withdrawal your money.  They do have a low withdrawal limit, but it is really difficult to actually get it out.
Most PTC sites simply let you withdrawal your money when you reach the minimum threshold they have in place.  Some are low, and some are high.  But it is really standard.
But with Linxium, to withdraw your money, you need to first buy a profit pack for every dollar you want to withdraw.
Each of these packs will cost you $0.70.  So, if you wanted to withdraw $2, you will need to buy 2 profit packs at a cost of $1.40.  Meaning you are effectively receiving $0.30 for every dollar you want to withdraw.
Then there is the fact that you'll have to wait 70 days before you can actually receive your money.
When you think about it, it feels like withdrawing your money is much harder than it is to make any money with this platform.
Linxium is available in all countries.  It appears they are not very selective about who can join their platform.
The sign-up process is pretty simple, and you don't even have to verify your email address.
Recommended: This program helped us create a 4-Figure Monthly Passive Income Stream.  It is free to get started and includes all the training, tools and support needed to get started…
What We Liked About Linxium
Considering the site has conveniently been quietly taken down, the difficulty of actually withdrawing your money where you need to pay to withdraw, there is nothing that we could actually find that would make us want to say anything good about this site.
What We Didn't Like About Linxium
Here is what we didn't like about Linxium:
#1 Very Low Earning Potential
Even legitimate PTC sites tend to have a really low income potential from them.  Even sites that we would recommend like Swagbucks or Prolific Surveys pay a low amount.  But Linxium makes this an even lower proposition by asking you to buy profit packs to actually earn your money.
#2 Complicated Payment Method
This tells me that they are more interested in getting your money, then actually helping you to make money.  It is really simple to sign up, and they don't even expect you to confirm your email.  But, then they make it extremely difficult to withdraw your money.  
Then you have to wait 70 days to actually receive your money.
What is the point?
#3 Expensive Membership Upgrade
The cost of their membership upgrade is way too high.  I don't even think the upgrade will actually help you cover the cost of the membership, let alone help you earn more…
#4 Inaccessible Website
It seems convenient that this site is not getting a great review, even with some damning reviews on TrustPilot.  It averages a 1.6 review on there.  When you consider that the site is no longer available, so anyone who has actually earned money with the platform has found that they have lost their money.  These two reviews seem most relevant: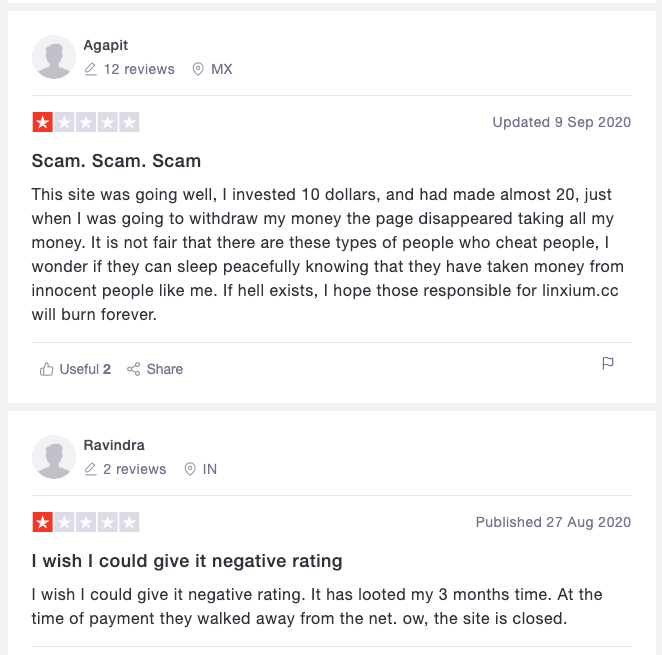 This is a common thing with sites that are outed as a scam.  They close down the site, to avoid the authorities and leave many people without their money.
You need to be really careful out there, and anything that sounds too good to be true is almost always not a great idea.
Haven't Made Your First $1 Yet?
Studies have shown that more than 70% of the people who want to make money online have not made their first dollar yet. So, you're not alone!
With the fact that the website has been taken down, members have been left without the money they have earned and the fact that we don't actually know who is behind the site, that leads us to the decision that this is clearly a scam.
I wouldn't recommend this website, even if it was still in operation.  PTC sites have a really limited income potential, but when they start to talk about having to pay to get to your money, then it is clearly a scam…
Instead of wasting your time on this useless website, which ironically is not even still around, we would recommend that you focus more on finding a legit way of making money online.
Survey sites, PTC sites are never going to help you leave your day job behind and often they are more effort than they are worth.  Spending hours on surveys to earn a couple of dollars, whereas you could put that time to better use.
We make money online through Affiliate Marketing.  We promote other people's products and services, and earn a commission from any sales.  It is free to get started, completely legitimate and has helped thousands of people find financial freedom!!
If you want to learn more about Affiliate Marketing, click here.
Thanks for checking out our Linxium Review!  If you have any questions or comments to add, then please write them in the comments section below. 😉