Welcome to our We Share Abundance Review!
Chances are someone has approached you, or you've seen an ad for the latest income building opportunity that is claiming a crazy 50% ROI per month.  But in reality, it is actually a Ponzi scheme and that is biggest issue with this scheme.  So, Is We Share Abundance a Scam – Yes!
People are really struggling at the moment, and these MLM companies are just trying to take advantage of people.  These companies are promising a way to get-rich-quick and earn passive income, if you choose to invest in their business.
That is why we review these programs, to ensure you get all the information you need to know and we have found that this scheme is actually a Ponzi scheme, and you will typically lose any money you invest.
First off, it is great to see that you are doing your research before buying into any "seemingly good" product.
That's the way to avoid scams and find legitimate ways to make money online!
To be completely transparent with you, we are not associated with We Share Abundance in any form.  We are not here to pitch or sell you anything.
Instead, we want to reveal how this Ponzi scheme works…
We Share Abundance Review Summary
Product Name: We Share Abundance
Founder: Graham & Rosa Frame
Product Type: Ponzi Scheme MLM company
Price: $2.50 Minimum Investment, but $125 Investment Required for Full Participation
Best For: No One!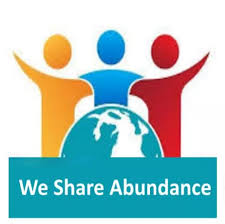 Summary: We Share Abundance is a 50% ROI Ponzi Scheme that does a really bad job of hiding all of the red flags!  The owners of this scheme have been involved in numerous other schemes in the past, that isn't a good thing.  Plus, the fact there's no proof that any profits are generated from trading or investing!
Rating: 1/100
Recommended? Definitely Not!
What is We Share Abundance?
We Share Abundance is an MLM or Multi-Level Marketing company that operates in the finance and investment niche.  It makes a promise of a 50% Return on Investment (ROI) for your investments, which indicates that this program does investments and trading on behalf of its members.
The founders of We Share Abundance are Graham Frame and Rosa Frame.  You might find those names familar?  If you do, that is probably because you have seen one of their presentations for several different companies they are involved in, such as Success Lifestyles and All-In-Profits.
All-In-Profits is a gifting scheme and Success Lifestyles is a feeder operated by Frame and is definitely not legit…
That funnel throws people into Westland Storage, Crypto 300 and Tiki.
All of which are Ponzi Schemes.
Frame was also involved in Empower Network, which he used to funnel people into another scams called SimpleFastCash.
in 2016, Graham Frame came up with Classifieds That Pay which was a $5 pyramid scheme…
Before we go any further, let's ensure you know what we mean by a Ponzi scheme.  See a great description of it below.
"A Ponzi scheme is a fraudulent investing scam promising high rates of return with little risk to investors. A Ponzi scheme is a fraudulent investing scam which generates returns for earlier investors with money taken from later investors. This is similar to a pyramid scheme in that both are based on using new investors' funds to pay the earlier backers".
Source – Investopedia
The key takeaways are the fact that it is fraudulent and a scam!  
We Share Abundance Product Line
Just like its predecessors, there are no retail products or services at We Share Abundance.  All you're paying for is a membership into the income opportunity, which comes in the form of investments.
Does The Product Work?
Like I said, there is no product.  We Share Abundance is nothing more than a Ponzi scheme.  Members invest into the program in the hope of getting paid daily returns, but it is really just a ploy to get you to invest more, and more.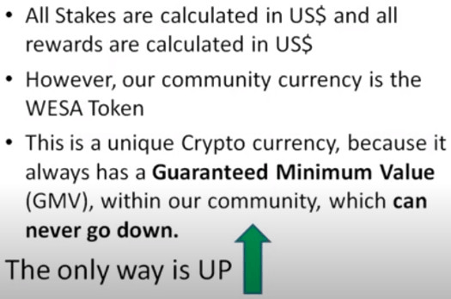 The matrix side of the compensation plan aims to draw out unsuspecting victims and makes them think that the more members they can recruit into the scheme, the more money they can make.
All of the investments within the platform, are being tracked by their WESA tokens, which Frame can generate at no cost at all.  This is very similar to other tokens within platforms that are clearly Ponzi schemes.  These WESA tokens have literally no value outside of the We Share Abundance platform.  It can't be traded publicly nor can it be used for any other transaction.
Withdrawals are also encouraged once the investment has been paid out, but it seems like they have changed their tactics to prevent people from doing that.  You see, they could pay out as long as the money is still there.
But when withdrawals start to exceed the amount of investments, it then goes into a deficit.   This makes it one of the reasons why We Share Abundance is a Ponzi scheme.
The only money coming into the scheme is from new members joining the scheme, and nothing to do with trading or investing.
There's no proof that there is any trading or investing taking place to generate profits for both the company and the members.  Other than members investments, there is no other source of income coming into these platform.
Recommended: Why Affiliate Marketing is 100x Better than Any MLM!
How to Make Money with We Share Abundance?
There is only one way of making money with We Share Abundance, and that is to recruit more people into joining the platform.  There's no other way of getting your money out, unless you bring more people into this Ponzi Scheme.
Haven't Made Your First $1 Yet?
Studies have shown that more than 70% of the people who want to make money online have not made their first dollar yet. So, you're not alone!
How to Get Started with We Share Abundance?
The cost of the membership to We Share Abundance is tied to a minimum investment of $2.50.  By keeping it low, they have made it really enticing, but that $2.50 doesn't actually get you into the full program.
You would need to pay $125 to enjoy the full benefits of their compensation plan.
If you do invest the $125, you get $25 back in WESA tokens within 48 hours (But like we said, these tokens have no real value outside of the platform).
We Share Abundance Compensation Plan
We Share Abundance affiliates invest funds on the promise of getting a daily return on investment.  Depending on how much you invest, will determine the value of return:
Pool 1 – Invest $2.50 and receive 10 cents a day
Pool 2 – Invest $3.75 and receive 25 cents a day
Pool 3 – Invest $6.25 and receive 50 cents a day
Pool 4 – Invest $12.50 and receive $1 a day
Pool 5 – Invest $25 and receive $25 a day
Pool 6 – Invest $75 and receive $5 a day
These pools have to be invested in turn (meaning that you have to work your way up) and requires affiliates to login daily to their dashboard in order to receive the claimed returns.
There is no actual mention of any term limits on the We Share Abundance investment.
Referral Commissions
We Share Abundance members or affiliates earn 10% commissions from funds that are invested by their personally recruited members.
Matrix Commissions
Everyone within an investment position in We Share Abundance is placed randomly into a matrix each month.
Overall, there are six matrices, which are based on the six investment tiers within We Share Abundance.
There isn't really much information on what this looks like, but we did find an example based on Pool 6 (this is because they can make it look like a really lucrative deal!)
They state that if there were 3,906 members within Pool 6 then it would pay out like this:
1 = $7,810
5 = $1,560
25 = $310
125 = $60
625 = $10
3125 = $0
The odds are that even if you did pay to get to the sixth tier, there is still no guarantee that you will end up being higher up the ladder.  Let's be honest, that 1 person who earns $7,810 is very likely to be the guys behind the scheme anyway.
Recommended: See How We Created a 4-Figure Monthly Passive Income With Awesome Support… 
What We Liked About We Share Abundance
There is nothing we found that we liked about We Share Abundance.  It is just a Ponzi Scheme and isn't there to actually help people make money.  It is there to exploit innocent people hoping to make some money…
What We Didn't Like About We Share Abundance
Here is what we didn't like about We Share Abundance:
#1 They Restrict Withdrawals Through KYC (Red Flag)
They claim this is to prevent the company from collapsing due to an investment deficit, but we think there is more here than meets the eye.
We Share Abundance enforced KYC to restrict withdrawals.  KYC, or Know Your Customer means that members have to provide proof of identification before withdrawals can be made…
You'll need to provide ID such as a driver's licence, passport, or any other government-signed ID is required.  Some also require the first and last 6-digits of your credit card, the expiration date, and the name of the cardholder.
So, not only is your money at risk with this scheme, but so is your personal information.  Don't ever thing that you can get your money out, and it's definitely not worth risking your personal information for.
#2 Members Are Being Funnelled Into Another Ponzi Scheme
If you did decide to invest into WSA, you'll find that you will be funnelled into another scheme called OnPassive.  It is being marketed as a "GoFounders" pre-launch website.
Both OnPassive and GoFounders had their domains registered in 2018.  But the landing page on OnPassive is just a placeholder that claims that "Only Qualified Founders Are Accepted in Prelaunch via Invitation".
Then, when you go to the prelaunch website of GoFounders, it will show the CEO, Ash Mufarah, marketing the company.
Mufarah is known for his involvement with GFI Fusion, which he is the CEO and founder.  GFI Fusion is a marketing team that works with Global Domains International.
#3 The Owners Have a Reputation with Ponzi Schemes
Graham Frame and Rosa Frame are associated with so many schemes, and yet none of them seem to be legit.  They have been involved with so many Ponzi schemes, and I'm surprised they are getting away with it.
Ponzi schemes don't have a long lifespan.  That is because as soon as the investment stops (new members stop joining), then the scheme collapses.  Members lose money, the owners take anything that is left within the investment pool.  
They then start a new scheme, with a new name and start all over again.
They are also well-known for funnelling members from one scam to the next, which again is something we find abhorrent about them.  
If you see a company in the future that has their names associated with it, then it is safe to say it is a Ponzi scheme.
Haven't Made Your First $1 Yet?
Studies have shown that more than 70% of the people who want to make money online have not made their first dollar yet. So, you're not alone!
Is We Share Abundance a Scam?
We have no doubt that We Share Abundance is a complete scam, and is definitely a Ponzi scheme.
They have no proof that any investments or trading is taking place to generate any profits for the owners, and its members.  As they are claining to be involved with investments, they should be registered with the SEC or Financial Regulator for every country they operate in, and there is no evidence that this is apparent.
They have added KYC requirements to make it harder for you to withdrawal any money from the platform.  KYC requires more personal information such as government-issued ID and your credit card details.  This puts you at risk of being breached and exploited by hackers.
The owners are well-known for having created numerous Ponzi schemes, and this will not be the last.  They also just funnel their members from one scam to the next.
In short, we suggest you stay away from this company, and anything else that these guys bring onto the market.
We're not fans of MLM, not because it's illegal or not profitable, but because of all of the restrictions and the expensive costs that are involved.
Instead, Affiliate Marketing is my top recommended business model for anyone to make money online.
The reasons are simple…
You don't have to recruit anyone to make money
you have the freedom to promote any products you want and not being restricted to only promote the products from one MLM company
It's Free to get started
In fact, with affiliate marketing…
We've personally created a 4-Figure Monthly Passive Income Stream.  Through our own hard work, we are now helping others achieve a similar success.  If you want to see how you can get started with affiliate marketing and start your own affiliate marketing journey, check out our step-by-step guide.
If you want to discover how we actually did it, with the support of the best training platform on the market, then click here.
Thanks for checking out our We Share Abundance Review!  If you have any questions, or comments to add to our review, then please write them in the comments section.  We will get back to you with a response as soon as we can. 😉
Get Your FREE Affiliate Marketing Blueprint
Learn How to Create Your Own Passive Income Making Machine – 4 Steps to Success