Omar & Melinda Martin are well-known in the affiliate marketing industry, they are also the guys behind the rapid profit system. 
It is a video training course in how to get started with affiliate marketing, but is it any good? 
We plan on answering all of your question in our full review and answering the question on whether the Rapid Profit System is a scam. Is Rapid Profit System a Scam?  Let's find out.
First off, congrats on doing your research that is the best way to avoid scams and find genuine ways to earn money online.
Product Review Summary
Product Name: Rapid Profit System
Owner: Omar & Melinda Martin
Product Type: Affiliate Marketing Training Video Course
Price: $19.95 One-Off Fee + Two Upsells –
$27 for Rapid Profit Turbo Package + $37 for Rapid Profit Turbo Powerhouse
Best For: Best for people who want to promote products on JVZoo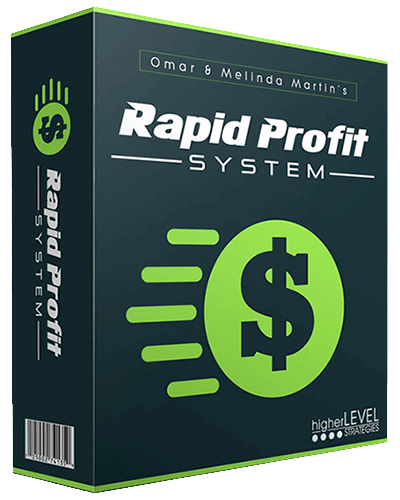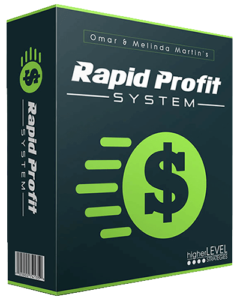 Summary: Rapid Profit System is a video course that can show you how to make money by promoting other people's products on JVZoo.  In simple terms, this is showing you how to make money using affiliate marketing.  It is a relatively short course which doesn't go into too much detail but might give you a few ideas.
Brought to you by two well-known marketers in the industry, it should be an outstanding product, but it lacks in a number of different ways.  There are no real testimonials to state whether others have found the product works or whether anyone has seen real success through it and the upsells could lead to beginners believing they need them when really, they will be subjective.
Rating: 60/100
Recommended? That Depends, Read on for more info…
What is Rapid Profit System?
Let's start with Omar & Melinda's first bold claim – "You can make $336 Per Day With This…"

This would normally put us straight into believing this product could be a scam… Of the many products we have reviewed here at BestAffiliateMarketingTools.org, most that start out with bold claims of earning potential are normally not going to end up on our recommended list.
There are thousands of products in the affiliate marketing and make money online industry that overpromise and do not deliver you any real value for your money.
I am not saying this to put you off the Rapid Profit System, but I am trying to show you that there are clear signs when checking out a product and by putting a dollar figure in the equation, this product is setting itself up to fail.
Whereas a training platform like Wealthy Affiliate is a comprehensive training platform that is 100% beginner friendly and helps you step-by-step to earning money without putting any unrealistic goals in your way.
More than 1.8million users are benefitting from Wealthy Affiliate's training and that is because they offer everything that a beginner could need to get started.
Back to Rapid Profit System – What is Rapid Profit System?
Rapid Profit System is an affiliate marketing video course that was developed by Omar & Melinda Marting of Higher Level Strategies Inc.
It promises to help you make money fast by promoting products on the JVZoo affiliate website.  It provides you access to sell digital products with a commission rate of typically 50-100%.
The only problem is finding the genuine products to promote and those that will end up with people wanting a refund because it is a low-quality or scam product.
To be honest, if you are just starting out or wanting to step into the affiliate marketing world the Make Money Online niche is a tough one to get started in.  That is because there are plenty of products out there that, quite frankly do not work.  This product might work because of Omar & Melinda's experience but having said that there is much more to affiliate marketing than what can be shown in a relatively short video course.
Who are Omar & Melinda Martin?
Omar & Melinda are well-known in the affiliate marketing industry, and if you are familiar with JVZoo you will probably have heard of them.  They found Higher Level Strategies and have been involved in affiliate marketing for more than ten years.

They are often seen at different internet marketing events around the world offering their experience.
They have launched a number of products including Content Nitrous & My Unfair Advantage.
How Does Rapid Profit System Work?
Rapid Profit System is broken down into 3 different phases, each made up of 5 training videos.  They consist of:
Screen Shares
Step-by-step tutorials
Text Slides
Let's get into the 3 Phases
Phase #1: Niche Selection & Audience Identification

Identifying you niche and target audience is an important step for anyone wanting to succeed at Affiliate Marketing.  Topics covered in this phase are:
How to Locate Potential Customers
Attract More Buyers to Your Products
Planning Promotions
What to Avoid When Running Your Campaigns
This section is designed to how you identify a profitable niche market and identify any challenges you might face so you can become an authority within that niche.
You can then know who your audience is to help target the right products or services for that audience.
Phase #2: Your Sales Funnel

At this point you will have chosen your niche and will then be ready to set up your sales funnels.  It will cover off setting up a product page and adding some content to your website.  It also covers off building up an email list.
The training focuses on showing how to build effective landing pages that can attract customers by offering customer incentives such as bonuses.
Some of the topics covered in phase 2 are:
How to Build an Email List
Maximise Your Return on Investment
Instruction on How to Offer Bonuses
How to Implement Targeted Follow Up Emails
Phase #3: Your Affiliate Campaigns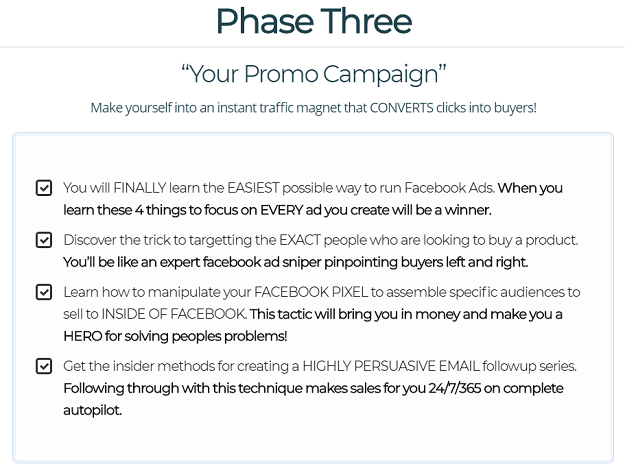 This phase is about attracted traffic that is full of potential buyers.  The two main methods they show you are Facebook Ads (Paid advertising) & Email Marketing.
The topics they cover are:
Generating traffic via Facebook Ads
Email Marketing Techniques
Attracting a Larger Audience for your offer
The problem is the training is very limited really, there are many different ways of attracting traffic and yet they focus on two that are not really beginner friendly.  Facebook Ads require a budget which you may not have as a beginner.  Email Marketing requires traffic to see your offer and sign up for your email list.  Unless you buy into a list, but again you require a budget, and this is not a guaranteed success.
The Rapid Profit System barely scratches the surface of affiliate marketing and you could probably grab a lot of the information for free on YouTube.  You will not learn how to effectively learn affiliate marketing for just $20.
But if you want a comprehensive training platform that can help you make money with an easy to follow step-by-step guide that you can start for free…?  Just click on the image below:
Whilst the Rapid Profit System focuses a lot on facebook Ads & Email Marketing, it does touch on other methods such as:
SEO (free Traffic from the search engines)
PPC (paid traffic from the search engines)
Video Marketing
Social Media Marketing

AS with most products available via JVZoo they offer a number of bonuses to sweeten the deal, but on the face of it I am not too sure what real benefit they will pose.
Here is a list of a few:
Professional Designed Bonus Offers
Follow-up Email Series with High Conversion in Mind
Qualification to Promote 5 Other products offered by Omar & Melinda
Free Giveaways to offer your visitors
List of resources available to access as PLR material
Who is Rapid Profit System For?
The way the training is set out it is set out for those wanting to get started with affiliate marketing and are willing to promote products available on JVZoo.  But to really maximise your chances I would recommend this is for someone who is already making money on JVZoo and is looking for effective sales funnel training to enhance your opportunities.
Any proper affiliate marketing training will state that you need to invest time and effort into affiliate marketing to make it work.  Our recommended training platform, Wealthy Affiliate states you will only get out what you put in and the Rapid Profit System states the same.  But the reason they claim it is quicker is because they are focusing on paid traffic.
Paid Traffic routes will typically earn you money quicker through affiliate marketing, but it is the trial and error side of paid traffic that means it is not ideal for someone just starting out.
You can easily find you are spending money without any money coming back in.  This is the reason we suggest people follow the step-by-step training at Wealthy Affiliate to understand the free routes to earning money via Affiliate Marketing.  Once you have a solid background in understanding free marketing.  You can then use paid marketing on funnels that are already earning you money and you know will work, that way you lose the trial and error stage and promote the right products to the right people and make more money.
How Much Does Rapid Profit System Cost?
There is a one-off fee of $19.95, which will grant you access to the training videos and bonus content.  But expect to see the two upsells as well.
Rapid Profit System Turbo – $27
This is another one-off cost of $27 and is focusing on building up your mailing list (email marketing).  It gives you access to:
20 additional products for your promotional campaigns
4 custom bonus offer pages
4 pre-written email campaigns
2500+ high converting email swipes
Access to Omar's email vault
It also offers done-for-you emails, OptimisePress page templates and some other tools to boost your marketing campaigns.
Rapid Profit System Powerhouse – $37
This gives you access to a number of products that Higher Level Strategies already offer, along with the PLR to use them.
You also gain some training modules and the following too:
30 extra PLR products
The Secret Funnel Workshop – Simple techniques to maximise your sales funnel
Secret Traffic Session Workshop – Learn techniques that will help you drive targeted traffic to your offers
What is Good About Rapid Profit System (PROS)
Here is what we liked about it:
Content That is Well Thought Out & Structured
The content is well presented and thought out, it ensures you understand the steps required of you and by using a combination of screenshares, tutorials and text slides it makes it really easy to follow.
It is high quality and really relevant to the marketing industry too.
The Owners Are Well Regarded
Omar & Melinda know their stuff and it comes out in the training they provide.  You will be surprised how many products make bold claims and yet the owners are unable to show any proof that they know what they are doing.  That is not the case with Omar & Melinda who are both really successful.
30 Day Money Back Guarantee
If you are not entirely happy, they will give you your money back – no questions asked.  Let me tell you, there are plenty of products who offer a refund but when you want to actually do it, you will find it extremely hard to.  But not with Omar & Melinda, they have their reputation to think about.

What Could Rapid Profit System Improve on? (CONS)
Here is what we didn't like:
No Real Success Stories or Testimonials
The reason I say real is because the only testimonials I could find were from those that are trying to sell you this product.  But, after thorough research there is no success stories from any other real users.  That makes me question the validity of this product.
It means either:
The members have not done that well to be able to see whether RPS gave them success
The members have not done that well and haven't made any money from the program
The testimonials on their landing page are also questionable, as one if from Michael Cheney.  He is already a successful online marketer who has a number of low-quality products that we have reviewed such as Copy Paste Commissions or Commission Machine.  Not a reputable character to answer the question on whether this is a successful product or not.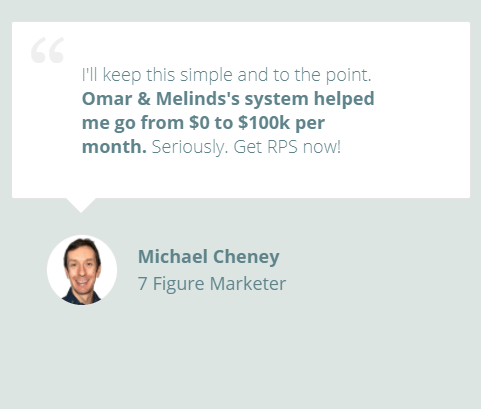 Is the Earning Potential Real?
I say that because they will always show you screen grabs of how much money they are earning and yet, these marketers are extremely experienced in affiliate marketing and so can you really believe those earnings are from this product or from their experience???  I would question whether they really came from using this training.  Probably just from their own knowledge.
The Upsells Are Annoying
The Rapid Profit System is aimed at beginners and these upsells are hoping that newbies will just buy them thinking they need them, when really you may not even benefit from them.
Don't just think this will cost you $20 and you will see success.  You will need to invest money on advertising and the actual cost that might set you back could be a lot more than you can think of…
If you are tired of upsells and want a proven affiliate marketing step-by-step guide that works read about how we got started for free.
Is Rapid Profit System a Scam?
The Rapid Profit System is definitely not a scam as it does provide affiliate marketers with real training.  The bit that I do not like is the claims around earning potential, but that is just a line to get you interested.
There are definite benefits to the training and you will learn some techniques to use, but in my opinion I would say this training will not cover everything off and has too much of an emphasis on paid advertising rather than long term free methods.  That is why they are stating it is rapid profit, but you will need to pay to see it quicker than the normal route.
Email Marketing is still really effective but that is again about the long game and not going to be a quick route to earning.  Especially as you would need a website, which is something the Rapid Profit System does not offer.
Will you Make Money with this System?
That is not a simple question, in my opinion you could if you have the budget to spend on paid ads, but this system is not ideal for someone just starting out.  There are too many variables when it comes to paying for traffic.
You will find that you will spend a lot more money that you ever expected to, with no guarantees of success.
Want a Better Way to Make Money with Affiliate Marketing?
Our goal with our website is to help people make money online with affiliate marketing, with a special focus on helping people get started with affiliate marketing regardless of their experience levels.
We offer a proven and tested step-by-step training that has a proven success track record that has helped thousands of people start their path to financial freedom.
When you follow proven steps, you are only heading one way – to Success.
If you are constantly jumping from product to product hoping one of them will work, that will not lead to success. You need to stick to a plan that works, and we can show you the way.
If you can follow these steps to the letter, you will have soon earned your first $1.  If you can do that, you can step up to earning a $1000 or even $10k a month.
But the key is stay focused and stay consistent with that said training.
If you feel like you are ready to take the first step in the right direction to earning that financial freedom, we highly suggest you check out our thoughts on Wealthy Affiliate.  It is a comprehensive platform that offers training, tools and expert support to anyone wanting to get started with affiliate marketing.
You can get started for free and see exactly what they offer you.  Here is a link to our full Wealthy Affiliate review.  You will find support like you have never known to achieving your success and you will also gain our support along the way too.
Thanks for checking out our Rapid Profit System review, we have shared our thoughts and now we would love to hear what you think too.  Just write any questions, experiences or general comments below and we will get back to you as soon as we can.