Welcome to our Dacxi Review!
Ponzi Schemes might seem to disappear, but what really happens is that they just go away for a bit before relaunching with a new name and brand but are still an illegal Ponzi scheme waiting to be exposed.
Ponzi Schemes that are caught just have their followers, promoters and its management team move on to the new project.
This makes it even harder to put a stop to these Ponzi Schemes.  They then gain new promoters and followers and they spread even further.
Today, we are going to be looking into a possible clone of a previously caught Ponzi scheme called OneCoin.  We are looking at Dacxi today, but you will soon realise the similarities with OneCoin, that was exposed as an illegal Ponzi Scheme.
First off, it is great to see that you are doing your research before buying into a "seemingly good" product.
It is the best way to avoid scams and find legitimate ways to make money online!
To be completely transparent with you, we are not associated with Dacxi in any form.
So, you can relax, we are not here to pitch or sell you anything.
Instead we are going to reveal what makes this a Ponzi scheme and why we think it is just another clone of the OneCoin scheme.
Let's get started with a quick product overview:
Dacxi Review Summary
Product Name: Dacxi
Founder: Ed Ludbrook
Product Type: Investment MLM company (Ponzi Scheme)
Price: $100 minimum investment
Best For: No One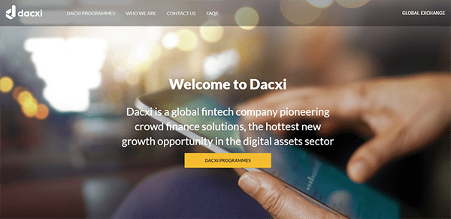 Cons
Ludbrooks' Involvement with a known ponzi scheme
DAC Coin has no value
Illegal Activities
Summary:   Dacxi is an investment MLM company, but in reality, we are convinced it is definitely a Ponzi Scheme.  This means that you only way to make money is by recruiting others into the scheme.  They have no products or investment platform to speak of.  This makes them a Ponzi Scheme and that is illegal.  With the owners being caught as part of a previous exposed Ponzi Scheme called OneCoin, It looks like they are just trying to revive OneCoin and suck more innocent people in.
Definitely Not Recommended and I advise you to stay away.
Rating: 1/100
Recommended? No
Dacxi is an MLM or Multi-Level Marketing company that offers a promised return on our investment to its members, even doubling your money with it.  
To earn money, you can build a downline of investing affiliate members and earn from the promised ROI. (supposedly).
The domain name (dacxi.com) was registered in 2017 but under a private registration, so there is no real way of knowing who registered it or where it is registered.
The websites landing page doesn't make it very clear who is the owner, but after a bit of research on Google we found that Ed Ludbrook is the founder of this company.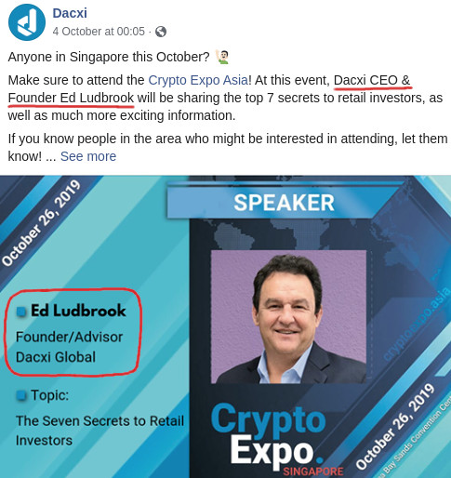 That is probably the first red flag of what was to come with this company.  Ludbrook has not had a great time of it and has been known to have been involved in numerous Ponzi Schemes (which are illegal).  This is primarily because he was the Asia Ambassador of the infamous OneCoin.
After OneCoin was exposed, the management team and several of its promoters found themselves in a lot of legal trouble.
Even now, several key personnel including Ludbrook are dealing with criminal cases due to their involvement with said Ponzi scheme.
Dacxi's business model is very similar to the one that OneCoin operated, where it promises a fixed ROI depending on how much you invest and how many people you can invite into the business.
But we will cover more on that and their income opportunity in the next few sections.
A legit MLM company will have products or services for sale, but the Dacxi website does not mention any products or services.
Instead, you are investing into their income opportunity by purchasing a membership into their program.
This means there is no investment platform or software within Dacxi to help you generate any ROI.  There is no trading involved either.
Does the Product Work?
As a member of Dacxi you are relying on the fact that you will be able to withdraw more money than you have invested into it.
If you assumed this was a legitimate investment or training platform, there might have been a possibility for that.
However, the only source of income generated by Dacxi is through recruiting new people into the scheme.
People investing into the income opportunity only end up paying the people above them, and they would in turn need to recruit others to get their money back.
Dacxi also offers a way for its members to reinvest their "earnings" through something they call "affiliate buy-back cycle".  The investment you make is turned into their coin called DAC.  This is a form of cryptocurrency that they can only use and control.
This way of using new investments to pay returns on other people makes this a Ponzi Scheme.  There are also ties toward securities fraud as they are not regulated by any financial regulators and they would not be permitted to do so by any financial institution.
How to Make Money with Dacxi?
The only way for you to be able to make money from the Dacxi platform is through recruiting others into the same scheme.  As we have mentioned before, there is no proof that any trades or any form of investment is being done in order to generate your Return on Investment.
Haven't Made Your First $1 Yet?
Studies have shown that more than 70% of the people who want to make money online have not made their first dollar yet. So, you're not alone!
Getting Started with Dacxi
You will have to purchase a "bundle" to get started with Dacxi, this are split into different types of cryptocurrency:
Ethereum – 20%
Bitcoin – 50%
DAC – 20%
Litecoin – 10%
The minimum investment is $100 DAC to join Dacxi.  DAC is their internal token, which has literally no value.
The Dacxi Compensation plan is split into Recruitment commissions and something called A Hold Bonus:
Recruitment Commissions
You will get a commission of about 10% of the funds invested in the bundles that your recruits buy.  You will also get a 2.5% commission from the members that your recruits get to sign up.
A direct DAC investment made by your recruits nets you a 20% commission, and 5% for the succeeding levels.
All commission are paid out in DAC tokens (which we have just said has no value).
Hold Bonus
Members who invest in more than $1000 in bundles can receive this bonus.  You will get awarded a 50% DAC bonus which is held into your account.  You can get the entire amount if you do not withdraw the entire thing for 180 days.
What We Liked About Dacxi
Seriously?  There is nothing that we liked about this Ponzi scheme.  The program, its management team, everything just has too many red flags about it…
What We Didn't Like About Dacxi
Here is what we didn't like:
#1 Ludbrooks's Involvement with OneCoin (A Known Ponzi Scheme)
It is very clear to us that the founder of Dacxi, Ed Ludbrook was involved heavily in the OneCoin Ponzi scheme and he is trying to revive it under a different name with Dacxi.
He has no credibility after the OneCoin fiasco…
In July 2016, he was aggressively dismissing any concerns that OneCoin was a Ponzi scheme in any of his marketing events.
But when the scheme was exposed and collapsed, he suddenly changed his mind and was telling the authorities that he was being misled by the founder of OneCoin Ruia Ignatova.
He has still not apologised for his role in misleading innocent investors who were caught out by OneCoin and ended up losing a lot of money.
#2 DAC Coin Has No Value
The DAC coin, just like OneCoin has no value in the market.  The value is arbitrary, meaning that the owners and founder can adjust the value as they see fit.  You also cannot use the DAC coin anywhere other than on their platform.
#3 Illegal Activities
Dacxi has also made a point of not serving members from certain countries.  This include Belarus, Canada, New Zealand and USA.
This is because these are the places that OneCoin got caught out, or where people are keeping an eye out for Ponzi schemes.
It just means they are trying to keep out of the limelight and are hoping to stay away from the authorities.  But it will get caught eventually…
Haven't Made Your First $1 Yet?
Studies have shown that more than 70% of the people who want to make money online have not made their first dollar yet. So, you're not alone!
In our opinion, Dacxi is an attempt by Ludbrook to revive a proven Ponzi scheme from OneCoin.
The business models are the same, the offerings are the same and the coins are equally worthless.  With that said, we would advise you to avoid this program.
We have more than enough reasons to conclude that this is definitely a Ponzi scheme.
There is no proof that profits are generated in any other way, apart from recruiting people. Their investment is what is used to pay the people above them.
Ludbrook's involvement with OneCoin is definitely a red flag and is something that should seriously be considered. Dacxi might just follow in the exact same way as OneCoin and we don't want that to happen.
They are operating illegal. They are not regulated by any financial institution, so they are not authorised to carry out investments, which is what they are claiming the program does.  This is why they are being careful about which countries they are operating in.
Hopefully, it won't be long, and the authorities will expose this as a scam, meaning innocent people will not get caught in the net.
My Dacxi Review - Final Thoughts
It is worrying how these schemes do catch innocent people in their nets, but we are glad you are doing your research and hopefully we have convinced you that you need to stay as far away from these types of scheme as you can.
It is totally possible to make money online, we do it through this website, but these scams are only ever going to make the owners rich and leave you with empty pockets, or questions about why you were involved with an illegal Ponzi scheme.
If you want to find a legitimate way to make money online, keep reading.
We are not a fan of MLM, not because it is illegal or that it isn't profitable, but because it is really restrictive, and the expensive costs involved.
That is why we recommend Affiliate Marketing.  It is our top recommended business model for anyone wanting to make money online.
The reasons are simple…
You don't have to recruit anyone to make money
You have the freedom to promote any products or services you want and not get restricted by only promoting products from one MLM company
NO face-to-face Selling is involved
It is FREE to get started
In fact, with affiliate marketing we are close to earning a 4-figure monthly passive income stream.  With the right help and guidance, you can too.  Click HERE to find out about our top recommended training platform for learning affiliate marketing:
Thanks for checking out our Dacxi Review!  If you have any questions or comments to add, then please write them in the comments section below. 😉