Welcome to our Gold Opinions Review!
With promises of earning $50 per survey, I can totally understand why you might be tempted to sign up to this site.
But when we started looking to see if Gold Opinions was a scam, we found some huge red flags.  Anything that looks too good to be true is normally hiding something from you. 
First off, it's great to see that you're doing your research before buying into any "seemingly good" product.
That is how you avoid scams and find only legitimate ways to make money online!
To be completely transparent with you, we're not associated with Gold Opinions in any for.  We're not here to pitch or sell you anything.
Instead, we will reveal all we know and justify our reasons for telling you to keep your credit card safely in its wallet…
Gold Opinions Review Summary
Product Name: Gold Opinions
Founder: Paul Parker (Apparently)
Product Type: Paid Survey Intermediary
Price: $1 for a 7-day trial, then $27 per month
Best For: The Owner

Summary: Gold Opinions is a paid survey intermediary.  You're led to believe that you'll be completing online surveys and earning up to $50 each time.  But the reality is much darker, and this is definitely a scam.
They don't actually host any surveys, and they are not in control of your earnings.  They just mislead you into paying for what are free surveys available elsewhere.  Oh, and none of them are going to earn you $50!!
Their claims are promises are sadly unrealistic, and will be of no help to you…
Rating: 10/100
Recommended? No!
Gold Opinions makes out it is a portal that offers you paid online surveys as a way for you to make money and claim a chunk of their "$8 million dollar" paid out to members.


The idea is you gain access to a wide range of surveys and get paid lucrative rewards just by completing some surveys with your opinions.
Let's take a look at some of the claims they make: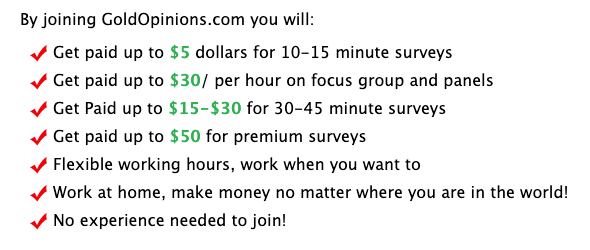 This set my red flag radar going when I saw this.  If you have tried online surveys before, you will know that making money from surveys is much harder than you first think.  The most you get paid for completing most surveys is online a few cents, maybe a dollar or two per survey.  So, how can they make these bold claims and set people up to fail?
I found a great case study, where they tried to see how much a realistic amount was to expect to earn from completing online surveys.  When you check out that case study on Upfuel, you will see that you are probably looking at a couple of hundred dollars at the most per month.  But you have to treat it like a full-time job to be able to do it.
But here is Gold Opinions selling it as a flexible working job that fits around you and you could be getting $5 for one survey?  Something isn't quite adding up.
How Does Gold Opinions Work?
At this point, you should know that Gold Opinions is not actually a paid online survey site but rather, it is an online survey intermediary.
This means that you will not actually be completing surveys on their platform, but they will introduce you to other online survey platforms for you to complete surveys.
You are paying a monthly subscription for them to show you other online surveys on other platforms that you could go and join yourself for FREE.
Why Would Gold Opinions Do This?
The simple answer is the fact that they will be making an affiliate commission every time you go and complete a survey elsewhere using affiliate marketing.
They will be earning money from the monthly subscription you pay and then every time you go and complete a survey, they will earn money because they have referred you to it.
This is just one way that Gold Opinions is not being honest with you, and here are some other Red Flags we found:
Haven't Made Your First $1 Yet?
Studies have shown that more than 70% of the people who want to make money online have not made their first dollar yet. So, you're not alone!
Gold Opinions Ugly Truths Revealed...
In case you missed the last section, we will say it again:
Gold Opinions is Not a Paid Survey Site
They are using the affiliate marketing technique to make money by introducing you to other online survey sites.  They make money every time you go and sign up with one of these external survey sites and you will be paying for the privilege of them introducing you to what are mostly free websites to join.
This also means that Gold Opinions has no control of your earnings, as you will be paid directly from the other survey sites you sign up with.
I have no issue with affiliate marketing, we use it and make money from the business model, but it is the fact they are not being honest about everything and charging you a monthly fee.
The Monthly Fee
This is a huge red flag and part of the reason why we firmly believe this is a scam product.  If you check out WikiHow, they will tell you that any legit survey site will not ask you to pay in order to take surveys.
But you are being asked to pay $27 a month for a membership with Gold Opinions?  You will need to pay this to supposedly make money with them.  But they will be showing you a mixture of legit survey sites (where you will NOT need to pay to join them) and maybe some less legit ones, where you would be passing them personal data.
It gets distorted when you read their FAQ page about why they charge a monthly fee:

The story is that they are not going to take any commission from the money you earn, and it is expensive to maintain the platform, so you are paying them a fee for their service?
The problem is, like we have said legit survey sites will not charge you and yet we have one that is charging you for their service and yet they are not hosting any surveys.
They have no control over your earnings, as all they are is an affiliate of the other survey sites.  That is why they cannot take a commission from your earnings, because the surveys are not theirs.  That leaves the only way to make money is to charge you the monthly fee.
It stinks of a scam, and we do not believe much could change our opinion.
Gold Opinions is sold via ClickBank, which doesn't do much to sway our opinion.  There are a few legit products on there, but you need to really do your research to find them and just remember this fact – There is no legitimate paid survey site that charges a monthly fee!
We have reviewed a number of paid survey sites, and the pick of the bunch would be Survey Junkie or Swagbucks.  Both are free to join and are both legit.  The only thing you need to know is to be realistic about your earning potential with paid survey sites.
Gold Opinions has been Cloned!
This one was probably the most compelling of our red flags, it was more than just a coincidence when you start comparing the Sales page of Gold Opinions and other offers too.
Here is the sales page of Gold Opinions: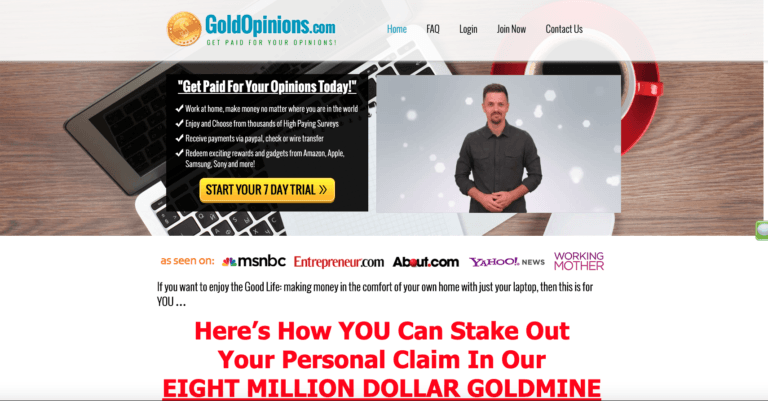 But then, check out these websites and see what you notice about them?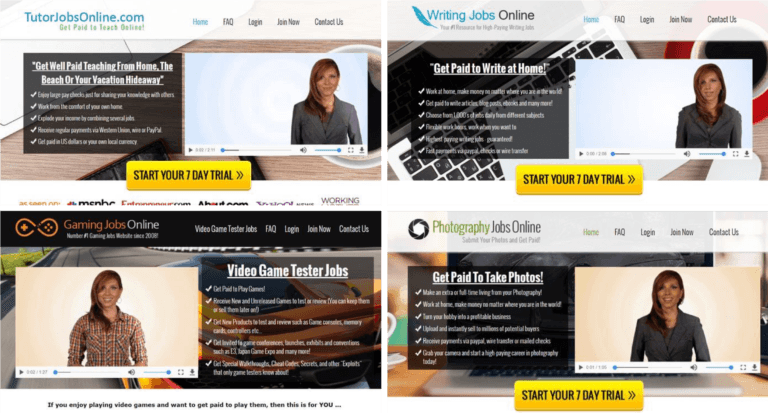 The four websites are all offering different services:
Tutor Jobs Online
Writing Jobs Online
Gaming Jobs Online
Photography Jobs Online
It seems highly unlikely that 5 different website owners have all fallen onto the same layout and design for their websites and all being sold on ClickBank with the same promise of "$8,000,000 is the amount our happy members have been paid to date"
This is just a sales technique to suck unsuspecting newbies in with the promise of huge earnings that will sadly leave them out of pocket and wary of any online opportunity to make money, even if one was legit.
I find it highly unlikely that Paul Parker is the actual founder or owner of Gold Opinions and I believe these websites are all owned and operated by the same person, but Paul Parker is just a pseudonym.
There is just no honesty coming from whoever is behind Gold Opinions and for that reason alone, I believe this to be a scam.  They are just making money from innocent people who are looking to make some extra cash.
What We Liked About Gold Opinions
Here is what we liked about Gold Opinions:
#1 60-Day Money Back Guarantee
The saving grace of this product being offered on ClickBank is the fact that you can get your money back with their 60-day money back guarantee.  However, we are not sure how easy it is to get your refund once you have requested it…
What We Didn't Like About Gold Opinions
Here is what we didn't like about Gold Opinions:
#1 You are Paying to Play
You are paying someone to introduce you to survey sites that are already FREE to join.  Legit Survey Sites will not ask you to pay to sign up, so this is just a sign this is a scam.
#2 Misleading & Unrealistic Promises
If surveys could earn you $50 per go, then they would be a real market for doing surveys, but this is sadly not the reality.  Most surveys will earn you a dollar, maybe two.  Where are they finding surveys for $50…?  I feel it is just a marketing ploy.
#3 Cloned Websites
The sad fact is that they are using the same sales tactic across four other "Money Making Opportunities" and they are probably getting people believing all of their crap and signing up.
But the fact that they are brazenly using it across 5 websites shows they have no morality and don't care about any innocent people who get hooked by their offer.
#4 The Owner is Unknown
Who can say if Paul Parker is a real person, or just a name they are using so they do not implicate the real person behind the website?  We will never know!
Haven't Made Your First $1 Yet?
Studies have shown that more than 70% of the people who want to make money online have not made their first dollar yet. So, you're not alone!
It is our opinion that this is definitely sitting in the scam pile.  Any paid survey site that is asking you to pay money is something that you should avoid.  Legit survey sites will not ask for any money from you.
But you should also know that taking online surveys is not a great way to make money online.  The return you get for the time you need to invest makes it a poor choice to make money online.  In fact, getting a local part time job will actually work out more beneficial than completing online surveys.  This is because the potential of online surveys is just too small.  It ends up not being worth your time.
If you really want to find a make to make good money online, then I would suggest you stop looking into paid surveys because you will definitely not get rich by doing them.  Any extra money you might earn from doing them is not going to be worth your time or effort.
Online Surveys are not worth your time or effort, that is why our top recommended way to make money online is Affiliate Marketing.
Affiliate Marketing is great because:
You do not need to recruit anyone to make money like with MLM
You are building your own passive income to build financial freedom
It is FREE to get started
Affiliate Marketing allows you to take a hobby or interest and make money from something you love, something that you are passionate about can end up becoming your full-time income.  Done from home or on your laptop!
It is so much better than completing a few surveys for a couple of dollars, when Affiliate Marketers are earning a 4-digit monthly income.  Here is our complete guide on Affiliate Marketing and how you could get started for FREE today…
Thanks for checking out our Gold Opinions Review!  If you have any questions or comments to add, then please write them in the comments section below. 😉