Welcome to our AppCoiner Review!
AppCoiner would have you believe that you can could make a good side income online just by testing and reviewing Mobile Applications.  This claim is what we wanted to put to the test and see if it is as simple as they make out.
They want you to believe that you can be making hundreds of dollars a week with their platform: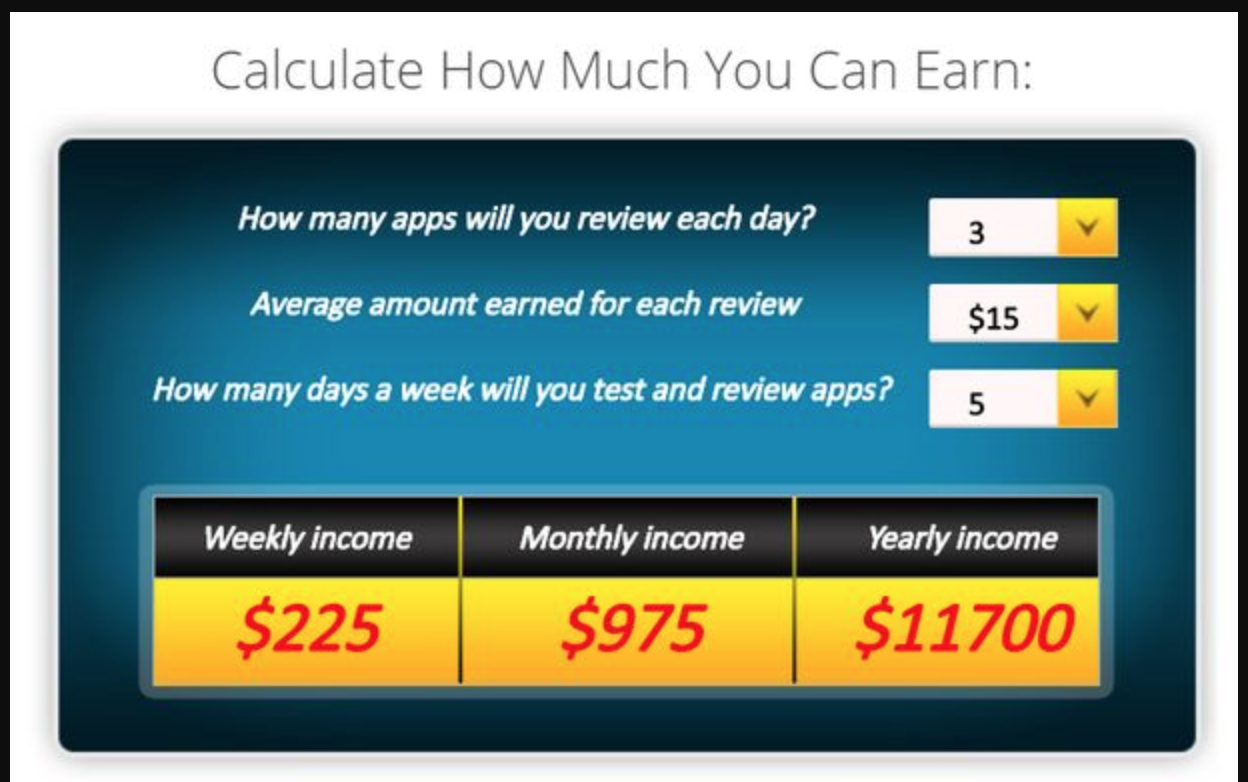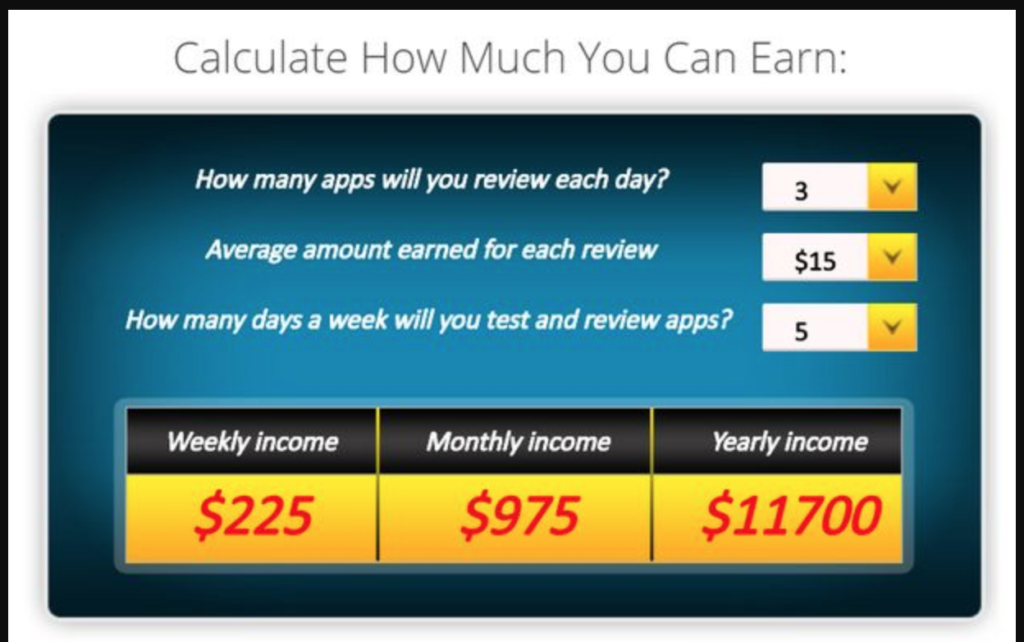 AppCoiner claims that you could be making $11,700 per year just by investing into their $27 platform.  In this review, we will walk you through whether that is something that is possible or whether AppCoiner is just another online scam…
For complete transparency, we are not associated with AppCoiner in any way (or would we want to be). We are not here to pitch or sell you anything, instead we just want to offer you an honest review about AppCoiner and why we believe it is something to be avoided.
Let's get started with a quick product overview…
AppCoiner Review Summary
Product Name: AppCoiner
Founder: Unknown
Product Type: App Review Platform
Price: $27 + $9.95 Upsell
Best For: The Owners & Experienced Affiliate Marketers

Pros
60-Day Money Back Guarantee
Get To Experience New Apps
Worldwide Access
Cons
They're Not Honest With You
Misleading Income Calculator
Too Good To Be True
Waste of Time
No Traffic Souce
Summary:  AppCoiner is a digital platform that connects App Developers with app users who can review their apps for them.  But they are misleading members into believing they will earn money for these reviews, when there is a lot more to it than they are making out.  Making money with this will not be as simple as they make out.  In our opinion, this could be considered a scam, purely on the fact you will not make money from this platform like they say it does.
Rating: 20/100
Recommended? No
AppCoiner is a site where you supposedly can get paid to test mobile apps and review them.  Mobile Apps are constantly being rolled out as more of us are using our smart phones to do stuff.  App developers do want people to test them and give them a good rating, as this tends to put them higher up the listings and will is more likely to get more downloads.
That is why the people behind AppCoiner has created this platform to help these App developers to get more reviews and help App users to earn some extra cash.
That is the basic principle behind AppCoiner, at least that is what they would have you believe.  You test the apps, write an honest review and get paid.  At least that is what they promise you.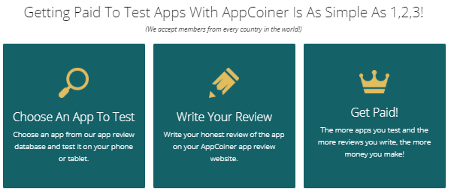 This process shows it to be really simple, but is it really as easy as they make out to make money?  Let's go through how it actually works to show you.
AppCoiner makes the whole process of making money by testing apps sound really easy and simple to undertake.  Like we said, they say all it takes is to follow these 3 steps:
Choose an App from their database and install it on your phone or tablet and test it
Write an honest review about the App
Get Paid
The more apps you review, the more money you earn…
Like I said, this is what they want you to believe.  They even promise that you will earn between $15 – $25 per review.
However, making money from reviewing Apps is not as easy as it may seem.
When you think about the process in those 3 steps, it makes it sound like all you need to do is download an App that they are interested in reviewing.  Then, logging into the AppCoiner members area and write your review and then you get paid.
That is what it sounds like… But the reality is something completely different.
How Does AppCoiner Really Work?
The reality is…
You are required to build your own website and write App reviews on your website.  But that isn't the end of the stuff they are not telling you.  The difficult part of the process is that you will only make money if someone actually purchases the App through your link in your review.
Here are the actual steps involved in making money from AppCoiner:
Setup an AppCoiner review website
Choose Apps to Review
Write reviews on your website
Grab your App affiliate link from AppCoiner
Get people to read your reviews on your website (i.e. traffic)
Make money only when someone purchases the App after clicking on your affiliate link.
The truth is, this is just a typical affiliate marketing business but the founder of AppCoiner has twisted the idea to make it sound simplistic and hide its true identity.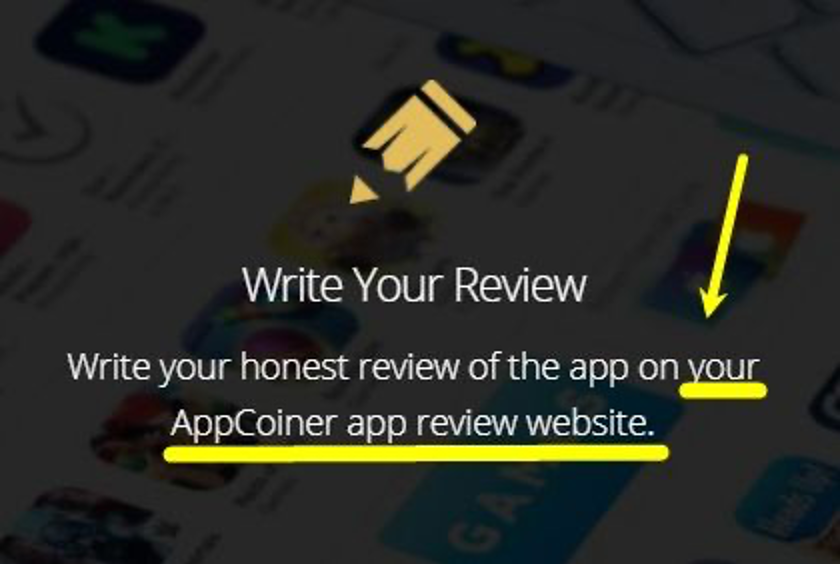 If you have already taken a look at the AppCoiner sales page, you may not have noticed the hint they drop that you will be creating your own affiliate marketing website.  In the screenshot above, you will notice that they drop a subtle hint that you will be writing reviews on your own website.  But these sales pages are so full of information, it is easy to glance over a fine detail like that one.
So, the truths that AppCoiner are hiding from you are:
AppCoiner is an affiliate marketing business
You will not write any reviews in the AppCoiner's members area
You will be required to create your own review website
You are not getting paid for every review you write
You will only get paid if someone makes a purchase through your affiliate link
It is not that easy to make money with AppCoiner at all
Recommended: How to Make Money with Affiliate Marketing & Turn Your Hobby or Passion into a Full-Time Income
Haven't Made Your First $1 Yet?
Studies have shown that more than 70% of the people who want to make money online have not made their first dollar yet. So, you're not alone!
How Much Does AppCoiner Cost?
This was probably the first red flag we found when reviewing AppCoiner.  If it was like other Get Paid To (GPT) sites, why would there be a initial fee to get into it?  But now we understand it to be affiliate marketing and not really a GPT website it made sense. 
AppCoiner has an initial fee of $27.  This allows you get access to their software/platform.
They also have an upsell that is $9.95 that apparently gives you access to 20 ways to make $100 per day online.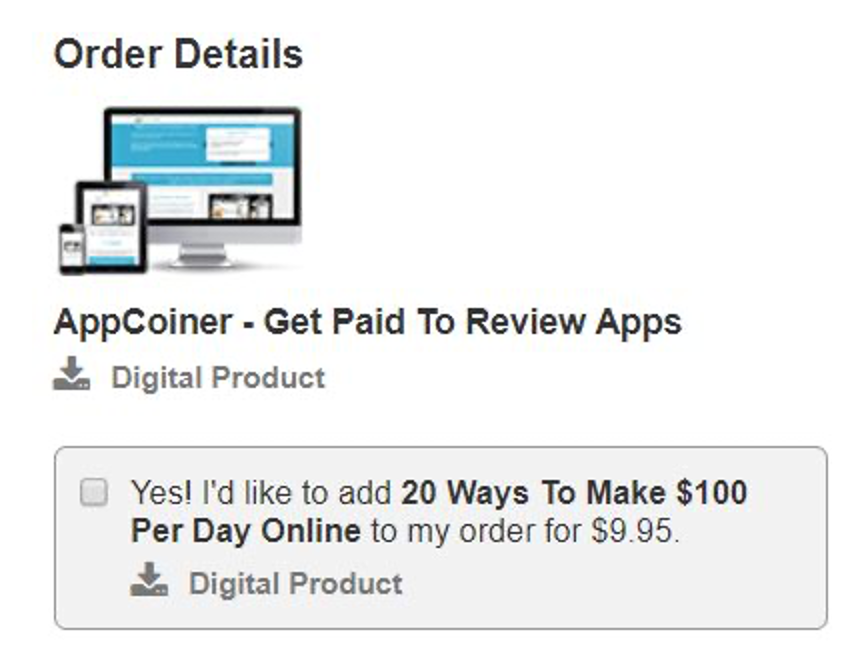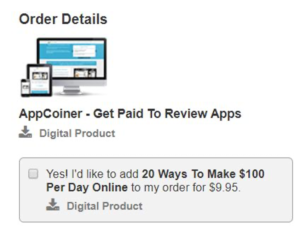 I cannot comment on it, as I have not seen it. However, my assumption is that it will just introduce other elements to affiliate marketing.
What We Liked About AppCoiner
Here is what we liked about AppCoiner:
#1 60-Day Money Back Guarantee
AppCoiner is offered on the ClickBank Marketplace, so that means it comes with a 60-day money back guarantee.  The only downside to this is that it may not be as easy as you might think to get your money back.  (If you have experienced ClickBank before, you will know where we are coming from)
#2 Get To Experience New Apps
Although we do not feel it is a great money-making opportunity, it is a way of getting access to new apps that are not popular yet and are just appearing on the market.  Might be good if you like trying out new stuff
#3 Worldwide Access
There is no restriction on who can buy AppCoiner, some paid online survey sites have restrictions on who can sign up.  But this isn't the case with AppCoiner.
What We Didn't Like About AppCoiner
Here is what we didn't like about AppCoiner:
#1 They Are Not Honest with You
The sales page is very misleading, leading you to believe that all you will be doing is testing apps, writing a review and getting paid for it.  But that is not entirely the truth.
You will be testing apps, you will be writing reviews, but the money part is a lot more complicated that they are making out.  There are necessary steps within affiliate marketing that they are leaving out of the conversation, especially the need for a good traffic source.
The fact they are getting you to pay for the product before actually revealing the truth is dishonest and stinks of someone only interested in taking your money and not helping you to achieve your goals.  The earnings they are quoting for each review ($15-$25) is something they cannot promise either.
#2 Misleading Earning Calculator
This calculator is totally misleading and is there to make you think that is the reality.  It gives you the impression that it will be very easy and fast to make money with this method.  But no one can give you a guarantee of earnings, as there are so many factors to consider.
If you check out the small print under the calculator, they do state "This calculator is only to be used as an example of figures that can be potentially earned. The results from this calculator are not typical or guaranteed"
You should take those figures with a pinch of salt.
#3 Too Good to be True
These sales pages are designed to make it sound too good to be true and that you will really be earning that kind of money just by writing reviews for apps.  It sounds so simple; it is only when you hand over your credit card details that the truth is revealed, and it is much harder than you ever thought.  I know $27 doesn't sound like much, but you go from believing that it will be free to review some apps, to it will cost you $27 to make money reviewing apps to the cost of hosting a website and the reality that you without traffic you have no way of making money.
#4 Wasting Your Time
To have any chance of making this work, you need a solid foundation in affiliate marketing.  But this is targeting newbies who are looking for a way to make money online, they will fall into the trap and be stuck with a hopeless platform.
#5 Be Careful of Positive Reviews
What I mean by this is, you need to careful of the positive reviews of AppCoiner out there.  These reviews will tell you that it is as simple as AppCoiner makes out, there are just there to make money from getting you to buy AppCoiner.
#6 No Traffic Source
The way to think about it is, you can make money from affiliate marketing.  We do it on our website.  In this regard instead of reviewing MMO products you would be reviewing mobile apps.  But this means that you will only make money when someone clicks on your affiliate link and buys something, much the same as we only make money when someone clicks on one of our links and makes a purchase.
To make affiliate marketing work, you (and I) require a reliable traffic source.
We rely on free traffic sources, such as Search Engine Optimisation (SEO) but there are also paid traffic sources like Paid Ads.
My point is that you will not be getting any traffic with AppCoiner.  You will need to learn how to target either free or paid traffic to make your website work and earn you money from your reviews.
If you want to review apps, as that is something that interests you – know that you will have a website with reviews on it but no training on how to get free traffic to your website with AppCoiner. 
Affiliate Marketing allows us to choose whatever subject we want to promote products, services or even apps and earn money online.  But the most important thing you need to get started and turn it into a profitable business is the RIGHT TRAINING!
Learn how to harness free methods of traffic generation and you will see that you can earn money from promoting anything you want.  If you think about Amazon, they have products in pretty much every category you could think of, join Amazon as an affiliate and gain access to their catalogue of products. Even the app stores have affiliate programs.
But it all starts with learning the basics.  If you want to learn more about Affiliate Marketing and how to do it properly, here is our complete guide on Affiliate Marketing.
Haven't Made Your First $1 Yet?
Studies have shown that more than 70% of the people who want to make money online have not made their first dollar yet. So, you're not alone!
I would be very careful in making a bold claim like they are a scam.  Are they misleading you?  Yes.  Are there better options? Yes.  Can you make money with AppCoiner? Possibly.
The reason I say that is it will take for you to learn elsewhere how to use these app reviews to your benefit.  There are also other factors you need to take into account, for example your website cannot just have product reviews and affiliate links all over the place as you will never rank well in Google.
In my opinion, I feel there are scam-like purely down to the fact they are not being honest with you.
My AppCoiner Review - Final Conclusion
Would I recommend AppCoiner to a newbie looking to make money from reviewing apps?  Definitely not!
Affiliate Marketing is our favourite way of making money online.  It has a lot of benefits over other business models like MLM, etc.  You can literally take a hobby or passion and turn it into a profitable online business.  But it requires training.  It is not a get-rich-quick scheme.  But these get-rich-quick schemes all have the same issue – you don't get rich and it isn't quick either.
We know affiliate marketers who have earned $30,000 in one month due to affiliate marketing.  There are many examples of affiliate marketers making 4-figure monthly incomes or even higher.
But they will all tell you that you require a little bit of patience, will need to put some effort in and you will need to get training.
We can help you out if you want training, but my advice would be to avoid shiny objects like this AppCoiner as it is not there to really help you, but to make the owners a little richer.
Affiliate Marketing is our top recommended business model for anyone looking to make money online
The reasons are simple…
You don't have to recruit anyone to make money like what people do in MLM
You are building your own passive income stream for your financial freedom
It is FREE to get started
In fact, with affiliate marketing we are earning a 4-Figure Monthly Passive Income stream.  If you want to learn how we and many others are achieving fantastic things with Affiliate Marketing, check out our top recommended training program HERE.
Thanks for checking out our AppCoiner Review!  If you have any questions or comments to add, then please write them in the comments section below. 😉