Welcome to Our Elite Marketing Pro Review!
Elite Marketing Pro claims to help you recruit people easily in your network marketing business without any rejections, cold calling or even face-to-face selling.
We wanted to find out if any of it is true or whether or not Elite Marketing Pro was a scam or not.
We will show you all the stuff we found out in our review.  It is great to see that you are doing your research before investing money into a "seemingly good" product, it is the best way to avoid online scams and to only find legit ways to make money online.
Let me be transparent with you, we are not associated with Elite Marketing Pro in anyway so we are not here to sell or pitch you anything, but we are here to give you an objective view as to whether this is a worthwhile investment for your business or not.
Let's get started with the review, with a quick product overview…
Elite Marketing Pro Review Summary
Product Name: Elite Marketing Pro
Founder: Tim Erway
Product Type: Attraction Marketing & Lead Generation Training Platform
Price: $27 + Upsells up to $3,497
Best For: Network Marketers, Social Influencers, Anyone looking to acquire high-quality leads to their business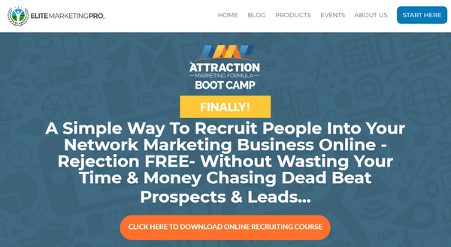 Pros
A Lot of Great Training
Positive Reviews
Cons
Overpriced Product
Restrictive Coaching System
It Gives You Unrealistic Expectations
Training May Not Be Transferable
Huge Focus on Self-Promotion
Summary:  The good news is that Elite Marketing Pro is a legitimate training program that offers a lot of valuable information and materials for anyone relying on generating quality leads online, and there is a lot of focus on self-promotion.  So, we can clearly determine that this is not a scam.  However, beginners may find this is not an easy program to navigate and learn, it also comes with a hefty price tag (we will go through the details shortly)
Rating: 65/100
Recommended? Yes and No (We'll explain)
What is Elite Marketing Pro?
Elite Marketing Pro provides education, training and mentoring programs focusing on lead generation by way of Attraction Marketing.
They claim what they provide is "A simple way to recruit people into your network marketing business online – Rejection FREE – without wasting your time and money chasing dead beat prospects and leads".
According to themselves, their mission is…
"Empowering today's network marketer with digital strategies to create the ultimate lifestyle business"
How Does it Work?
To understand how it all works, you need to first know the difference between the traditional ways of recruiting and the modern ways of recruiting:
Traditional Recruiting Involves:
Cold calling your prospects
Attending networking events
Meeting up with your prospects and do face-to-face selling or recruiting
Plus, the worst part. Trying to recruit your friends and family members out of desperation or because that is what you are taught to do
Any of this sound familiar?
Well, if you have any experience in Multi-Level Marketing (MLM) or Network Marketing, or any business that relies on these traditional recruiting methods, you will know that they are not that effective.
There are many examples of people that have not only lost their hard-earned money, but they have also hurt or lost their relationships with friends all in the process of trying to recruit them into your business opportunity.
Many MLM stick with these methods, but with the accessibility of the internet nowadays, there are much better ways to get the right people interested in the opportunity.  This better way is by recruiting by way of Attraction Marketing.
What is Attraction Marketing?
This is about attracting people to your offer, Attraction Marketing is all about attracting quality prospects.  Instead of chasing people who may not be interested (which often ends up in failure), you will be targeting the right people who would be interested and by using the internet, these people will be coming to you.
Traditional Recruiting is very hit and miss and more often than not, it ends up in targeting the wrong people, typically most MLM's will tell you to target your friends and family, but they are not the right target audience.
In short, Attraction Marketing is the exact opposite of what Traditional Recruiting does.
Below you will find a video that explains what Attraction Marketing is, and how you could get started:
Inside Elite Marketing Pro
Elite Marketing Pro offers training and material that covers off the different aspects of Attraction Marketing.
For example, they will teach you subjects such as:
Building your sales funnel
Creating Advertisements
Setting up lead capture pages
How to drive traffic to your lead capture pages
How to build an email list
How to convert leads into sales
Elite Marketing Pro offers a lot of different products, but below you will find a list of the main products they offer and their respective prices to give you an idea of how much they will cost:
Elite Marketing Pro Insider Membership – $297/year
10 Minute Traffic Machine – $997
Attraction Marketing Formula – $47
Social Media Recruiter – $97
LinkedIn Recruiting Playbook – $197
In the screenshot below, you will find all the products they have: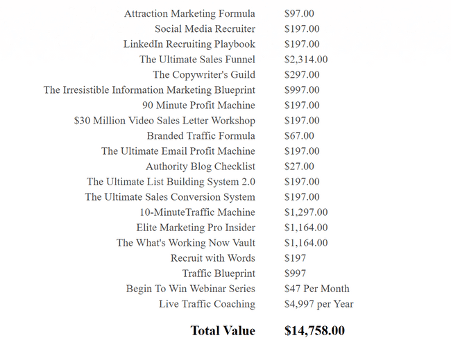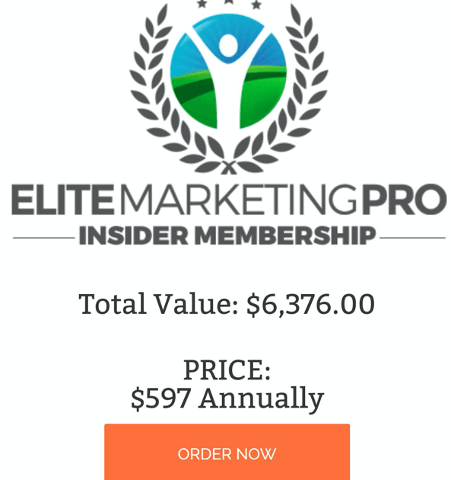 Some of the prices are outdated, as they have undergone quite a lot of changes over the past few months.  But it just to give you an idea of the products and to show how expensive they can be.
Whilst I would say their training will benefit people to a certain degree, I do question their tactics and strategies… For example, see the image below for their 10-Minute Traffic Machine: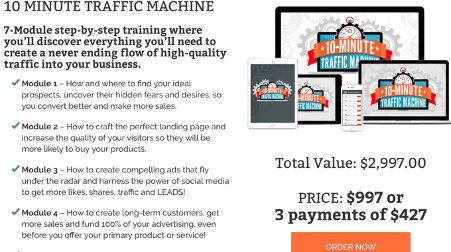 Besides the price, the idea of a 10 Minute Traffic Machine is absurd.  It gives you the idea that you will be able to set up endless flows of traffic within 10 minutes.  Which we know is absolutely ridiculous.  It follows many of those YouTube videos that all claim to be able to get you instant traffic.  They tell you how easy and fast it is to do, but it is all hype and it takes a lot longer to generate genuine traffic.
We have reviewed other programs where you can buy traffic.  Yes, you can buy traffic.  So, your website looks like it is flooding with visitors, but none of them interact with your sales offer.  The reason why?  It is bots hitting your website and not real people.
You are much better saving your money and concentrating on the right way to attract the ideal person to your website.
That is someone who is going to be interested in what you have to offer.
I am not saying all of Elite Marketing Pro is not worthwhile.  But I am saying be very careful.  If you follow their sales page without really thinking about it, you could be a few thousand dollars out of pocket very quickly…
P.S. This program has enabled us to generate a 4-Figure Monthly Passive Income, it is FREE to get started and only costs $49/month fee to go full-time! (No Upsells!)
Who's Elite Marketing Pro For?
Elite Marketing Pro is clearly targeting the Network Marketing sector.  They are offering help and support to people within the MLM world, looking to improve their chances of success.  I commend that, as 99% of people involved with an MLM lose money or end up massively in debt.
But lead generation, which is what they are offering help with isn't only a problem within the MLM world.
Every business in the world requires high-quality leads, whether that be offline or online.
So, when you think about the training that Elite Marketing Pro offers, it can benefit many other business owners too.
That includes:
Bricks and mortar businesses
Network marketing
Direct sales
Affiliate marketing
Information marketing
Professional Services
What We Liked About Elite Marketing Pro
Here is what we liked about Elite Marketing Pro:
#1 A Lot of Great Training
Whilst you do need to factor in the cost associated with accessing all the training, you cannot deny that they have an extensive library of resources for you to learn all about Attraction Marketing & Lead Generation.
In many ways, it is very similar to the following two programs:
My Lead System Pro
My advice would be that if you are looking at this kind of training and resources you may want to research these other two to see which one is right for you. (Alternatively, our top recommended program teaches many different aspects of Online Marketing and is only $49/month which is a fixed price tag to get full access)
#2 Positive Reviews
The Facebook page offers a great insight into what their customers think about the product, as they are the ones that are in a better position to say whether Elite Marketing Pro works or not.  Which shows that they are averaging a 4.5 out of 5 starts.  This is based on 322 people.
They also hold a B+ rating on the Better Business Bureau (BBB).  Which is not to be sniffed at.
What We Didn't Like About Elite Marketing Pro
Here is what we didn't like about Elite Marketing Pro:
#1 Overpriced Products
Although the training and resources might be valuable, their products are way overpriced.
We spoke earlier about their 10 Minute Traffic Machine.  You can find loads of free resources online on how to generate traffic.  There is no need to spend a thousand dollars just to learn how to drive traffic to your offer.
It is also the misconception about it being a 10-minute thing.  It takes a lot longer and a lot more effort than can be achieved within 10 minutes to achieve long-term success.
Another expensive product on the list is called "The Ultimate Sales Funnel".  This costs $2,314!
That is massively overpriced!!
There are many cheaper alternatives to learn how to build a professional sales funnel that makes you money.  For example, you could research into a program called ClickFunnels which receives great feedback and is nowhere near the price of that.
P.S. This program has enabled us to generate a 4-Figure Monthly Passive Income, it is FREE to get started and only costs $49/month fee to go full-time! (No Upsells!)
#2 Restrictive Coaching System
Similar to programs like Six Figure Mentors & Legendary Marketer, Elite Marketing Pro assigns a coach to each new member.
For some, this coaching system seems very good as it means they can lead you through the training/program and you won't get lost.
However, one common issue is that the training will be locked, and you must book an appointment and contact your coach before you can proceed into the training.
There are advantages to this, it means people cannot skip important steps along the way, but these restrictions can also do more harm than good.
But there is also a hidden purpose to this restriction too.  It is normally so these coaches can encourage you to buy their back-end high-ticket products.
We have seen it first-hand on a few of these programs.  Don't get me wrong, the coaches will be able to help beginners through the early stages, but there will be a point where they will be pushing you to upgrade your membership or buy another product to continue.
These coaches inevitably become salespeople, and the bonus is that they will benefit from any purchase you make.
Elite Marketing Pro has a VIP membership which costs $3,497 upfront and the it will cost you $97/month subscription fee that starts from the second year of subscription.
We believe that this is their final high-ticket product that they always want to push for.  If you start to rely on your coach through the training, you will all of a sudden think you need to do anything and everything you coach says to make this work, and ultimately it could cost you a small fortune!!
#3 It Gives You Unrealistic Expectations
There are a number of examples where just the way it is marketing, it will lead you to believe that you will be earning money very quickly by following their training and that is a unrealistic.  I don't want to keep harping on about their 10 Minute Traffic Machine.  But it will not get you bundles of traffic with only 10 minutes of work.  But that is what they make you think it will do.
If I am going to spend a thousand dollars, I want some kind of guarantee.  But you cannot get that.  Plus, your traffic needs to be targeting the right people.  A lot of their training will focus on Clickbait, but that doesn't guarantee people will buy into what you are selling…
It all just seems to be a lot of "Hype" around their website and sales funnel.
#4 Training May Not Be Transferable
There are gaps in the training, in that I mean that they are only focused on attraction marketing and self-promotion (encouraging you to invite more people to the program).
With that in mind, we do feel Elite Marketing Pro does miss the mark with its education.  If you were to start the program and then decide you want to leave, a lot of the training may not translate to other ways marketing online.
#5 Huge Focus on Self-Promotion
Last but not least, this is a major issue with Elite Marketing Pro.
Although they tell you that you can level up your existing business, their primary focus with their training is to teach you how to promote Elite Marketing Pro and then resell their products to make you rich.
There is nothing wrong with having their own affiliate program or offering re-seller rights.  There are many examples of training programs that offer these perks as a way to make money.
But their training is not solely focused on self-promotion.
Elite Marketing Pro does focus a lot on self-promotion and with the coaches being high ranking members who are going to be encouraging any new people to buy more of their products, this becomes a point where we wouldn't really recommend this.
Haven't Made Your First $1 Yet?
Studies have shown that more than 70% of the people who want to make money online have not made their first dollar yet. So, you're not alone!
My Elite Marketing Pro Review - Final Conclusion
Despite some of the criticisms we have about this program, we can at least say they are definitely not a scam.  There are a legitimate program that offers some great training that would benefit anyone within the MLM business model.
In that sense, we would recommend you check it out, because the concept of Attraction Marketing is going to be really helpful to you to go from just the traditional routes and get online.
But you do need to mindful of some of the points we have presented to you, particularly the upsells and whether you really need them.  Many people end up in debt with MLM, you don't want to make that worse by buying into programs just because they sound good.
It is also important that any form of online marketing is not really an overnight success kind of thing.  Their training is very singular, it focuses primarily on self-promotion and attraction marketing.
That is why we would say we would recommend it and we wouldn't recommend it.  The main party that we would not recommend this too is a beginner…
If you are not into network marketing or are just looking for ways to make money online, you might be interested to see how we make a living online…
Network Marketing is a good business model to build passive income streams.  But that doesn't mean we agree with what many people are doing with the traditional MLM tactics.
We are not particularly fans of MLM because we really hate recruiting and MLM has a lot of restrictions to be considered.
Our top recommended business model for anyone looking to make money online is via Affiliate Marketing!
The reasons are simple…
You don't have to recruit anyone to make money
You have the freedom to promote any products you like and not be restricted to only promote products from the same MLM company
It's FREE to get started
In fact, with affiliate marketing we have create a 4-Figure Monthly Passive Income Stream!  Learn how you can make a decent monthly passive income!  No magic formula, just lots of practical information and knowledge that will take you from dreaming about doing it, to being able to Change your Life!   CLICK BELOW TO LEARN MORE…
Thanks for checking out our Elite Marketing Pro Review!  If you have any questions or comments to add, then please write them in the comments section below. 😉