Welcome to our Authority Site System Review!
If you have been looking into building an authority website to make money online, then it is highly possible that you have found The Authority Site System by Authority Hacker and you are maybe wondering what is the Authority Site System about, right?
First off, it is great to see that you are doing your research before buying into any "seemingly good" product.
That is how you avoid scams and find only legitimate ways to make money online!
To be completely transparent, we are not associated with The Authority Site System in any form.  We are not here to pitch or sell you anything.
Instead, we want to reveal to you why this is a high-quality training course but there are also a few things you should consider before buying into it…
Let's get started with a quick product overview…
The Authority Site System Review Summary
Product Name: The Authority Site System (TASS)
Founder(s): Gael Bretton & Mark Webster
Product Type: Internet Marketing Training Course
Price: Usually $997 (At time of writing, it is $599)
Best For: Ideal for a Beginner Looking to Build an Authority Niche Website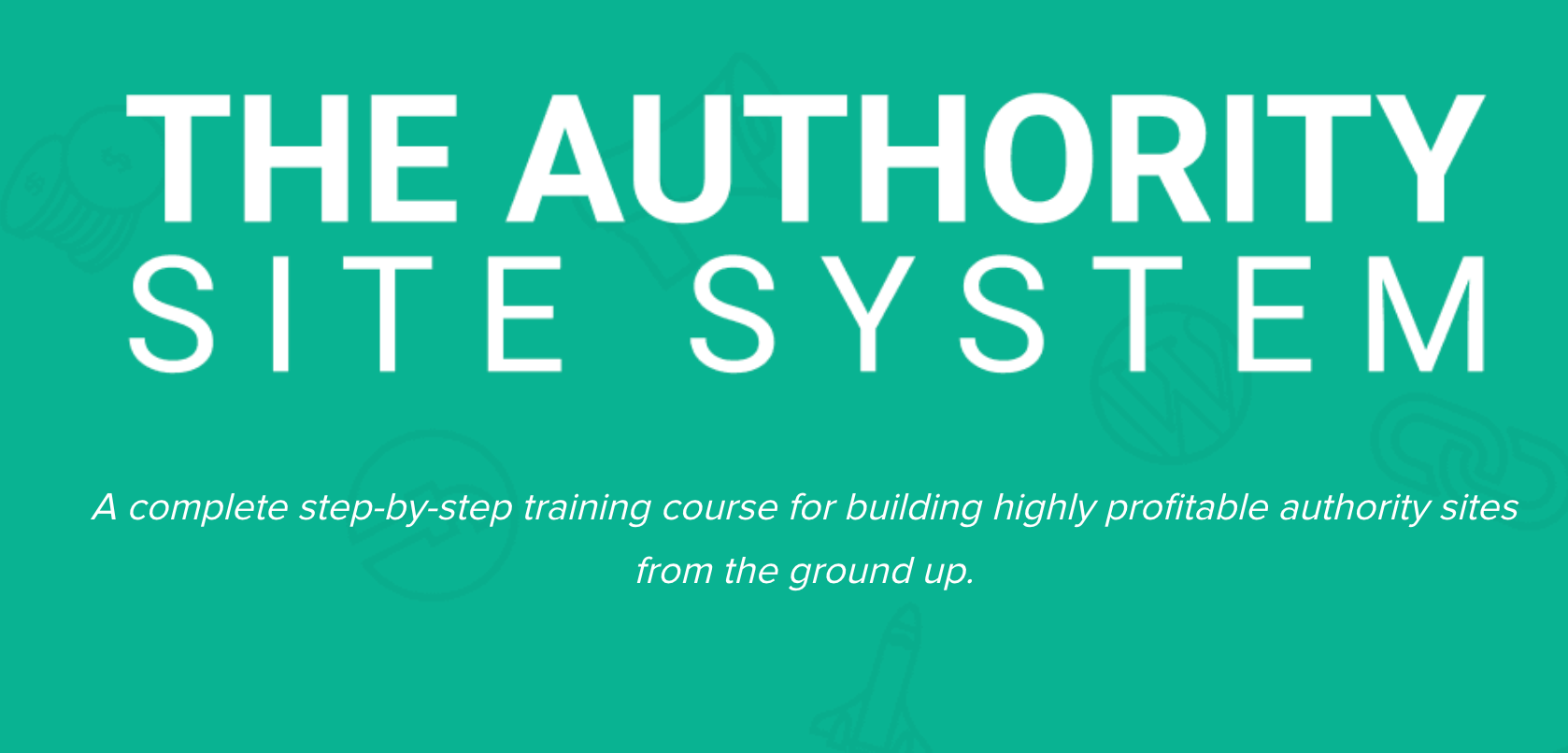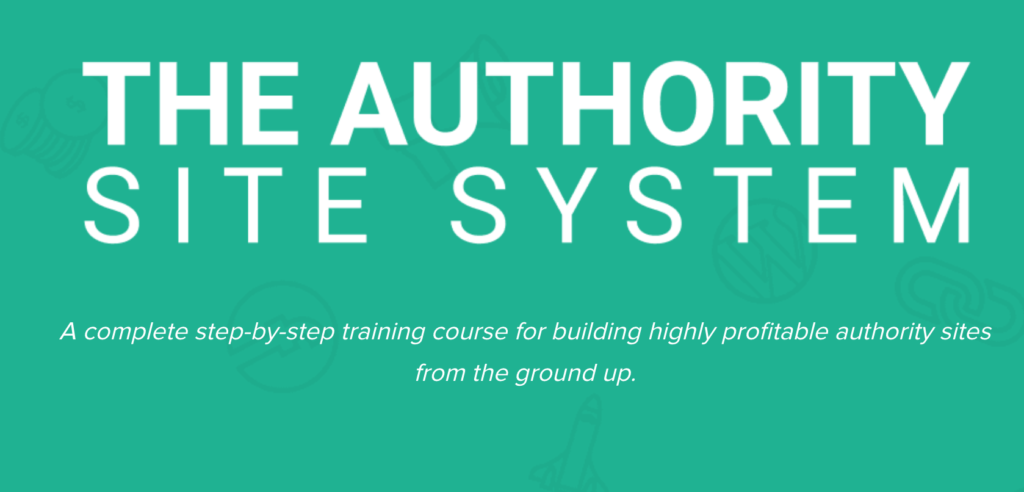 Summary: The Authority Site System or TASS is a training platform that gives you a step-by-step training guide to building and growing a profitable authority niche website.  It is designed with beginners in mind, as it talks about how to grow a website to the $1,000 per month mark.  So, this would not be for someone who is already established and making good money, although a number of other reviewers have said they still learned something from the course.
The course is a good option, although it is a little expensive if you are on a tight budget, but then again they do have a 30-day money back guarantee.  But I find it interesting that there isn't a lot of searches for this program, even though it receives good praise and I feel it is the price that does that…
Rating: 93/100
Recommended? Yes
What is The Authority Site System?
The Authority Site System or TASS as they tend to refer to it as, is a training platform from the guys at Authority Hacker.  It is a training course designed for complete beginners to create a new authority website in their chosen niche and take it to the point of reaching $1,000 a month from that same website.
It is brought to you from Authority Hacker, which was founded by Gael Bretton & Mark Webster.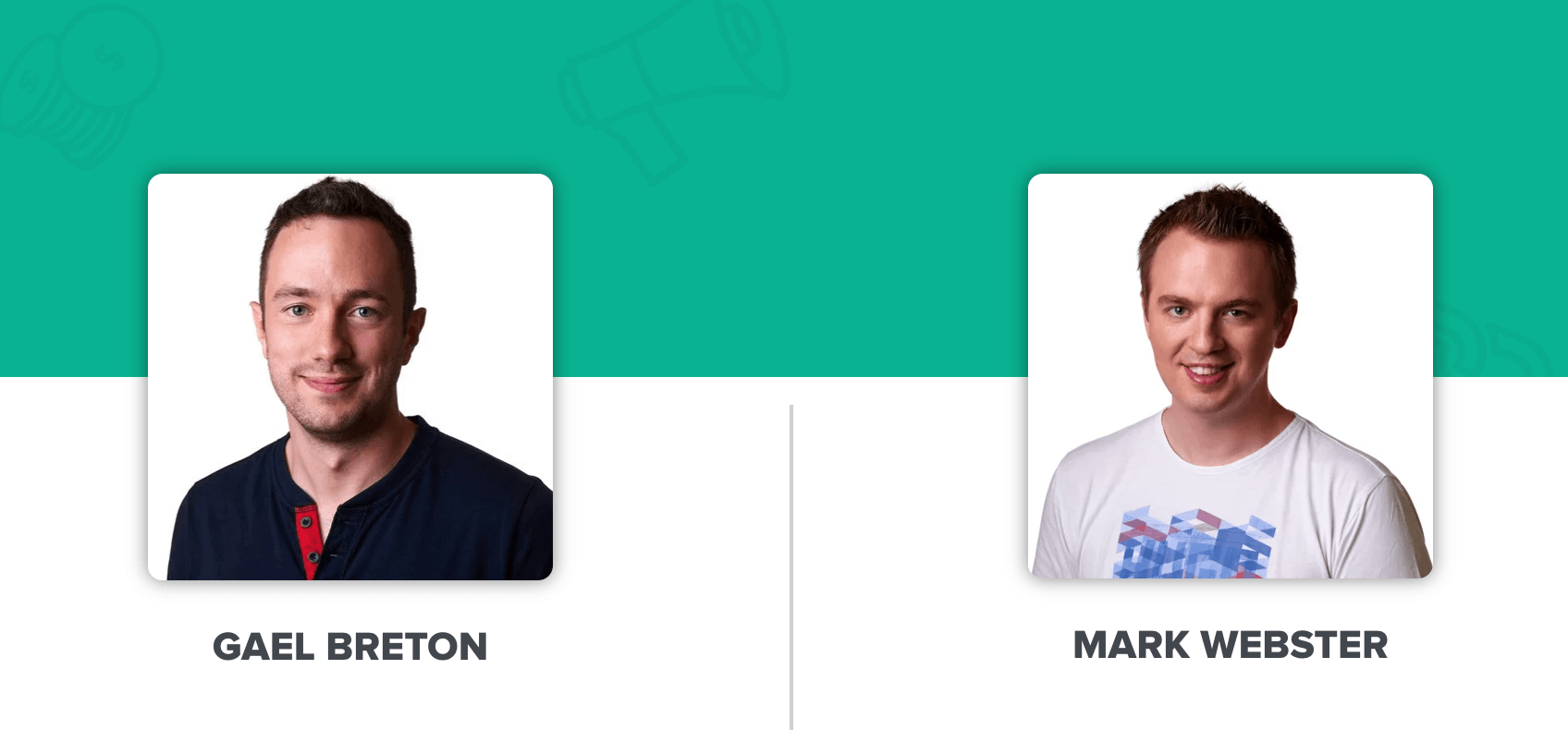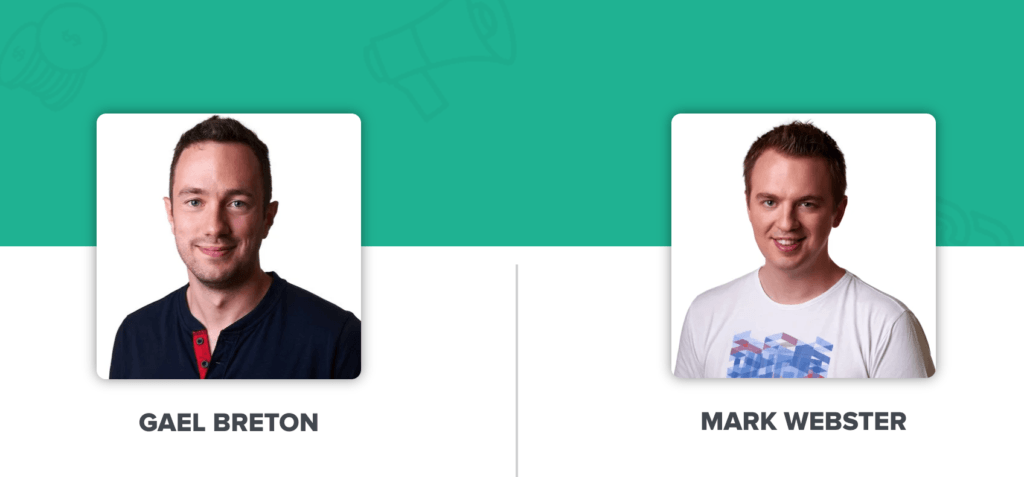 The course explains the basics of internet marketing, affiliate marketing, and how authority sites make money.  It then goes on to take you through a step-by-step training guide on how to achieve it.  They use an easy-to-follow over-the-shoulder method to take you through the tasks you need to do at each stage.
It is totally aimed at the beginner, so it does depend on where you are with your website as to whether this training course will benefit you.  If you are a complete beginner, it would work.  It would also benefit you if you are struggling to generate traffic, etc. But if you are looking for more advanced strategies, you won't find them here…
Inside The Authority Site System
The Authority Site System is a Authority Hacker's starter product.  If you haven't started with an authority website or have a site that isn't meeting the $1,000 mark yet, you would benefit from the training, as that is the aim of the course.
Authority Hacker covers quite a few topics in their training course, including:
How websites can make money
The growth curve of a website
The basics of Internet Marketing
How to select your niche
How to do competitor research
the basics of SEO
how to make a plan for your site
how to setup your site
how to establish branding
how to set your site up for future success from day one
how to create content (they give you templates you can use)
how to build links (including templates for link building)
They also include a module on budgeting and setting expectations for your business too.
Each module is delivered in a video format, with text-based notes to help follow along the course.  They also provide templates you can use to help with certain elements of the strategies too.
They also offer support on a number of levels.  First there is the Live chat feature where you can ask your question within the platform, although this does depend on if someone is online as they don't offer 24/7 support.  They also offer a form that you can complete and get an email response, you also gain access to a private Facebook group too.
If you want to see an Insider's view of TASS, then watch this video below.  We trust the guy in the video and they give a good insight into The Authority Site System:
The Authority Site Sytem Training
Let's take a look at each of the modules within the Authority Site System.
Module 1 – The Authority Site Model
The first module helps you understand the basics, and also lays the groundwork for everything that you'll be doing.  They go over the following topics:
The definition of an authority site
How authority sites make money
The basics of SEO
This gives you a good insight into what you will be working on as part of your business.
Module 2 – Niche Research & Site Planning
There are 17 parts to this module, so it is the most comprehensive part and that is because this is the most important stage to get right on your journey to an authority site.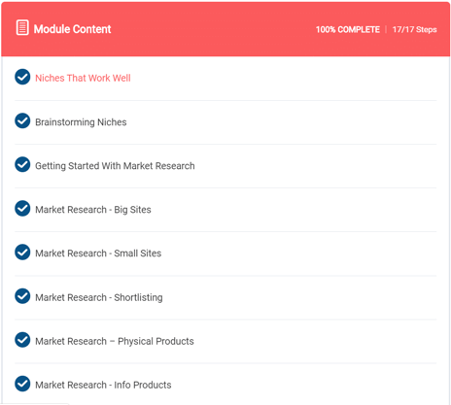 The focus is on how to choose a niche, and then once you have nailed that choice, move on to planning at least 50 pieces of content.  It is an important stage and you need to really spend some time on learning and following their advice.
They teach you how to brainstorm niche ideas, then they talk to through doing some competitor research.  Basically, looking for big or authority sites in that niche, small sites, available keywords, how to consider future income, and other topics.
They also provide you with a spreadsheet that helps you work on an objective analysis of whether a niche is a good option or not.
My advice would be to not rush choosing a niche, as you need to pick a niche that you are really interested in as creating content for a niche you don't enjoy is hard!
Once you have chosen your niche, you will then learn how to plan your "commercial" content, which are buying guides and reviews, and then also plan your link building content.
You also receive a spreadsheet that helps you plan your future content.  You will find that they provide you with a lot of information that helps with this stage.
Module 3 – Site Setup
This is where you are shown how to build a WordPress website for your niche.  It will start out with how to go about choosing your domain name (your website name) and then goes through all the stages of buying a domain name, setting up WordPress, the basics of WordPress, and then how to build your website.
I must point out at this point, that you only get training with TASS, so you will need to go elsewhere to actually get your website. (Here is our top recommended training, and you get a free website included).
As part of this module, you will also see a tutorial on how to use a Page builder plugin called Elementor.  We use Elementor on our website and we can say it is a great tool to use.  Gael will show you how to use it to build a custom theme.  They then finish this module off by showing you how to add the important starting elements of your website, including adding pages like privacy policy, about you page, contact pages.  They also discuss certain plugins to install on your website.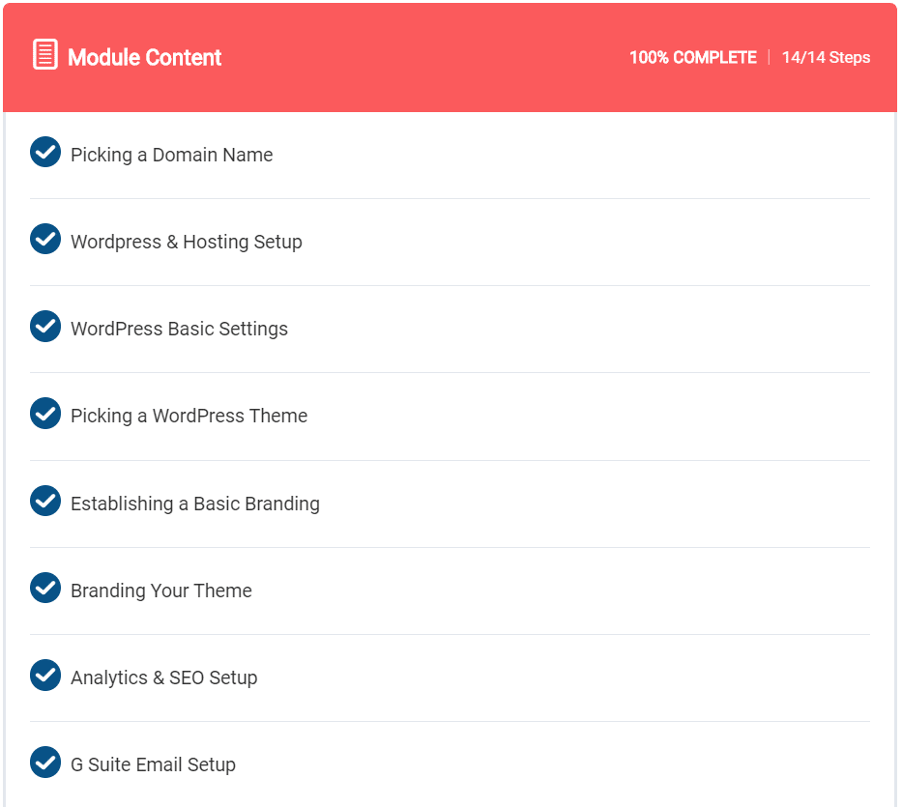 Module 4 – Content Creation
Module 4 talks you through the need to create content. Content is one of the most important aspects of your new authority site, without it you have no chance of monetising your site.  They also provide you with templates you can use for your content.  
They provide you templates for three types of blog post:
Information article – how-to guides, answering questions, etc.
Roundup Reviews – a buying guide, typically where you provide a number of solutions to a question a potential buyer may have
Single Product Review – a template for reviewing a single product (like this post is)
The focus with their training is around being able to monetise this post that you will be putting on your website.
The templates provide you a basis to write your content on, and you just need to focus on what is important to the reader.  You have to always consider what the reader who lands on your post is after.  What questions are they wanting to get answered?  Or what problem do they require a solution too.
Keeping it highly relevant is key to this.  Get this wrong and people will leave your site.
One thing that is apparent, is that these templates are built with outsourcing in mind.  As in, hiring a writer to write your content for you and providing them a topic and then a template to write an article or record a video for you to then post on your site.
They also include a module talking you through how to outsource your content.  Here are the different topics in this module:
Introduction to Content Templates
Template (Roundup Review)
Template (Single Review)
Template (Info Content)
Writing Your First Articles
Setting Up The Amazon Associates Program
Uploading & Publishing Content
Outsourcing Content Creation
Module 5 – Link Building
You can move onto this module after you have published your first ten blog posts.  I am little sceptical about the benefits of this module, as focusing on backlinks is a little outdated.  There is evidence that chasing links instead of creating content can be detrimental to your business.
Having said that, there is a need to do some linking.  For example, using an external link to an authority source and then using internal links to build up the backbone of your own site.  So, there is a need for it.  
But this module goes into buying backlinks.  They teach you a tactic called the Shotgun Skyscraper method.  This refers to Brian Dean's skyscraper.
The module starts out by helping you set up a couple of tools.  One is free, the other is paid and then there is the cost of negotiating the links.  Here are the topics covered in this module:
Preparing for Outreach
Target Selection
Initial Outreach & Follow Up
Negotiation & Follow Up
Link Tracking & Blacklist
The training does cover a lot of detail and provides you with a number of templates, to help you build your authority site and monetise your website.
So, let's talk about the cost of The Authority Site System…
Haven't Made Your First $1 Yet?
Studies have shown that more than 70% of the people who want to make money online have not made their first dollar yet. So, you're not alone!
How Much Does The Authority Site System Cost?
There is a lot of value that comes with the Authority Site System, but it does come at a cost.  At the time of writing this review (Nov 2020), it is currently being priced at $599, but is usually $997.  
That is a big price tag, especially if you are a complete newbie and are unsure whether this is right for you, or if you don't have the money to drop on a course.  We get that, we wouldn't have been able to have spent that when we got started either.  But it is a typical price point for a course.
But there is also the fact that as this is only a training course, you will also need to have a budget to invest in other tools.
The first is that you will need to source a website, if you want a full domain that will require hosting fees and a domain name purchase.  These costs can differ, depending on who you choose.  BlueHost is reasonable and can be as low as $4 a month.  Or, you could get a free website with Wealthy Affiliate.
Then there is the research tool they will recommend you use, that is Ahrefs and that is $99/month.  It is an advanced tool, and is the tool they use. 
Then there is the cost associated with the link building training they include in module 5.
This is a business model that does require investing into, and they discuss this in the beginning of the training.  So it isn't exactly hidden, but these are costs that you may not really consider before you get started.
P.S. This program helped us create a 4-Figure Monthly Passive Income Stream. It is Free to get started and costs only $49/month to go full-time!  It includes training, websites, research tools and tons of support!
What Does the Support Look Like?
The Authority Site System offers support in a number of different ways.  They offer a live chat widget where you can ask questions if you need, although depending on the time of day, you may find that they are offline.
If that is the case, you can use the form to ask your questions with.  They also give you access to their private Facebook group, where you can interact with the other members of the group.
Who is The Authority Site System For?
The Authority Site System is designed for the complete beginner looking to get started online and build an authority website.  If you have never built a website before, or maybe you have and it hasn't really got off the ground and is therefore not earning you a great amount of money.  You could benefit from the training program they have built.
In that sense, if you are contemplating whether this will work and you have the budget to spend on the course, it will be valuable training for you to go through.
My only caveat would be is that this is not a get-rich-quick scheme.  Affiliate Marketing requires hard work and a lot of effort and you will need to create a ton of content.  Writing five articles and expecting instant profits, isn't what this is about.
You will need to build the plan they will help you plan, and then you need to go and take action with it.
They suggest taking action of at least an hour a day for 6 months if you want to see significant results.
What We Liked About The Authority Site System
Here is what we liked about The Authority Site System:
#1 Step-by-Step High Quality Training 
The training is designed with someone who lacks any knowledge about website building and internet marketing in mind.  It uses a combination of over-the-shoulder videos with text-based notes to help you consume the information in the topic they are covering.
They cover off the topics really well in the training.
#2 Focus on Researching & Planning Your Business
There are too many so-called "Gurus" out there that are more interested in using hype and bold claims to see you into the idea that making money is easy.  They fool you into buying their product, only to find they have sold you something that doesn't work.
To be serious about making money online, you need to treat it like a business.  That is why we love the fact that Gael and Mark are showing you the right way to do this.  They focus heavily on the planning stage and the research stage.  It is often something people don't get right, and they sit there in a few months time and realise they rushed into something and it isn't working.
That second module is 17 videos long for a reason.  Get this stage right and you will find that you are definitely on the right track.
#3 Free Content Templates & Spreadsheets
They also provide you with useful spreadsheets for your planning, and content templates to help you get to grips with writing content for your site.  This is a huge bonus and they are good quality templates as well.
#4 It is a Proven Strategy
Done correctly, we know authority websites work.  It is a proven strategy.  This is backed up with the numerous success stories you find on their sale page.  You can also tell these are genuine stories, against so many programs that are using false testimonials.
A product that works will never need to rely on hype or false testimonials to sell itself.
What We Didn't Like About The Authority Site System
Here is what we didn't like about The Authority Site System:
#1 Expensive One-Time Fee
Don't get me wrong, there is a ton of value in this course and the price could be measured against other similar course.  However, as this is being aimed at a complete beginner, that is a huge investment to expect from a beginner who may not be fully invested in the business yet.  Running  a website takes a lot of hard work and patience as results are not instant, so unless you are fully invested, you may not be ready to drop such a huge number on it.  (Our top recommended training is free to get started, if you would like to check that out, click here).
The only saving grace is that they offer a 30-day money back guarantee if you are not entirely satisfied.
#2 Only Training, Leading to Other Paid Tools
This is about setting your expectations,  TASS only offers training and to follow through with the strategies you will need to understand you will need to invest into other programs and tools to actually do it.  Unlike training platforms like Wealthy Affiliate, where you get a training program that incorporates a website builder/hosting, research tools and other elements within it.  TASS will have you investing into tools like Ahrefs, which is a good tool but is $99 a month.
The Link Building will also require you to invest in other tools too.
#3 Training on Content Creation Could Be More Comprehensive
There is a lot of content and focus on the planning stage.  Now, that is a huge benefit.  But I thought there might be more content around actually creating content.  But they focus more on just the monetised posts for a site, rather than all the different elements to ensuring you consider the user experience as well.  I would have like more focus on content creation over link building (in my opinion).
#4 Facebook Group Isn't As Active as Other Communities
Facebook groups are hard to judge at times, especially if you only have newbies engaging with the forum as they will not really be in a position to help out others from a knowledge point of view, simply because they don't know enough yet.  Some complaints online have been about the lack of engagement within their Facebook group.
#5 Too Much Focus on Backlinks to Build Authority
There are plenty of experts that will disagree with me here, but I really don't think that focusing on link building should be the main focus on your new business.  But it is a huge focus for the TASS.  It seems that content creation is second to link building, and it should be the other way round.
The Search Engines are more interested in high-quality content over the number of links you have on your site.
Link building is part of the overall growth strategy for building an authority site, but creating high quality content should be the primary focus.
Haven't Made Your First $1 Yet?
Studies have shown that more than 70% of the people who want to make money online have not made their first dollar yet. So, you're not alone!
My TASS Review - Final Conclusion
First and foremost, hopefully by now you should know that The Authority Site System is definitely not a scam.  It is a legitimate and high-quality training program that will enable you to build an authority website and take you through all the steps needed to have it achieving a monthly income.
The training is of a good quality, and there are even templates and spreadsheets that can help you, especially with the planning phase which should not be discounted as to how important that stage is.
If you're a very analytical person and want to invest the time into planning and getting your first website to be successful, then this would be an ideal program for you.  Though, there is a lot of emphasis on building the initial groundworks and a huge emphasis on link building, that may not be the best strategy for you.  It takes away from stuff that definitely works like creating great content that helps their readers, and getting products to review too.  I am not saying Link Building won't work, but it is a tedious element to the business that you may not instantly bond with.  But then again, there are those that hate writing content and would prefer an alternative.
Another person who might find this course beneficial is someone who has already got their own website, but it hasn't hit the five-figure month yet.  That shows that what you're doing clearly isn't working, so you need to expand your knowledge.  Although this course will typically cost you $997 to gain some.  But there are strategies that are working within this course.
Having said all that, if you're a complete newbie, or someone who is not that comfortable with a computer, then I think you may struggle with the content within this TASS course.  If you're someone who may enjoy the creative side of building a website, and aren't that excited about some of the intensive planning or link building strategies that they go through in detail within their course, then this may not be for you.  
Lastly, if you think that you're going to need more one-on-one support, with a dedicated mentor – someone that you can contact personally whenever you need help to get you through your first few months of starting your business, then I think you will get more benefit from a Wealthy Affiliate membership.
Wealthy Affiliate has a much more active community, with many more support channels.  Their training also has you jump straight in and build your own website by the fourth lesson (still within the free level of membership), and then you can build and tweak as you learn.  The training is excellent, delivered in a step-by-step way with video and text based learning, and the price is much more reasonable and beginner friendly.
With a free starter membership, then $19 for the first month.  Considering the annual price of the premium membership is $495 (with a ton of bonuses) you could be a member for two years before you match the price of The Authority Site System.
There are many alternative courses online that can help you get started with a niche website, affiliate marketing or online marketing.  There are tons that flood the market every year.  Some are good, and some are not that great, and some are even scams.
The Authority Site System is definitely legit and is one of the most trusted brands on the market to help you build a profitable niche website.  I would suggest you invest in yourself and choose a course that can help you achieve your goal.  Both TASS & Wealthy Affiliate can help you there.  Just don't go and believe a lot of the other courses out there that claim you can become a millionaire over night, with no effort.
There is a reason why TASS & WA are legit, and that is because they are both honest about the amount of work you need to put in to achieve your goals.  Anything that says you can earn money with no work, is not there to help you…
We make money online through Affiliate Marketing, and thanks to the training at our top recommended training platform we are now earning a 4-Figure Monthly Passive Income Stream.  Click HERE to learn more about our top recommended training platform – Wealthy Affiliate!
Thanks for checking out our The Authority Site System Review!  If you have any questions or comments to add, then please write them in the comments section below. 😉
The Authority Site System
$997
Pros
Step-by-Step High Quality Training
Focus on Researching/Planning Your Business
Free Content Templates & Spreadsheets
It's a Proven Strategy
Cons
Expensive One-Time Fee
Only Training, Leads to Additional Paid Tools
Training on Content Creation Could Be More Comprehensive
Too Much Focus on Link Building to Build Authority