The Niche Site Formula claims to reveal simple but shockingly effective method on how to make money with an Amazon niche site.
This training is brought to us by Roman, and he has a clear message – "This is Possible" will be programmed in your psyche.
I have been able to have full access to the training and will share with you what I found.  I have no affiliation with this training platform and I want to assure you my opinion is from experiencing the training and what I have honestly thought. 
I will aim to answer the question; can a beginner make money with Niche Site Formula…?  Let us get started.
Product Review Summary
Product Name: Niche Site Formula
Owner: Roman
Product Type: Affiliate Marketing Training Platform
Price: $797 or 5 payments of $197 + Additional Costs
Best For: Affiliate Marketers with a Budget!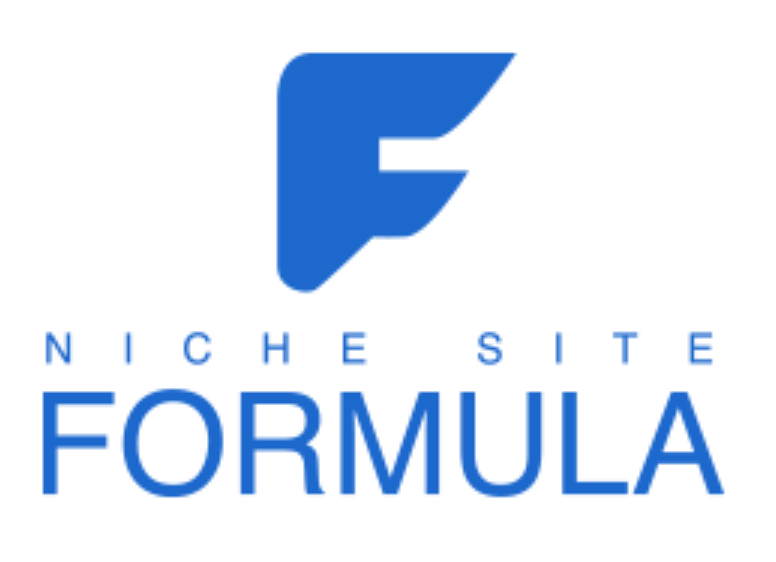 Summary: Roman has brought the Niche Site Formula training platform to the market.  He states that you can have a 'wildly' successful business within 90 days or less.  It has a clearly defined strategy that takes you step-by-step through starting, building and growing an online affiliate marketing business.  However, the training does lack depth and doesn't come across as detailed enough for a complete beginner to follow.  It also lacks any tools and services, which will require you to have an additional budget to buy these tools that you will require.
There is also no mention of the fact you will require a budget for hiring writers to speed up the process, without it I cannot truly believe someone could be successful within 90 days.
With some work and depth added, could definitely be one to watch.
Rating: 48/100
Recommended? Yes… If you already have some knowledge about affiliate marketing
What is the Niche Site Formula?
Niche Site Formula has been brought to us by a guy called Roman.
Roman doesn't claim to be a marketing guru and states that he is a real hands-on marketer who only wants to advise techniques he has experience of it working.
He is also quite open about the fact he is still learning from marketer experts such as Neil Patel.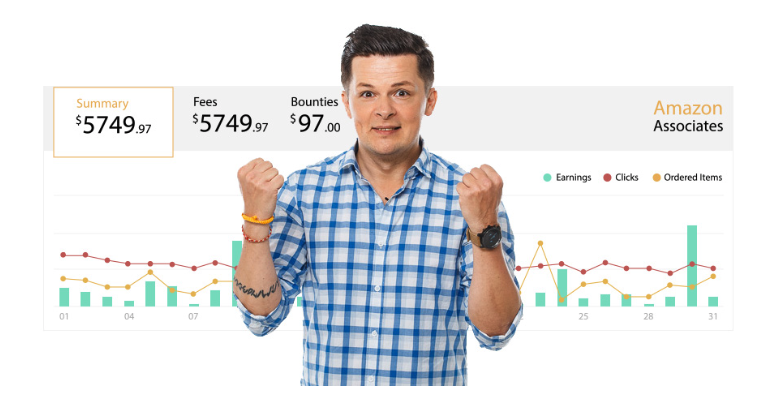 Let us see the Introduction video to Niche Site Formula and what Roman has to say about it.
Niche Site Formula is a step-by-step training guide which aims to teach you how to start, build and scale up a 5-figure affiliate marketing business.  He also has a very clear message that the training only includes what you need to know to achieve this.
I do have a slight issue with the marketing around having a "Wildly Successful Business in the next 90 days or less?"
Nothing can be guaranteed online, and yet newbies would see that as it will be successful within 90 days when that is not always the case.  It depends a lot on how much effort you put in, which Roman does state but still people will only look at the fact he seems to be promising success within 90 days.
The other point to consider is you are going to need to have a sizeable budget if you want to follow Roman's training to the letter, which is not very clear from the sales pitch.
After going through all of the training, you will be expected to make additional purchases and invest in hiring writers which you will only find out about once you have handed over your money.  From the first lesson, you are told to expect to spend at least $700-$800 for the first 6 months.
All I am trying to say is that from my own experiences, there are no success guarantees.  It takes hard work and often time is the biggest factor.
How Does the Niche Site Formula Work?
Once you have signed up, it is nice to see that it is a nice clean and easy dashboard to navigate.
The training uses text, images and videos to show you the steps needed for you to follow. The first module you will be learning about is Niche Research.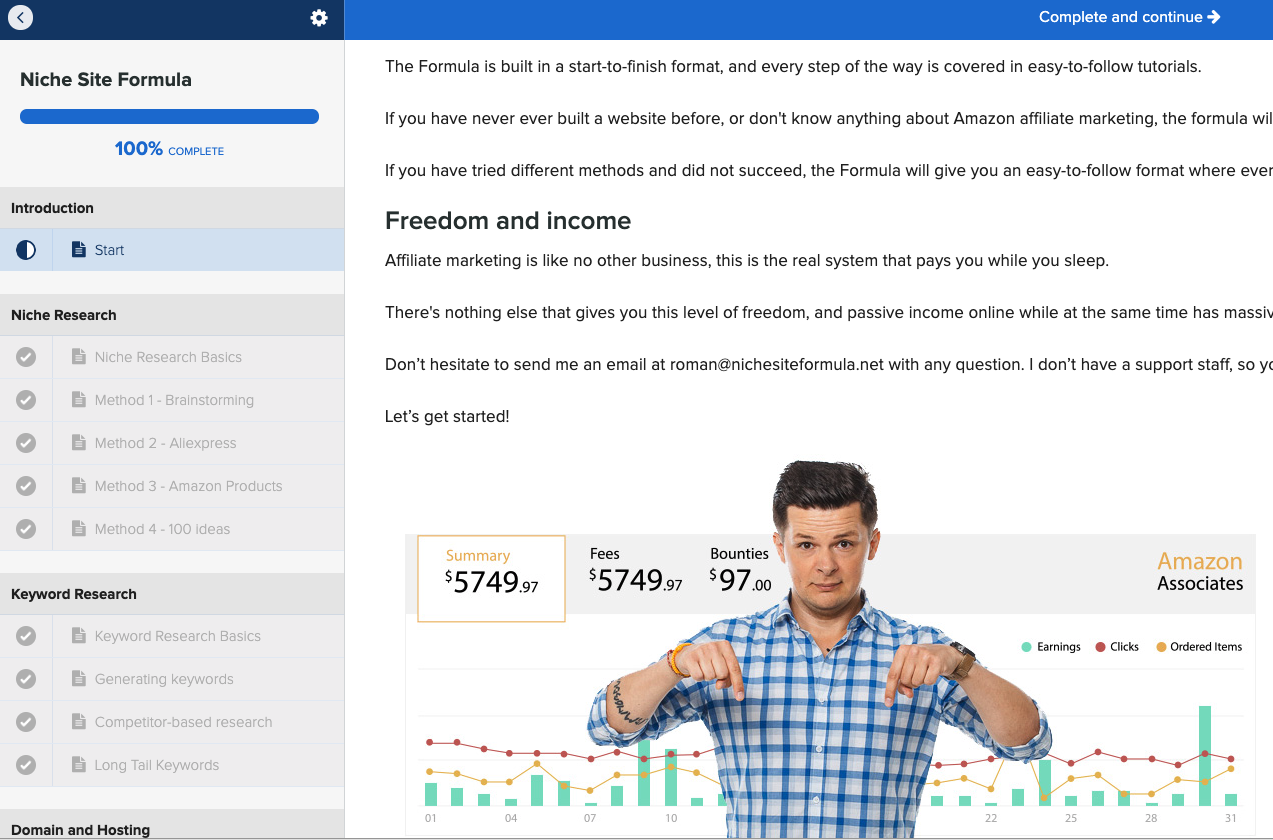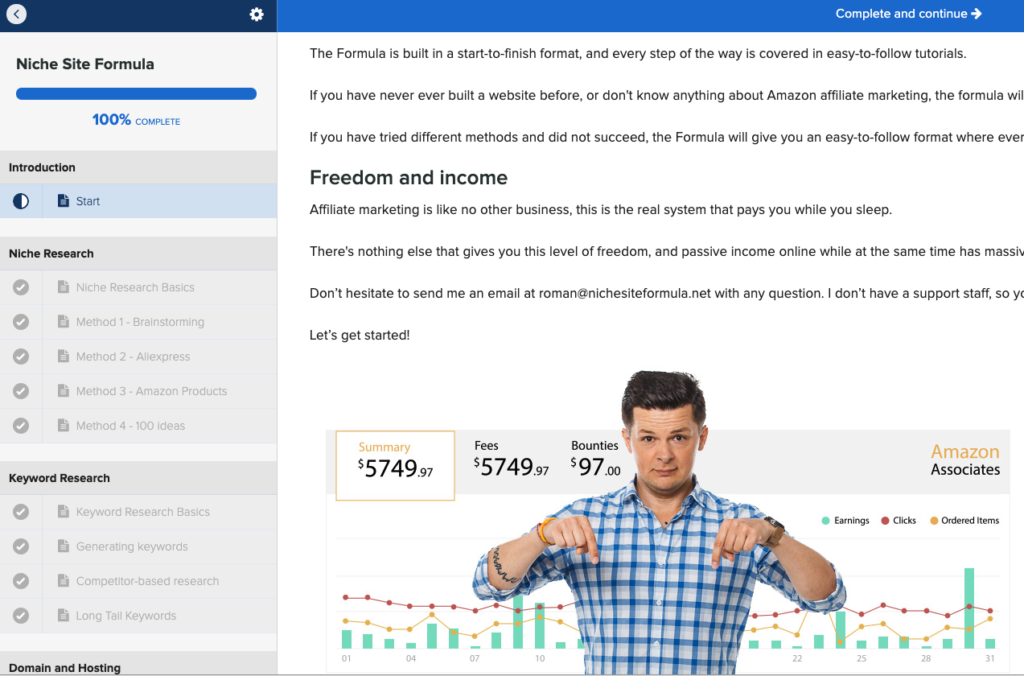 Lets go through the training modules that Roman has covered within the Niche Site Formula:
Niche Research
Choosing your niche is an important step and one that people often get can wrong.  They can stay too broad or not if you are to make money, you need to get this decision right.
The training focuses on ways to brainstorm and research based on identifying product niches that are profitable and trending to be able to pick a niche that will end up being a good one for you to choose for your starting niche.
There were a few things I liked in this section, particularly the Keywords Everywhere plugin for your browser, which gives you some details around keywords and niches when you search google.
The training covers 4 methods to help with identifying a niche
Brainstorming
AliExpress
Using Amazon
A downloadable list of 100 niche ideas
Keyword Research
Again, Keyword Research is going to be an important part of your affiliate marketing campaigns and this is covered within these 4 modules.
Whilst he covers a number of different elements of keywords in his training.  He doesn't actually explain exactly what a keyword is.  A number of people assume they are just one word, but they can be one word or a phrase.
There is an assumption as you go through the training.  I know he wants to keep it simple and not overload you with information, but there are bits where the lack of detail could easily confuse beginners.
You will be introduced to a number of tools to aid your keyword research.  Some are a paid option and others are free:
Keywords Everywhere
Moz
Majestic
Ahrefs
KWFinder
Ubersuggest
The method he talks about, with regards to long-tail keywords is a great method.  My problem is with the lack of in-depth guides into showing you exactly how to use these tools.
These tools are all external products that you will need to go and learn how to use properly to be able to get the most out of them.
You will also need to have a budget to be able to cover the costs of Ahrefs, for example.  That product alone costs you $99 a month.  At this stage, you don't need it.  But later on, in the training, you are told you need Ahrefs to carry on.
Domain & Hosting
This section covers picking a catchy and brand-able domain name.  There is some information around why choosing the .com suffix is your best option.
He then gives you a choice of 3 options he considers the best for you to go and register your website.  Again, this is something you will need to budget for, as websites are not included within Niche Site Formula.
Brand & Design
Roman covers bringing your brand to life in this section, picking the right colour scheme with a 2-minute video on the psychology of colours in web design.  You will also see another video from Seeker about how colours can affect your mood.
Designing a logo is the next section and he suggest you hire someone on Upwork to create one for you.  This will cost you around $10-$15.
He also recommends you create a persona for your niche website.  This training is around using Facebook's Audience Insight tool to be able to pick an ideal demographic for your niche and to create one using stock images.
I do have an issue with this, and it comes from a trust factor.  You audience needs to trust you when it comes to making purchasing decisions and using a Stock Image which could be used by someone else too does make me twinge a little.
I understand his reasoning from it; however, I don't necessarily agree with it.
WordPress
WordPress is a fantastic CMS (content management system) and I can totally get onboard with Roman recommending WordPress to people.
It is an easy-to-use platform and is the one we use.
He recommends you pay for the Premium WP theme 'GeneratePress', which will cost you $49.95.  He also includes simple tutorials on how to install it and activate it.
Roman then suggest you install 9 plugins for your website functionality and security of your blog:
YoastSEO
Contact Form 7
Table Maker
ThirstyAffiliates
AmazonLink Localization by BestAzon
WP Fastest Cache
Rename wp-login.php
WP Limit Login Attempts
Wordfence Security
He also shares a video on how to install Google Analytics and how to set up your blog to link with Google Analytics.
Content
This covers a brief on the purpose, types and length of content you will need to create for your blog.
You will also download a 6-month content plan.  This focuses on being able to create 5 posts a day.
You will get information about Information Posts, Product Reviews and List Posts (Best of Posts).
Roman talks about how to increase your chances of being included in a Featured Snippet.  These are the boxes that appear at the top of Google increasing your chances of being click on.
You then get information about the must-have pages you need – About You, Contact Us & Affiliate Disclaimer pages.
He also includes terms of use and privacy pages that you can use on your website.
Outsourcing
As Roman's training assumes you have a budget, a large portion of your budget is going to be on content.
Writing content takes a lot of time and to get close to where Roman sets you to be after 6 months, you need to be able to at least create 5 posts a week and this is where outsourcing writing can be useful.
He focuses on hiring the right writer for your blog. Which makes sense, as you will want to limit the need to edit content before posting it to your website.
He recommends you pick a native English speaker from the US, Canada, UK or Australia.  You will get a bargain if you outsource to someone else, but often their English can be lacking, and this means you will need to spend a lot of time on editing a post prior to posting it.  This takes time and you haven't got it.
He also talks about how to write a good brief for the job and how to clearly state that all articles will be used for marketing purposes and a write doesn't keep rights for produced material.
This reduces the risk that your post will end up being duplicate content.
Roman also gives some advice if you are on a budget.
He recommends Upwork to hire your freelancers.  Upwork is a genuine platform and is great for outsourcing work for your website.
SEO (Search Engine Optimisation)
topics covered in this section are:
On-Page SEO
Interlinking
Meta Tags
SEO Tips
Whilst there are some useful bits in this, it does lack some key elements of SEO.  This is just about focusing on what Roman believes you need to know.
Amazon
This course is about building a niche site to promote affiliate products via Amazon, so naturally it has a section on the Amazon Associates program.
The Amazon section, he talks you through how to apply for the Amazon Associates program.  This is what will allow you to earn commissions from promoting Amazon products.
All of the informational posts he includes are those that Amazon provide.
He then goes onto how to create your tracking links for use.
A section I did like was the one around the rules of use. He does clearly define what you can't do with regards to your affiliate links.
Getting this wrong can get you booted out of the affiliate program.
The payments section covers where you can go if you cannot get access to PayPal.  Roman is based in Australia, so he recommends Payoneer to you.
Link-Building
The section is about building up backlinks with authority sites and how you can go about doing it.
There is also a section on how you can get backlinks from universities via providing a scholarship.  It is about contacting Universities and offering $1,000 dollars for the creation of 3,000-word articles on a suggested topic.
He does state it is a little out-of-date but might still yield some results.
Tools
Whilst Roman mentions the tools as you go through the training, this section goes back and clarifies the tools that Roman recommends for your business.
I think it is important at this stage that I feel this training is for someone who has a budget and is wanting to explore getting up and running quicker than a normal blogging route.
Special Tips
The last module is all around tips to help toward your success
What is Missing from the Niche Site Formula Training?
I need to put myself back in the mindset of where I was when I got started and I feel there are some massive gaps in this training.  Don't get me wrong, if I followed the steps I would be able to build a niche website.  But I have prior knowledge about certain elements and I already know the answer to many questions that I would have going through this training.
By keeping it simple, I think Roman has missed certain elements that would help someone.
The prime example is around content creation.  He has included some good points around the types of content.
But there is very little around content creation, the use if images.  The fact that relevancy is key is missed.
The lack of depth meant it took me little over an hour to go through the course material… This would take longer when you factor in the tasks you need to complete as you go along and there will be some additional research required to be able to complete those tasks.
It can take a while to get your head around the WordPress editor, I know he recommends just focusing on the text editor, but he doesn't even tell you how to upload an image.  That is what I mean by missing information.
The training assumes you have certain elements of knowledge.  But as a beginner you will not have this knowledge, you are far better off learning from a training platform like Wealthy Affiliate.  It is free to get started and offers fantastic training for a beginner.
Who Would Benefit from the Niche Site Formula
From all of the marketing, it does seem that this product is targeting those just getting started online but I feel because of the lack of detail in some respects this training would leave a beginner completely out of their depth.
That is why I personally see this as for someone who has some experience and has the knowledge needed to take this blueprint and follow it.  They would also require a budget as the cost of the Niche Site Formula does take it out of the beginner remit.
Roman came from a marketing background, if someone who had the money and that background could follow this training and possibly become successful.
How Much Does Niche Site Formula Cost?
There are two levels of Membership level and then there are the additional costs you need to consider.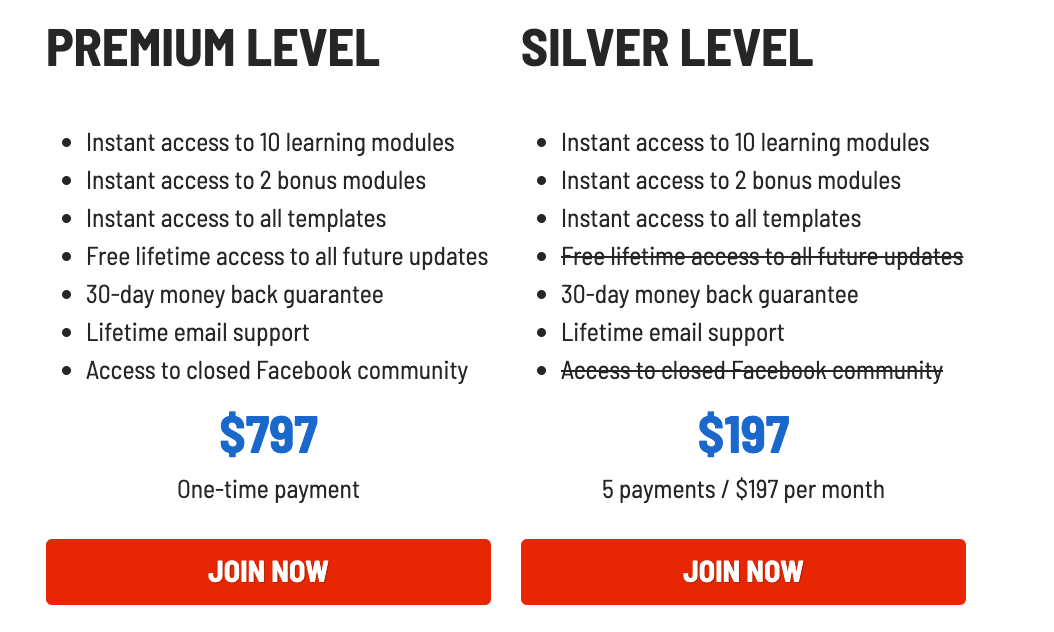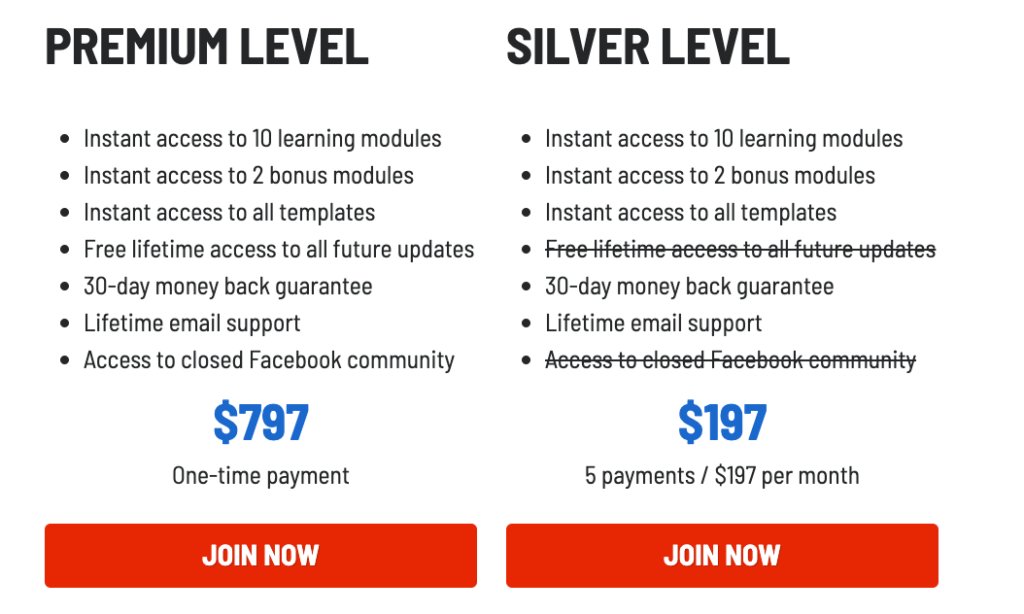 Silver Level – 5 payments of $197 a month
This grants you access to:
Instant access to 10 learning modules
Instant access to 2 bonus modules
Instant access to all templates
30-day money-back guarantee
Lifetime email support
Premium Level – $797 one-time payment
This gives you access to:
Instant access to 10 learning modules
Instant access to 2 bonus modules
Instant access to all templates
Free lifetime access to all future updates
30-day money-back guarantee
Lifetime email support
Access to closed Facebook community
If you do decide to sign up for the Niche Site Formula training program, you need to also consider that the training is assuming you have a budget.  Some of these additional products cost $99/month.
The website and website hosting are not included and will be an additional cost.
Email Marketing is effective, but again it is a cost.
I am not trying to put you off, but rather I am trying to give you a broader look at the bigger picture.
You will need to factor in that in the training, Roman states that you will require a budget of about $700-$800 for the first six months and that is on a small budget.
I am not convinced that a beginner will be able to make enough, soon enough to make this a viable option.
What Support Does Niche Site Formula Offer?
This depends on the level you go with.  The support that is provided to both membership levels is being able to contact Roman via email at any point.  He states he will respond within 24 hours.
If you decide to fork out for the premium level, you will get access to a closed Facebook group.
What is Good About the Niche Site Formula (PROS)
Here is what we liked about it:
Easy to follow Training
The training within the Niche Site Formula is easy to follow.   His use of videos from other sources means you can go see what you need to do and know where you can get additional research
The Templates are Useful
Roman provides you with some useful templates, which I have found quite helpful.
He Recommends Some Great Tools & Resources
Whilst this platform does not include any tools, he does recommend some great tools and some of them I have even started to use for my own benefit.
Get Help & Support from Roman
Having the ability to get in touch with Roman might fill some of the gaps within the training, being able to contact Roman himself and get some insights from him is a big plus for this product.
30-Day Money Back Guarantee
The addition of a refund for anyone who is not happy within 30-days is a niche touch for this training platform.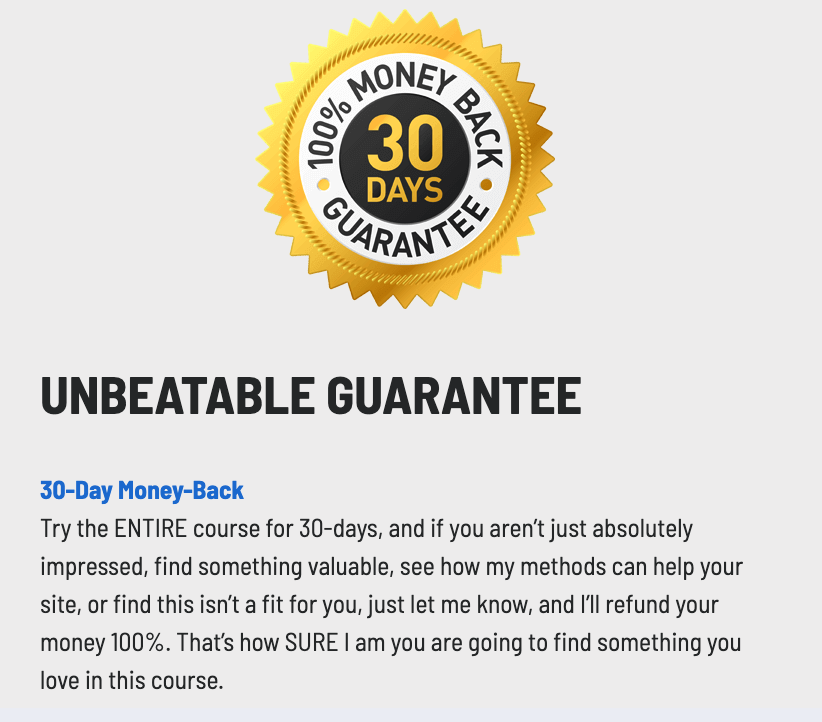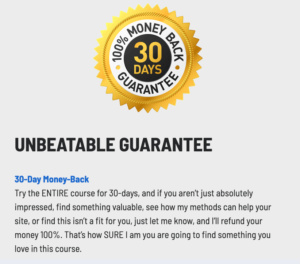 What Could the Niche Site Formula Improve on? (CONS)
Here is what we didn't like:
The Price of Niche Site Formula – It is Expensive!
For what you get, this product is expensive.  There is no way of getting around that.  This blueprint is a good one for someone to follow and create a niche website, but I wonder how many people could afford $797 when just starting out and wondering if affiliate marketing is really for them.
You need to know that if you invest that money, you need to work hard to achieve the success to recoup your money.  But there are never any guarantees when it comes to online marketing.
The Training is Missing Detail
I mentioned this earlier in the review, But NSF has some major gaps when it comes to its training.  I would have liked some more in-depth videos in key areas and not just those from 3rd parties.  I would have expected Roman to do more videos where he is talking and showing people what to do.
I would have also liked a list of the tasks I need to complete at the end of each module.  That way I can keep track of what I have achieved and what I haven't and still need to do.
I believe a beginner would get lost very easily following the current training.
Numerous Areas Not Covered
I appreciate that this is probably the route Roman initially took to become successful within affiliate marketing, but the training misses out on numerous subjects that could also help people become successful too.  Email Marketing is touched on but in no real detail.
Paid Traffic is another one missing.  If people have a budget, then they would find success with paid traffic quicker than SEO routes.
Facebook Group is Only for Premium
I get that any member can email Roman and get support, but that is within 24 hours.  The Facebook group would probably yield quicker results, but you need to have paid $797 upfront to gain access to it… I am not sure why this is enough to warrant a difference between the two levels. 
Not everyone can afford $800 upfront, but if you really want the training why are you penalised for doing it over 5 months…?
No Tools or Services Included – All Are an Additional Cost
Considering the high initial price, you only gain access to what is about an hour and a half worth of training.
You will need a website but will need to go elsewhere for it.  I think whilst it does lack these tools and services, but I feel I have more of a problem with the price rather than it not having these.
My Honest Opinion of the Niche Site Formula
There are a few positives and a few negatives about the Niche Site Formula.  Roman definitely knows his stuff and his step-by-step guide would lead an informed marketer into building a profitable niche website.   I definitely got some useful information from the training and can take those away.
But I also need to consider this product is for beginners, and that is where this platform needs some improvement.  If someone has decided to fork out that amount of money, they need to know they will get a lot of detail, in-depth guides and video tutorials that clearly take them through the points that Roman is talking about.
It needs rewriting as though it is for someone who doesn't even know what affiliate marketing is.
This is not clearly defined.  Keyword Research – start by talking about what exactly a keyword is.
He definitely knows his stuff, and I would have loved for him to show this offer with tutorials that showcased his knowledge and his ability to make it beginner friendly.
I think there needs to be a clear message that there is a need for a budget, which many beginners will not have one.
But if Roman can address these gaps in the training and give more detail, then I think he is onto a platform that will be a good one.
Can a Beginner Earn Money with Niche Site Formula...?
I think on the face of it, Yes, a beginner could make money with the Niche Site Formula training.
But I would add to that, that you will need to also search for some additional training – the Niche Site Formula, in its current state isn't enough.
The key decision with this training, is whether you have the budget needed to earn the money that Roman states you can be earning within 6 months or a year.
I think the strategy that Roman has set out will work, if you have a writer working for you, are following all of the paid methods he mentions too.
That is why, personally I would state this is more for an intermediate marketer at this point and not a beginner.
If you are looking for a much cheaper alternative that will also provide tools and services that can help you achieve success, we recommend you read about our top recommended product.
Thanks for reading our review! If you have any questions or want to share any experience with the Niche Site Formula, please share them in the comments below.  We will come back to you as soon as we can.
Niche Site Formula
$797 or 5 payments of $197/month